How Much For a Mansard Loft Conversion?
The price that you will pay for a mansard roof conversion will depend on many things not least of which will be the size of the property and its location. The quality of finish and the fixtures and fittings will likewise have an impact on the mansard loft conversion cost.
Most house types can accept this kind of loft conversion so whether you have a terraced, semi-detached, or detached house, there is the option for a mansard roof loft conversion. However, the specific design will vary according to the property type, and this too, will affect the cost.
In general, the cost of a mansard loft conversion will start at between £45,000-£55,000 and can exceed £70,000, especially in London. Of course, the final price will depend on the quality of the build and the fittings but also on how complex the construction turns out to be.
There will be re-routing of services for electricity and plumbing if a bathroom or kitchen is being added and roof styles will vary with some being more complex than others.
Each mansard extension will be unique, so an average cost is difficult to define, but as loft conversions go, they are not cheap. However, the increased living area that they offer particularly in space-poor cities like London should not be underestimated nor the apparent value added to the property.
Mansard loft conversions do not fall within permitted development rights and will require planning permission; the cost of this will depend on the local authority. Still, it should be on average around £200.
What the Costs Will Depend On
The cost of your architect will vary according to the area that you live in and the complexity of the build. You may prefer to engage the services of a design and build company who will have an in-house architect and structural engineer, and this cost will be included in your quotation.
This may be a fixed fee or a percentage of the project cost normally at between 5%-15%. Expect to pay £1,500-£3,000 on average for architectural services although this will vary regionally.
In cases where a party wall is involved in the mansard loft conversion, there will need to be a party wall notice served to the adjoining neighbours. If they insist on a party wall survey prior to work commencing, then this cost will fall to you. Providing your neighbours agree you can share a party wall surveyor as they are impartial and this would reduce the cost.
However, adjoining neighbours are within their rights to insist on their own surveyor, and it will be your responsibility to pay the two sets of fees. The average cost of a party wall surveyor is between £700-£1,000 in London. In other parts of the country, the price charged by a party wall surveyor will be cheaper at around £350-£500.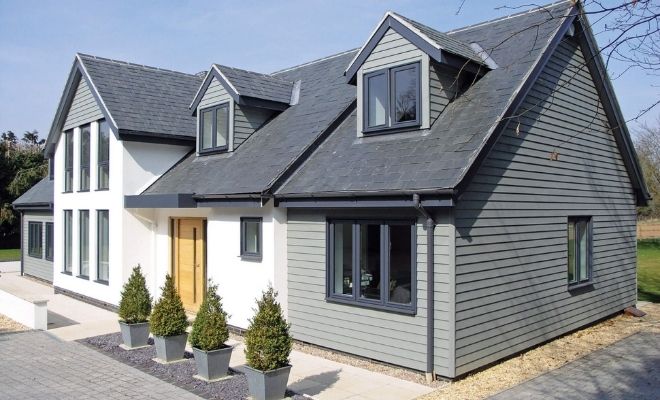 Most loft conversion companies will include the cost of scaffolding and skip hire into their quotations, and of course, the build materials are also part of this price. Fittings such as bathroom fixtures and tiles are generally not included and will be left to the client to purchase.
Labour for the construction of the mansard dormer will be included in the price quoted but some services such as tiling and decorating will usually be quoted separately or left to the client to source independently.
Inspections will be carried out by building control at different stages of the build, and these visits should be included in your quotation if you are using a loft conversion specialist. The price will be between £400-£1,000 depending on the area of the country you live in and includes the submission of plans to the local authority.
Ease of access to a property can have substantial implications for a mansard roof cost. As a lot of these conversions are carried out in London, which by its nature is built up and busy the issue of gaining access to the site can be costly and a real problem for some homeowners.
Narrow streets or lack of parking can inflict restrictions on large delivery vehicles. While in more rural areas distance, steep gradients or winding country lanes can have similar repercussions. This issue of access can be not only frustrating but expensive to overcome and may have a real impact on your budget.
Mansard Roof Prices
The below table represents the average cost of different sized lofts for various types of conversion. The prices include labour and materials.
| SIZE | MANSARD | REAR DORMER | HIP TO GABLE | VELUX |
| --- | --- | --- | --- | --- |
| 30sqm | £30,000-£45,000 | £20,000-£30,000 | £20,000-£36,000 | £12,000-£18,000 |
| 40sqm | £40,000-£60,000 | £25,000-£40,000 | £28,000-£48,000 | £15,000-£25,000 |
| 50sqm | £50,000-£75,000 | £30,000-£50,000 | £35,000-£60,000 | £18,000-£30,000 |
Supply Costs
If you wish to build a mansard loft conversion yourself, you will need to consider the following supply costs for different sized loft windows:
| Dormer Loft Window Sizes | Supply Cost |
| --- | --- |
| 50 x 50 | £150 - £200 |
| 100 x 100 | £200 - £250 |
| 120 x 120 | £250-£300 |
Additional Costs
A mansard loft conversion is usually more substantial than other loft conversions and can add almost a whole new storey to the building. With this in mind, there may be additional improvements that you may want to make to the rest of the property.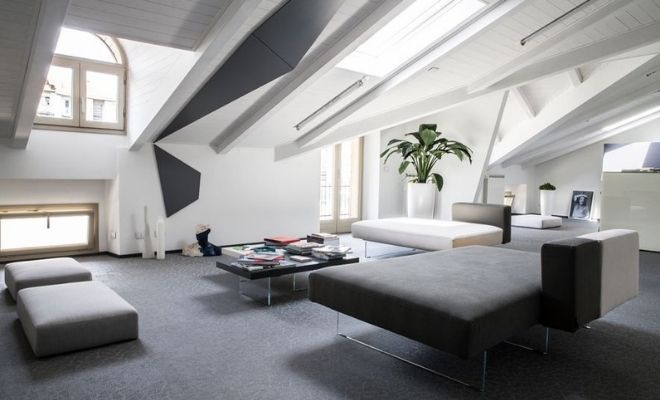 Adding new flooring to connect the new space in the house with the existing is a good way of merging the two. Depending on the type and quality, new laminate flooring will cost between £20-£30 per square metre for supply and installation.
If you prefer something softer on your floors the cost to supply and install new carpet will be between £15-£40 per square metre depending on the type and quality you choose.
One of the most popular floor coverings is wooden flooring, and there is a vast range of types and qualities available. Expect to pay between £20-£100 per square metre for solid wood flooring and up to £200 per square metre for parquet flooring.
You may want to freshen up the décor of the rest of the house after building a mansard loft conversion. The cost to paint a living room including woodwork will be on average £400 although it will depend on the quality of the paint that is used.
Some re-plastering work may be necessary following a mansard roof loft conversion. Plasterers may charge per square metre or may give a fixed price for a job, or they may charge per hour. The average cost to plaster a whole room will be approximately £300-£500 but will depend on where in the UK you live.
There are many jobs which you may wish to do after or during a mansard extension, but these will be unique to each job and the requirements of the build.
Cost Breakdown Calculator
Individual costs for hiring a loft conversion specialist to build a mansard conversion at 40sqm – Total Cost: £50,000.
Labour Costs and Time Frames
The labour cost of a mansard loft conversion will be spread over several trades beginning with the architect and potentially ending with a decorator or tiler. The mansard loft conversion price is very roughly divided in half between labour and materials with a small percentage allocated to waste disposal.
If you are using a loft conversion specialist, then all the trades apart from the decorator and tiler will be included unless you have requested quotations for these services.
If you are hiring trades individually and not as part of a design and build service, then it will be necessary to budget for each stage of the project along with the relevant tradesperson.
Architect & Structural Engineer
The first labour cost on a mansard extension will be for the architect and structural engineer to draw up plans and structural calculations. These plans will have to be submitted to the local authority's planning department for approval, and this process takes a minimum of eight weeks for the majority of local councils.
The fee for the drawing of plans and structural calculations along with the submission of plans to the local authority will be in the region of £700-£1,000.
Party Wall Surveyor
Once planning permission has been granted, the next step will be to inform any neighbours with whom you share a party wall. A party wall notice will need to be served to adjoining property owners.
In the event that the neighbouring property is rented out, the notice must be sent to the owner of the property and not the tenant. If a party wall surveyor is required, this could cost anywhere between £500-£1,000 depending on where you live in the country.
Scaffolder
If you are using a loft conversion specialist, they will typically have a local scaffolding company that they use on a regular basis and the cost of the scaffolding will be worked into your quotation.
If you are hiring a scaffolding company yourself, then you may pay more. The average weekly price that you can expect to pay is between £750-£1,100, but this is dependent on location and negotiating with the scaffolding company.
Waste Management
Of course, you will need a skip, or rather several, for the duration of the mansard roof loft conversion. Again, a loft conversion company will have a skip company that they use on a regular basis and will have agreed on prices with them in advance. This cost will be included in your quotation.
If you are hiring services individually the cost of a skip will average £200-£300 per week. A skip licence will be required for a skip that is going on the road as opposed to on the driveway or garden. This licence must be renewed on a regular basis, and the cost will depend on the local authority.
Carpenter
First, fix carpenters will be the ones who strip the roof and build the loft, so they are one of the first trades on site. An experienced loft carpenter will earn between £130-£170 per day, but this will vary according to where in the country the property is located.
Electrician
Electricians will do both a first and second fix on the mansard extension, and these works need to be appropriately scheduled into the build to ensure that all necessary fittings are in the right place before closing up. An electrician will cost in the region of £150-£280 per day depending on where in the country they work.
Plumber
If a bathroom or kitchen is being incorporated into the mansard dormer design, then a plumber will be required for a first and second fix. The average cost of a plumber is approximately £150-£270 per day depending on the area of the country they are based in.
Plaster Boarder
Some loft conversion companies will have a closing up team who install insulation and plasterboard to the timber frame of the loft. Other companies may divide this work up between the first fix carpenters and the plasterers. If a closing up team is used, they will earn around £100-£150 per day each.
Plasterer
Plastering is done when all the first fix electrics and plumbing have been done, and the plasterboard is in place. A plasterer will charge around £130-£170 per day on average although this may vary across different regions of the UK.
Decorator & Tiler
Following all the construction work, there will be decorating and possibly tiling to do. This can be done as a DIY job, included in the quotation for the loft or the trades hired independently of the rest of the build. A decorator will charge between £120-£180 per day depending on location while a tiler will charge an average of £140-£200 per day.
Timeframes
The project timeframe begins with the plans being drawn up by the architect, which could take a couple of weeks or more depending on their workload. The architect will need to work alongside a structural engineer who will do the structural calculations for the mansard loft conversion.
Planning
The plans are then submitted to the planning department of the local council where they will be assessed. This process takes a minimum of eight weeks in the majority of cases.
During this time, the application will be checked to make sure that it is complete, and all relevant information and documents have been presented. If everything is in order, then the plans are given a reference number and placed on the planning register.
All local authorities must publish details of planning applications on their websites; this provides the public with an opportunity to express their views on the proposed build.
After the eight-week period, you should receive a decision. If the plans are approved, your project can proceed. If they are refused, you can appeal against the decision although alterations may be required to the plans or other concessions needed. Appeal procedures can take months.
Construction
The build stage can be anything from six to ten weeks or more, although this can depend to a large extent on the design and scope of the project. There are several factors which can impact on the timeframe for the building of the mansard extension.
The weather is a major contributor to delays in building work and even doing a loft conversion in summer is no guarantee of favourable conditions. Problems with delivery of fittings or materials are another possible cause of delay. Finally, each stage of the project will be contingent on the previous stage being completed, so there can be a knock-on effect if problems arise.
Unforeseen costs are something that should be built into any budget for home improvement works as they are almost always inevitable. There may be a longer lead time for windows, or your tiler may fall ill so delays or problems should be factored into both the budget and the timeframe.
What is a Mansard Loft Conversion?
A mansard roof loft conversion is probably the most complex and comprehensive of all loft conversions but does offer the most habitable space.
The name comes from the French architect François Mansart who popularised the style of roof that would bear his (anglicised) name. The earliest known example of this style had been used in part of the Louvre museum and was used extensively by Mansart in the rebuilding of Paris in the 17th century.
It was from here that it spread to other parts of Europe, especially Italy and England. This probably explains its widespread popularity in London which would have been where the wealthier homeowners lived. It is still very popular as a style nowadays for converting roof spaces.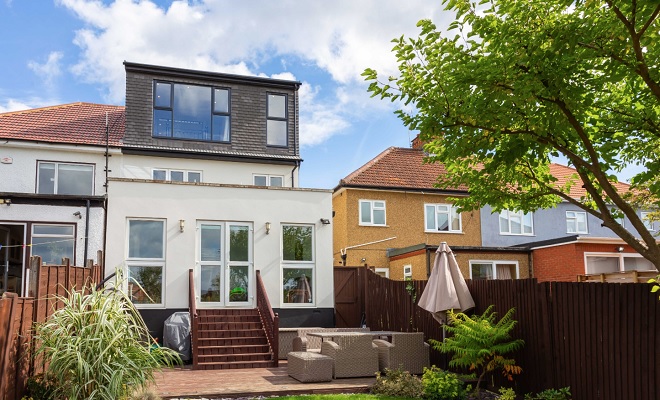 The design has been adapted over the years but retains the main principle of an extension that goes across the entire plane of the roof. It works by having a practically vertical lower slope and almost horizontal roof but which still allows for water runoff. The lower slope is generally set at an angle of 72 degrees, and this is where the dormer windows will be set.
Mansard dormers are suitable for terraced, semi-detached, and detached properties but the way in which the mansard roof is constructed will vary according to the property style. For a terraced house, the party walls on either side will be built up whereas with a detached property it will be normally be the gable walls which are extended upwards.
The design of this type of loft conversion allows for the maximum use of the habitable space within the property and also produces an aesthetically pleasing exterior. While the lower slope functions as a wall, to ostensibly another storey of the house, in the eyes of most councils it is classed as part of the roof.
When the construction work is complete, the building control officer will come back for a final inspection and if everything complies a completion certificate will be issued for the loft.
This certificate is essential as it proves that the mansard dormer conforms to Building Regulations. It will be required if you ever wish to sell your house.
Cost Affecting Factors of a Mansard Loft Conversion
There are potentially more factors to consider with a mansard loft conversion than a rear dormer or hip to gable conversion. From the need for planning permission to the length of time, the build will take there are various things that can increase the budget beyond an average loft conversion.
The size of the property and quality of the finish are cost affecting factors but so too are the requirement for greater architectural involvement and the increased demand on services such as heating and hot water.
Planning Permission
Most loft conversions do not need planning permission with some exceptions but a mansard loft conversion most definitely will. This is because of the major structural changes that are required to build a mansard dormer.
Essentially a completely new storey is added to a property, and this will involve a complete shift in its appearance and increased load on the foundations. The cost to apply for planning permission is just over £200.
Architectural Input
As a mansard extension is more complex and larger than other types of loft conversions, it is not surprising that it may require more architectural involvement.
Naturally, an architect will be needed to draw up the plans and submit them to the local authority's planning department, but they will also be able to guide clients through the whole process. A major structural change to a home requires expert knowledge and continuous input if it is to succeed.
Size
The size of the mansard roof loft conversion will also have an impact on the cost both of material and labour. It is already a large undertaking with the installation of an additional storey and practically whole new roof so if the property is sizeable the conversion will be that much more expensive.
Prices for a mansard loft conversion can range from £45,000-£70,000 depending on size, so this will be a significant contributing factor to the overall budget.
Timeframe
The length of time that the build will take compared to a more typical rear dormer or even hip to gable loft conversion will add to the budget. A longer timeframe will mean additional expense in terms of labour, scaffolding and skip hire.
Even things that do not usually spring to mind, such as parking permits for tradespeople will increase how much you end up paying over the build period.
Quality of Finish
Materials used in the construction and fitting out of a mansard extension will have a significant impact on the amount that you will pay. While some materials will be required to meet specific standards for Building Regulations, others will be a matter of choice or budget. Quite often the choice of roof covering can be dictated in this way.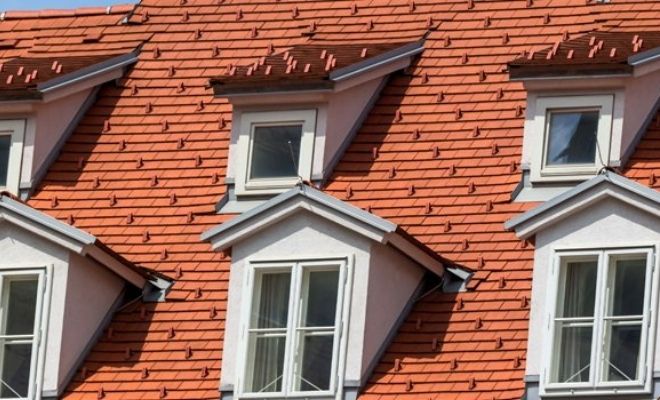 While there may be a requirement to maintain the uniformity of a street by adhering to either tiles or slate, there are quality and hence price differences available. Man-made slate versus natural slate, for example, will differ in price, quality, and durability.
Location
Where your property is located will also affect the costs of a mansard dormer. The labour costs, as well as material costs, will be higher in London and the south-east of the country while prices in other parts of the UK may be lower.
In rural areas it may be necessary to commission a bat survey as disturbing or disrupting the habitat of bats is prohibited. A bat survey can cost from £300-£1,000 depending on whether it is a preliminary or full survey.
Boiler Upgrade
Even a standard dormer loft conversion which adds another bedroom and bathroom may require an assessment of the current hot water and heating provision. The additional load on an existing boiler may prove too much, and there may be a lack of sufficient water pressure.
As a mansard extension adds almost a new storey to a property, there is potential room for another bathroom or kitchen.
The need to provide hot water at a suitable pressure to the top floor of the house may require the installation of a new boiler such as an unvented cylinder. The cost to install an unvented cylinder can be between £1,000-£3,000 but will mean that there will be no loss of pressure.
Access
Ease of access to the site of a mansard loft conversion can have an impact on timescales and therefore on the budget.
If there is awkward, narrow, or difficult access either in an urban or rural location, then there may be delays with deliveries or services such as skip and scaffolding lorries. This will potentially have a knock-on effect to the scheduling of the work and add to labour costs.
DIY Building a Mansard Loft Conversion
Unless you are an experienced carpenter, it is inadvisable to attempt to build a loft conversion yourself and especially not something as complex as a mansard extension.
From the architect to the electrician and plumber, the skills, qualifications, and experience needed to complete a mansard loft conversion exclude it from the remit of most DIY enthusiasts. But while there are too many specialist trades involved to build a loft conversion as a DIY project, there are some aspects you can do as a confident DIYer.
DIY Jobs
Painting, decorating, laying flooring, and even tiling can be done as a DIY job, but the majority of the construction work will need to be done by professionals. This is because the mansard loft conversion needs to conform to Building Regulations and will need to be inspected by the building control department of the local authority.
Building Regulations
To ensure that the mansard loft conversion is fit for purpose and complies with Building Regulations, the building control inspector will look at different aspects of the build at various stages. This is one of the reasons why attempting to do the job as a DIY project would be difficult.
The installation of steel beams into the loft, the fitting of insulation and the completed loft conversion are three stages at which the building control officer will need to visit the site. They will inspect the work and sign it off if it meets Building Regulations. A completion certificate is issued following the final inspection if everything complies.
Work Hazards
Apart from the danger of the loft conversion not being compliant, there are other hazards associated with attempting a loft conversion yourself. One of the most dangerous aspects of the job is that it involves working at height.
Within the construction industry, there are strict working at height guidelines from the Health and Safety Executive along with specialist equipment such as safety harnesses and specially adapted scaffolding.
It is unlikely that a DIY enthusiast would have access to this equipment much less be adequately trained in its use. In 2018/19, 49% of fatalities in construction were as a result of a fall from height.
Other dangers, as in all construction work, come from the use of power tools, the risk of crush injury, and not having enough expertise or experience. In 2018/19, 14% of fatalities in construction were caused by becoming trapped or crushed while 5% were caused by contact with electricity.
These sobering statistics serve as a reminder of the dangers of construction and particularly working at height but also that even skilled professionals are at risk of injury or death in construction.
Therefore, it is a good idea to know your limitations and let qualified and competent people do the work.
Benefits of a Mansard Loft Conversion
Creating new habitable space in your home has many benefits from the extra room available to the increase in your property's value. However, there are many other benefits to building a mansard roof loft conversion.
Extra Space
As mentioned the addition of a mansard loft conversion will provide your home with increased living space. One of the main features of this type of conversion is that it spans the entire plane of the roof and therefore maximises the potential of this part of the house. In effect, a whole new storey is added to the property allowing multiple uses for the newly created space.
Increased Value
Mansard extensions are popular in London where whole streets can be seen with this type of conversion in place. They are also seen in other towns and cities in the UK. With the addition of a new extension in the form of a mansard loft conversion, there is also an increase in the potential value of the property.
In London and other major cities, the price of property is at a premium due to limited space so by increasing the square meterage of a house it will inevitably increase its value particularly by adding an extra bedroom.
No Need to Move
The strain on an expanding household may prompt people to consider moving to a larger property, but by adding a mansard roof loft conversion, this may not be necessary.
The space that is created by this type of conversion can provide sufficient additional living space in the form of a bedroom, bathroom, kitchen, or office space. This will remove the upheaval, expense, and stress of moving home.
Greater Head Height
Another benefit of a mansard roof loft conversion is the amount of head room that is afforded through this kind of extension. The required minimum head height of a loft conversion is 2.2 metres and is measured from the bottom of the ridge timber to the top of the ceiling joists. A mansard dormer will be more than adequate in achieving this head height and will therefore offer greater flexibility for the room layout.
Many people are disappointed with the amount of standing room that they achieve in a standard loft conversion such as a rear dormer. Still, a mansard conversion gives the optimum amount, so there is no disappointment when it comes to the useable space.
Versatility
A mansard conversion is suitable for almost all house types, including terraced houses. This means that in a home where the available space may otherwise be restricted, a mansard loft conversion can utilise all the roof space by building up both party walls and increasing the head height.
While house types such as terraced or semi-detached can achieve good head room by doing a hip to gable conversion, this is not possible in a terraced house as there is no gable to work with. Therefore, a mansard loft conversion is a good solution for achieving maximum liveable space in a terraced home.
Aesthetics
Apart from the practical side of having a mansard extension, there is an equally appealing aesthetic component. While some loft conversions can look like a box on top of an existing property, a mansard loft conversion has the advantage of looking like it has always been there.
This is due to the complete restructuring of the loft space and almost entirely new roof. The external walls can be clad in slate or tile, rendered or have a face of exposed brickwork. Whichever finish is chosen it can be blended into the existing building and be more visually pleasing.
Extending Upwards
The benefit of having a mansard loft conversion in cities like London is that in a crowded environment, it is possible to increase your living space by extending upwards. Not only is the property size increased, but any valuable garden space has been conserved.
Alternatives to a Mansard Loft Conversion
Here are some alternatives to a Mansford loft conversion:
Conservatory
A conservatory is a fully or partially glazed room attached to a property, usually at the rear. They were initially built by wealthy homeowners centuries ago to aid in the cultivation of citrus fruits; however modern conservatories are more an extension to the existing living space.
Unlike most home extensions conservatories are predominantly constructed with glass although older versions usually feature a low masonry wall topped with glazing. They have had a poor reputation as being cold in winter and too warm in summer although with modern glazing this is not necessarily the case.
The average cost of a conservatory is between £10,000-£15,000 depending on style and location.
Pros:
✔ Ability to enjoy views of the garden without being exposed to the elements.
✔ Additional living space that can be used for a multitude of purposes.
✔ Wide variety of designs and styles to choose from.
Cons:
✖ Some conservatories can look old fashioned and out-dated.
✖ There is a lot of glass to clean to keep it looking at its best.
✖ Unless well thought out in terms of usage, it can be left empty and unused for long periods.
Single Storey Extension
If you want to increase the footprint of your home, then you could consider a single-storey extension. While a conservatory can be used as a dining room, office, or extra sitting room if you need a spare bedroom, a conservatory's glazed construction does preclude using it for this purpose.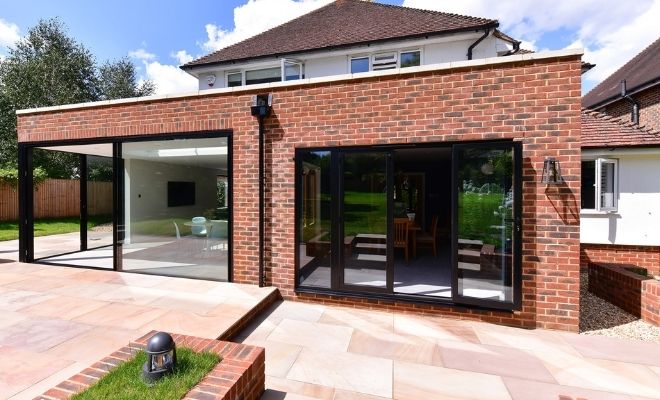 The average construction cost of a single-storey extension is between £20,000-£40,000 depending on location and square meterage.
Pros:
✔ Provides more living space which can be used for multiple purposes.
✔ There is less disruption to the existing living space compared to a loft conversion.
✔ May increase the value of your home.
Cons:
✖ Planning permission may be required.
✖ You will be reducing your garden or other outside space.
✖ The extension may be a short term solution and not benefit the property long term.
Rear Extension
While a single-storey extension can be at the side or rear of the property, it is very obvious where a rear extension will be located. This type of extension can go across the entire width at the back of the house. Most commonly, this is used to create a large kitchen diner.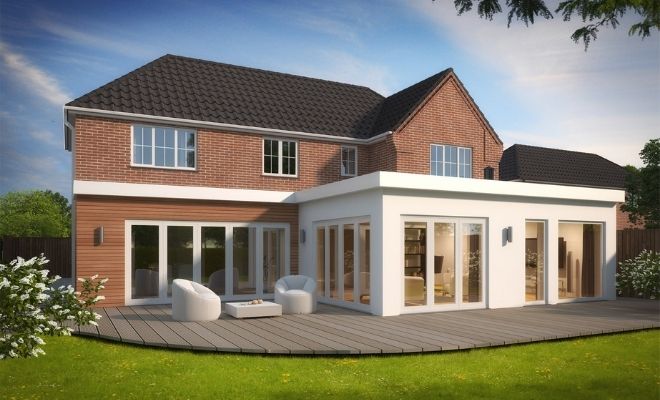 The average cost of a 25 square metre rear extension is £30,000 although this will depend on location and finish quality.
Pros:
✔ Permitted development now allows rear extensions to extend six metres beyond the original wall, eight metres for detached houses.
✔ Can provide a large, airy space leading onto the garden.
✔ The entire width of the house can be utilised.
Cons:
✖ Extensions cannot take up more than 50% of the outside space or garden.
✖ The six and eight metre rule for rear extensions is dependent on there being no objections to the extension under the Neighbour Consultation Scheme.
✖ If the extension is within two metres of the boundary, it cannot be more than 3 metres high.
Double Storey Extension
A two-storey extension can give twice as much living space while still only occupying the footprint of a single-storey extension. Planning permission is not required as long as the double-storey extension remains within the permitted allowances.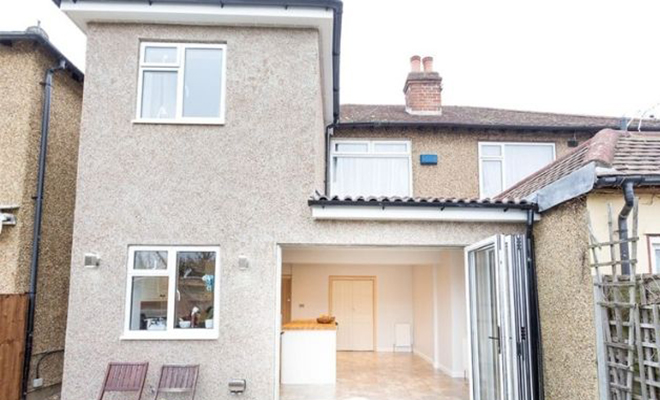 The average cost of a double-storey extension depending on size and location will be around £50,000-£70,000.
Pros:
✔ Sleeping space, as well as increased living space, can be added to the house.
✔ Twice as much room as a single-storey extension but with the same footprint.
✔ New guidelines mean double-storey extensions come under permitted development, albeit with some restrictions.
Cons:
✖ If you remain in the property while work is going on there will a lot of disruption to daily life.
✖ The cost will be at least 50% more than a single storey extension.
✖ A double-storey extension will take longer to build than a single storey.
Pre-fab Extension
A prefabricated extension is an addition to a property that has been manufactured off-site and delivered ready for installation. They are usually constructed from timber or steel. Although they can be installed in a much shorter time than a traditionally built extension, they may not have the same longevity.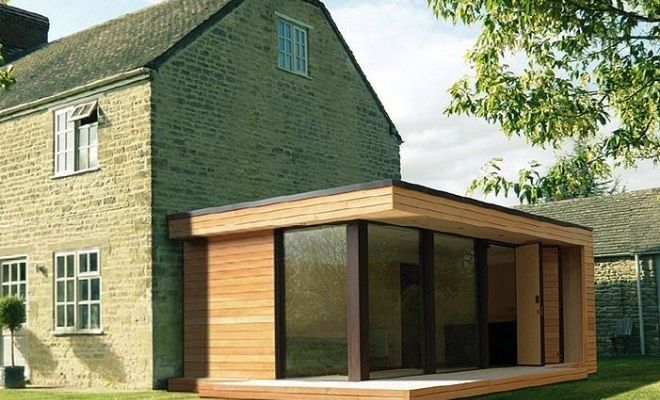 The average cost of a 25 square metre prefabricated extension is between £40,000-£65,000 depending on size and finish quality.
Pros:
✔ Much quicker installation than a built extension.
✔ Concrete foundations not always necessary due to piling systems.
✔ Single and double storey and even loft conversions are available in prefabricated form.
Cons:
✖ Very difficult to change anything once it has been installed on-site.
✖ Access for craning in large extension pre-fab units may be difficult.
✖ Life span will not be as long as a built extension.
Building Regulations for a Mansard Loft Conversion
All loft conversions are subject to Building Regulations, and a mansard loft conversion is no exception. Building Regulations are the minimum standards for the design, construction, and alteration of any building and as such must be adhered to for a project to be considered compliant.
At various stages of the build, inspections will be made by building control to ensure that the relevant Building Regulations have been followed.
The following Building Regulations are required to be followed:
The information for these required Building Regulations is available in detail in the corresponding approved documents via the government website.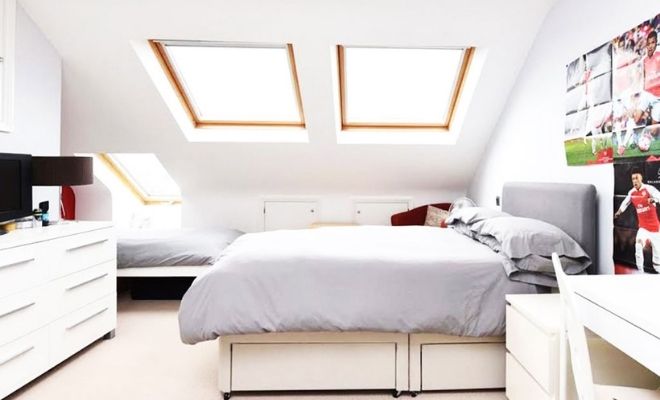 During your mansard loft conversion, a building control inspector will come to site at various stages to check that the conversion is compliant with Building Regulations and the cost for these inspections is on average £350-£500.
This fee is typically included in the amount paid for the submission of the architect's plans to the planning department of the local authority.
Planning Permission for a Mansard Loft Conversion
Planning permission is different from building control approval, although the two are sometimes confused.
While other loft conversions normally fall within permitted development rights, the fundamental changes to the loft space to incorporate a mansard extension mean that planning permission will be necessary in most cases. In effect, the structure of the house will be altered, as will the shape of the roof, and this is why planning permission will most likely be needed.
Where to Apply
Planning permission is either granted or refused by the planning department of your local authority, whereas permitted development rights are granted by Parliament. The local council is concerned with the preservation of the character of the area under its remit, which is why planning permission is a local and not national issue.
The impact on your neighbours is also a consideration and whether your proposed development could have a detrimental effect on their view or right to light. How your loft extension will look, in other words, its design will be another factor when it comes to planning permission as will any impact on local wildlife such as bats, which are protected under The Wildlife and Countryside Act 1981.
How Long Does It Take?
The time frame to obtain planning permission for a mansard loft conversion is difficult to predict, but there is a minimum consultation period of eight weeks. Prior to this, the plans submitted by you or your architect will need to be validated and the amount of time this takes can vary depending on many factors.
If you have not provided all the necessary information, then this will delay the validation of the plans. Only when all the correct information has been provided can the evaluation process begin.
The first part of the procedure involves publishing details of your proposed mansard extension on the local authority's website for a period of four weeks. This is to allow interested parties such as neighbours or utility companies the opportunity to view your plans and comment, accept or object to them.
Following this stage, your proposed plans are assessed by a planning officer and any comments or objections logged in the public accessibility stage are considered. The planning officer will also gauge how your proposed loft conversion will fit into its surroundings. A decision should be made on or around the eight-week mark either to approve or refuse the application.
Cost of Planning Permission
The cost to apply for planning permission is around £200 in the UK with some variations between England, Wales, and Scotland but this is no more than a few pounds difference.
Information regarding planning permission can be obtained from the planning department of your local authority. General information may be available on council websites, but it is better to speak to someone for more detailed information.
Removing a Mansard Loft Conversion Cost
There are a few reasons why someone would remove a mansard loft conversion. The conversion may have been in place for a long time and need to be replaced, or someone may buy a property with a mansard dormer and prefer a different type of loft extension. As a mansard loft conversion involves a whole new roof, it may be that the roof itself needs renewing.
Who Can Remove a Mansard Loft Conversion?
Whatever the reason for removing a mansard roof loft conversion it is a job that should be done by professional builders or loft specialists. If the mansard extension is being replaced by a new or different type of loft conversion, then it would be advisable to allow the builder or loft company to remove the old conversion.
This is because of the significant structural aspects that have to be considered when taking down a mansard loft conversion. If the job is done incorrectly or badly, it could affect the structural integrity of the entire house.
Labour Costs
Each mansard conversion will be different, and so it is advisable to get several quotes for its removal prior to hiring anyone. This will allow you to assess the service offered as well as the cost and ensure that you are comparing like for like.
If the mansard loft conversion is being replaced by another roof extension, then the price for removal should be included in the quotation given by the contractor.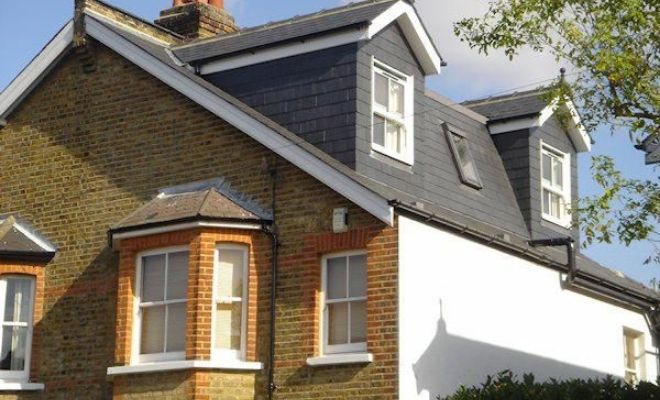 If you just want the mansard dormer removed without replacing it, then a general builder will either provide a price for the completed work or quote a day rate.
This can vary depending on location and the size of the loft conversion, but general builders will generally charge around £150-£200 per day with additional labourers costing around £80-£100 per day.
Waste Costs
The removal of a mansard loft conversion will generate a lot of waste, and so it will be necessary to hire a skip which will need to be emptied quite a few times. The average cost to hire a skip is approximately £200-£300 per week but will depend on location.
If the skip is to be located on your driveway or garden, then there will be no other charges. However, if the skip needs to go on the public highway, then it will be necessary to get a permit from the local authority. The cost of these permits varies from one council to another, so it is best to enquire at the time of hiring the skip.
FAQs
How to Find & Hire Contractors to Build a Mansard Loft Conversion
The decision to build a mansard loft conversion is a big investment both in terms of money and the structural changes to the house. For this reason, it is essential to find the right contractor for the job.
What to Look For
Whether you have hired a loft conversion specialist with an in-house architect or are hiring one separately from the contractor, you will need an architect who has designed a mansard dormer before. The same is true of any non-loft specialist contractor, but even then, a loft conversion specialist may not have completed many mansard extensions.
So, ask the question of all the professions that you will need to hire, how many mansard loft conversions have they worked on. Ask to see examples of the architect's designs and ask the contractor or loft specialist if they can arrange a viewing of a previous mansard conversion that they have done. Many companies can organise this for prospective clients.
Qualifications
An architect will need to have completed a five-year degree which must be recognised by the Architects Registration Board. Once completed, an architect will be registered with them. A structural engineer will require the appropriate degree and may be a member of the Institution of Structural Engineers.
A loft conversion specialist will not require specific qualifications but any trades employed by them such as plumbers and electricians should be registered with bodies such as Gas Safe or NICEIC. Carpenters, plasterers, and most other trades will be time served working up from apprenticeship levels.
Experience
The architect that you appoint to design your mansard loft conversion should have extensive experience of loft conversions and have designed several mansard dormers. As a potential client, you can ask to see previous designs or examples of work. Similarly, the engineer working on your structural calculations should have experience, particularly in loft conversions.
The building contractor or loft conversion company that you hire should be well established with their own business premises and have a good reputation. If you can view the work of the contractor prior to signing up with them, it will give you the opportunity not only to see a completed loft but talk to a previous client.
This will allow you to gauge not just the workmanship but also the conduct of the workforce when they are on site. Experienced contractors will know that clients rate the way that their home is treated during any works as very important and will be as considerate as possible while on site.
Accreditation
Architects can apply to become members of the Royal Institute of British Architects (RIBA) which sets the standard for professional excellence. A structural engineer can apply for chartered status with the Institution of Structural Engineers.
A loft conversion specialist or general builder can become a member of the Federation of Master Builders or Guild of Master Craftsmen which both recognise skilled and reputable professionals.
Insurance
An architect should have professional liability insurance to protect themselves from claims of negligence, errors, or omissions. Similarly, for a structural engineer to protect from any severe mistakes in calculations.
A builder or loft conversion specialist should have public liability insurance as well as professional indemnity insurance to cover any accident or damage.
References
Before engaging the services of any trades, it is acceptable to ask for references, especially for a large, complex, and expensive project. Most reputable and professional tradespeople will be happy to supply references from previous clients.
Proof of previous work by the architect, contractor, or loft conversion specialist is significant before hiring for such a large undertaking. You should be able to see completed designs and finished conversions that they have worked on before committing yourself.
Quotations
It is important to get at least three quotations from the professions that you will need for your mansard loft conversion. You should speak to a few different architects to get ideas of designs and what is achievable with your loft space as well as compare prices.
The same is true for the building contractor or loft conversion specialists that you hire. Remember they will be in your property for months, so it is essential that you are happy with their processes and approach to working in someone's home.
So, although the price is essential, there are other contributing factors which should influence your decision, and you should not just hire the first person who quotes for the job.
Sources
https://arb.org.uk/architect-information/applying-for-registration-for-the-first-time/
https://www.gov.uk/government/publications/protection-from-falling-collision-and-impact-approved-document-k