How Much to Replace Guttering?
The average cost of replacing and installing new guttering is usually in the range of £450-£700 depending upon the condition of your fascias, whether the roofline has easy access, and whether your house is detached, semi or terraced.
Most roofline workers operate in pairs and will usually charge around £200-£300 per day. Usually, to replace your guttering it takes just a single day, maybe even less if only a ladder is needed.
Guttering Prices
Here are a few average costs for installing new pvc guttering. Please note that these are average prices, for example you may notice that having guttering installed on a detached bungalow is cheaper than a detached house.
This is simply because some houses don't have easy access, requiring an access tower to be built.
| House Type | House Size | Avg. Cost | Duration |
| --- | --- | --- | --- |
| Detached | Bungalow | £500 | 1 day |
| Semi-Detached | Bungalow | £450 | 1 day |
| Detached | 2-storey | £600 | 1 day |
| Semi-Detached | 2-storey | £500 | 1 day |
| Terraced | 2-storey | £450 | 1 day |
Cost Breakdown Calculator
Individual costs for a Semi-detached house of average size - Total Cost: £500
Example Cost of Replacing your Guttering
Assuming a typical semi detached UK property with around 15 to 20 metres of guttering in total plus 3 rainwater downpipes. Then the typical cost for replacement would be around £600 to £800.
This would include erecting access equipment to work at height, the removal of existing guttering and rainwater downpipes, the supply and fit of new uPVC rainwater guttering, brackets and downpipes, connecting into existing drains, then the removal of all waste material.
This figure will vary if you have an unusual roof design requiring many more brackets to support the guttering, or if there are access problems due to a conservatory or porch.
For a standard 3 bed semi, the job should take less than one day to complete. If you require cast iron guttering to be fitted then expect to pay a lot more.
What Installing New Guttering Entails
Installing new guttering is a job that will eventually need doing on all properties as the guttering takes some serious abuse dealing with the typical British weather while taking water away from the roof.
Plastic guttering is the most common type today as it is so versatile and can look exactly the same as cast iron guttering once installed. Removing the old guttering and fitting new replacement gutters and downpipes is relatively straightforward, but it does involve working at height so safety is paramount.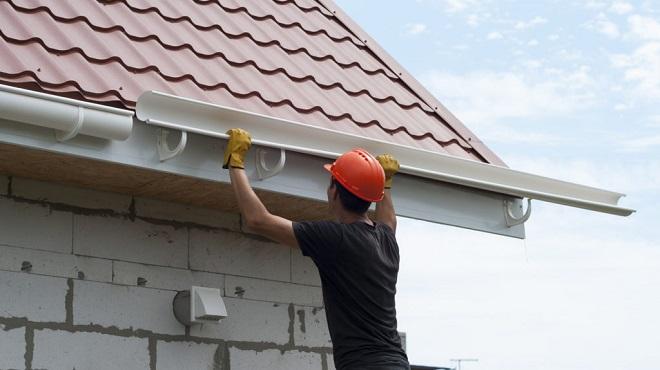 The guttering itself is fixed to the fascia board, so the removal of the guttering is often part of replacing the fascia and soffit boards (roofline). It therefore makes sense to replace the roofline products at the same time if required.
DIY Guttering Replacement
If you need to replace your guttering and plan to do the job as a DIY project, then you'll find new plastic guttering is by far the easiest type to fit. To find out how much guttering you will need, simply measure all the way round your house then check the manufacturer's guidelines to estimate how many fittings you will need.
The first step is to remove the old guttering, plastic guttering is pretty easy to remove, but cast-iron guttering is heavy and the edges can be really sharp if corroded or worn, so if you have cast iron guttering then it will be a two man job (at least).
Before you begin, ensure you are comfortable working on ladders at height and remember never to rest your ladder on the guttering.
You need to stop the old guttering from falling to the ground when removed, so place netting underneath or hammer nails into the fascia to catch it, then lower them slowly to the ground. Remove all sections and then the downpipes one section at a time from the top.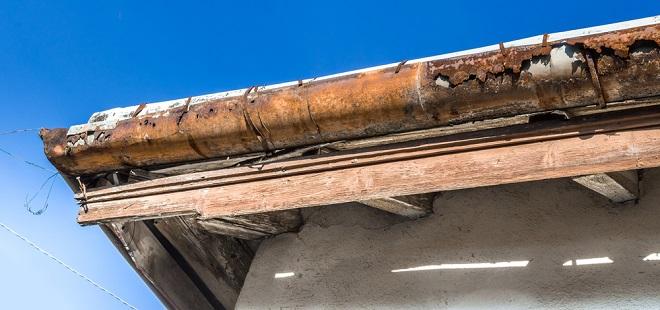 Start fitting the new guttering with the outlet part for the downpipe first which you'll need to place directly over the drain. You will need to use a plumb line to ensure you are directly over the drain. Fit the rest of the guttering with a slight fall of around 10mm every 6m of gutter to help the water to drain efficiently.
If there is damage to a single section of guttering, then just that section can be replaced, there is no need to replace all the guttering if the rest of it is in good condition with no leaks.
You may find that the fascia board is damaged when removing the old guttering due to weathering or rot over the years, or you may inadvertently damage it when unscrewing the old gutter brackets. So rather than fitting new guttering to rotten boards, you may find you have to replace all the roofline products at the same time, adding considerably to the overall cost.
In addition, the removal of the fascia boards may itself also damage the bottom roof tiles, so budget for replacing some of those also!
Downfalls of Leaky or Blocked Guttering
Even though gutters spend much of their time out of sight and out of mind, getting very little attention, they play a major role in protecting the structural integrity of your home, and keeping them clean and free of blockages is a great way to avoid the costly expense of gutter or damp related repairs.
The job of the guttering is to guide rainwater off your roof and down the drain, if they become blocked or broken, the results of rain penetrating the fabric of your home can be very serious and include structural damage and potential health issues for you and your family.
Whether you have cast iron, plastic, or aluminium gutters, they need to be cleaned and maintained regularly to keep them performing properly and to protect your home and family from damp problems.
In addition to blockages cased by leaves and moss, or even dead birds or animals, leaking gutter joints are another common problem which can lead to expensive damp problems.
Leaking gutters are now the most common cause of isolated damp in UK homes and often result simply from general wear and tear, but blockages certainly exacerbate the problem. If you do find damp in your home, one of the first things you should check is your gutters before you do anything else.
From the ground the things to look out for are water running down the walls when it's raining and sagging gutters. But you really should get up on a ladder once per year and thoroughly check the guttering while cleaning it out to prevent blockages.
Sagging gutters are usually caused by the gutter becoming weighed down with debris and standing water, and/or rusty old screws and failing support brackets. This can also be checked during the annual clean and inspection.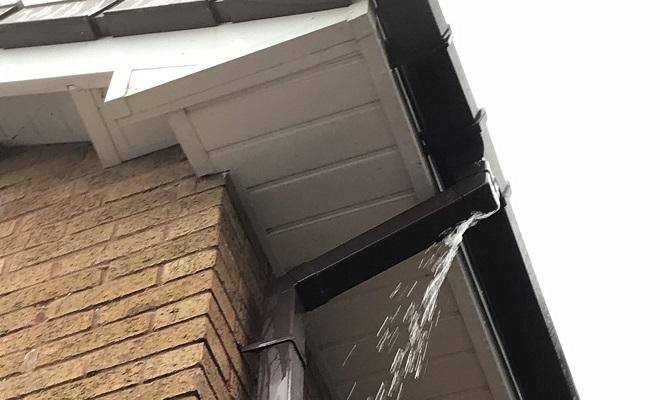 If your area has a lot of trees then debris filling the gutters over time is unavoidable, but you can install a gutter guard. These guards act as a filter, catching larger items like leaves and stopping them from entering your gutters, while still directing the water away from your roof.
Guards won't stop all debris but they will keep the larger pieces from causing blockages and extra weight which will cause sagging and strain on the brackets.
How to Fix Damaged or Blocked Gutters
If you have damaged or blocked guttering and are not confident you can do this job yourself safely, you need to call in the professionals and they can take care of everything from clearing debris to repairing plastic gutter brackets.
They'll use a special ladder to reach the roof and they'll start by removing any big pieces of debris from the gutter then they'll use a wire tool to clear the downpipes if required.
They will also replace any faulty sections of guttering and fill any cracks with sealant. Alternatively, if there is a lot of damage, they will just replace the guttering completely as this is actually cheaper than doing lots of small repairs!
Plastic gutters are cheap and will keep down the costs of weather proofing your home down. However, they aren't as robust as metal so you may need to replace it more often. Plastic guttering also does not have a lot of options in terms of finish or colours. Aluminium guttering is aesthetically pleasing particularly on period houses but is more expensive.
Aluminium gutters had fallen out of favour in the UK with cheaper plastic guttering being the most popular option, but there has been a recent surge in their popularity as buyers realise the money saved using plastic is a false economy due to the longevity of aluminium.
But if you just want a job finished quickly and as cheaply as possible, perhaps if on a limited budget or are intending to sell the property, then plastic gutters will do just fine. Aluminium guttering is certainly the favoured material amongst professional roofers and roofing contractors for guttering as they know the advantages of aluminium and how durable it can be.
FAQs
Sources
https://www.roofingassociation.co.uk/cost-of-new-gutters/
https://www.roofadvisor.co.uk/how-much-does-it-cost-to-have-gutters-repaired/