How Much Does Plastering Cost?
Plastering prices tend to be fairly standard but like a lot of small jobs there is an expected minimum price you'll have to pay. With this in mind it's quite often best to wait until you've got a decent sized job that needs doing before hiring a plasterer.
Most plasterers tend to charge around £150-£200 per day and for a single wall it shouldn't take any longer than 4 hours to complete the work. However, they will be charging a minimum of £100 for this in labour alone.
Average Plastering Prices
Here are a few average costs for hiring a tradesman to do some plastering:
| Job Description | Avg. Cost | Duration |
| --- | --- | --- |
| Small Patch Repair work | £100 | 2-3 hours |
| Whole wall needs plastering | £150 | 3-4 hours |
| Whole room needs plastering | £350 | 6-8 hours |
| 2 rooms need plastering | £500 | 1-1.5 days |
Cost Breakdown Calculator
Individual costs for hiring a tradesman to plaster a small bedroom - Total Cost: £300
How Much to Plaster a Ceiling?
Plastering a ceiling is a little more difficult than plastering a wall. So it takes longer, and thus costs a bit more. So expect to pay roughly 25% more to plaster a ceiling than you would a wall - roughly £250.
How Much to Skim a Wall?
Skimming a wall is very similar to plastering a wall, except it's a smooth final layer that is then ready to be painted. In terms of materials, the cost is slightly lower buy the labour costs are the same, so the cost for a single wall is around £150 to £200.
What Plastering and Skimming Entails
Plastering provides a smooth, flat surface to internal walls and ceilings, ready for decorating with paint or wall paper. Plastering also adds some sound and heat insulation, and it is fire-proof too. The two main methods are wet-plastering or by dry lining using plasterboard. Wet plastering is the traditional plastering method but it is a difficult technique to master for the DIY enthusiast. A professional plasterer may be expensive but will achieve the sort of smooth flat surface an amateur could only dream of!
If you are serious about plastering you may want to think about going on a short plastering course just to pick up the basics, but allow plenty of time for practice before attempting to plaster a wall in your home! The key to good plastering is to divide and tackle walls and ceilings just one section at a time and to prepare the work areas well. Before starting the area should be clean and primed with a bonding agent if required. Screeds are needed to ensure that the plaster stays level, these wooden battens are nailed to the wall and removed after plastering.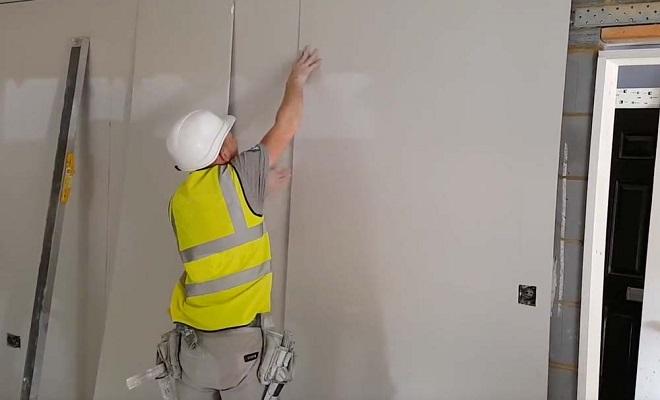 Dry-lining is a lot easier and requires less skill, using large flat plasterboards which are fixed to wall. But both dry lining and wet plastering are usually finished with a skim of plaster with a very smooth durable finish around 2-3mm thick. Plastering jobs vary a great deal in complexity and so it is difficult to quote exact prices for specific jobs, some plasterers charge a day or hourly rate and others will quote a fixed price for the job.
If you are looking to repair a small area of damage to a wall then you might be able to have a patch repair done on the plaster, especially if you intend to wallpaper over the wall. But if you looking for a professional smooth finish to paint over, then it might be best to plaster the entire wall. If there is a requirement to move plug sockets then an electrician will need to come in which will add more cost. If you live in London then the prices can be considerably more than areas in the North too.
Additional Costs to Consider
Plastering is a messy job that will require at least some decorating (plus a lot of cleaning) to finish off, so it makes perfect sense to have any painting or decorating done at this time. The walls/ceilings will need painting or wallpapered after plastering, so having the skirting boards, door and window frames painted at the same time will finish the rooms nicely.
If old plaster is being removed remember to budget for the cost of a skip for waste disposal. External plastering or rendering will also often require scaffolding which is expensive. If gathering quotes make sure you ask if scaffolding and skip hire is included in the price. Plasterers should always include protective sheeting and cleaning up in their estimates, but remember that it's much easier for them to work in unfurnished rooms, so if the rooms are not empty it's likely that the job will cost more.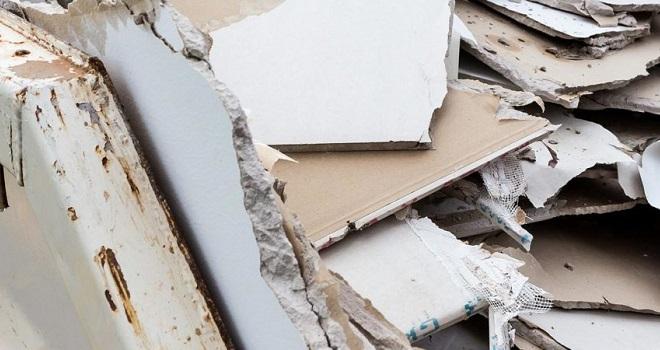 Skim Plaster an Old Wall
If you need a plasterer to apply a fresh skim coat to old plaster walls, you will need to prepare your walls first as they cannot and will not work with damaged and crumbling old plaster! So remove any old crumbling plaster and clean the brickwork beneath. Also scrape away any old pieces of wallpaper and apply an adhesive like PVA or a product such as Blue Grit to provide a really good base for a new plaster skim coat. Once dry your plasterer can apply a skim coat directly with no fuss for a professional finish.
Can I Skim Plaster Over Wallpaper?
This can be tempting, especially if your walls and ceilings are covered in wood chip! Unfortunately, it's not a good idea. Not only will the plaster fall off with a layer of wallpaper, you will not be able to find a plasterer willing to try it! The plaster needs to bind to the wall itself, not a layer of paper covering the wall. Even though wood chip is pretty strong for wallpaper, it's not strong enough to hold the additional weight of a skim coat of plaster. So all the wallpaper needs to be removed to ensure proper adhesion of the new plaster skim. This means some serious work if you have wood chip, or be prepared to pay a decent sum to a tradesman to remove it for you!
Although less common nowadays, it is sometimes still necessary to plaster directly to old brickwork, not always on small areas of wall where sections of old plaster have come away, but sometimes over an entire wall. It will depend a lot on the condition of the wall, crumbling old brickwork will not take a new coat of plaster well and your plasterer will not be willing to even try it! So best to always brush down the brickwork with a wire brush ensuring all dust and crumbling brick is removed and only sound brickwork remains. Then apply a layer of bonding before the plasterer skims the entire surface.
If your old walls are painted, sand and clean them off first before coating them with a weak PVA solution or Blue Grit to help the new plaster skim coat stick nicely to the walls.
Plasterboard vs Wet Plaster
Before plasterboard, plastering was a much more laborious and expensive task as wet plaster had to applied directly to bare brickwork or blocks in many layers to build up the necessary thickness to make the walls smooth. This type of plastering does have some advantages in terms of soundproofing and making the room draught proof, but it takes much longer to dry as each coat has to be left for a day and it can be prone to cracking in older buildings.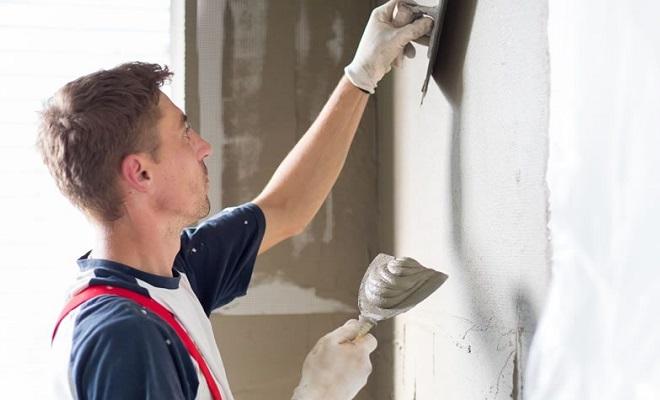 A skim coat on plasterboard is far simpler and quicker than plastering over bare brickwork as it only needs one skim coat. Plus a layer of insulation can be added in behind the plasterboard if required. It is also possible in some cases to just fill in joins on plasterboard and cover with tape before applying thin coat products to get a similar finish to wet plaster.
FAQ's
Yes of course you can buy the materials yourself although it's probably best you ask the plasterer beforehand to find out exactly what and how much are needed. For a single wall you're probably looking at around £20-£25.
Yes indeed, it can be very messy. If you've got any furniture nearby it's best to move them to a different location although you're plasterer should cover any and all furniture/carpet with a sheet before they start working.
This will depend on the size of the job but for a single wall you're looking at 3-4 hours, and for a whole room it usually takes a full day for a plasterer to finish the job. Please note that the wall will take up to a week to dry depending on the thickness of the plastering, so make sure you don't try to paint it before then.