How Much Does Repairing a Ceiling Cost?
The average cost of replacing a ceiling is around £400 - £1000, depending on the size of the room and the type of ceiling that you install.
The work to repair or replace your ceiling is likely to require a professional tradesperson, at a cost of around £150 – £200 per day.
The size of the ceiling will be a key factor in costing the repair or replacement. The size will also influence the time that the work takes. If the ceiling is made from plasterboard (drywall) then the work will be quicker than if you are dealing with a lath and plaster ceiling in an older property.
These types of ceiling are extremely delicate and require careful handling to prevent further damage or collapse. The price to repair or replace them is also higher than for plasterboard ceilings due to the specialist nature of the material and the expertise required to deal with them.
Plasterboard ceilings are relatively straightforward to deal with in terms of repair or replacement. The material comes in 2.4m x 1.2m lengths and is fairly robust so handling is easy enough with two people. Lath and plaster ceilings however require some experience and a gentler approach to avoid making the situation worse.
To repair plasterboard ceilings the cost is:
12mm standard plasterboard (2400mm x 1200mm) £6-£7
38mm drywall screws (box of 500) £8
90m roll scrim tape (50mm) £3
25kg plaster £6
The current condition of the ceiling and how much needs to be repaired or replaced will determine the amount of time and materials that will be needed to complete the work. A large hole or water damage will take more time and effort than filling in a hole from a removed spotlight for example.
Replacing the entire ceiling will involve taking down the old structure, disposing of the waste and reinstating the ceiling with new plasterboard. If the property is a listed building, then replacing like for like will be required under listed building consent therefore removing a lath and plaster ceiling will require the services of a specialist tradesperson familiar with this type of original material and its application.
As well as paying for the skill and knowledge of the tradesperson the process itself is longer and more labour intensive than modern drylining and plastering. Expect to pay one and a half to two times as much for traditional methods as you would for modern alternatives. However, each job would need to be assessed and quoted for according to the repair need and materials involved.
Ceiling Repair Prices
| Type of repair | Drywall | Lath & plaster | Drop (suspended) |
| --- | --- | --- | --- |
| Water leak (replace entire ceiling) | £30-£35 per sqm | £35-£40 per sqm | £20-£40 per sqm |
| Hairline cracks (fill) | £10-£12 per sqm | £15-£18 per sqm | N/A |
| Settlement cracks (fill) | £10-£12 per sqm | £15-£18 per sqm | N/A |
| Peeling paint | £100-£150 per repair | £130-£160 per repair | £20-£40 per sqm |
| Foot through ceiling (1 square metre patch repair) | £35-£50 per repair | £40-£60 per repair | £20-£40 per sqm |
| Foundation repairs (uneven cracking) | £10-£12 per sqm | £15-£18 per sqm | N/A |
Cost to Replace Ceiling
| Type of ceiling | Size of ceiling | Material required | Cost to replace |
| --- | --- | --- | --- |
| Drywall (plasterboard) | 3.3m x 3m | 4-5 sheets 2.4m x 1.2m, 1-1.5 25kg bag plaster, scrim tape, services of a plasterer | £200-£300 |
| Lath & plaster | 3.3m x 3m | Can be replaced with plasterboard or with services of a lath & plaster specialist | £200-£300 or bespoke quotation |
| Dropped (suspended) | 3.3m x 3m | 30-32x replacement suspended ceiling tiles 600mm x 600mm | £40-£70 |
Supply Costs
Plasterboard is available in 2400mm x 1200mm sheets or sometimes 1800mm x 900mm and in a variety of thicknesses. It is possible to purchase square edged, tapered edge, moisture resistant, fire resistant and acoustic variations. The standard 12.5mm thick 2400mm x 1200mm plasterboard costs on average £6-£7.
Drywall screws are either black phosphate or anti corrosive bright zinc and come in a range of lengths and can cost between £5-£10 for a box of 500.
If it is possible to attach the patch repair to an existing ceiling joist, then this is preferable even if it means opening up the hole slightly to reach it. However, it is not strictly necessary as a timber batten can be fixed to the joists on either side of the hole and the piece of repair plasterboard attached to these noggins. A piece of timber batten of 25mm x 50mm will cost less than £1 per metre.
Scrim tape is used to strengthen any joints prior to applying a skim finish of plaster. It is a glass fibre reinforcing mesh and cost around £5-£6 for a 90m roll of 50mm wide tape.
A 25kg bag of plaster will cost approximately £5-£10.
The tools required for a cracked ceiling repair are:
| Type of tool | Average cost |
| --- | --- |
| Tape measure (5m-10m) | £5-£30 |
| Plastering trowel | £8-£80 |
| Work platform/ladder | £60-£200 |
| Stanley knife | £5-£10 |
| Drill with screwdriver function | £25-£200 |
| Spirit level | £10-£20 |
| Pencil | £2-£5 |
| Wood saw | £5-£20 |
| Plastic sheeting | £3-£5 |
Safety gear is always advised when doing any kind of DIY work and the following should be worn:
Safety goggles £2-£15
Dust mask £1-£5 each
Additional Costs
It may be difficult to blend a repair into the rest of ceiling or into the rest of the room. Newly plastered and painted areas tend to stand out and it may be necessary to decorate the remainder of the ceiling and the walls.
If you decide to do this work as a DIY project, then the cost will include the following as basics:
| Type of tool | Average cost |
| --- | --- |
| White emulsion paint 10 litres | £10-£20 |
| Roller and tray | £5-£10 |
| Paint brush | £2-£10 |
| Masking tape | £1-£5 |
| Dust sheet | £3-£5 |
Hiring a decorator will cost on average £130-170 per day.
If damage has been caused to the walls as well as the ceiling, then it might be necessary to plaster the entire room. Hiring a plasterer to do the work will cost between £150-£200 per day. Plastering is a highly skilled job and not recommended as a DIY job.
It may be necessary to move light fittings to carry out a ceiling repair or replacement and this should be done by a qualified electrician. The cost to hire an electrician for this kind of work will be around £35-£50 per hour.
Cost Breakdown Calculator
Individual costs of replacing the whole ceiling in a large room: £1000
Labour Costs and Time Frames
To repair or replace a ceiling will require the services of a plasterer and labourer. Installing plasterboard is usually a two-person job so it will be necessary to budget for an extra pair of hands.
A plasterer will charge around £150-£200 per day with a labourer costing £80-£100 per day. Replacing an entire ceiling should take no more than one day if the work is straightforward and there are no hidden issues.
A cracked ceiling repair could be done in a couple of hours and it may be possible to get a price just for a small repair as opposed to a day rate. An average hourly rate would be in the region of £15-£20 although it does depend on location within the UK, experience of the plasterer and the extent of the work required. Some plasterers charge by the metre so ensure you know how you are being charged before agreeing on a price.
How to Reduce Costs
If there is an old ceiling to be removed this is something that a homeowner could do themselves to reduce labour costs. How much of the work you are willing to do yourself will depend on how confident you are about the task and whether you are actually going to save money by doing so or end up paying extra for a tradesperson to rectify any mistakes you might make.
Removing a ceiling is a very messy job and good preparation is important to avoid adding to the overall work. Sealing the room by taping plastic sheeting over internal walls is a good first step. Laying a heavy-duty dust sheet and taping it to the skirting to protect the floor is also advised and leaving any windows open will help the clouds of dust to disperse more quickly.
Naturally, all furniture should be removed from the room and anything that cannot be taken out should be covered and protected as much as possible. Taking the time to prepare the room in advance will save clean up time once the work is complete. Taking the ceiling down should take no more than two hours if no problems are encountered.
What Can Increase the Cost?
Some problems which may arise are finding asbestos fibres within a textured ceiling or asbestos cement sheets which can sometimes be found in pre-war homes.
Removing anything containing asbestos requires a licenced and qualified specialist to prevent danger to health and it is potentially better and cheaper to overboard such ceilings with drywall.
Older properties sometimes have plaster cornicing or ceiling roses which will need to be removed carefully if being retained. Damaged pieces can be repaired by specialists but the cost of this is around £60-£65 per metre.
What is a Ceiling?
A ceiling is the uppermost surface in a room and usually conceals the underside of the roof structure or the floors above. Along with walls they create enclosures and separate spaces and can help to control the diffusion of light and sound within a building.
Purpose of a Ceiling
Although they are not a structural component, ceilings play an important part in enclosing essential elements within a building. Wiring, insulation, water pipes and ventilation ducts are normally hidden behind them. They also serve to reduce sound transmission between floors and act as an additional barrier in the event of a fire.
Fashions in architecture and design have influenced the height, construction, and functionality of ceilings over the centuries. Not so long ago having high ceilings was a sign of affluence and prestige. Practicality and economics in modern times have meant ceiling heights were reduced to cut heating insulation and building costs.
What Are Ceilings Made From?
Older properties will most likely have lath and plaster ceilings and walls. This was the method of constructing internal walls and ceilings before the advent of plasterboard. It consisted of thin strips of wood which were attached to the ceiling or wall joists then covered with a plaster mixture of sand, water, lime, with horsehair to bind it together.
Most homes have drywall or plasterboard ceilings and walls as it is a relatively cheap and effective construction material. Sheets are comprised of compacted gypsum covered in a thick lining paper and are attached to wall studs and ceiling joists with drywall screws.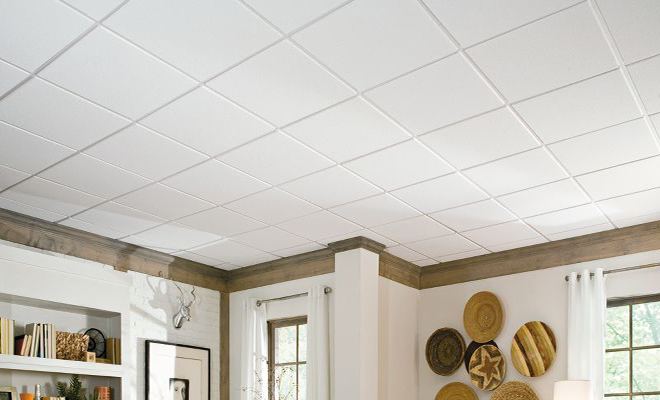 It is a convenient and rapid way to create rooms in a home, but it is not particularly strong hence many a foot through ceiling during construction or conversion work.
Modern commercial or public buildings incorporate suspended or dropped ceilings into their design although they do have a place in some modern designed domestic properties. This type of ceiling is made from a metal grid system which is hung from rails attached to the walls and the ceiling tiles are slotted into the spaces created by the grid.
They serve as a visual barrier to unsightly wires and ducting in commercial settings but also as a sound insulator in large open buildings such as office blocks or hospitals. Their appeal is that they are quick and easy to install, maintain and replace.
Cost Affecting Factors of Repairing a Ceiling
Here are a list of cost affecting factors to consider when replacing or repairing a ceiling:
Size of the Ceiling
Size is one of the most obvious cost affecting elements of a ceiling repair or replacement. The amount of materials needed and the time for labour will increase according to the size of the repair or replacement.
Although a large plasterboard ceiling replacement can be more straightforward and therefore quicker than a small lath and plaster replacement which is much more involved and time consuming.
Type of Material
A modern plasterboard ceiling can be relatively straightforward to remove with just a few basic tools and a willingness to clean up afterwards. An old lath and plaster ceiling requires a lot more work and creates much more mess.
Although the materials for these two types of ceiling are quite different a repair to both can be done with some plasterboard, screws, and plaster. A suspended ceiling is possibly one of the easiest to replace or repair as the components can just be swapped for new without too much preparation or mess.
Type of Repair
If a repair is needed, then sometimes the problem can be larger than anticipated once the area is opened up and what started out as a small job can quickly escalate. This is often the case with water ingress from a roof leak or burst pipe. Water will get into the smallest of areas and cause materials such as plaster and wood to swell and expand, damaging them and the surroundings in the process.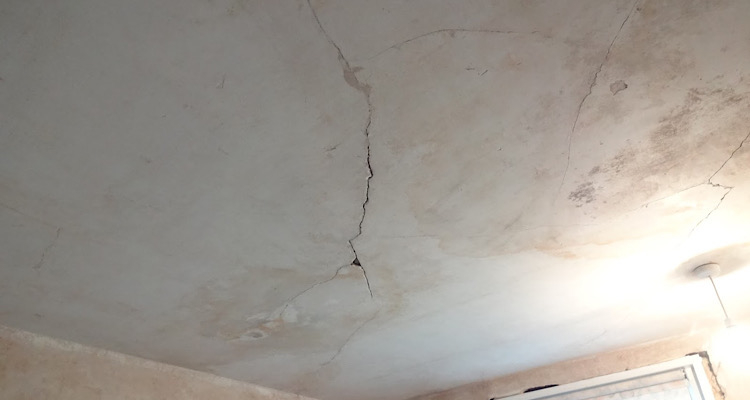 It is always essential to find and repair the cause of any water ingress before carrying out a ceiling repair or replacement otherwise you may be repeating the process a few months later.
Condition of Ceiling
The condition of the current ceiling will influence what needs to be done regarding a repair or replacement. Quite often it is not until there is access to the void above the ceiling that the true condition can be revealed. There may be a water leak, insect infestation such as woodworm or structural problems that were previously hidden.
A water leak may require the services of a roofer or plumber depending on the source of the leak and a woodworm problem will need to be addressed by a pest control specialist. If you discover a structural problem that has caused cracking or other defects, then you should engage a structural engineer to assess the property.
Type of Property
The type of property will impact on the cost of any ceiling repair or replacement. A period property may have lath and plaster walls and ceilings, ornate plaster coving and ceiling roses or have ongoing structural issues.
Care will need to be taken with older properties to avoid damaging historical features or causing weaknesses in the structure. Lime plaster was commonly used in older properties and the dust from this plaster can be damaging to the lungs so a respirator dust mask should be worn.
What Does Replacing a Ceiling Entail?
Over time ceilings need to be repaired and possibly even replaced. If you have decided to replace or repair your ceiling use this guide to understand how to replace a ceiling, carry out repairs and what is involved in a new ceiling cost.
Replacing a Plasterboard Ceiling
It may not be possible to repair plasterboard ceiling from water damage or extensive cracking, but it is not too difficult to replace the ceiling. There is a range of materials available for ceiling renovations, plasterboard being the most popular choice.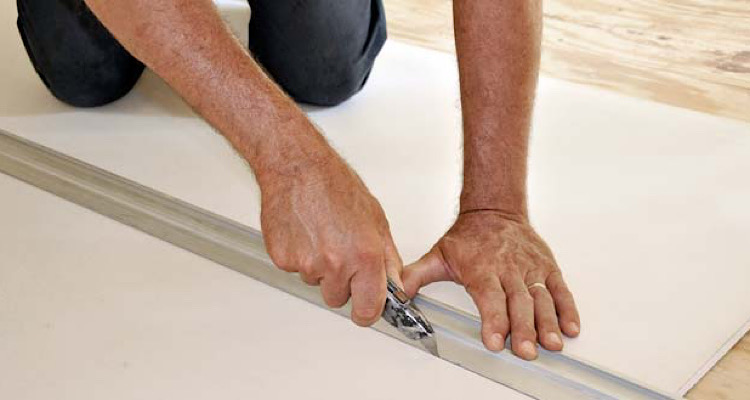 It consists of a flattened sheet of compressed gypsum covered in heavy lining paper and is also known as drywall. There are also many guides on how to replace a ceiling from reputable sources.
Replacing a Lath and Plaster Ceiling
Whether you are replacing a lath and plaster ceiling with a plasterboard ceiling or replacing like for like the existing ceiling will have to come down first.
The reason why it is messier than taking down drywall ceilings is that there are more components to a lath and plaster ceiling, by its nature it's been in situ a long time and years of dust and debris have accumulated above it.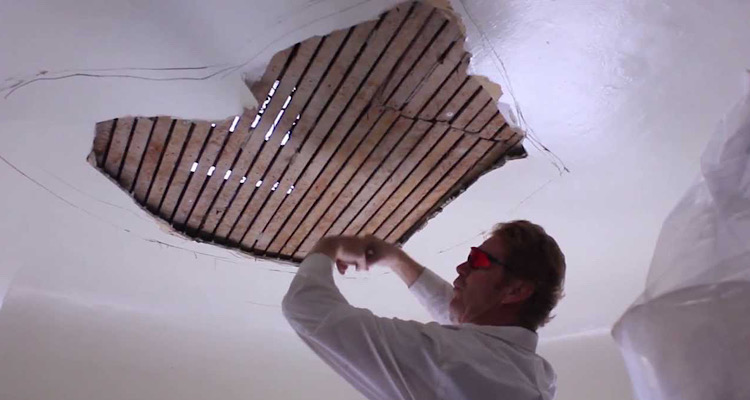 Accordingly, the precautions of removing all furniture, taping up internal doors, opening windows and wearing safety equipment are doubly applicable when removing a lath and plaster ceiling.
There is no easy, quick, or clean way to remove a lath and plaster ceiling and therefore most people either board over them or leave them in place.
Replacing a Dropped Ceiling
This is probably the quickest and cleanest of all ceiling replacements. It is likely that the gridwork will be able to remain in place, so it is just a case of swopping the new tiles for the old therefore the cost to replace ceiling tiles should be the only thing to budget for.
Of course, if you want to remove the entire dropped ceiling and replace it with something completely different then it would be necessary to remove the grid structure as well.
What Does Repairing a Ceiling Entail?
There are a few common ceiling repairs that will be useful to look our for and understand how to fix:
Water Leak Repair
Water leaks are probably the most frequent cause of damage to ceilings and this can be from a leaking roof or a burst or faulty pipe. Either way the damage from water ingress can be substantial and require major repair.
Normally the first sign of a problem is a stain on the ceiling which grows and does not dry out. If spotted before any material damage is caused then once the leak is fixed the ceiling can be allowed to dry out, stain blocked and repainted.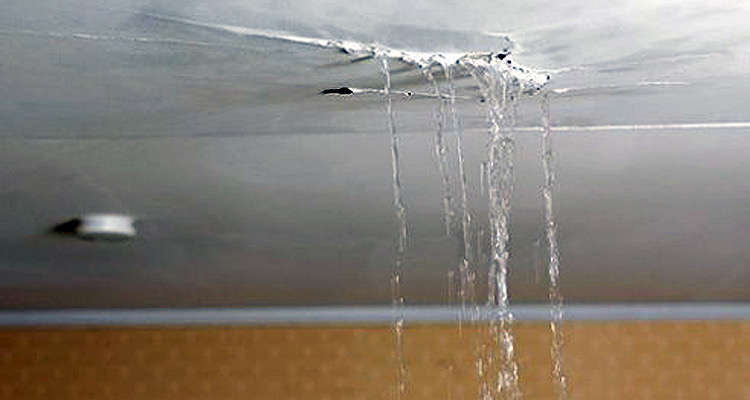 A good quality stain blocker costs around £20-£25 for a litre. However, if the water has already penetrated the plasterboard, surrounding joists and insulation then it will be necessary to repair the affected section. This can be done by:
Removing loose or wet pieces of plaster and taking the hole back to sound plaster.
Locate nearby joists or studs that can be utilised as support for the plasterboard repair.
If necessary, you can attach timber noggins to the joists to act as fixing points for the plasterboard.
Brush or wipe down the area to remove dust and particles.
Apply water/PVA mix to area around the repair to provide adhesion and to prevent the plaster drying out too quickly.
Cut a piece of plasterboard approximately the size of the hole to be repaired.
Attach this piece to the joists or inserted timber noggins with drywall screws.
Cover the joints with scrim tape and skim with plaster.
For repairs up to 3mm you can use a ready-mix repair plaster.
Allow plaster to dry (this will depend on the room temperature and humidity).
Seal and redecorate the repaired area.
Repairing Hairline Cracks
Hairline cracks which are commonly measured at no more than a tenth of a millimetre, are caused by movement and vibration. As they are so fine it is difficult to get a filler inside, so it is generally advised to widen the crack with the edge of a scraper and then apply the filler to the newly enlarged crevice.
The reasoning is that the wider the crack the more surface the filler has to adhere to. A filler which has some elastic properties to deter recurrence is advisable for ceiling crack repair. It is a job that can be done as a DIY project with the correct materials and tools.
If the thought of gouging even greater cracks in your ceiling is scary then there is also the possibility of painting over the cracks with a flexible paint. This costs approximately £20 for 2.5 litres.
Repairing Settlement Cracks
Settlement cracks occur in newly constructed buildings, extensions, and loft conversions. They happen as materials such as timber dry out and contract. Repairs and redecoration should be left for a period of at least twelve months to allow the complete settlement of the structure otherwise it may be necessary to re-do the repairs.
These cracks can also be filled with a flexible filler which can cost between £5-£25 depending on the brand.
Peeling Paint Repair
Peeling paint is often caused by damp and the source of the damp should be addressed first. The surface should be allowed to dry thoroughly, and a stain block applied to prevent 'bleed through' to the painted surface. A topcoat can be added once the stain block has dried.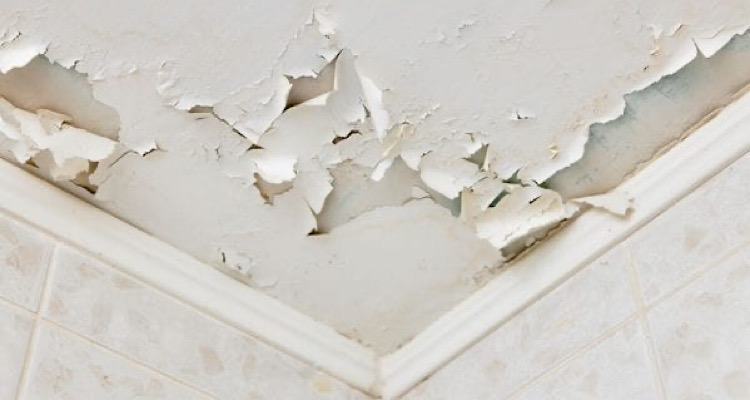 A 5-litre tin of white ceiling emulsion costs between £15-£35. Poorly prepared plaster can also be the cause of peeling paint if it has not been sealed. Plaster primer/sealer costs around £15-£20 for a litre.
In the case of peeling paint on a ceiling the following should be done:
The old, peeling paint should be scrapped off and if necessary, lightly sanded.
Area wiped with a damp cloth to remove dust and loose particles.
A plaster primer/sealer should be applied.
One or two finishing coats of emulsion paint applied.
Ceiling Hole Repair
Someone putting a foot through the ceiling is a common occurrence and can either cause a punched through hole or a bulge in the ceiling.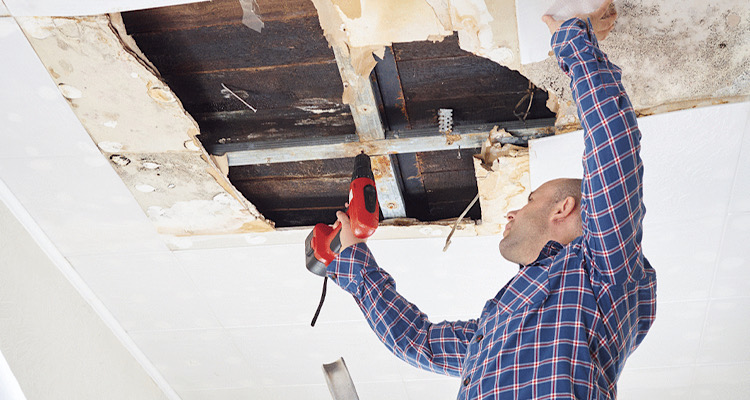 For a hole it is best to:
Cut the hole back to a joist on either side so that you have something to attach a piece of plasterboard to. Alternatively, you can insert timber noggins on either side of the hole and fix them to the joists, the patch of drywall can then be screwed to these timbers.
The joints of the repair are treated in the same way as on a new ceiling i.e. the joints are covered with scrim tape and skimmed over with plaster.
For repairing a hole in a lath and plaster ceiling with a piece of drywall the process is the same. More care will need to be taken as it is a messier and more fragile material.
For repairs with original materials as opposed to a piece of plasterboard then it may be necessary to enlist the services of someone familiar with traditional plastering methods. However, for a small repair it is a quick and cheap option to use a piece of plasterboard.
If there is no hole but an indentation where someone has stood on the ceiling momentarily then it may be possible to push the plasterboard or lath and plaster gently back to its original position and screw it into place to secure it.
It will be necessary to skim over the repair however to hide the screwheads and any visible unevenness in the ceiling.
Foundation Movement Repair
Foundation movement causes cracks that are usually wider at the top than at the bottom and follow a diagonal or 'stepped' shape. This type of movement can be caused by clay subsoil, collapsed drains, trees planted close to the building or inherent defects in the structure.
The effects internally may cause sagging or cracks in the ceiling. The issue of the foundation movement should be addressed and rectified before doing any remedial work to the ceiling otherwise it may need to be repeated. Wider cracks can be filled with flexible filler and decorated over.
DIY Ceiling Repair
Repairing a ceiling is within the remit of most capable DIY enthusiasts and with a little knowledge or instruction can be successfully carried out.
Safety should always be the first consideration in any work within the home especially when it involves demolition of any kind which a ceiling replacement will to some degree. There are many 'how to' videos available on removing a ceiling and these should be treated with caution.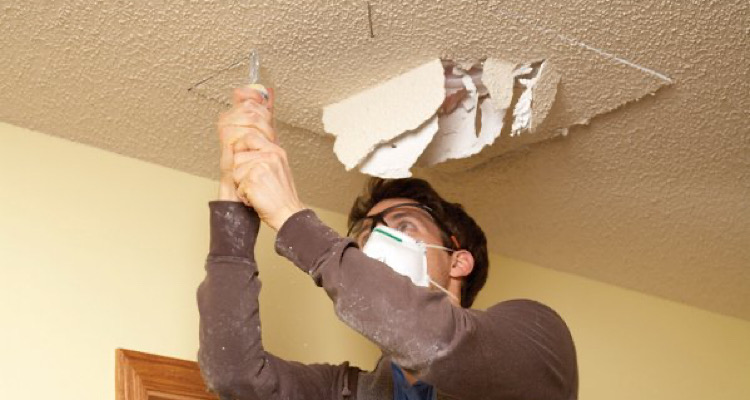 Some show people cutting through the plasterboard with no mention or indication if there have been any checks for wiring or pipework above the area being worked on. This should always be done with an approved wire and pipe detector. These are inexpensive and are available from £20-£30 and can prevent injury or damage.
The following personal protection equipment should be worn:
| Type of safety equipment | Average cost |
| --- | --- |
| Safety goggles | £2-£15 |
| Dust mask | £1-£5 |
| Respirator mask (for lime plaster) | £12-£130 |
| Gloves | £2-£5 |
| Safety boots | £17-£120 |
To do the ceiling repair or replacement yourself you would need the following tools:
| Type of tools | Average cost |
| --- | --- |
| Bolster chisel | £5-£15 |
| Club hammer | £5-£40 |
| Spirit level | £10-£20 |
| Stanley knife | £5-£10 |
| Pad saw | £3-£20 |
| Electric drill with screwdriver attachment | £25-£200 |
| Pad saw | £3-£20 |
| Sandpaper | £3-£10 |
| Plastering trowel | £3-£20 |
| Plastering hawk | £8-£30 |
| Plastering float | £5-£30 |
Although the repair itself is not technically difficult for most DIY enthusiasts the finishing may best be left to a professional plasterer. Plastering is a difficult skill to master and takes years to perfect. It is possible to attempt it yourself, but you may then need to employ a professional to rectify your mistakes.
The process of repairing the ceiling yourself is as follows:
Once the furniture has been removed from the room the internal doors should be sealed with plastic sheeting to minimise the dust getting to the rest of the property.
A heavy-duty dust sheet should be placed on the floor, preferably taped to the skirting board to prevent it being moved when you are walking around or moving your ladder or work platform.
Windows should be opened to allow the dust to escape and to provide ventilation for the people working in the room.
The electricity to the room being worked in should be isolated and if lighting is required site lamps can be used. These cost between £15-£200.
Score around the perimeter of the ceiling where it meets the wall with a sharp knife to break the seal between the two. This should prevent the plasterboard in the wall coming away with the ceiling plasterboard.
To access the plasterboard on the ceiling it is necessary to cut into it from below. This can be done with a manual pad saw or an electric tool such as a Dremel.
Normally the cut is made in the corner of the ceiling and a hole big enough to put a tool such as a claw hammer or nail bar through. This is then used to pry the plasterboard away from the ceiling joists.
Never be tempted to access the plasterboard ceiling from above and attempt to push it down by stepping on it. This is dangerous and can potentially damage the walls as the plasterboard falls. A controlled removal from below is the best option.
There may be insulation that comes down with the plasterboard and the debris should be removed systematically to allow for a clear and safe work area.
After the plasterboard is down any nails or glue on the ceiling joists should be removed to prepare for the new drywall boards.
If there are gaps between the joists where the edge of the plasterboard will end you can insert noggins between the joists so that there is a timber for the board to be screwed into.
The new boards are then screwed into place with drywall screws. These should be spaced 150mm apart and around 15mm from the edge of the board. The screws should indent the paper on the boards but not break it as this weakens the fixing.
Staggering the sheets will create a stronger surface and prevent cracks from running the length or width of the ceiling.
The joints between the sheets of plasterboard should be approximately 3mm apart and are covered with scrim tape.
A layer of joint filler is applied over the tape and screw heads and should be feathered out so that the outer edges blend into the boards and there is less to be sanded down when dry.
Leave the joint filler to dry for 24 hours and then sand down with a fine grade sandpaper remembering to wear safety goggles and a dust mask.
The boards can then be skimmed over with plaster.
If coving is in place or a ceiling rose, then it will be necessary to remove these first before scoring around the perimeter of the ceiling to break the bond between the wall and ceiling plaster.
Type of Ceiling Repair
Whether your ceiling has begun to crack or sag or needs to be updated so that it is in line with the decor throughout the rest of your home, you will want to know what a ceiling repair or replacement involves before you proceed with the work.
Water damage accounts for a lot of the repairs to ceilings either from a leaking roof or water pipes. The damaged part of the ceiling is usually cut out and a new piece of plasterboard attached to either the joists or newly attached battens.
The area is then skimmed with plaster and redecorated once dry. To repair an area of water damaged ceiling will cost on average £30-£40 per square metre but will depend on whether the ceiling is constructed from plasterboard or lath and plaster.
Pros of repairing a water damaged ceiling:
✔ A water damaged ceiling has been weakened and may collapse.
✔ Damp will encourage mould growth in the home and the spores are bad for health.
✔ The water damage will create an unsightly area on your ceiling.
Cons of repairing a water damaged ceiling:
✖ The repaired area will stand out and it may be necessary to redecorate the whole ceiling to blend it in.
✖ Removing the damaged part of the ceiling my lead to further damage if not done correctly.
✖ Most people will need to hire a professional to carry out this repair as they may not feel confident in doing it themselves.
Hairline and settlement cracks should be observed for a period of time to see if they are increasing in size or number and to ascertain their cause. Once the reason for the cracks has been identified then an appropriate repair can be made to the cause and the resulting cracks.
Pros of repairing hairline and settlement cracks:
✔ Restores the aesthetic of the ceiling by removing unsightly fissures.
✔ Prevents the cracks getting wider and potentially causing further damage to the ceiling.
✔ Can sometimes be covered with a flexible paint as a DIY job.
Cons of repairing hairline and settlement cracks:
✖ If you repair them immediately on discovery you may find yourself repeating the process a few months later. Be patient and see how they develop.
✖ Small fiddly cracks can be frustrating to deal with.
✖ Filling will be apparent and the whole ceiling may need to be redecorated following repair.
Depending on whether you are repairing plasterboard or lath and plaster ceiling the cost to fill hairline or settlement cracks will be between £10-£20 per square metre.
Peeling paint on a ceiling can be caused by damp or a badly prepared plaster surface prior to decorating. The cause should be identified before any rectifying work is carried out to the ceiling.
Pros of repairing peeling paint on a ceiling:
✔ Peeling paint is extremely unattractive and creates the impression of neglect of the property.
✔ If the underlying reason for the paint peeling off the ceiling is damp, then it may alert you to a previously unknown issue.
✔ Can instantly improve the look of a room.
Cons of repairing peeling paint on a ceiling:
✖ May be caused by damp issue which could be an expensive repair.
✖ The whole ceiling will normally need to be sanded down and repainted.
✖ Stripping off flaking paint is a messy job.
The cost of repairing peeling paint on the ceiling is on average £100-£160.
Foundation movement
If cracks appearing in the ceiling are the result of movement in the foundations of the building, then this potentially serious issue needs to be resolved first. Once the necessary stabilisation has been achieved the process of making good any cracks can be done.
Pros of repairing cracks caused by foundation movement:
✔ Restoring strength to the structure of the ceiling.
✔ Improving the look of the room by repairing unsightly cracks.
✔ Left unrepaired the cracks can worse with internal movement or vibration in the property.
Cons of repairing cracks caused by foundation movement:
✖ Even if the underlying cause of the foundation movement is rectified there is the chance that further movement could open up the cracks.
✖ The entire ceiling will need to be redecorated.
✖ If the cracks are large it may be necessary to have a professional repair the ceiling.
The cost of repairing cracks caused by foundation movement is £10-£18 per square metre depending on the type of ceiling involved, plasterboard or lath and plaster.
Benefits of Repairing a Ceiling
Whether it is caused by structural, environmental or maintenance reasons it is advisable to repair any cracks that appear in the walls or ceiling or risk them getting worse. Even a seemingly cosmetic, superficial crack may deteriorate and become a real problem requiring greater and more expensive solutions.
Nothing says neglect like a cracked wall or ceiling. If something within the property is causing cracks to appear then it is reasonable to expect that the householder would want to put it right. A potential buyer may be put off by the sight of unrepaired fissures or holes in the ceiling and wonder what other problems the property may have.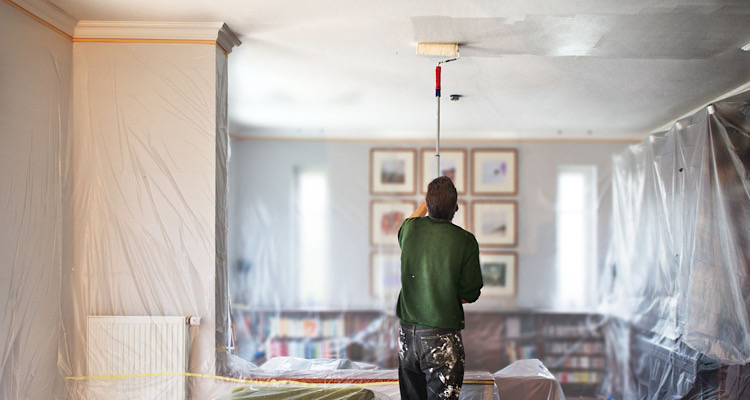 Attending to a ceiling repair whether cracking or sagging can reveal potential issues that would otherwise not have been detected such as roof leaks, faulty pipework, or structural problems.
The appearance of a ceiling will benefit from being repaired and having a new coat of paint and can provide an immediate improvement.
Building Regulations for Repairing a Ceiling
If you own a listed building and wish to repair or replace a ceiling, then you will need to get consent to do so and will be required to replace like for like. This means using laths and lime plaster and not plasterboard in order to retain the character of the building.
Failure to obtain and follow the necessary building control consent for a listed building is a criminal offence and can result in an unlimited fine and up to two years imprisonment. Therefore, it is particularly important to get the necessary permission and follow the consent to avoid breaching the Building Regulations and exposing yourself and your builder to legal action.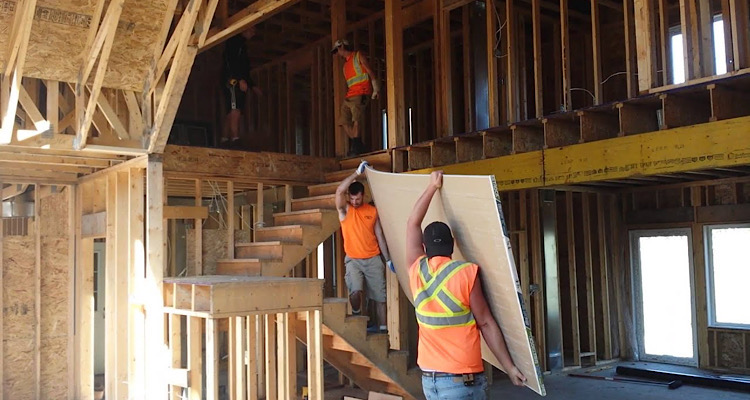 Listed building consent is exempt from planning application fees.
If the work to the ceiling is a result of a roof leak and it is necessary to carry out extensive repairs to the roof, then it may be necessary to obtain building control approval. Work that involves 25 percent or more of the roof is notifiable to the building control department of your local authority. The same is true if you are carrying out structural alterations or replacing the existing roof covering with something different.
The cost for planning applications for alterations to a dwelling house is around £200.
Does My Ceiling Need to be Repaired?
Although you may presume that the entire ceiling needs to be replaced, it is sometimes possible to repair parts of a ceiling, if, for example, you want to retain the original ceiling because it is a period feature or is made from a robust insulator.
Ceiling Cracks
Cracks are an obvious sign that there is a problem with the ceiling. From fine hairline cracks to large foundation movement gaps it is essential to detect the cause of the cracking and deal with it before any repair is attempted.
Sagging Ceilings
Sagging of the ceiling is usually a sign that there has been an ingress of water and this needs to be investigated to find the source. A roof repair may be necessary, or the reason may be a leaking water pipe. Once the reason for the water damage is rectified the area should be allowed to dry out and then repaired and redecorated.
Bowing Ceilings
Bowing of the ceiling can also be caused by an insect infestation destroying the wooden structure holding the ceiling up. In this instance a pest control expert should be consulted to deal with the problem before proceeding to a repair.
Ceiling Holes
A hole in the ceiling is normally the result of someone working above the ceiling putting a foot through the plaster or drywall. This is a straightforward repair and should be within the remit of most DIYers. A piece of plasterboard the size of the hole is screwed into nearby supporting timbers and the patch skimmed over with plaster.
Peeling Paint
Peeling paint is unsightly and can be dismissed as just a cosmetic and superficial job that is not a priority. However, the paint may be peeling off the ceiling because of a damp issue and this needs to be remedied or could cause significant damage.
Mould
Mould is another sign that there has been some water damage to the ceiling or can be the result of a persistent condensation problem in a bathroom or kitchen. Condensation issues can be tackled by improving both insulation above the ceiling and ventilation within the room.
This may be a slowly developing issue but should be tackled as soon as observed. Structural damage to the ceiling is possible if the problem is left untreated but there is also a health issue as mould spores are an irritant to the lungs.
Young children, the elderly or anyone with a respiratory illness can be made seriously ill by mould spores. A solution of water and bleach or a fungicide can be used to remove the mould. The source of the damp should be dealt with and a mould resistant paint applied to the ceiling.
Does My Ceiling Need to be Replaced?
It may transpire that a repair is not sufficient or possible and the entire ceiling may need to be replaced.
With older properties which have lath and plaster ceilings the presence of bulges or slopes does not necessarily mean that the ceiling is doomed and needs to be replaced. The nature of lath and plaster means that the finish is inherently uneven, so further investigation is warranted before proceeding.
By gently pushing on areas that are bulging you should be able to tell if there is slight give which is normal or if the plaster is moving up and down which indicates that the plaster has detached from the laths. If more than a third of the ceiling fails, this test it may not be economically viable to repair the ceiling and cheaper to replace it with plasterboard.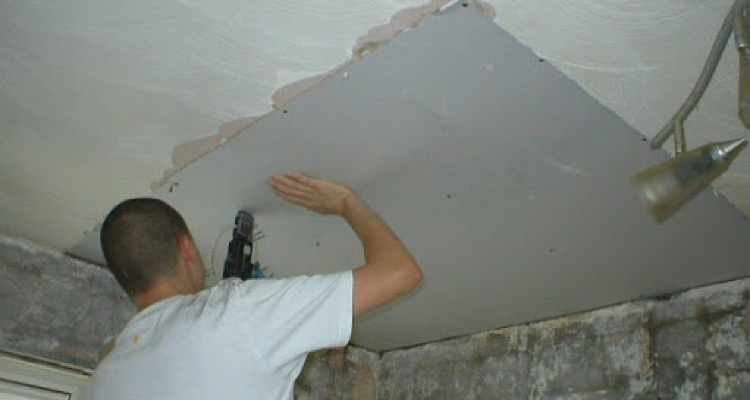 The exception of course is a listed building where you are obliged to replace like for like. Once a significant portion of the ceiling has failed it becomes a danger and could begin to come down of its own accord if not removed. Any water ingress or movement from above could cause a collapse so it is best to act pre-emptively to avoid this.
A plasterboard ceiling may be beyond repair if there has been a sizeable water leak which can render the drywall sheets unredeemable. These will need to be removed along with any damaged insulation. The area should be left to dry out before replacing the plasterboards.
Structural damage may mean that cracks have affected a sizeable portion of your ceiling which may need to be replaced. Following remedial work to the structure the ceiling can be reinstated with either new drywall or lath and plaster by a specialist depending on the needs of the building.
Cost of Removing a Ceiling
There are a few reasons why someone would need to remove a ceiling.
Damage from a water leak.
Irreparable cracking covering more than a third of the ceiling.
Old Artex on ceilings is unattractive but difficult to remove and can contain asbestos so the whole ceiling may need to be removed by a specialist.
Lath and plaster ceilings in unlisted properties to be replaced with cheaper and more modern materials such as plasterboard.
All the above can be done as a DIY project except ceilings where it is possible asbestos may be present, this must be done by an approved contractor.
A builder may quote to remove your ceiling as a one off, or it may be part of a larger renovation or refurbishment project. The average cost per day will be around £150-£200 for a tradesperson to remove a ceiling.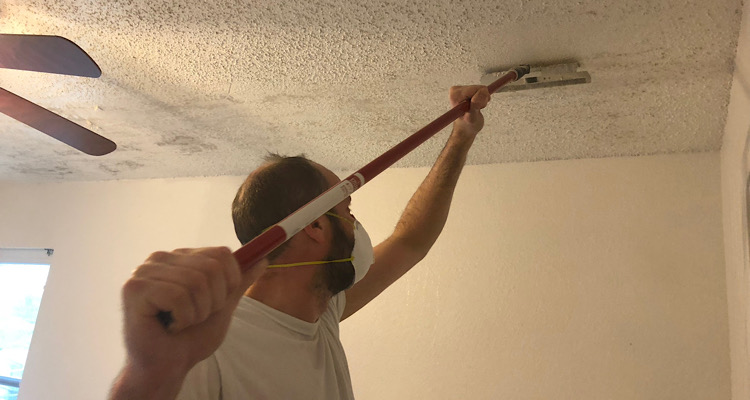 There will of course be waste involved in a ceiling removal and a lath and plaster ceiling is particularly dirty and dusty to rip out. Most building waste can be deposited in a skip which will cost around £200-£300 per week.
Asbestos is a hazardous waste and must be removed by a licenced contractor and double wrapped in approved plastic packaging with appropriate labelling attached. The cost to remove asbestos is on average £50 per square metre but may depend on location in the UK.
FAQs
How to Find and Hire a Ceiling Repairer
Some people may be confident about tackling a ceiling repair or even removing an entire ceiling, but others may wish to leave it to the professionals. An insurance claim in the case of a leak or damage by a third party may require that the work be carried out by a qualified person. The size of the repair or the material involved such as lime plaster may exclude attempting to do a DIY job.
A qualified plasterer will charge around £150-£200 per day and may have a labourer to mix plaster, assist with plaster boarding or general cleaning up. This can add £80-£100 a day to the cost of labour.
When sourcing a trades person, it is always better to get a recommendation from someone who has had similar work done. This way you can look at their work and get an idea of how they treat a client's home such as cleaning up and using facilities. If this is not possible try to find someone who has premises rather than just a website or mobile number and find out how long they have been in business.
Most plasterers are self-employed and will either have worked as an apprentice or done formal training with a college, often they have done both. You should ask about training, qualifications, and experience before hiring and not be shy about doing so. The same applies to checking insurance cover. All skilled trades should have adequate insurance such as public liability insurance, indemnity insurance or similar.
For more specialised work such as working with lime plaster getting evidence of the appropriate training and experience is even more important if the work is being done on a listed building. In this instance you could contact organisations such as The Listed Property Owners Club or Historic England which can advise on listed building maintenance.
Sources
https://www.builderdepot.co.uk/
https://www.lime-mortars.co.uk/
https://www.homebuilding.co.uk/repairing-old-ceilings/
https://www.planningportal.co.uk/
https://www.hse.gov.uk/
https://hoa.org.uk/
https://www.lpoc.co.uk/