How Much Does Removing Artex Cost?
The average cost of Artex removal will vary depending on the method used and the size and number of surfaces being detached.
If chemicals are being used, the cost to remove an artex ceiling or wall will end up anywhere from £250 to £500.
To steam remove Artex on a given surface is likely to cost you £150 to £200.
A simple scrape and sand removal, on the other hand, will also cost about £150 to £200 for one surface.
If you wish to have plasterboard coated over an Artex surface, expect to pay around £280 to £400.
The cost per panel is usually £4 to £5.
To have Artex removed from a wall or ceiling by plastering over it, expect to pay between £150 and £250.
If you wish to have Artex removed from an entire house, both the steaming and scraping & sanding approaches will cost roughly £900 to £1000.
To cover up Artex with plasterboard for an entire house, it's probably going to set you back between £3800 and £4800.
To simply plaster over all of these surfaces will cost around £800 to £1200 and the same area coverage for a chemical application approach will have a cost of about £2000 to £4000.
The total cost can vary depending on factors such as the removal method, the size of the area, how accessible the room and surface is and whereabouts in the UK you live.
In London and the southeast of England, for example, contractors tend to charge more than the national average.
Estimated Costs
Below are some estimated costs to fit a new staircase including hiring a specialist to supply and install different types of staircases with 13 200mm steps.
AREA
JOB DESCRIPTION
AVG. COST
DURATION
Single Surface
Steam
£150 to £200
1-3 days
Scraping and Sanding
£150 to £200
1-3 days
Plasterboard
£280 to £400
1-3 days
Plastering Over
£150 to £250
1-3 days
Chemical Application
£250 to £500
1-3 days
Entire House
Steam
£900 to £1000
7-10 days
Scraping and Sanding
£900 to £1000
7-10 days
Plasterboard
£3800 to £4800
2-10 days
Plastering Over
£800 to £1200
14-28 days
Chemical Application
£2000 to £4000
7-10 days
Additional Costs
There are various additional jobs you may wish to have undertaken when having Artex removed from your home.
Examples, which we will explore in this section are plastering, painting and decorating.
Plastering
To have small plaster patch repair work performed will cost around £80 to £120, to get a wall plastered will set you back £100 to £200 while the average cost to have an entire room plastered will end up around £300 to £400.
To have two rooms plastered will come with a price tag of about £400 to £600.
Plastering gives internal walls and ceilings a smooth, flat surface, preparing them for painting or wallpaper decoration.
Plastering can also add heat and sound insulation to a room as well as improving its fire-resistant capabilities.
The two main methods of plastering are dry lining with plasterboard and wet-plastering.
Wet plastering is a conventional method, although it is quite difficult to master.
While a professional plasterer can be expensive, they can leave a room with a high quality smooth, flat surface which would be very difficult for an amateur.
If you wish to perform this work DIY, it is recommended that you consider taking a short plastering course first.
You should also do some practice before undertaking this work.
The key to plastering well is to take on walls and ceilings one section at a time and to prepare the work areas correctly.
The area should be clean and primed with a bonding agent before plastering begins, if necessary.
Screeds are required to make sure that the plaster remains level. Screeds must be nailed to the wall and removed once plastering is complete.
Dry-lining is much easier and does not require the same skill level.
It involves fixing large, flat plasterboards to a wall.
In either case, these plastering jobs tend to be finished with a plaster skim that offers a smooth and long-lasting finish of about 2mm to 3mm in thickness.
The complexity and cost of plastering jobs can vary greatly.
Many plasterers charge an hour or daily rate on top of the cost of materials while others will set fixed costs for any given job.
Patch repair may be all that is necessary to fix a small section of wall damage.
For a high-quality, smooth finish which can be painted over, it may be best to have the entire wall plastered.
An electrician will be needed if, for example, plug sockets or other electrics need to be moved.
Prices for electricians and plasterers alike can be significantly higher in London and the southeast of England than the rest of the country.
Plasterers tend to charge about £150 to £200 per day and anywhere from £8 to £19 per hour.
Painting & Decorating
After having Artex removed from your home, you may wish to have your walls and ceilings painted and decorated.
To have a single room painted will cost you about £200 to £300 and to get 2 rooms painted, about £300 to £400.
If one room needs stripping, prepping and painting, expect to pay between £300 and £400.
The same work for two rooms will come to about £400 to £600 while the average cost to have one room painted including all of its woodwork will also end up around £400 to £600.
While it is common for people to paint and decorate rooms in their houses, you may prefer to hire a professional as it will save you time and provide the best chances of optimal results.
Prior to the painter arriving, you'll need to move any furniture and contents out of the room and move any remaining items to the centre of the room.
Usually, carpets will be kept in place, but protective coverings may be needed.
A painter may find minor repairs which are required prior to the start of the paint job.
In most cases, getting skirt boards, doors and windowsills painted is not included in a painter's quotes unless requested.
It would likely be worthwhile getting any timber painted as part of this job to enhance the room's aesthetic further.
Cost Breakdown Calculator
Individual costs for removing Artex with Asbestos from one average-sized ceiling (approximately 20m² area) - Total Cost: £200
Labour Costs and Time Frames
The labour costs of having Artex with asbestos removed from an average ceiling will come to around £120 to £180.
It will be about £800 to £1000 to have Artex removed from an entire home.
To have Artex sealed or coated will likely have a labour cost of £250 to £320.
The labour costs and the supply costs together make the total cost of these jobs alongside any additional expenses such as waste disposal.
Removing the Artex from a ceiling will likely take 1-3 days.
The bulk of this work will involve the Artex removal while less than an hour will be spent in preparing the area and a similar time period for the clean-up at the end.
For a surface of the same area, sealing or coating the Artex will probably take just 8 to 12 hours, once more with the bulk of time spent on the sealing or coating itself and up to 60 minutes, give or take, spent on the preparation and another 30 to 60 minutes for the clean-up.
Removing Artex from an entire house can take around 5 to 9 days.
Preparation could take 2-6 hours as could the clean-up with the bulk of the time spent on the work itself.
The cost of hiring a contractor and the time it will take for this work to be complete will be determined by factors such as the scale of the work needed and how accessible the work areas are.
Also, the labour costs will be influenced by where in the UK you are located.
What is Artex?
Artex is a water-based surface coating with plaster-like qualities designed for interior decoration.
It had widespread use for decorating ceilings in the 1970s, and it was also used, to a lesser extent in walls.
It was promoted as an easier to fit alternative to plaster.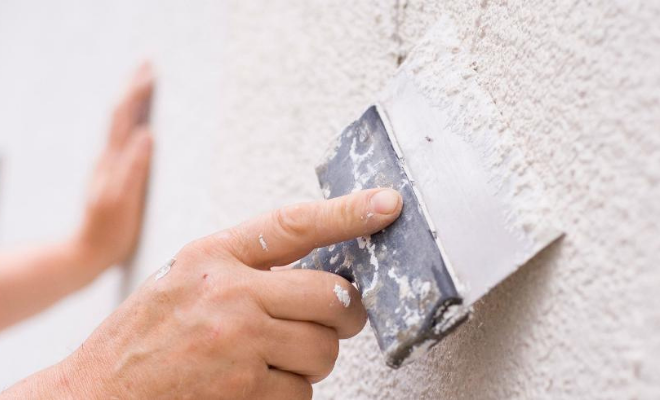 The purpose of Artex was to create a generally uniform patterned texture, providing a completely smooth surface as you would have with plaster.
However, now, many people want to remove Artex. While it was once very popular, in the 21st century, it's considered to have a dated look, and there are also concerns about the presence of asbestos in Artex.
Cost Affecting Factors of Removing Artex
Here is a list of cost affecting factors of removing artex that you should consider:
Location of Property
Where you are located in the UK will influence the labour costs of Artex removal.
In London and the southeast of England, prices for these types of jobs will be higher than in most parts of the UK, for example.
You can research prices for your area by Googling' Artex removal cost' followed by the name of your town/city/locality.
Area of Artex Removal
If you wish to have Artex removed from a wall or ceiling, the cost can vary depending on the size of the surface area.
Further, the more surfaces you wish to have Artex removed from, the higher the cost will be.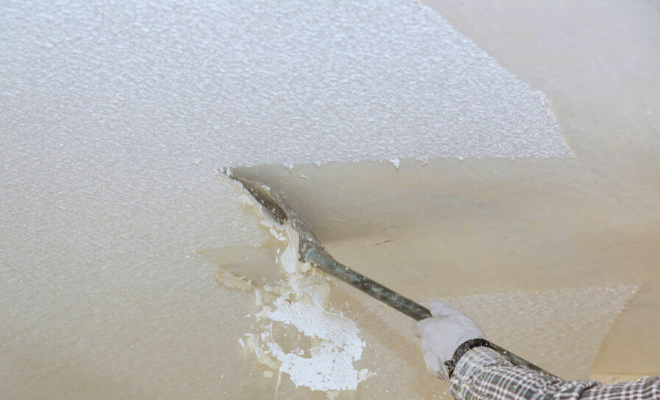 Method of Removal
The cheapest method of dealing with Artex is to simply seal it up with plaster, plasterboard or other materials.
On the other hand, using a steam or chemical treatment can take a few days and come with a substantial price tag.
Ease of Access
The accessibility of the Artex surfaces and the room(s) they are located in can also influence the cost.
The more accessible a wall or ceiling is, for example, the easier the job will be, the sooner it will be finished and the less it will cost.
What Does Removing Artex Entail?
There are five main methods of removing Artex, namely scraping and sanding, coating it with plasterboard, plastering over it, steaming before using a scrape and sand approach and using chemicals like Eco Solutions X'Tex.
The best approach to remove Artex for you will depend on factors like the age and condition of the surface.
More than likely you'll be dealing with a ceiling although Artex was used in a certain percentage of walls.
In the UK prior to 2000, Artex was made with asbestos to provide strengthening qualities.
Asbestos is exceptionally toxic and dangerous.
Legally, most work that involves asbestos removal must be performed by a qualified and licensed person.
The HSE provides further details on what work needs to be undertaken by an appropriate professional.
Either way, it is best practice to hire a professional contractor for Artex removal where asbestos is involved.
In cases where you can remove Artex with asbestos, you will still need to have it surveyed by an asbestos specialist prior to the work.
Further, even in such scenarios, you need to make sure that you have the correct safety equipment and understand exactly what is involved.
There are three key stages of the removal process. This approach is a broad approximation and reflects the various methods that may be employed.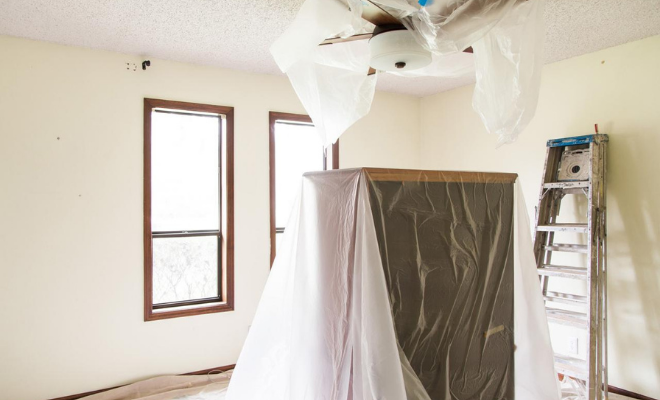 Preparation
The preparation involves moving the furniture and other items either into another room or to the central area of the room.
All items that can't be removed should be covered with plastic sheeting.
A drop cloth should be laid down over carpets or paper over any hard floorboards.
Removing the Artex
In the case of scraping and sanding, the scraping part of the job may prove especially difficult, and there is a risk of damaging the wall or ceiling.
Simply covering the surface(s) with plasterboard is easier and less messy.
Wet plastering is, however, a messy job. With that said, it is cheaper than dry lining with plasterboard.
Steaming reduces the risk of damage although it's nearly as messy as scraping and sanding plus it will take almost as long.
Applying chemicals like Eco Solutions X-Tex is a fast and easy way to remove Artex since chemicals will make scraping off the Artex a lot easier.
If the Artex contains asbestos, the only safe way to get rid of it is to put plasterboard in front of it or to have a trained professional with knowledge and experience of dealing with asbestos to perform the removal.
Many Artex with asbestos removal jobs must be performed by a licensed professional.
Clean Up
Lastly, the materials will need to be safely removed and disposed of.
If your Artex has asbestos in it, a hazardous waste disposal team will be needed to deal with it.
The room itself will also require a clean and any sheets and other coverings will need to be removed.
DIY Removing Artex
Artex removal can be performed as a DIY job if it is safe to do so. However, it's not so straight forward if asbestos is involved.
In that case, you'll need to have it inspected by an asbestos specialist.
Even then, you should only perform the removal by yourself; if it is allowed in accordance with the 2012 asbestos removal regulations, you are absolutely confident that you know what you're doing and that you are taking all the necessary safety precautions.
If in doubt, please hire a professional contractor!
Performing this job DIY runs the risk of your walls or ceilings being damaged or in the worst-case scenario, health and safety problems, such as being struck by falling pieces of Artex or suffering asbestos poisoning.
The setup and clean-up will be the easiest parts of the job.
Adding plasterboard, if it is the chosen method would be easier than say scraping and sanding.
You will need at least some of the following tools to remove Artex;
Steamer
Chemicals
Scraper
Sandpaper
Here's the safety equipment you'll need regardless of the method used;
Dust mask
Rubber gloves
Safety goggles
Drop cloth
Step ladder
Plastic sheeting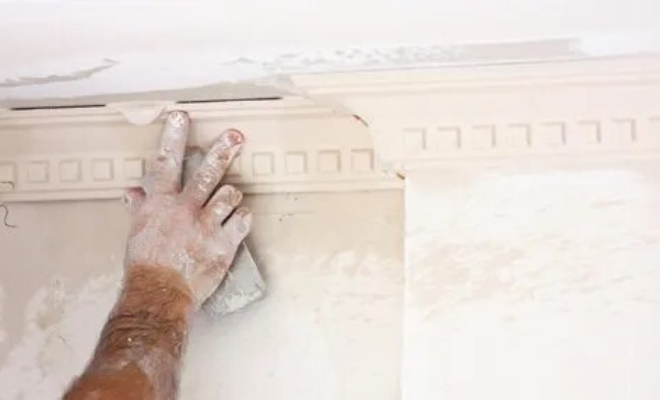 You do not need planning permission to remove Artex although to drill into an Artex ceiling for the purpose of fitting lights then such work will come under the 2012 regulations covering the control of asbestos.
The same applies if you intend to damage the coating whatsoever as part of a refurbishment.
Your local authority can inform you whether your work requires notification or not.
They can also help you find a suitable asbestos specialist for this type of work.
Types of Artex Removal
There are a few different ways you can remove artex or cover it up. Here, we've detailed what each way costs and what it entails:
Steam Artex Removal Cost
This method begins with employing a steamer to loosen the Artex.
Next, the Artex can be carefully removed with a scraper.
The last part of this method is to sandpaper off what remains. It's a slow method, but it works.
It's important not to hold the steamer on any given area of Artex for too long as this will cause the surface to turn to liquid and create a mess.
It will likely cost around £150 to £200 in labour costs to have Artex removed by a professional through steaming.
If performed DIY, a steamer will probably set you back between £80 and £200.
Scraping and Sanding Artex Removal Cost
You may decide to have the Artex removed by scraping and sanding without the use of a steamer.
Without steaming, the process will prove more straining and time-consuming, although if done DIY, it will save you the cost of a steamer.
This job can be performed by a hired labourer for around £150 to £200.
If you do the work by yourself, you'll just need to buy an appropriate scraper and sandpaper.
Coating with Plasterboard Cost
This is a bit of a radical approach to dealing with Artex, but it will definitely hide the Artex well and leave you with a smooth surface which can be replastered later.
This method entails new plasterboards being secured over the Artex before plastering is performed.
This approach is not especially challenging, although it can be difficult if you do not have prior experience of fitting plasterboards.
To have plasterboards fitted to a ceiling will likely cost you between £280 and £400.
The cost per panel is approximately £4 to £5.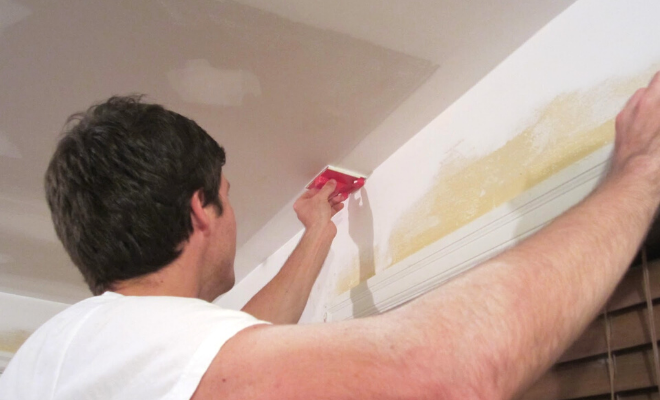 Plastering Over Artex Cost
To plaster over Artex, first, the scraping and sanding approach should be used to smoothen out the surface as much as possible.
Next, a dilute PVA adhesive with 50% water should be used. The ceiling or wall will need to be covered with two coats of this adhesive.
It's vital that every square centimetre is covered or else the plaster will not set consistently.
Prior to plastering, dust covers need to be put over any items and fittings in the room. At least two coats of plaster should be applied.
The surface should not be painted too soon after plastering.
In fact, you may need to wait four to six days or more.
Expect to pay around £200 to £350 to have a professional perform this work on an average-sized ceiling.
Chemical Application Artex Removal Cost
As with steaming, applying an appropriate chemical product can loosen and soften the Artex.
This method simply involves painting the product over the ceiling or wall, allowing the Artex surface to soften before it can be scraped off.
While it's quick and effective, depending on the chemical treatment used, it may cost anywhere from £250 to £500 for a medium ceiling.
How Do I Know If Artex Has Asbestos in it?
It's not possible to tell if there is asbestos in your Artex surface(s) by simply looking at it with the naked eye.
It is always mixed with other materials, and since the fibres are small, you won't be able to see asbestos in the surface(s) by simply observing.
An accredited asbestos surveyor can be hired to test the Artex ceiling(s) or wall(s) for whether or not they contain asbestos.
Since removing Artex with asbestos can cause large quantities of asbestos to be released into the air, where it is legal for you to perform the removal, you will need advice from a specialist and appropriate training.
Further, in these cases, you'll need to notify your relevant enforcing authority. It is best to hire an experienced professional to perform this work.
Between the price of asbestos surveying and that of asbestos waste removal, the asbestos artex removal cost will add about £200 to £300 to your total expenses.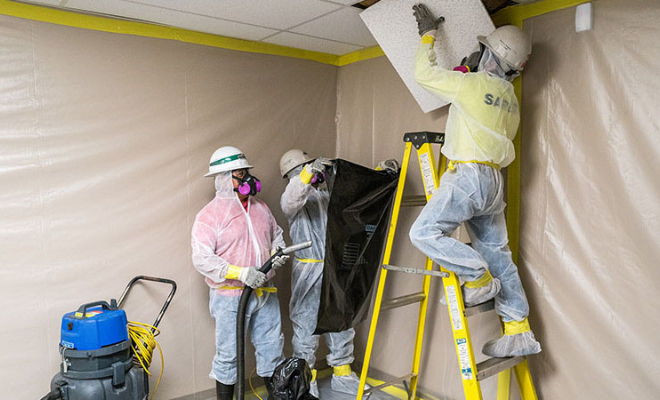 The primary asbestos regulations are known as the Control of Asbestos Regulations 2012.
Other relevant legislation includes the Asbestos License Amendment and HSG247 Asbestos.
In terms of the 2012 legislation, for household removal, any asbestos must be identified as to where it is and the type it is prior to any work being performed.
Most asbestos removal must be performed by a licensed contractor.
Non-licensed asbestos work will need effective controls, in accordance with the legislation.
The asbestos control limit is 0.1 asbestos fibres per cm³.
Even this is not a safe level, and asbestos levels must be kept below this threshold as much as humanly possible.
Anyone performing work where they will be exposed to asbestos fibres must be trained.
Some non-licensed work is notifiable.
Certain brief written records need to be kept for non-licensed work.
For example, you'd need copies of a notification with the list of those working on the job and an explanation of how likely these workers are to be exposed to asbestos.
Anyone performing non-licensed notifiable work needs to be under a doctor's health surveillance.
Any workers already under such oversight do not need to have an additional medical examination for this work.
However, medicals for notifiable non-licensed work cannot be used for labourers performing licensed work.
FAQs
How to Find & Hire an Artex Remover
It may be necessary to have a professional contractor remove Artex from your home because you wish to save time, do not have the necessary experience or more than likely for safety reasons, particularly if the surface(s) contain asbestos.
For Artex removal of a single ceiling or wall, you can expect the labour costs to end up around £150 to £250 per day.
It's important to hire a trained and licensed professional for the job of Artex removal.
While an Artex remover may not have a diploma or apprenticeship, if asbestos is involved, they must have the appropriate training to survey or/and remove Artex in the form of a textured coating removal course.
Ideally, you want someone with plenty of experience, accreditation and liability insurance.
If the labourer is part of an association, you can always contact their association to verify that they have the correct training and certifications, if needed.
If not, they may be able to provide you with examples of their past work or/and they might have a web or social media page with credible client reviews.
Sources
https://www.ecosolutions.co.uk/Artex-faqs/
https://fuze-products.co.uk/artex-removal/
https://www.hse.gov.uk/asbestos/regulations.htm