How Much to Knock Down a Wall?
The average cost of removing a load-bearing wall is typically, around £1200 to £1,750, although quotes will vary depending on location and the size of the building company doing the job. For example, in London, you could pay up to £2,500.
What other factors neeed to be considered?
This estimate does not include additional costs such as installing an additional radiator, which is priced anywhere from £65 to £300. You might just need to move an existing radiator which should cost around £150 to £300. Moving light switches and power sockets should also cost around £85 to £150.
If you live in a terraced home or semi-detached property, then you will share a wall with your neighbours.
If you want to remove a load-bearing wall, you may have to obtain a party wall agreement, which will be an additional cost.
Several walls could be demolished inside a typical house for different reasons, but by far the most common walls to remove are those between the kitchen, dining room and the living room. The stud wall underneath a staircase is the next most common wall to be removed, but this isn't often a load-bearing wall, so it's much cheaper and easier to do, even as a DIY project.
Wall Removal Prices
If you're wondering how much it is to remove a wall, here are a few average costs to help you understand the financial aspects for hiring a trades company:
| Job Description | Avg. Cost | Duration |
| --- | --- | --- |
| Single doorway - around 1m | £1,250 | 1-1.5 days |
| Double doorway - around 2m | £1,500 | 1.5-2 days |
| Large open plan - around 4m | £1,750 | 2 days |
Additional Costs
Along with the cost of removing an internal wall are some additional costs that you want to consider in your budget. The first being your permission costs, especially if you plan to remove a load-bearing wall as this will require you to apply for a building notice. The price for this may vary depending on your location, although the typical cost is around £390 for projects of less than 10 square metres.
You will also need to pay for a building inspection, which is typically priced at £260 for a council-appointed inspector or you can find your own private inspector.
Another important legal consideration, especially if you live in a terraced or semi-detached home is that the party wall is effectively jointly owned so any changes will be subject to a party wall agreement. This will involve hiring a qualified surveyor who usually charges around £120 to £250 per hour.
Cutting into a party wall requires even more structural checks and associated fees, plus any damage made to the other side of the wall will need to be fixed at your expense.
If you have removed the wall to accommodate a door, then you need to budget for hanging your doors. This will, of course, depend on the materials used, for example, an internal softwood is one of the cheapest options costing around £40 to hang, while a hardwood door would be priced at £70.
Another furnishing cost is flooring, especially if you have chosen to open up the area by knocking down a wall. You could simply add flooring in the unfurnished room to keep your costs low or have a brand new floor installed throughout. The price of flooring will vary massively, depending on the materials you use, although the most popular options include solid wood (£15 to £80 per m2), tile, laminate (£5.50 to £20 per m2) and carpet (£12 to £60 per m2).
After the wall has been removed, you may want to consider the repositioning costs, such as moving your radiators which may involve the help of a professional plumber who usually charges around £150 to move a radiator which is normally a 2-hour job.
You can keep costs down if radiators can be moved to existing pipework, however, in some case, you may need completely new pipework which is estimated at £3.50 per square metre. You may also want to hire an electrician to reposition your light switches and sockets. The typical rate for this around £100 to £150 a day, although this may depend on the contractor you choose and the difficulty of the job.
Waste removal is another important cost, especially if you plan to get rid of it yourself. To do this, you will need to hire a skip which usually costs around £170 to £270 for a 6-yard skip and £200 to £340 for an 8-yard skip. Although the price will vary depending on the size skip you need.
Cost Breakdown Calculator
Individual Costs For Hiring a Company To Remove a 4m Load-Bearing Wall - Total Cost: £1,750
Labour Costs and Time Frames
Most builders charge around £150 to £250 per day and will always work in pairs, especially on jobs such as this, which usually take around 1 to 2 days, including RSJ insertions. You may also require the help of a structural engineer who you can hire to calculate the required strength of an RSJ. They will usually charge around £50 to £90 per hour.
You will also need a plasterer to come in and finish the job, who will expect around £150 to £250 per day. The time spent on plastering the room will depend on its size, although the average time frame is around 6 to 12 hours for a single or double doorway and up to 1 day for an open plan doorway or archway.
What Does Removing a Load-Bearing Wall Entail?
Many wonder how to tear down a wall in their home, so here is a guide to help you understand the process.
To knock through an internal load-bearing wall between an existing dining room/kitchen and a front room or lounge, an initial inspection is required by a builder to check electrics, pipework and the load. This is usually followed by an inspection by a structural engineer.
This can cost anywhere from £200 for a single check and £600 for multiple visits. During the inspection, they will assess the wall and calculate the correct rating for the load-bearing joist that will support the upper floor (the RSJ or lintel beam).
Before the wall is removed, all personal items, small furniture and decorations should be removed to prevent dust-build-up. Plastic sheets will be placed on large furniture, the floor, and hung on walls to prevent dust debris. Some contractors may use zip walls to protect doorways and other rooms from dust interference, making sure that only one doorway is used to enter and exit.
Vents may also be blocked off with plastic coverings to prevent dust blowing into other spaces, or you may be advised to switch your system off entirely.
Once wall demolition has been approved by building control, a supporting RSJ beam must be fitted to support the roof structure. If you live in a terrace or semi-detached home, where new beams will need to be installed in a party wall adjacent to your neighbour, you may need to speak to a surveyor who will advise you on the legal process for this.
Once all approval is confirmed, the wall can then be removed starting with the plaster, then the wall panels which can be removed by drilling or by hand. A header will then be implemented to hold the weight of the joist once the rest of the wall structure is removed.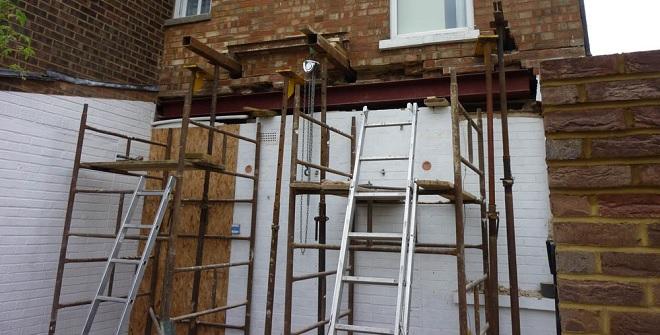 After all the demolition is complete, all dust will be removed using an extractor or a hoover. Materials will also be removed and put into a skip. They will either be taken to your local waste recycling centre of the materials are fairly new they can be used for another building project in your home.
There may also be additional work needed such as moving electrical sockets or wiring, moving radiators and associated plumbing, removing/replacing flooring/carpets, and painting & decorating to finish the room.
Some related jobs that may need doing at the same time. For example, the radiator layout will likely not be suitable for the new larger area so you will probably need to move a radiator, if not install an additional radiator to ensure a comfortable temperature surrounds the room.
You may also find that the light switch positions and the lights themselves are no longer optimal and will need also need moving. New flooring will be needed too so budget for carpets or laminate etc.
Cost Affecting Factors of Removing a Load-Bearing Wall
Several factors may affect the cost of removing a load-bearing wall, including the size of the job, as the bigger the job, the more costly it is. So, if you want to knock through a wall to create a more open space, this can cost up to £1,750 while a single doorway is usually priced at around £1,250.
You will also need to assess the costs of installing a rolled steel joist (RSJ), which is used to hold up the structure during demolition.
If you're only planning to knock through a wall to accommodate a 1-metre single doorway, then you should expect to pay a material cost of £800, while a large open plan measuring 4 metres may cost up to £950. The costs will depend on the type of RSJ you choose, as some beams are thicker than others.
While the wall removal is the main job, other tasks need to be completed, such as professional waste removal, which typically costs around £100 to £175 depending on how much waste material there is.
You may also want to consider levelling out your floor, especially in an old house, where the two-floor levels either side of the wall now removed may not quite match. This normally costs around £10 to £200 per square metre depending on the materials used.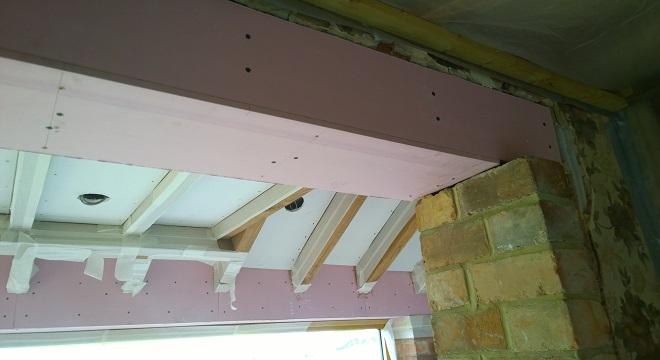 When removing a wall, it's also important to realise that the two side walls may not line up exactly, so a patch repair (£100 to £400) or full re-plaster (£400 to £700) will often have to be done.
You will also need to look into redecorating costs, especially on your walls, although prices for this vary massively depending on the type of room, the size, materials and labour costs.
Say, for instance, you have removed a wall to expand your living room, you may want to wallpaper the whole room which could cost around £175 to £600 for material and labour costs, depending on the paper you opt for.
If you're on a budget, you may want to paint instead, the price ranges anywhere between £150 to £500 for a professional painter and decorator to do the job but this could be a job that you do yourself if you are capable.
Can I Remove a Load-Bearing Wall Myself?
It is possible to remove an internal wall yourself; however, when it comes to demolishing a load-bearing wall, you may want to instruct experts to ensure no mistakes are made. This involves bringing in a structural engineer who will work out the positioning of the support beam to ensure the structure remains intact.
You should then employ a professional builder to install an RSJ and conduct the demolition work. By employing professionals to do the job, you can rest assured knowing that everything will be completed as it should within the correct legal provisions. It will also help you to reduce your costs in the long run, as a professional job will last longer and also prevent any extra costs related to structural complications.
There are some jobs that you can complete yourself, such as covering the room with protective plastic to minimise dust debris. You should also try to wear a dust mask, protective goggles and sensible clothing before tackling any small jobs.
This could include removing the plaster, masonry and skirting boards. This will require you to use a hammer and chisel, although if you are removing a big wall, you may want to invest in a drill that will ensure the job gets done quickly.
Planning Permission & Building Regulations
Planning permission is not typically required to remove a load-bearing wall, as it falls under permitted developments rights, except for listed buildings. If you do live in a listed building, you would be required to pay around £200 to apply for permission.
To remove a load-bearing wall, you will need to apply for a building notice through your local authority, which can cost up to £650 to apply along with an inspection for a project under 10 square metres.
If consent is given, you will receive a building notice which will allow you to start removing the wall with the help of a structural engineer, although this is not a legal requirement it is the preferred option, as it ensures the work meets all building regulations.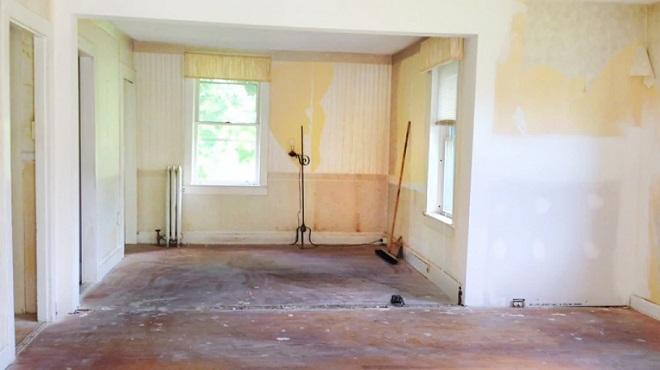 Once all work is complete, you must inform the building control body who will then issue a completion certificate, which will confirm the changes to your property.
If you do not obtain a building notice or a certificate, then you may find it difficult should you decide to sell your home, as estate agents tend to slow down the house sale process due to a lack of authorisation on previous projects.
To speed up the process, you can obtain a regularisation certificate, which involves certifying building work after it is complete. This typically costs around £300 to £500, and building regulations approval will be given within 8 weeks if the unauthorised work meets all the correct standards and a certificate will be issued.
Fire Regulations
To ensure your wall removal meets fire safety standards, you need to make sure that the steel beam used has at least 30 minutes of resistance against fire. The common way to do this is by installing two or more layers of secured plasterboard.
A timber beam's resistance should be calculated by a structural engineer and tested on its level of fire resistance. If using a concrete beam, you will more than likely be resistant already, as the majority of concrete beams feature steel, although you need to make sure the concrete adequately covers that.
If living in a two-storey home, you may already be covered by smoke alarms and egress windows on the above floors, however, in homes with three-storeys or more, this may not be the case. This means you may have to purchase new smoke alarms and install egress windows to ensure the safety of the new space.
When knocking down a wall to add in a new doorway, then you will need to make sure that all fitted doors are self-closing and highly fire-resistant, especially doors that separate the stairway from a room.
Party Wall
For those living in a terraced or a semi-detached home, who share walls with their neighbours, you may need to enter into a party wall agreement before works can begin. To ensure this is done properly, you can appoint a surveyor to prepare and serve a party wall notice to your neighbour on your behalf, which will cost around £120 to £250 per hour.
This notice must be served two months in advance of building works. Once served, your neighbour will then have 14 days to respond.
If your neighbours do consent to this, they should give written notice detailing their consent confirmation along with any issues they have. Then you or the surveyor will then have pictures taken of the party wall before work can begin, noting any original damage. If hiring a surveyor, they will prepare a schedule of condition which can prevent any disputes later down the line.
If your neighbours decline or do not reply, then this is known as dissent. In this instance, both you and your neighbour will require the services of one surveyor between you, although this must not be the same surveyor used to assess your building work plans.
The surveyor will then produce a party wall award, which combined with the hourly rate should take costs up to £1,000. The award will include the proposed works and a schedule of condition which will include pictures of both homes.
To prevent a dissent, you should try to have a friendly chat with your neighbours before serving a party wall notice, as it will make things more amicable and less formal.
How to Check Whether a Wall Is Load-Bearing
In some homes, it can be difficult to determine which walls are load-bearing. The easiest way to do this is by hiring a professional builder or structural engineer who can come and inspect the wall. However, you may not want to do this if you're looking to save on costs.
To determine it yourself, you should take a look at the positioning of the wall and whether it is adjacent to the floor joists or not. If they are, then more than likely the wall is none-load-bearing, as a load-bearing wall usually runs at 90-degree angle to the joists to support the floor above or the roof. However, there have been cases where a bearing wall is parallel; you may want to take other measures just to be sure.
You should try not to make the mistake of assuming a partial wall is just a partition wall, as it may have been built with a microlam beam which would allow it to hold the load above. You should also double-check for support structures, especially if the wall is located on the first floor of the home, as some people tend to forget to look in the basement for supporting structures such as walls, piers, columns, etc.
When it comes to checking exterior walls, more than likely, an external wall will be load-bearing as its main function is to support the house structure, as well as windows and doors.
The majority of external walls will include beams to secure the loads above, although it may seem like there is no visual support structure, steel or wooden columns are usually placed in-between the windows to create a better aesthetic. There are some homes which feature none-load-bearing exteriors walls, although the construction usually comes at a high cost.
What Are the Reasons to Remove a Load-Bearing Wall?
The most common reason why many people remove a load-bearing wall in their home is that it can open up space, for example, you may want to expand a small room by knocking down the wall and creating a more expansive and open plan area. Other popular options include combining your kitchen with your dining room by demolishing the wall, making it much more convenient while also offering a better aesthetic.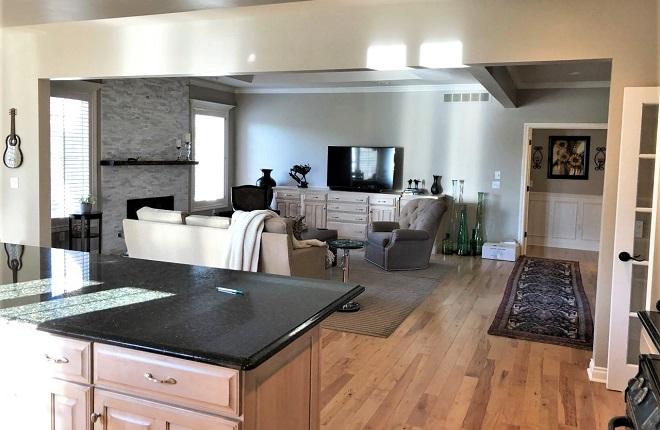 Load-bearing walls are also demolished when building a new extension, as you will need to create new doorways to enter and exit the new rooms. You can choose either a single or double doorway, as long as there is wall space available to accommodate it.
Will I Need a Lintel?
A lintel is a type of structural beam used to support the floors above including the roof when a new window or door is installed. The function of a lintel is to shift the weight of the load away from the above wall and move it to the side to maintain the original structure.
Lintels are a must for all window and door installations which cover a width of more than 600mm as well as all openings covering steel frames which are greater than 900mm. These are usually installed by a professional builder either by hand or crane, depending on the size.
They are normally placed in the small gap above a window or door to allow room for slight movement over time, especially with timber frames as this material tends to expand.
Lintel beams cost anywhere from £7 for small-scale lintels to £400 each for high-strength concrete lintels and £8 for smaller lintels to £1050 each for heavy-duty steel lintels.
What Can Go Wrong?
There are a number of things which could go wrong and increase the cost of removing a wall. This could include sagging ceilings which could cost anywhere from £400 to £1000. If there is a lack of support for the floor above, this could cause unlevel flooring, which on average would cost around £15 to £18 per square metre to fix, although this will, of course, depend on the extent of the damage and the materials used.
There is also the possibility of cracks in the drywall, which costs around £10 to £15 per square metre to repair.
All of these problems can be avoided, as long as you use a reputable builder and liaise with building control, everything should be fine.
Alternatively, if you are planning to remove the wall yourself, use a structural engineer to advise you on the job, especially regarding the support (RSJ) required to ensure no problems.
FAQs
How to Find & Hire a Load-Bearing Wall Contractor
When removing a load-bearing wall, it is important that you find the right people for the job to ensure that there are no problems. To start with, you should look for a qualified structural engineer who can help you remove your wall safety while ensuring building regulation are met.
For their services, you should expect to pay around £50 to £90 per hour, which may seem expensive but is definitely worthwhile in the long run. Before employing a structural engineer, you may want to check they have a civil engineering degree with a speciality in structural engineering, as this will ensure that they have the knowledge and skills to do the job.
Once all your plans are in place, you should seek out a reputable builder with extensive experience in removing load-bearing walls or demolition. The average rate for a professional builder is around £150 to £240 a day.
However, it may be more depending on your location as well as the size of the job. You may also want to hire a joiner to ensure the structure is fitted together properly and follows the structural engineering plans. The hourly rate for a joiner is usually around £10 to £22 per hour, although again this will depend on where you live and the job itself.
To finish off the job, you may want to bring in an experienced plasterer, who will charge around £150 to £200 per day to ensure your walls are prepared for redecorating.
You should also make sure that the tradesmen you choose all have public liability insurance to protect themselves and you in the event of damage or an incident.
Sources
https://www.planningportal.co.uk/info/200130/common_projects/33/internal_walls/3
https://www.gov.uk/building-regulations-approval
https://www.directline.com/home-cover/how-to-knock-down-a-wall
https://www.propertypriceadvice.co.uk/home-improvements/beginners-guide-removing-internal-walls
https://hoa.org.uk/services/ask-an-expert-2/ask-an-expert-i-am-selling-questions/selling-without-building-regulations/
https://theconstructor.org/building/lintel-types-uses/11420/
https://www.designingbuildings.co.uk/wiki/Lintel
https://www.beamcalculation.co.uk/checklist-for-removing-a-load-bearing-wall/