What Does Wallpapering a Room Cost?
The average cost to hang wallpaper in a medium-sized room is typically around £200 in labour with the cost of materials varying depending on the which wallpaper you choose. This price just involves hanging wallpaper, it does not involve stripping wallpaper and assumes the wall is in good condition with no remdial work required.
To strip existing wallpaper and hang new wallpaper in a medium sized room, expect to pay around £350 in labour costs.
The standard painter and decorator will often charge around £150 per day in labour and usually work by themselves as another person in one room can often be one too many. The job on average will take 1-2 days to complete but may take longer in rooms that are difficult to strip or those which need plaster repair work.
Below are some estimated costs of hiring a decorator to wallpaper a room:
| Job Description | Material Cost | Labour Cost | Duration |
| --- | --- | --- | --- |
| 10 sq m room, just Wallpaper | £75 | £100 | 4-6 hours |
| 20 sq m room, just Wallpaper | £100 | £150 | 1 day |
| 30 sq m room, just Wallpaper | £130 | £225 | 1-2 days |
| 50 sq m room, just Wallpaper | £160 | £300 | 1-2 days |
| 10 sq m room, Strip & Hang Wallpaper | £75 | £150 | 1 day |
| 20 sq m room, Strip & Hang Wallpaper | £100 | £300 | 2 days |
| 30 sq m room, Strip & Hang Wallpaper | £130 | £400 | 2-3 days |
| 50 sq m room, Strip & Hang Wallpaper | £160 | £450 | 3 days |
Cost Breakdown Calculator
Individual costs for supplying, stripping and hanging new wallpaper in a 20 sq m room - Total Cost: £400
What Wallpapering a Room Entails
Wallpapering is not as popular as it used to be, since the 1990's painting walls has become more popular in the UK but recently wallpapering has started to come back into fashion. Wallpapering is quite labour intensive and the amount of work involved will vary depending on the condition of the walls and of course the size of the room.
If the walls are already wallpapered, then usually this will need to be stripped off using a steamer and a scraper, but sometimes you can just wallpaper over old paper. If the walls are just painted then wallpapering the room is much quicker, though the walls may still need to be cleaned first. Some wallpapers also require cross lining for a superior finish, especially thinner papers on older walls. All wallpaper will require a smooth and clean surface to hang correctly.
Wallpapering a room will freshen it up, but often to finish the room off properly you will need to also freshen up the other surfaces such as door & window frames and skirting boards. The doors themselves will need attention too if painted and not natural finishes. Don't forget the ceilings either, a grimy ceiling will look awful next to fresh wallpaper and bright white woodwork!
Wallpaper Stripping and The Costs
If you are stripping old wallpaper off using a steamer be prepared for a lot of condensation. You can buy a steamer for around £25-£45. It might be a good idea to remove items such as your sofa, or at least place them in the centre of the room and cover them to avoid them getting damp.
The flooring/carpets will also need to be covered to protect them from wallpaper paste and any painting being done at the same time. If getting a decorator in to do the work, you should always check that preparation work such as moving all your furniture is included in the price or not. Most painters & decorators will in fact expect the householder to move all furniture and other items into the centre of the room giving them easy access to the walls ready for them to start work.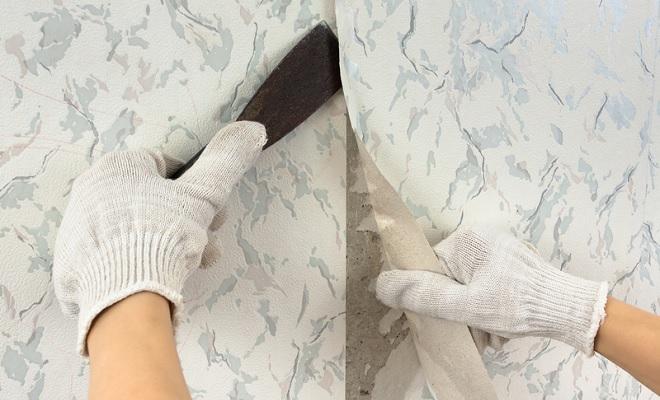 You can also strip wallpaper using a spray water bottle and scraper. This method is not only cheaper but can also prevent causing any damage. Use a spray water bottle with equal parts warm water and white vinegar in. Score the wallpaper and spray. Leave to soak in and begin to scrape. If you are still finding it difficult then repeat the spraying. You can use a bucket if you dont have a spray and wet the paper using a sponge. This method will cost less than £5 and often works just as well as a steamer without causing any damage to plaster.
DIY Wallpapering
Wallpapering seems to be one of those jobs that people have a certain "knack" for, you can either wallpaper, or you cannot! If you have never done it before, it looks much easier than it actually is to get a good finish and there are lots of things which can go wrong leaving bumps, blisters, wrinkles and mismatched patterns in the final result. This is a skill that needs some practice and even then some people seem naturally much better than others.
Wallpapering is of course a job that you can take on yourself if you have the skills. It can however be a false economy to attempt to paper a room yourself unless you are confident about your skills, wallpaper is expensive and you will use much more of it when having problems!
Patterned wallpaper is even more difficult to get right as the pattern has to be matched from one strip to the next, often resulting in a lot of wastage to get everything lined up if you do not know what you are doing. If in doubt, get a professional in so you are guaranteed a professional finish with much less stress, for many the extra expense is more than worth it!
How to Prevent Bubbles When Wallpapering
Wondering how you get rid of wallpaper bubbles? The best way to stop wallpaper bubbling, according to the top decorators, is to go slow and steady when hanging a new sheet of paper and smoothing out any bumps as you do, prevention being better than cure.
When smoothing out wallpaper it's best to use a small amount of pressure with a sponge to avoid damaging fragile foil designs. But if you still get bubbles even after being extra careful, the best way to get rid of them is to prick them with a pin whilst still damp and squeeze the air out from the edges of the bubble inwards. When the air is released you should be able to force the paper into contact with the wall and it will then stick and dry flat without any trace of bubbles!
Wallpapering With Pre-pasted Paper
While there are somewhat find wallpapering easy, most find it difficult at least until they have had a bit of practice. For those that are worried wallpapering might be too hard for them but don't want to hire a professional, repasted wallpaper might be a good option. This pre-pasted wallpaper already has the paste applied to the back so you just wet it and apply the wallpaper to the wall like a huge postage stamp! This is much easier than using traditional unpasted wallpaper which requires you to mix and then add the paste to the back before applying to the wall.
If you are not a particularly handy person or simply do not have the time of the physical ability to wallpaper, you will find that professionals prefer traditional wallpaper that needs to have paste mixed and applied because it lasts longer and they feel they can achieve a better finish.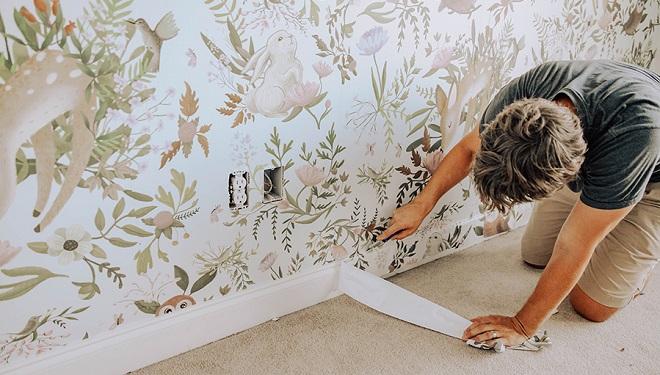 The Costs of Pre-pasted Wall Paper
Pre-pasted paper is slightly more expensive than normal paper and you can expect to pay £5-£15 more per role, but there is no need to buy the paste so it actually works out slightly cheaper in most cases. You still need to be careful and follow the instructions properly but it really is much easier than messing about with wallpaper paste. However, the downside is that pre-pasted paper tends to start peeling off the walls earlier than traditional wallpapers, so you might. Have to redecorate a little more often.
Wallpapering vs Painting
Painting is a popular alternative to wallpapering and can be a cost effective and professional finish in almost any wall. However is painting every wall the best option for your entire room? Paint does come in a huge range of colours, shades and finishes nowadays – but so does wallpaper!
People can often shy away from wallpapering as they consider it to be more difficult than painting, wallpaper has a number of advantages.
Advantages of Wallpapering
Easily cover minor cracks and holes in the plaster
Simple and cheap
Cheaper than plastering
Can last as much as three times longer than paint
Wallpaper offers modern textures and designs which can add more depth and warmth than paint
Painting is generally cheaper and quicker, but also has its downsides. For example paint can quickly fade and it more obviously shows wear and tear from minor bumps and marks made by furniture, children or pets. While a freshly painted wall can look great, you will likely find yourself touching up paint quite regularly. But there is no getting around the fact that hanging wallpaper correctly is time consuming so expensive to hire a professional!
The biggest single disadvantage of wallpaper is the difficulty of removing it when you decide to redecorate. It can often take longer to strip wallpaper from a room than to redecorate it! Wallpaper is not great in humid areas like bathrooms or even some kitchen areas as the moisture can cause the wallpaper to peel away from the wall.
However, even though wallpapering can be expensive, you can use wallpaper just on a single "feature" wall in the room to reduce the time and cost while still delivering much of the visual impact. Whether you choose paint or wallpaper, make sure that you are happy with your choice by testing using a large piece of white paper with your intended wallpaper or paint on each wall of the room. Remember that every wall in your home will look slightly different even with the same paint or wallpaper.
FAQ's
Years ago wallpaper was routinely hung over old wallpaper without stripping. But nowadays most wallpapers have a vinyl coating or are sheet vinyl types so are a vapour barrier. If you try and cover one vinyl material with another, this will often result in mildew forming in between the two layers. You may also be able to see the underlying pattern unless the new wallpaper is very heavy.

In addition, the chances of encountering problems like bubbles in the finish are much higher if you are not wallpapering onto a clean, smooth surface. Hanging over an old wallpaper always a gamble, sometimes you will get away with it, other times you will have to remove both the old and the new wallpaper too then start again to get a decent finish, costing more money and taking more time. Best to avoid gambling with expensive wallpaper and just do the job properly in the first place.
Usually 1 to 3 days depending on the condition of the walls and whether they are painted or currently wallpapered which will need stripping. If you have existing wallpaper this could easily require a full day to remove, plus preparing the walls will take slightly longer depending on the condition of the plaster, if walls have woodchip on them expect the job to take a lot longer and be more expensive.

This type of wallpaper is very hard wearing and difficult to remove, which will almost always result in damaged walls which require a lot of preparation work before hanging the new wallpaper. Removing old woodchip paper is a job you could take on yourself to save money as it does not require much in the way of skill but is time consuming.