How Much Does a Loft Conversion Cost?
This is one of those jobs where the cost can vary considerably depending on the size of your loft, whether or not you want a dormer, what you want your loft to be (bedroom or bathroom), whether your house is terraced, semi or detached, whether your roof is gable, hip, mansard, trussed, traditional, etc, your location and the company you choose.
Prices for loft conversions can range from £15,000 to £45,000.
Loft Conversion Prices
Here are a few average costs for hiring a company to carry out a loft conversion. Please note that these are average prices. If your house is around the London area, expect to add £10,000-£15,000 to the price.
| Conversion Type | Avg. Cost |
| --- | --- |
| Bedroom with Velux Windows | £12,500-£20,000 |
| Bedroom with Ensuite & Velux Windows | £17,500-£25,000 |
| Bedroom with Dormer & Velux Windows | £20,000-£25,000 |
| Bedroom with Ensuite with Dormer & Velux Windows | £25,000-£30,000 |
Cost Breakdown Calculator
Individual costs for hiring a loft conversion company to install a double bedroom with dormer and 2 velux windows - Total Cost: £25,000
Labour Cost and Time Frames
Most loft conversion specialists charge around £300-£500 per day with 2-4 tradesmen working at the same time. You can expect the job to take anywhere from 4-8 weeks to complete depending upon the complexity.
| Conversion Type | Duration |
| --- | --- |
| Bedroom with Velux Windows | 3-4 weeks |
| Bedroom with Ensuite & Velux Windows | 4-5 weeks |
| Bedroom with Dormer & Velux Windows | 5-6 weeks |
| Bedroom with Ensuite with Dormer & Velux Windows | 6-7 weeks |
What Loft Conversions Entail
There are several different types of loft conversions, but the three most popular types in the UK are roof windows with no dormer, roof windows with dormer, and dormers without roof windows. A roof window loft conversion with no dormer offers good lighting but compromises on size/space, they are however the cheapest and easiest conversion.
Roof windows and dormer conversions offer extra space and headroom, plus the extra light through roof windows. Whereas a dormer conversion but with no roof windows offers maximum usable space less light. Roof windows allow lots of extra natural light into the loft space, but dormers protrude from the roof and create additional space and headroom.
The cost of a loft conversion with a dormer is considerably higher than a loft conversion with only roof windows, but you may have to install a dormer to meet building regulations for headroom, depending on the location of the staircase.
It makes sense to carry out other related jobs that may need doing at the same time, such as installing a loft ladder and hatch, or a full staircase. Also, don't forget about the existing roofing which should be in good order with no rot or missing/damaged roof tiles. You may need to hire scaffolding for any roofing work or for the conversion itself. This is an additional cost that's commonly overlooked.
The most common reason for converting a loft is to provide an additional bedroom, typically a double bedroom, often with an en-suite bathroom. The work required and the expenses that you will face include:
All professional fees (architects, structural engineer, planning permission, building control etc)
Scaffolding
All materials required (timber, steel joists, plasterboard, skirting etc)
Construction and roofing
Staircase
fire escape
Windows
Electrics
Heating
Plumbing
Insulation
Flooring
Decorating
Skip hire
As you can see it's a big list, involving a lot of work and materials, and therefore cost. If you are on a tight budget and want to maximize the potential added value on a loft conversion, then try and avoid dormers, bathrooms and shower units - these are the most expensive part of any loft conversion.
Using a reputable contractor and getting professional advice will greatly reduce the chances of any future problems with a loft conversion. Using a cowboy contractor that promises a good job done cheaply can end up costing an absolute fortune, in addition to being dangerous.
When considering expensive structural alterations to your home, do not decide simply on price! There are some other factors which may increase the cost, for example, if you have a water tank which will need to be moved along with the required plumbing work.
Planning Permission and Building Regulations
If you are wondering whether loft conversions are permitted development, then there is a government scheme which is designed to get more homeowners expanding their properties, this scheme allows some loft conversions to go ahead under permitted development rights without the need for planning permission.
But in order to qualify, the loft conversion must not add more than 40 cubic metres to the roof space, cannot extend beyond the existing roof, cannot be higher than the highest part of the existing roof, and must be similar in appearance with no verandas, balconies or raised platforms.
There are other rules and considerations which need to be considered and it can all get a bit confusing, to say the least! For more information on the permitted development rules, you should consult an architect or loft conversion specialist, plus you should always check with the local planning department before considering any changes.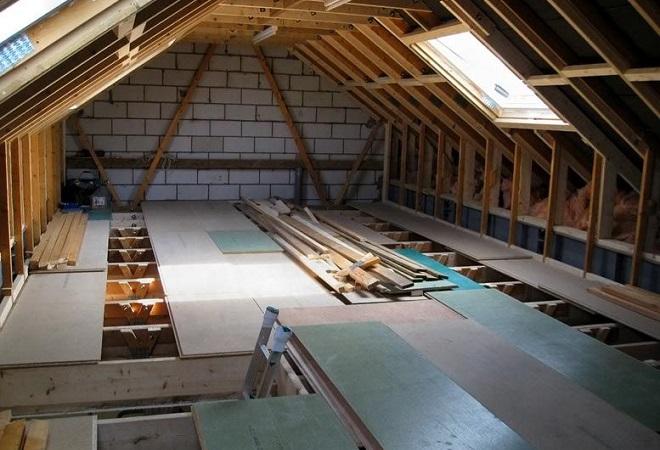 Loft conversions which do not fall within the permitted development rules will require planning permission. If you do have to submit an application for planning permission, this can be done online but there will usually be an application fee that must be paid which will be a minimum of around £200.
However, for applications which meet certain criteria regarding listed buildings or those in a conservation area, no application fee is required. Your local planning authority will make a decision on your planning application within eight weeks for a straightforward planning application, 13 weeks for a large or complex application, and within 16 weeks if an Environmental Impact Assessment is required.
But regardless of whether or not you need to apply for planning permission, you will still need to follow the relevant building regulations and seek building regulation approval. The Building regs are important as they ensure that any building work is structurally sound and safe to escape in case of a fire. What building regulations you need to comply with will depend on the type of planned usage of the planned conversion.
Even if your attic conversion is just for storage space only you may still need to seek building regulation approval. A loft conversion to be used as extra liveable space will need to meet a number of regulations including those which ensure the floor can handle the additional weight on the joists and fire regulations.
Party Wall Agreement Act For Loft Conversions
Another thing that could cause an issue with converting an attic is the Party Wall Agreement Act. Essentially, this act states that if your property is attached to another then you have a shared party wall and the neighbour must be notified of any work being carried out on the party wall with potential risks.
This act only applies if you are directly working on a party wall, not for all loft conversions. Once you or your representative have served the notice your neighbour will have 14 days to respond and you need to have it in writing within that they are OK for the project to proceed.
If they do not want the works to go ahead or do not reply, this means they have rejected the notice and surveyors will need to be appointed and a party wall award agreed upon which can cost around £3,000 and is the responsibility of the building owner proposing the works.
If you are concerned that neighbours could stop your loft conversion as you find it difficult to communicate with them. When you apply for planning permission a notice will be put up on the nearest lamppost outside your house and a letter of the proposed conversion is posted to the immediate neighbours that could be affected giving them 21-days to make comments.
The council will consider any comments as part of the planning application and it will take around 2 months for them to reach a decision. However, even if a neighbour does complain that does not mean permission will be rejected.
If planning permission is rejected you can appeal against the decision or amend the plans and resubmit for approval. If the loft conversion is allowed under permitted development and no planning is required, but you are still concerned that your neighbour might still cause problems, then you can apply for a certificate of lawful development for peace of mind and to avoid any unnecessary delays and future difficulties with neighbours.
Conversion vs Extension
When homeowners are considering their needs for extra space and have ruled out moving, the next question they have is whether to do an attic conversion or to extend the property on the ground floor, each of these solutions has their unique advantages and disadvantages. Although the cost of an extension is much more its likely to increase property value along with creating more room.
Loft Conversion
Advantages of loft conversions:
✔ Planning permission can be a major hassle in terms of time and money, but luckily most loft conversions don't need a planning application.
✔ Loft conversions generally take less time to complete than house extensions, meaning less disruption
✔ You don't have to sacrifice a chunk of your garden for a loft conversion.
✔ Loft conversions are usually cheaper than extensions.
Disadvantages of loft conversions:
✖ Loft conversions are limited in size and scope by the sloped angle of the roof.
Extension
Advantages of extensions:
✔ Extensions offer more flexibility as you are not constrained by any pre-built dimensions.
✔ Although there are rules concerning how far you can extend into the garden, you can also build upwards to create a two-storey extension to add further space and value to your home.
Disadvantages of extensions:
✖ Planning permission is often needed for an extension.
✖ Extensions are more expensive as you are constructing a space from scratch rather than repurposing an existing space like an attic.
Loft Conversion With Balcony
Balconies are a fantastic option for loft conversions as they will allow plenty of light while offering additional outside space. However, adding a balcony to a loft is not always straightforward and will mean the conversion is no longer permitted development and requires planning permission.
But despite the additional complexity and planning required, balconies remain a desirable option and make homes extremely desirable adding more value than a traditional loft conversion alone.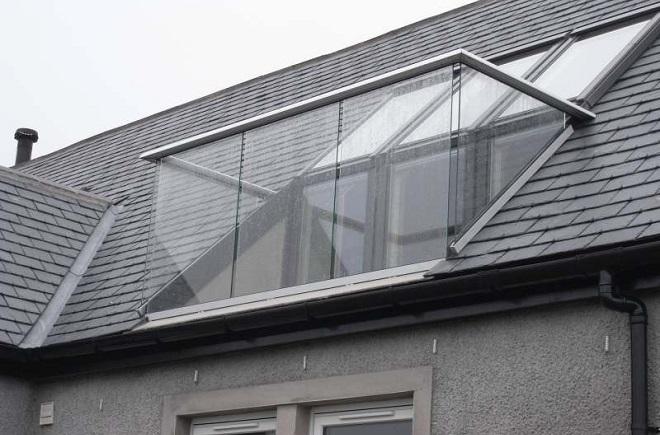 There are several different types of balcony that can be added to a loft conversion: a Juliet Balcony, True Balcony, Roof Terrace and Cabrio Balcony. The Juliet style balcony is the cheapest and many would say not really a balcony in the traditional sense, it does, however, offer the illusion of greater space without any actual protrusion from the property using glass inward-facing doors which make the indoor space the balcony.
A true balcony utilises a load-bearing platform providing space for furniture and outdoor relaxation. This type of balcony will need careful design and planning as it must be able to support the additional weight of people and furniture, but it does offer a fantastic additional outdoor place to enjoy!
A roof terrace uses any existing flat section of roof to provide additional surface area, perfect for outdoor entertainment or even as added garden space. A Cabrio Balcony is an enclosed balcony area which uses double Velux windows to provide air and light into the space.
Types of Loft Conversion
There are four main types of loft conversion found in UK homes. Dormer, Mansard, Hip to gable and Roof light. The most popular type of loft conversion in the UK by far is a flat roof dormer.
Dormer Conversion
A dormer extension projects vertically from the slope of the existing roof, creating a box shape which often requires no major structural changes (so usually falls under permitted development) and conventional windows. A dormer adds useful headroom with straight walls and flat ceilings, creating a large amount of additional internal space with decent lighting and good ventilation.
The dormer conversion is also cheaper than other types while still being suitable for most UK roof styles.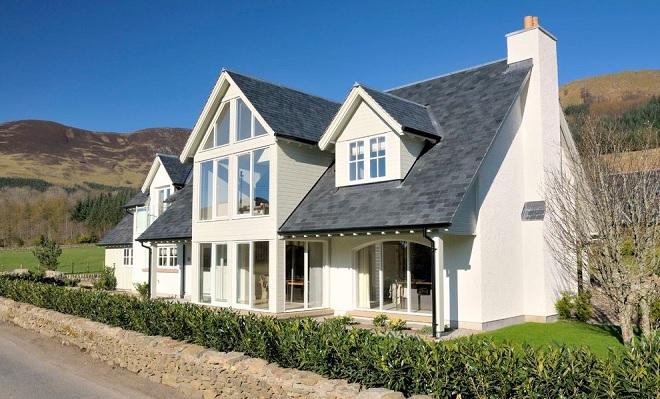 However, the dormer type conversion is not the most aesthetically exciting style and too common for those looking for a big visual impact. A gabled dormer which wraps around the side and rear of the property in an 'L' shape can be a more visually appealing choice but is more expensive and places limitations on headroom.
Mansard Conversion
A Mansard type attic conversion is constructed by raising the party wall (and are usually found to the rear of terraced houses. Mansard conversions are more aesthetically pleasing than a dormer and they suit older properties such as Victorian terrace particularly well.
The Mansard conversion also offers more headroom than any other type of conversion and allows more light into the loft. However, a mansard conversion will almost certainly require planning permission and they take longer to build so are more expensive.
Hip to Gable Conversion
Hip to gable loft conversions are great for bungalows, end of terrace, semi-detached houses and detached houses. By straightening the slanted end roof to make a vertical wall, this home improvement project can make a huge difference and blends in with the existing home really well.
Hip to gable conversions can be combined with a rear dormer for maximum space. The downside is that they are not suitable for mid-terrace houses and are more expensive than a dormer. They look much better if your neighbour has done this home improvement too, especially in a typical 3-bed semi!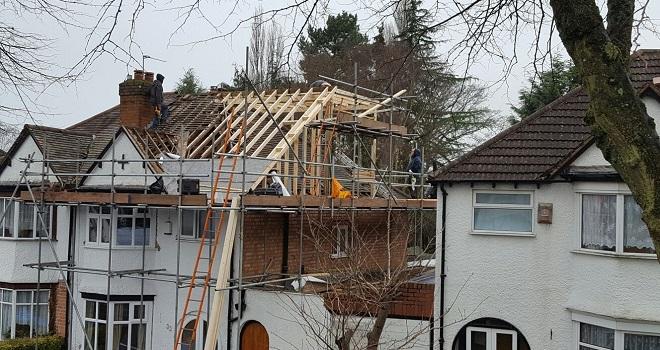 Roof Light Conversion
A roof light loft conversion is where you don't actually expand the existing space at all, all you do is add windows and reinforce the attic floor to transform the loft into a comfortable and usable living space. This is the cheapest type of loft conversion for obvious reasons and is unlikely to need planning permission, though even if permission is required.
For example in a conservation area, it is much more likely to be approved than any other type. However, a roof light attic conversion requires at least 2.25m of head height in the middle and it doesn't open up any extra useful space, unlike other more expensive conversions.
Loft Conversion For Bathrooms
Loft or attic conversions conversions are often done to add an additional bedroom and an ensuite bathroom is a popular option. If you are planning a bath or shower room in your loft conversion the easiest place to do this is directly above your existing bathroom. This means you can connect into the existing drainage and water supplies with a minimum of pipework.
Note that any bath or shower room will require an extractor fan to ensure adequate ventilation. Remember that when deciding on the type of attic conversion you will need to ensure there is full headroom in the areas you are planning to install the shower, WC and washbasin, though you can place a bathtub under the eaves if necessary.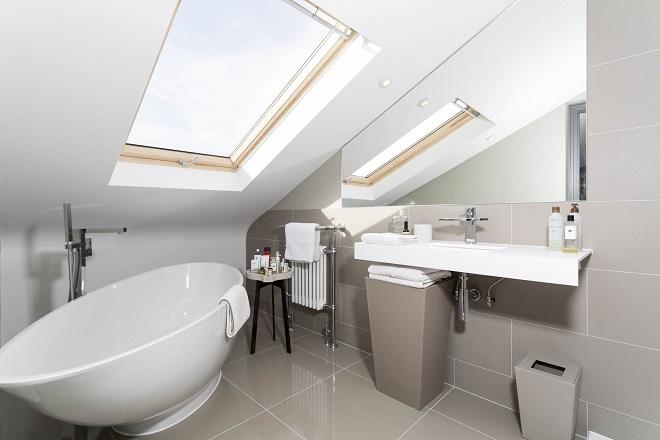 If you cannot add the WC in a suitable position to use the existing soil stack, you will either need to add a new one or install a pumped macerator system. Generally speaking, installing a macerator is the cheaper option. A macerator uses rotating blades to reduce the size of solid waste so it can comfortably fit through your normal pipework.
Usually, this would be contained in a small box positioned behind the toilet, but can also be hidden behind a stud wall, although you will need to be able to access it for maintenance. While a macerator can be a great solution they can be noisy and will continue to operate for about 30 seconds after the flush. Also, bulkier items such as sanitary towels will likely block the unit and cause problems.
Low Roof and Trussed Roof Conversions
Probably the most difficult attic conversion projects are those with shallow-pitched roofs with a lack of headroom. Sometimes an existing loft can seem a good candidate at first glance before conversion, but once you take into account a new reinforced floor structure and rafter insulation the headroom can easily shrink by at 300mm or more.
In these cases where the headroom is lacking, the obvious solution is to simply remove the existing roof and replace it with a higher one.
Special roof trusses can be craned into place to form a ready-made new loft space built off-site, with all the insulation and windows etc already in place. The main problem with this solution is that it will definitely require planning permission and there's a good chance you won't get approval for typical terraced or semi-detached properties.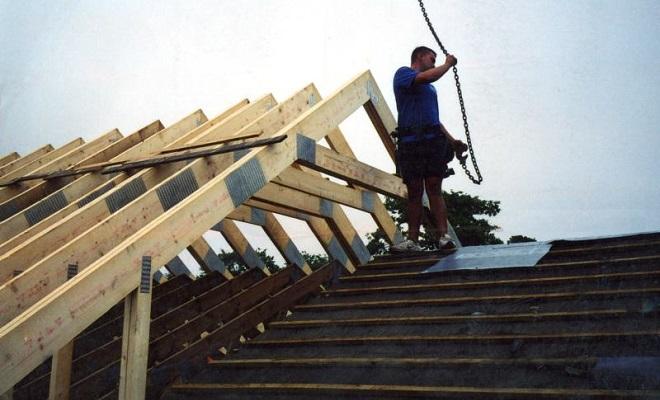 Instead of raising the roof to gain extra headroom, you could try lowering the floor! This is a less drastic and much cheaper solution that involves taking spare headroom from the rooms below. This can work well in older properties where the existing ceiling heights are often generous and can easily accommodate a loss of height while leaving sufficient headroom.
To capitalise on the unused headroom below, the new steel joists can be fitted beneath the existing ceiling level with support from joist hangers extending beneath the joists.
Once this new floor is in place the old ceiling can be removed freeing up extra headroom. Lowering the floor will be more expensive than a traditional loft conversion project, adding 10% or so to the costs, but still much cheaper than removing the roof and adding a new custom-built loft and craning it into position!
Roofs in modern houses (most homes built after 1960) are often of the prefabricated trussed type rather than a rafter construction. This roof type was once regarded as too difficult to convert due to their relatively slender roof timbers, but nowadays many of these roof types have had their lofts successfully converted.
The tricky part is to ensure that the opposing roof slopes are fully supported and tied together, then make sure that the new structure is fully in place before cutting any of the old trusses. The timbers may also need to be strengthened by adding new ones fixed alongside, or with prefab sheets for wind bracing. Any good builder or conversion specialist should be able to advise you on whether a conversion is possible or prudent.
FAQs
Sources
https://www.energysavingtrust.org.uk/home-energy-efficiency/boiler-replacement
https://www.planningportal.co.uk/info/200130/common_projects/36/loft_conversion/3
https://www.fmb.org.uk
https://www.gov.uk/party-walls-building-works
https://www.architecture.com