How Much Does Scaffolding Cost?
The cost of hiring and erecting scaffolding will depend largely on the height and length of the scaffolding required, your location within the UK and how long you require the scaffolding for. On average, for the scaffold to be built on three sides of an average semi-detached house for a single roofing job costs around £650-£800. To bridge over a conservatory with a walkable bridge expect to pay £400. A simple scaffold tower built to the height of the gutters will cost around £250 – although bear in mind that tradesmen will often inflate this price if the work they're doing is a relatively small job, such as repairing gutters, so make sure to research and get quotes from multiple traders before committing to a company.
Scaffolding Hire Prices
The cost of hiring scaffolding is not a straight-forward answer, with multiple factors causing changes in prices.
Unsurprisingly, the more levels (lifts) required, size and type of scaffolding needed, will all affect the overall cost of hiring scaffolding, as well as the duration that the scaffolding is required for. You may only require a small work-area to be accessible, in which case a simple scaffold tower may be adequate. Alternatively, you may have a large-scale project at hand, such as replacing a roof, which will require a larger scaffold structure to be erected.
The important thing to remember with scaffolding is that it plays two main roles. Firstly, it gives site access to workers to complete the given work at hand. Still, more importantly, scaffolding is used as part of health and safety measures for both the workers, those around them, and the property itself, to ensure stable working surfaces and reduce risk of accidents and injury.
The following table illustrates some potential costing scenarios and the expected rental duration, including labour:
Job Description
Avg. Cost
Hire Duration
Scaffold 3-sides of Semi-Detached House
£900
6 – 8 weeks
Scaffold 3-sides of Detached Bungalow
£650
6 – 8 weeks
Scaffold bridging over a conservatory
£450
6 – 8 weeks
Scaffold a chimney
£500
1 week
Scaffold Tower
£250
1 day
Supply-Only Costs
In most rental cases of scaffolding, the cost of labour for installation and dismantlement of scaffolding is included. Here are some basic supply-costs of the average scaffold in the UK:
Independent scaffold costs roughly £15 per m2
Edge protectors cost on average £10 per m2
Guardrails costing an average of £10 per m2
In some instances, it is possible to buy your own scaffold structures from trusted suppliers, which can be a cheap alternative to hiring scaffolding, particularly if you foresee a long period of usage, or expect to need scaffolding again in the future.
| Type of scaffold structure | Maximum height | Cost |
| --- | --- | --- |
| Narrow scaffold tower | 2.2 m – 7.2m | £1,300 - £2,700 |
| Standard scaffold tower | 1.6m – 6.2m | £800 - £2,500 |
| Double scaffold tower | 2.2m - 8.2m | £1,500 - £3,500 |
| Trestle / access platform | 1.5m | £240 |
Additional Costs
As with most build projects, there is potential for additional costs on top of those that you have planned for:
Specialised equipment or builds, such as bridging over a conservatory or building on a slope, can cost you extra as they are not considered 'standard' scaffolding builds. A typical bridge can cost an additional £400 if required in addition to other scaffolding, so make sure to get a quote before committing to the hire.


Scaffolding licence may be required if your scaffolding will intrude onto public areas such as roads or footpaths. The licence will need to be obtained through your local council but, be warned, the price varies depending on the county and tend to be charged per scaffold, not per project. These can range from £45 per month to upwards of £215 a week depending on your location.


If a rubbish chute is required on-site, there is usually an additional charge of around £50.
Cost Breakdown Calculator
Individual costs for hiring scaffolding for 6-8 weeks on 3 sides of a semi-detached house - Total Cost: £900
Labour Costs and Time Frames
Typically speaking, the cost of labour is included in the price of erecting the scaffolding, with the time taken largely depending on the type and scale of scaffolding being used.
A scaffolding tower, used for a small work area, can take as little as 2 hours to erect, whereas scaffolding around 4-sides of a detached house including a tin roof for larger-scale projects could take as long as 48 hours.
Scaffolding is normally hired out for a fixed period with an additional rental charge applied weekly if the scaffold is required for a longer period than originally agreed. On larger jobs, you need to establish who will be paying for the additional scaffolding rental costs if the job takes longer than expected. Be careful about erecting the scaffold too soon - ensure that the company doing the work is fully prepared to start as soon as scaffold is in place as you don't want to pay for scaffolding that nobody is using.
What Is Scaffolding?
Scaffolding is a temporary structure made of poles (typically timber or steel) built into a frame with wooden walking boards laid down between the beams to create a walkway. Handrails and access ladders are then added as standard for easy access to all levels and for health and safety. Scaffolding is very versatile and can be used in narrow spaces or areas that seem almost impossible to access, such as around high chimneys. Professional scaffold companies can provide safe access to almost any part of a building.
Scaffold is used when work carried out is at a height that is not suitable to access via a ladder, either because of the location, height or nature of the work involved.
Due to health and safety laws, scaffolding is required for most work to be carried out above a height of 6 feet in the construction industry, so it is used extensively by roofers, painters and builders.
Types of Scaffolding
There are many different types of scaffolding available across the world, offering different properties and accessibility options.
Single
Single scaffold is generally used for brick-laying and consists of a single frame of Standards in an upside-down 'L' shape, with supporting beams called putlogs running into holes in the wall and boards or planks running across the top for access. This frame gives easy access to builders to the adjoining wall.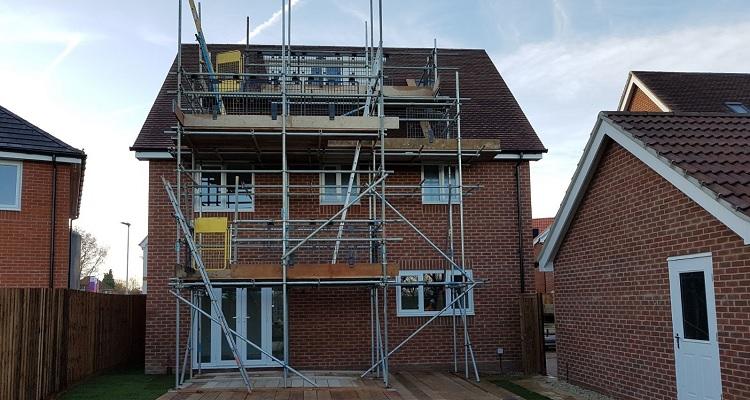 Double
Double scaffold is used where it isn't appropriate to drill into the aligning wall, for example, if it is made of stone. This scaffolding is in the traditional 'H' shape frame that is commonly seen. The frame supports the putlogs as they don't run into the wall for support.
Suspended
Suspended scaffold is connected to the roof of a building with the work-platform hung with ropes or chains. The platform can be raised or lowered to the desired height and is generally used for painting external walls, pointing and repair work.
Trestle
Typically used indoors, Trestle scaffolding is suitable for a height of up to 5m and consists of a frame built on movable tripods or ladders. Trestle scaffold is ideal for decorators or indoor repairs.
Steel
Easy to construct and dismantle, and offers the greatest safety to workers, Steel Scaffolding is becoming increasingly popular. The structure is made similarly to double scaffold, but with additional support and stability created by connecting the Standards with steel couplers or fixings.
Cantilever
Cantilever scaffold tends to be used when the ground underneath cannot support the Standards or is not suitably placed, for example when the ground near the wall needs to be free from obstruction, such as a public footpath. It is constructed by inserting needles into the connecting building through the walls for stability and is generally used when the upper part of the building is under construction.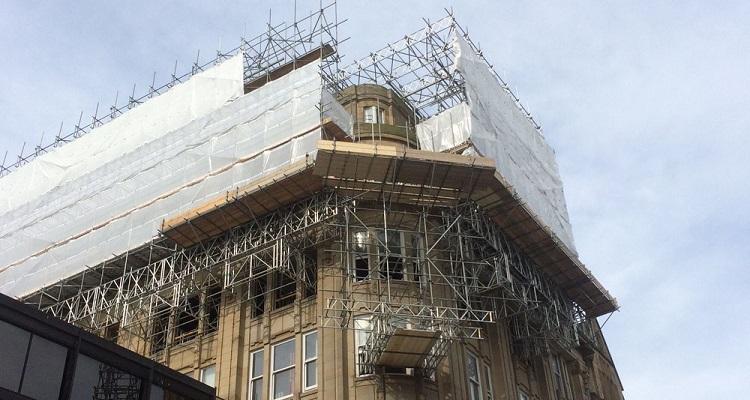 Patented
Sometimes known as 'readymade', Patented scaffolding can be purchased as a pre-assembled frame, with boards that are fitted with brackets at the desired height of work.
Kwikstage
Kwikstage scaffold is simple and quick to erect and can be used for a variety of applications. It is one of the easiest scaffolding systems to erect yourself; the frame is constructed by interlocking pieces with 'wedge' and 'v-pressing' pieces and is commonly used by self-builders due to its simplicity and reliability and is available in a variety of sizes.
Bamboo
Bamboo can be used in place of steel in scaffolding; it has greater tensile strength and is lightweight. Bamboo is widely used in China and Hong Kong, though some companies in the UK also offer bamboo scaffolding as an environmentally friendly alternative to traditional scaffolding.
What Does Scaffolding Entail?
The method of erecting scaffolding varies depending on the type used, but they follow the same basic principles.
First, the scaffolder will find flat, stable ground suitable to erect scaffolding on (if the surface is uneven the scaffolder may lay dirt down in the needed area to create an even surface) and lay a scaffold base where appropriate.
The lower frame of the scaffolding can now be constructed. Generally, this is done by laying the frame pieces down and connecting them before raising them and securing them upright. Once upright, they can be secured on the base, with a standard distance of 2.1m between the two structures. If the scaffolding is mobile, the castors will be added to the poles before they are turned upright.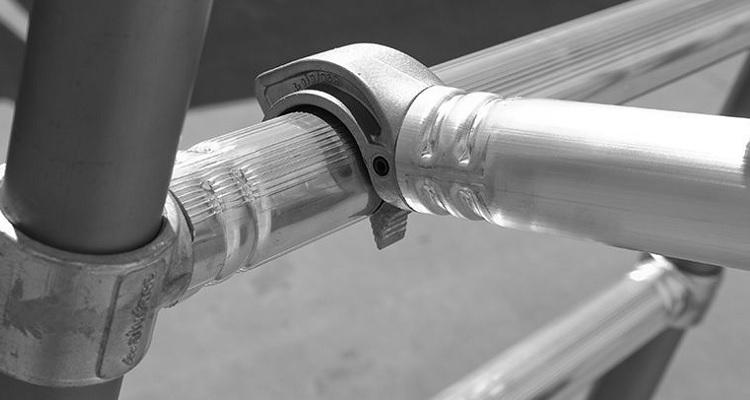 Once positioned, the poles can be connected with cross-braces for stability. Once the braces are secured the first level of scaffold planks can be fitted. Where a ladder is needed, it can now be attached. Once the ladder is attached, the guardrails can be connected to the raised platform. Additional levels can now be constructed as needed.
Hire Vs Buy
The choice to hire or buy scaffolding is down to the individual, with no right or wrong answers, but there are factors to consider while making your choice.
Consider the following:
Will your project take less than 12 weeks?
Is the work at a height of over 6 metres?
Is the building an awkward shape, or on a slope?
If the majority of answers to the above questions are 'yes', hiring scaffolding is probably the most cost-effective solution, as trained professionals will erect, secure and dismantle the scaffolding, and depending on the size of the scaffold and timeframe needed, can cost around £250 per day.
If, however, the majority of your answers were 'no', you may find buying your own scaffolding more cost-effective, with tower systems ranging from £800 for a height of 1.6m to around £2500 for a height of 4.2m. If you decide to purchase scaffolding, you will need somewhere to store it once the work has been completed, though some companies offer a buy-back scheme for bought scaffolding.
You should not erect your own scaffolding if you are not confident in doing so; hire a professional to do it if you are unable to yourself.
Common Jobs Scaffolding Is Used For
Scaffolding is usually needed to help tradesmen complete their job, usually at a height or for a duration that is inappropriate for ladders.
Common jobs that require scaffolding include:
In many cases your tradesmen may opt for scaffolding towers or structures such as trestles as they pose less of a health and safety risk compared to ladders and offer more stability, as well as a platform to work from meaning movement is less restricted.
Can I Buy Scaffolding and Do the Job Myself?
Yes, but it isn't necessarily the right thing to do.
Scaffolding tends to come under two categories – System Scaffold (Kwikstage) and conventional. For self-builders, System Scaffold is recommended as it is easy to install and take down yourself. Conventional scaffolding is cheaper to purchase, but if you need to hire someone to erect it, the price difference between the two quickly becomes negligible.
Scaffolding should be erected by a competent builder with the necessary knowledge, experience and skills, and awareness of health and safety under the Working at Height Regulations 2005. A qualified scaffolder will have a valid Construction Industry Scaffolders Record Scheme (CISRS) card or have completed training through PASMA (Prefabricated Access Suppliers and Manufacturers' Association).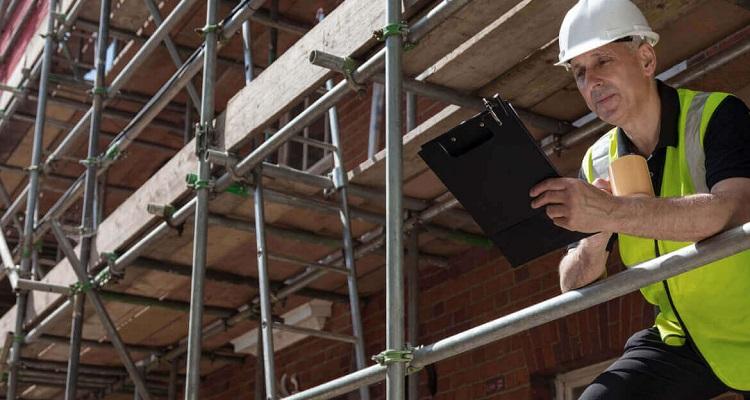 Incorrectly installed scaffolding can cause damage to yourself, others and your property. Once erect, safety checks need to be carried out on your scaffolding before use and at least once every 7-days after that.
Builders and scaffolding firms need special insurance to cover them against public liability and employer's liability in the case of an accident or damage. If you decide to erect scaffolding yourself and don't have it inspected by a recognised professional, it may invalidate your home insurance. So, if you do decide to buy and erect your own scaffolding, you'll need to have a trained professional check your scaffolding after it has been erected to ensure it's in line with current health and safety standards as well as checking if it's properly constructed.
As with most DIY tasks, erecting scaffolding yourself should not be undertaken if you are not physically fit enough or do not feel confident in your ability to safely do so.
Cost Affecting Factors of Hiring Scaffolding
Scaffolding hire costs vary depending on the company you choose to hire from and the type of scaffolding chosen for the job.
Hire length

The average scaffolding company in the UK require a rental period of six to eight weeks, with an additional weekly rental cost of this timeframe is exceeded. In some instances, it is possible for shorter-term rentals.

The type of work being carried out on your property will determine how long you should require your scaffolding for, so if you are hiring scaffolding independently (i.e. It is not being provided by the workers that require it), it is best to compare prices across multiple suppliers to assure you get the best price for the service you need, particularly if you expect your project to require less to complete than the minimum rental period.

Height and length

The number of levels required on your scaffolding will impact the cost, with more levels requiring more time to construct and therefore costing more. Similarly, the longer your scaffolding is required to be the more costly it will be compared to a shorter structure.

Location

Your location within the UK can have a huge impact on the cost of scaffolding, with London and the surrounding areas costing up to three times more than more rural parts of the country.

Ease of access

As with most construction projects, if access to the desired site is difficult to get to the price of the job is increased, usually due to the extra work involved. Similarly, if your scaffolding is going to obstruct public access such as roads and footpaths, you will need to obtain a scaffolding licence from your local council, which can be expensive.

Other factors that can affect the cost of scaffolding include the type used and whether the scaffolding is being rented from an independent company or the same company that is completing the work on your building. You will also need to factor in the cost of the job being undertaken and whether you can make your scaffolding rental more cost-effective by having multiple jobs completed while it is erect.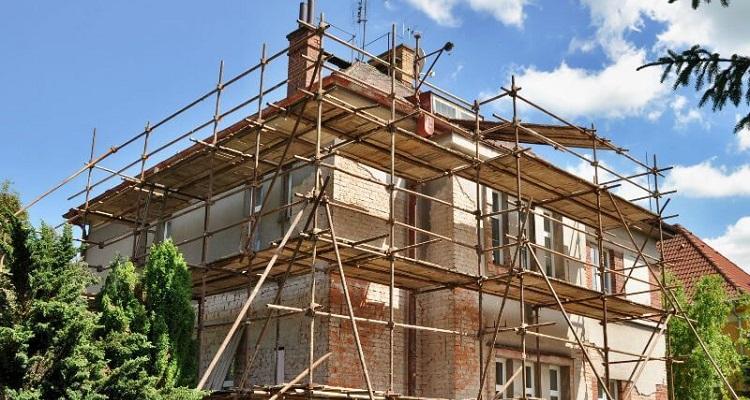 Legal Requirements
Due to the nature of scaffolding and the work entailed, there are legal requirements that need to be adhered to. Some examples of the requirements are as follows:
Scaffolding should only be erected and dismantled by a competent person and under the direction of a competent supervisor.
Scaffolding should be inspected before the use and at least every seven days after that. In the case of adverse weather, adequate checks will need to be undertaken before the use of the scaffolding can resume. It is your responsibility to ensure these checks have been made before use.
In compliance with Working at Height Regulations, an adequate risk assessment will need to be undertaken and safety precautions installed, such as guardrails if the scaffolding exceeds a height of 3m.
Scaffolding must conform to European Standards (ENs) and should be marked with the relevant EN label:

BS EN 12811-1 – Specifies performance requirements and general design standards for all UK scaffolds. Then there are specific ENs for prefabricated scaffolds.
BS EN 12810 – Specific to prefabricated scaffold.
BS EN 1004 – Specific to mobile scaffold towers.
The further information regarding the legal requirements for scaffolding, you can view the Working At Height Regulations 2005, or visit the HSE website.
Do I Need A Licence?
Scaffolding licences are required when the proposed scaffolding will intrude onto public space such as footpaths and roads.
A scaffolding licence needs to be applied for through your local authority. Scaffolding licences will only ever be supplied to accredited contractors or scaffolding companies, and not to individuals. As a general rule in most counties across the UK, the scaffolding company will need a minimum of £5 million public liability insurance to be eligible to apply for the licence.
The cost of licences varies from county to county, from as little as £45 per month per scaffolding to upwards of £215 a week depending on your location. You should also note that failing to acquire a scaffolding licence before erection comes with issues; either you will be charged an inflated fee for each month that your scaffolding was erected, or, possibly face legal action.
Your scaffolding licence should be applied for with at least 7 days' prior to the scaffolding being constructed. Otherwise, it is considered emergency scaffolding and an additional fee will be charged.
You should also note that an application for scaffolding licence does not guarantee it will be granted, so allow time for processing and make a contingency plan should the application be unsuccessful.
Do I Need to Hire Scaffolding?
Scaffolding is required when the proposed work is unsuitable to complete with a ladder, time constraints of the work, because it is unsafe to do so, or for other reasons.
If faults or concerns are found on the roof, such as moss or mould, water damage or missing tiles then a professional may be required to fix them, but due to the height and nature of the work, it is likely they will require some sort of scaffolding to complete the work efficiently and safely. Similarly, if you are having your external walls re-rendered and decorated, scaffolding would be an appropriate means of completing the work following the Working at Heights regulations.
In the case of minor work that requires the tradesperson to work at height for less than 30 minutes of 'light work', a ladder may be acceptable to use providing there is adequate ground clearance, the ground is flat, and the ladder is secured at three points.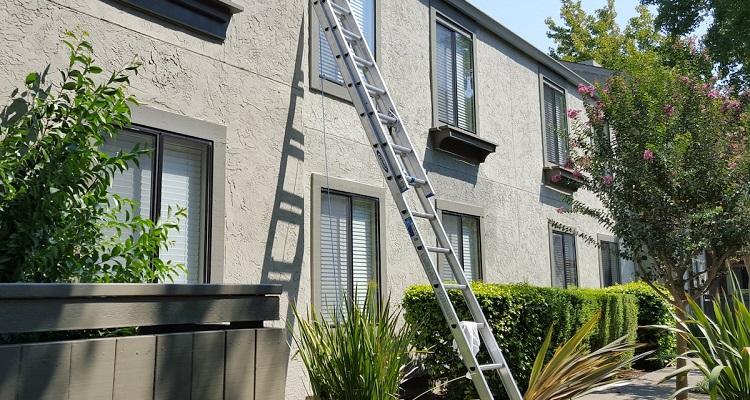 What Are the Benefits of Using Scaffolding?
Several benefits come with using scaffolding where appropriate
Scaffolding offers protection for both those using it and those around them by providing a stable, secure working platform to complete work from. Guardrails, handrails and harnesses can all be used to help secure the worker and minimise the risk of falling.
Bystanders beneath or near the base of the scaffolding are less likely to be struck by falling items or debris than if ladders were to be used.
Scaffolding offers greater manoeuvrability and balance to those using it. Utilising scaffolding, while replacing gable, for example, allows more flexibility in the workers' movement without posing the same risk of falling as ladders would.
Scaffolding offers a greater area of reach and exposed surface area for the tradesperson to work from, meaning they can work over a larger surface with more ease and will be able to complete work quicker than if they needed to reposition ladder repeatedly.
Scaffolding Alternatives
Not all work at height requires scaffolding to be erected; many alternative options may also be suitable for the work being undertaken.
Access tower
An access tower, also known as a scaffold tower, is a highly useful alternative to a ladder for working at heights that do not require much movement. They, like conventional scaffolding, come with a walking platform that can be used to secure tools and items that are needed to complete the job at height without posing as much risk to the worker as a ladder. Access towers come in a variety of sizes, and some are custom built to fit safely on staircases. Access tower hire starts from around £30 a week, making them a great alternative to transitional scaffolding where appropriate.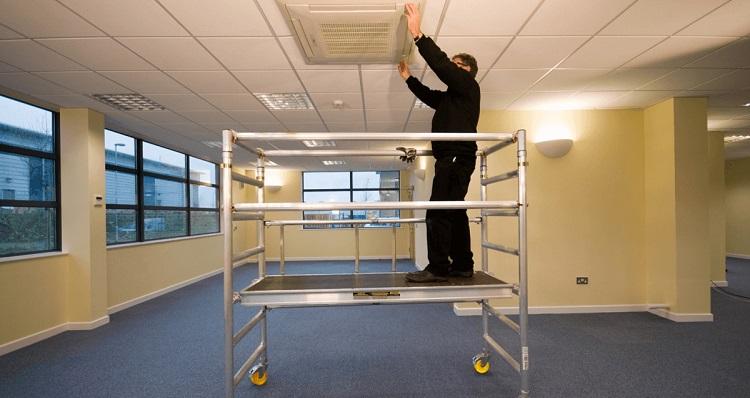 Access platform
Sometimes known as trestles, access platforms are lightweight and movable, making them ideal for indoor use; many painters and decorators opt to use trestles as they offer a safe, wide surface to work from with minimal strain to the worker. The cost of access platform hires averages from £40 per week. Alternatively, you can purchase small access platforms from £25 from stores which may be a worthwhile, cheap investment for home DIY enthusiasts.
Scissor lift
Scissor lifts can be used in place of scaffolding for several jobs, and are particularly favoured in accessing high-up wall-mounted articles or projects that do not have large surface areas. The lifts carriage is secured along all sides to prevent falling, with a harness also worn for added security. The big advantage of scissor lifts is the time needed to operate them; unlike scaffolding which needs to be installed and dismantled, a scissor lift can be moved onto the site, its height adjusted for the job and then removed all in one piece. Scissor lift rentals start at roughly £300 a day.
Ladder
If the work being undertaken is quick to resolve, and it is safe to do so, a ladder can be used – Make sure that the ladder is secure before ascending and that using the ladder will not pose an unnecessary risk to you, those around you or your property. Ladders are great for quick, lightweight work as they are transportable, lightweight and easy to use. Most households own a ladder or have access to one through their friends, family or neighbours. If not, you can buy extendable ladders from as little as £100, or rent one from a local trades company for roughly £25 a day. Ladders are the cheapest alternative to scaffolding, but that does not mean that they are necessarily suitable for the work at hand.
Removing Scaffolding
If you have hired scaffolding through a dedicated company, then it is more than likely that your scaffolding removal costs have been covered in the cost of hire – You should always check before committing and get a written quote detailing what's included in the price. If labour costs haven't been included for having scaffolding removed to cost around £150 a day per labourer, with removal times varying from 1 hour for simple tower scaffolding to up to a day to remove large-scale scaffolding structures.
It may be possible to remove the scaffolding yourself if it is simple and straightforward, and you have the necessary knowledge and experience. In the case of Kwikstage, trestle and patented scaffolding by following the guidelines set out in the user manual if you have purchased them yourself, but other types should be dismantled by a professional with relevant knowledge and experience in doing so.
FAQ's
How to Find and Hire a Scaffolder
While many companies have access to their own scaffolding and are trained to erect it, sometimes it is necessary to hire an independent scaffolder to erect and dismantle scaffolding at your premises, either because you are completing work yourself or because a tradesperson you are hiring does not have their own scaffolding.
As a general rule, scaffolders charge at a rate of £150 a day in labour to erect and dismantle scaffolding, and depending on the style and size of the scaffolding required may work in pairs. In most cases, the cost of scaffolding hire and labour come at a combined price, so it's best to compare quotes from multiple companies regarding labour costs individually.
To ensure you are hiring a qualified, competent professional to erect your scaffolding they should either have a CISRS (Construction Industry Scaffolding Record Scheme) card or be PASMA (Prefabricated Access Suppliers and Manufacturers' Association) certified. Always ask to see their relevant qualifications; you may be liable if fault or injury occurs while incorrectly constructed scaffolding is in use at your property, and you may find your home insurance invalidated as well.
You should enquire about their insurances as well; Scaffolders' should hold specialist insurance that covers public liability insurance as well as employer's liability insurance and employee liability insurance.
Before you hire a scaffolder or any tradesperson, you should seek recommendation from people you trust that have had similar work done. If that isn't possible, it's best to get multiple quotes and where possible, read reviews of companies and traders in your area that you are considering. You can also use our quote form to connect with reliable traders in your area.
Sources
https://www.gov.uk/scaffolding-rules
http://www.legislation.gov.uk/uksi/2005/735/contents/made
https://www.hse.gov.uk/construction/safetytopics/scaffoldinginfo.htm
https://www.scaffoldingsupplies.co.uk/tubeclamps/4/index.phtml
https://pasma.co.uk/
http://cisrs.org.uk/