How Much Do Guttering Repairs Cost?
The average cost of having a single gutter length repaired on a medium semi-detached house will end up around £120 to £180.
To have a leak at the joint fixed will cost approximately £60 to £90.
This same price estimate applies to having bracket damage repaired and to getting a rainwater pipe reconnected.
These prices cover both the supply and labour costs.
The average cost to repair gutters will vary depending on factors such as the type of guttering, whether it be uPVC, aluminium or wooden.
There are certain guttering repairs that will have practically the same total cost regardless of what type of guttering is being fixed while the cost of other jobs depends significantly on the guttering type.
In the case of the latter, for example, guttering or at least some gutter sections may need to be replaced due to leaks, gaps or overflowing water caused by insufficient gutters.
To have a given section of guttering replaced, including both supply and labour costs, will set you back about £140 to £150 with steel guttering.
The cost will land around £145 to £150 for an aluminium gutter length, £125 to £150 for uPVC guttering, £180 to £190 for cast iron guttering or approximately £135 to £160 in the case of copper guttering.
To have your gutters cleaned, gardeners or roofers may charge anywhere from £15 to £50 per hour plus about £5 to £8 per metre.
This should not vary based on the type of guttering you have, although the size of the guttering, which will be reflected by the size of your house will influence the cost.
Assuming a downpipe length of about three metres or thereabouts, to have a gutter downspout replaced, expect to pay a total of around £80 to £120 for a steel downspout, £95 to £115 for one that is aluminium, £35 to £105 if it is uPVC-based, around £200 to £235 for a cast-iron downpipe or £70 to £145 if the material is copper.
To have sagging guttering or guttering with gaps fixed will cost about £18 to £25 per hour in labour costs with the time the work will take depending on the scale of the job and the size of the house.
There may also be materials costs involved in these jobs too like a £5 to £10 sealant to fix leaking gutters for example.
To have a leaking gutter joint fixed will cost approximately £60 to £90 in total.
The way in which the issue is fixed, the type of property, type of guttering, the type of repair, where your property is located, and ease of access to the guttering area can all shape the total gutter repair cost.
Gutter Repair Prices
PROBLEM
MATERIAL
AVG. COST
DURATION

Single Gutter Length
Steel
£140 to £150
2 hours
Aluminium
£145 to £150
2 hours
uPVC
£125 to £150
2 hours
Cast iron
£180 to £190
2 hours
Copper
£135 to £160
2 hours
Leak at a Joint
N/A
£60 to £90
15 minutes
Refit Downspout
N/A
£60 to £90
30 minutes
Gutter Downspout
Steel
£80 to £120
2-4 hours
Aluminium
£95 to £115
2-4 hours
uPVC
£35 to £105
2-4 hours
Cast iron
£200 to £235
2-4 hours
Copper
£70 to £145
2-4 hours
Damaged Bracket
N/A
£60 to £90
20 minutes
Blocked Guttering
N/A
£100 to £200
1-2 hours
Additional Costs
When having your guttering repaired, there are many types of additional work you may wish to have undertaken.
Installing New Guttering
All properties will need to have their guttering replaced at some point.
Even with durable uPVC or metallic gutters, the elements will wear them down with time.
Plastic guttering is the most popular type today since it is especially versatile and can be made to match the appearance of cast iron gutters once fitted.
If your guttering needs replacing, you can expect to pay between £400 and £600 as the total cost for a full replacement if you have a detached bungalow.
The cost will be around £350 to £550 if you live in a semi-detached bungalow, £500 to £700 for a detached house, £400 to £600 if you have a semi-detached house or approximately £350 to £550 if your home is a terraced house.
Having old guttering removed and replaced with new fitting and downpipes is not overly complicated, but since it involves working at a height, it's very important to take safety concerns into consideration.
If you have no previous experience in roofing work, have any doubts about performing this job or lack the safety equipment necessary to replace guttering, you should hire a professional for the task. Since guttering is fixed to the fascia board, guttering removal tends to be a part of replacing the soffits and fascias.
Whether performing this work by yourself or hiring a roofer, you'll first need to measure all the way around your property before checking the manufacturer's guidelines for your desired guttering product to calculate the number of fittings that will be needed.
There are plenty of guttering types to choose from, including aluminium, cast iron, uPVC and timber.
Once you have selected your product and bought the necessary materials or a contractor has done so for you, the first stage of the job is to remove the old guttering.
Plastic guttering can be removed relatively easily, but cast iron guttering, for example, weighs more and the edges can be very sharp if they've been worn or corroded.
If you're replacing the guttering yourself, remember to never rest your ladder on the guttering and make sure that you're comfortable working on ladders at a height.
You or a hired professional will need to prevent the old gutters from falling and hitting the ground upon removal.
Therefore, netting should be placed beneath or nails should be hammered into the fascia to catch each section of gutter.
This is before they can be slowly lowered to the ground.
Each section should be removed one by one before the downpipe is disassembled from the top-down, one section at a time.
Replacing guttering may need to be a two-person job.
After removing the gutters and downpipe, the new guttering can first be fitted with the outlet section of the downpipe being installed right over the drain.
A plumb line can be used to make sure that it is being fitted in exactly the right spot.
The remaining guttering sections can then be added.
They'll need a slight slope of approximately 10mm for every six metres of the gutter.
This will help make the water drainage efficient.
Of course, if only one section of guttering is damaged, that section alone may be replaced.
Upon the guttering being removed, it may be discovered that the fascia board is damaged.
This can be the result of rot or weathering over many years.
It's also possible that upon unscrewing the old gutter brackets, an individual has unknowingly damaged the fascia board in the process.
Either way, such a discovery would mean that all roofline products may need to be replaced simultaneously, which will bring up costs significantly.
There is also a risk that when removing the fascia boards, the bottom roof tiles could be damaged, so it's worth keeping that in mind when it comes to budgeting!
Roof Cleaned
While your guttering may not yet need to be replaced, you may decide that it is worth your time and money having your roof cleaned alongside getting your guttering fixed.
To have a roof moss treatment performed outside of London will cost about £400 to £600 for a small, detached house, £550 to £750 for a semi-detached house or £800 to £1000 for a large, detached house.
If you live in London or the southeast of England, this same job will cost around £550 to £750 for a small, detached house, £750 to £950 for a semi-detached house or £800 to £1200 for a large, detached house.
If you'd like your roof to be pressure washed and you do not live in London or the southeast, you'll likely be charged between £500 and £700 if you live in a small, detached house, £650 to £850 for a semi-detached house or £1300 to £1700 if you occupy a large, detached house.
For prices in London and England's southeast, these respective prices rise to £650 to £850 for a small, detached house, £850 to £1050 for a semi-detached house or £1300 to £1800 for a large, detached house.
On average, it will also cost about £1500 to £2000 to have a semi-detached house treated with a roof coat.
Making sure that your roof is treated and cleaned on a regular basis can avoid long-term issues and reduce the necessity for major roof repairs over time.
Further, roof treatment and clearance can majorly improve the aesthetics of a house and can make your roof seem brand new!
General roof cleaning work will first involve a contractor checking for roof access and inspecting the relevant area for any moss build-up.
They will review your roof's condition for reasons of safety, to see how accessible it is and to look for broken tiles and any holes in the roof.
Next, they will put up or put on any safety equipment like harnesses or roof ladders and scaffold towers.
Covers and tarpaulins may also be fitted over flower beds and patios to protect them. Damaged roof tiles will be replaced prior to the roof being washed.
Gutters might be removed from their drainage pipes since this will stop roof debris blocking the drains.
This is a broad summary of what roof clearance work entails.
Roof moss treatment consists of moss on the roof being removed manually with a scraper, debris on the roof and in the gutters being removed and an anti-fungal moss treatment being added to the roof.
To get your roof power washed, a contractor will first remove any debris from the gutters and roof.
Next, the company or individual being hired will choose the right pressure control for your roof type.
Then, if suitable, the roof will be cleaned in full with a pressure washer before an anti-fungal moss treatment can be applied.
You may also wish to have your roof coated with a protective treatment such as titanium dioxide, zinc oxide, fire retardants or acrylic polymer resins.
Broken Roof Tile Replacement
If you wish to have broken tiles replaced, without scaffolding, it will probably cost between £60 and £90 to have less than 5 tiles replaced or about £100 to £150 if you need to have around 5 to 15 tiles replaced.
With scaffolding, these costs will rise to £230 to £270 and £300 to £350 respectively.
Roof shingles are very common in the UK as far as roof coverings go.
While they are durable and effective, being exposed to the UK weather on a 24/7 basis still leaves them prone to corrosion and damage over time.
The cost of getting roof tiles replaced or repaired can vary greatly depending on factors like how accessible the roof is, and the type of tiles being used.
Before getting any damaged roof shingles replaced, you should find tiles which colour match those being replaced.
While the matching doesn't need to be perfect, you still want to get it quite close. Once it's reasonably similar, weathering will take care of the rest.
If you can't find colour matching tiles of the correct material and size, instead you can remove tiles from the rear or bottom row of the roof that is out of view and use these as the replacement tiles.
You can then fit the new, non-matching tiles into those out of view locations.
In the past, it was commonplace for every third row of tiles to be fixed with galvanised metallic (i.e., copper, aluminium or steel) clout nails while the other two rows were set up as unfixed tiles between these rows relying on lugs beneath the tile to hold them in place.
These tiles would also hang from the roofing batten while the weight of the above overlapping tiles would also keep them in place.
This can make it quite easy to remove most tiles as those which are not nailed in place can be slid out.
Since 2005, regulatory changes have stipulated that all roof tiles must now be nailed or fixed mechanically onto the roof by other means.
While you or a contractor are on the roof performing this work, it is a good opportunity for an entire inspection of the roof to take place and for a check to be performed to look for any additional jobs which may be needed.
Such jobs may include replacing guttering, lead flashing or/and soffits and fascias.
The lowest roof tiles row rests on the fascias while the guttering is also fitted to the fascia boards.
If these tiles are missing or broken, there is a risk that this has resulted in dampness and rot, causing damage to the fascia boards and perhaps even the roof joists.
You should only perform this work as a DIY job if you have previous experience with roofing work, you are confident in your ability to perform the job and to work from a height, and you have the necessary safety equipment.
If you do not meet these criteria, please hire a professional contractor!
There are many safety risks associated with roofing work, such as the danger of slipping and falling.
Planning permission is not necessary to simply replace roof tiles.
The cost of roof tiles varies based on the quality and type in question while each roofer will have their own set labour costs.
If this job is performed as DIY work, be cautious when nailing tiles to the battens since too much pressure can cause damage to the tile or waterproof membrane beneath.
Further, with especially old roofs, there is a danger that upon removing tiles in order to access one that is damaged, additional tiles will crumble or break in the process.
In other words, replacing one tile can cause more tiles to become damaged, especially if they were already on their way out.
It makes sense to have more tiles than you need. In fact, you should at least have 2-3 extra tiles at a minimum.
Hire Scaffolding
Before we discuss the process of scaffolding assembly, let's look at the average cost of different types of scaffolding hire.
You'll likely be charged around £800 to £1000 to scaffold three sides of a semi-detached house, £550 to £750 to scaffold three sides of a detached bungalow, £400 to £500 to scaffold over a conservatory, £200 to £300 for a scaffold tower or £400 to £500 to scaffold a chimney.
While the method required to assemble scaffolding will vary based on the type used, the process features certain general principles.
To start with, a professional will need to find a flat, stable spot on the ground that is suitable for laying a scaffold base.
Then, they will erect the scaffolding's lower frame. This phase of the job tends to involve each frame piece being laid down at a time.
Every frame can then be connected before being raised and secured in an upright position.
When in the right position, they can be secured on the base with 2.1 metres between each of the structures.
If mobile scaffolding is needed, castors must be fixed to the poles prior to being placed upright.
When fitted, the poles will need to be fixed to the cross-braces, which will enhance stability.
Once the braces are secured, the first level of scaffold planks can be fitted. A ladder, if required, can also be added.
Once attached, the scaffolding guardrails may be added.
Lastly, a scaffolder will add the remaining levels of scaffolding where necessary.
Cost Breakdown Calculator
Individual costs for hiring a tradesman to replace one guttering length on a two-storey semi-detached house with easy access - Total: Cost £150
Labour Costs and Time Frames
The total cost of having guttering repaired comprises both the supply and labour costs.
The labour costs are the charge set by the tradesperson, usually in the form of an hourly or daily rate.
Roofline workers tend to cost around £200 to £300 per day with an hourly rate of around £18 to £25 per hour.
To have a single length of guttering repaired will likely cost £105 in labour costs which are approximately 7/10ths of the total cost.
It will likely take about two hours to have a single gutter length replaced.
A leak at the joint can be fixed in about 15 minutes, bracket damage in around 20 minutes and a rainwater pipe can be reconnected usually within half an hour.
To replace lengths of guttering, removing the old guttering and downpipe should take about 45 minutes to 75 minutes while fitting the new installations should take between 45 minutes and an hour, give or take.
You can expect an additional 15 minutes to half an hour to be spent on waste removal and the post-installation clean-up.
The labour cost and time frame of the job will be influenced by the accessibility of the roof, the type of guttering you have and of course, the scale of the job itself.
Where you live in the UK can also influence the installation cost while poor weather could impact on how long the job takes to complete.
A storm may result in work being postponed, for example.
What is Guttering?
We will now look at what guttering is, why it's used, its purpose, what issues it can prevent and what can happen if there is no guttering on a property.
Guttering is an assembly of gutter lengths which are thin troughs designed to collect runoff water from the roof and direct it to a downspout which carries water into a drain on the ground.
Guttering is used to prevent water accumulating on a house's roof which can eventually cause water damage to the house's exterior and interior. Guttering is also meant to stop rainwater flooding onto the ground and massively eroding the soil below.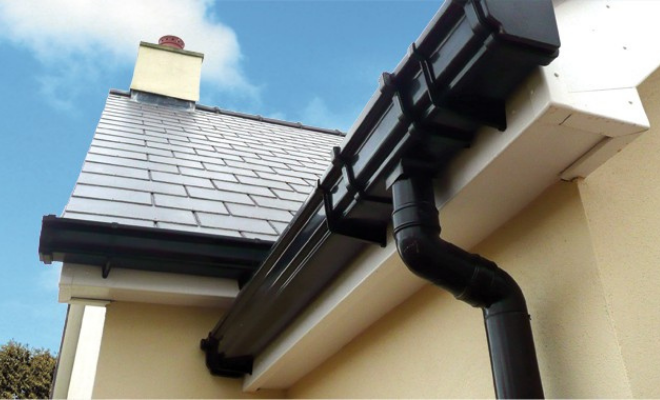 The purpose of guttering is to improve a home's water-resistant capacity by preventing possible issues such as leaking and the deterioration of the roof and interior elements of the dwelling.
They are also used to protect the soil, thus protecting the house's slope and foundation.
Without guttering, the slope of your home will erode and with time runoff water may flow towards your house rather than in the opposition direction.
Further, your roofing area and the inside of your home could suffer serious damage due to water erosion if you have no gutters.
Cost Affecting Factors of Repairing Guttering
Here are some cost affecting factors you should consider when reparing your guttering.
Type of Guttering
There are several different guttering types which you may have.
In terms of a gutter length replacement, for example, steel guttering costs around £20 to £30 per metre while you can purchase uPVC guttering for approximately £5 to £30 per metre, cast iron guttering for £60 to £70 per metre, aluminium guttering for £25 to £30 per metre or copper guttering for about £16 to £40 per metre.
Each guttering type can take different durations to remove and fit, which can, in turn, influence the labour costs also.
As for other repair work, the type of gutter can determine what materials are needed, which in turn can result in a price variation.
Type of Repair
Of course, the type of repair is also a very important point to consider.
Having a leak at the joint fixed will cost you around £60 to £90 as will having bracket damage corrected or having a rainwater pipe reconnected.
Having one gutter length replaced will set you back around £120 to £180 although in most cases, it shouldn't cost more than £150.
House Type/Size
Having guttering repairs performed on a large, detached house will cost more than having the same work undertaken on a small, semi-detached house.
House type can influence the labour cost as this is linked to the time spent on the job with house types such as a terraced house, bungalow, semi-detached house and detached house generally representing a progressively larger list of house types.
Then within these house type categories, there are small, medium and large renditions of each which will also help determine the labour cost.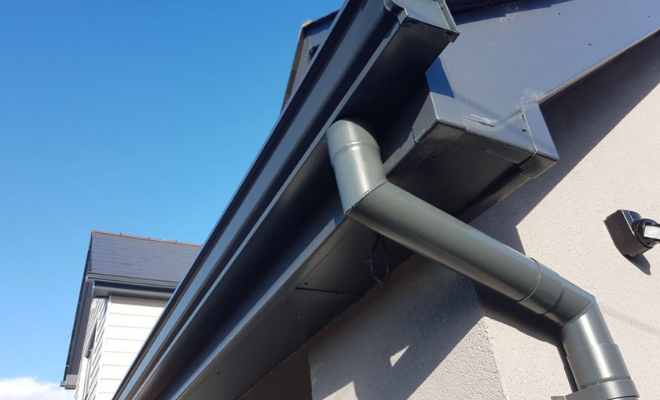 Ease of Access
How accessible is your roof? The easier a professional contractor can access the roofing area, the more straightforward the job will be.
The more difficult it is for a roofline worker to reach the guttering, the more time consuming and therefore, more costly you can expect the job to be.
Scaffolding Needed
Scaffolding is usually only required for larger roof jobs, and when it is, this can add at least several hundred pounds to your final bill.
The cost of scaffolding will largely be determined by the type and size of your house and how many sides of the house require scaffolding.
Location of Property
Each part of the UK has different average roofing labour costs.
This is because roofers, like many contractors, will charge different rates throughout different parts of the country.
The highest prices can be found in cities like London and in the southeast of England.
What Does Repairing Guttering Entail?
There are many reasons why gutter leaks or blockages might occur, so the work needed to fix these issues will vary based on the exact issue at hand and the type of guttering. Probably the easiest issue to fix is a blocked gutter which is caused by debris such as twigs and leaves.
You can hire a professional to perform this work, but you might prefer to just do it yourself.
If you do decide to clean the gutters or perform any guttering repair or maintenance work for that matter, you should ensure that you have all the necessary safety equipment, you are using the ladder or scaffolding correctly, you have full confidence in your ability to perform such work, and you're also comfortable working at height.
Be extremely careful and always position ladders on firm, level ground or if not possible, bolt stabilisers to the end of the ladder on each side to prevent it from rocking.
Always ensure that the ladder is secure before starting any roofing work and never rest the ladder against the guttering.
You should also use a ladder stand-off to avoid damaging the guttering further.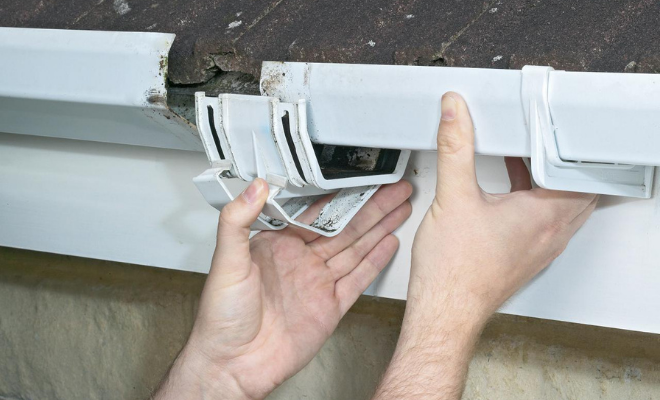 If performing a significant amount of work, a scaffold tower is a far safer approach to accessing roofline products and guttering.
Another common guttering issue is gutters that are leaking around the joints.
Normally, this is the result of the rubber seals wearing away over the years.
Where there are many leaks across the guttering, or there are any missing or damaged brackets, it is best practice to simply have the guttering replaced.
The guttering is fitted to the fascias, so if the fascia boards have rotted, they'll need to be replaced too.
Repairing gutters while keeping them attached to rotten roofline timber is not a good idea.
Roof tile cleaning can also be undertaken as part of guttering replacement work as this will make sure that water is running off the roof as planned.
If the guttering isn't functioning right, water will leak/overflow and inevitably saturate the wall below, which will lead to more severe and costly problems. It's a false economy approach to see guttering repairs as minor and unimportant work.
Replacing Gutter Lengths
One of the more complicated and time-consuming guttering repair jobs is replacing a gutter length or multiple gutter lengths.
The following method as with any of the previous work mentioned above is a broad summary and what exactly any given job will involve or can involve will vary depending on the exact nature of the problem and the type of guttering you have among other factors.
Removing Old Guttering

For this part of the job, each end of the fascia below the relevant gutter length should be nailed in place.

This is to prevent the fascia board falling out of place when the gutter is being removed.

Next, a hacksaw can be used to cut into the bolts which are used to join the gutter section.

Then, a rope can be tied around both ends of the guttering section, which is being removed.

The joint must be taken apart before the brackets can be removed which hold the gutter(s) to the fascia board.

This section of guttering can then be lowered with caution using the ropes that are attached.

This step should be repeated for every guttering piece that needs to be removed.

Fitting New Guttering

The next step of this job is the installation of the new gutters.

A gutter bracket must be fitted near the top of the fascia board at one end of the guttering.

This end should be opposite to where the stop-end outlet is situated, assuming you have one.

A builder's line or even a bit of string can be tied to the base of the bracket before the gutter outlet can be correctly positioned with the plumb line.

The position will need to be marked on the fascia board.

A gutter outlet should be fitted no further down than 50mm below the position of the roof tiles.

The string or builder's line that is fixed to the bracket can be used to attach it to the gutter outlet, lined up along the fascia.

A spirit level should be employed to figure if the string is leaning toward the gutter outlet.

Marks will be needed to identify the location of every bracket spaced apart by a distance of no more than 600mm.

That is if the pitch of the roof is particularly steep, but it should be 800mm, otherwise.

Also, they should be fitted no more than 150mm from any joint or fitting.

This process can be repeated for any further brackets which need to be installed.

Then, a stop-end can be fitted to the first gutter length, and the gutter can be clipped into place on each end of the brackets.

The gutter end must be positioned so that it aligns with the deep insertion mark on each gutter bracket.

Lastly, a union piece will be installed at the opposing end of the first gutter length.

It can then be screwed into position on the fascia.

Repeat this process with each gutter length that needs to be added.

Continue to join the lengths. The final section can be cut with a hacksaw before another stop-end may be fitted.

It's important that every joint is aligned with all of the deep insertion marks for accuracy.

Adding the Downpipe

If you also need to have the downpipe replaced, once the original downpipe has been removed, a plumb line or spirit level may be used so that a vertical line can be marked on the wall travelling from the outlet to the drain.

The downpipe clip must then be held centrally over the line. Mark its fixing holes on the wall using a pencil.

Repeat this step while travelling down the wall, with the pipe and socket clips spaced apart with a distance no greater than 1.8 metres.

The fixing holes should be drilled with the drill bit size used as recommended by the guttering manufacturer.

Add some wall plugs into the holes. The first length of downpipe should be fitted with its socket at the top.

Ensure that you leave a gap of 10mm between the bottom of the socket and end of the outlet.

This will allow for expansion when the weather is warm. Add a socket clip over the join before screwing it into the wall plugs.

The clips will then need to be fitted to the pipe before being screwed into the wall plugs.

Each piece can be fitted one by one until the bottom of the wall has been reached.

The shoe needs to be installed at the bottom of the pipe so that it can send water into the drain.

Finally, use a socket clip to secure the join.
DIY Repairing Guttering
You may perform guttering repairs yourself if you wish.
This work should not prove technically challenging, but there are several risks involved.
Among the safety risks are the danger of slipping and falling from the roof.
In terms of the job itself, there is a risk of the work being done incorrectly.
If things go awry, you might end up paying even more in total if you realise that a professional is needed after all.
For example, using the incorrect sealants to patch seams could really harm the gutter lengths, eventually leading to a more significant failure.
Gutters can contain plenty of bacteria, bird droppings and may be used by rodents; therefore, if you cut yourself in the process of any guttering repair work, you must visit a doctor.
Working at a height, there are many ways in which you could hurt yourself.
If you are not fully confident carrying out the job yourself either get advice from an expert or/and hire a professional instead!
Cleaning gutters or even just sealing gutters is easier DIY work than say replacing entire gutter lengths.
Replacing a single gutter length on an average two-storey semi-detached house by yourself will save about £90 to £120.
Repairing a leak at the joint, bracket damage or reconnecting a rainwater pipe without the use of a paid professional will likely save you between £18 and £25, assuming that you've dodged a one hour charge in labour costs.
The following tools may be needed to perform guttering repair work, depending on the repairs in question;
Gloves
Plastic bag, bucket or plastic bottle collector
Piece of string or builder's line
Plumb line
Pencil
Spirit level
Hacksaw
Drill and drill bits
In terms of safety equipment, you may need the following;
Ladder or scaffolding
Protective gloves
Special footwear
Knee pads
Safety glasses
Hi-vis jacket
Long trousers
Safety helmet
Harness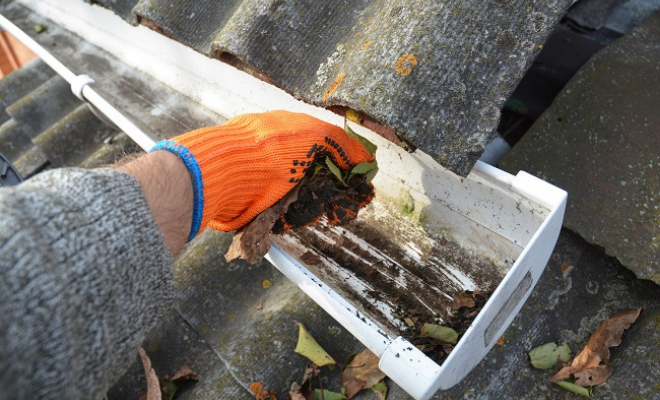 In most cases, guttering repairs or/and replacements will not need professional approval.
Class B of your Permitted Development Rights covers any roof alterations or installations.
One rule from Class B, which could apply to gutter work is that the materials used in a roof alteration need to have a similar appearance to the exterior of the house as a whole.
Also, if any enlargement were to take place, the original roof eaves must be either maintained or reinstated.
Types of Repairs
In this section, we will discuss what each type of repair entails, the signs and symptoms that such a fix is needed and what could happen if the issue isn't solved right away.
Sagging Guttering Repair Cost
Gutters may sag over time due to an accumulation of rainwater, high winds, temperature fluctuations or debris.
Sagging gutters may be tilted such that water is pouring out in unexpected places.
If the guttering is affected by the above weather conditions, gutters may be pulling away from the roof.
One method that may solve the issue is by fixing the gutter spikes if it is needed.
First, any loose spikes should be pulled out with a pry bar.
Once they're removed, they need to be inspected to see whether new gutter spikes are needed or if they can be used again.
A lack of threading signifies that the spikes need to be replaced.
Otherwise, they may be reused. If this is the case, the spikes need to be threaded into the old holes at the front of the gutters.
They must be made tight with the help of wood.
If the gutter brackets need to be repaired, the gutter section, which is sagging needs to be removed from the brackets which have loosened.
Make sure that each of the screws that hold the brackets to the front is removed.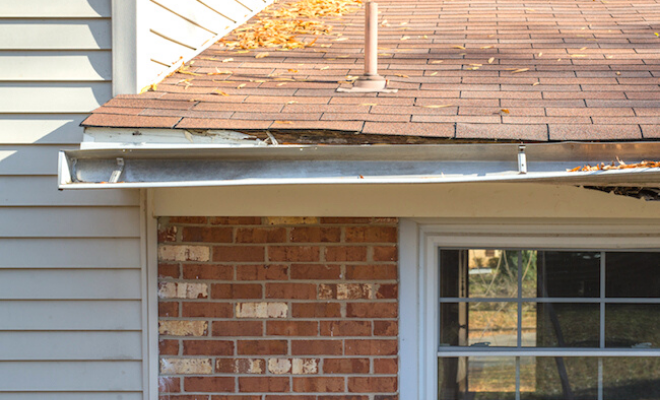 Next, fill the screw holes with an appropriate, waterproof seal. The seal must be given time to fully dry.
Then, new pilot holes may be drilled for each bracket involved in the repair.
These holes should be at the same height and angle as the previous ones.
This is vital as it will ensure that the gutter pitch isn't shifted.
If it were to shift, water would accumulate in the gutter, and this can result in more serious issues.
After the holes have been drilled correctly, it's time to fit the gutter brackets and attach them in the fresh holes.
The gutters can then be reattached to their brackets.
If the gutter hangers are in need of repair, you'll have to get them from under the shingles or roofing elements.
Analyse the hangers and look for any with damage, regardless of how slight it is. If any damage is found, they'll need to be replaced.
If not, they can be repositioned.
It's also possible that the guttering may need to be cleared of debris.
If this is found to be a possible cause of the sagging, then you should take note to regularly pull debris out of the gutters to avoid the issue returning, after the sagging gutters have been repaired.
It's important that the gutters are repaired as fast as failure to do so could allow the damage to worsen to the extent that the entire guttering system will need replacing. Failure to fix sagging guttering may also harm other roofline elements.
Leaking Guttering Repair Cost
With a leaking gutter or multiple leaking gutters, you will notice water dripping or pouring from one or several parts of the guttering.
If not, you may notice water accumulation below the guttering or possibly even interior water damage.
If you have metal guttering, to fix this problem, any dirt should be scraped out of the joint, it should be dried, and then roof and gutter sealant needs to be injected into the joint with the use of an applicator gun.
For purchasing a sealant, it's important to purchase the right one whether it is cast iron gutter sealant or aluminium gutter sealant.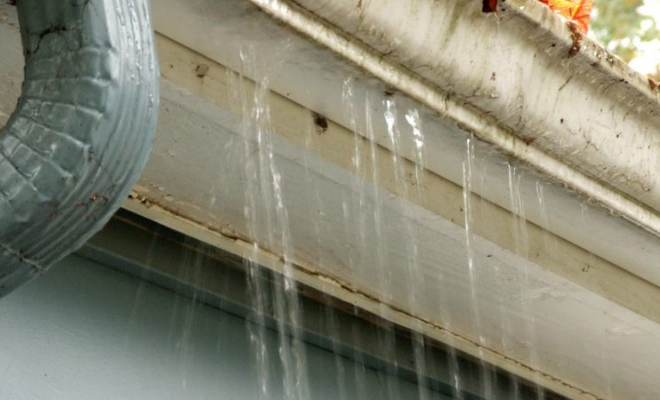 In the case of plastic guttering such as PVC or uPVC guttering, if it has a union piece, it's possible that a gasket or seal has been damaged.
The bracket may simply be loose or incorrectly positioned.
If the screw has become loose, you can add a wall plug and re-screw the bracket into place.
If it was incorrectly fitted, to begin with, the hole should be filled before the gutter is reattached.
Extra brackets may be needed if the guttering continues to sag.
If leaking gutters aren't fixed, they may eventually break beyond repair in which case multiple sections of the guttering will need to be replaced.
Further, if the leaks are allowing water to make its way through the roof and into the house, it can result in additional water damage.
Blocked Guttering Repair Cost
This may be solved by employing plastic gloves and a bucket or plastic bag for collecting the debris with.
Alternatively, you can cut the base off an old plastic bottle and use this as a cost-free debris collector!
You might also decide to pressure wash the gutters after they've been cleared, although it's vital that the pressure washer used is not too powerful that it will damage the gutter lengths or other roofline products.
You might also decide to power hose the gutters first before removing any remaining debris by hand.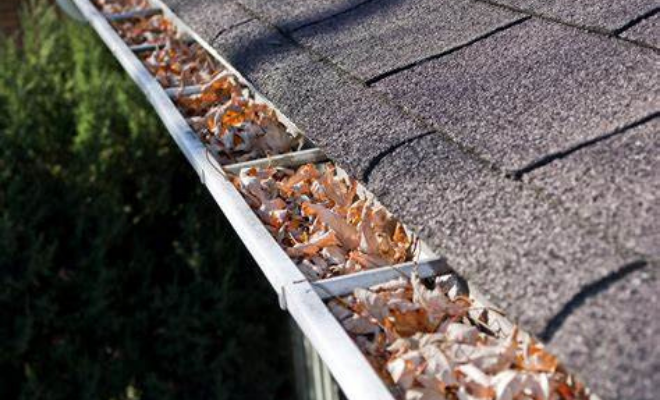 Alternatively, a leaf blower can be used with a nozzle attachment to push out debris.
This method won't be as messy as using a pressure washer.
Blocked guttering can present itself with many different signs and symptoms, including sagging gutters and an overflow of water.
If you don't fix blocked guttering as soon as possible, these secondary issues can worsen, and the gutters may break to the point where they can no longer be repaired.
Broken Bracket Repair Cost
A broken bracket can result in water to leak from an unexpected part of the guttering.
There are various types of fascia brackets on the market, so if you need to replace one, it's important that you know which one to buy.
The method needed to replace a bracket involves first releasing a piece of guttering, holding the clip and gently moving it towards you.
Complete this on each clip before pushing the gutter forward, enabling it to roll out from the clips.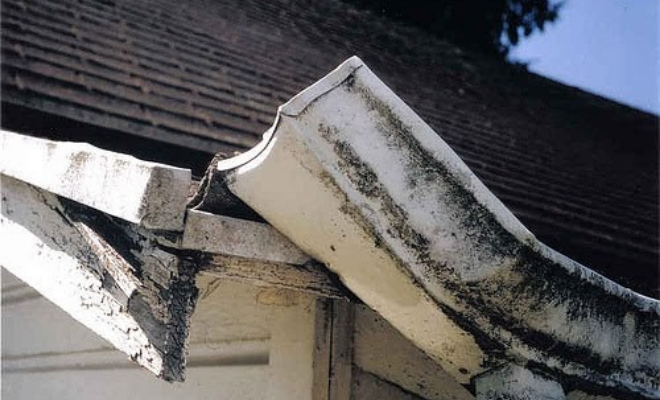 Next, remove the fascia by unscrewing the one or two screws being used to hold it in position.
Be careful not to trap the roofing felt.
Then, line up the new bracket to ensure that the screws match up with the original holes.
A drill must be used to secure the new screws. Insert the back edge of the new guttering piece up under the roofing tile.
Next, spin the gutter back down into place. Line up the insertion marks in the fittings prior to pulling down the gutter.
The clips will click into position and should hold the gutter in place. It's important to be aware that an unfixed bracket can lead to unstable guttering.
If a broken bracket is not fixed, further damage can accumulate along the guttering section with time.
Gaps Repair Cost
You may notice gaps in the guttering due to daylight making it between the fascia and gutter or as a gap in the gutter itself.
If daylight can be seen behind some or every section of guttering, this may be the result of guttering that has been installed too low.
It may also be caused by not having enough eaves felt, tiles which are broken or tiles that have been incorrectly laid above the guttering.
A gap in the actual guttering is likely the result of the joints and outlets not being correctly screwed or due to expansion and contraction.
To fix any guttering gaps, you should wait until a day with ideal weather conditions.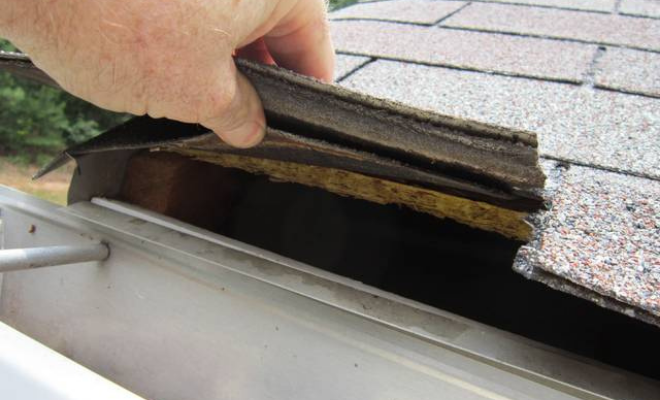 First, unclip the guttering and move it up to the expansion gap marker of each corner, outlet and joint.
Every relevant piece needs to be fitted with a screw. An extra length or/and gutter joint may be needed to close the last gap.
The gutters need to be inserted completely, all the way up to the marker of each element.
If you find one gap in the guttering, there's likely more to be found elsewhere in the system so take a look at each joint, corner and outlet.
If gaps are allowed to remain in any gutters, it may result in leaking and can leave the guttering system unstable.
Overflowing Repair Cost
The three primary causes of overflowing guttering are incorrectly fitted gutters, blocked gutters and insufficient gutters.
Overflowing gutters will see water accumulate in quantities at a faster rate than the gutters can send water to the downpipe and you will notice this as water spilling out and pouring from the gutters throughout the system.
Blocked guttering can be fixed following the instructions given in the prior subsection of the same name.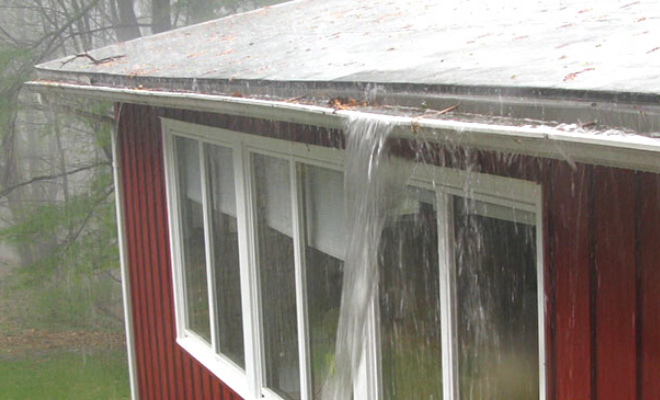 If the gutter is incorrectly fitted, first, two measurements are needed; one at the peak and another at the downspout.
Line up a chalk line between these two points and identify the spot where the gutter falls out of alignment.
By bending the hanger, it may be possible to simply push it up into position. It may be necessary to take down a section and rehang it, however.
On the other hand, your guttering may actually be insufficient to handle the level of rainfall in your area.
In this case, you'll need to have the guttering replaced.
Failure to have this issue fixed promptly will only cause more damage and deterioration to the guttering.
Further, the continued accumulation of water on the ground can also cause soil erosion, and there is also a risk of water leaking into your home.
Cost of Removing Guttering
You may decide to have guttering removed because you want it to be replaced out of preference or because it is absolutely necessary.
It may also be the case that you've decided to install an alternative or multiple alternatives to conventional guttering such as built-in gutters or a rain dispersal system.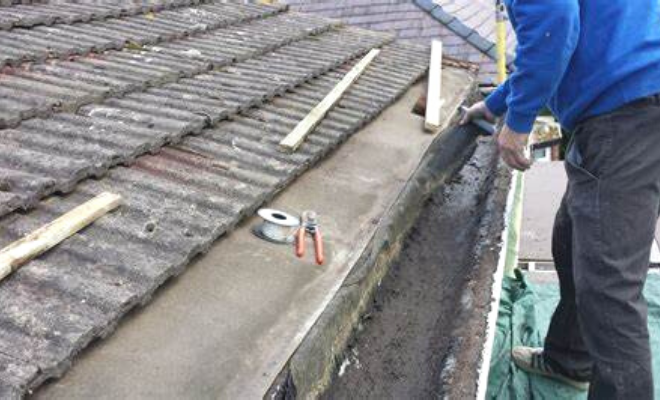 It will probably cost between £140 and £290 to simply have them removed. You can remove them yourself, but you need to ensure that you have all the necessary safety equipment and you are confident in your ability to work on a roof and at a height.
Old guttering can be disposed of by hiring a skip or by selling old parts that still function on websites such as Gumtree.
To hire a skip, it could cost you anywhere from £110 and to £240.
FAQs
How to Find & Hire a Guttering Repairer
If you lack the interest, knowledge or skills to perform guttering repairs, it may be necessary to hire a professional roofer or another relevant contractor.
Roofers tend to charge between £18 and £25 per hour or approximately £200 to £300 per day.
Ideally, you want to find a highly experienced roofer.
If they have accreditation, insurance and qualification(s), these are all pluses.
Roofers do not require qualifications, although some will have one or more such as an apprenticeship or diploma.
Most roofers learn on the job and gain valuable experience with time.
If they happen to be a part of a roofer's association, you may contact the association to request information on a roofer such as whether they have any certifications or qualifications.
It should be stated that roofers do not need qualifications in order to be highly skilled labourers and most have developed their abilities over the years through practical work.
Sources
https://www.bespokeguttering.co.uk/an-introduction-to-guttering/
https://www.guttermaintenanceuk.co.uk/how-to-repair-a-sagging-gutter/
https://roofingplumbers.co.uk/how-to-know-when-your-home-needs-new-gutters-2/
http://www.moonworkshome.com/do-these-5-things-before-overflowing-gutters-damage-your-house/
https://www.homestratosphere.com/alternatives-to-gutters/
https://www.roofadvisor.co.uk/how-much-does-it-cost-to-have-gutters-repaired/