How Much Does Painting Roof Fascias and Soffits Cost?
The average cost of painting fascia boards and soffits is usually in the range of £700-£1000 depending upon what material the boards are made from, how much prep work is required, and what type of house you have.
An experienced painter will usually charge around £150 per day and will quite often bring a trainee with them. Usually, the job will be completed within 3-4 days depending upon the weather as the tradesmen will likely paint in the morning and then come back the next day, so around 2-2.5 days of actual work.
Of course, there are a few variables with the pricing depending on your home. If there are access problems due to low trees, or adjoining buildings, extra costs will be incurred for scaffolding. Also, different types of roofing present different challenges which can have a profound impact on the overall cost of the job.
The material costs all depend on what type of paint you want on the fascia boards and soffits, and there is certainly a wide scope of choice in that regard.
The current state of your soffits and fascias will also pose a factor into the repainting, as if they are too damaged, some preparation work may need to be completed on them before they are ready to be repainted, such as sanding and wood-treating.
Painting Roof Fascias and Soffits Prices
| HOUSE TYPE | SCAFFOLDING | PREP WORK | AVG. COST | DURATION |
| --- | --- | --- | --- | --- |
| Terraced | No | No | £750 | 3 days |
| Semi-detached | No | No | £800 | 3 days |
| Detached | No | No | £900 | 3.5 days |
| Terraced | Yes | No | £950 | 3.5 days |
| Semi-detached | Yes | No | £1,000 | 3.5 days |
| Detached | Yes | No | £1,100 | 4 days |
| Terraced | No | Yes | £800 | 3.5 days |
| Semi-detached | No | Yes | £850 | 3.5 days |
| Detached | No | Yes | £950 | 4 days |
| Terraced | Yes | Yes | £1,000 | 4 days |
| Semi-detached | Yes | Yes | £1,050 | 4 days |
| Detached | Yes | Yes | £1,150 | 4.5 days |
Supply Costs
The materials and supply costs account for around 25% of the overall cost of the repainting job, with the average cost around £200 for the paint and undercoat, for painting soffits and fascia boards, for a 2-storey semi-detached home.
As the old saying goes, buy cheap, buy twice! There are a lot of paint and stain options for painting fascias and soffits, and there is a big price difference between the most expensive and the cheapest.
There is usually a good reason for this big price disparity, mainly the quality. For example, a 10L bucket of Demidekk Ultimate will cost you around £135 and will be enough to paint to complete the work on a 2-storey, semi-detached house.
This is top quality paint and will protect the wood for around 5 years until it will need repainting. On the other end of the scale, you could pick up a low-quality brand for probably half the price, but that would probably last no more than 18 months in the harsh elements.
Additional Costs
There are some other additional costs that could rear their heads in the midst of your repainting work on your fascias and soffits. Here are some of the most common ones, with some tips and articles with more information on them.
Roof Cleaning and Treatment
If your roof is substantially covered in debris or moss, the likelihood of this impacting your soffits and fascias is very high, even after a repainting. The best advice here is to have your roof professionally cleaned to not only protect your new fascia and soffit work but the integrity of your entire roof.
The average cost is around £600-£800 for either moss removal or roof pressure washing; both are very effective for the long-term integrity of your roof and home.
Broken Roof Tiles
Lifted, broken or damaged roof tiles are the most common issue with roofs around the world. They need to be fixed as soon as they are discovered as they let water into the roof and the materials below the tiles, damaging the wood and causing leaks to your home. It's unusual for a single tile to need repairing without others also requiring attention, but it only costs around £75 to replace 5 roof tiles.
Guttering Issues
The guttering surrounding your roof may look ineffective, but it's a really important aspect of your homes waterproofing and water dispelling qualities. Once the roof tiles and valleys direct water away and down the roof, the guttering then leads it safely to the sewers, without drenching your home in the murky water.
Because gutters usually deal with heavy amounts of water, it's easy for them to be damaged in the process. To stop your soffits and fascias being inundated with water, you need to ensure your guttering is working properly. The average cost for new guttering is around £500 for a semi-detached house, but if you just need to repair guttering, the average cost is just £75 for most issues.
Cost Breakdown Calculator
For a semi-detached home with 2-storeys and easy access - Total Cost: £800.
Labour Costs and Time Frames
The labour costs are the costs that are incurred for the manpower to complete the repainting work. You're paying for expert professionals to paint your fascias and soffits to the best possible standard, something that you wouldn't get through DIY.
This painting work must be completed perfectly to ensure there are no breaches in the waterproofing, which can be a detriment to the house's woodwork in the future.
The survey stage only takes a small amount of time while the contractor reviews the work that your fascias and soffits need, before providing you with a quote for the work for you consider.
If the contractor needs scaffolding, waste removal and materials, this will increase the cost and be included in the quote 99% of the time, but it's best to ask exactly what is included in the quote before the work commences.
For a semi-detached, 2-storey building the work will be completed over two days, weather permitting. The first morning will be spent painting, and they will usually return the next day to review the paint to ensure it is perfect.
Cost Affecting Factors of Painting Roof Fascias and Soffits
Different factors affect the overall quote and cost of painting fascias and soffits, and they are all different from home to home. Firstly, the size of the roof, soffit and fascias are a big impact as they require more time and paint to adequately complete the work.
Secondly, the location of your home is a bit variable, with London and southern locations usually resulting in higher prices from contractors, due to the cost of living in those areas.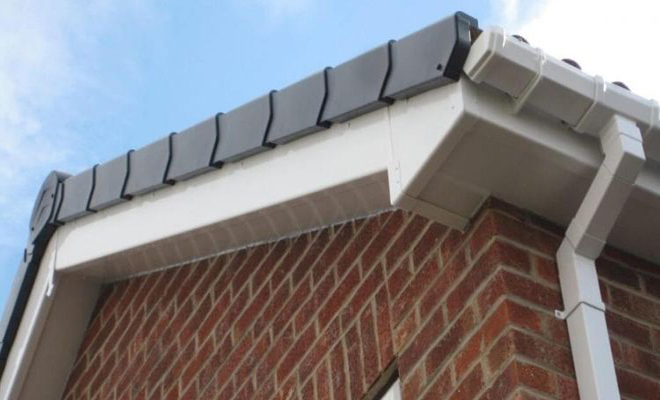 The ease of access to your property and roof also plays a big role in the pricing of your home, especially if your home has too many obstacles to reach the roof, fascias and soffits without utilising scaffolding, of which the cost will be yours to pay.
As we mentioned earlier, the quality of paint you choose makes a big impact on the quality and longevity of the repainting work.
Each home has its own challenges and requirements, but simply ask the contractor you choose to guide you through the process and any additional costs that may crop up.
What Does Painting Roof Fascias and Soffits Entail?
Typically a professional painter hired to paint soffit and fascia boards will erect access equipment to the correct height, remove existing guttering and rainwater products, remove any flaking or peeling paint from boards, cut out any small patches of rot and fill holes, sand down the boards to provide a suitable painting surface, apply one coat of primer, then two coats of undercoat, followed by a gloss coat.
Then refit guttering, lower access equipment, remove all waste material and tidy the site to finish the job.
If you are hiring a tradesman to paint the fascia and soffits, it's a good idea to get them to inspect guttering and roof tiles at the same time. If the guttering is old and starting to leak then this is an ideal time to replace it as the guttering has to be removed to paint the soffits in any case.
Painting the soffit and fascia boards as a DIY project is certainly possible if you are comfortable working at height and have access to the necessary safety equipment.
Be aware, however, that painting can be a tricky business at the best of times, but especially when working at height if you are not used to it. Some jobs are simply better left to professionals who have all the right equipment, training and experience.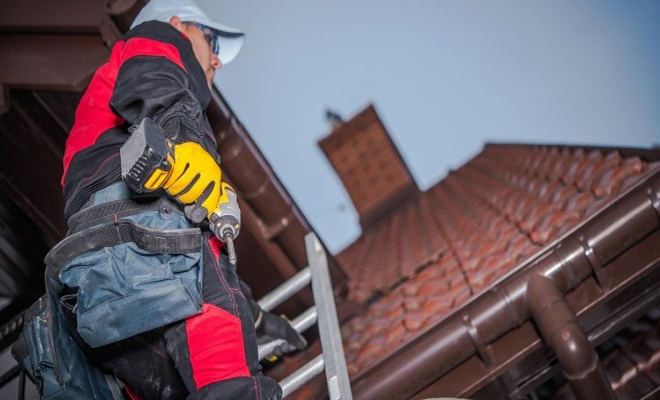 If the property has soffits made from cement-like material, then it may contain asbestos so should not be sanded, scraped, drilled, brushed or prepared for painting in any way as this will potentially release harmful asbestos fibres.
Asbestos-containing boards should be either replaced by professionals or painted over directly with masonry paint without disturbing the boards in any way.
Do not attempt to prepare the surface as you normally would, at most you can simply remove any dust or cobwebs with a damp sponge before applying the masonry paint directly to the surface.
Currently working with asbestos does not require any sort of license, but you should ensure the tradesperson has had training on how to safely work with asbestos.
Most people would much prefer to get any asbestos removed from their property and have maintenance-free UPVC boards fitted, or alternatively new timber boards if preferred.
Painting Roof Fascias and Soffits
The rise of online tutorials, influencers and 'how-to' guides have allowed everybody to gain more information about jobs they once paid for, and in some cases, this has had a profoundly positive impact.
However, in some cases, it is far from the ideal option, and painting fascias and soffits are one of those cases.
The main challenge with this kind of work is the ability to work at height with confidence, accuracy and efficiency, something which you're unlikely to have unless you've worked in a similar position before.
An experienced and qualified professional will be able to quickly and safely review the situation, advise on a price and begin work, without worry.
They have all the necessary safety equipment to safely work at height, and they have the tools required for the job, something which you're unlikely to possess yourself. They will also get it done much quicker, and honestly, to a far superior standard.
They may also need to follow specific building regulations and laws, with risk assessments completed before the work can be classed as legal. This is why we suggest that you leave this kind of work to a trained professional.
Type of Paint for Roof Fascias and Soffits
Primer Paint
Before any finishing paint, gloss or stain is added to the wood; it will need correctly preparing by sanding and smoothing the wood, ready for paint. Firstly, a primer will be added to any bare wood, to provide a seal and a surface for the finishing paint to be added to.
Undercoat Paint
Next, a good layer of undercoat will be added to the primed wood to provide a good backing layer before any gloss is added to it. This is the main bulk of the painting and can take anywhere from 6-20 hours to dry.
Oil-based Paint
The best quality external wood paints are in the form of oil-based paints. You can get them in a wide variety of finishes and colours, and they are extremely waterproof, meaning you'll get more years out of your repainting than with any other paint. With that being said, they are considerably more expensive than non-oil based, but the quality can't be matched.
Non-Oil-based Paint
Before we mentioned that if you buy cheap, your likely to buy twice. Non-oil paint is cheaper, faster to dry and easier to work with than its oily counterpart, but it will not last half as long as rain will break it down easily over time. If you want to save a few pounds, it's the option for you but be prepared to need it repainting in 18 months.
Do My Roof Fascias and Soffits Need Painting?
It's usually pretty visibly obvious when your fascias and soffits are approaching the time for a spruce up. They will look discoloured and, in some cases, physically different as the water begins to break down the paint.
Some of the paint may look like it is flaking or cracking, and there may be some evidence of paint that has fallen off on the floor below.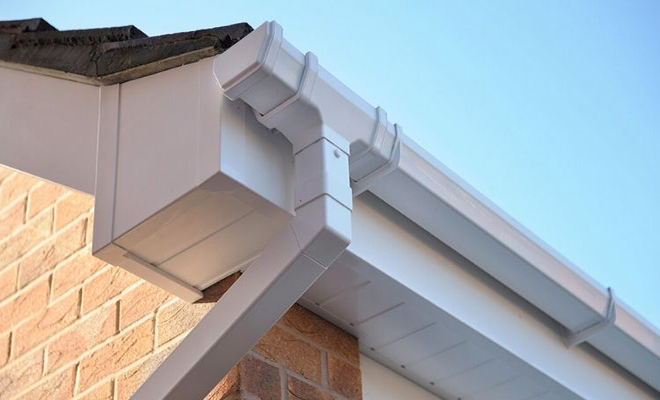 In extreme cases, the wood beneath it may have started to rot, in which case the wood will need filling treating before any repainting work could be done on it.
A good contractor will be able to survey your fascias and soffits before they price the work. The surveys are free when you enlist the contractor to paint them for you, or they may charge you a small fee to come and survey them if no work is required.
Benefits of Roof Fascias and Soffits
Fascias and soffits provide a great defence for preventing moisture and condensation from entering your roof, that leads to rot and decay of your roof's structural integrity.
This actually improves the energy efficiency of your home by keeping cold and harsh weather out of your home, thus allowing you to use your central heating much less.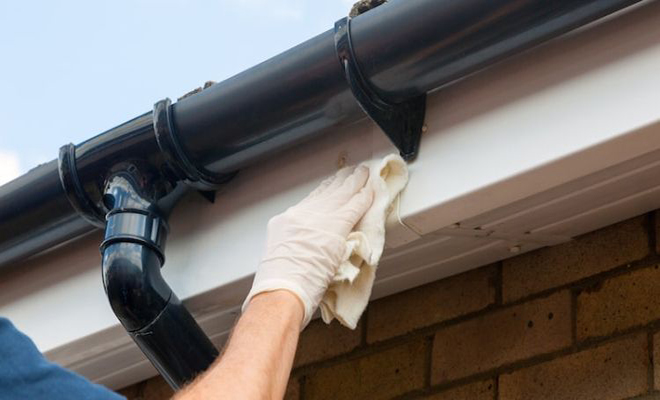 They also add aesthetic qualities to your home and well-kept fascias, and soffits can transform the entire front look of your home, increasing its value.
The vents that can be found on the soffit and aid in preventing a condensation build up around your roof that can penetrate the wood in your roof, in turn weakening it.
FAQs
How to Find & Hire a Roof Fascias and Soffits Painter
You can find contractors through a variety of sources, but mainly through local listings and online listings. There are also great websites that let you check out the reviews and qualifications of a contractor before you enlist them to work on your home.
The key things to look out for are that they work in compliance with The Health and Safety at work Act 1974, Work at Height Regulations 2005 and follow all building regulations. You should also check if they are a member of a reputable roofing association like the National Federation of Roofing Contractors. Or the Competent Roofer government scheme.
Sources
https://dengarden.com/home-improvement/Tips-for-Painting-Soffits-and-Fascia-Boards
https://www.thepaintshed.com/demidekk-ultimate-all-colours-cp637mcnkva
https://www.swishbp.co.uk/design/what-are-fascias/#:~:text=Soffit,top%20of%20the%20fascia%20board.