How Much Does It Cost to Convert a Flat Roof to a Pitched Roof?
The average cost of converting a flat roof to a pitched roof is around £3,000 to £4,500, although this is dependent on the type of materials used during construction, whether or not scaffolding will be used and the size of the roof.
What kind of materials are used and how much do they cost?
The most common materials used include concrete tiles which typically cost around £0.75 to £3 per tile, while clay tiles range from £1 to £5 per tile and slate tiles are normally priced at £1 to £12 per tile.
If you purchase large tiles you can expect to pay more, however, the overall price may be lower as you will not need as many tiles to cover the roof.
Roof Conversion Prices
Below are some estimated costs of hiring a professional roofer to convert a flat roof to a pitched roof:
| Roof Type | Avg. Cost | Duration |
| --- | --- | --- |
| Small Roof With An Open Gable | £3,000-£3,600 | 3-5 days |
| Roof With A Box Gable | £3,500-£4,200 | 4-7 days |
| Large Roof With Gable With Scaffolding | £4,000-£4,500 | 6-10 days |
Supply Only Costs
| Material | Cost |
| --- | --- |
| Clay | £1 to £5 per tile |
| Concrete | £0.75 to £3 per tile |
| Slate | £1 to £12 per slate |
| Thatch | £75 to £100 per m2 |
| Insulation | £5 to £15 per m2 |
| New Guttering | £450 to £720 |
| Soffits | £100 to 260 per m2 |
| Roof Battens | £3 to £5 per batten |
| Trusses | £25 to £35 per square m2 |
Cost Breakdown Calculator
Individual costs of converting a flat roof to a pitched roof with gable - Total Cost: £4,000
Labour Costs and Time Frames
This is a major structural job that requires several roofers, who usually work at a cost of around £150 to £250 a day, and should usually take around 2 to 3 days depending on the size of the roof.
Making changes to a roof is a major structural change, so you consider having your designs drawn up by a qualified architect or structural engineer, who will both charge around £50 to £90 per hour. Both professionals will usually take around two to three weeks to assess, plan and design plans that comply with building regulations.
What Does Converting a Flat Roof to a Pitched Roof Entail?
Before converting your flat roof to a pitched roof, you should explore the various options available, and if possible, work with a structural engineer or architect who will help you decide on the best options for you. There are various options, such as constructing a shallow pitched roof over a flat roof, building a completely new floor and putting a pitched roof above it or installing a trussed roof.
The following steps are involved when converting a flat roof to a pitched roof:
The first step involves removing the flat roof, which includes taking off all tiles and coverings, along with the roof battens. This will then allow the roofing specialist to assess the condition of the roof structure and check for rot before commencing with the installation.
The joist spacing will then be checked to ensure it can accommodate a pitched roof installation. Once this is confirmed, trusses will then be placed over every second joist and connected to the wall structure.
Once the trusses are in place, the gable ends will then be measured to figure out how much plywood is needed to cover them. The plywood will then be laid out covering the entire roof then hammered onto the trusses to form a new shape.
To waterproof the roof, tarpaper is typically rolled along the length of the roof and up towards the peak. This will then be nailed in place and the tiles and ridge boards will then be installed.
The final step involves covering the gable ends with the roof coverings and siding material which will be secured over the plywood. This can then be primed using a waterproofing substance.
Cost Affecting Factors of Converting a Flat Roof to a Pitched Roof
Once work begins, the next set of costs will come from the installation of your roof, including the removal of your previous roofing materials, as you must consider the condition of your existing roof before you replace it. This is a serious task that takes time and expertise, especially if your current roof is damaged, as this will need to be repaired before additional works can begin.
Further expense will come from the type of roof you choose, with less expensive options such as a mono-pitch roof which costs around £40 per square metre, which is a great choice for those on a low-budget, while king post truss roofs cost around £1100 to £2250 just for the trusses. This is the most expensive option due to the amount of joist support they offer and are typically used for a larger roof.
The complexity of the construction is also something you will need to consider, as a shallowed pitch roof over your flat roof which will be much less complicated, resulting in reduced labour costs. While installing a new floor then building a roof over it could be problematic and will, therefore, take up a lot more time.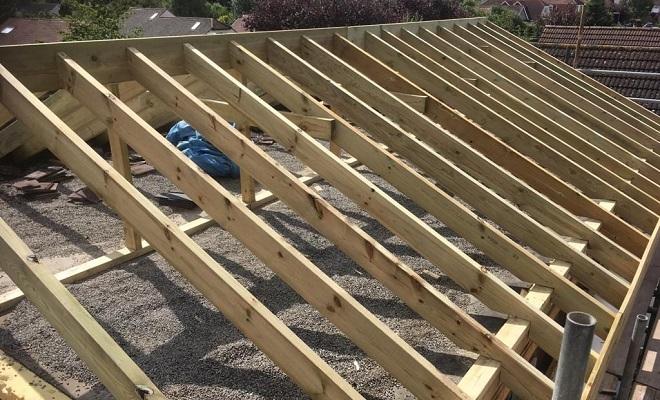 The materials that you choose to use in the construction of your pitched roof will also affect the cost. This includes the roof insulations which varies for different options, for example, you may want to choose spray foam insulation which costs around £20 to £50 per metre, while roof insulation panels typically cost around £25 per square metre.
You may also want to consider the condition of your gutters, as they may just require cleaning which will cost around £2 to £5. The average cost for a gutter replacement is around £30 per metre, however, prices can range from £15 for a new support bracket and up to £75 per metre to replace cast-iron gutters.
It is worth spending some time to calculate the height of the roof's pitch accurately, because the higher the roof's pitch, the more pressure it places on the walls of your home, meaning that your plans are less likely to be approved. Having to draw up and submit plans again is something that you will want to avoid because as well as delaying the project, you will also incur additional costs. The size of your roof is also a determining cost factor, as large roofs with a high pitch are some of the more expensive installations.
Additional Costs
In addition to the main structure, other jobs can be done as part of your flat roof replacement, such as adding extra features like gables, creating new angles, choosing more complex trusses or even a new dormer loft window as part of a new loft conversion. However, these customisations will, of course, come at a cost and need to be approved at the planning stage.
You may also find that there is additional work needed in other places, such as supplementary ceiling work due to changes made to ceiling joists or the replacement of damaged parts of the original roof structure. If you have a chimney, you will probably find that you also need to have the chimney, heating system vents and pipes extended as part of the conversion. However, this could be an ideal time to have your chimney stack removed along with the roofing work. Finally, you may decide to re-do the siding so that it is in keeping with the rest of the cladding on your building.
Other costs you may need to consider include crane hire, which typically costs around £380 a day for a 35te mobile crane. However, as the crane must be operated by a qualified tradesman, you may want to opt for a contract lift which will include the services of a certified crane operative which could cost up to £700 a day.
Another cost you might need to include in your budget is the price of scaffolding hire if you are converting the roof yourself. The cost will vary depending on the size of your roof, although you should expect to pay around £40 to £150 a day.
Can I Convert My Flat Roof to a Pitched Roof?
The majority of homes can accommodate a flat roof replacement; however, some may be more complicated than others. For example, if you opt to construct a pitched roof without building a new floor first, this can limit you as ceiling joists will affect the installation of your pitched roof. It will also make the job much more complicated, as you may want to tear out the ceilings below your roof to accommodate a flat roof conversion.
If your flat roof has any excessive damage, it may not be possible to convert it to a pitched roof. Instead, it may need to be repaired first or ripped out completely before constructing a brand new roof. This can be extremely costly, so before deciding you should consult an architect or structural engineer who will advise you on the best options for your roof.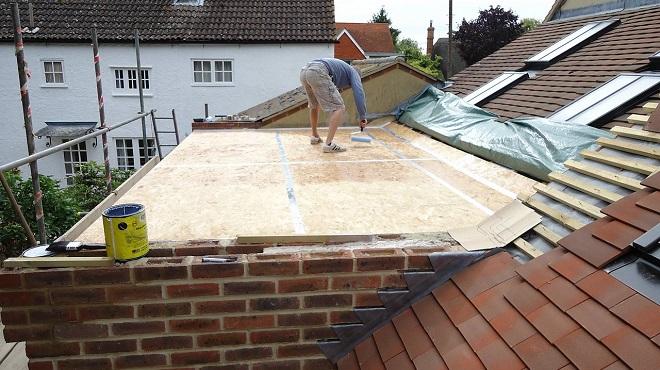 DIY Roof Conversions
A roof conversion is a structural change that affects the very architecture of your home, and can also be a dangerous job on pitched roofs. Therefore, this is not a job that you can do yourself. A conversion cannot be carried out by anyone other than the appropriate, approved tradesmen and professionals. Furthermore, all planning and building regulations and procedures must be followed, in the correct order.
Although the roof conversion itself should not be built on a DIY basis, you could get involved in the removal process, as flat roofs are not as dangerous as other roof types. Before beginning the removal, you should protect yourself by wearing long-sleeved tops and pants, as well as safety glasses which are normally priced at £1 to £45.
This removal process involves the use of a robust spade which should cost around £8 to £40 to buy. This will be used to remove all the coverings including the tiles and insulation. You may also need to remove the wooden boards if they are rotten. Once the removal is complete, you should then turn to the professionals who will convert your roof in compliance with building regulations.
Flat Roof vs Pitched Roof
Flat roof
A flat roof offers a roof design that is almost completely level with a pitch of no more than 10 degrees. This is a popular option for many home conversion projects which offers several advantages and disadvantages.
Pros
✔ Inexpensive roofing option.
✔ Quick installation.
✔ DIY installation is possible.
✔ A more contemporary design choice.
Cons
✖ Prone to leaks.
✖ Require regular maintenance.
✖ Shorter lifespan than other roofs.
✖ Expensive repairs.
Pitched roof
A pitched roof slopes downwards with a pitch of more than 12.5 degrees. This is one of the most popular roof options which offers several pros and cons.
Pros
✔ More traditional design.
✔ Easier to maintain.
✔ Better drainage abilities.
✔ Long lifespan.
Cons
✖ More expensive than a flat roof.
✖ Longer installation.
✖ Complex construction.
✖ Level of disruption during construction.
Types of Pitched Roof
The most popular way to convert a flat roof to a pitched roof is by installing a trussed roof. This is where a complex structured framework of angled beams, is constructed above your flat roof to bridge the gap and support your new pitched roof. This typically costs around £980 to £3000, including both materials and labour. This type of roof offers extensive durability and requires little to no maintenance, although they do not provide extra space.
Shallow pitched roofs are favoured by most homeowners because they tend to have a higher rate of approval when it comes to seeking planning permission. Additionally, a less complex structure will inevitably cost less money and be completed quicker, although there may still be an issue with water pooling. For a shallow pitched roof, you should expect to pay around £25 per square metre.
Other options include hip roofs which feature downward slopes on each side and cost around £4500 for a semi-detached home and up to £5500 for a detached house. Another alternative is a pyramid hip roof, which is basically the same as a hip roof, although, a pyramid does not have a ridge board. This type of roof offers extensive durability especially in extreme weather conditions, although it is one of the more expensive options due to the complexity of the design.
A gable roof is another popular option and is known for its triangular shape. This is commonly used for roof conversions, as they offer more attic space, while also providing good ventilation and a fair price of around £3500 to £5000. However, the downside of installing a gable roof is that it does not work well in areas with high winds, as it does not have supports as sufficient as hip roofs.
Reasons to Convert a Flat Roof to a Pitched Roof
There are various reasons why many homeowners choose to convert their flat roof to a pitched roof, such as pitched roofs offer a more traditional aesthetic that may be more appealing to those living in the home, as well as any potential buyers.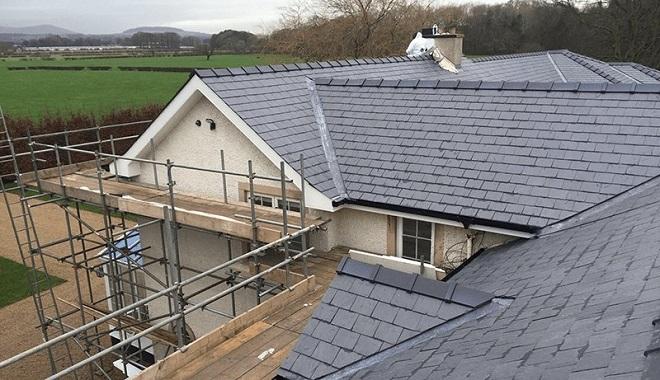 A pitched roof is also known to have a much longer lifespan, especially for roofs with a higher pitch which can at least 50 years, in comparison to flat roofs which have an average lifespan of just 25 years. This is because pitched roofs are much more durable and can withstand extreme weather conditions, while flat roofs are prone to leaks due to excessive water pooling.
Many people for a roof conversion due to maintenance issues with their flat roof, which can be solved by installing a pitched roof, which offers more space, high-quality ventilation is also much easier to insulate.
Benefits of Having a Pitched Roof
Converting your flat roof to a pitched roof offers a number of advantages, including the fact that it is one of the most sustainable roof types as they can last up to 100 years with very little maintenance.
One of the reasons pitched roofs last so long is due to its ability to withstand harsh weather conditions, as its triangular shape prevents a build of water and therefore avoids waterlogging, leaks and rotting.
A pitched roof is also extremely energy efficient due to its high-quality ventilation which prevents energy wastage. Further savings can be made by installing solar panels to a pitched roof, which are very easy to install on this type of roof.
Another important benefit is that it offers more space in the roof area, which is great if you plan to install a loft conversion while maintaining a traditional English aesthetic.
Will Converting a Flat Roof to a Pitched Roof Add Value to My Home?
Having a new pitched roof fitted can offer around a 63% return on investment, as it will increase the lifespan, durability and also enhance the aesthetic of your property, which will entice buyers.
Do I Need Planning Permission to Convert My Flat Roof to a Pitched Roof?
This is an architectural change so you will be required to obtain planning permission from your local council before any work is carried out which usually costs around £210 for UK residents. For homeowners in Wales, you will be required to pay an application fee of £190.
Planning permission rules state that you must apply if your project is going to be more than 150mm from the existing roof and the alteration will be higher than the roof's highest point. You may also need to make an application if the volume of the roof is more than 40 cubic metres for a terraced house and 50 cubic metres for a semi-detached home.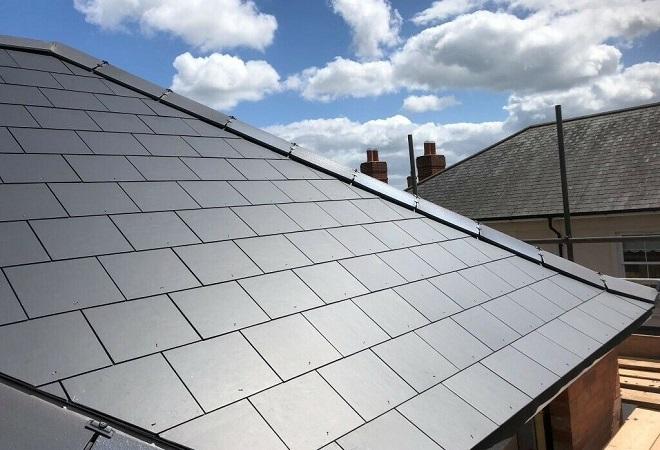 Building Regulations
You may need to apply for building regulations approval if you are planning the following:
Insulation changes which would need to meet thermal insulation requirements for a pitched roof where insulation would be placed between ceiling joists for a cold deck and over the rafter for a warm deck.
The coverings must be durable enough to withstand all weather conditions.
A pitched roof that is near a boundary must limit the risk of fire spreading.
Proper ventilation should be installed making sure air can enter through one area and exit through another.
The roof needs to be properly secured with 1.2m cranked-end long straps which should be fixed to the wall plate.
The cost of building regulations approval will depend on your local authority, as they all charge different fees.
How to Reduce Pitched Roof Costs
If you have low-budget in mind, you may want to consider ways to reduce the cost to replace your flat roof with a pitched roof. One of the first things you should do to lower the price of your pitched roof is to make sure you plan properly, as doing this will help you stay on budget. It will also help you from facing unexpected costs later down the line.
Another great way to lower your costs is by recycling your old tiles, although only do this if they are in good condition. You should also try to use high-quality tiles such as slate, concrete and clay which can last up to 100 years, so are definitely a worthwhile investment that will help you save money in the long run. You should also avoid skimping on materials, as it may cost you less at first, although, could result in massive repair costs if anything goes wrong.
You could also consider converting your roof on a DIY basis, however, you should only do this if you have previous roofing experience, as installing a pitched roof is a complex job. If you decide to construct the roof yourself with no knowledge of roofing whatsoever, then you could end up paying out more for repairs or a brand new roof.
Cost of Removing a Pitched Roof
If you have had a pitched roof for a long time and start to notice leaks or significant damage has occurred, you may want to have it replaced. For professional removal, and roof replacement you should expect to pay around £80 to £115 per square metre, although this will vary depending on the pitch of the roof and the materials used.
You may also need to consider waste removal costs, especially if you are getting rid of your old tiles and coverings. For DIY removal, you could hire a skip which will cost around £215.
It is also possible to remove a pitched roof yourself, however, this is a very hands-on task which would require safety goggles, a spade and a few friends. You may also need to pay out for scaffolding to support the structure which typically costs about £40 to £150 a day, depending on how much you need. This price will reduce over longer durations and if the company providing the scaffolding are the ones working on your roof.
FAQ's
How to Find & Hire a Pitched Roof Specialist
The cost to hire a roof specialist will vary depending on the size fo the job and the amount of roofers needed. Before deciding on the first roofing company you see, you should first enquire about their experience in converting a flat roof to a pitched roof. You should also check to see if they have insurance, which is especially important with roofing jobs as there is a higher risk of accidents.
Sources
https://www.travisperkins.co.uk/product/timber/sawn-timber/roofing-batten/c/1525000/?sort=price-desc
https://www.moderniser.co.uk/roofer-rates/
https://www.refreshrenovations.co.uk/project-estimates/how-much-does-a-new-roof-cost/
https://oaktimberframing.com/oak-trusses/king-post-truss/
https://synergy-lifting.co.uk/how-much-does-crane-hire-cost/
https://ecab.planningportal.co.uk/uploads/english_application_fees.pdf
https://prinsegate.com/blog/pitched-roof-types-common-defects/
https://www.roof-stores.co.uk/guides/tiles-and-slates/clay-roof-tile-guide/
https://www.gov.uk/building-regulations-approval/how-to-apply
https://www.tckroofing.co.uk/news/how-to-increase-your-homes-value-with-a-new-roof/