How Much Does It Cost to Replace a Garage Roof?
The cost of replacing a garage roof will depend on a number of factors including the size of the roof, the material that you wish to install and the ease with which the garage roof can be accessed. The area that you live in will also have an effect with roofers in London and the southeast of the UK charging more than other parts of the country.
A lot of garage roofs are flat and the most popular material for covering a flat roof is felt which is relatively inexpensive. However, in recent years EPDM rubber has begun to overtake felt as the material of choice for a flat roof as it is quite straightforward to install.
Sheet materials for garage roofs also come in a variety of different types such as GRP fibreglass, metal, or polycarbonate and can be fitted quite quickly. Tiled or slated roofs are more suited to pitched garage roofs and as a result are more expensive to fit.
The majority of older flat roofed garages will be covered with bitumen felt so if you are repairing such a roof you may decide to replace the old felt with new. The bad reputation that this type of flat roof covering has received is somewhat justified although improvements have been made to the product in recent years.
Most manufacturers will give at least a ten year guarantee for their bitumen felt but most will last longer than that if correctly installed and maintained. The average cost of applying bitumen felt to a garage roof is £40-£60 per square metre although this may vary according to the make used and the area that you live in.
EPDM rubber has become one of the most popular flat roof coverings making it ideal for a flat garage roof replacement. It is relatively easy to apply and requires no specialist equipment to fix it in place. In terms of price, it is reasonably cost effective at around £80-£90 per square metre and has an expected life span of around 50 years with regular maintenance.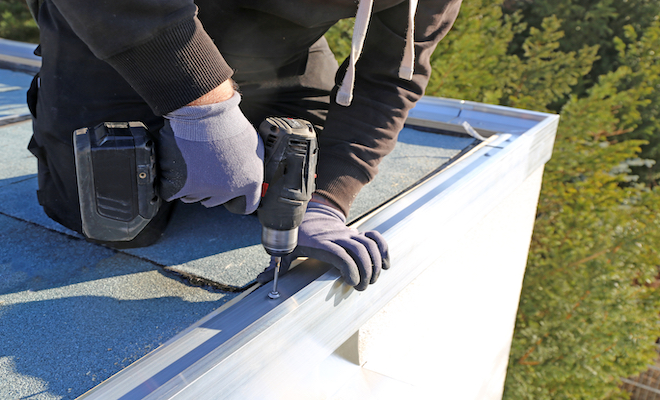 There are various sheet materials available that are suitable for a garage roof replacement and some of these can be used if you wish to replace your garage roof as a DIY project. Metal sheet roofing is one option, and these days comes in a wide variety of colours and profiles. It can be used in both rural and urban settings without looking out of place and is relatively inexpensive at around £15-£40 per square metre.
GRP (glass reinforced plastic) is another hardwearing roofing material which is suitable for a garage roof replacement. At approximately £70-£90 per square metre it is one of the costlier roofing materials but will last with most manufacturers offering up to 30 year guarantees with correct installation and maintenance.
Other roofing materials include cement fibre boards which cost around £20-£25 per metre and tile effect sheets which mimic roofing tiles but come in convenient boards for quicker installation. They cost around £30-£35 per metre, so a fraction of the cost of real roofing tiles while achieving a similar look.
However, if the garage roof you are working on is a pitched roof and your budget allows you could fit real roofing tiles or slates for a high end finish or to match your house. The price that you will pay will be in the region of £35-£125 per square metre.
This large variance in price is due to the differing quality of tiles and slates. For example, a concrete roof tile may cost around £10-£35 per square metre while a natural slate may cost £40-£60 per square metre. Add to these prices the cost of labour and you can see how fitting tiles or slates to a garage roof may prove to be quite expensive.
Finally, the price that you pay for your replacement garage roof will not only depend on the type of roofing material that you choose but on the area that you live in and how much roofers in your locality typically charge.
The size and area of the garage roof will also be an important cost factor as will the ease of access for the roofer. If you are replacing your roof due to damage, then the extent of this damage will have an impact on the price that you pay for your replacement garage roof.
Garage Roof Replacement Prices
The garage roof cost estimator table below features supply and fit average costs to replace two different sizes of garage roof, a single garage of 15 square metres and a double garage at 36 square metres with various types of roofing material.
| Size | Bitumen felt | EPDM rubber | GRP fibreglass | Tiled/slated |
| --- | --- | --- | --- | --- |
| Price per sqm | £40-£60 | £80-£85 | £70-£90 | £35-£100 |
| 3m x 5m (Single) | £600-£900 | £1,200-£1,300 | £1,050-£1,350 | £525-£1,500 |
| 6m x 6m (Double) | £1,500-£2,150 | £2,800-£3,050 | £2,500-£3,250 | £1,250-£3,600 |
| Size | Corrugated metal | Cement fibre sheet | Tile effect sheet |
| --- | --- | --- | --- |
| Price per sqm | £15-£40 | £20-£25 | £30-£35 |
| 3m x 5m (Single) | £385-£800 | £450-£575 | £600-£725 |
| 6m x 6m (Double) | £700-£1,650 | £875-£1100 | £1,150-£1,450 |
Supply Costs
The garage roof cost estimator table below features the supply only costs for various roofing materials to cover a single garage roof of 15 square metres and a double garage roof of 36 square metres. These prices only include the main roofing materials and do not include underlay or fixings.
| Size | Bitumen felt | EPDM rubber | GRP fibreglass | Tiled/slated |
| --- | --- | --- | --- | --- |
| Price per sqm | £5-£10 | £8-£12 | £15-£18 | £10-£30 |
| 3m x 5m (Single) | £75-£150 | £120-£180 | £225-£275 | £150-£450 |
| 6m x 6m (Double) | £180-£360 | £280-£430 | £280-£430 | £540-£650 |
| Size | Corrugated metal | Cement fibre sheet | Tile effect sheet |
| --- | --- | --- | --- |
| Price per sqm | £15-£40 | £20-£25 | £30-£35 |
| 3m x 5m (Single) | £225-£600 | £300-£375 | £450-£525 |
| 6m x 6m (Double) | £550-£1,450 | £720-£900 | £1,000-£1,250 |
Additional Costs
There may be additional works that you want to consider when calculating the cost of a new garage roof or garage roof repair.
Hiring Scaffolding
Although scaffolding may not be necessary for most garage roof replacements there may be occasions when it is needed or advisable. The cost to hire scaffolding will vary according the size of the job, the area that you live in and the duration of the hire. However, as a guide the average cost is in the region of £15 per square metre. Additional safety features such as guardrails and edge protectors can cost an extra £10 per square metre.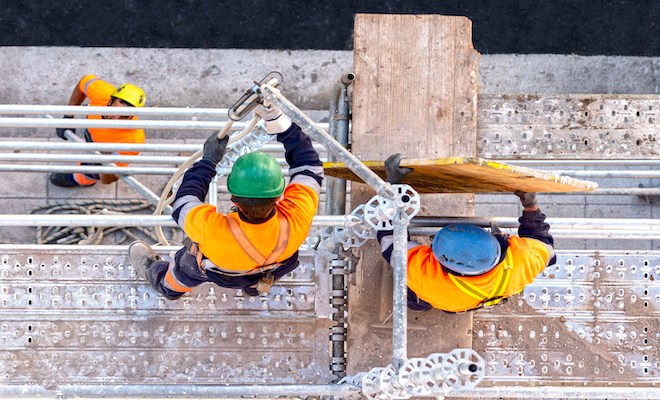 If the scaffolding is going to be in a public area such as encroaching on a footpath then a scaffolding licence will be needed. The price of this licence will vary across different local authorities but can range between £45 for a month to more than £200 per week.
Cleaning Your Roof
If your garage is attached to your house or in close proximity, then you may feel that your new replacement garage roof reflects the condition of the roof of your home. In this instance you may want to clean your roof and this is normally done with a pressure washer.
The cost to do this will depend on your location in the UK, the method you use and the overall size of the roof. Taking all these factors into account you may pay between £450-£850 to have your roof cleaned.
Cost Breakdown Calculator
Individual costs for hiring a roofer to supply and fit EPDM rubber roofing material to a single garage roof. Total cost: £1,250.
 Labour Costs and Time Frames
For a garage roof, replacement prices will involve the materials and the labour of a roofer or roofing team.
Labour Costs
The labour costs will be the price paid to the roofer for all the preparatory work, removal of old materials from the garage roof if needed, installation of the new roof material and leaving the site clean and tidy. Most roofers will give a price for supplying the materials as well as fitting them.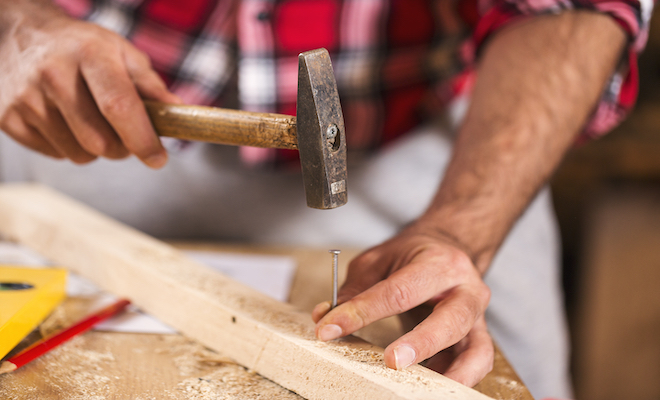 This normally works out cheaper for the customer as the roofer will have access to trade prices from dedicated roofing material suppliers. Roofers rarely work alone for safety and practical reasons so the labour cost will be around £200-£300 per day for a roofing team.
The type of roof will have an effect on the labour costs as garage roof replacement prices for flat and pitched roofs are likely to be different with pitched roofs requiring more work than a flat roof. A garage pitched roof replacement cost will almost always be higher than a flat roof replacement cost due to the extra work needed.
Timeframes
A garage roof replacement for a single garage should take no longer than a day providing there are no major problems or access issues. A double garage may take a day and a half or two days. The work will depend on what condition the existing roof is in and how easy it is to remove.
Once the old roofing material is taken off, the roofer will have to prepare the roof for the new roofing material. If the garage replacement roof is exchanging like for like, then provided the structure is in good condition the preparation should be minimal. Occasionally some timber framework or joists may need to be replaced and this may add half a day to the overall timeframe.
If the replacement garage roof material is fundamentally different from the existing, then the amount of time for the work to be done may increase. This may be due to the differing installation methods or the need for different sub structures.
What May Increase Costs & Timeframes?
If access to the garage roof is particularly difficult then it may increase the time that the work will take and the cost of labour.
The type of roof that you are replacing on your garage will have an effect on the cost. For example, a flat roof is normally easier and cheaper to replace than a pitched roof. This is because the structures are fundamentally different but also because the materials used to cover them will differ too.
A flat roof will be replaced much quicker as it is normally covered in a material such as felt, EPDM rubber or GRP. These materials can be installed quite quickly. However, a pitched roof may be tiled, and these take longer to fit as they comprise individual pieces that need to be laid one at a time.
As it is an outdoor job the weather may adversely affect the timeframe of your garage roof replacement. Heavy rain, high winds or thunderstorms are not good condition for working on a roof of any kind so the work may be delayed. You may also incur additional costs if the roofer has started to strip the existing roof materials as the roof will need to be covered in bad weather to protect the interior of the garage.
You may need to buy tarpaulins to close up the exposed roof. If the roofer you have hired is charging by the day it may cost you more in labour than a fixed price garage roof replacement if the weather delays the work.
Cost Affecting Factors of Replacing a Garage Roof
Various factors will influence the garage roof replacement cost including the size and type of roof to be covered, the materials used, the location of your property and how accessible your garage roof is. If you are replacing your garage roof due to damage rather than normal wear and tear, then the costs may depend on the type and extent of the damage.
Size of Roof
The area of your garage roof will have a cost implication in terms of the amount of materials needed to replace the existing covering. This will also impact on the labour cost as the larger the roof the more time it will take to replace.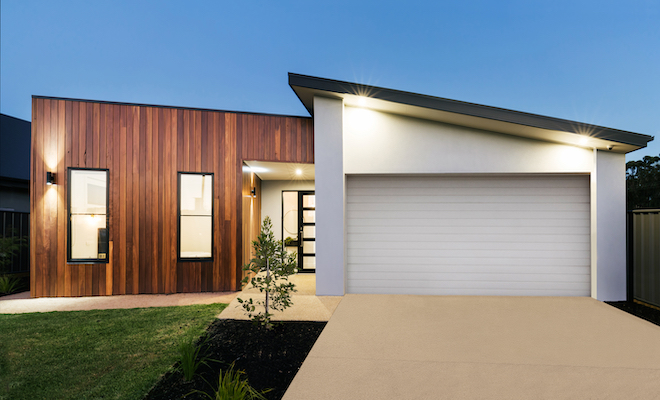 Type of Roof
Whether the roof is flat, mono-pitched, or pitched will also have an impact on the garage roof replacement cost. Pitched roofs will take more time and skill to replace although a professional flat roof installation will not be rushed. The amount of materials for a flat roof is generally less than any type of pitched roof and as the work is normally done in a shorter timeframe the cost of labour should be less too.
Materials
Clearly the type of material that you choose to cover your replacement garage roof will influence the cost. Good quality roofing tiles are the most expensive option but are only laid on a pitched or mono-pitched roof. For flat roofs, the highest cost will be for EPDM rubber and GRP. Both of these materials are highly durable and relatively easy to install which increases their cost. Bitumen felt is still a favourite for many garage roofs as it is relatively inexpensive. Cement fibre sheets are another inexpensive alternative.
Damage
If the roof of your garage has been damaged by impact, the weather or by fire then the cost of replacing it may be increased if there is large scale cleaning up to do first. Removing damaged materials particularly from older garages can be dangerous as a lot of existing roofs may be constructed from asbestos. Handling this material is hazardous when it has been damaged as the fibres can cause health issues if it enters the lungs.
If it is necessary to remove damaged asbestos, you will need to pay for a specialist company to carry this out as it is illegal for an unlicenced person to do this work.
Location
The cost of a new garage roof will be influenced by the area that you live in. Prices charged by roofers, general builders, handymen and specialist companies are all affected by location in the UK. The average cost of a roofer in the UK is around £160-£200 per day but this will depend on where you live. Prices for tradesmen in London and the southeast will typically be a lot higher than in other parts of the country.
Ease of Access
The ease with which a roofer or general builder can access your garage roof may have an impact on the price that you pay especially if they intend to use scaffolding to access the roof. However, the purpose of most garages is to park a car so reason suggests that access should not be a problem.
What Does Replacing a Garage Roof Entail?
There are many different types of roofing material with which you can replace your existing garage roof. One of the most popular materials to use these days for a flat roof is EPDM rubber as it is very durable, easy to lay and can be fitted in a matter of hours.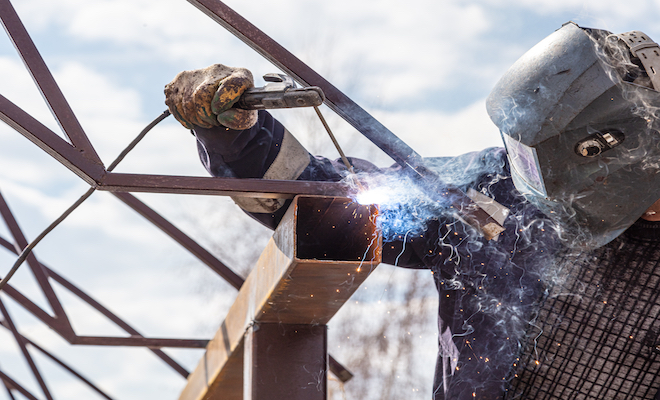 The following step by step guide will describe replacing an existing bitumen felt flat garage roof with an EPDM rubber material.
Preparation
The first step is to remove the existing felt from the roof. The most effective way to do this is with a flat shovel, using it to get underneath the felt and lift it off of the timber boards underneath.
Even if the boards are in good condition it is best to replace them with new OSB board as the EPDM has to be installed on a flat clean surface in order for the adhesive to be effective. The boards also need to be smooth and free of any protrusion that could perforate the EPDM.
The OSB boards can be removed with a hammer and nail bar and cut to manageable pieces for ease of handling and disposal.
Hopefully, the garage roof joists will be in good condition and not need to be replaced. If this is the case, then the new OSB can be fitted into place.
Application
A gutter edge back plate should be installed on the fascia at the side of the garage where the guttering will be prior to laying the EPDM. This is fixed in place with ring shank nails and a 1 mm expansion should be allowed between lengths of this back plate at one metre intervals.
Rolls of EPDM can be heavy and will require two people to carry them up to the roof which should be swept to ensure it is free of debris and sharp objects which could damage the EPDM.
The rubber sheeting comes in one continuous piece without any need for joins so is extremely waterproof. It should be spread out on the roof and left to 'relax' for at least half an hour depending on the ambient conditions before attempting to adhere it to the roof.This is to allow any creases to fall out of the material so there is no bubbling when it is laid.
When it is ready to be fitted the EPDM should be folded back to the centre point of the sheet and the adhesive applied to the OSB boards. Water based adhesive can be used for the majority of the bonding and a special contact adhesive used around the perimeter to protect against wind lift.
The EPDM should be laid on the water based adhesive while it is still wet to ensure good adhesion and not allowed to go tacky. If necessary, the rubber sheeting can be stuck down in stages to make sure the adhesive does not dry out before the EPDM is laid.
When the first half of the EPDM is laid on the adhesive it should be swept firmly with a wide, soft bristled broom to aid bonding of the sheeting to the boards and remove any air.
he second half of the EPDM can then be laid in the same way drawing it back to the centre point and applying the water based adhesive to the boards.
If using bonding contact adhesive for the perimeter this should be applied to the edges of the boards and also to the underside of the EPDM. Unlike water based adhesive it should be allowed to go tacky before laying the rubber sheeting down. This is to allow any solvents to evaporate so that it does not cause the material to blister.
Finishing Off
Once the EPDM sheeting is in place then trims can be attached to all edges of the garage roof. These PVC trims hold the overlap in place, providing additional weatherproofing and giving a neat finish.
The gutter edge trims will be slightly different to those sides which do not have guttering attached. Most will have a foam backing which when compressed by nailing in place provided a firm waterproof seal.
When all the edgings are in place the excess EPDM rubber sheeting can be trimmed back with a sharp knife or pair of scissors.
Corner and expansion gap coverings are fitted in place with a plastic adhesive as a final task.
Different Methods
Other materials such as felt, GRP and corrugated metal sheets can also be used although the garage flat roof replacement cost for these materials will be different and the method of installation will also differ.
A pitched garage roof replacement will be different again, take longer to complete and typically be more expensive than a flat garage roof.
DIY Garage Roof Replacement
Replacing a garage roof is not particularly difficult for a competent DIY person and you may save some money by doing the work yourself. Of course, it will depend on a number of things such as previous experience of roofing, the size of the roof and the material you intend to cover it with.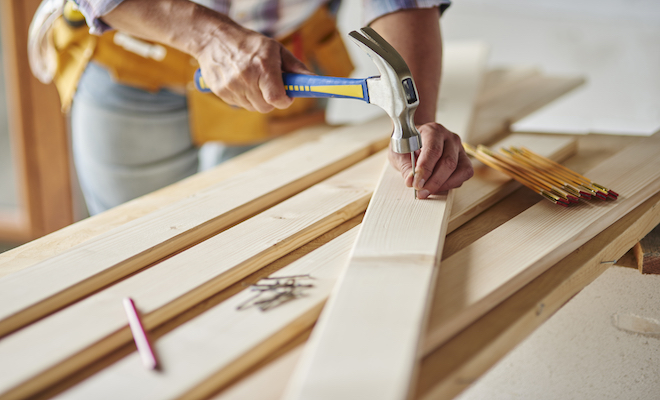 Professional or DIY Installation
Some garage roofing materials are relatively straightforward for a DIYer and some are not so easy. For example, laying EPDM rubber roofing or corrugated metal sheeting may be within the capability of most people with DIY experience. However, laying bitumen felt is a skill and requires specialist equipment both of which most people do not possess. This type of garage roof replacement is best left to a skilled professional.
Notwithstanding the ease with which some of the garage roofing materials can be installed there is the concern that badly fitted roofing will allow water penetration that can damage the building and its contents. Even if the job looks like it is a relatively simple DIY weekend job there are merits to employing a professional roofer or builder to replace your garage roof, one of which is a guarantee of the work carried out.
Dangers of DIY
There are also inherent dangers related to DIY and this is especially true when working at height. Although most garage roofs are not particularly high there are still associated risks with working on any raised area. Almost a third of all industrial accidents each year are caused by falls from height. Even a fall from two metres can cause serious injury or death so it is something to be approached with caution and a healthy respect for the potential danger.
Power tools are another potential source of harm when replacing a garage roof. Circular saws, drills or nail guns are very useful tools but if not handled with care can cause serious injury.
If you wanted to save some money and do part of the work of replacing your garage roof, then you could remove the existing roof covering. However, if it looks as though the roof is constructed of asbestos then you should consult a specialist asbestos removal company and not attempt to take it down yourself. It is illegal and dangerous for a non-licenced person to remove asbestos and definitely not something that should be undertaken as a DIY job.
Savings Through DIY
For any other type of roofing material, you could save the cost of half a day's labour by removing it yourself. This saving may be £100-£150 depending on where in the UK you live. As long as the material is not asbestos and depending on the amount to be removed you could also save yourself the price of a skip by bagging it up and taking it to your local recycling centre. However, you should check with them first to ensure that they will accept the type of material you are removing.
The average cost of hiring a mini skip which should be adequate is around £100-£150. So, by taking the waste to the local recycling centre yourself you could save yourself this cost although you should allow for your time, fuel costs and heavy duty rubble bags.
Tools & Equipment Needed
If you do intend to replace your garage roof yourself then there are some essential tools and equipment that you will need. However, some of these will be specific to the type of material you are fitting on your garage roof.
In general, to remove the old roofing material you will need:
Nail bar
Hammer
Shovel for felt removal
Bolster chisel
Scraper
Rubble bags or skip
To install new EPDM rubber roofing (will differ for other roofing materials):
Tape measure
Broom
Paint roller & tray & extendable handle
EPDM rubber roofing
Appropriate adhesive
Utility knife to cut excess
The safety clothes and equipment that you may need will depend on the type of roofing that you are installing. However, for most installations you should wear:
Safety boots
Gloves
Knee pads
Building Regulations
It is likely that you will need to submit a Building Regulation application if you carry out a complete garage roof replacement as if you replace more than 25% of the surface it is necessary to have Building Regulation approval.
Types of Garage Roof
There are many different roofing styles and designs, and this will affect the cost of replacing a garage roof. Additionally, the existing design of your garage roof may dictate the type of material that you can install effectively.
Flat Garage Roof Cost
Flat roofs are the most common for garages especially older garages and these are typically covered in bitumen felt. While they are called 'flat' roofs they should always have a slight pitch to allow for rain run-off.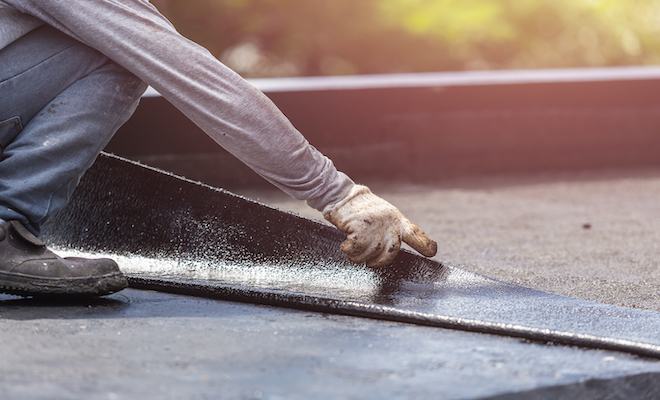 The average cost of a flat roof for a garage will be around £40-£60 per square metre.
Pros of a flat roof:
✔ Easily constructed and maintained
✔ Cheaper than pitched roof
✔ Variety of roofing materials available to cover flat roofs
Cons of a flat roof:
✖ If badly constructed or maintained, they can have a short life span
✖ Not as aesthetically pleasing as a pitched roof
✖ Prone to water pooling over time as materials degrade
Garage Pitched Roof Cost
A pitched roof can be either an apex roof or a mono-pitch roof. An apex roof has two sloping sides which meet in the middle, forming an apex hence the name. The mono-pitch roof has only one sloping side, this is more common on a garage which is attached to the main house.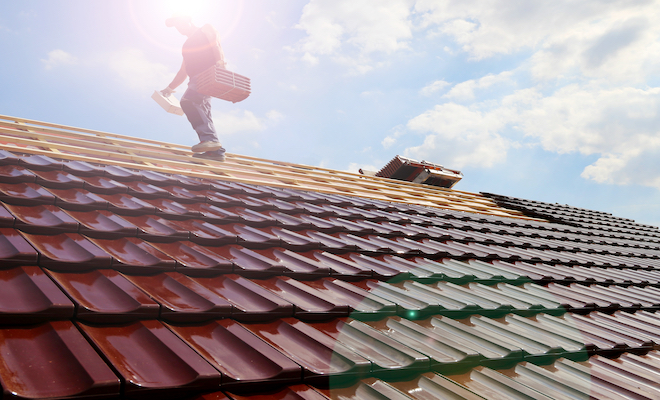 The average cost of a tiled or slated pitched garage roof is around £35-£100 per square metre depending on which you choose and the quality of the tiles or slates.
Pros of a pitched roof:
✔ Better rain run off
✔ More aesthetically pleasing
✔ Longer lasting
Cons of a pitched roof:
✖ More expensive than a flat roof
✖ Requires skill and experience to build
✖ More costly to repair
Garage Hipped Roof Cost
Hipped roofs are similar to an apex roof but instead of a flat gable at the ends of the house the roof has another slope hence the 'hip'. They are commonly seen on semi detached houses in the UK.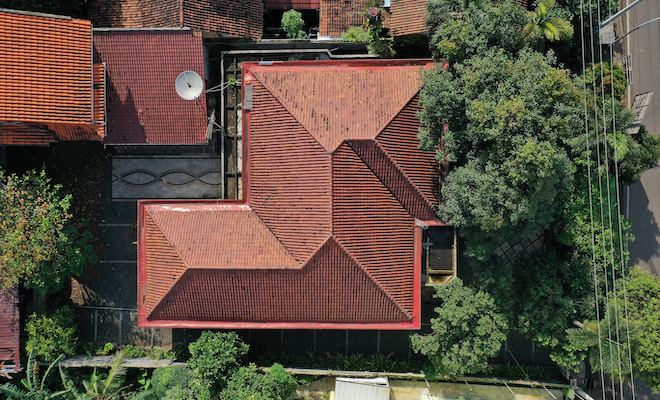 The average cost of a hipped garage roof will be £70-£100 per square metre depending on the size of the roof.
Pros of a hipped roof:
✔ There is good drainage on all sides of the roof
✔ Structurally they are stronger than apex roofs
✔ Better able to withstand high winds
Cons of a hipped roof:
✖ More complex than an apex roof to build
✖ Will typically be more expensive than an apex or flat roof
✖ Not within the remit of most DIYers
Garage Reverse Gable Roof Cost
Some garages are large enough to have storage areas above them and these may have a reverse gable roof which are more commonly known as dormers.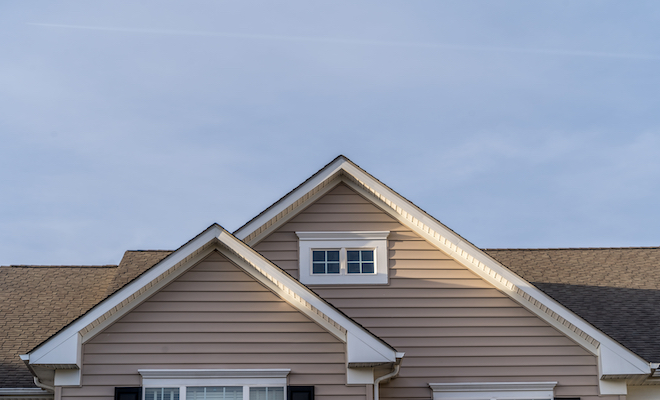 The average cost of a reverse gable garage roof is between £80-£120 per square metre depending on where you live in the UK and the size of the roof.
Pros of a reverse gable garage roof:
✔ Blends the garage in with the main house
✔ Aesthetically pleasing
✔ Allows more light and ventilation into the garage
Cons of a reverse gable garage roof:
✖ Does not suit all types of garage
✖ Expensive to build
✖ Not a DIY project and best left to an experienced roofer
Barn Garage Roof
A barn or gambrel roof is only occasionally seen on garages. This style combines a double slope on each side of the building, the first slope being quite steep and the second much more shallow.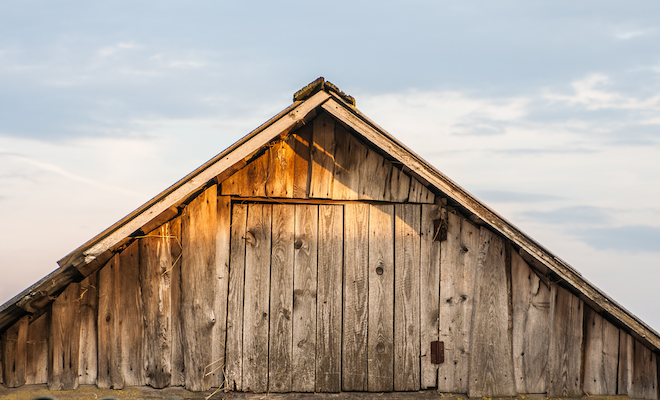 The average cost of a barn or gambrel garage roof may be around £90-£130 per square metre depending on the size and the material that it is covered in.
Pros of a barn garage roof:
✔ Stylish and elegant
✔ Gives more head height and storage room/li>
✔ Can be covered in a variety of roofing materials such as tiles or metal
Cons of a reverse gable garage roof:
✖ Not as structurally strong as other roof shapes due to double slope
✖ Impractical in most cases
✖ Complex and expensive
Garage Roof Materials
There are many different types of roofing material available, some are suited to flat roofs and some to pitched roofs so what you replace your existing garage roof with may depend on the style of your roof.
The average garage flat roof replacement cost using felt is around £40-£60 per square metre.
Felt
Felt is a favourite for flat roofs and has been popular for many years as a covering for flat garage roofs. It is a relatively inexpensive material and with good maintenance can last 10-15 years.
Pros of felt:
✔ Cost effective garage roofing material
✔ Durable if laid and maintained properly/li>
✔ Easy to repair if damaged
Cons of felt:
✖ If not fitted and supported properly it can sag and pool water, leading to leaks
✖ Not as durable as other roofing materials on the market
✖ Should be fitted by a professional roofer with the right equipment
EPDM Rubber
The material that challenges felt as an ideal flat roof covering is EPDM rubber. This material is extremely durable with an expected life span of up to 30 years. However, unlike felt it is difficult to carry out a garage roof repair on EPDM.
The average garage flat roof replacement cost using EPDM is approximately £80-£85 per square metre.
Pros of EPDM rubber:
✔ Very durable withstanding extremes of temperature effectively
✔ Strong and flexible
✔ Quick and easy to install
Cons of EPDM rubber:
✖ The membrane can be torn or punctured by falling branches or foot traffic
✖ More expensive than felt
✖ Finding a professional installer may be difficult
GRP
GRP (glass reinforced plastic) roofing is a system for flat roofs that is resilient and durable. It is applied in stages with a base of boarding such as OSB which is coated with resin. This is then topped with fibreglass matting which is coated with another coat of resin and then a final reflective and protective top coat is applied.
The average cost to replace a garage roof with GRP is around £70-£90 per square metre depending on where in the UK you live.
Pros of GRP:
✔ Tough, durable, and weatherproof
✔ Creates a seamless, smooth finish on a flat roof/li>
✔ Can last more than 20 years
Cons of GRP:
✖ Installation needs to be done by professionals
✖ Relatively expensive compared to alternatives
✖ Not suitable for large roof areas
Corrugated Metal
This roofing material can be constructed from aluminium, steel or zinc depending on your requirement and budget. It is a lightweight material and can be fitted quickly.
Zinc standing seam roofs can be quite expensive costing up to £70 per square metre but looks really good and weathers beautifully. Copper is equally expensive and can cost up to £100 per square metre. Steel and aluminium corrugated metal roofing costs on average £15-£40 per square metre.
Pros of corrugated metal roofing:
✔ Variety of metals available in a range of colours
✔ Relatively inexpensive if excluding zinc and copper
✔ Can be used on flat, pitched and even curved roofs
Cons of corrugated metal roofing:
✖ Perceived as a budget option
✖ Can be noisy in heavy rain or hail
✖ Fixing points in corrugated metal sheets can be access points for moisture & rust
Building Regulations for Replacing a Garage Roof
For a complete replacement of a garage roof, it is likely that you will need to conform to Building Regulations as you will be replacing more than 25% of the roof area.
The height of the garage and the proximity to the boundary will also dictate the need to apply for Building Regulation approval. Amongst other things this is to limit the risk of fire spreading from one property to another. The properties of the material that you are fitting to the roof will need to comply with these regulations also.
Changing a flat roof to a pitched roof will require adherence to Building Regulations as there will be structural alterations to the roof including the weight bearing load. The performance of the new roof material in the event of a fire will also need to be compliant.
By hiring someone who is registered with a competent person scheme to carry out your garage roof replacement you will not need to notify your local authority building control department. However, if they are not registered with such a scheme then a visit from the council's building control officer will be needed. The cost of this will vary from one local authority to another.
If you are unsure it is best to contact the building control officer at your local authority and get clarification on your individual project or visit the Planning Portal. It is easier and less expensive to get the work right than have to go back and re-do it because it did not conform to Building Regulations.
Planning Permission for Replacing a Garage Roof
For the majority of garage roof replacements, it will not be necessary to apply for planning permission and the work can be done under permitted development rights. There are of course always exceptions.
If your replacement garage roof is over 2.5 metres high and within 2 metres of a boundary it is likely that you will require planning permission.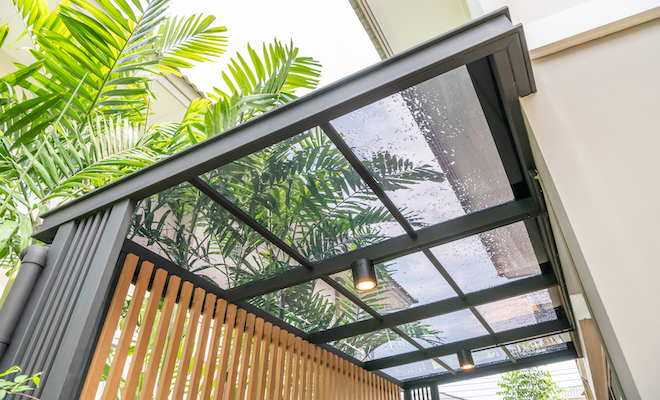 For listed buildings or those which are located in a conservation area, AONB (area of outstanding natural beauty), World Heritage Site, or other designated areas such as the Broads then planning permission will probably be needed.
In order to replace a flat roof with a pitched roof you will likely need to apply for planning permission as you will be altering the structure, appearance, and height of the building.
The cost for planning permission to replace a garage roof will be around £200 with slight regional variations.
Information about planning permission can be found on your local authority's website or by going to the Planning Portal.
Removing a Garage Roof
If you intend to completely change the roof of your garage you will probably want to remove the original entirely and start from scratch. The question of whether you should do this work yourself or hire a builder or roofer will be down to your own confidence and capability, budget, and the timeframe you wish to complete the project in.
How to Remove a Garage Roof
The process of removing a garage roof will depend on the type of material that it is covered with. Possibly one of the easiest roof coverings to remove is felt while the material you should avoid removing as a DIY task is asbestos.
Determining what your garage roof is composed of is the first step in deciding whether it is a job you can tackle yourself or bring in professional help. Obviously, an asbestos roof will only be legally and safely removed by a licenced operator but other materials such as felt, EPDM, metal roofing, tiles and slates can be handled by a competent DIYer, general builder or roofer.
Cost to Remove a Garage Roof
If you do decide to hire someone the cost will be higher than if you removed the roof yourself. A roofer will charge between £160-£200 per day, a general builder may charge slightly less and if you do the work yourself with the help of friends or family it will cost you nothing.
Waste Disposal
The issue of what to do with the waste when you remove a garage roof should be carefully considered. If you do discover that the roof is made from asbestos, then a specialist company should be brought in to deal with it. They will wear the appropriate safety clothing and they will double bag the asbestos and take it to a licenced disposal site. The cost to remove asbestos will be around £50-£60 per square metre with most companies charging around £200-£300 per day.
Non asbestos roofing materials can be disposed by the homeowner or builder either in a skip or in rubble bags and taken to a recycling centre. Be aware however, that most recycling centres do not allow what they consider commercial waste and may charge for disposal particularly if there is a lot of it. Check with your local authority before making the trip.
If you decide to hire a skip for waste removal the size will dictate the cost, and this will also vary greatly depending on where in the UK you are based. The price of skips in London will be much higher than in other parts of the country but an average cost is about £200 per week for a large skip.
DIY or Hire a Professional
For any material other than asbestos there is no legal reason why you cannot remove a garage roof as a DIY project. However, if it is beyond what you are confident of doing or you are not physically able then you will need to hire someone to remove the garage roof.
FAQs
How to Find & Hire a Garage Roof Specialist
If you own a garage at some point you may need to assess the condition of the roof and decide whether it needs to be replaced. Most people will prefer to hire someone to replace their garage roof and it is good to know what you should be looking for in a garage roof specialist.
Why Hire a Garage Roof Specialist?
While a lot of people are comfortable doing DIY jobs around the home, replacing a garage roof is a big undertaking and not a lot of people will have experience of carrying out this scale of work. This is where a garage roof specialist comes in. They will have the knowledge, experience, and skill to replace your garage roof in a quick and professional manner.
Average Cost
The cost of a new garage roof will depend on the type of material that you use, the area that you live in and the size of the roof. To cover a single garage roof of 15 square metres with EPDM rubber will cost around £1,250. The same roof in bitumen felt will cost around £750. A double garage of 36 square metres with a pitched roof in tiles or slate may cost £2,500 while in cement fibre sheets it would cost less than £1,000.
What to Look For
When searching for a roofer by far the best way to find someone who is professional, reputable, and reliable is through personal recommendation. By asking friends, family, neighbours, or work colleagues you are more likely to be able to assess their work first hand and get honest feedback from previous clients.
.
In the digital age it is easy for a business to operate from a website, mobile phone, and social media page. However, when it comes to employing tradespeople to work on your home you should look for someone who has a business premises and who has been established for a few years. This way you have a physical point of reference if there are any post work questions or issues.
Qualifications
Most roofers will learn their trade on the job beginning life as an apprentice with an experienced mentor and usually attending college once a week where they will study a Level 2 Diploma in Roofing Occupations or similar. This is a time honoured and reliable way for new tradesmen to learn their trade and gain relevant experience and usually takes two years.
Experience
Once qualified a roofer will usually carry on working for the mentor that they trained under, or they may join a larger organisation to expand their experience and knowledge. Roofers typically work in pairs for practical as well as safety reasons so a newly qualified roofer will still work in tandem with another roofer for a period of time until they are ready and experienced enough to mentor their own apprentice.
Accreditation
Accreditation of roofing associations such as the National Federation of Roofing Contractors, the Federation of Master Builders and Trustmark are excellent endorsements of a roofer's competence and professionalism.
The NFRC (National Federation of Roofing Contractors) has been around for more than 125 years and is the UK's largest roofing trade association. They run the UK's only accredited training scheme for roofers. This scheme is called RoofCert and proves a roofer's technical ability, skill, and competence.
The FMB (Federation of Master Builders) is the largest construction industry trade association in the UK and membership brings a recognition of quality workmanship and professional standards.
TrustMark is a government endorsed quality scheme and recognises technical competence, good customer service and trading practices.
Insurance
All tradespeople need to have adequate and appropriate insurance for the work that they are carrying out in client's homes. The most common insurance for tradespeople such as roofers to have is public liability insurance. This policy protects members of the public in the event of accident or damage as a result of the tradesperson's work and they should be willing and able to provide proof of their cover.
Roofers who employ other people must also by law have employer's liability insurance.
Checking Qualifications & Training
If you are unsure about the qualifications or experience of a roofer then you can check their accreditations through the NFRC or the FMB by entering their name into the search facility on the respective website.
Sources
https://www.lidget.co.uk/choosing-the-right-size-garage/
https://www.roofingmegastore.co.uk/blog/a-beginners-guide-to-garage-roof-sheets.html
https://www.rubber4roofs.co.uk/garage-roofing-materials
https://planwell.co.uk/cms/uploads/2020/12/Brochure-2021.pdf
https://www.danmarque.co.uk/garage-roof-replacement/
https://www.a9architecture.co.uk/blog/2019/08/17/flat-vs-pitched-roof
https://www.nationalasbestos.co.uk/news/the-risks-and-consequences-of-illegal-removal-of-asbestos/
https://www.planningportal.co.uk/info/200130/common_projects/43/outbuildings/2
https://www.nfrc.co.uk/docs/default-source/form-protected-documents/homeowners/householders-guide-to-flat-roofing-2015.pdf
https://roofingplumbers.co.uk/the-advantages-and-disadvantages-of-a-hip-roof/
https://www.roofingmegastore.co.uk/roofing-categories/pitched-roofing/roofing-sheets/grp-sheets.html#
https://www.nfrc.co.uk/choosing-a-roofing-contractor