How Much to Install a TV Aerial?
Let's get started!
The average cost to install an all-new TV aerial system is around £200. This price assumes a standard size new aerial, a pole, a new cable and a replacement TV socket.
A simple replacement aerial using the existing pole, cables and socket will be much cheaper, typically around £80 to £100.
What can affect the cost?
There are a number of different costs you need to take into account to determine your outgoings.
This includes the labour, installation and supply costs, which will vary depending on the level of signal in your home, how long the installation takes, and any additional materials you need.
TV Aerial Installation Prices
Below are some estimated costs of hiring a tradesman to fit or replace a TV aerial:
| JOB DESCRIPTION | AVG. COST | DURATION |
| --- | --- | --- |
| Install new outdoor TV aerial system | £200 | 4-6 hours |
| Install new indoor TV aerial system | £40 | 1-2 hours |
| Replace like-for-like outdoor TV aerial | £100 | 2-3 hours |
| Replace like-for-like indoor TV aerial | £20 | 1-2 hours |
| Install extra TV aerial socket | £100 | 2-3 hours |
| Replace TV aerial with dish | £250 | 2-3 hours |
Supply Costs
The labour and installation costs are easy to figure out, as they are usually calculated based on the time spent on the job.
Supply costs will depend on several factors, although the basic supplies you need include:
TV Aerial Prices
| TYPE OF AERIAL | PRICE | APPLICATION |
| --- | --- | --- |
| Yagi aerial | £35 to £50 | Offer a good signal range. |
| Log periodic aerial | £28 to £42 | Good at cancelling out impulse noises which cause loss of signal. |
| High gain aerial | £20 to £45 | Delivers one of the highest signal levels. |
| Grouped aerial | £26 to £35 | Equally distributes signal across a group of channels. |
| Indoor aerial | £15 to £35 | Digitally compatible with the best possible picture. |
| Loft aerial | £22 to £42 | Sustainable signal solution protected from the weather. |
Aerial Masts
To secure your aerial, a specialist will mount it on an aerial mast. These are usually made up of steel, alloy or aluminium. The type of mast or pole you choose will depend on the type of aerial, the material and the size. The most common domestic TV aerial poles are 6-foot x 2-inch, although in some cases you will find smaller or larger masts.
Take a look at this cost breakdown of 6-foot x 2-inch aerial poles in steel, alloy and aluminium to help you decide which option is best for you.
| TYPE OF AERIAL POLE | AVG. PRICE PER POLE |
| --- | --- |
| Steel | £5 |
| Alloy | £9 |
| Aluminium | £10 |
Brackets
To secure your aerial fitting, you will need brackets to ensure your aerial remains where it is for a prolonged period. The aerial specialist you choose should make sure that the brackets match up with the size of the mast they are using.
For example, if you have a 6ft pole you will require at least a 6 inch welded wall bracket. For this size bracket, you should expect to pay around £5.
Aerial Cables
The aerial specialist you choose may advise you about having your coaxial cables replaced to improve radiofrequency. This type of cable is often used by TV companies to connect the satellite to your television. If your cables are old and worn, you may want to consider replacing them.
This type of cable is measured per radio guide number. For your home, you would need either an RG-6 coaxial cable, which is ideal for the average tv and would cost around £20 for 20 metres. If you have a smart TV, the better option would be an RG-11 coaxial cable, which can cost up to £40 for 20 metres.
Cable Clips
Another important component you will need for your TV aerial installation is cable clips which are used to secure wires and cables together to either your wall, ceiling or floor.
Aerial specialists will typically use 7mm coaxial cable clips which cost around £2 for a pack of 100.
Signal Booster
If you have multiple televisions in your home, then you will require splitters to distribute signals to each room, which will cost around £4 to £10 depending on how many devices you are using.
To boost the signal in each room, you may need a distribution amplifier, which will add a further £20 to £40 to your bill.
Cost Breakdown Calculator
Individual costs of hiring tradesmen to install an entirely new TV aerial system - Total Cost: £200
Labour Costs and Time Frames
When calculating the price of your aerial installation, you need to consider the labour costs. This will depend on the difficulty of the job, as well as the time spent completing the installation.
For a standard installation which would include an aerial, pole and standard bracket, this would take around 2 to 4 hours and would cost between £100 to £150.
For a replacement aerial installation, the engineer should only take around 2 hours to complete the job, which would cost around £50.
What Does Installing a TV Aerial Entail?
The price you will pay for a newly installed aerial will depend on the following:
Your location.
Length of pole required.
If new cables are needed within the house.
Whether a splitter and amplifier are needed.
If you have a very high roof and/or access to the roof is difficult, then expect to pay more for an aerial installation.
If you live within the M25 then you can also expect to pay a lot more than someone who lives in the north.
Whether your installer is a highly skilled professional or a cowboy charging peanuts for substandard work!
If you already have an aerial and internal cable fitted with a TV point, then the job is much easier, however, if you do not have one or require it to be moved, then you may need to add some redecorating costs on to the total cost. The TV aerial point is usually sunk into the wall plaster, so it will need to be filled and repainted/wallpapered when finished.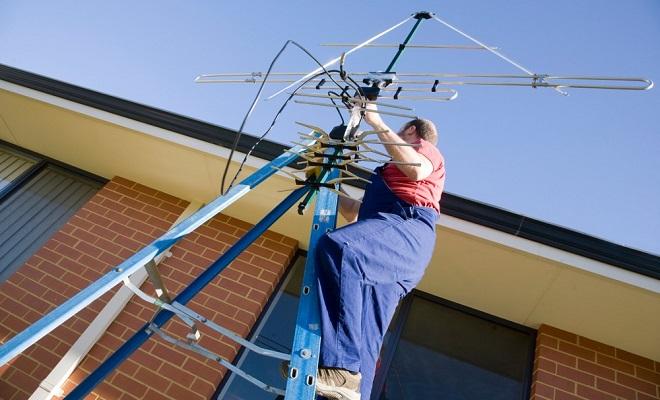 The TV aerial industry has a well-earned poor reputation for misselling entirely new aerial systems, where a minor repair to a cable may be all that is needed! Try your best to stick to reputable and professional aerial installers.
If you are ever told you need the entire system replacing including the pole, cabling and the aerial itself, then question this and ask for a full explanation, plus get a second and third quote from reputable installers.
On paper, fitting a TV aerial does not sound like a difficult task, but it almost always involves working safely at height and the trickier installs may require access to special equipment and knowledge.
If you have doubts about your ability to complete the job safely, then it's always better to call for professional help rather than risk falling because of a lose roof tile.
DIY Aerial Installation
If you wish to cut the costs of your TV aerial installation, you could consider doing it yourself. Before the fitting, you need to make sure that you know exactly what type of aerial installation you want. To do this, you need to consider your location as this will help you determine the signal strength you need, as homeowners living in the countryside will need much more than anyone residing in the city centre.
The most common aerial installations are located outside on the roof or inside your home. Each aerial fitting is different, so you need to consider which one is best for you and whether you can fit it yourself.
Outdoor TV Aerial Installation
The most common fitting is an outdoor aerial installation, which is located on the roof. Take a look at this step by step guide which will help you understand the fitting process.
Invest in Safety Equipment
The first thing you need to do is make sure you are safe on the roof. To start, you need to make sure you have a ladder that is the right height for your roof. If you do not have access to one, you can expect to pay at least £130 for a roof ladder. You should also consider investing in a fall arrest kit, which can cost around £40. This includes a safety harness and a rope grab which will protect you when fitting the aerial.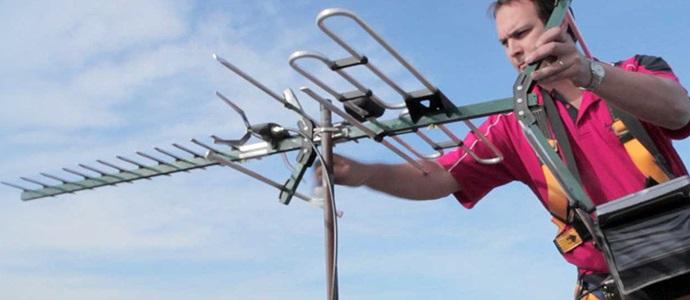 Choose a Position
Before mounting an aerial in any spot on your roof, you should consider where you are going to get the best signal. Typically, aerials that are placed on a gable wall or chimney are the easiest to install and also offer good reception.
If you are not sure, you should take a look at your neighbours' aerials to establish the right position. If you have a hipped roof, you may face more difficulty, as fitting an aerial on a slope will take more time.
Securing Your Aerial
Once you're sure the position is correct, you can drill into the centre of the wall. You should then use a lashing kit, which will cost around £12 or more for a larger aerial. To ensure your aerial is fitted properly, you should use alloy or steel masts and galvanised steel brackets, which altogether would come to an estimated total of £15.
These will all be fixed onto the brick along with the aerial and secured with wall plugs and screws which are priced at around £2 per bag.
Indoor TV Aerial Installation
An indoor aerial fitting is a much simpler process, all you need to do is follow these steps:
Plug Your Aerial in
To start, you need to plug your aerial cable into the back of your television or set-top set.
Getting a Signal
The majority of indoor aerials must be positioned to make sure that you are getting the best possible signal. To ensure you are placing your aerial the right way, you should check to see the direction of your neighbours' aerials and match yours to this.
Tune Your Aerial
If you have a new television, you may need to tune it in to access your local digital channels. If you find this difficult, you could tune it to another working television to establish the best position.
Positioning the Aerial
To ensure your aerial is positioned correctly, you should try switching to a Freeview channel such as the BBC. You can then start to move the aerial around to establish a connection.
A great tip would be to place your aerial at head height near a window. If this is a significant distance from your TV, you may need to purchase extension leads which will cost around £3.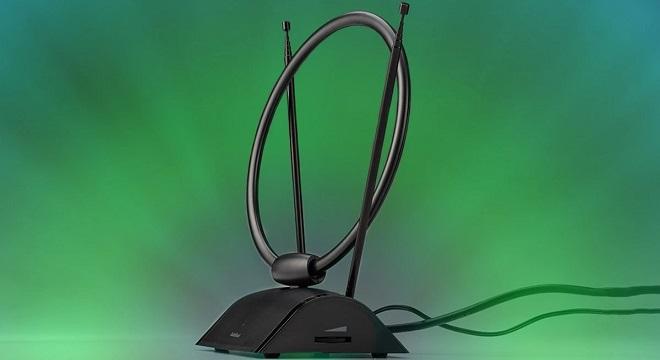 Connecting Your Aerial
To establish a connection, you will require male and female connector cables which will accommodate the different connections. This will cost around £12 each for one cable with both components.
Securing Your Aerial
Some indoor aerials can be an eyesore, so you might want to think about where you want to store it. You can either have it wall-mounted, which will require a bracket for £13 or you could use adhesive velcro pads for £6. Both of these products will ensure your aerial stays in the right place to maintain good reception.
Choosing the Right Location for My Aerial
There are a number of factors you need to consider before choosing where you should place your TV aerial. To start with you should think about where you live and what your current signal is like. If you live in the city centre and your signal is bad, all you need to do is look outside of your window at your neighbours' homes and see which way their aerials are pointing.
If you live in the middle of nowhere, it may be trickier to determine where your local TV transmitter is. The good news is that there are now plenty of transmitter locator tools to help you point your aerial in the right direction.
For those who live in a new-build property, you will find that your aerial is located inside, usually in the attic. The fitted aerial should be digitally-advanced and should have a strong signal but if not, you may want to call out a professional who can either fix your signalling issues or install a completely new aerial that will benefit you more.
How to Mount an Aerial
There are numerous ways to mount a TV antenna and the method you choose will usually depend on the type of aerial you have.
For an outdoor aerial, you will need to consider what type of roof you have, as this will allow you to decide where the aerial will be fitted. One of the most common ways to fit an outdoor aerial is by mounting it on a chimney, as this is usually the highest point in your home. If you do not have a chimney, then whoever you hire will suggest attaching it to a gable wall or fascia boards.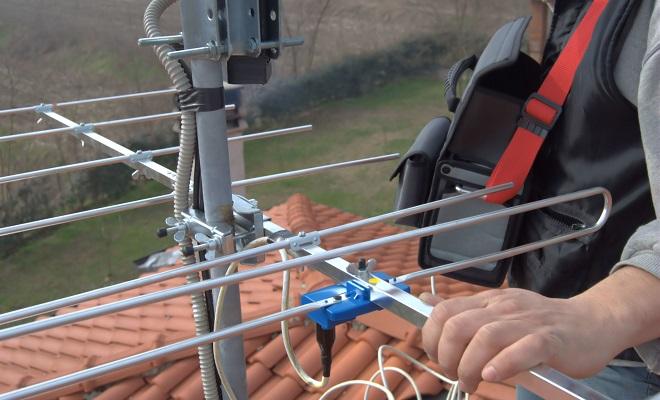 The mounting process involves securing the aerial by attaching brackets to the rooftop using screws. Before bolting the aerial down, the aerial engineer will ensure that any obstructions are out of sight, which will prevent any signal interruptions.
For an indoor antenna, you can choose to mount it on a wall, although this may involve some strategic thinking, as you will have to test the signal strength by moving the aerial around. When installing the indoor aerial, the specialist will make sure that it is not located near any metal, so they will avoid mounting it near a window with metal bars or any other metal materials.
Choosing the Right TV Aerial
The first thing you should do before choosing your TV aerial is find out where the nearest local TV transmission is located. If you live in a central area, you will have access to numerous signal sources, which will offer you some flexibility when choosing an aerial.
In high-signal areas, you can use indoor aerials, which are much easier to install. They will also last longer, as they are not exposed to the weather like rooftop aerials.
For those who live off the beaten track, your options may be limited. More than likely an aerial specialist will advise you to select an outdoor TV aerial such as a high gain wideband aerial. This will offer excellent signal strength while also covering all channels available, so you have unlimited programme options.
Pros and Cons of an Outdoor TV Aerial
Outdoor TV aerials are one of the most popular applications. To help you decide if this type of aerial is right for your home, take a look at the pros and cons.
Pros
✔ High-quality TV signal.
✔ Works in low-signal areas.
✔ Unlimited access to multi-channels.
Cons
✖ Susceptible to bad weather.
✖ More expensive (Average cost of £200).
✖ Complicated and time-consuming installation.
Pros and Cons of a Loft TV Aerial
If you prefer your aerial to be hidden away, having a loft TV aerial may be your best bet.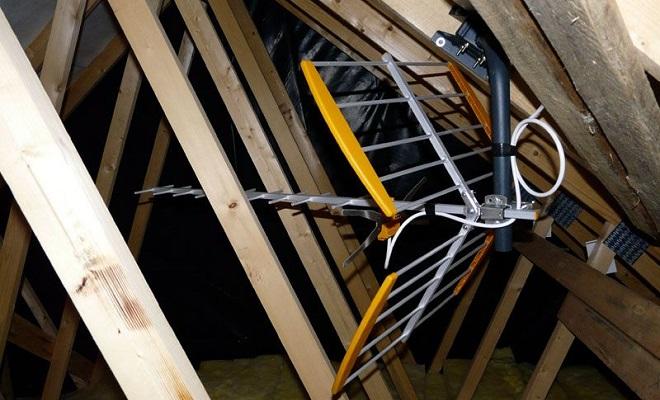 Here are some of the pros and cons that come with having a loft aerial installed.
Pros
✔ You can set it up yourself as the process is simple.
✔ Cost-effective (Average cost of £60).
✔ Easy to move which is practical when moving house.
Cons
✖ Does not work well in low-signal areas.
✖ Reception interference through concrete walls.
✖ Impulse noise issues can break up the picture.
Testing TV Aerials
If you are having trouble with your TV signal, there are some steps you can take to ensure that it is working.
Disconnect your coaxial cable from your television.
Plug the aerial's F connector to the signal metre marked TV.
Turn the signal metre on and find the lowest broadcast channel in your local area.
Rotate the antenna 360 degrees - stopping at the highest signal strength.
Read and record the direction of the highest signal using a compass and repeat this for each channel.
Use your rotor to determine the best direction or if you do not have a rotor use your compass to calculate it instead.
If you have completed all of the above, and you are still having an issue then you call an aerial engineer who will assess your aerial to see what the problem is. They may fix it there and then, or they may book in an aerial repair for around £40 depending on the issue. If there is no fixing your aerial, then the engineer may suggest having a completely new aerial installed.
How to Join Aerial Cables
If you require a longer coaxial cable or need to re-route your cable elsewhere, then you will need to join the cables together. Here is a step by step guide which will help you get this task right.
To start, you need to make a small round incision about half an inch away from the outer layer of the cable using a utility knife or a coaxial stripping tool which costs around £18.
Remove the cut cable to reveal the cable screen and braid, then fold the cable braid back over the outside layer.
If you have a double screen cable you will need to cut the cable screen to show the internal dielectric material. This should then be sliced making sure to leave 3mm of insulation.
The F plug should then be screwed in over the top of the cable braid. Continue to screw it in until the dielectric is in line with the inside of the threaded part of the plug. This should leave you with 2mm of the centre conductor.
If there is any material left over 2mm then this will need to be cut.
All of the above steps should be repeated on the other side of the coaxial cable.
Once all the cutting is complete, the barrel connector should then be screwed and tightened into the F connectors.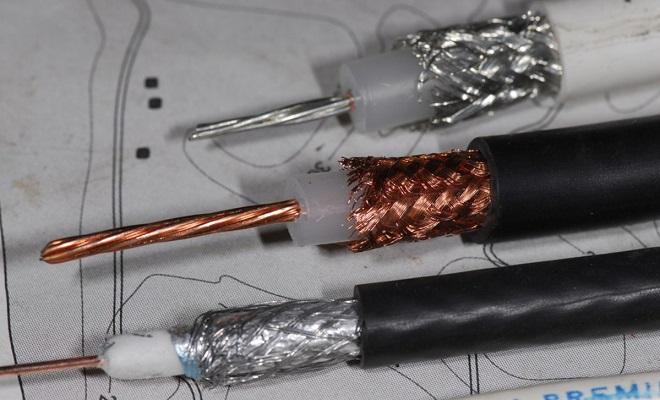 How to Get Rid of TV Interference
If you have any issues with interference that affects the audio or image on your television, you should take the following steps:
Check to see if the audio and video cable connection is inserted properly.
Remove any metal objects or wireless devices, such as mobile phones or radios away from your television, as this may interfere with your TV signal.
Attach your TV aerial to an amplifier which should then be hooked up to your TV to boost the power of the antenna. A typical amplifier is worth around £25 which is definitely worthwhile to avoid interference.
Do Set Top Aerials Work?
A set top aerial is a device that can be placed right next to your TV. For it to work, you need to live in an area that has significantly high signal levels.
Despite the increase in signal strength, set top aerials are still susceptible to interference, as the walls of your home get in the way. There is also less choice with indoor aerials, as you have limited channel options.
Diplexers and Splitters
If the signal strength in your home is low, an aerial specialist may suggest the installation of a diplexer, splitter or combiner to boost your TV aerials effectiveness.
Here is a breakdown of what diplexers, splitters and combiners are, what they do and how much they cost.
| TYPE | PRICE | FUNCTION |
| --- | --- | --- |
| Diplexer | £8 to £25 | Takes 2 signals and omits 1 signal out. Multiple devices while maintaining high signal. |
| Splitter | £3 to £20 | Takes 1 signal and outputs 2 signals. Used to add an extra TV to a current cable. |
| Combiner | £4 to £30 | Takes 2 signals and inputs them into 1. Adds antenna signal to an existing cable. |
Landlord Responsibility for Aerial
In the majority of cases, landlords are not responsible for installing, replacing or repairing your TV aerial. There is also no mention of it within the Landlord and Tenant Act, which therefore means neither the Landlord or Tenant is responsible for the upkeep or repair of TV aerials.
This is not to say that some landlords don't include it in their tenancy agreement. To determine who is responsible, your best option would be to contact your landlord and ask whether they deal with TV aerials and if not, you can start to look into a professional installation yourself.
Long-distance TV Reception
TV antennas can reach up to 70 miles, so if you are looking for long-distance TV reception then your best bet is to invest in a long-range antenna which will reach around 50 to 70 miles.
To achieve long-distance TV reception, you will need to have your aerial installed outside. If you already have an exterior aerial, then you may want to move it higher to get the best signal possible. You could also consider replacing your current aerial with a tower-mounted aerial, which will help to remove interference, as well as increasing the amount of channels you have access to.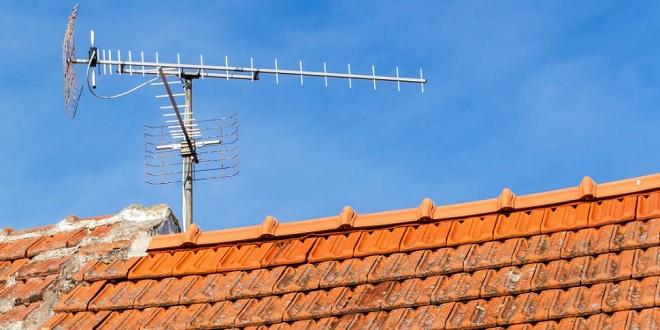 You could also consider stack antennas to improve your reception. There are two types, one known as stacking, which is when the aerials are placed vertically on top of each other. The other method is baying which is when the antennas are installed side by side.
Aerial Amplifier
TV aerial amplifiers are designed to input signal, which results in a stronger signal being released. There are also some amplifiers that are made to split signals for homes with multiple televisions.
Aerial amplifiers cost around £30 to £70 depending on their function and how many outputs they have. An installer will include this in their installation price, which will involve the following steps:
Plug the coaxial cable in to coaxial in port on the amplifier.
Plug one end of the coaxial cable into the coaxial out port on the amplifier and one end into the antenna in the port of a power inverter.
Input a section of wire into the television out port on the power inverter and plug the opposite side into the splitter.
Attach the coaxial cable into the back of your television in the coaxial input and plug the other side into the splitter's out port.
The inverter should then be plugged into the wall.
A low noise aerial amplifier is always worth trying for all poor reception areas. This works best when the amplifier is placed as close to the aerial on the mast as possible. This is a more expensive option however, as these amplifiers typically need a separate power.
Satellite Dish Costs
If you want to switch from traditional cable TV, you could consider having a satellite dish installed outside your home. The main difference between a satellite dish and a TV aerial is that the first option is much easier to install.
Despite this, it is actually more expensive to have a satellite dish installed. The estimated cost of this is around £150, although this will depend on the type of roof you have and how long the job will take. You also need to counter in the price of satellite receiver which is around £99.
You could always consider installing it yourself, with satellite dish kits priced at about £40. Of course, you will also have to counter in other supply costs such as safety equipment, brackets, coaxial cable, hinges and poles which may cost more than a professional installation.
Costs of Removing a TV Aerial
If you have an old TV aerial on your roof, you may want to consider removing it to avoid any damage in the event of it falling off the roof during bad weather. This will also improve the aesthetics of your home, and should also help you save money.
Professionals will usually charge around £50 to £100, depending on the type of aerial you have and long the job will take.
FAQs
Sources
https://itstillworks.com/hook-up-antenna-amplifier-splitter-6209956.html
https://www.tv-aerials.co.uk/are-tv-aerials-a-landlords-responsibility/
https://www.techwalla.com/articles/trouble-with-a-panasonic-cinema-vision-hdtv
https://www.smartaerials.co.uk/blog/different-types-of-tv-aerials-antennas-for-tv-radio
https://www.wilsonamplifiers.com/blog/understanding-coaxial-cables-the-complete-guide/
http://heyco.com/blog/getting-know-cable-clip-functions/