How Much Does a New Roof Cost?
This article is designed to be a guide to the costs of roof replacement in the UK. However, although different roof types will be mentioned, this article does assume a typical UK house structure.
So, if you have a home with an unusual, non-standard construction, then the typical costs and description of the works involved below, may not be especially relevant in your particular situation. This article is, of course, no substitute for professional advice, which should always be sought when considering replacing a roof.
So how much will a new roof cost of average?
A typical new roof cost can vary greatly depending on materials, location, surface area and type of roof, average labour costs etc. But the average cost of a replacement roof in the UK is around £4,000. However, this figure assumes a detached house with a typical "up and over" gable only roof design of average size, using cheap but popular roofing tiles with a long-life expectancy.
Remember, when comparing quotes from builders and roofing contractors that price is not the only factor you should consider, the quality of materials and workmanship are just as important!
Here is a list of popular materials with costs based on a full replacement for a three-bedroom semi-detached home with a roof pitch at about 25 degrees:
Tile – £6,800
Slate – £7,500
Asphalt – £5,950
Metal – £8,300
If you're interested take a look at how construction statistics and how it may affect material costs.
Most roofers work in pairs and charge around £250-£300 per day in total. The time it takes to complete the job can vary significantly depending upon numerous things including materials, size of roof, design and ease of access.
The pitch is also important, as a flat roof tends to be much cheaper than a roof with a high pitch, although the majority of UK houses have either a gable or hip roof with a pitch between 18.4 and 36.9 degrees.
A typical garage will have a lower pitch or is usually completely flat and can cost around £1,500 for a metal roof to be installed on a 28 square metre garage with room for one car.
New Roof Prices
Here are a few average costs of having a replacement roof fitted assuming common normal-sized tiles.
Please bear in mind that prices can vary considerably depending upon your location, the size of the house, roof type, tile type, and whether or not you hire a small or large company to carry out the work. The numbers below should only really be used as a guide.
| Roof Type | House Type | Avg. Cost | Duration |
| --- | --- | --- | --- |
| Gable Roof | Not Applicable | £3,500 | 2-3 days |
| Hip Roof | Semi-Detached | £4,500 | 3-4 days |
| Hip Roof | Detached | £5,500 | 4-5 days |
| Gable Roof with 2 valleys | Not Applicable | £5,000 | 4-5 days |
| Hip Roof with 2 valleys | Semi-Detached | £6,000 | 5-6 days |
| Hip Roof with 2 valleys | Semi-Detached | £7,000 | 6-7 days |
Different Roofing Materials Costs
These estimations are based on the average UK 3 bedroom semi-detatched house with a gable roof that has a pitch of 25 degrees.
| Material | Avg. Cost |
| --- | --- |
| Clay tiles | £125 per sqm |
| Thatch | £100 per sqm |
| EPDM rubber | £45 per sqm |
| Metal | £85 per sqm |
| Felt | £40 per sqm |
| Slate | £75 per sqm |
| Concrete | £35 per sqm |
| 3-tab shingles | £30 per sqm |
When investing in a new roof, you need to consider the additional costs. Here is a breakdown of the price based on a semi-detached home.
| Material | Avg. Cost |
| --- | --- |
| Cement | £60 |
| Timber battens | £100 |
| New Fascia | £95 |
| Replacing gutters | £35 |
| New Insulation | £350 |
| Chimney repointed | £500 |
| Skip hire | £220 |
| Scaffolding | £1,100 |
Supply Only Costs
If you need your roof replacing, you must consider the type of material you want, as many are cheaper or more durable than others. Take a look at the following materials; it'll help you understand the costs, as well as the pros and cons of each.
Material
Cost Per Sqm
Pros
Cons
Clay
£38
- Eco-friendly
- Durable (Up to 100 years)
- Low-maintenance
- Difficult to install
- Expensive
- Heavy material
Thatch
£32
- Well-insulated
- Ages well
- Adds character
- Greater risk of fire
- High insurance
- High-maintenance
EPDM Rubber
£15
- Adverse weather proof
- Low-maintenance
- Bespoke design
- Difficult installation
- Membrane can tear after a while
- Can be difficult to find an installer
Metal
£25
- Lightweight material
- Simple roof installation
- Energy-efficient
- Can be noisy
- Prone to denting
- Expensive initial cost
Slate
£28
- Enhances kerb appeal
- Low-maintenance
- Can last over 100 years
- Complicated installation
- Expensive to install
- Heavy material
Concrete
£13
- Fire-resistant
- Versatile application
- Little to no maintenance
- Susceptible to adverse weather
- Sensitive to moss growth
- Not as long lasting
New Roof Cost Calculator Breakdown
Individual costs for hiring a pair of roofers to replace a roof on a semi-detached house with a hip roof - Total Cost: £4500
Labour Costs and Time Frames
When having a new roof installed, you need to consider the labour costs, as a roof replacement can be a difficult and expensive process. The cost of labour is usually around £1 to £3 per square metre for 1 to 3 days, although this will depend on various factors. This includes the individual tradesman or company's fee, as well as the type of roof and materials which will all determine how the long the job will take.
A gable or hipped roof can take around a week to complete, with tradespeople charging around £150 to £250 per day. This cost will depend on your location, as in areas like London you can expect to pay more.
A single garage flat roof can be installed within 4 hours if no decking is required. This would be a two-person job with the tradespeople charging around £180.
The material you choose for your roof will also factor into the duration and labour costs, as some materials are harder to install than others. For example, a material like slate is expensive to fit, especially if the tiles are small, as they will not cover as much roof space. This is why many people opt for clay tiles which are the colour of slate, as it means there are fewer tiles to install.
What Does Replacing a Roof Entail?
The process of a roof replacement varies depending on the existing roof or whether you are changing the material and height of the roof. To help you understand the installation process better, here is a step by step guide for installing a typical roof.
Scaffolding Setup
Before the installation begins, the tradespeople will set up scaffolding to ensure that the structure of your roof remains steady during the replacement.
Removal Process
Before any new roofing can be fitted, it is important that all the old roofing is removed and disposed of by way of skip hire. A full removal would involve tearing everything down including tiles, valley flashing, drip edging and more.
Necessary Repairs
If your roof is fairly new, you may just require minor repairs in some parts. For an aged roof, a tradesperson will replace any bad tiles with new sheathing that works with your roof type.
Waterproof the Roof
To protect your home from flooding, a roofer should install roofing paper, drip edging and valley flashing over the sheathing to create an inner barrier. This is layered all over the roof and should be stapled in place, followed by roofing caulk to secure the valley flashing.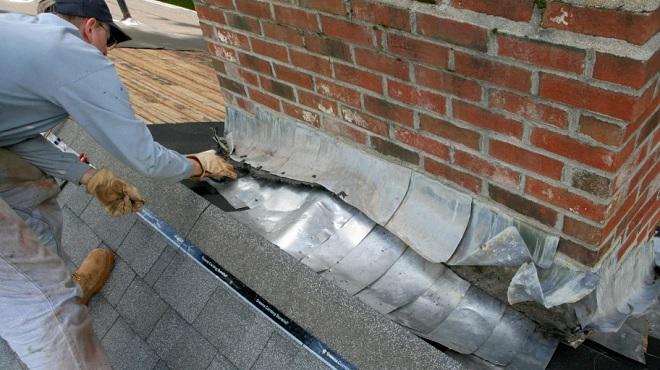 Secure the Roofing
To install the tiles or shingles, the tradespeople will start from the edges and work their way to the peak/middle of your roof.
Add the Ridge Vent
Professional roofers will install a ridge vent on the top of your roof to improve air circulation and heat the attic space.
Final Inspection
When all roofing is complete, the hired tradespeople should clear up everything, including debris and any roof waste. This should then be followed by a building inspection to ensure everything is fitted correctly.
The above guide covers the basics of a roof replacement; however, they may differ for other roof types, including a flat roof. This type of roof may require more water-resistant measure, as a flat roof is more susceptible to flooding.
The process may also change if you are making more drastic changes, which could involve changing the height of the roof. To change the pitch size would involve additional structural changes such as replacing the roof's ridges, eaves, props, rafters and even external walls.
Cost Affecting Factors of Replacing a Roof
Replacing a roof is expensive and time-consuming, but if you fail to inspect and repair the roof as required, then neglect can lead to even bigger and costlier problems down the line, including a complete roof replacement which can cost up to £25,000.
Sometimes it may be possible to patch roofing problems rather than replacing the entire roof, whether this is a good idea or not depends on the age of the roof and the severity of the problems.
For example, if the roof is very old and likely to need a full replacement in the next few years anyway, plus the roofing repairs required are expensive and cropping up with monotonous regularity, then it could be more cost-efficient to simply bite the bullet and replace the entire roof.
On the other hand, if the roof is relatively new and the damage that needs repairing is confined to one small area (such as a few missing or damaged roof tiles), then it makes financial sense to repair that area.
When removing the old roof, it may be the case that long-term water damage could mean replacing the internal roof frame (rafters) and even bedroom ceilings, though this is unusual without any prior indication of problems such as large watermarks or bowed bedroom ceilings.
When it comes to gathering prices for a complete roof replacement, the surface area of the roof, the type of roof design, and the cost of the replacement tiles or shingles are the main considerations, but your location will also be a factor, both in terms of the prevailing labour costs in your area, and also the access to the property.
If you are on a budget, you may be wondering how much does a new roof cost? To decrease your costs, you should consider choosing larger tiles, as the bigger the tile, the more of the roof's surface it will cover. This means you will need fewer tiles, and it will also take less time to complete.
The material you choose is also a cost-effecting factor, as some roof materials are cheaper than others. Here are some of the popular options and their prices:
Slate tiles - £1.50 per piece
Felt shingles - £1 per piece
Clay tiles - £0.50 per piece
Thatched - £2.30 per piece
Concrete – £0.45 per piece
Metal - £1.15 per piece
Wood shingles - £2 per piece
In addition to the cost of the materials, you also need to consider the labour costs for fitting them, as some are easier to install than others. For example, clay tiles are difficult to install, while metal is the easiest fit, so to reduce labour costs, you may want to opt for the latter.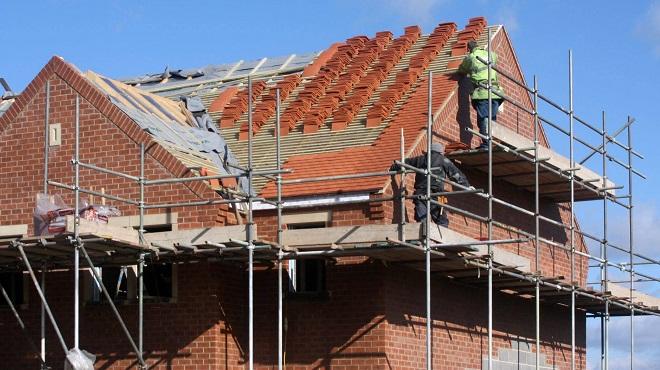 There are also safety and regulation cost factors that you need to consider including the use of scaffolding, which must be erected before installation. This will cost around £1,000 and will usually be included in your roofing quote.
The roofer you appoint may also notice problems that you may not have such as loose roof beams, which may actually require a completely new structure. This can cost around £5,400 to £9,000 for a 100 square metre roof.
Another important health and safety cost is asbestos removal, especially if you have an older home which was built between 1930 to 1999. This was the period when it was used as a construction material, but is now recognised as harmful. It is vital that this substance is removed from your home if detected.
If it found in your garage roof, it will cost up to £680, while a pitched roof can set you back around £3,000 or more depending on where it is located.
Additional Costs
Materials are not the only thing you need to consider when adding up the cost of a roof replacement. This is because some roof installations are more complicated than others, especially if you have an old roof, as this may require you to purchase additional fixtures.
Additional costs could include new fascias and soffits, which could cost around £100 per square metre. This is an important fixture for your roof as it will prevent water damage to your home. If you decide to replace them, you may also want to invest in new guttering, which would cost around £30 per metre for uPVC gutters or £60 per metre for metal guttering.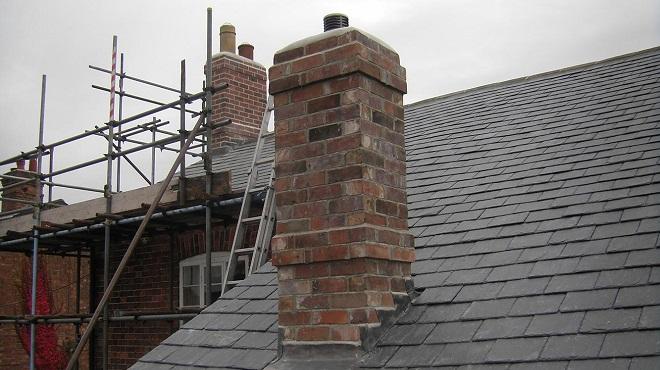 You may also want to have your chimney repointed if it is noticeably worn. For a bungalow roof, you would expect to pay around £250, while a chimney on the side of a semi-detached home could cost up to £1,000.
To enhance the aesthetic of your roof, you may want to install roof lights or skylights. These not only improve the appearance of your home but are also energy-efficient, as roof lights allow more natural light into your home, allowing you to save on your energy bills.
On a basic budget, you can expect to pay a starting price of £500 for fixed roof lights or for something a bit bigger you could opt for an opening-roof light which would set you back around £1,000. On the higher end, you can find solar-powered skylights which automatically close when it rains and also offer maximum efficiency for around £2,000.
To make your home more energy-efficient, you could consider updating the insulation in your attic. This can cost around £25 per square metre for insulation panels or £30 per square metre for spray foam, as this ensures your insulation is completely airtight so may be worth the extra cost.
Can I Replace My Own Roof?
We all like to save money on home maintenance, but replacing an entire roof is not recommended as a DIY project, although there are no laws preventing home-owners from doing roofing work, a few mistakes can mean the DIY job can easily end up costing more than hiring a professional would in the first place.
The initial costs will be cheaper, as a DIY roof replacement would only require to pay for the materials. For example, a do-it-yourself 3-tab shingle roof would only cost you about £3,000.
However, if you are unqualified, there is the potential of leaks during the removal process, or you could miss out some vital structural processes that will lead to later issues. This could cause your energy bills to skyrocket or even affect the sale of your house should you go on to sell it.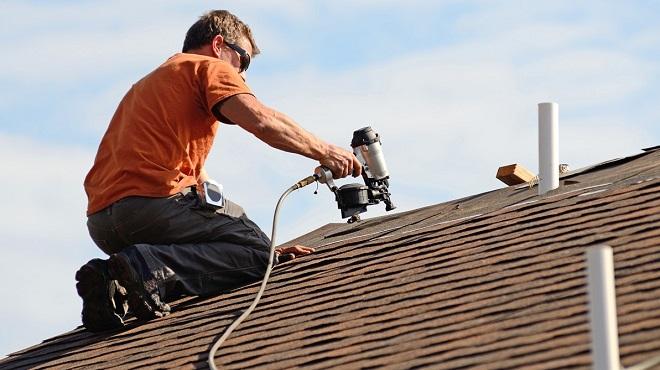 Even a small roof repair could lead to extensive water damage which could remain undetected until very serious, even a relatively simple job like repairing a few tiles can easily be messed up. The placement and pressure used on the roofing nail are crucial, get it wrong, and the slate is broken, or the underlying waterproof material is penetrated - do this a few times, and the costs really start to add up.
Be very wary of using "cowboy builders" or trying to do your own roof repairs to save money. Working at height is dangerous, and even for professionals, the injury rate is higher than for other building jobs.
If you are determined to replace the roof yourself, make sure you only work when weather conditions are tame, although this can be unpredictable in the UK, spring is probably your best bet.
Before you begin your DIY roof replacement, you should check if your home insurance covers accidental damage, as otherwise any mistakes you make will not be covered leaving you with an expensive bill.
Building Regulations and Planning Permission
You do not normally need planning permission to replace the roof of your house, especially if it is a simple "like-for-like" replacement. However, you may need to apply for planning permission if:
You are planning any structural changes to your roof.
In the event of a fire, your new roof materials will perform entirely different than your existing roof.
You are planning any roof alterations that project 150 millimetres from the existing roof plane.
You plan to change the material of your roof.
If you are removing integral insulation which will need to be replaced.
You are installing a roof light as this will require structural changes.
If any of the above applies, you must apply for planning permission which will cost around £234 for any minor or major changes to your roof. For any further information, you should consult a professional or visit the planning portal before considering any building work.
Can I Get a Re-Roofing Grant?
The price of a roof replacement can be very costly, despite it being necessary to keep a roof over your head. The good news is that some people may be able to apply for a Home Improvement Grant if you fall under one or more of these categories:
Living in a household that earns a combined amount of less than £15,000 a year.
Aged 65 or over.
Have a disability or living with someone who has.
A home improvement grant will enable you to improve, maintain or adapt your roof if it is necessary to do so for your health and safety. To apply, you should contact your local home improvement agency by visiting Foundations and Age UK.
Does My Roof Need Replacing?
Roofing problems can easily go undetected until they become more serious and costlier to fix, so regular checks (around two checks per year) should be carried out to detect faults early and avoid high roofing costs. However, if you are considering replacing a roof, then things have probably progressed way beyond minor repairs.
You may need to replace your roof if you notice a leak in the ceiling or attic. This could include everything from watermarks to damp patches and mould, which could be signs of water damage in the upper storeys of your home. More severe water damage could present as sagging or bowed parts of the roof internally.
At this stage, not only will you need expensive roofing work, but you could also require a joiner to replace the ceiling, plus a plasterer and/or interior decorator to repair the water damage inside your home.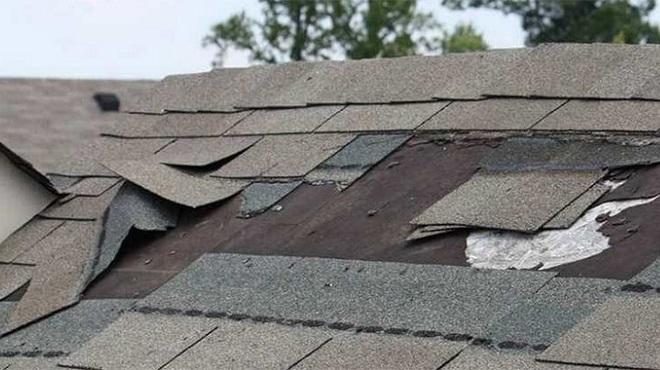 Other clear signs that you need your roof replacing include escaping light, debris in gutters, or even falling mortar from a broken chimney. These faults are not only dangerous but may also require further work such as repointing the chimney, replacing the gutters and adding insulation.
If you have not checked your roof for several years, you may even notice a process of rotting which may have spread to your inner walls.
You should also try to keep track of ageing materials, as some age quicker than others. The table below sets out the different types of materials and their lifespans:
| Material | Lifespan |
| --- | --- |
| Clay | 50 to 70 years |
| Thatch | 40 to 50 years |
| EPDM Rubber | 50 to 60 years |
| Metal | 70 to 100 years |
| Slate | 125 to 250 years |
| Concrete | 40 to 60 years |
| Wood | 20 to 30 years |
| Asphalt | 20 to 30 years |
What are the Benefits of Replacing a Roof?
You may not realise but replacing your roof can offer you a number of advantages including:
Enhanced kerb appeal
By replacing the old with the new, you can enhance the look of your home massively. This will not only make your home look more aesthetically-pleasing but will also benefit you, in the long run, should you decide to rent or sell your home.
Energy efficiency
Holding onto your old roof will result in you losing a significant amount of heat from your home. By updating your roof including tiles, insulation and even skylights, you could decrease your energy bills and also do your bit for the planet.
Increased safety
One of the most important things you need in your home is the element of safety to keep you and your family safe. By replacing your roof, you will avoid anything falling off the roof, while also protecting yourself from flooding and rotting.
Will Replacing My Roof Add Value to My House?
Having a new roof installed is one of the best ways to increase your house valuet. This is because a replacement roof enhances the aesthetic while also improving the structure of the home with a roof lifespan of at least 20 years. Not only that, its typically a necessary house improvement not only to prevent further damage but to make your home sellable.
Roof Repair Costs
In some instances, you may only require a few minor repairs rather than a complete replacement. You may need to perform repairs if some of your roof tiles have broken off in adverse weather. If you notice a few missing or broken shingles or tiles, they will need to be replaced immediately. If you have five or fewer tiles that need replacing, it should cost around £75 for an hour's work.
Another cause of roof damage is poor installation, as this could mean that your roof was not fitted properly and therefore is more susceptible to damage or leaks. If you have a leak in your roof, you should expect to pay from £150 for a small leak up to £2,000 for a major leak. This will involve sealing up the leak, as well as replacing and securing the tiles.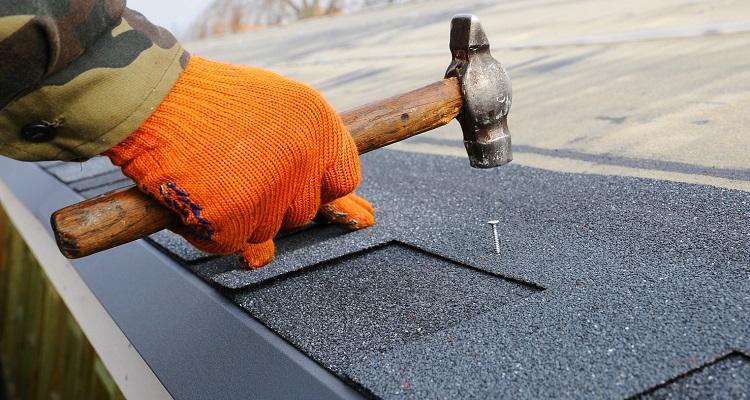 If you do notice any watermarks on the ceiling that have nothing to do with broken tiles, it may be your chimney that is causing the trouble. If it is your chimney, you should try to get this fixed as soon as possible to avoid any falling mortar. The cost to repair a chimney is around £800, which includes scaffolding.
Be careful when deciding whether you need a roof repair or a replacement, as some issues require the latter instead of a botched repair job. This includes extensive water issues, damage due to natural disasters, and expiry of your roof's life span, which will depend on the materials you have used.
Roof Retiling Costs
Retiling involves replacing or fixing broken or missing roof tiles. This usually costs around £100 to £200 per square metre, although some roofing contractors prefer to charge £8 to £16 per hour, depending on the extent of the work and any damage.
A typical retiling job would involve placing the new tile above the damaged tile and breaking the faulty tile into pieces for removal. Roofing cement will then be placed on the underside of the new tile and should then be secured with adhesive.
You may need to have parts of your roof retile if you experience leaks or notice any loose tiles. You should try to replace them as soon as possible to avoid any further complications such as falling tiles or excessive water damage.
How Much Does a Roofer Cost?
Employing a professional roofer to fix or replace your roof is the best option as it will ensure that the job is fitted properly. The average cost of a new roof with the help of a contractor is around £150 per day, although this depends on several factors, including the materials used, the time spent on the job as well as the location of the job.
The location of the job is a big factor when hiring a roofer, as tradespeople operating in London may pay more than those living in the north. They will also consider their travel time before deciding how much they will charge.
Before choosing the first roofer you find online, you should instead ask around your friends and family who have had a good roof replacement service. You should also consider looking out for contractors that are fully certified and insured in roof replacement, as well as health and safety.
A good way to check if a contractor is certified is by checking the competent roofer scheme, which is a government-licensed scheme that allows roofers to self-certify and reassures customers.
Roof Maintenance Costs
Maintaining your roof is just as important as having it replaced, as regular maintenance will allow your roof to last a lot longer.
Any roof should be checked at least twice a year to ensure everything is still intact. This will cost around £80 to £220 per visit, which may be an off-putting expense; however, it could save you more in the long run.
You should also try to clean your tiles regularly with a washcloth, sponge, bristle brush or non-abrasive brush. For a quick clean you can use water or a mixed detergent which should be mixed with water, applied to the tiles and left to sink for 5 minutes then rinsed. If there is any oil, paint or grease on your roof tiles, you will need to use rubbing alcohol or mineral spirits to remove it from specific areas.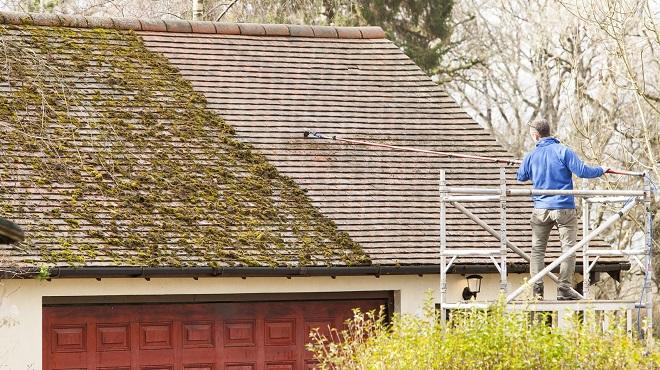 If you have any moss, mould or mildew on your tiles, you can apply laundry detergent, bleach and water to remove it. This is especially common with a material like concrete which is susceptible to moss growth. You may also need to treat your concrete roof with a moss and algae preventative substance, which could cost up to £600 for an entire roof.
If you have a metal roof, you will need to check for rust which will require a mild abrasive cleaner. You or a professional will then add a primer to the metal tiles before your chosen paint can be applied to freshen up the aesthetic. This would be priced at around £2.50 to £3.50 per square metre.
If you feel comfortable cleaning your roof, then you can go ahead and do it yourself, but make sure that you are safe while doing so. Others may prefer to call in professional roof cleaners, which will cost around £300 to £500 depending on how much cleaning is required. Depending on the extent it may be worth hiring a tradesman to pressure wash your roof clean.
What is a Green Roof?
A green roof is partly or fully covered in grass or vegetation which is planted over a waterproof covering. It can also include a drainage system, which acts as a barrier to flooding.
You can expect to pay around £60-£80 per square metre for an extensive green roof, which is a much simpler design than an intensive green roof which has deeper roots to accommodate larger plants. For the latter, you should expect to pay around £80-£120 per square metre.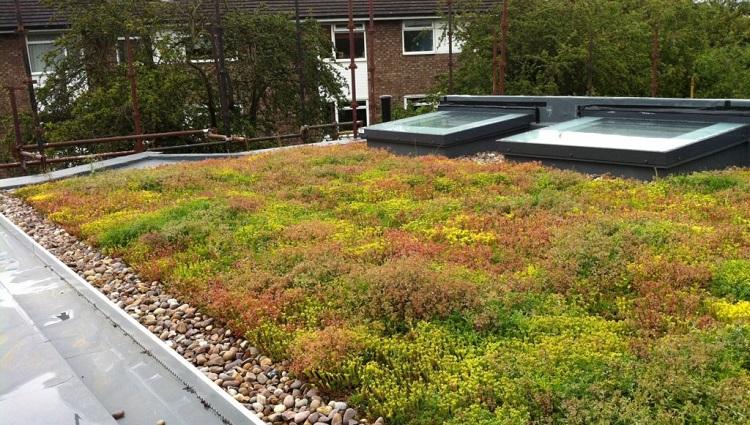 One of the main advantages of having a green roof is that it preserves water, and instead of being wasted, it is released back into the environment.
A green roof is also known to last longer than most materials, with a lifespan of 50 years. This is because the greenery acts as an effective barrier to the elements which are usually the cause of rusting or mould on typical roofing materials.
Cost of Removing a Roof
Before you can replace your roof, you will need to have your old one removed. This will involve tearing off old roof shingles or tiles using a tear-off shovel then clean up the area and remove any old adhesive or fasteners.
During the removal, you will collect a significant amount of waste which must be disposed of. If there is a lot, you may need to hire a skip which will cost around £215 to £250 for a small skip and up to £1,150 for a large size.
While there is no law permitting that you shouldn't do it yourself, you may want to call in a professional if you do not have the safety measures to complete the task in a safe and secure manner. A professional will usually charge about £80 to £115 per square to remove, although it may cost more if you have more than one shingle or tile layer.
FAQs
Sources
https://www.citizensadvice.org.uk/housing/moving-and-improving-your-home/help-with-home-improvements/
https://www.balticexteriors.com/5-benefits-of-a-new-roof-installation/
https://www.tckroofing.co.uk/news/how-to-increase-your-homes-value-with-a-new-roof/
https://www.planningportal.co.uk/info/200130/common_projects/47/roof/3
https://www.roofcostestimator.com/top-15-roof-types-and-their-pros-cons/
https://www.roofinglines.co.uk/blog/the-pros-and-cons-of-using-epdm
https://www.thatching.net/how-much-cost-thatch-roof/