How Much is Loft Insulation?
It's estimated that between 25% of heat in the average home escapes through the roof, which of course is reflected in the heating bill.
How can insulating my loft reduce my energy bills?
By choosing the right insulation for your home you can expect to see a reduction in your heating bills as well as a potential increase in the value of your home.
Loft insulation, in essence, works by creating a barrier of materials that prevents heat from escaping your home and comes in a variety of materials.
There are a range of materials available to suit your home; blanket insulation is probably the most common, is great for fitting between joists and is relatively cheap, costing as little as £2.50 p/m2, whereas sheet insulation cost an average of £10 p/m2 and spray foam insulation costs in the region of £55 p/m2.
For the purpose of pricing this article assumes costs based on a 3-bedroom semi-detached property with a cold loft space; actual costs will vary depending on the property size, insulation materials used and your choice of installation company.
The cost of loft insulation will be largely dictated by the size of your loft and the materials you've chosen. Under the Building Regulations 2010 L1B (Conservation of Fuel and Power in existing dwellings) if you are installing loft insulation it is required to be of a minimum thickness of 270mm.
Depending on how old your existing insulation is, you may only be required to 'top up' your existing insulation or, if it is particularly old, you may wish to consider replacing it entirely to ensure the best performance.
The table below outlines the expected cost of different insulation materials, assuming installation is taking place where no insulation is pre-existing
| MATERIALS | AVG. THICKNESS | AVG. COST (per m2) | TASK DURATION |
| --- | --- | --- | --- |
| Blanket insulation | 100mm | £2.15 | 2 – 4 hours |
| | 170mm | £3.00 | 2 – 4 hours |
| Loose-fill insulation | N/A | £7.20 | 2 hours |
| Spray foam insulation | 75mm (walls) | £40 | 1 – 2 hours |
| | 150mm (roof) | £70 | 1 – 2 hours |
You may also want to consider adding thermal foil layer to your home on top of your other insulation, costing around £3.00 p/m2, though this will be largely dependent on the efficiency of the insulation material you have chosen and is not always necessary.
Alternatively, you may wish to use foil-backed insulation (where the foil is attached to the insulation roll directly as one product) as the uppermost layer of insulation which will help to reflect radiative heat back into your home, costing around £8p/m2 – it's important to note that a single layer of foil-backed roll will not create sufficient insulation and should be used as an additional, not a replacement, insulation type.
Cost Breakdown Calculator
Individual Costs of Topping up your Current Loft Insulation - Total Cost: £250
Labour Costs and Time Frames
Assuming your loft is empty, the average loft insulation specialist will usually charge around £150 to £200 per day and will usually work independently to complete the job.
The typical insulation specialist is expected to take around 2 to 4 hours to fully insulate your loft using insulation rolls.
Loose-fill and blown-in insulation will take less time to install as the product does not need to be measured or cut to fit its placement, so you can expect this to take around 2 hours.
Generally, the labour costs are similar for whichever insulation method you choose, though you may find a slight increase in spray foam installation due to the required use of equipment.
If your loft contains clutter and items need to be removed you may be able to negotiate with your tradesperson to help remove items, though you can expect a charge for their time to do so – to help cut down costs, therefore, it's best to remove the items yourself beforehand whenever possible.
Any pipes or cables that are present in your loft-space will also need to be considered; exposed piping will need to be insulated so that they aren't affected by the cold temperature whereas cables should be left uninsulated as they are prone to heating.
You could ask your insulation expert to insulate your exposed pipework for you whilst they're installing the rest of the insulation, or you could do it yourself; insulating foam tubes can cost as little as £1 p/m with a 15mm diameter up to around £2.50 p/m for a 28mm diameter tube, with an additional cost of cable ties to secure the fitting at around £2 for a multipack of 100 from most retailers.
Loft Insulation Options
With the current high energy prices, it's no surprise how popular loft insulation projects are with homeowners in the UK. But it's not just the lost heat, the increased stress on the boiler can often reduce the life expectancy so you have to replace the heating system more often.
As loft insulation is pretty cheap, it's worth ensuring you have as much of it in the loft as you possibly can. There are a number of insulation materials and types available, each with their own costing, pros and cons.
Blanket Insulation
Blanket insulation is a relatively cheap material usually made of either fibreglass or mineral wool, though some companies plastic or natural fibre alternatives, costing around £2.50 p/m2, but in order to comply with building regulations the actual cost of blanket insulation is going to be around £5 p/m2 to achieve the required 270mm depth for completely new insulation.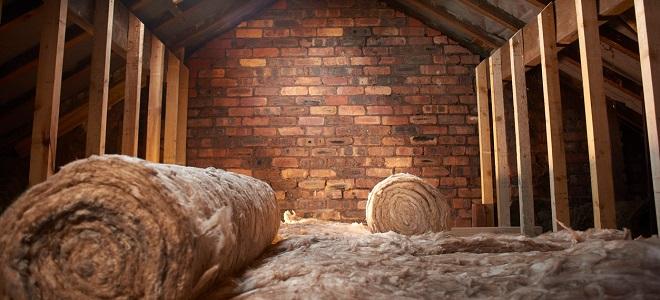 Blanket insulation is the most diverse option available as it is well suited to most insulation jobs and it easy to install yourself, however, it is not suitable for roof insulation.
You will need to ensure that the insulation is not compressed after the installation as doing so reduces its efficiency and can create condensation issues if air cannot circulate properly through the materials.
Loose-fill Insulation
Loose-fill insulation, or blown-in insulation, has an average cost of around £7.20 p/m2 and is typically made of fibreglass, recycled paper and mineral wool.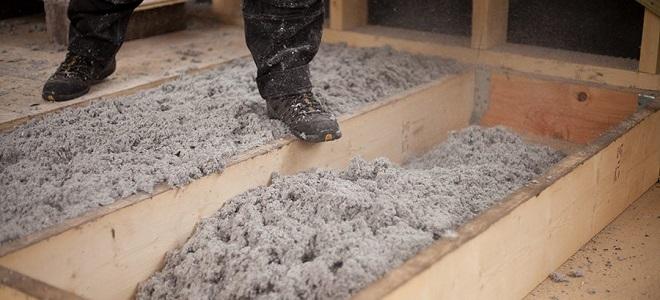 It benefits from being suited to accommodate awkward nooks such as around existing pipework, or within small spaces that would otherwise be difficult to navigate but it can be messy and certainly is not cost-effective for large areas. The loose-fill can either be poured in by hand or inserted into the desired area with equipment.
Sheet Insulation
Sheet insulation is an affordable go-to material for warm loft conversions as it can be applied to the underside of the roof to help retain heat, consisting of insulating material attached to a board, and when the conversion is complete provides a suitable surface to be decorated over without requiring additional work.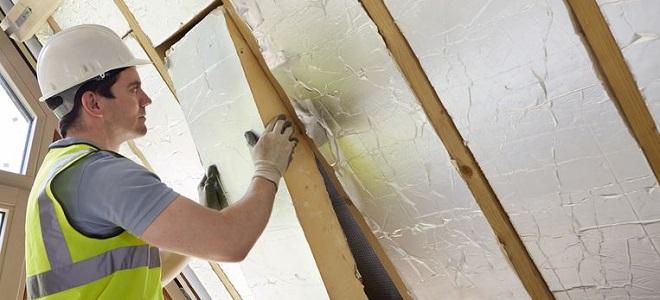 On average, sheet insulation costs £10 p/m2. Sheet insulation is also sometimes appropriate as a top layer on floors to create a steady surface suitable for storing lightweight items on top of.
Spray Foam Insulation
Spray foam insulation is the costliest of the insulation methods as it requires specialist equipment and generally isn't recommended for DIYers. Spray foam insulation is a quick application process, covering large areas in a fraction of the time compared to other insulation methods as there is no measuring or cutting required.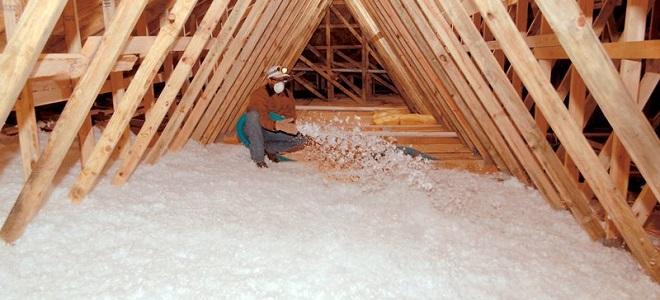 Spray foam is also probably the most efficient insulator for homes; whilst it costs more than other insulation types it has a longer duration period than traditional insulation materials and due to its structure traps heat inside the home more efficiently.
The average cost of professional spray foam insulation in the UK is around £55 p/m2, though the actual cost will vary depending on your location and which company you choose.
What Does Installing Loft Insulation Entail?
A cold loft requires insulation between the floor joists, creating a barrier between the loft space and the home underneath so that heat doesn't escape through your roof.
Preparation
Before laying new loft insulation the space will need to be cleared and consider whether any pre-existing insulation needs to be removed if it is likely to be substandard and inefficient. The loft will also need to be checked for adequate ventilation as otherwise you run the risk of condensation and damp developing in your home, which can be very costly to repair.
Installation Process – Blanket
If you choose to insulate with blanket materials it will likely be placed in two layers; blanket rolls come in various widths to accommodate for the most frequent spacing between joists, so this space will need to be measured to ensure the correct width is chosen prior to beginning.
The initial layer will need to be unrolled to the required length and then cut to size.
An additional layer is then placed on top of this, usually running at a 90⁰ angle to cover the joists, to make-up the additional required depth. If you are planning on using your loft for storage you may need to consider whether you wish to install backed-boards or raise the level of the floor.
It's important that the insulation is not squashed as it decreases efficiency and can cause condensation issues due to poor air circulation.
Installation Process – Loose Fill
Loose-fill or blown-in insulation can be done by hand or by specialist machinery; usually dependant on the size of the area being treated.
For large scale insulation projects you will most likely require a professional to install the materials as it will be much quicker than doing it yourself, however, for smaller areas or 'topping up' you may wish to save yourself some money and do this yourself by hand, particularly if you have pre-existing insulation but it is performing adequately.
Loose-fill installation is quick and simple; the materials are simply poured, or blown, into the desired spaces.
Be mindful that if you are not planning on placing boards down over the material that you will need to check on your loose-fill occasionally, particularly during winter, as wind inside the house can move the materials and cause some areas to become exposed.
Installation Process – Spray Foam
Spray foam insulation is a different process entirely to blanket and loose-fill and will require a specialist to complete the work.
Your professional will inspect your loft space for any condensation risk before the work is carried out and should calculate the appropriate amount of spray-foam needed to insulate your loft-space – which is usually less than 270mm as the efficiency of spray foam exceeds that of other insulation methods.
Before work begins, they should be able to give an estimate of time and material costings to you. Once the spray foam has been applied it will expand and set, and begin insulating your home.
Pipes should not be sprayed as you may require access to them in the future, but other insulating materials can use used to protect them from the cold, and likewise, cables should be left exposed as they need adequate ventilation to avoid overheating.
Benefits of Loft Insulations
Correctly installed loft insulation creates numerous benefits for both you and your home, making it a project worth investing in with immediate results often seen. You will likely see a reduction in your home heating costs as soon as the new insulation has been installed.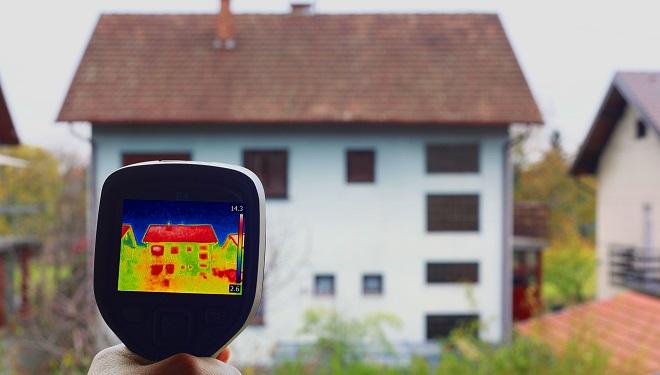 It's estimated that up to 25% of all heat is lost through the roof of a house (because heat rises) - the barrier created in the loft space helps to keep the heat within your living space; this means your home will be more energy-efficient, having a positive impact on your Energy Performance Certificate which could potentially increase your property value by around 16%, and will help to reduce your carbon footprint.
Annual Savings and Payback
According to the Energy Saving Trust good loft insulation could save you, on average around £150 a year, assuming you change from no insulation to the required 270mm, in your heating costs and increase the value of your home by up to 16% - so it's well worth investing in good loft insulation.
Whilst you may face an initial outlay cost you can expect to see the results quickly and the amount of money saved in your heating costs will quickly offset this.
Below is a table outlining the estimate payback time of insulation
| Insulation Type | Payback Time |
| --- | --- |
| Blanket | 1 – 2 years |
| Loose-fill/Blown-in (small area) | 3 – 4 years |
| Loose-fill/Blown-in (full loft) | 6 years |
| Spray Foam | 7 years |
Cost Affecting Factors
Before going ahead with your insulation project there are a number of potential cost-affecting factors to consider.
Type and Amount of Insulation
Prices vary greatly from as little as £2.50 p/m2 for a straight-forward 'top up' insulation layer to upwards of £50 p/m2 for a full, new insulation project and whilst in most cases the choice of material is yours, there are some circumstances such as accessibility of space that will dictate the appropriate materials for the job.
Old Insulation Removal
In some circumstances you'll be required to have your old insulation needs removing before the new materials can be placed, for example, if your existing insulation has been squashed and has become damp due to poor ventilation, you can expect this to cost in the region of £300.
However, the actual price will depend greatly on the size of your loft, the amount of insulation being removed and if there are any accessibility issues.
Space Accessibility
Another potential cost that may be overlooked is the content of the space itself; if your loft-space is full of items they will hinder work progress and potentially cost more time and therefore, money.
If you are unable to remove items from your loft space it may be worth asking the insulation company if they will be able to do this for you; but be aware that it will come with a cost at around £50, though this will be entirely dependent on the company you are using.
Additional Costs
As is common with most household projects, insulating a loft comes with a number of potential other jobs that may also need completing.
Pipe lagging - If you have any exposed pipework within your loft you will need to insulate it to avoid them freezing over; you can purchase basic insulating foam tubes yourself from most DIY stores for around £1.75 p/m, with an additional cost of cable ties to secure the fitting and insulate your pipes yourself.

Or, you could ask your insulation installer to complete the job for you whilst completing the rest of the insulation, though you can expect this to come with an additional charge of around £70.



Relocate electrical wires – In some cases it is necessary to do so so that they do not interfere with the insulation once installed; the average cost of a an electrician is around £150 in labour per day.

Many insist on working in pairs however, for safety reasons and to complete work quicker, so this price may rise to £250 per day in labour. This will be largely dependent on the amount of electrical work being carried out.

If you do need to hire an electrician it might also be worth considering installing a loft light, particularly if you feel once the insulation is complete you will use your loft-space more frequently.



Loft boarding - To ensure your insulation is working to its best you will probably require boarding to be laid on top to help diminish heat loss through into the open loft-space. This also ensures your loft surfaces are sufficient strength to store items without causing damage to the insulation. You can expect loft-boarding to cost in the region of £460 for parts and labour, though this price will vary depending on the size of your loft.


Loft access - you might want to invest some money into installing a new loft hatch and ladder if your current situation is not fit for purpose; many older properties have small hatches which make access difficult so by investing in a larger hatch and suitable access equipment you can utilise your loft-space appropriately relative ease.

Ladders can cost around £275, with an additional cost of about £200 if the hatch also needs widening or repositioning, plus labour.



Insulating your loft hatch – You'll want your loft hatch to be properly insulated otherwise warm air in your home will simply escape into the loft through the uninsulated area, making your other insulation largely ineffective.

Most homeowners choose to insulate their loft hatches with polystyrene which is a cheap and effective solution, costing around £15 for a board measuring 1200mm x 2400mm.
DIY Loft Insulation
By installing loft insulation yourself could save you up to £200 in labour costs, and in the majority of cases cold loft insulation can be completed as a DIY project with the right know-how, providing the space has no damp or condensation issues.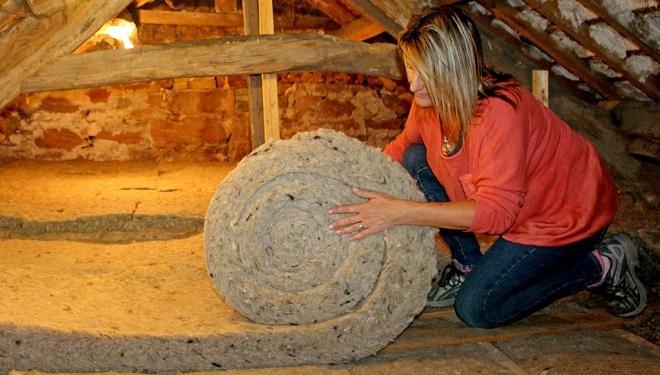 If you do find these issues present you will need to address these first as otherwise your insulation could become damaged and rendered ineffective, meaning it would essentially be wasted money.
If you plan on installing your loft insulation yourself there are a few things to be aware of:
The joists in your floor are not designed to take weight, so tread carefully whilst laying your insulation.
Blanket insulations like rock wool and fibreglass are irritants and consist of thousands of tiny fibres, so make sure you wear suitable gloves, long sleeves, a breathing mask and preferably protective eyewear to avoid irritation and inhalation.
You'll need to be somewhat physically fit in order to install the insulation yourself as it can require balance and some manoeuvrability.
You may benefit from enlisting the help of a friend to pass items up through the hatch to avoid multiple journeys and help speed up the process.
As with any DIY job it can be dangerous so please take safety precautions and if you do not think you are fit to complete the job, hire a professional who will be able to complete the work quickly and efficiently.
Spray-foam loft insulation and roof insulation are not recommended as DIY projects as they often require specialist knowledge and equipment – misuse of which could lead to accidents or damage that you will be responsible for rectifying if done yourself.
Will I Still Be Able to Use My Loft?
When installing loft insulation it's important to consider how you want to utilise the space afterwards; if you want to use it for storage you'll need to make sure you have adequate floor strength and install your insulation in such a way that its efficiency won't be hindered by compression.
Typically, there are two solutions if you wish to use the space in your loft to store items without compromising your insulation, though you may find that some height in the space is lost during the process.
Insulated Boards Across the Joists
Costing around £10 p/m2, positioned across the joists to raise insulation to the required thickness. Floorboards should then be placed on top to ensure the pressure is distributed evenly without causing compression to underlaying insulation or running the risk of breaking the sheets.
Loft Stilts
The other option is to consider raising the height of your joists using stilts so that all insulation remains between them before installing an MDF floor on top (ensuring a small gap between the material and the boards to allow for ventilation). Stilts for this can cost around £10 for 12, working out at 83p per stilt.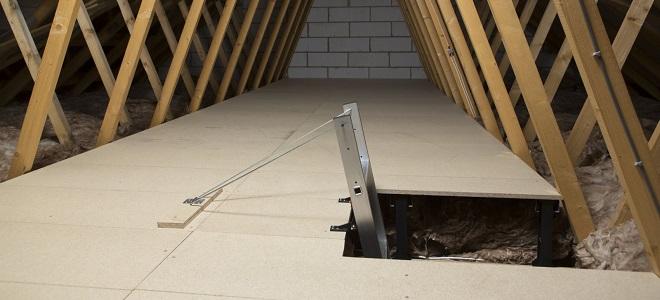 Reducing Insulation Costs
Whilst it's not necessarily cheaper to have your insulation installed during the summer, it could be a quicker service whilst demand is low, and has the added benefit that when the colder months arrive you'll already be prepared and will have already seen some savings.
If you are not eligible for help with insulation costs within your home you will undoubtedly find that installing insulation yourself is cheaper than hiring a professional, and providing you are physically well and have the know-how is a great cost-saving solution.
If you opt to install your insulation yourself, you may benefit from purchasing your insulation from wholesalers and specialist trade suppliers who may be able to offer a considerable discount on insulation products compared to traditional DIY or home improvement stores.
In many cases it is possible to receive discounts for insulation bought in-bulk, compared to buying little at a time; so consider the most cost-effective solution, perhaps it's worth buying in bulk and splitting with a friend who also needs to insulate their home, saving you both on the cost of materials.
Funding for Loft Insulation
In most cases laying loft insulation is an easy job to do DIY, but it is still better to use reputable loft installation companies as you can often benefit from energy grants that will reduce, or even eliminate the cost.
The Energy Company Obligation (ECO) is a UK government-run scheme in which large energy suppliers are required to provide assistance to their vulnerable customers, though what help is available varies between energy suppliers, so it's best to contact them yourself and discuss any help you may be eligible for.
If you are eligible for incentives, experienced loft insulation installers will have experience and know-how to help you connect with the various agencies to recoup the cost of the loft insulation.
As a general rule, you must be in receipt of one or more government benefit to qualify for free insulation, ranging from tax credits to carer's allowance, though if your home has a low energy performance certificate your local authority should be able to refer you to energy suppliers under the ECO scheme to help reduce insulation costs.
The UK government also hosts the Green Deal, in which homeowners can have their insulation needs met with a repayment scheme.
You should also check with local loft insulation companies in your area for information on available grants which are in place for homeowners to improve the energy efficiency in their homes.
Roof Insulation
A warm loft, in comparison to a cold loft, involves insulating the roof instead of the floor, usually either with spray foam or insulating sheets, to create extra heated space within your home.
Creating a warm loft space is great if you're planning on storing delicate items in your loft that may become damaged due to excessive cold in the winter or heat during the summer, but it is not the same as a loft conversion which would add actual 'living space' to your home.
Keep in mind that if you choose to insulate your roof that your heating costs will reflect the extra space being heated and that if you have pre-existing floor insulation in your loft it will need to be removed, otherwise you'll find the loft-space does not heat appropriately due to the insulating barrier between floors.
Warm lofts require more specialist knowledge, more expensive materials, and is generally a more time-consuming job than a standard cold loft insulation project.
There is some debate regarding whether roof insulation is suitable for DIY installation; placing blanket insulation between roof rafters is a seemingly straight-forward job and you may possess adequate know-how to do this.
But as a general rule, roof insulation is not recommended for DIYers because if it is installed incorrectly, regardless of the insulation materials chosen, it can cause structural damage to your home and could cost thousands to rectify.
You can expect roof insulation to take up to a day for a professional to install, which will include a survey to ensure there is no existing damage to your roof.
There will also be checks for adequate loft ventilation to avoid condensation issues arising and will advise if any additional work is required to maximise your insulation effectiveness.
Examples of this include replacing missing or broken roof tiles which would create draught and allow excess moisture into your loft space.
You can expect roof insulation by a professional to cost around £150 in labour, plus the cost of your chosen insulation material.
Alternative Insulation
Home insulation is not restricted to your loft space; there are many other options available that can help maximise your homes energy efficiency and therefore help to reduce your heating bills.
Cavity wall insulation costs around £550 for a semi-detached home and is a great example of how you can prepare other surfaces in your home to help reduce the amount of heat that escapes, with an estimated 35% of all heat loss occurring through walls in the average UK home.

It should be noted that not all homes are suited to this type of insulation, so it's best to ask a professional to view your home and advise if this is the right sort of insulation for you.


Windows if you've noticed that your double glazing is clouded or seems to have water between the glass sheets it's likely that your window has blown, meaning the seal between your panes is no longer effective and you're likely losing more heat through your windows than if they were properly sealed.

Similarly, if you've noticed your external doors are no longer in peak condition it may be worth rectifying these to see improvements in your overall insulation.


Doors with large gaps between the frames can generally be fixed by a good joiner, but if the door itself is warped you will more than likely need to replace the door – by doing so, you'll create a good seal within your property to help maintain heat within. Of course, if the gaps between your doors are minimal you could simply opt to invest in draught excluders; fitted excluders can cost as little as £5-£15.

Alternatively, you may wish to buy standalone excluders which have the benefit of being mobile, meaning you can reposition them to best suit your needs – these types of excluders can also range from £5 or more depending on the style or design, or you may even wish to make your own using old fabrics and stuffing.
Removing Loft Insulation
There are some circumstances in which it is necessary to remove your loft insulation, either because your existing insulation has become squashed and damaged, has developed condensation or mould issues, or because you are converting your loft space into living space – which requires walls and ceilings to be insulated, but not floors.
If you decide to tackle insulation removal yourself you will more than likely need to hire a skip for the waste materials, or alternatively on average a professional will charge in the region of £300 to remove and safely dispose of unwanted loft insulation, though the actual price will depend greatly on the size of your loft, the amount of insulation being removed and if there are any accessibility issues that may hinder work-time.
Generally speaking, the removal process of different materials is about as complex as the installation process for them.
For batting or blanket insulation, the materials are rolled up and condensed before being placed in rubbish bags – moving the materials without the bag would risk fibres and accumulated dust travelling inside the rest of your home during the removal process.
Loose-fill or blown-in insulation is generally removed either by hand for small areas or using specialist equipment that functions as a vacuum to collect the materials.
Spray-foam insulation is the most labour-intensive removal process, and also the messiest; the foam is cut as deep as possible without causing damage to surrounding materials and removed, with the excess being scraped off by hand.
FAQs
Sources
https://www.energysavingtrust.org.uk/home-insulation
https://www.energy.gov/energysaver/weatherize/insulation
https://www.simpleenergyadvice.org.uk/
https://www.gov.uk/green-deal-energy-saving-measures
https://www.ofgem.gov.uk/environmental-programmes/eco/support-improving-your-home