How Much Does a Loft Hatch Installation Cost?
The average cost to install a new loft hatch and fit a loft ladder will vary depending on the hatch and ladder material as well as the size.
On average, dropdown installations tend to range from £160 to £955, while an aluminium hatch and ladder fitting can cost around £160 to £925.
What can affect the cost?
The overall price will also depend on the level of access to the loft, as some tradesman may charge extra for a more difficult job.
The location of your property will also be a contributing factor, as tradesman rates in London are a lot higher than the surrounding areas.
Loft Hatch Prices
Here are a few average costs for hiring a tradesman to install a loft ladder and hatch:
| LOFT HATCH SIZE | DROP-DOWN HATCH | PUSH-UP HATCH |
| --- | --- | --- |
| Small | £160 to £770 | £160 to £770 |
| Medium | £220 to £845 | £215 to £825 |
| Large | £310 to £955 | £310 to £925 |
Supply Costs
If you are planning to install a loft hatch and ladder as a DIY project, then you can save around £100 to £200 on labour costs.
You will also have to consider the following supply costs:
| LOFT HATCH SIZE | DROP-DOWN HATCH | PUSH-UP HATCH |
| --- | --- | --- |
| Small | £20 to £30 | £20 to £30 |
| Medium | £30 to £55 | £25 to £35 |
| Large | £70 to £115 | £70 to £85 |
The below table sets out the prices for different types of loft ladders:
| LADDER SIZE | WOOD | ALUMINIUM |
| --- | --- | --- |
| 2-section ladder | £320 to £370 | £40 to £190 |
| 3-section ladder | £115 to £640 | £50 to £90 |
Additional Costs
There are several other costs to consider when installing a loft hatch, including:
Loft Ladder
When installing a loft hatch, you will also need to consider the price of fitting a loft ladder to enable access to the attic.
The average labour cost for loft ladder installation normally ranges from £75 to £150 for an aluminium ladder to £150 to £250 for a wooden ladder.
Supply costs will also vary with two-section timber ladders costing around £320 to £370 and £40 to £190 for aluminium.
Three-section ladders range from £50 to £90 for aluminium and £115 to £640 for timber.
Loft Insulation
Another important expense you need to consider is the cost of installing loft insulation which will vary depending on the size and the materials used.
For instance, blanket insulation is a low budget option which costs £2 to £3 per square metre, while loose-fill insulation is typically priced at £7 to £8 per square metre.
If you would prefer more durable insulation, you may want to opt for spray foam insulation which ranges from £40 to £70 per square metre.
Loft Light
To improve visibility in your attic, you will need to look at the costs of installing loft lights.
Again the overall price of the light fitting will depend on the type of lights you choose along with the level of access.
On average, you should expect to pay around £80 to £150 to have a light installed on your attic ceiling along with a brand new light switch which is typically installed outside of your loft.
Cost Breakdown Calculator
Individual costs for hiring a tradesman to install a medium-sized dropdown loft hatch with an aluminium loft ladder - Total Cost: £450
Labour Costs and Time Frames
Most loft hatch specialists charge around £100 to £200 per day, but you shouldn't expect the work to take much longer than two to three hours if the tradesman is just installing a loft hatch and ladder.
More complicated jobs such as widening the loft hatch may take anywhere from four to eight hours to complete. A tradesman is likely going to charge more if this is the case and they may need a labourer.
The job may also take longer and cost more if your attic is harder to access, as tradesman tend to charge an hourly or daily rate.
Another cost affecting factor could be the carpenter's rates, as London prices are typically around £200 to £250.
What is a Loft Hatch?
A proper loft hatch, as opposed to a simple board, is essentially a ceiling door which offers much greater convenience and easier access, especially when fitted in conjunction with a two-section or three-section loft ladder.
Loft hatches can provide access to converted living space, although are most often used as an entryway to a property's attic storage space. Improving the level of access to these areas is not only really useful, but it can even add value to your home if there is a professional loft hatch and ladder fitted for easy and safe access.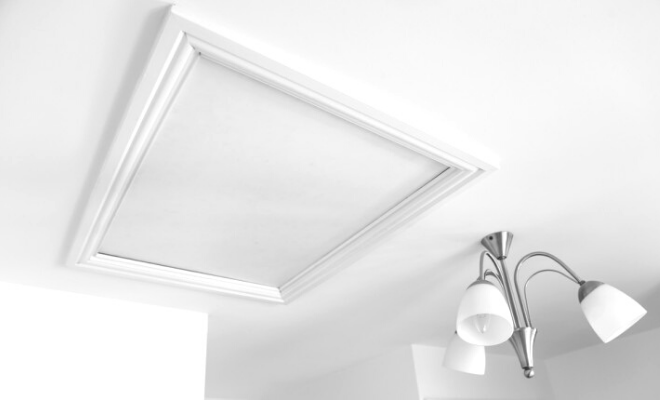 Loft hatches in older properties - if fitted at all - are small, usually just the width between two roof rafters. In houses built pre-1900s, there was really no need for access to the loft space, so no provision for access at all was provided. Nowadays, access to the roof space is needed to allow the insulation to be fitted and access to water tanks, plus the loft space offers useful additional storage (but only for lightweight items).
Even if you don't need a loft ladder for regular use, having a decent sized loft hatch makes access much easier and will allow you to store items in the loft space easily. Typical loft hatches are made up of aluminium and plastic which are easy to install and are both extremely durable, and also feature insulation to improve energy efficiency and prevent damp in your attic and the surrounding property.
Cost Affecting Factors of Installing a Loft Hatch
The cost to replace a loft hatch is dependent on several factors, the first being the type of loft hatch you choose, with push up hatches ranging from £20 to £30 for a small size, £25 to £35 for a medium loft hatch and £70 to £85 for a large loft door.
Another popular option is a dropdown loft hatch which starts from £20 to £30 for a small hatch, £30 to £55 for average-sized loft hatches and £70 to £115 for a large model.
If you are getting a loft hatch fitted, then you should also consider the cost of different loft ladders which make things easier and safer to access the loft.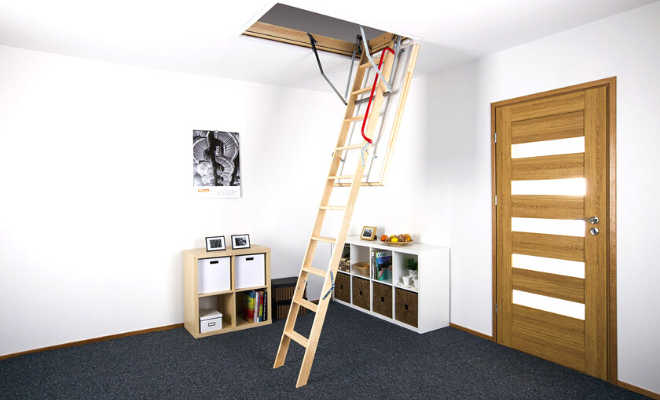 For a two-section aluminium loft ladder, you should expect to pay around £40 to £190, while a three-section model normally costs around £50 to £90.
Other choices include wood loft ladders which range from £320 to £370 for a two-section ladder and £115 to £640 for a three-section model.
The overall cost of loft hatch installation will also depend on the location, as discussed previously, tradesmen in London tend to charge as much as £250 while surrounding areas cost around £160 or even as little as £100.
Labour costs may also increase depending on the access to the loft, as you may be charged extra if you have high ceilings or the area where the loft hatch will be installed is hard to reach.
What Does Installing a Loft Hatch Entail?
To help you understand the process of hiring a professional to install a new loft hatch, take a look at this informative step by step guide:
The first step involves measuring the existing opening by marking off the dimensions for the new loft hatch
Once the dimensions are determined, the tradesman will then create the new opening by placing plastic or aluminium onto the edges of the new opening and screw them firmly into place.
After the foundation materials are in place, they will then carefully saw your new loft opening and fit two more pieces of aluminium or plastic to fit into each end of the enlarged opening by screwing to all three beams to create your new loft opening.
They will then create a box shape slightly smaller than the opening using plastic or aluminium framing followed by attaching hinges to the edges of the hatch cover and the connect the hinges to the inside of the opening.
The final stage will involve installing support battens to hook up the ladder to the loft door.
Along with an assistant, the tradesman will then fit the ladder into the opening followed by installing the box frame which will be drilled perfectly to accommodate the new installation
DIY Loft Hatch Installation
Installing a loft hatch is a straightforward project for the DIY enthusiast as long as they have decent carpentry skills.
This job does not require any complicated or expensive tools, but there are some safety measures to bear in mind to ensure you are secure when performing the job, while also making sure that the installation is completed properly in a safe and secure manner.
When installing a loft hatch yourself, it is important to remember that the rafters in the roof, whether traditionally hand-cut or pre-made as a unit, are specifically designed to support the weight of the roof, not the weight of a person.
You should also avoid cutting the rafters, as this could result in the weakening of the roof, which will be expensive to fix.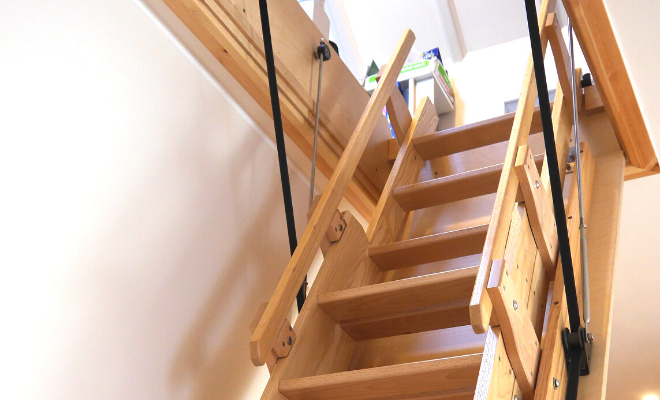 Many companies supply loft hatches and ladders where the installation can be completed without having in-depth carpentry or building knowledge.
These products come with all the necessary mounting material and full instructions, ensuring a simple, low-cost installation for DIY enthusiasts.
The cost of DIY kits usually ranges from £100 to £120 per kit and typically includes a ladder, a trapdoor, a loft surround and additional fittings. You will also need the following equipment:
Tape measure (£3 to £50)
Hammer (£3 to £130)
Screwdriver (£1 to £40)
Panel saw (£4 to £20)
Cordless drill (£30 to £900)
Craft knife (£2 to £6 per set)
Choosing a Loft Hatch
There are two main types of loft hatch – dropdown and push-up - which are typically available in wood and aluminium.
To help you decide on the type of loft hatch you want, here is a breakdown of the costs, along with the pros and cons of each.
Dropdown Loft Hatch Cost
A dropdown or hinged loft hatch is a type of attic door which is fixed to the frame and opens outwards with the use of a pole which hooks onto the door to provide access.
The average loft hatch installation cost for a dropdown fitting is around £20 to £115.
The main advantage of a dropdown loft hatch is that they are extremely easy to operate, especially more modern models which feature spring-loaded catches.
The benefit of this feature is that it includes a three-point closing mechanism which enables easy access and can also be removed quickly.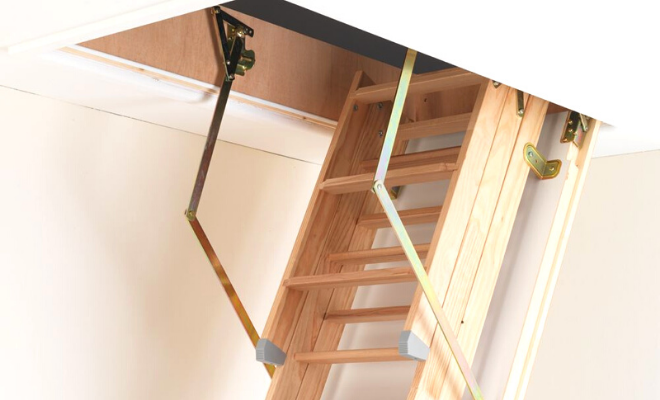 Dropdown loft hatches also have high-quality insulation which prevents heat from escaping and reduces the risk of damp in your loft and home.
The downside of dropdown models is that they do not provide as much space as push-up loft hatches, so you will have to lift the ladder up before storing any larger items in your attic.
You will also need to use a metal pole to unhook the loft door, so it is important that you do not misplace; otherwise, you will have a difficult job gaining access.
Push Up Loft Hatch Cost
A push-up or hinge down loft hatch are made up of a separate door and frame which are designed to open upwards towards the loft.
You should expect to pay around £20 to £85 for this type of hatch.
The main advantage of push-up models is that are they are more affordable than dropdown loft hatches.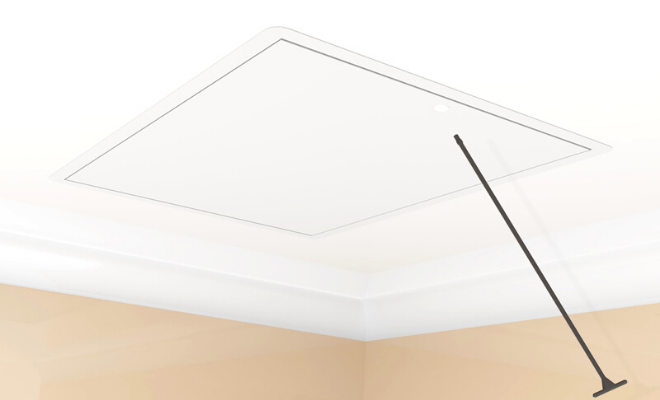 They also provide a wider opening for loft ladders to be installed, while also providing more space when storing possessions.
The main disadvantage of this type of loft hatch is that they do not tend to have effective draught seals, which can cause your property to feel cold.
This could also lead to damp which can start in your attic and enter the rest of your home, which can be costly and detrimental, especially in colder months.
Building Regulations for Loft Hatch
Typically, there are no building regulations or approvals regarding size required for a loft hatch installation, unless you are converting the loft into a living space, in which case planning permission and approval will need to be sought.
If applying this should cost around £200, although the price will depend on the extent of the job as well your local council's fees.
Despite the lack of size regulations for loft hatches, it is advised that your loft hatch should be at least 530mm on each side to ensure easy access the homeowner and any tradesman that need to access the loft for boiler maintenance or damp inspections.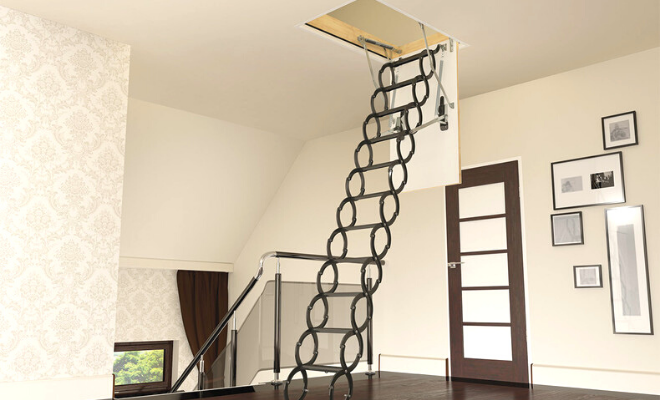 The tradesman performing the installation should ensure that the fire rating is maintained to prevent any risk during a fire-related incident.
Under Part E regulations, it does state that loft hatches should have an acoustic level equal to the ceiling or wall where they are installed to block out any significant noise pollution.
Cost of Removing a Loft Hatch
If you wish to widen your loft hatch and install a new one, then you will first need to calculate the cost of removing the existing loft hatch and ladder.
The average price of removal will depend on the carpenter's hourly rate which typically ranges from £20 to £40 an hour, so overall; you should expect to pay around £20 to £80 for removal.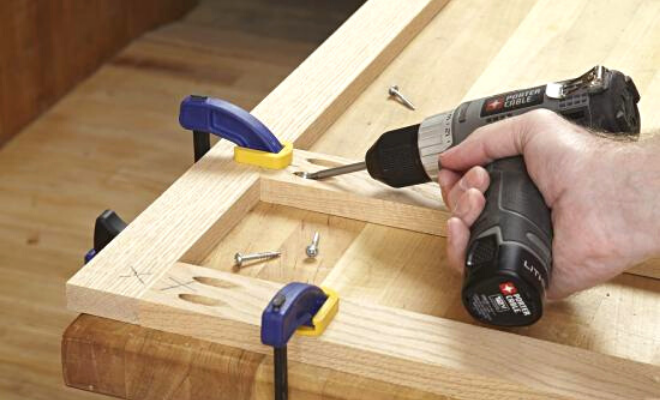 You may also need to consider the price of waste disposal which is normally around £40 to £50 to dispose of an old loft hatch.
FAQs
How to Find & Hire a Loft Hatch Installer
To ensure your loft hatch is installed correctly and safety, you should definitely consider hiring an experienced loft hatch installer.
The average cost of hiring a professional such as a carpenter or joiner to fit your loft hatch is around £100 to £200.
Before hiring a professional, you should first assess their credentials which should include a Level 3 Diploma in either site carpentry or bench joinery.
You should also enquire about their experience with loft hatch installation, and if possible, ask for evidence in the form of pictures or reviews.
Another important point on your checklist should be to ask about their insurance, as the person you hire should have public liability insurance in order to protect them and you as the homeowner should any incidents occur whilst working.
This will cover any damage, and legal fees should anything go wrong.
Sources
https://www.cityandguilds.com/qualifications-and-apprenticeships/construction/construction/6706-carpentry-and-joinery#
https://www.loftcentre.co.uk/blog/choose-best-loft-hatch
https://www.loftshop.co.uk/about/Lofty-Ideas/How-to-install-a-loft-ladder
https://www.soundproofingstore.co.uk/how-to-soundproof-a-loft