How Much Does Installing a Fitted Wardrobe Cost?
On average, to have a bespoke fitted wardrobe with sliding doors installed will cost you between £2200 and £3000.
To have a fitted wardrobe with sliding mirror doors installed, expect to pay around £2000 to £2800.
In the case of a bespoke fitted wardrobe with 3 doors, the installation fee will likely land between £2000 and £2500.
A standard 4 door fitted wardrobe will probably set you back £2400 to £3100 in the total cost while a 6 door bespoke custom wardrobe will come with an installation fee of around £3300 to £4100.
Most corner fitted wardrobes on the market can be installed for approximately £600 to £980 while on average, a gloss fitted wardrobe installation can cost anywhere from £740 to £3060.
Large corner fitted wardrobes can cost several thousand pounds to have installed.
The total cost will vary not only based on the material used but also in regard to the size of the fitted wardrobe, the type being installed and the nature of the installation area.
With an irregularly shaped bedroom, for example, an installation can prove more challenging and thus the time needed to fix the wardrobe in place will take longer, meaning that the labour cost will be higher.
| JOB DESCRIPTION | AVG. COST | DURATION |
| --- | --- | --- |
| Bespoke Fitted Wardrobe with Sliding Doors | £2200 to £3000 | 3-5 days |
| Fitted Wardrobe with Sliding Mirror Doors | £2000 to £2800 | 3-4 days |
| Bespoke Fitted Wardrobe with 3 Doors | £2000 to £2500 | 3-5 days |
| Standard 4 Door Fitted Wardrobe | £2400 to £3100 | 6-8 days |
| 5 Door Fitted Wardrobe | £3100 to £3900 | 7-14 days |
| 6 Door Bespoke Custom Wardrobe | £3300 to £4100 | 7-14 days |
| Corner Fitted Wardrobe | £600 to £980 | 1-3 days |
| Gloss Fitted Wardrobe | £740 to £3060 | 1-8 days |
Supply Costs
We will now look at the material costs for having a new fitted wardrobe installed as if you were to purchase directly from a retailer.
These fitted wardrobe prices are market averages.
The supply costs of a bespoke fitted wardrobe with sliding doors will land around £1540 to £2100 while the 3 doors edition costs about £1400 to £1750.
A fitted wardrobe with sliding mirror doors will have a supply cost of approximately £1400 to £1960 while a standard 4 door fitted wardrobe will likely cost £1680 to £2170.
You can expect to pay about £2170 to £2730 for a 5 door fitted wardrobe or £2200 to £2800 for a 6 door bespoke custom wardrobe.
Corner fitted wardrobes can cost anywhere from £400 to £700 while the average cost of gloss fitted wardrobes may land anywhere in the range of £500 to £2000.
| JOB DESCRIPTION | AVG. COST |
| --- | --- |
| Bespoke Fitted Wardrobe with Sliding Doors | £1540 to £2100 |
| Fitted Wardrobe with Sliding Mirror Doors | £1400 to £1960 |
| Bespoke Fitted Wardrobe with 3 Doors | £1400 to £1750 |
| Standard 4 Door Fitted Wardrobe | £1680 to £2170 |
| 5 Door Fitted Wardrobe | £2170 to £2730 |
| 6 Door Bespoke Custom Wardrobe | £2310 to £2870 |
| Corner Fitted Wardrobe | £400 to £700 |
| Gloss Fitted Wardrobe | £500 to £2000 |
Additional Costs
Let's now look at any additional costs you may choose to incur when having a new fitted wardrobe installed. Such jobs may include new flooring, plastering work and painting & decorating.
With any of the following jobs, total installation costs can vary greatly depending on where in the country you live with cities like London, for example, charging higher rates than the UK average.
New Flooring
There are several popular types of floorboards to choose from.
Among the most popular are laminate and wood floors, each of which have subcategories for specific materials.
To have new laminate flooring installed, the total cost will end up around £17 to £19 per m² for walnut laminate, £20 to £22 per m² for oak laminate, £21 to £23 per m² for maple laminate, £26 to £28 per m² in the case of hickory laminate or a bit higher, at about £30 to £32 per m² for elm laminate.
There are several key steps involved in the installation of laminate flooring. If you hire a professional, they will first measure the room.
This will be quite an easy job if the room is rectangular or square, although, in rooms with features like alcoves or chimney breasts, it may prove more time-consuming.
Next, they will check to ensure that the subfloor is entirely smooth.
If not, they may need to concrete, dry and smoothen out the floor.
A water-resistant membrane instalment may also prove necessary before new laminate flooring can be fitted.
It's also possible that a hired contractor will need to remove skirting boards to make certain that the floor is laid down correctly.
It's also vital that any screws or nails are in the correct spots and that there is no debris or dust covering the floor area.
For the third stage of the job, a professional will fit the underlay.
The contractor will help you find the right underlay for the job as you may need one with specific qualities (e.g., waterproof if in a bathroom).
The underlay will be fitted in such a way as to cover the whole floor before being cut to size such that there is a 16mm gap between each pipe.
The underlay will be laid down parallel then combined with the use of masking tape.
After the underlay has been fitted, the contractor will request the direction you wish to have your floor pointing before beginning the installation from the corner, laying down the initial line of laminate boards.
They will do this with the tongue-side facing the closest wall. The boards will be then clicked in with the clicking system.
Next, spacers will be added between each board and the walls since laminate flooring is a floating floor, meaning that it cannot touch doors or walls.
This is in order to prevent damage.
The laminate flooring fitter will make sure that every board is evenly spaced out with a gap of at least 100mm between the final rows of the flooring boards.
Alternatively, you may wish to pay to have oak solid wood flooring fitted.
This will cost £70 per m² for both supply and installation costs.
Solid wood flooring, in general, can cost anywhere from £20 to £100 per m² as is the case with engineered wood flooring.
Parquet flooring may come with a total price-tag for installation of anywhere from £25 to £200 per m² while a wood-effect tiles instalment can cost between £10 and £100 per m².
To have non-laminate flooring installed involves a relatively similar approach to the steps mentioned for having laminate floorboards fitted although each type of flooring will need an installation process that deviates to some degree or another.
Plastering Work
On average, the cost of having an entire room plastered will end up around £300 to £400 in total.
To have just one wall plastered will likely cost between £100 and £200 while if you wish to have two rooms plastered, expect to pay about £400 to £600.
Small patch repair work tends to cost £75 to £125.
The purpose of plastering is to provide internal walls and ceilings with a smooth, flat surface.
This can prepare such surfaces for painting and wallpapering.
Further, plastering can improve the sound and heat insulation capacity of a room and give your walls and ceilings greater fire-resistant qualities.
You may choose to either have a dry lining with plasterboard fitted or wet plastering.
Wet plastering is a more conventional approach.
While a hired plasterer can be expensive, if done correctly, they will provide you with exceptionally smooth and flat walls or/and ceilings.
Undertaking this task by yourself can be especially difficult.
Each surface needs to be dealt with at a time when it comes to plastering work. A professional will clean and likely prime each surface involved in the job with a bonding agent, if deemed necessary. Wooden batten screeds will be used to make sure that the plaster stays firm.
Screeds are nailed to the wall and removed once plastering is complete.
On the other hand, dry-lining is a simpler job which sees large flat plasterboards being fixed to a surface.
In either case, dry lining and wet plastering jobs should both be finished with a plaster skim offering a smooth and resilient finish with a thickness of around 2-3mm.
The level of complexity involved in plastering jobs can vary significantly.
An electrician may also be needed for this type of work if plug sockets need to be moved as part of the job, for example.
Painting and Decorating
Expect to pay somewhere between £200 and £300 if you need to have a single room painted by a professional.
The cost of having a hired painter work on two rooms will likely end up between £300 and £400.
If you need to have a room stripped, prepped and painted, expect to be charged around £300 to £400 and to have this same work performed on two rooms, you'll likely need to pay between £400 and £600.
This latter cost is also the fee you can expect to pay if one room needs to be painted along with its woodwork.
While it is commonplace for people to paint and decorate the interior of their homes, you may choose to have a professional perform this job to save time or/and get optimal results.
Before a painter arrives, you should move any furniture and room contents out of the way ahead of the paint job.
Any remaining items can be moved to the central area of the room so that they don't collect paint.
Generally, carpets will be kept in place, but protective coverings may be used to prevent paint spilling onto them.
A painter may discover that minor repairs are needed on the wall before painting can begin.
Generally, having skirting boards, doors, and windowsills painted are not usually included in any quotes for painting work unless specifically asked for.
It will probably be worth your time and money having any timber painted as part of the job to improve the aesthetic of the room further.
After all, you don't want to have freshly painted walls and ceilings while other room elements like door frames lack a high-quality appearance.
Cost Breakdown Calculator
Individuals costs to have a large bespoke fitted wardrobe with sliding doors installed - Total Cost: £2200
Labour Costs and Time Frames
For this job, a tradesperson will charge for the supply costs of a fitted wardrobe alongside an installation fee (i.e. the labour cost).
You can expect to pay between £660 and £900 in labour costs for a bespoke fitted wardrobe with sliding doors.
For a fitted wardrobe with sliding mirror doors, the labour cost will probably land around £500 to £700 while a bespoke fitted wardrobe with 3 doors will probably have an installation cost of around £600 to £750.
For a standard 4 door fitted wardrobe, a contractor will probably charge between £800 and £1100 on average while for a 5 door installation it will probably cost around £800 to £1200.
The installation fee associated with a 6 door bespoke custom wardrobe will probably land between £1000 and £1400.
The labour costs of fitted wardrobes that are corner-based will be about £200 to £280 or anywhere from £240 to £1060 if it is a gloss fitted wardrobe being installed.
The fitted wardrobe carpenter cost is tied to the time frame of the job. Many contractors will charge you with an hourly or daily rate.
First, a professional will spend perhaps 20 to 30 minutes measuring the room.
The bulk of time, that being up to as much as a fortnight, will involve having the wardrobe put together and fitted into place.
How many days this will take will depend on the size and type of the wardrobe in question. It may range from 1 to 14 days.
It will likely take an hour or less to clean the room and finish the job.
Both the labour cost and duration of the job will be influenced by the fitted wardrobe product being installed and how accessible the room is and the way in which it is designed. The labour cost will also be determined by where in the UK you live.
What is a Fitted Wardrobe?
A fitted wardrobe is a wardrobe type that is built into a wall or multiple walls. As a result, once fixed in place, it cannot be moved around.
This contrasts a free-standing wardrobe which may be moved from room to room or taken with you if you decide to move to a new house.
A fitted wardrobe is made through an assembly process which involves following the product's instructions step by step.
With many fitted wardrobe products on the market of different types, the exact process will vary from wardrobe to wardrobe.
The purpose of a fitted wardrobe is primarily to utilise space while also acting largely as a clothes and item storage unit as all wardrobes do.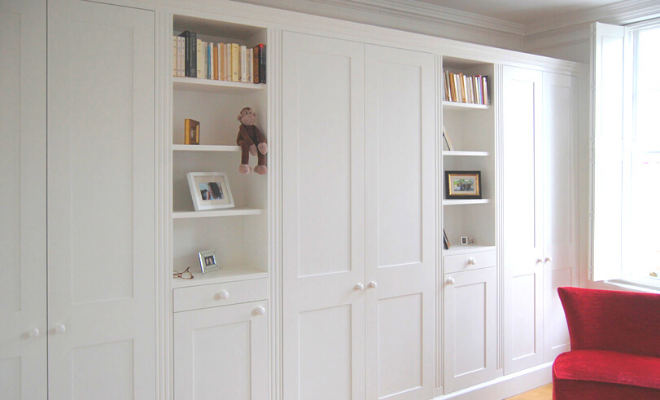 Since they are built into the walls, you will have more space to work with since they will not protrude outwards as greatly as free-standing wardrobes do.
Other benefits to fitted wardrobes include that they are customisable, can be cleaned with ease and can also minimise clutter.
Among other reasons, fitted wardrobes may be used to free up space in a bedroom or to provide a more tailored look that fits the personality and aesthetic of the room.
Cost Affecting Factors of Installing a Fitted Wardrobe
The average price of fitted wardrobes and their total installation can be influenced by a range of different factors.
The labour costs can also vary depending on different factors.
Type of Material
Just as the type and size of the wardrobe will shape the total installation cost, the actual material used in the wardrobe will also influence the cost.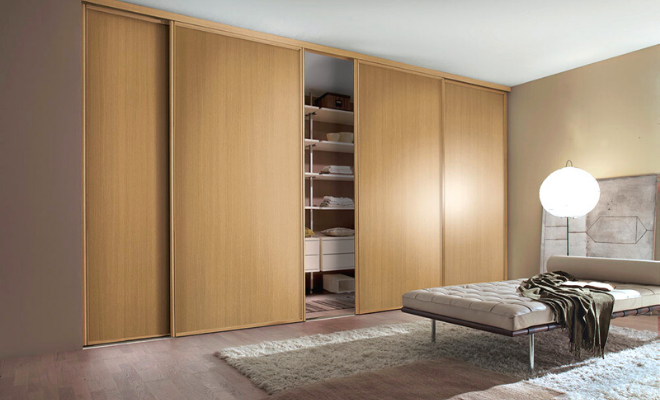 For example, a solid oak wardrobe may cost between £600 and £800 in supply costs, while a walnut wardrobe will likely cost around £200 to £400.
Type of Wardrobe
As shown in the supply costs section, these costs can vary depending on the type of wardrobe.
Types of fitted wardrobes include sliding fitted door wardrobes, sliding mirror door wardrobes and walk-in wardrobes.
Size of Wardrobe
Another factor which influences the cost of having a fitted wardrobe installed is its size with a six-door wardrobe being substantially more expensive than say a two-door fitted wardrobe.
Location of Property
The labour cost of this job will largely depend on where you live in the UK. Labourers charge varying rates in different parts of the country.
In cities like London and in the southeast of England, contractors tend to charge higher rates than the national average.
To find the cost of hiring a tradesperson in your area, you can Google the type of contractor you're looking for, followed by the town/city/locality you live in.
Ease of Access
How accessible the room is can also influence the labour cost. The easier it is for a labourer to carry materials and equipment to the room, the sooner the job can be complete and the cheaper the final labour cost will be.
Odd Shaped Area of Installation
Ideally, a fitted wardrobe should be installed in a rectangular or square room. However, some bedrooms may have an irregular shape to it.
In this case, fitting the wardrobe will prove more complicated and time-consuming. In turn, this can bring up the labour cost.
Extra Construction Work Needed
The total price of this job will also be higher if any additional construction work is necessary.
For example, you may choose to have plastering work or painting and decoration work undertaken.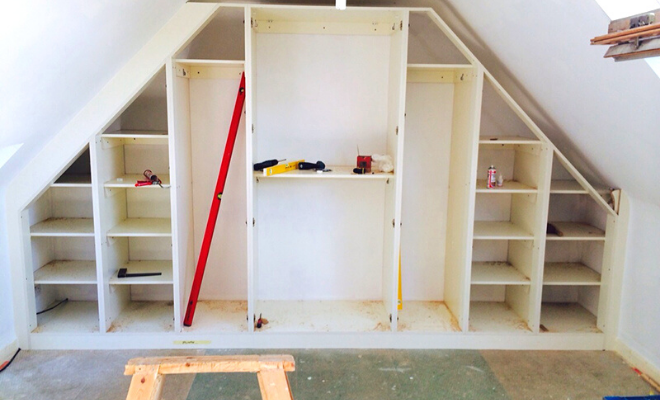 You may also decide to have new flooring installed or to have a wood treatment applied to the new fitted wardrobe if it's wood-based.
What Does Installing a Fitted Wardrobe Entail?
In this section, we will layout the steps involved in a fitted wardrobe installation.
Fitted wardrobes are a fantastic way to increase space in a bedroom. While you can move around free-standing wardrobes, they do take up quite a lot of space compared to fitted wardrobes.
As a result, plenty of people find it worth their while investing their time and money in a fitted wardrobe instalment.
With decent DIY capabilities and a certain level of patience, you may be able to pull off the installation by yourself.
With that being said, hiring a professional to perform the job will save you time and more than likely they'll be able to complete the job with greater accuracy.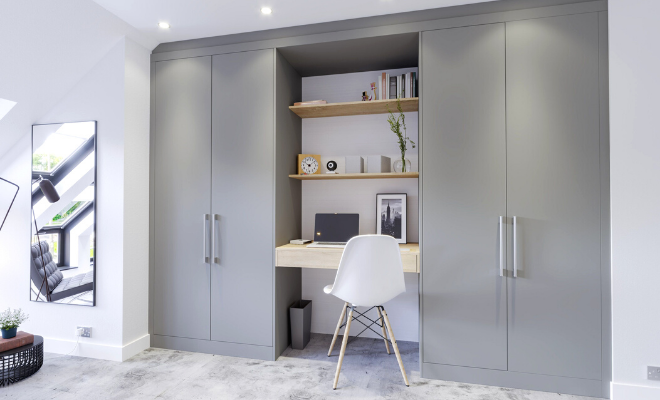 There are plenty of fitted wardrobe products to choose from, each with their own capacity and appearance.
If you do choose to have a contractor (i.e. a professional joiner) assemble your wardrobe, they can put it together in whichever style you'd like and tailor it to your preferences.
A bespoke fitted wardrobe, for example, will cost more than a mass-produced product but a bespoke wardrobe will make more of the room available.
Bespoke wardrobes are sold by Sharps, a leading UK provider of fitted wardrobes and fitted bedroom furniture.
There are plenty of wardrobe styles you could go with ranging from cheap MDF and melamine faced boards wardrobes to customisable real wood varnished wardrobes. Conventional wardrobes tend to be available with an in-built chest of drawers and long mirrors.
If you are looking for a more modern look, you might prefer a sliding door fitted wardrobe.
Choosing a Wardrobe
Before you can install a fitted wardrobe, you'll need to decide what item you want to go with.
You should spend a good bit of time considering what type, size and style of wardrobe you want.
You should also consider what material you would prefer.
A good way to make a start in finding the right wardrobe for you is to narrow down your options by setting a budget.
Of course, you may decide to request a tailor-made wardrobe from a contractor rather than making the purchase yourself but taking a look at the different wardrobe products on the market may at least give you inspiration as to what wardrobe appearance you'd like.
Additional steps you could take are looking at appearance, qualities and the price of different wardrobe types and sizes.
Room Measurement
The first step of the process to involve a professional joiner will see them fully measure the room.
This will allow them to figure out the dimensions and any other specifics of the fitted wardrobe that will be necessary for the assembly and installation phase.
As discussed in the previous section, the shape of the area is another important factor in the nature of the job.
A fitted wardrobe will need to be designed more uniquely if your room has an irregular shape to it.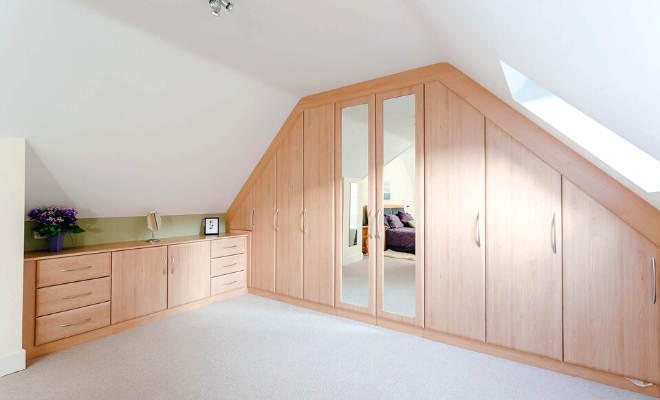 The joiner will also spend time discussing the style and appearance of the wardrobe with you before the materials are purchased.
It's important to spend time carefully considering how you will use the wardrobe and how you want it to look since once construction begins, you can't go back, certainly not without spending more money and using up more time!
While bespoke designs are more costly than most and will likely take more time to assemble, these wardrobes offer no style and space compromises, meaning a better-looking and more practical wardrobe.
Assemble & Install Wardrobe
Once the relevant supplies have been purchased, the first aspect of this step involves the joiner constructing the wardrobe frames.
These frames will need to be at least 10mm shorter than the ceiling.
Nails or screws will likely be employed to connect the frame to the ceiling joists and the walls.
Next, the frames will be fixed to the floor, once again with either nails or screws.
After this, any drywall and plaster that is needed will be added before the shelves can be fitted in place.
After this, painting, if required and the installation of the door(s) will take place.
This is a broad summary of what is involved in assembling and fitting this type of wardrobe.
The exact requirements will differ depending on factors such as the size, type and material of the item, any specific or additional requests you've made and the layout of the room.
Finalisation & Clean Up
The final phase of this job entails cleaning up the area.
Once the room is cleared of any dust and small bits of material, the joiner will then perform any additional work that has been requested which has yet to be performed such as applying a wood preserver.
DIY Fitted Wardrobe
While there are many advantages to hiring a professional joiner to install a fitted wardrobe, you may choose to perform the work yourself, which could save you hundreds of pounds at least.
As with many types of DIY jobs, nailing or screwing components into place comes with safety risks.
Other potential hazards come with lifting large assembly pieces and relating to any electrics present in the wall(s).
If you perform this work by yourself, it is best practice to turn off the main source of power before assembling the wardrobe.
Additional risks include the danger of botching the job in a variety of ways, taking incorrect measurements or installation errors.
Measuring the room, fixing the frames into place, and the clean-up will probably be the easiest parts of the job.
Plastering work, if applicable, will likely prove more challenging. A DIY installation could save you anywhere from £525 to £1400 and possibly more for an especially high-end fitted wardrobe.
While the exact tools needed will vary depending on how exactly you undertake the installation among other factors, broadly, here is the work equipment that you'll need;
Saw
Cordless drill
Tape measure
Hammer
Square
Trowel
Utility knife
Level
And if applicable;
In terms of safety equipment, you should purchase the following;
Protective gloves
Work boots
And if you are installing plasterboard or/and drywalls;
Unless you occupy a listed building, you will not need any sort of planning permission to install a fitted wardrobe.
Choosing a Fitted Wardrobe
Your options for fitted wardrobes are almost endless. Below we have broken some of your options down to help you make an informed decision.
Sliding Door Fitted Wardrobe Cost
This type of wardrobe features sliding doors that move along runners which are fixed to the bottom.
This contrasts most gloss, corner and mirrored wardrobes which have hinged doors that simply open up.
Sliding fitted wardrobes save further space, and this can also be beneficial for reasons of safety as there is no risk of a wardrobe door hitting anyone upon opening or for example, someone walking into it when open.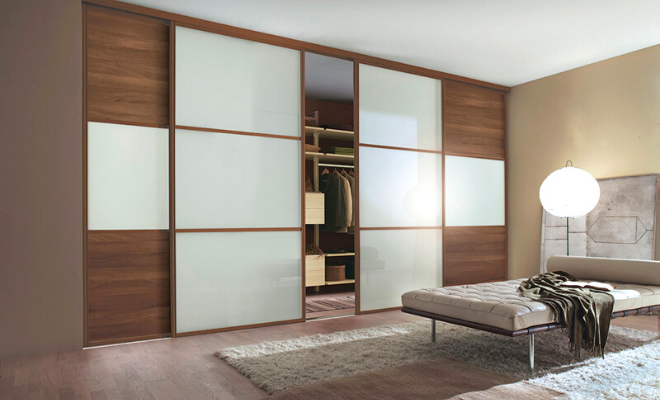 Sliding door wardrobes are available with wood, textured and glass finishes, to name a few.
How durable they are will vary depending on the material used.
They are trickier to install, giving that the runner mechanism needs to be fixed in place as part of the job although the result will be an easy to use sliding door wardrobe.
Pros:
✔ Doors use up less space in the room by sliding across.
✔ Easier to use.
✔ Better for safety.
Cons:
✖ More challenging to install.
Mirrored Door Fitted Wardrobe Cost
Mirrored fitted wardrobes are just that, wardrobes with long full-size mirrors along each door.
Such wardrobe doors can be hinged open doors or sliding doors. These wardrobes will add a unique style and aesthetic to your bedroom.
One obvious downside is that they are at risk of sudden damage due to the possibility of glass shattering.
Mirrored fitted wardrobes are available with finishes including glass, matt and gloss.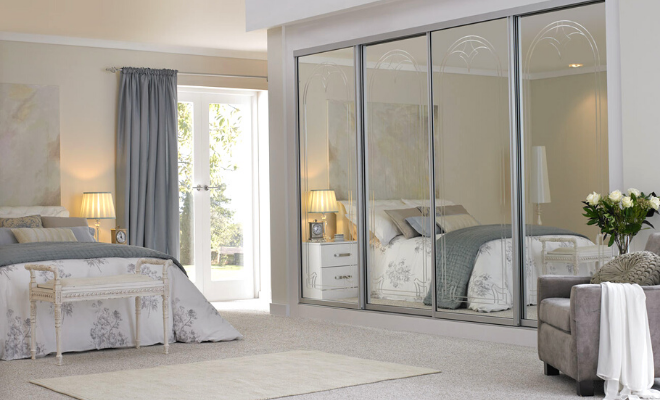 The glass itself is durable once it is well looked after and is not damaged through impact, for example.
Fitting mirrored wardrobe doors can be quite difficult to install, and even more care must be taken.
Once fitted, how easy they are to use will depend on whether the mirrored wardrobe is a hinged open door wardrobe or one with sliding doors.
Pros:
✔ Stylish and adds aesthetic value.
✔ Mirrors are available in various shapes and sizes.
Cons:
Gloss Sliding Door Fitted Wardrobe Cost
A gloss fitted wardrobe is that which has a specific finish designed to reflect light in a particular way due to the light paint or stain on its surface.
Gloss fitted wardrobes have soared in popularity over the past two decades and remain a common choice to the present day.
With a high gloss finish, in particular, the wardrobe can look much bolder and brighter to a regular finish or low-gloss finish wardrobe.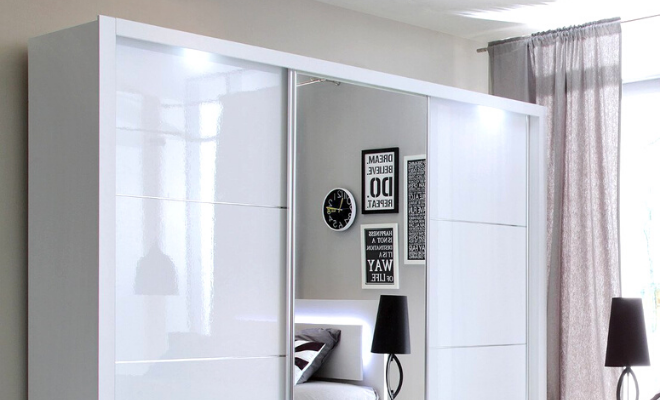 A high gloss wardrobe can create the appearance of an airy and large bedroom.
How hardy a gloss wardrobe will be will depend on the size, type and material of the wardrobe.
The difficulty level of installation and how easy it is to use a wardrobe with a gloss finish will also depend on additional qualities.
Pros:
✔ Can give a large and airy look to the room.
✔ Can reflect light in a particular way, giving it a unique aesthetic.
Cons:
✖ Not everyone's cup of tea.
Corner Door Fitted Wardrobe Cost
As you'd expect, a corner fitted wardrobe is just that, one which fits around a corner with one or more sections of the wardrobe fitted into one wall and additional section(s) installed inside a second wall with a bedroom corner between them.
It may also be a small wardrobe largely, if not entirely fit into the corner.
A corner fitted wardrobe can fit more seamlessly into a bedroom's aesthetic while maximising the space available to you in the room.
It can offer a more interesting look than a regular wardrobe which only covers one wall.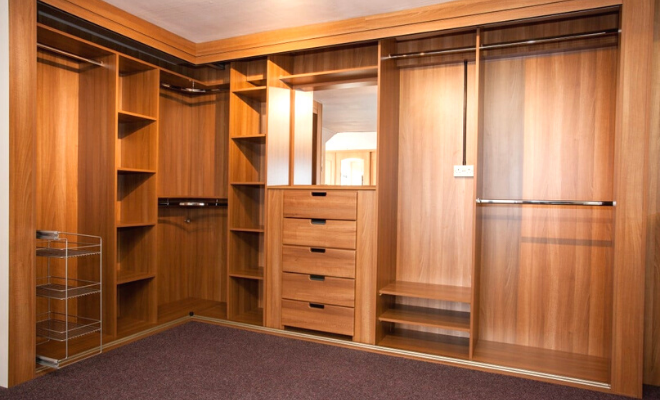 Corner fitted wardrobes can have a range of different finishes such as matt, gloss and glass.
How sturdy they are and how easy they are to use will depend on the size of the wardrobe, the type of material used and additional factors such as whether or not it has a sliding door.
As for the installation, it may take longer and prove more difficult since it could be an L or R-shaped wardrobe being fitted rather than one that is fitted into a single wall, covering a single direction.
If it is a small corner wardrobe, then it will not prove too difficult.
Pros:
✔ Maximises available space.
✔ Provides a unique and appealing look.
Cons:
✖ Installation process can be more challenging if it's a large corner wardrobe.
Benefits of Fitted Wardrobes
So, what exactly are the advantages of having a fitted wardrobe? Let's discuss.
Optimises Space
With fitted wardrobes being installed into a wall and considering that it can be tailored to fit perfectly, fitted wardrobes can utilise space, meaning extra storage room available to you.
If you have a sliding door wardrobe, you can optimise space even further by having a wardrobe with doors that will not take up room even if only temporarily when opened.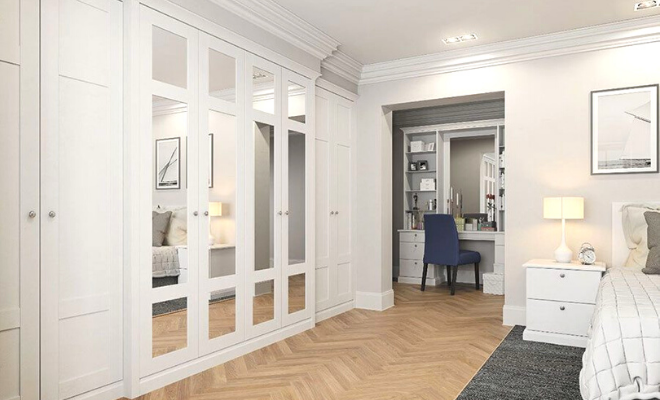 With a free-standing wardrobe, there's always a risk that it could be too big and overpowering or too small, but with a well-designed fitted wardrobe, you can avoid these problems entirely.
Customisable
Another significant advantage of fitted wardrobes is that they can be customised based on your preferences.
A labourer can create the style, design and dimensions that you'd like for a fitted wardrobe.
Finding the perfect free-standing wardrobe for your bedroom can be quite challenging especially if you have specific preferences when it comes to elements like the door designs, the layout of the shelves and the finish that the wardrobe comes with.
If you can't find the right free-standing wardrobe, then a fitted wardrobe is the ideal solution.
Cleaned Easily
Since fitted wardrobes are made to measure, there won't be any unnecessary gaps where dust can stealthily collect as you'd likely have with a free-standing wardrobe.
Further, since the top of a fitted wardrobe will probably fit into the ceiling, you won't need to worry about needing to dust off its top surfaces.
The same is true of the bottom of the wardrobe as it will probably be installed straight into the ground with no room beneath it that will require cleaning.
With fewer spaces for dust and dirt to gather, cleaning a fitted wardrobe is generally less hassle than it would be with a free-standing wardrobe.
Various Designs and Finishes
Fitted wardrobes are available in many different designs and with a variety of distinct finishes.
On the one hand, you may want a classic and basic white design, or instead, you might prefer a modern appearance with a high gloss finish.
With many materials and products to choose from as well as the possibility of having a tailor-made wardrobe, the options when it comes to fitted wardrobes are almost endless.
Brings Up the Value of Your Property
A fitted wardrobe can also bring up the value of your home. Since fitted wardrobes have many advantages over free-standing wardrobes and the supply and installation costs associated with them can be quite high, your home will be worth that bit more if you decide to sell it down the line.
Can I Have a Fitted Wardrobe?
Most bedrooms are suitable for fitted wardrobes, although the maximum size a fitted wardrobe may be in any given bedroom will depend on the size and layout of the room.
Aside from the room as a whole needing sufficient space for the fitted wardrobe, there must also be the right amount of room to walk between, say, the bed and the wardrobe when installed.
Most fitted wardrobes will have a floor area of several metres squared.
While fitted wardrobes can be tailored for odd-shaped spaces, they will be more difficult to install in such cases, and this will probably increase the installation cost.
Cost of Removing Fitted Wardrobes
You may wish to have a fitted wardrobe removed because you no longer need it and want to free up more space in your bedroom.
Alternatively, you may wish to have a free-standing wardrobe installed instead, or you might be moving to a new house and wish to take the materials with you to be reassembled at your new home.
A professional will likely charge between £15 and £25 per hour to remove a fitted wardrobe plus the waste removal cost. On the other hand, removing a fitted wardrobe can be done DIY if you wish.
You can dispose of the parts afterwards by hiring a skip for around £110 to £240, or you may decide to sell parts on sites like eBay or Gumtree.
FAQ's
How to Find & Hire a Fitted Wardrobe Installer
You may find it necessary to hire a wardrobe installer if you do not have the time, skills or knowledge to perform this task.
The total labour cost of hiring a wardrobe installer could end up anywhere from £500 to £1500.
Assuming the manufacturers of a wardrobe product do not provide you with an installation team, you can hire a professional joiner.
You'll want to find someone with experience.
Ideally, they should also have insurance and accreditation.
No formal qualifications are actually needed for someone to be a joiner, although many do have qualifications such as diplomas or apprenticeships.
They may also have training, especially if they are a part of an association.
If they are a part of a tradesperson's association, you may find more information about them by contacting their association.
Alternatively, if they have a web page or social media page(s), you can look for any credible reviews to see how past customers experienced working with the joiner in question.
Sources
https://www.forsythglazing.co.uk/blog/what-are-different-types-wardrobes/
https://www.instructables.com/id/Built-in-wardrobe/
https://www.popularmechanics.com/home/tools/how-to/g2319/safety-gear-every-diyer-should-own/
https://www.slidewardrobesdirect.co.uk/blog/sliding-wardrobe-doors-vs-hinged/