How Much is Wood Flooring?
How can this guide help?
This article is all about the cost of wooden flooring and the prices charged by flooring companies in the UK.
When gathering quotes from flooring specialists to investigate the average cost to lay wooden flooring in your home, we found that every quote was different, and some installers will add extra costs for certain features whereas others will include these in the quote.
Let's have a look at the average cost...
The average cost of fitting laminate flooring in a medium-sized room (20 sq. m) is typically around £600. The price includes the old flooring removed and prepared and the laminate flooring supplied and installed.
Oak wood flooring is more expensive and costs around £1100 to be installed and is the cheapest real wood flooring.
The average costs of flooring can fluctuate depending on location, labour cost, style and the material price of the flooring per square metre.
Wooden Flooring Prices
Below are some estimated costs of hiring a flooring specialist to supply and fit wooden flooring:
| Type of Flooring | Room Size | Avg. Cost | Duration |
| --- | --- | --- | --- |
| Laminate Flooring | 10 square metres | £350 | 1 day |
| Laminate Flooring | 20 square metres | £625 | 1-2 days |
| Laminate Flooring | 30 square metres | £900 | 2 days |
| Oak Solid Wood Flooring | 10 square metres | £700 | 1-2 days |
| Oak Solid Wood Flooring | 20 square metres | £1200 | 1-2 days |
| Oak Solid Wood Flooring | 30 square metres | £1500 | 2-3 days |
| Herringbone Oak Flooring | 20 square metres | £2300 | 2-4 days |
| Basket Weave Oak Flooring | 20 square metres | £2700 | 2-5 days |
Supply Costs
The main supply costs for installing wood flooring are the floorboards themselves. There are many different types of wooden flooring to choose from, each with their own positives and negatives that need to be considered before making your choice. Here is a basic price guide of the different and most popular types and cost of floorboards:
Laminate flooring is fairly cheap, easy to install and very hardwearing, but will warp overtime due to moisture, and don't look as good as other flooring types - prices for laminate flooring range from £10 to £50 per sq. metre.
Engineered wood flooring is cheaper than solid wood and looks better than laminate - £20 up to £100 per sq. metre.
Solid wood flooring has a great look and feel, however it can warp under different humidity and is much more difficult to install when compared to laminate - £20 up to £100 per sq. metre.
Parquet flooring is very durable and looks good in any room but is very expensive to install - £25 up to £200 per sq. metre.
Wood-effect tiles are easy to install and maintain with no warping - £10 up to £100 per sq. metre.
Additional Costs
Fitting wooden flooring may be the perfect time to complete lots of other additional jobs, especially because your chosen room will be blank and bare, such as repairing damaged floorboards beforehand which can add an extra £250 to your wood flooring costs.
Skirting boards will get damaged during this job, it's hard to avoid. So, this may be a good time to consider getting new skirting boards fitted, after all, you are already paying for most of the labour in any case!
In addition, damage to plasterwork/decoration when skirting boards are removed is also pretty likely, so this might also be a good time to think about redecorating, this can cost about £200!
Various finishes are available with solid wooden floors including a lacquered finish which offers a shiny reflective effect and makes the floor harder wearing. An oiled finish to the flooring gives it an aged feel and authentic warm atmosphere which is perfect for floor areas with high traffic volume (though it will require a maintenance coat to be applied every 2 years or so).
You can also change the colour of the floor by staining after the floor has been sanded. There are a number of stains and shades to choose from.
When changing the flooring in your room, it's also the perfect time to change up your walls, hire a professional to plaster a room so you can make sure both your walls and floors are in tip top condition, and once your room is completed, make sure to finalise the space with your chosen decor with a painting & decorating job.
Cost Breakdown Calculator
Individual costs for hiring a tradesman to fit oak solid wood flooring (£35 per square metre) in a 20 sq. metre room - Total Cost: £1200
Labour Costs and Time Frames
A standard flooring specialist will often charge around £150 per day to install wooden flooring or around £12 to £25 per square metre.
The job on average takes 1-2 days to complete and does not include the couple of days required for the floor to be prepared before installation such as screeding or plywood board fitting.
The time to fit wooden flooring will also depend on the condition of the floor, the size of the room and the number of non-square cuts that are required. If you're installing more intricate flooring patterns such as parquet, they job can take up to 4 days.
Cost Affecting Factors of Fitting Wooden Flooring
Although we've offered you an average price of an installation of wooden flooring costs, there are lots of other factors that can either hike this up or make it cheaper. If you need to remove your carport prior to installation, you'll need to add this into the costs with your contractor, as well as added waste removal costs.
On average, professionals will charge around £1-£4 per square metre, or between £15-£20 for the whole carpet. However, if you choose to go down the DIY route, you'll have costs for waste removal, which can be around £20-£30 per hour for van hire.
Contractor costs can also fly up if your ground is uneven, if so, they'll level the ground for up to £20 per square metre, alternatively, they can fit underlay beneath your wooden floor installation for around £6 per square metre.
I'm sure you're all aware that the size of your chosen room and wooden falling will increase or decrease the prices, a standard oak flooring will cost around an extra £25 per square metre and to assure a smooth process, you should always order an extra 10% of flooring than needed, in case of any mishaps or miscalculations.
What Does Fitting a Wooden Floor Entail?
For maintenance on solid wooden floors always use the manufacturers recommended cleaning products, avoid using any vinyl or tile floor care products on wood floors as they make the floors dangerously slippery. Remember to not use any cleaning products at all until at least 2 weeks after the floor has been oiled or lacquered.
Use mats and rugs to help prevent the tracking of grit and dirt onto your flooring and never wet mop a wood floor as standing water can stain or damage the wood. Instead, simply wipe up any spills with a slightly damp cloth.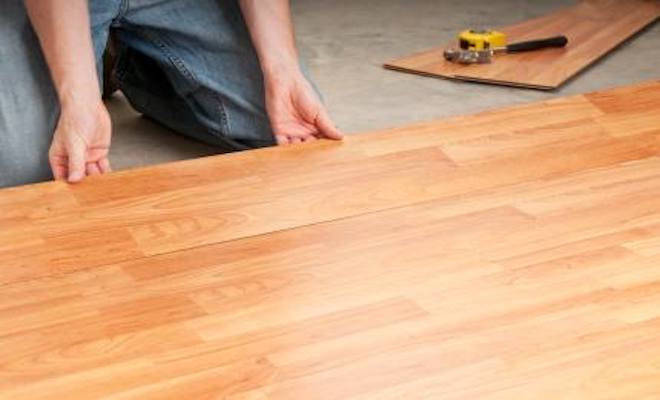 Place glides under the legs of heavy furniture to prevent scratching and when moving heavy furniture pick it up rather than dragging it across the floor! Consider using a dehumidifier in the winter and dust, sweep or vacuum regularly.
Recoat the flooring when cleaning no longer restores the original shine. Laminate flooring needs virtually no maintenance, nor waxing, oiling or lacquer treatments, just keep it clean with a mop or vacuum every now and then.
DIY Wood Flooring Installation
DIY enthusiasts can potentially install their own wood flooring if feeling ambitious, however, there are common instances where DIY flooring has risen or left large gaps in people's homes, so it's always best to consult a specialist before taking on any home DIY work.
This is just a general list of what you need and what to do, if you're looking into DIYing your flooring on a budget, you'll need more in-depth instructions to suit your needs.
Flat saw
Pencil/pen/marker
Measuring tape
For concrete sub-flooring you'll need wood to concrete glue
For timber sub-floors you'll need a flooring nailer
Chosen material
Preparation
Preparation is key when remodelling any room of your house, especially when changing the entire, the most important thing to do is to remove any prior carpet or flooring and all the furniture from the room, leaving it a blank slate. Tip: This is the perfect chance to check on the wires and cables for your landline or any sound systems.
Once everything is cleared, dry and ready to go, hammer in any loose or sticky-out nails back into the floorboards, and then remove any doors attached to the room as well as the skirting boards.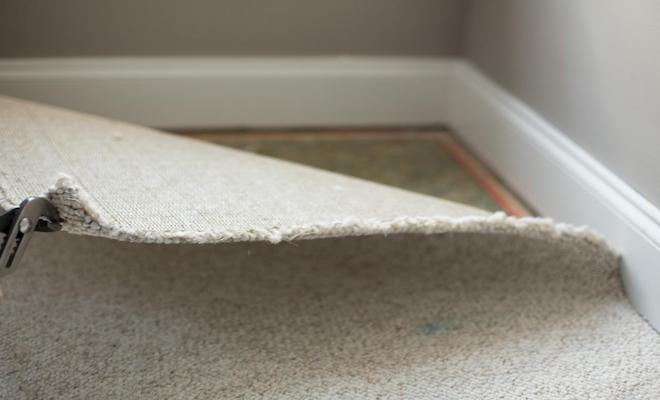 Lay Down the Flooring
Start at the farthest corner away from your door and lay all your planks of wood down to each end and place insulation material, making sure not to overlap the edges of the leveller board or any material used for insulation.
Then, start by laying your first board down against the wall and begin placing down the rest of the boards in a line using a hammer and tapping block, and for the last board, you'll need a pull bar to be able to hammer the joint securely in place.
Then you can work downwards on the next row and use an offcut of the board to begin, starting from the wall again and repeat, using wedges to make an expansion gap around the room. When you reach the final row of your flooring, you may have cutting and trimming to do on the width, still leaving gaps against the edges of the wall.
Now, you'll have to install the skirting boards, put them back in place, and install a door bar to conceal any expansion gaps.
Finishing Touches and Waste Removal
Once the main body of your installation is complete, there's a lot of varying nickety bits to complete such as radiator pipes. You can use off-cut pieces of boarding to place behind any radiator pipes and use a spade drill through the join that connects the boards together, going on to dismantle the two boards and prop together around the radiator pipe.
To complete your job, you'll have to clean up any mess, debris, and collect any leftover wooden boarding which you can either keep for yourself, or hire a skip to come and pick up your waste, this can cost around £20-£30 per hour for van hire. Finally, you're ready to clean your flooring and bring your furniture back to the room, decorating if needed.
Choosing Wood Flooring
There's a wide variety of wood flooring to choose from, ranging in shape, colours, texture, and even smell. Here's a list of different wood flooring and their cost per m2.
| Type of Flooring | About | Price per m2 |
| --- | --- | --- |
| Oak Wood Flooring Cost | Very common and popular choice of wood flooring. Cheap, resistant to dents and scratches. | £25 |
| Ash Wood Flooring Cost | A lovely light shade which is perfect for bustling households. Much harder and tougher than oak. | £30 |
| Birch Wood Flooring Cost | Elegant appeal and enhances the natural soft tones of wood. Very durable. | £35 |
| Pine Wood Flooring Cost | Another popular and inexpensive choice which is very attractive. Resistant to wood structural movements and can be installed over electric floor heating. | £40 |
| Walnut Wood Flooring Cost | Best known for its rich dark tones. High quality and sustainable choice | £40 |
| Maple Wood Flooring Cost | Popular choice for large homes and sports flooring. High strength and warm tones. | £70 |
| Teak Wood Flooring Cost | A darker wood which is perfect for family and pet living. Immensely durable and resistant to infestations, water, cold climates, spillages and stains. | £70 |
| Mahogany Wood Flooring Cost | An opulent choice of wood and was designed for use on boats and yachts. Long lasting and hard structure. | £80 |
Choosing a Wood Flooring Pattern
hardwood flooring cost can be around £20 per hour for a contractor to install, below is a description of popular wood flooring patterns and the added labour costs per day for each one.
Parquet Cost
General parquet flooring is when individual pieces of wood are pieced together to form various complex patterns of wood flooring, included in this is herringbone, basket weave, and chevron.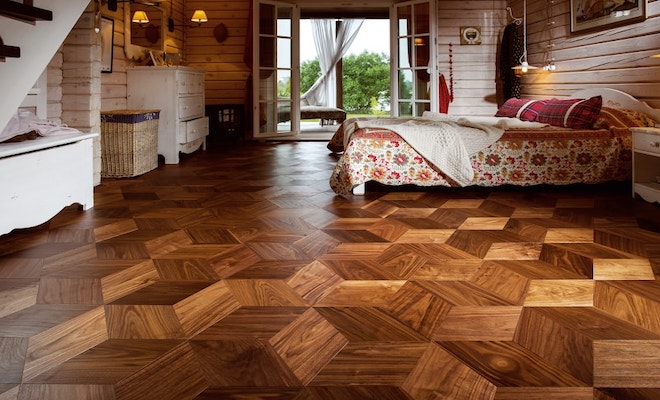 Labour of parquet flooring cost - £400-£600.
Herringbone Cost
Can also go by the name broken twill weave, as it mirrors the unique V-shaped pattern in twill fabric. It also shows a broken zig zag that can reflect the same bones as a herring fish.
Labour costs - £500
Chevron Cost
This is a fairly easy pattern to install as it resembles a reverse V pattern where each side meets together seamlessly, providing a fun zig-zag shape. This is a common tile choice for bathrooms and backsplashes.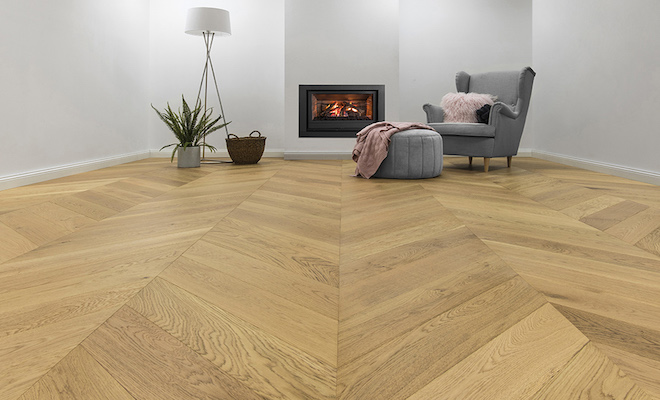 Labour costs - £400
Basket Weave Cost
A basket weave pattern is a form of parquet which tends to be more expensive than other parquet patterns. This is because it has a complex structure which interweaves square wood, providing an intricate and unique finish.
Labour costs - £600
Engineered Wood Flooring vs Real Wood Flooring
Engineered wood flooring is essentially a product that is a hybrid of solid wood and laminate flooring, so if you can't decide between the two, engineered wood could be the ideal solution. Engineered wood flooring is made from natural materials, not synthetic like laminate.
The most common type is made up of layers of ply bonded together and topped off with a layer of solid wood.
This top layer of real solid wood means engineered wood looks convincingly like solid wood. Laminate flooring is cheaper than engineered wood, but will only last around 20 years at most, whereas engineered wood flooring should last for up to 75 years.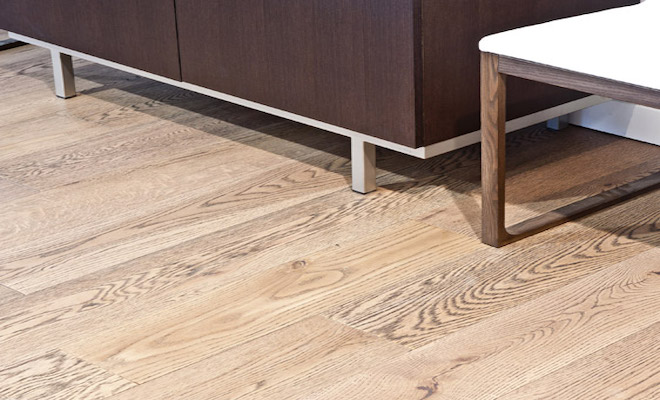 Engineered wood flooring is much more resistant to expansion and contraction than solid wood, so can be fitted in rooms like bathrooms and kitchens where temperature and moisture fluctuations can be significant. You can also use engineered wood flooring for underfloor heating systems.
Engineered wood flooring is a medium range option and has a more DIY friendly installation process, you should expect the overall cost of a fitted engineered wood flooring to be around 25% less than solid wood.
Laminate Flooring vs Real Wood Flooring
Laminate flooring is made from composite wood at high temperatures with the image of hardwood grain placed over the composite wood as a laminate surface layer.
In terms of durability, laminate is very resistant to scratches and wear, however when it does get damaged, you cannot restore it by sanding down as you can with real hardwood.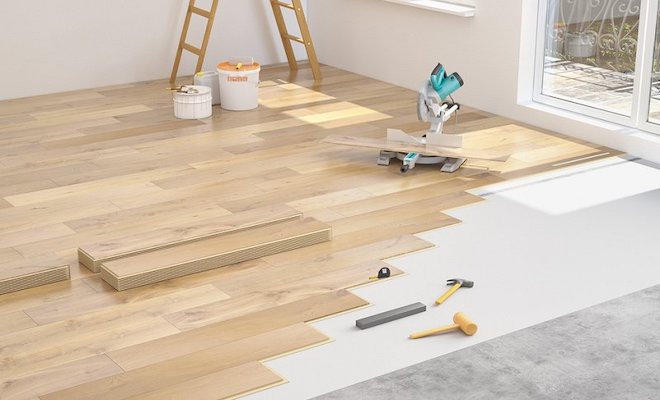 In addition, although modern laminate flooring is very convincing, it does not have quite the same visual appeal as a real hardwood floor.
Laminate flooring is however much cheaper to buy and easier to fit, expect the overall cost of a fitted laminate floor to be around 50% less than solid wood.
Cost of Removing Wood Flooring
Removing wood flooring is a very common job and is often done for a variety of reasons, whether that's mismatched wood, cracks, stains, or just a general refurb.
Removing wood flooring can be done DIY, or by a professional however, we would recommend hiring a pro for the job, especially if they're going to be the ones fitting in new flooring as this will make the process seamless and stress-free.
The cost of replacing floorboards comes out at around £1500-£2000. This cost depends on size and condition ofcourse.
If you're determined to take the DIY route, the process of removal is basically the same as a professional job, you just need to make sure you're equipped with the right tools, ranging from a circular saw, a mallet, a pry bar, a nail claw, and a large magnet. You'll then need to clear out the room of all furnishings and lay down tarps to protect from debris.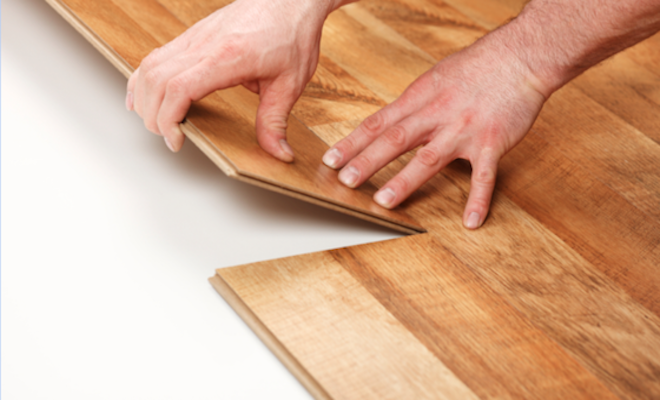 After this you'll have to methodically cut the wood into small sections with your saw about two feet wide. Once your flooring has been cut up into small sections, you can lift out the wood using a mallet and pry bar. You may be left with nails or staples buried in the subfloor, if so, use the curved vice grips to probe them out.
Once everything has been removed, there'll be a lot of debris on your hands to clean up, salvage as much wood as you can and tip the rest into a rubbish bag. Your magnet will pick up any loose staples or nails, and once everything is swept and in rubbish bags, you can hire a skip for waste removal which costs anything between £100-£200 depending on the amount of wood.
However, sometimes your wooden flooring can be salvaged with repair work. Pet scratches, shoe marks and furniture are often the culprits for wrecking wooden flooring. With smaller blemishes, you can cover these with a permanent marker, or use a small bit of stain marker to match the colour of your floor before clearing with a dry cloth.
On the other hand, if you have a large scratch or dent and don't want to get rid of your wood flooring, you'll have to sand down your floor, file the dent, and refinish the job which may need a professional hand. This can cost around £250.
FAQs
How to Find & Hire a Wood Flooring Fitter
When hiring a professional for installing your wooden floor, you want to make sure you've got the right person for the job. This can sometimes be difficult if you don't know what you're looking for. Flooring work requires specific expertise, experience and qualifications, so it's important that you read up on all the info you need to know.
Experience
Make sure that the contractor you're choosing specialises in your specific flooring needs, some may only have experience in laminate or carpeting, whereas others may have knowledge of intricate patterns such as herringbone or parquet.
Qualifications
Ensure that they have the proper qualifications, this can range from how long they've been in the business, previous work examples, and asking whether they're a member of any schemes or associations. Flooring organisations include The Contract Flooring Association (CFA), The National Institute of Carpet and Floorlayers (NICF), and the Flooring Industry Training Association (FITA).
Quotes
Establish an average amount of how much you agree the job should cost and compare quotes with several contractors, if four are in the same price range and one is way higher, then you know they're trying to swindle money. When asking for quotes, make sure to include waste removal, including furniture/carpet disposal.
Ensure You're Comfortable with Them
This is an important factor when hiring anyone to do jobs in your home. There may be times when you need to nip the shop or leave them alone in certain areas so it's a good idea to choose someone who you feel comfortable having in your home.
Set Up a Payment Plan
Once you've agreed on a price that suits both parties, make sure to set up a payment plan which you're comfortable with, whether that's through a direct debit or cash.
Sources
https://www.which.co.uk/reviews/wood-flooring/article/how-to-buy-wood-flooring/diy-wood-flooring