How Much Does Wood Flooring Cost to Restore?
Wood flooring will not stay young and sturdy forever. Eventually, it will succumb to wear, tear and perhaps even termite attacks or woodworm! Thankfully, there are different ways of restoring wood flooring. Let's start by laying out the costs of these various wood floor restoring methods.
The cost of each restoration job will depend heavily on the size of the floor, so we're going to look at the costs per metre squared first. The average price is around £13 to £15 per m2 for sanding, £16 to £19 per m2 for sanding and varnishing, £19 to £22 per m2 for sanding and oiling, £25 to £30 per m2for sanding and refinishing, or £4 to £8 per m2for staining.
It will cost about £40 to £60 to have your stairs sanded and stained. So what sort of price tag would you actually face, if you wanted these jobs performed on your wood flooring?
For a small, 10m2 floor it will cost approximately £130 to £150 for sanding, £160 to £190 for sanding and varnishing £190 to £220 for sanding and oiling, £250 to £300 for sanding and refinishing, or £40 to £80 for staining.
Most homes have an average floor size closer to 20 square metres. For a floor this large, it would set you back £260 to £300 to have it sanded, £320 to £380 to have it sanded and varnished, £380 to £440 to have it sanded and oiled, £500 to £600 to have it sanded and refinished, or £80 to £160 to have your floor stained.
Lastly, let's look at the prices for a 30 square metre floor. In this case, it will cost between £390 and £450 for sanding, £480 and £570 for sanding and varnishing £570 and £660 for sanding and oiling, £750 and £900 for sanding and refinishing, or just £120 to £240 for staining.
The costs won't just depend on the size of the floor, but the extent and nature of the damage will also play a role in shaping the price since more work will likely be required, the more damage there is, and therefore the labour cost would end up higher.
Other potential cost-affecting factors are ease of access and the state of the work area. Where exactly in the UK you live is also crucial for determining the price of a wood restoration job since labourers charge different rates in different parts of the country.
Wood Flooring Restoration Prices
| Type of Job | 10m2 Floor | 20m2 Floor | 30m2 Floor |
| --- | --- | --- | --- |
| Sanding | £130-£150 | £260-£300 | £390-£450 |
| Sanding and Varnishing | £160-£190 | £320-£380 | £480-£570 |
| Sanding and Oiling | £190-£220 | £380-£440 | £570-£660 |
| Sanding and Refinishing | £250-£300 | £500-£600 | £750-£900 |
| Staining | £40-£80 | £80-£160 | £120-£240 |
Supply Costs
The overall cost of having wood flooring restored can be broken up into two parts; supply costs and labour cost. In this section, we'll look at how much individual tools and equipment may cost if you'd like to have your wood flooring restored.
This could be included as part of the total cost if you're hiring a professional or act as the only expenses you're likely to face if you decide to undertake the work on your own.
An electric floor sander might cost anywhere from £160 to as much as £1000 depending on the quality of the product. You'll generally be able to find a 10-metre roll of sandpaper for anywhere in the range of £5 to £25.
Wood oil tends to cost around £20 to £28 per litre while wood stain comes with a price tag of roughly £10 to £50 per litre while wood varnish would likely set you back between £10 and £30 per litre. A hammer will probably cost just £5 to £10 unless it is a particularly high-quality product/brand.
Additional Costs
When having a wood floor restored, you may wish to have some additional jobs performed around the same time. In this section, we'll break down some of these added costs.
Underfloor Heating
Nowadays, many people are looking for ways to improve energy efficiency in their home, to save on money and for environmental reasons. One fantastic way of doing so is with the installation of underfloor heating.
There are two types of underfloor heating; a wet system and a dry system. The former involves the use of underwater heating while a dry system depends on electric heating instead. You may choose to have underfloor heating added to a single room or for an entire house.
In addition, it can be installed as part of renovative work or for a brand new house build. There are a variety of models of dry and wet underfloor heating systems on the market. In the case of a dry system, some feature heating mats which are the easiest to fit.
Wet systems, on the other hand, are more suitable for a large space, if not an entire house/apartment. On average, an underfloor heating specialist would charge around £200 to £300 per day.
Overall, for a new build property, it would cost around £2500 to £3000 to have a wet system installed, or £1000 to £1500 for the installation of a dry system.
If a home renovation is necessary, the costs will rise to around £4000 to £4500 for a wet system or about £1500 to £2000 for a dry system.
A wet underfloor heating system should take four days to install, since fitting the pipework can be a time-consuming job. If a home renovation is needed, a wet system takes, on average, five days to install. On the other hand, it should only take about two days to fit a wet system for an entire home, regardless of whether a home renovation is required or not.
Repairing Damaged Floorboards
Restoring wood flooring is one thing, but you may, in fact, find that some of your floorboards need repairing. This is a job that can be done DIY, but you might prefer to hire a professional, particularly if you are unsure of anything.
Hiring a carpenter can also save you money in the long run, as they may be able to spot issues which you may miss and will likely offer a more effective fix than would be achieved DIY.
A creaky floorboard can be screwed into a rotten joist in order to provide a temporary fix. However, a replacement will probably be needed at some point. If you require that a carpet be lifted so that several creaky floorboards can be repaired, you'll likely pay around £170 to £230. This should only take between one and fours.
To have broken floorboards fixed and to get loose floorboards screwed back into place, it will probably set you back between £230 and £270 and involve around one day's work.
If the floor joist needs to be replaced, as well as a few split floorboards, you'll probably face a bill of between £350 and £450. This work would likely take one to three days in total. A tradesperson would probably charge £200 to £250 for a full working day, regardless of the job.
Cost Breakdown Calculator
Individual costs of sanding & varnishing a 20 square metre wooden floor – Total Cost: £350.
Labour Costs and Time Frames
The second part of the total cost is the amount that the contractor will charge. The average floor specialist charges between £100 and £220 a day. Most floor specialists will actually charge per square metre, although this should still land somewhere in the price mentioned above range.
On average, it takes 2-3 hours for a professional to complete a wood restoration job. Within the first hour, the contractor will prepare the work area such as by removing any furniture from the room and cleaning the floor, before getting their supplies and equipment ready. If a carpet needs to be temporarily removed, this may take the preparation timeframe beyond the one hour mark. Then, they will get to work.
Sanding or/and staining an average size floor should take a couple of hours. After the floor is stained, it can be oiled or varnished about 24 hours later. A second layer should be applied about four and a half hours after. Once the work is fully complete, regardless of the restoration method(s) used, the floor will be prepared, and the tradesperson will tidy up and put away their equipment and supplies.
This last part will be done within the final work hour of the job. The labour cost and timeframe will in part, be determined by where in the UK you are located, ease of access, the type of flooring (as some wooden floors can be restored quicker and more efficiently than others) and the state of the work area.
Cost Affecting Factors of Wooden Floor Restoration
How much the work will cost overall is going to depend on a list of different factors. In each of the following subsections, we'll break down these factors and explain why they matter when it comes to cost.
Type of Restoration
One of the most essential cost factors is the restoration method used. As you saw in the first section, the price of restoration jobs can vary significantly, ranging from about £13 to £15 per m2 for sanding to £25 to £30 per m2 to have your flooring sanded and refinished.
While there isn't that much between these two price ranges on the face of it, that difference will add up quickly, and the gap will only grow wider, the larger the floor space is.
Size of Floor
If you want to have a small wooden floor restored, it might only cost you £150 to £300, but if you have an average floor, the estimated price goes up to about £250 to £600. However, if you have a large timber floor which needs restoration work, then the total cost of the work will probably land between £400 and £900.
One of the notable exceptions to these price ranges is if you simply need to have your wood flooring stained, in which case the cost is only £4 to £8 per m2.
Room Type
Another cost affecting factor is the type and layout of the room. The reason why this is important is that the simpler the design of the room, generally, the easier and faster the work will be.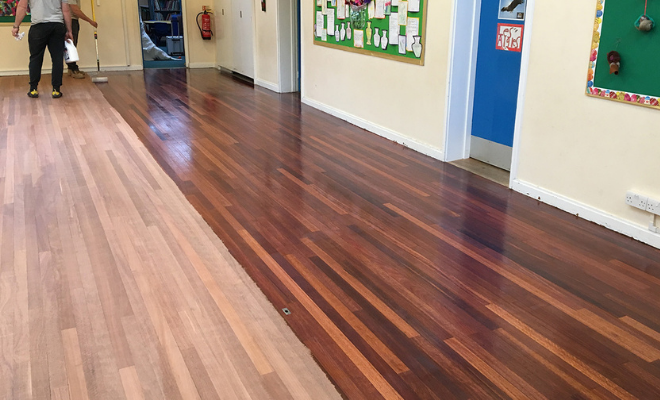 Extent of the Damage
The more damage there is to your wood flooring, the longer the work is going to take. For a small floor, with minimal damage, the job will probably take less than an hour, but it may take up to a full working day or even more, should you require restoration work for a large floor with extensive damage.
Location of Property
As mentioned, where you live is also important. If you were to hire a carpenter for this work, they'd charge you about £30 to £38 per hour in Glasgow, £34 to £40 per hour in London, £30 to £34 per hour in Manchester, or only £20 to £28 per hour in Liverpool.
Certain areas in the UK tend to have lower rates than the national average in general, such as the North of England and Northern Ireland. On the other hand, contractor rates are generally higher than the rest of the country in London and the southeast of Britain.
Ease of Access
How accessible is the room/area in which the work is required? The easier it is for a tradesperson to reach this area and work in it, the better. If it's a particularly difficult place for trades work, it may cost higher than it would otherwise because of how much longer the job might take.
What Does Restoring a Wooden Floor Entail?
Here is what you can expect when getting a wooden floor restored:
1. Choosing the Right Method and Hiring a Contractor
First and foremost, you'll need to identify what exactly the issue is and what method is most appropriate for restoring your wood flooring. Sometimes a variety of methods would be suitable, in which case, you should weigh up the pros & cons and costs involved. If you have any doubts, don't hesitate to get in touch with a professional and ask for advice.
Assuming that you're not undertaking the work DIY, you should hire an experienced contractor for the job. Sometimes, it's best to simply ask a friend or family member if they know of anyone they'd recommend. Otherwise, ask a few different tradespersons and companies for quotes and check out any customer reviews that they have, to ensure that they're a good option.
2. Preparing the Floor
On the day of the work, the contractor will first need to remove any furniture and objects from the room. Not only that but if there's a carpet atop the wooden floorboards, this will need to be temporarily removed too. At this point, they will need to vacuum and mop the floor. It should be sparkling clean before the restoration can begin.
3. Sanding or Staining the Floor
Whether there are one or two elements of the job, the work will start with sanding or staining. To sand a floor, it is vital that the labourer wears special eyewear and uses a respirator or dust mask and employs a professional sander to restore the wooden floor.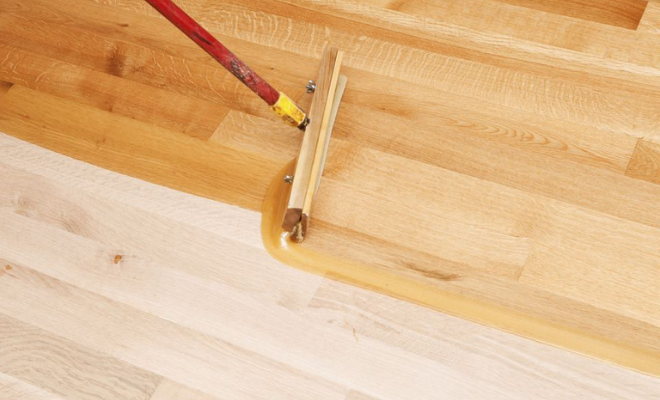 The sander must be worked in the direction of the floor grain. The sanding must continue until the floor has been fully sanded down. To finish up this part of the job, sandpaper or a grit sander can be utilised to achieve a nice, even finish across the whole floor.
Good ventilation is also crucial for sanding work. Staining is not necessary, especially if you want a particularly natural look for your flooring. However, if you would like it to be stained, whether after sanding or as a job on its own, the area will need to be vacuumed to rid it of any dust. The stain should be carefully applied to ensure that it will cover the entire area.
4. Varnishing or Oiling the Floor
Before adding oil or varnish, it's important that the stain is given about 24 hours to dry. At that point, the first layer of oil or varnish may be applied. The second layer should be added between four and five hours later.
5. Clean Up
At this stage, the work is complete, and your wood flooring should be restored. If a carpet was temporarily removed, it can now be refitted. The contractor will then tidy up the area and gather their equipment and supplies. If any waste needs to be removed, this will likely be done at this point. Now you should have a refreshed and wonderfully refurbished wooden floor!
Give it at least 24 hours before using the floor and only wear socks between that point and the 48-hour mark, post-restoration. You should also wait a minimum of 24 hours before putting any furniture or other items back into the room.
DIY Wood Flooring Restoration
You can certainly undertake this job DIY if you'd like. However, it's vital that you know exactly what is required and how to perform the restoration work. Otherwise, you should hire a professional to be on the safe side. While restoring a wood flooring DIY can save you money, there is always the risk of performing the job incorrectly.
Should this occur, either you'd need to hire a professional to come out and redo the work or, the work may simply prove insufficient in preserving your wood flooring in the medium to long-term as intended.
In addition, an imperfect restoration job could leave a lot of splinters behind that would go unnoticed until someone catches their foot on one. When working with tools like hammers and sanders, there is also always the possibility of injury. Ensure that you take all the necessary safety precautions if you decide to take on this work by yourself.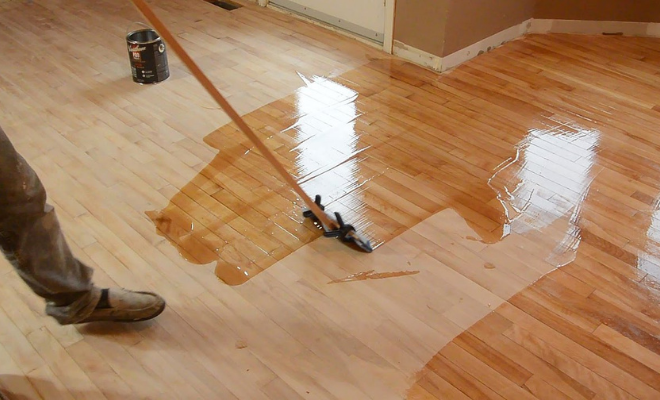 Oiling or varnishing a wood floor will probably be easier for a DIY enthusiast than say, sanding the floor although it will really depend on what your strengths are. The difficulty of the job could vary depending on the work area (e.g. a small even floor vs a staircase), or whether or not you need to remove a carpet before gaining access to the wooden floorboards.
Considering that the job will probably take just a few hours, you're looking at saving somewhere in the range of £30 to £60, although this is only an average. If you're expecting the work to take place within a total timeframe, of say, one workday, you'd actually save around £100 to £200 in total. Now, let's move on take a look at what tools, equipment and safety clothes/equipment you'd need!
Tools/Equipment for the Job:
Floor Sander (preferably electric)
Hammer
Oil or/and Varnish
Range of Brushes
Sandpaper
Safety Clothes/Equipment for the Job:
Safety Eyewear
Protective Safety Gloves
Ear Protection (if using an electric floor sander)
Respirator or Dust Mask
Generally, this work will not require a building control officer or any other professional to sign off on it. However, if you are unsure, you should contact your local council for confirmation. If you're going to undertake this work on a DIY basis, you should also check out the concept of a renewal wood floor restoring system.
Types of Wood Flooring Restoration
Each method of restoring wood flooring has its own purposes, pros & cons and cost range. In this section, we'll take a closer look at these approaches.
Sanding Wood Flooring Cost
Simple and pertinent, sanding, whether with sandpaper or a sander machine, is a common way of restoring wood flooring. With a cost of about £13 to £15 per m2, it is the cheapest option available aside from staining on its own. This method can achieve a smooth surface without any macroscopic scratches or abrasions left behind.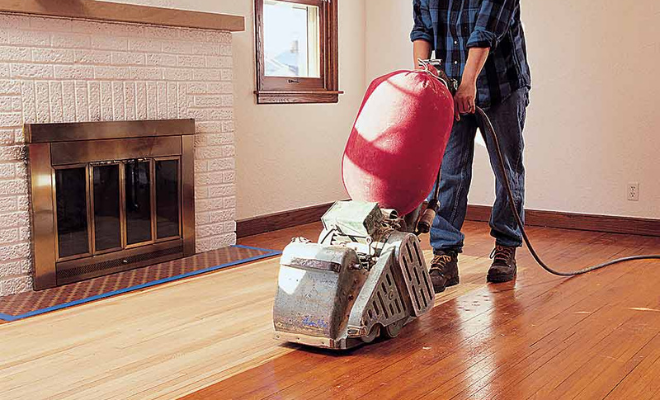 Sanding can give wood flooring a new lease of life, as well as removing evidence of ageing. However, it will also remove some of the existing surface and whether or not this is a good or bad thing, will depend on what look you'd prefer for your floor. Adequate ventilation is essential when sanding.
Pros:
✔ Cheapest method
✔ Not too difficult.
✔ Can give your wood flooring a new aesthetic
Cons:
✖ Wood dust can be harmful to our health
✖ Can be time-consuming
Refinishing Wooden Flooring Cost
This is another way of describing a full restoration job which includes sanding, staining and finishing. It will cost around £25 to £30 per m2. Refinishing involves sanding, staining, buffing the floor (e.g. with No. 2 steel wool), vacuuming and wiping the floor once again, before applying two coats of a finish wax or another suitable floor finish.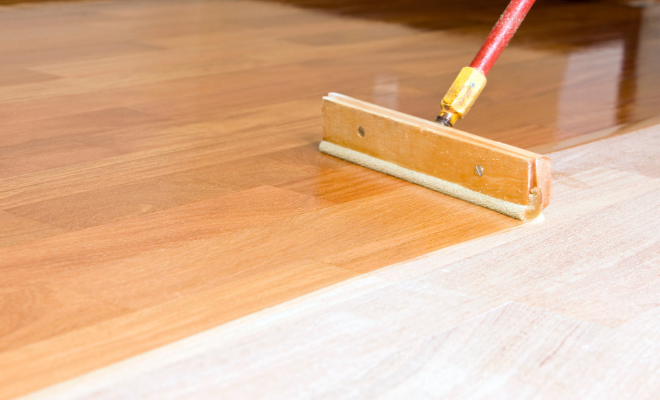 Pros:
✔ More extensive restoration
✔ May provide a longer-lasting restoration
Cons:
Stair Sanding Cost
Sanding the stairs can be a bit of a tricky job, but when complete, it can leave your wooden staircase with a fantastic, revitalised appearance. It's essential that any old finish is removed before stairs can be successfully sanded down. It will likely cost between £40 and £60 to get your staircase sanded although it will depend on how big the staircase is.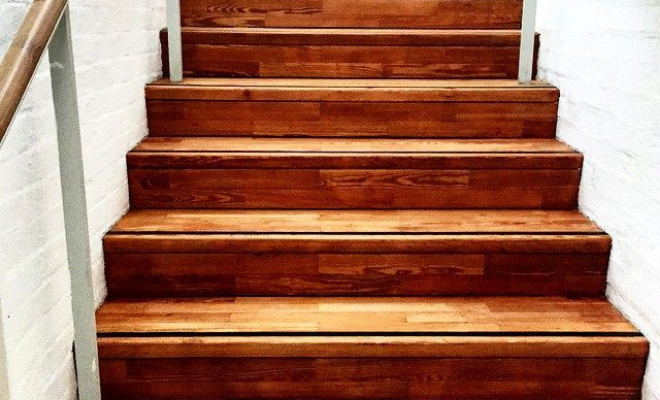 Pros:
✔ Generally not too expensive
✔ Can give your hallway a fresh new look
Cons:
✖ May be difficult if performed DIY
Floor Staining Cost
After having your wood flooring sanded, you may wish to have it stained also. Staining involves applying a product used to add colour to your floor, in the form of a pigment or dye. There are four categories if you wish to stain your floor with a dye, and these are spirit dye, water dye, chemical, or nitro stan. In each case, they will not conceal the grain due to their translucent properties.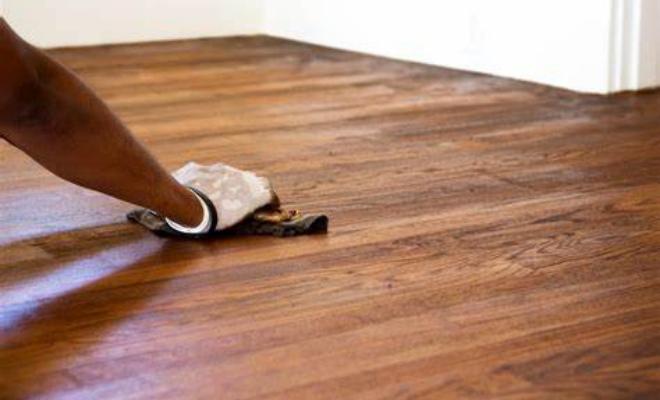 As for a pigment, there are oil and water-based options. One big issue with using a floor stain, however, is that any imperfections after the sanding work will stand out more clearly once stained. So, performing sanding and staining is not ideal for DIY enthusiasts, unless they are particularly good at this type of work.
Also, floor staining doesn't suit every type of wood flooring. For example, pine, ash, birch, cherry and maple floors can become blotchy if stained. Staining on its own usually costs just £4 to £8 per m2.
Pros:
✔ Inexpensive
✔ Various dyes and pigments to choose from
✔ Does not cover up the grain
Cons:
✖ Not suitable for all wood floors
✖ Brings out any imperfections in the floor
Varnishing Wood Flooring Cost
One popular approach to finishing a timber floor is with wood varnish. It is a transparent and resilient finish that should be used once your wood floor has been sanded and stained. It will likely cost around £16 to £19 per m2 for both sanding and varnishing.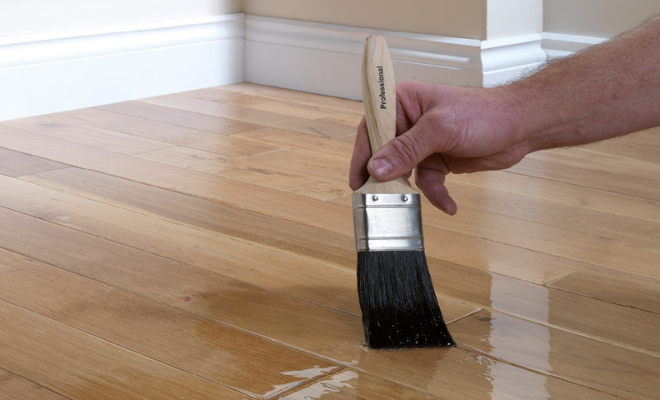 It is a more robust option than oil-based finishes, as well as being low-maintenance and cheaper. On the other hand, a significant disadvantage of varnishing a wooden floor is that spot repairs will be rendered impossible.
Should damage occur in the future, you'd need to have the entire floor replaced. Also, varnished wooden floors are more prone to lasting damage from spilt liquids.
Pros:
✔ Strongest wood floor finish
✔ Durable
✔ Transparent
✔ Low-maintenance
Cons:
✖ Spot repairs will be made impossible
✖ Susceptible to lasting damage from spills
Oiling Wood Flooring Cost
While not as sturdy as a varnish finish, oiling is the best option if you're looking to enhance the natural aesthetic of your flooring. In addition, it's still possible to perform spot repairs on a wood floor after an oil finish has been added.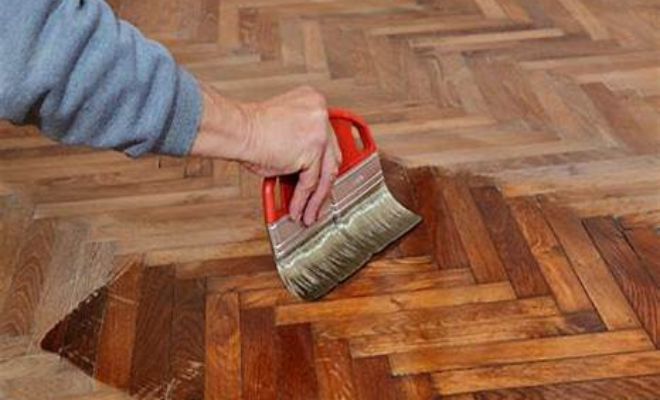 One notable downside, however, is that oil finishes are especially vulnerable to water damage. Having your wood flooring sanded and oiled will set you back about £19 to £22 per m2.
Pros:
✔ Allows spot repairs
✔ Adds to the natural beauty of the floor
Cons:
✖ Can be expensive
✖ At risk of detrimental water damage
Building Regulations for Restoring Wood Flooring
Most of the time, building regulations are not relevant to restoring wood flooring. This assumes that no floorboards are being replaced. In this case, Approved Document L1B or the 'Conservation of fuel and power in existing dwellings' will apply.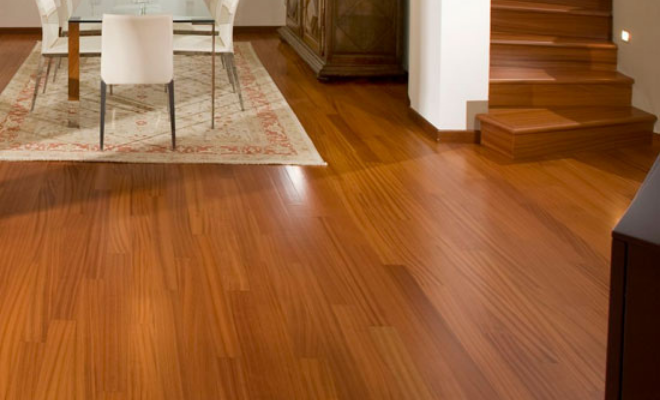 However, if you have any doubts, you should contact your local council for clarity. Should building regulations approval be necessary, you will need to submit a building regualtions application. It may cost anywhere from £100 to £400 for building regulations approval, and this would include paying for a building control officer to come out and inspect the work. More information can be found on the Planning Portal website.
Planning Permission for Restoring Wood Flooring
You will almost certainly not need any planning permission approval to restore your wood flooring. Again, this is unless any actual replacement work is required. With that said, if you happen to live in a listed building, you should double-check with the local council.
You can contact them either way about planning permission if there's anything you're not sure about. In order to receive planning permission approval, if necessary, it will likely cost around £200 or less to apply. For more information, visit Gov.uk.
Cost of Removing a Wooden Floor
While restoring your wood flooring will extend its lifespan, there will come a time when a wooden floor should simply be replaced. Sometimes the cost of fixing a wooden floor would be greater than simply getting it replaced. You may want to remove your wood flooring because you feel it is beyond a facelift or/and repair or you've decided that you want to put down another type of flooring such as tiles or laminate.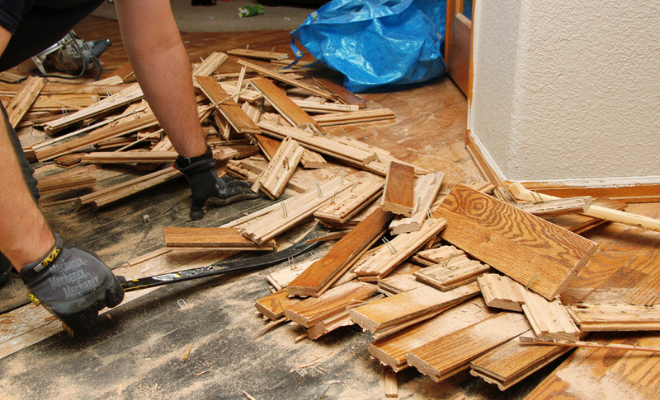 In total, to have an average-sized wooden floor removed will cost around £80 to £225. In terms of the labour costs, this will be around £30 to £75. You can, of course, undertake this work as a DIY job, but once again, only do so if you know exactly what you're doing.
The materials can then be disposed of with a skip or by another means, such as a man and van service. The waste disposal costs will likely end up between £50 and £150.
FAQs
How to Find & Hire a Wood Floor Restoration Expert
While you can restore wood flooring as a DIY project, there are, as we discussed, many risks involved, whether in terms of safety or the outcome of the work. For these reasons, you may prefer to hire a contractor. On average, it will cost somewhere between £100 and £220 a day to hire a specialist for this job. When hiring a contractor, you should check for any qualifications they might have and accreditation.
Beyond that, you should ask about insurance and most importantly, their previous experience. You don't actually need a qualification or certification to become a carpenter, so how much experience the individual has is, arguably the best way to judge their ability and competence.
You can check any qualifications or certifications that they may have, either by checking their website, looking for any information via an appropriate licensing or government authority website or by simply asking to see their license.
Sources
https://www.dummies.com/home-garden/flooring/how-to-refinish-a-hardwood-floor/
https://homeguides.sfgate.com/sand-wood-staircase-26203.html
https://www.flooringfirst.co.uk/service-guide-flooring-products/staining-your-wood-floor-on-need-to-know-basis.html
https://hoa.org.uk/advice/guides-for-homeowners/i-am-improving/do-i-need-building-regulations/