How Much Does It Cost to Install Parquet Flooring?
What is parquet flooring exactly?...
This type of flooring is named after its design as it consists of a geometric mosaic of timber pieces. The purpose of this is purely decorative.
In general, the patterns in such floors tend to be angular and geometrical. These shapes can include triangles, lozenges, and squares, although curves are also possible.
Let's take a look at the average cost to fit parquet flooring based on the type of wood used and per the size of the floor.
The Cost of Installing Beech Parquet Flooring:
8m2 floor - £450 to £860
12m2 floor - £700 to £1400
16m2 floor - £900 to £1650
20m2 floor - £1050 to £2000
25m2 floor - £1300 to £2400
30m2 floor - £1500 to £2800
The Cost of Installing Maple Parquet Flooring:
8m2 floor - £400 to £800
12m2 floor - £600 to £1100
16m2 floor - £900 to £1500
20m2 floor - £950 to £4200
25m2 floor - £1150 to £2100
30m2 floor - £1350 to £2550
The Cost of Installing Laminate Flooring:
8m2 floor - £340 to £580
12m2 floor - £500 to £1000
16m2 floor - £650 to £1100
20m2 floor - £760 to £1300
25m2 floor - £900 to £1600
30m2 floor - £1100 to £1850
These are the factors that could shape the price of installing parquet flooring:
Ease of access
Underlay
Type/size of flooring
Materials used
Parquet Flooring Prices
Here's the average cost to lay vinyl flooring per square metre:
| Size of Flooring | Beech Parquet | Maple Parquet | Laminate Parquet |
| --- | --- | --- | --- |
| 8m2 floor | £450 to £860 | £400 to £800 | £340 to £580 |
| 12m2 floor | £700 to £1400 | £600 to £1100 | £500 to £1000 |
| 16m2 floor | £900 to £1650 | £900 to £1500 | £650 to £1100 |
| 20m2 floor | £1050 to £2000 | £950 to £4200 | £760 to £1300 |
| 25m2 floor | £1300 to £2400 | £1150 to £2100 | £900 to £1600 |
| 30m2 floor | £1500 to £2800 | £1350 to £2550 | £1100 to £1850 |
Additional Costs
There are some extra jobs you might want to pay for along with having parquet flooring installed. Let's look at some common examples.
Underfloor Heating
A money-saving and energy efficient way of heating a room is with the use of underfloor heating. This could also make for a particularly comfortable underfoot.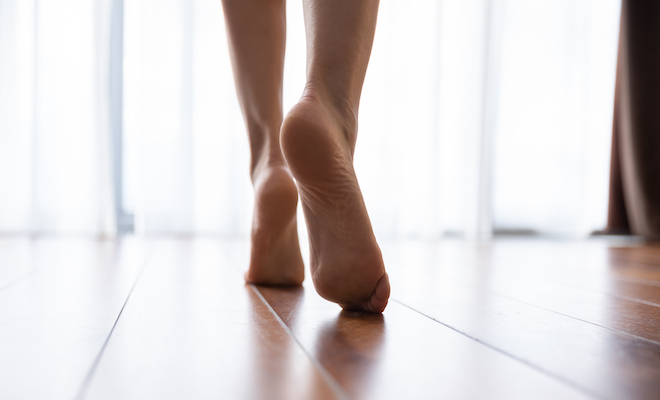 Here's how much it may cost:
New build property with wet underfloor heating - £2500 to £3000
New build property with dry underfloor heating - £1000 to £1500
Home renovation with wet underfloor heating - £4000 to £4500
Home renovation with dry underfloor heating - £1500 to £2000
Painting a Room
You may wish to have one or several walls (more than likely every wall) in a room painted, either with some fresh coats of the existing colour or for new colours. One way or another, this could fix a dull room by making it new, exciting, and vibrant!
Regardless, the following price estimate would apply:
Painting a room - £200 to £300
Stripping, prepping, and painting a room - £300 to £400
As per the 2nd job + painting the room's woodwork - £400 to £600
You may also be interested in having a painted parquet floor at the end of everything.
Cost Breakdown Calculator
Individual costs for installing a 16m² laminate parquet floor - £1200
Labour Costs and Time Frames
We'll now look at the labour parquet floor cost separate to the overall cost. The cost of labour along with that of supplies and waste removal make up the total cost.
It's likely to cost around £90 to £150 per day in labour expenses. But how many days would the work actually take?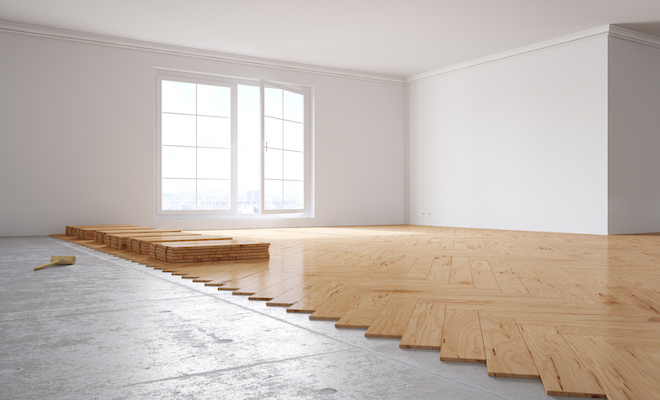 Well here's some estimates…
Timeframe of Installing Parquet Flooring:
8m2 floor - 1.5 to 3 days
12m2 floor - 2 to 3 days
16m2 floor - 2 to 3.5 days
20m2 floor - 2 to 4 days
25m2 floor - 3 to 5 days
30m2 floor - 4 to 5 days
The following factors could shape the labour cost and duration of this work:
Size of parquet flooring
Ease of access
State of the work area
Cost Affecting Factors of Installing a Parquet Floor
There are a range of factors that can shape the price of having parquet flooring installed. In this section, we'll explore these factors in more detail.
Size/Type of Parquet Flooring
The type and size of parquet flooring is relevant given that the longer it takes for the floor to be installed, the higher the labour cost is likely to be.
Installation Area/Ease of Access
The state of the work area matters because the more difficult it is to work with the longer the work may last and therefore, once more, the more the labour expenses will probably end up.
Underlay
The type, size, and quality of the underlay used is relevant given that this will add to your overall bill.
Location of Property
As for where you live, this is relevant since labour costs differ across the United Kingdom. The specific reason for this is that since living costs differ by region, tradespeople set different prices depending on where they are based. Other factors such as the size of competition in an area can also influence prices.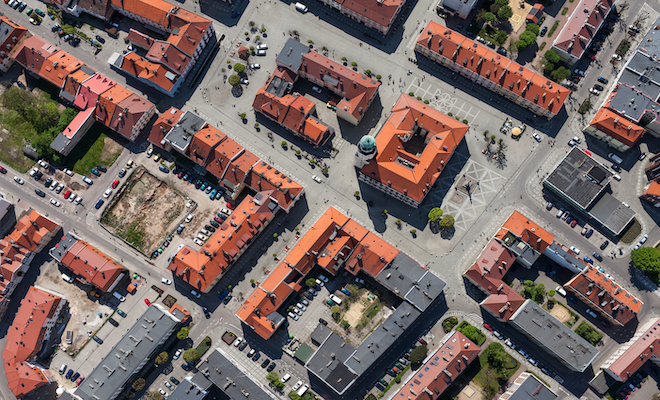 What Does Laying Parquet Flooring Entail?
The exact process of fitting parquet flooring could differ based on the approach used and the type of flooring, among other factors. However, the following description is a common enough assessment of what's involved.
1. Hiring a Contractor
Unless you'd prefer to undertake this work DIY, the first step is to hire the right contractor/company for the job. Before making a decision, it's worth acquiring around 3+ quotes from a range of individuals/companies, as well as some references. This will help you secure bang for your buck.
2. Adding the Underlay
You'll want to fit the correct underlay for the job. However, it's important that you first check that the floor is level. While the floor could be made level by securing any loose boards (if it's wooden) among other steps to level out the floor. However, if needed, you can add a self-levelling compound. This should be done carefully per the manufacturer's instructions.
In most cases around 2mm underlay can be added before a fibreboard may be added atop. More underlay may be needed than first anticipated depending on whether the floor is level come the end of the process.
3. Start in the Centre
You'll want to start in the middle of the room and begin laying down pieces of parquet floor in the direction that you intend the floor to run. It's critical that the middle row is straight so that everything else can be built around it and fall into place.
When laying the middle row along the centre line you may use a PVA glue or another suitable product to make sure that the planks stay in place just right and remain still for when clicking them into place with further planks. It's important that you know how to lay a parquet floor but the manufacturer will provide helpful instructions, which should be easy enough to follow.
4. Continue Adding the Flooring
From here, you can work outwards from the middle and continue adding the parquet flooring. On reaching the border, you'll need to cut, trim, and add additional tailored pieces (i.e. cut to shape and size) to fill in gaps that leave the flooring set perfectly against the wall without any gaps.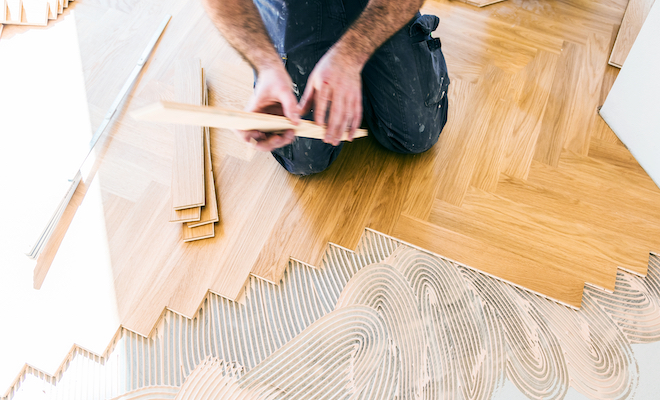 Fill the border until the entire room is safely and accurately filled with flooring. After this point, any remaining wood can be recycled or kept for later reuse.
DIY Parquet Flooring Installing
You can definitely fit parquet flooring DIY if you wish. As with any work there are some risks/hazards involved, such as from carrying the planks around and dealing with sharp/dangerous equipment and tools. There's also the risk of an incorrect installation.
The following tools/equipment may be needed:
Suitable parquet flooring adhesive (glue)
For a click system, this may be all that is required, but otherwise a pneumatic flooring nailer, drill with drill bits, or/and hammer and nail set may be applicable.
You may want to consider the following safety equipment:
Safety gloves
Protective eyewear
It's unlikely that you'll need any special approvals for this work, thankfully.
Building Regulations and Planning Permission for Parquet Flooring
Unless you intend to add flooring to an extension or outbuilding, building regulations approval shouldn't be necessary.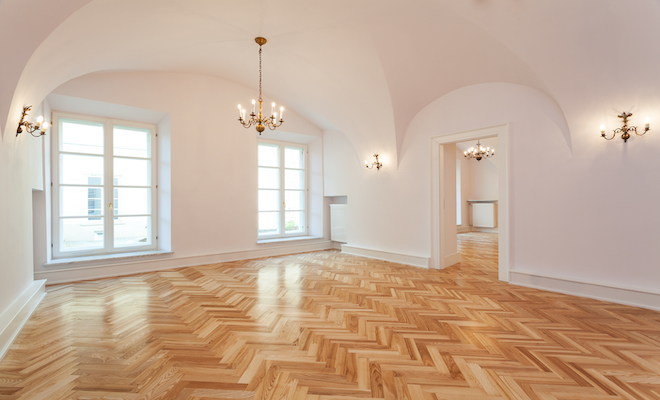 If adding parquet flooring (or any type of flooring for that matter), at least one of the following rules must be met:
If it's a ground level floor, it must offer resistance to heat loss and ground moisture
The floor should provide structural support to the contents of the room as well as the weight of the floor and its users
With regards to planning permission, this is unlikely to apply unless, perhaps, you live in a listed building. If you're unsure of anything, it is best to contact your local council.
You can expect to pay somewhere between £100 and £500 for building regulations approval or £200 to £300 for planning permission if applicable. More information may be found on the Planning Portal.
FAQs
How to Find & Hire a Parquet Flooring Specialist
When finding the right person or company for the job, it's important that you take the right steps to succeed at this very important initial phase of the work.
The average cost of hiring a parquet flooring specialist is £90 to £150 a day.
You should consider the following points when hiring a professional:
Do they have any qualifications?
What is their previous experience? (ask about references)
What about accreditation?
Does the contractor offer insurance?
Qualifications and training are not needed for a professional to install parquet flooring. However, it is possible that they will have a qualification such as a FloorSkills training course from the British Wood Flooring Association (BWFA). You can always contact CSCS with a trade persons registration number to find out more about them such as their qualifications.
Sources
https://greyspaceflooring.co.uk/blog/how-much-does-it-cost-to-install-parquet-flooring/
https://chauncey.co.uk/2019/08/13/how-to-fit-parquet-flooring/
https://www.swoonworthy.co.uk/2019/08/diy-parquet-flooring.html/
https://www.lowes.com/n/how-to/install-a-solid-hardwood-floor
https://blog.hss.com/how-to-make-your-parquet-floors-look-as-good-as-new/
https://flooringmegastore.co.uk/handy-stuff/parquet-flooring-costs-guide/