How Much to Lay Laminate Flooring?
Let's start with the cost of a floor specialist...
So what needs to be considered when fitting a laminate floor?
For a professional to install laminate flooring, it should cost around £10 to £12 per square metre, plus around £5 to £15 per square metre for the material itself. These prices may vary depending on the type of laminate you choose.
When deciding on laminate flooring, you have a wide choice of different types to consider.
Let's explore what these types actually are:
| Material | Average cost per square metre (supply & installation) |
| --- | --- |
| Walnut laminate | £17 to £22 |
| Oak laminate | £20 to £22 |
| Maple laminate | £21 to £23 |
| Hickory laminate | £26 to £28 |
| Elm laminate | £30 to £232 |
What can affect the cost of fitting laminate flooring?
For a tradesperson to complete the fitting, the price can largely depend on the size and shape of the room - which determines the amount of difficulty and time that is required to complete the work.
A larger room with a more difficult shape room can increase the time required and cost of the fitting proportionally.
Laminate Flooring Prices
Below are some estimated costs of the supply and installation of laminate flooring in different sized rooms. The costs below include removing the old carpet, fitting underlay and installing the laminate flooring:
| Material | Small (10m²) | Average (16m²) | Large (25m²) |
| --- | --- | --- | --- |
| Walnut laminate | £200-£220 | £320-£352 | £500-£550 |
| Oak laminate | £230-£250 | £368-£400 | £575-£625 |
| Maple laminate | £240-£260 | £384-£416 | £600-£650 |
| Hickory laminate | £290-£310 | £464-£496 | £725-£775 |
| Elm laminate | £330-£350 | £528-£560 | £825-£875 |
Supply Only Costs
If you're going to install the laminate flooring yourself, you don't need to worry about the price of installation, only the supply costs.
Here is a breakdown of the different supply costs.
| Material | Average cost per square metre |
| --- | --- |
| Walnut laminate | £7 to £16 |
| Oak laminate | £7 to £18 |
| Maple laminate | £9 to £14 |
| Hickory laminate | £16 to £24 |
| Elm laminate | £20 to £26 |
Cost Breakdown Calculator
Individual Costs To Install Laminate Flooring For The Area Of One Average-Sized Room (Roughly 16m²) - Total Cost: £450
Labour Costs and Time Frames
Even if you are sure how to fit laminate flooring on your own, before making a final decision just get some quotes in from professional fitters then weigh up all the pros and cons of both options. You may find that the costs are more reasonable than you thought and just go ahead and get a professional in to do the job anyway.
A fitter's daily rate is normally around £150 per day, and they can complete an average-sized room within that time. Some floor fitting specialists tend to charge per square metre, with the average installation rate of £10 to £12 per square metre.
Smaller rooms may be even less and tend to only take a day to complete, while larger rooms can take up to 7 days depending on the material used, and whether or not the fitters need to remove the existing flooring.
Laminate Flooring Features
When choosing your laminate floor, there are several features you need to consider. To help you decide, here is a cost breakdown of additional features that will improve your flooring.
| Laminate flooring feature | Average cost per square metre |
| --- | --- |
| Underfloor heating | £50 to £75 |
| Scratch-resistant | £20 to £23 |
| Water-resistant | £16 to £33 |
| Pre-attached underlayment | £30 to £51 |
What Does Laying Laminate Flooring Entail?
There are a number of steps involved in the installation of laminate flooring, including:
Measuring The Room
Before ordering your laminate flooring, you or an expert will take exact measurements. This is easy for square or rectangular rooms; however, if you have a chimney breast or any alcoves, an expert may draw a diagram of the room and place the measurements alongside to establish the exact size.
Preparing The Sub-Floor
Once the fitter has the right measurements, they must then make sure that the sub-floor is completely smooth. If it is not, your floor may have to be concreted, dried and smoothed out and could also require waterproof membrane installation before the laminate flooring can be put down.
The tradesmen may also remove any skirting boards to ensure the floor is fitted correctly. It is also important that any nails or screws are in the right place, and there is no dust or debris surrounding the floor area.
Fitting The Underlay
When the sub-floor is dry and prepared, the underlay must then be installed. There are various types of underlay, and a professional will advise you on the best type for your room, especially if you are having laminate flooring fitted in your kitchen or bathroom where some types of underlay are not waterproof.
To install underlay, it should be laid out to cover the entire floor then cut to size, making sure there is a 16mm gap between pipes. The underlay should be placed parallel then stuck together using masking tape.
Installing The Laminate
Once all the underfloor is in place, the professional will then ask you about the direction you want your flooring. They will then start in the corner and place the first line of boards down, making sure the tongue-side is facing the nearest wall.
Once they are in place, they will then click in using the clicking system. Spacers will then be placed between the boards and the walls as laminate flooring is a floating floor which means it should not touch walls or doors to avoid damage.
Professionals will ensure that all your laminate boards are evenly spaced, making sure to leave at least a 100mm gap between the last row of boards.
Can I Lay Laminate Flooring Myself?
When laying a new floor, some decide to so as a DIY project, but most will hire a professional. The advantages of DIY laminate floor fitting are the significantly lower costs, which is perfect for anyone sticking to a low budget.
Any DIY flooring project is going to be much cheaper than getting a professional to do it, but this is only because we don't charge for our own time when doing DIY projects.
The disadvantages of DIY floor installation include the additional time it will take, especially if you're working on the project only in your spare time. Plus, if you don't already have all the proper tools, it may be quite costly to buy or hire them.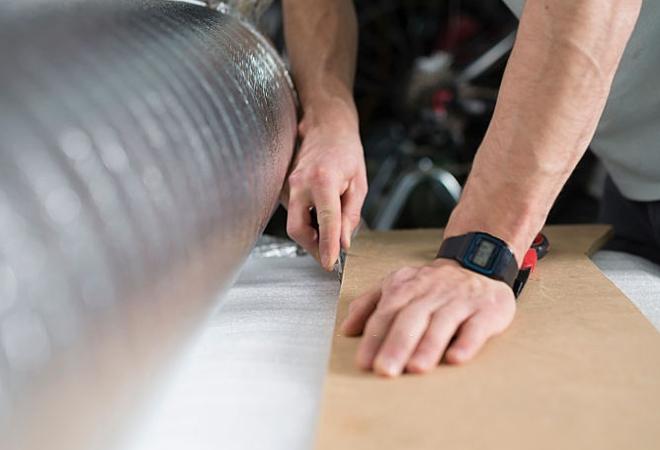 The main drawback of DIY flooring is that it is a job which requires a meticulous exactitude. If you don't have the necessary patience, you won't achieve a good result. This may end up costing you even more if you have to hire someone in to correct mistakes.
If you are not good at DIY projects and don't have any real experience with flooring, then you should hire a professional fitter to achieve a high-quality finish plus get a guarantee against any problems that may occur after the installation.
Note that if you buy laminate flooring and make a mess of the job, it will cost you even more in the long run than getting an experienced fitter to do it.
If you feel confident laying your laminate flooring yourself, you need to make sure you have the following tools and materials to complete the job:
Punches & nail setters
Panel saw
Clamps
Circular saws
Knife
Tape measure
Claw hammer
Carpenter squares
Levels
Materials
Underlayment
Floor installation kit
Caulk and sealant
Laminate sealer
Duct tape
Floor patch
Finishing nails
Patch and repair substance
Laminate trim
Thresholds
Finishing nails
Once you have all the tools, you can begin the DIY installation, which involves the following steps:
Remove Your Existing Floor

Before you can install your brand-new floor, you will need to rip up your old floor by cutting it into parallel pieces using a utility knife. If it does not budge, you should use a hammer and a knife to break the floor loose.

Prep The Floor

Once you have removed your old floor, you should check the subfloor to make sure it is clean, flat and solid. If not, you may have to add patching compound to fix concrete floors, and for a wood floor, you should remove any nails and replace any damaged parts.

Cut Around Your Doorways

Instead of cutting the flooring to match the extra measurements of doors, it is easier to cut the trim on doorways with a saw. This will ensure that your flooring will easily slip under the door once fitted.

Measure Your Laminate Flooring

To ensure your floor fits properly, you should measure the width of your room starting from the longest wall then divide the distance by the width of the laminate planks. This will give you the exact measurements for the final row of flooring and cut if necessary. You should also make sure that you leave at least 3 inches along your walls to allow for floor expansion.

Install The Underlay

Some types of laminate flooring come with underlayment built-in, but if yours doesn't, you may have to purchase this separately. To fit the laminate flooring underlay, you should roll out two rows and use a knife to cut it to make sure it fits in the space.

Before cutting it, you should you make sure the two pieces meet but do not overlap to avoid bumps in your flooring. Once it is positioned correctly, you should then duct tape the underlay to secure it.

Fit The Laminate Flooring

Before securing your floor, you should place 3 to 8-inch spacers along your walls to make room for material expansion. The first row should be installed by placing the planks tongue-side against the wall then once the row is complete, you should cut the length of the plank, making sure you leave room for the spacers.

If you have more than a foot of remaining flooring from the first, you should use this to start the next row and start where the first row began to give a more natural and staggering feel.

When staggering, make sure that you leave at least 6 inches between the seams. To secure the planks in place, you should hold the long side of the panel at an angle then place the tongue into the groove of the previous row then cut to size.

Finishing Touches

To finish off your flooring, you should remove the spacers then install a threshold bar and then use finishing nails to apply quarter-round moulding to your walls.
Waste Removal
If you want to remove your existing laminate floor, prices start from just £3 per square metre. Many companies will include the cost of removal within the quote, and this will vary depending on the size of your room and how long it will take, as some contractors charge per hour while others set their prices based on measurements.
If you are taking on this job yourself you could look into the cost of hiring a skip, or just do some good old fashion tip runs in your car.
Laminate Flooring Pros and Cons
Laminate flooring has probably been the most popular flooring in the UK for many years and even today remains a very popular choice. Before you decide to have laminate flooring installed in your home, you should weigh up the pros and cons to see if this is the right choice for you.
Pros
✔ Easy to maintain.
✔ Expensive aesthetic.
✔ Variety of applications.
✔ Underfloor heating can be added.
✔ Underlay can be built-in.
Cons
✖ Can be difficult to install.
✖ May require specialist cleaning.
✖ Not entirely resistant to moisture.
✖ Requires a full replacement if damaged.
✖ Can be slippery.
Additional Costs
To finish off your laminate flooring, you will need to consider the average costs of additional extras such as:
Trims
For functional and decorative purposes, you may want to install new trims to enhance your laminate flooring. This can cost around £4 to £9 per trim. The amount you purchase will depend on the size of your room and how much material is required.
Moulding
If you require new moulding; there are various options you can choose from including quarter-round moulding which costs around £4 to £15 for a 94-inch length and is usually placed in the right angle of the wall and floor.
Another option is threshold moulding which is typically priced at around £22 to £25 for a 78-inch length. This provides a smooth transitional finish from higher-level flooring to a lower-level.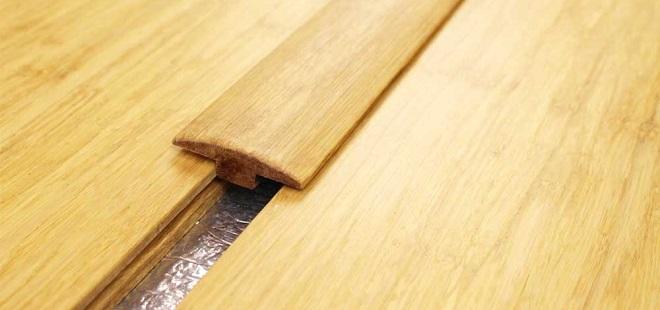 The most expensive of all is T-moulding which provides a clean transition from one type of flooring to a similar application costing around £22 to £28 for a 78-inch length.
Skirting
If you need your skirting boards removed and have new ones installed this usually cost around £203 to £342 or an average size room.
Laminate Flooring for Stairs
If you want to have laminate flooring installed on your stairs, you should expect to pay around £35 to £96 per step, although this will depend on the material you choose, as well as how long the installation will take.
Installing laminate flooring on your stairs can be a difficult task, as it involves removing the original overhang to make room for a customised overhang. Professionals will also need to prepare three pieces, including the tread for the top of the step, riser pieces for the front of the step and stair nosing for the overhang.
There are two main types of stair nosing, including flush mount which adds a rounding effect to your stair floor. This is ideal for a home that received a significant amount of foot traffic and usually cost around £31 to £59 for a 78-inch length.
Another type is step nose or overlapping step nose which provides horizontal and protruding qualities that offer a non-slip application. This style is typically priced anywhere between £14 and £74 for a 78-inch length.
Laminate Flooring Textures and Finishes
There are a variety of different textures and finishes to choose from when deciding on laminate flooring. Here is a breakdown of different types of textures and finishes, their costs per square metre and the pros and cons of each.
Textures
Texture
Cost
Pros
Cons
Hand-scraped
£11 to £17
- Hides flaws easily
- Good for a high foot traffic
- Versatile material
- It cannot be re-sanded
- Hard to install
- Expensive
Embossed in Register
£17 to £30
- Made from real wood planks
- Wide range of styles
- Long-lasting warranty
- Can be costly for large rooms
- Thin flooring is less sustainable
- Tricky production and installation
Satin
£10 to £32
- Low-maintenance
- Reflects light well
- Smooth texture
- Not suitable for wire brushed floor
- Does not hide imperfections well
- Can be slippery
Brushed/oiled
£42 to £52
- Authentic aesthetic
- Scratches are hidden
- Less slippy
- Difficult to maintain
- Can look unnatural
- Less durable when sanded
Finishes
| Type of finish | Cost per square metre |
| --- | --- |
| Lacquered | £20-£68 |
| Brushed and lacquered | £31-£51 |
| Brushed and oiled | £30-£54 |
| Hand-scraped | £39-£44 |
Do I Need Underlay for My Laminate Flooring?
Yes, laminate flooring underlay is necessary when fitting your laminate, as it is a floating floor, therefore it requires underlay for stability and insulation while also reducing noise, making it one of the best soundproof flooring options.
Underlayment is a thin cushioning layer which lies under your flooring and can be made up of several materials such as foam, rubber, felt, plastic and more. This not only provides support but also offers you comfort and can reduce wear on your flooring.
Many professionals will suggest using foam underlay instead of a moisture barrier, as the latter will trap moisture and may damage your subfloor, which could affect the rest of the installation. They may also advise you to install underfloor heating, especially if any of the rooms are drafty, as this will provide you with waterproof laminate flooring.
The cost of underlay is around £2 to £4 per square metre for a concrete subfloor and between £2 to £5 per square metre for a wooden subfloor. depending on what you want. Some types of flooring have pre-attached underlay, which may be beneficial; however, you can always purchase the type of underlayment you want separately.
By adding laminate flooring underlay, you can expect to reduce the costs of your energy bills by up to 15%, as the underlayment acts as a barrier to prevent any heat escaping, so it is a worthwhile investment.
Laminate Flooring Edging Options
To finish off your flooring, you should consider the different types of edging and their costs.
| Type of edging | Cost per square metre | Application |
| --- | --- | --- |
| Bevelled | £13 to £38 | A V-groove style offering an authentic feel. |
| Micro-bevelled | £17 to £38 | Not as angled as the bevel-style. |
| Square | £14 to £21 | Straight edge planks cut to a 45-degree angle. |
AC Rating
AC Rating is a measurement used for laminate flooring which determines the right application, with some types of laminate being able to handle more foot traffic than others. To establish the rating, all laminate flooring is tested for durability, abrasion, stains. To achieve the measurement, the flooring must pass all tests, but if they do not, the product will be disqualified from sale.
Here is a breakdown of the different AC Ratings, along with the various applications and costs per square metre:
| Rating | Cost | Application |
| --- | --- | --- |
| AC1 | £5 to £13 | Typically used in bedrooms or wardrobes. |
| AC2 | £5 to £32 | Suitable for dining rooms or living rooms. |
| AC3 | £5 to £23 | Can be used in all rooms in the home with high foot traffic. |
| AC4 | £7.50 to £27 | Suitable for all residential space as well as commercial premises with low traffic. |
| AC5 | £15 to £18 | Built with four protective layers and typically used for large commercial spaces. |
How Do I Know If I'm Buying Good Quality Laminate Flooring?
The main misconception that many people have when buying laminate flooring is that thickness is the most important element. While thickness can make flooring much more realistic, it is not the be-all and end-all. Instead, you should consider the density of the flooring.
Laminate flooring is usually made up of either medium-density fibreboard or high-density fibreboard (HDF) which are made of broken-down softwood fibres that are mixed with a resin binder and wax and heat-pressured into the laminate panels. The difference between MDF and HDF is that the latter is much more durable and sustainable, making your flooring much better.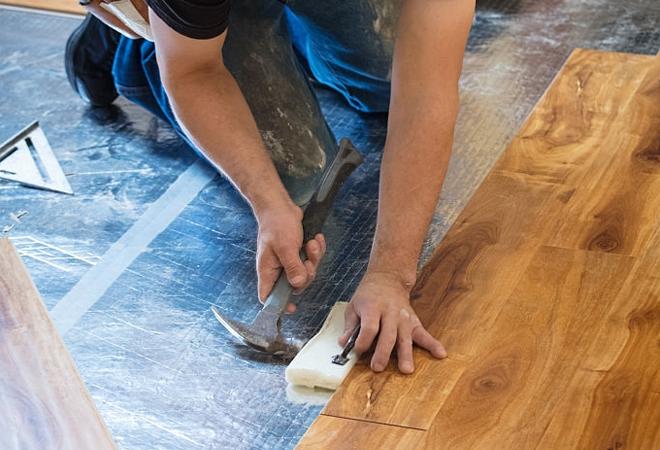 The AC rating is also important, and usually the higher the measurement, the higher the quality, so even if AC5 laminate is designed for commercial spaces it does not mean you can't use it in your home; however, it will be more expensive.
Maintaining Laminate Flooring
The good thing about laminate flooring is that it is relatively low-maintenance; therefore, does not require an extensive routine to keep it looking good. However, there are some things you avoid doing to keep your floor in tip-top shape.
This includes avoiding harsh chemicals and instead just using water to keep it clean. You could also consider getting a doormat for each entrance to avoid mud being trailed in, as this will also reduce maintenance time.
Some floor fitters advise you to install pads underneath your tables and chairs to avoid any dents or scratches on the floor. These can cost anywhere between £0.50 to £10 per pack.
How To Clean Laminate Flooring
When cleaning your laminate floor, you should avoid using a wet mop or a steam cleaner as this can damage your floor. You should also refrain from using soap or any liquid cleaning product as this will wear down the floor. Instead, you should just use a damp cloth straight away on any spills to avoid any staining.
If any tougher liquids, such as lipstick, paint or ink come in contact with your laminate flooring, then you should use acetone nail polish remover on a clean cloth then wipe away with a damp cloth.
For regular cleaning, you should just use a brush or a vacuum with a hard floor attachment to remove any dust or dirt. This will prevent your floor from losing its finish, as some attachments can cause laminate material to look dull. If you do not have an attachment, you can always purchase the right tools for your hoover, which typically costs around £8 to £15.
Alternatives to Laminate Flooring
There are various other types of flooring you could consider besides laminate flooring. One of the most popular alternatives is hardwood flooring, which unlike most laminate applications is made up of real wood. It is a more expensive option at around £50 to £100 per square metre. However, it is one of the most durable and aesthetically-pleasing flooring products.
A similar style of flooring to hardwood is engineered wood, which costs around £20 to £50 per square metre. This type of flooring is made to look like real wood and is arguably more realistic-looking than laminate. It is also less prone to expansion as it is extremely moisture-resistant, although despite this laminate is still the more durable of the two.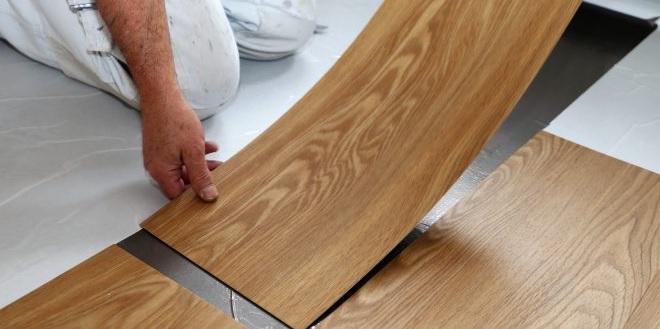 Luxury vinyl tile is another common application in the home, as it is much more affordable than laminate at just £5 to £26 per square metre. Similar to laminate flooring, it recreates the wood aesthetic using a photo-realistic print film layer.
This is protected with polyurethane which prevents scratches. Another advantage of LVT is that it offers less noise pollution than other types of flooring, although it is not as durable as laminate.
Removing Laminate Flooring
If you want new flooring, you will need to remove your existing laminate flooring to do so. You can either do it yourself or get a professional to do so. For the latter, you should expect to pay around £13 per hour for a trained carpenter to complete the job, which can take around a day to finish, although this will depend on the size of the room.
To remove the floor, a skill saw is typically used to cut the middle of each laminate plank to break the adhesive then a chisel and mallet can be sued to tap underneath the plank's edges with a chisel and a mallet to remove the planks.
If this doesn't work, a heat gun can be used to melt the adhesive, or if you are doing it yourself, you could rent a motorised floor stripper with claws attached to remove the planks. While this is one of the easiest ways to remove laminate flooring, it is expensive costing around £80 per day, and you must also be extremely careful as this can permanently ruin your flooring.
FAQs
How to Find and Hire a Laminate Floor Installer
If you wish to find a laminate floor installer, it's a good idea to ask for proof of previous work, so you know what they're capable of and what quality their finish work is. Asking for references from former clients is reasonable too, this will help understand if a trader acts professionally. It's always a good idea to hire a floor installer who has liability insurance, so if anything goes wrong, your home and any damage will be fully covered.
If you're searching for a laminate floor installer near you, click here to find one and receive free quotes.
Sources
https://www.easystepflooring.co.uk/blog/solid-oak/what-are-the-pros-cons-of-hand-scraped-flooring-
https://www.jfjwoodflooring.co.uk/newsarticle/brushed-and-oiled
https://www.directwoodflooring.co.uk/dwfblog/install-laminate-flooring-on-stairs/
https://blog.millikencarpet.com/3-alternatives-to-laminate-wood-flooring
https://www.hunker.com/13402373/how-to-lay-laminate-flooring-over-an-uneven-floor
https://home.howstuffworks.com/home-improvement/home-diy/flooring/how-to-remove-laminate-flooring.htm
https://www.thespruce.com/laminate-flooring-pros-and-cons-1821644