How Much to Replace Floorboards?
The cost to have broken floorboards fixed and loose floorboards screwed into place will probably end up around £200 to £300.
If you need to have creaky floorboards fixed with the lifting and refitting of a carpet a necessary part of the repair, you'll likely pay between £150 and £200.
The average cost of having a floor joist and several split floorboards replaced will end up around £450 to £550.
What can affect these costs?
How much you'll need to pay to have floorboards repaired depends not only on the type of repair, as shown above, but also the size of the area, how accessible the area is and where in the UK you are located.
Replacing Floorboards Prices
The following cost estimates factor in average supply costs, labour costs and waste disposal costs, where applicable.
TYPE
JOB DESCRIPTION
AVG. COST
DURATION
Square-edge Softwood
Replace Floorboards for a Single Room
£360 to £490
1-3 days
Replace Floorboards for Entire House
£1240 to £1750
7-10 days
Tongue and Groove Softwood
Replace Floorboards for a Single Room
£360 to £595
1-3 days
Replace Floorboards for Entire House
£1240 to £1780
7-10 days
Square-Edge Chipboard
Replace Floorboards for a Single Room
£345 to £675
1-3 days
Replace Floorboards for Entire House
£1680 to £2260
7-10 days
Tongue and Groove Chipboard
Replace Floorboards for a Single Room
£430 to £670
1-3 days
Replace Floorboards for Entire House
£1660 to £2240
7-10 days
Square-edge Plywood
Replace Floorboards for a Single Room
£460 to £705
1-3 days
Replace Floorboards for Entire House
£1840 to £2460
7-10 days
Tongue and Groove Plywood
Replace Floorboards for a Single Room
£540 to £815
1-3 days
Replace Floorboards for Entire House
£2305 to £3100
7-10 days
N/A
Fix Creaky Floorboards
£150 to £200
1-4 hours
N/A
Fix Broken Floorboards and Screw Loose Floorboards
£200 to £300
1 day
N/A
Repair Floor Joist and Several Split Floorboards
£300 to £500
1-3 days
Supply Costs
We will now look at the average floorboards price if purchasing directly from a retailer.
The supply cost of floorboards excludes the labour and waste disposal expenses.
On average, you can expect to pay around £1.27 to £2.27 per m2 for square-edge softwood flooring or £1.25 to £2.65 per m2 for tongue and groove softwood flooring.
In terms of chipboard flooring, on average it will set you back £5.76 to £7.56 per m2 for the square-edge style or £5.50 to £7.30 per m2 if it is tongue and grooved.
Square-edge plywood will likely cost between £7.38 and £9.58 per m2.
The floorboard cost for tongue and groove plywood will land around £12.15 to £16.15 per m2.
Additional Costs
When having your floorboards repaired, there are many additional jobs you may wish to pay for.
These include but are not limited to treating woodworm, having laminate or wood flooring installed, getting a new carpet fitted and having a carpet or multiple carpets cleaned.
Treat Woodworm
Woodworm is the larvae of wood-boring beetles. The most harmful is that of the Common Furniture beetle.
The damage itself usually occurs within the timber, making it difficult to spot.
Small holes in the wood and fine dust surrounding these openings are examples of signs to look out for.
To have your home treated for every stage of woodworm will cost you around £500 to £800.
A woodworm survey, on the other hand, will only set you back about £50 to £80 and to have a single timber floor treated will probably cost between £100 and £140.
Ideally, you should have a professional perform this job as among other advantages; they will have the necessary skills and knowledge to identify the specific woodworm species which is causing havoc in your floorboards.
Nowadays, woodworm treatment tends to involve the use of chemicals which are designed to kill a wide range of wood-boring insects. Such products can be used on floorboards as well as other wooden house elements like furniture, timbers and roof rafters.
Chemical woodworm treatments tend to be odourless and are usually applied with a low-pressure sprayer or brush.
Not only do such treatments kill current insect populations, but they can also offer long-term protection to prevent the problem repeating.
Laminate Flooring Installation
If you wish to have laminate flooring installed, covering the area of an average-sized room, you can expect to pay between £400 and £500.
This cost will vary depending on the type of laminate flooring you wish to have fitted.
For example, walnut laminate floorboards cost around £7 to £16 per m2 while oak laminate flooring generally costs between £7 and £18 per m2.
You should budget for about £9 to £14 per m2 for maple laminate flooring or £20 to £26 per m2 if you are looking to have elm laminate floorboards fitted.
There are four key steps to fitting laminate flooring. First, the room will need to be accurately measured.
For square or rectangular rooms, this is quite straightforward, but if you have any alcoves or a chimney breast, the process can be a bit more complicated.
Next, it's important that the sub-floor is entirely smooth. If it is not, the floor may need to be concreted, dried and smoothed out.
A waterproof membrane instalment may also prove necessary before the laminate flooring can be fitted.
A labourer might also remove skirting boards to ensure the flooring is installed correctly.
It's also essential that any screws or nails are fitted right, and that there's no debris or dust around the flooring.
Once the sub-floor is dried and ready, the underlay needs to be fitted.
With many types of underlay to choose from, a professional can advise you on the ideal type for your room.
When it comes to the final phase of the job, that being the actual flooring installation, the labourer will request to know what direction you'd like your flooring.
The installation should start in the corner for the initial line of boards to be laid down.
The tongue-side should be facing the nearest wall.
They can be clicked in using the flooring's clicking system.
Spacers are also needed between the walls and the boards.
The floorboards must be evenly spaced with a gap of at least 100mm between the final row of boards.
Wood Flooring Installation
If you wish to cover a 20 square metre room with oak solid wood flooring, you can expect to pay a total of £1000 to £1400.
This type of flooring costs about £30 to £40 per m2 in supply costs.
The material costs of solid wood flooring, in general, tend to land anywhere from £20 to £100 per m2.
The first step of a wood flooring installation is to acclimatise the floorboards.
This process can only take place once it is confirmed that the site conditions are right.
The floorboards should remain closed in boxes and be laid out flat in the installation room.
The packs need to stay sealed with no more than 3 packs stacked on top of each other.
There should also be gaps in a minimum of 4cm between each pile.
The packs should be left as they are for at least a week.
You want to keep the room in its normal state.
For example, if the heating is usually on, it should stay on as often as it regularly does.
Next, the existing underlay will need to be removed, and the room will need to be measured and prepared.
Any expansion needed to ensure that there are gaps around the installation will take place at this stage.
Either a concrete or plywood underlay can be fitted before the floorboards can be laid down and installed.
Carpet Installation
A mid-range carpet fitting in an average bedroom will cost you about £120 to £160.
On a budget, this will set you back £30 to £40, but for a luxury fitting, you can expect to pay between £250 and £310.
To fit a new carpet, first, the current flooring will need to be removed, and then the new carpet should be cut to size.
There should be an additional 200mm left all around, and any carpet pattern should be fitted square to the walls.
There should also be enough overlap to cross through any doorways.
Next, lay carpet grippers must be fitted around the outside of the room with approximately 12mm between the grippers and the skirting boards.
The grippers can be hammered into the floor with masonry nails.
The sharp ends need to point towards the direction of the walls in order to secure the carpet in place.
An appropriate underlay must be laid inside the gripper before the carpet can be rolled out and initially pushed into one corner.
The kicker can be used to stretch the carpet diagonally across the room.
Once the carpet is cut to size and laid down, the kicker should be utilised to ensure the carpet is tight to each of the skirting boards.
Lastly, a carpet bolster should be employed to bang the carpet down between the skirting boards and gripper rods for an ideal finish.
Carpet Cleaning
Upon having your flooring repaired, you might also wish to get your carpets cleaned.
To have your stairs and landing cleaned will likely cost you around £25 to £35.
The same job will end up about £35 to £45 for a lounge carpet, £15 to £25 for a small bedroom carpet or about £30 to £40 for a large bedroom carpet.
To have all carpets cleaned in a standard 3 bedroom house will cost approximately £180 to £220.
There is a variety of different methods used in the carpet cleaning industry.
Some methods make use of water while others rely mostly on chemicals or mechanical action to clean.
It's vital that the professional you hire to perform this clean has had the necessary experience and training to perform the work.
Hot water extraction is the most common type of carpet cleaning.
It is a popular choice since it is effective, fast and helps to preserve the durability of carpets.
With this method, a vacuum pre-clean should take place to remove dust and dirt, and a pre-treatment should be applied to spots, stains and heavily soiled areas. Then, the carpets can be steam cleaned.
A thorough rinse may take place, but it should be ensured that the carpets can fully dry within 24 hours.
It's important that the carpet is not left too wet as this can cause shrinkage.
Allowing the carpet to dry thoroughly is crucial to prevent the growth of mould and mildew.
Many professionals use a carpet cleaning machine that can dry the carpet as it's pushed along.
Cost Breakdown Calculator
Individual costs of repairing broken floorboards (non-replacement) – Total Cost: £250
Labour Costs and Time Frames
Paid professionals will set a specific labour cost usually in the form of an hourly or daily charge.
These costs are included in the overall costs alongside supply costs and any additional expenses such as waste removal.
To have several floorboards repaired will come with an average labour cost of around £200 to £250.
A labourer will likely charge you between £10 and £14 per hour to perform floorboard repair work.
If you wish to have floorboards fixed and loose floorboards screwed into place, it will take around 8 to 12 hours on average.
It may take about 1-2 hours to remove the old floorboards and possibly less, depending on how many boards need to be removed.
The bulk of the work will take approximately 6 to 10 hours with the likely clean-up lasting for 30 minutes to an hour.
The total duration of any given floorboard repair work will depend on the size of the room, the type of flooring and both the state and shape of the room.
Cost Affecting Factors of Repairing Floorboards
The total floorboard repair cost will depend on a variety of factors including the type of repair, type of floorboard and accessibility.
Location of Property
The price of hiring a labourer tends to vary depending on where in the UK you live.
Carpenters, like most contractors in general, charge the highest rates in London and the southeast of England, for example, while in the north of England, labour costs are generally cheaper.
Size of Area
Of course, how large the floor or floors are that you wish to have repaired will play a major role in determining the total cost.
Also, the more floors which need to be repaired, the more work will be needed and the higher the labour costs will be.
Type of Repair
There are many types of repairs which you may need to have performed ranging from having creaky floorboards repaired to having several split floorboards, and a floor joist replaced. Each repair comes with its own price tag.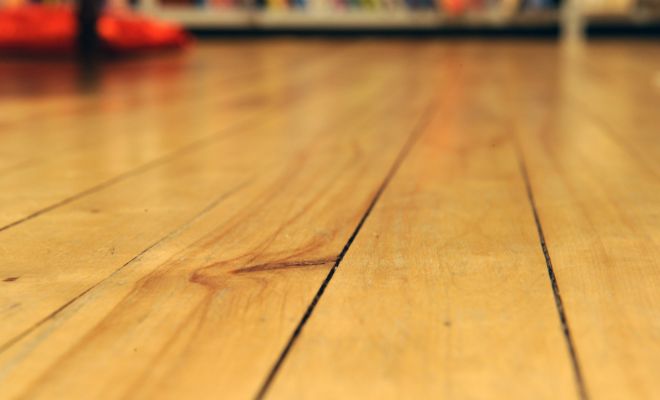 Type of Floorboard
As shown in the supply costs section, the price of floorboards depends on the type being used.
The average floorboards price range from £1.27 to £2.27 per m2 for square-edge softwood floorboards to between £12.15 and £16.15 per m2 if you wish to purchase tongue and groove plywood floorboards.
Ease of Access
How accessible the floorboards and each part of the room are will also shape the total cost of repair work.
An irregularly shaped room or floorboards which are difficult to open up, for example, can increase the overall cost.
This is because, in these scenarios, the work itself would take longer than an average floorboard repair job which would bring up the labour costs.
What Does Repairing Floorboards Entail?
Regardless of whether you intend to expose your floorboards or plan to have new flooring fitted over them, it's essential that your floorboards are in good condition and firmly screwed or nailed to the joists beneath. The methods discussed in this section provide a broad overview of floorboard repairs and what exact work any flooring will need will vary from case to case.
Preparation
Before any repair work can be performed, it's important that any necessary preparation is undertaken first. For floorboard replacements and some other types of repair work, appropriate measurements will be needed before the work can begin. A replacement job will also require that an underlay be fitted before the new floorboards can be installed.
Repair Work
If you want to hide floorboard faults, one solution is to have carpet laid down while laminate flooring will display any significant defects in the flooring.
Older floorboards tend to be straight-edged thus lifting them is relatively easy if a wide-blade chisel is used.
Alternately, they can be bolstered so that the board can be prised up gently.
To have tongue and grooved floorboards removed is more challenging since the prior mentioned approach of lifting floorboards cannot be used here.
Instead, this work involves sawing through the tongue with a circular saw or a convex blade flooring saw.
This is prior to the board being levered up.
It's imperative that when tongue and grooved floorboards are being removed, the joists are not accidentally cut into.
If they are damaged in the process, they'll need to be replaced which would add to your expenses.
It's important that the condition of floor joists is carefully checked when floorboards are being removed.
You should seek the advice of a professional if the floor joists are rotten or damaged.
Even experienced DIY enthusiasts may find rot assessments too difficult to perform accurately.
Loose floorboards can generally be fixed with ease simply by having their nails replaced with screws.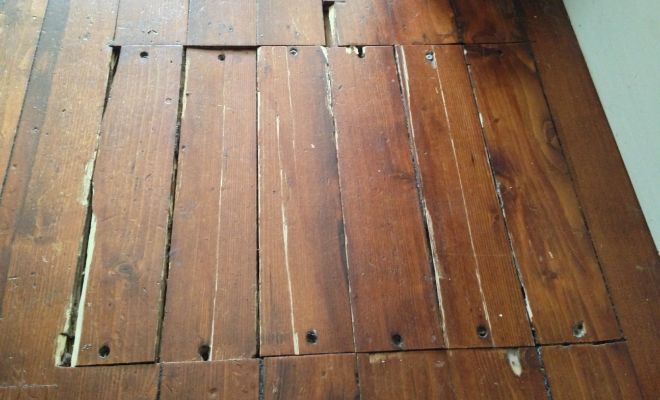 Once the nails are removed, the existing holes may be used for the new screws to fit into.
On the other hand, you may wish to have the new screws driven in next to the old nails with the latter remaining in place.
The screw holes will need a countersink before a wooden plug is made for a high-quality finish.
Floorboards which are warped and loose should be replaced.
For a floorboard replacement, the boards need not be matched once the same wood type is being used and there is a plan to sand the entire floor after the floorboards have been fitted.
Any screw heads and nails must be punched below the surface prior to sanding.
In some cases, split floorboards can be fixed with a strong wood glue.
It can be applied to the crack before each edge is compressed together with wedges.
However, this approach will not prove sufficient if the split is jagged or large.
Severely damaged flooring will need to be replaced entirely or, alternatively, the damaged section could be cut out and replaced.
When the floorboard is being cut, the joist needs to be cut so that the ends can be tightly fixed.
If a perfectly sized replacement cannot be found, a slightly wider board can be purchased, and a professional can plane it to the correct dimensions.
Clean Up
The final stage of any flooring repair work will be the clean-up.
Work that involves waste materials will also require the use of a waste disposal service, whether it is with a skip or an alternative approach such as a man and van service.
If your floorboards happened to contain asbestos, a special asbestos waste disposal team would be needed.
DIY Repairing Floorboards
Floorboard repairs and replacements may be performed as DIY work.
Most of the risks associated with a DIY approach relate to the job being performed incorrectly.
Mistakes in repairing floorboards may simply fail to fix the problem or in the worst-case scenario, exacerbate the problem.
If the floor joists are rotten, it is best practice to seek professional advice. Dry rot spores can be harmful if inhaled.
Also, there is a risk of unintentionally damaging pipes or joists beneath the floorboards.
Each repair comes with its own level of difficulty.
For instance, repairing a squeaky floorboard is a relatively easy fix while repairing major damage or dealing with rotten flooring elements will prove more challenging.
You will save approximately £12 to £14 per hour due to the lack of labour expenses.
The total cost you will likely save will vary depending on the work being performed.
For example, you can avoid the cost of around £200 to £250 if you decide to repair several broken floorboards by yourself.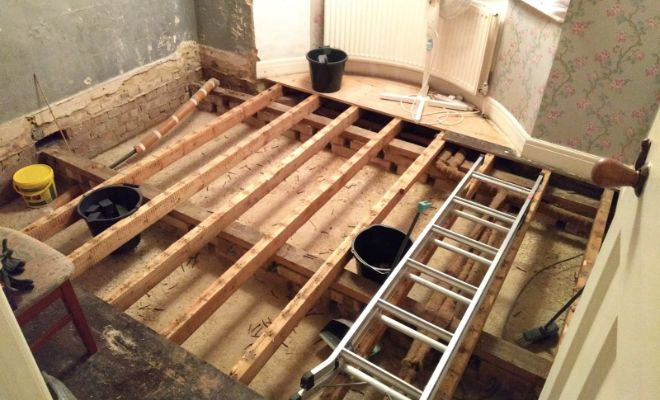 There are plenty of tools which you might need. The following tools may or may not be needed, depending on the job you are performing;
Wide-bladed chisel or bolster
Circular saw, or convex blade flooring saw
Screwdriver
Hammer
Drill and twist drill bits
Wedges
Planing machine
Thin blade knife
Measuring tape
Pencil
Chisel
Jigsaw
Pry bar
Wooden blocks
The following safety equipment should be used at all times or for a specific occasion, where stated;
Latex gloves (for applying finishes)
Protective gloves
Safety glasses
Ear protection (when using loud tools)
Long trousers
Workboots
Full face shield (for grinding, cutting or chipping)
Chemical splash goggles (for work which uses chemicals)
Respiratory protection (for work that is messy, dusty or/and involves potentially harmful substances - for e.g. when trying to remove dry rot)
Planning permission is not usually needed to repair or replace floorboards. However, you should contact your Local Planning Authority if you occupy a listed building.
Types of Floorboard Repair
There are many different types of floorboard fixes which you may wish to pay for or perform yourself.
This includes fixing issues like damaged joints, loose floorboards, creaky floorboards, woodworm and damaged floorboards.
The costs mentioned in the following section assume that you are paying a professional to perform the work.
Beyond the repairs listed below are other fixes such as joist repairs.
Creaky Floorboards
This issue can be solved with many different methods such as inserting shims into gaps, filling long gaps with construction adhesive, nailing a board along a warped joist or adding blocks to noisy joists.
You may also need to have a carpet lifted so that creaky floorboards can be fixed before the carpet is laid down again.
This will cost approximately £150 to £250 in total.
In general, having creaky floorboards repaired will cost £10 to £14 per hour plus any material and waste disposal costs.
Most of these repairs are relatively easy, although a job which involves taking up a carpet and laying it back down could prove quite difficult.
Loose Floorboards
Replacing the nails in floorboards with screws may be all that is necessary to fix loose floorboards.
A labourer may also choose to add the new screws next to the old nails. Either way, screw holes should be countersunk.
A wooden plug should also be made for the best finish possible. However, the floorboards will need to be replaced if they are warped.
To have loose floorboards fixed will likely cost between £200 and £300.
If you need to have several loose floorboards replaced, expect to pay around £300 to £500.
The initial fixes mentioned are straightforward but replacing several floorboards is of around medium difficulty.
Joint Repair
A popular method for dealing with laminate flooring involves first closely analysing an open joint to establish in what direction the board has moved.
A chisel and hammer should then be used to remove the skirting board on the side where the floorboards have moved towards.
Upon removing the baseboard, it will be revealed which board is out of place.
With a hammer and tapping block, the board can be knocked back in place.
A wood glue may also be added to the crack between the boards to ensure that the issue doesn't return.
Finally, the skirting board must be glued back together.
Hardwood gaps may be fixed with a variety of methods, ranging from adding wood strips to filling the gaps with rope.
Any of these jobs will set you back £10 to £14 per hour plus any material and waste disposal expenses.
Most of these fixes are relatively easy.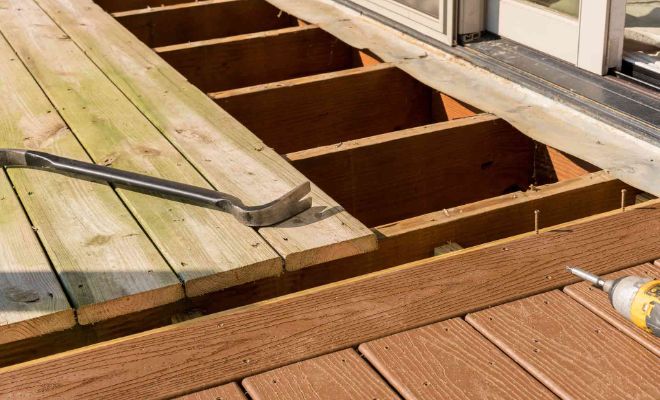 Woodworm Repair
Woodworm treatment is best performed by a professional unless you have sufficient knowledge and experience of such work.
Most woodworm treatments involve the use of chemicals. Such products are designed to absorb easily into the wood.
These treatments will not only kill off wood-boring insects, but they can improve the long-term capacity of your floorboards to resist new infestations.
The treatment needed will vary depending on the type of infestation present.
Treating woodworm is more challenging than most simple floorboard repairs.
In terms of costs, a woodworm survey will land around £50 to £80, to have a single timber floor treated will end up about £100 to £140 while having your home treated for every stage of woodworm will cost roughly £500 to £800.
Replace Floorboards
You may need to have your floorboards replaced because there are issues present (for e.g. dry rot) which cannot be fixed, or you have decided to have it replaced for preferential reasons such as to improve the aesthetics of the room.
The first step of replacing floorboards is to acclimatise the new floorboards before measuring the room ahead of the installation.
The next stage will involve removing the current floorboards.
Replacing straight-edged floorboards involves inserting a bolster or wide-bladed chisel into the gap at the end of a floorboard and then prising the board up gently.
Once there is sufficient room, a claw hammer may be inserted into the gap to prise up the board.
To remove a tongue and grooved floorboard, a convex blade flooring saw will be needed.
Depending on factors such as the type of floorboards being fitted, it may be necessary to fit a waterproof membrane and remove skirting boards.
It's important that any debris or dust surrounding the flooring area is cleaned up.
Next, a new underlay can be fitted before the new floorboards may be installed.
If you are having floorboards replaced for an entire room, it's going to be a complicated and time-consuming job but having one or several floorboards replaced is less challenging.
A labourer is going to charge you around £12 to £14 per hour in installation costs for this work.
This will cover the removal and fitting work as well as additional work such as measuring the room and performing the clean-up.
In terms of the supply cost of replacing floorboards, laminate floorboards cost around £12 to £20 per m2 as an overall average, solid wood flooring costs about £20 to £100 per m2, engineered wood flooring will set you back about £25 to £35 per m2, parquet floorboards cost around £35 to £65 per m2, and you can expect to pay between £20 and £25 per m2 for vinyl floorboards.
The total floorboard replacement cost will also include any waste removal expenses.
Do My Floorboards Need Repairing?
Knowing when your floorboards need to be repaired is essential to stop problems getting out of hand.
Some floorboard problems are more obvious than others. You may notice issues such as splits in your floorboards, open joints or overtly loose or squeaky floorboards, as examples.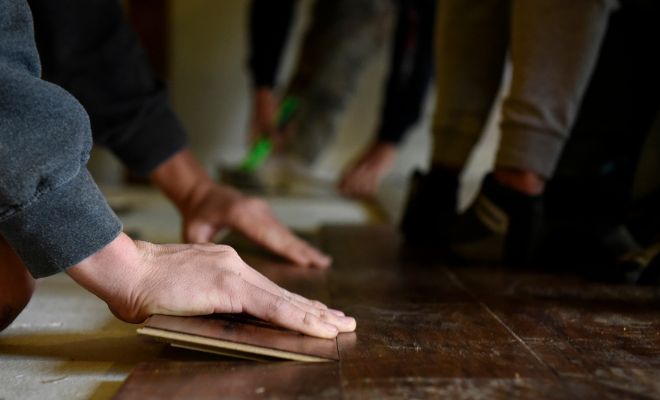 On the other hand, woodworm can be difficult to spot at first with subtle signs emerging before it becomes obvious.
Such signs include small holes in the wood and fine dust surrounding these holes.
The cost of having floorboards repaired can vary greatly depending on the issue that needs to be fixed.
Cost of Removing Floorboards
You may want to remove your floorboards because they are simply beyond repair, to update the look of your room or to improve the sound and heat insulation qualities of your flooring.
The cost of having floorboards removed in labour will depend on how many you wish to have removed.
To have just several removed might cost you £10 to £28 in labour costs, assuming about one to two hours of work.
On average, a labourer will charge £10 to £14 per hour for floorboard removal work.
Removing floorboards is not exceptionally difficult although squared edged floorboards are easier to remove than tongue and grooved boards.
You may perform this work by yourself if you wish, although you should ensure that you are certain of what the job entails and that you're following any necessary safety precautions.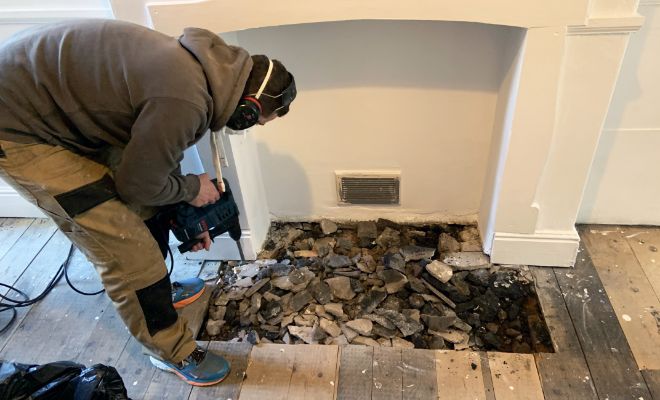 Generally, waste can be disposed of through a skip or a man and van service.
If your flooring happens to contain asbestos, firstly, you should not perform the removal yourself unless it is allowed under the Control of Asbestos Regulations 2012 and you are sure of what is involved.
Secondly, asbestos and any other dangerous fibres, chemicals, etc. must be disposed of by specific waste disposal teams.
Hiring a skip will probably cost around £100 to £240.
The charge of asbestos waste removal, for example, could land somewhere in the range of £0.22 per kg to £1 per kg.
FAQs
How to Find & Hire a Floorboard Repairer
If you lack the necessary knowledge or skills to perform floorboard repair work, you may prefer to hire a professional contractor to undertake the work.
If asbestos is present in your floorboards, then in most cases, an appropriate and qualified professional must be hired for such work.
You're looking at paying around £10 to £14 per hour to hire a labourer to repair floorboards on top of any supply and waste disposal costs.
To find the right person for the job, you should look for someone with plenty of experience and ideally someone who has accreditation, liability insurance and can provide you with examples of past work.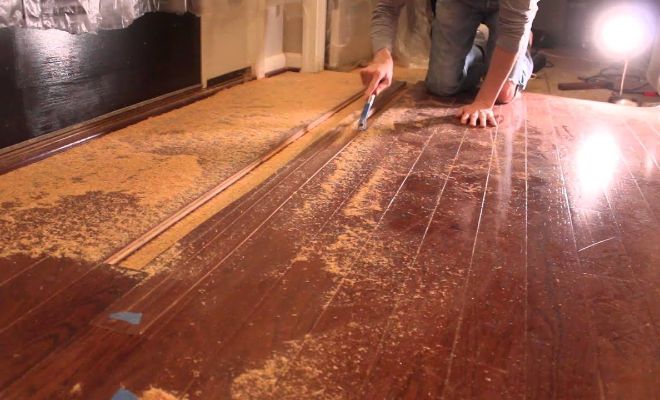 If they are a part of a labourer association, you can contact their association to request information on the contractor's experience and qualifications.
Alternatively, you may decide to check out any web or social media pages the contractor has.
Professional contractors generally do not require qualifications, unless for specific work like certain forms of asbestos removal.
Most labourers are highly experienced individuals who learned on the job and developed their skills through years of practical work.
Sources
https://www.ajferguson.co.uk/softwood-t-g-flooring-25mm-x-150mm-u-s