How Much Does It Cost to Lay Vinyl Flooring?
You may be surprised to learn that vinyl flooring can cost anywhere from £8 to £50 per metre square to buy. The average size of a kitchen is 4m x 3m or 12 square metres, so vinyl flooring for an average-sized kitchen could cost anywhere from £96 to £600. And a small bathroom is about four square metres, so vinyl flooring could cost between £32 and £200 to cover it.
So, why is there such a big variation in the cost? Firstly, vinyl flooring comes in three different styles: vinyl sheet flooring, vinyl tile flooring and vinyl plank flooring. And although vinyl is a very affordable floor covering to use, some are more high-quality than others. Luxury vinyl tile (LVT) and luxury vinyl plank (LVP) flooring is at the premium end of the market and can cost more than double the price of basic vinyl flooring.
It's not just whether the vinyl flooring comes as a sheet, tiles or planks that affects the quality and price though. Vinyl flooring comes in a range of thicknesses, which offer different levels of comfort and durability. Plus, many styles mimic tile or wood effects. Often the higher the price you pay, the more realistic the finish tends to be. You may find the choice of fashionable styles is greater too.
There is the cost of extra materials to factor in too. Some vinyl is self-adhesive, whereas others require adhesive to be applied to the floor. Vinyl floor adhesive costs between £10 and £30. And depending on the product and finish you fancy, you may need underlay too. Underlay for vinyl flooring usually costs between £3 and £7 per square metre.
Materials are not the only cost you may need to factor into your cost to lay vinyl flooring. If you're hiring a tradesperson to do the work for you, then you'll need to work out the cost of labour. This could cost between £15 and £20 per hour, although some flooring specialists may charge more.
Laying planks and tiles will undoubtably take longer to lay than vinyl sheet flooring. And those living in some areas, such as London and the South East, may find that hourly rates are higher than the national average.
Furthermore, if your floor needs some preparation work before you can lay the vinyl, then this will add another cost to your total price. Tasks such as removing old floor coverings, replacing floorboards or levelling concrete may need to be factored in.
If you're hiring a floor fitter, it's a good idea to check whether they dispose of old flooring or whether that's something you need to do. You should be able to dispose of old floor coverings at your local recycling centre for free.
Finally, the size of the room you're laying the floor in will affect the cost. A small or square room will take less vinyl to cover it than a large or awkwardly shaped room. If your room is an odd shape, you may need extra vinyl to allow for cutting out tiles and planks to fit in alcoves.
Laying Vinyl Flooring Prices
Here's the average cost to lay vinyl flooring per square metre:
| Type of vinyl flooring | Cost per m2 |
| --- | --- |
| Vinyl tile flooring | £8 - £20 |
| Vinyl plank flooring | £10 - £25 |
| Vinyl sheet flooring | £6 - £20 |
| Luxury vinyl tile flooring (LVT) | £18 - £40 |
| Luxury vinyl plank flooring (LVP) | £20 - £50 |
Additional Costs
Of course, there are other costs that may need to be factored into your vinyl flooring cost. It could be additional building work or luxury extras that increase the cost of your flooring project. Here's just a few tasks that could crop up:
Getting Rid of Damp
If your floor has a damp problem, you will need to fix this before you lay any new flooring. Damp will cause moisture to get trapped under the vinyl, causing your new flooring to bubble or mold to form. Damp can be a common problem in older homes that haven't got a damp course.
If you're unsure of the cause, a damp survey may be needed. This costs on average £250. You can then arrange for the right damp proofing work to be carried out to solve the problem. This can cost from £200 upwards.
Underfloor Heating
Fancy creating a warmer floor or room? You could install underfloor heating. You will need to check which underfloor heating systems and vinyl coverings are compatible first. However, if you do decide this is right for you, then you'll need to calculate the underfloor heating cost into your budget too. Underfloor heating usually costs between £60 and £100 per square metre.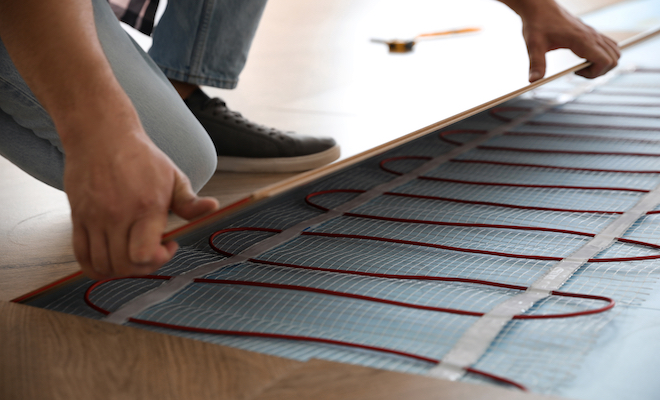 Soundproof Flooring
Vinyl floors can be noisier to walk across than carpet, so you may want to think about soundproofing, especially if you live in a flat. Equally, if noise from your neighbours is a concern, you may find it beneficial. A soundproof layer can usually be added underneath your vinyl flooring, but you should check the recommendations of the manufacturer.
If you do decide to install soundproof flooring, you will need to factor this cost in too. Depending on what type of soundproofing you go for, it could add another £200 to the total cost.
Skirting Boards
Tired, shabby or mismatched skirting boards could detract from the look of your new flooring. So, the cost of replacing skirting boards may be another consideration. If you're not replacing your skirting boards, but merely sprucing your old ones up, you may budget for the cost of painting skirting boards instead. This could add another £100 to £300 to your cost.
Cost Breakdown Calculator
Average cost of 12 square metres of vinyl flooing - Total Cost: £400
Labour Costs and Time Frames
Apart from materials, time frames and labour costs are the biggest factors to consider in any flooring job. So, how long does it take to install vinyl flooring? And what labour is involved?
It shouldn't take longer than a day to fit vinyl tiles or planks to a small or medium sized room. And sheet vinyl may only take a few hours to fit. So, at £15 to £20 per hour, it could cost between £30 to £140 to fit your flooring. However, it's not just the laying of the vinyl flooring that takes up time and labour.
The first thing to consider is the amount of time it takes to deliver your materials. And some vinyl coverings such as luxury vinyl plank flooring, need to be left in the room for a day or two before fitting. This is so it can acclimatise to the room temperature, to prevent it from expanding or contracting after fitting.
You may have old vinyl, carpet or laminate that needs removing before you can fit your new flooring. Taking out old flooring can be just as time-consuming as putting new flooring in. For example, old vinyl and adhesive can take another day or two to remove, depending on the size of room you're working with. If a tradesperson is doing this work, you'll need to factor in this cost.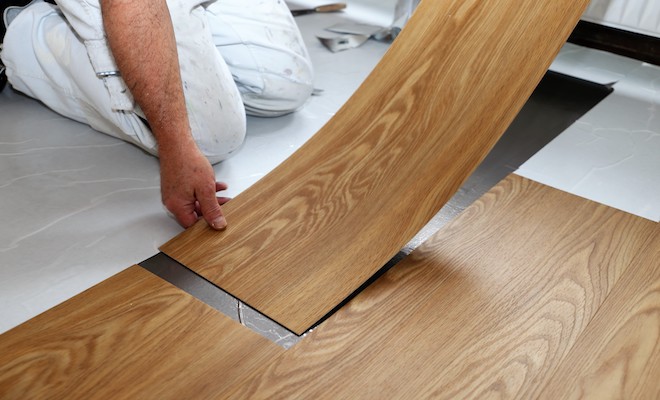 If your subfloor needs a bit of work to get it ready for your new vinyl to go down, then that can also add on time and costs. Replacing a few floorboards and removing a few loose nails may only take an hour or two of time but using a floor levelling compound or applying a layer of plywood board could take a whole day to do.
If you're using underlay, this will need to go down next. It usually comes in sheet form, so it shouldn't take longer than an hour to put in place.
Finally, you may need to leave your floor for a day afterwards. This will allow the glue to dry and cure. And if you have any skirting or door bars to fit over your vinyl, then you'll need to factor in the time and labour for this too. Fitting door bars may only take a few minutes to do, whilst adding or painting skirting boards could take an extra day.
Cost Affecting Factors of Installing a Vinyl Floor
When you're working out the cost of installing vinyl flooring, there are a few factors that can affect the cost. Here are the main factors to consider:
Size and Shape of the Room
The shape and size of a room will affect the amount of materials and time you'll need to pay for. A small, square room is going to be reasonably straightforward to fit vinyl sheet, plank and tile flooring. However, the more corners and alcoves you need to work around, the more time will be spent measuring and cutting your sheet, tiles or planks to fit.
You may find you need to buy more planks or tiles to account for wastage too. Plus, the bigger the room, the more materials you'll need. Tiles and planks usually come in one square metre packs, so even if you need just one extra piece to fit a space, you'll need to buy a whole pack.
Type of Vinyl Fooring
The type of vinyl flooring you choose will affect how much you pay. Vinyl is an affordable floor covering, but there is a big price difference per square metre between basic and luxury vinyl styles. Some vinyl floor coverings are self-adhesive, others will need adhesive to lay them down. So, these costs are worth some thought.
Quality of Underlay
Just as there are different types of vinyl flooring, there are different types of underlay you can buy. And these do differ in price. Some are designed specifically for LVT flooring or for use with underfloor heating. Some have a damp proof membrane, thermal backing or sound proofing, or a combination of all three. For the best warmth and comfort, you may want to spend more on a quality underlay.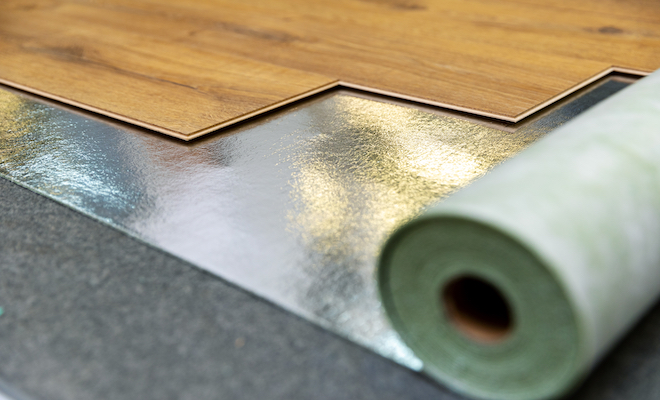 Delivery Costs
If you're buying the vinyl yourself, you may need to factor in the delivery cost. Some companies will offer free delivery if you're paying over a certain price, but it's worth checking this. Delivery of vinyl flooring can add £20 - £30 to your total costs.
Preparing Your Subfloor
The subfloor is the hard floor surface that the vinyl is laid on. This could be concrete, chip board or wooden floorboards. It may need some preparation, to make sure the surface is sound. It may need bumps or nails removing to create a smooth, even finish. Common jobs such as levelling concrete or replacing broken floorboards will add to your flooring costs.
What Does Installing Vinyl Flooring Entail?
You may be wondering what exactly what installing vinyl flooring entails. The method of installation may vary, depending on the room you're fitting, as well as your subfloor and vinyl type. However, it will usually follow these steps:
Choosing Your Vinyl Flooring
First, you'll need to decide on what type of vinyl flooring you'd like. It's best to check that it's suitable for your needs and will work with your subfloor. You may buy it from a flooring company who will also install it, or you may choose to buy it and find a reputable tradesperson to do the installation.
Measuring and Ordering Vinyl Flooring
Before vinyl flooring can be ordered, the room needs to be measured up. For vinyl sheet flooring, the length and width are simply measured, with a small margin added to allow for fitting. However, planks and tiles come in packs, so the square metres of the floorspace are calculated. To calculate this, the room width is multiplied by the length. An extra 5% to 25% is usually added to account for wastage.
Removing Old Floor Coverings
Next, old floor coverings need to be removed. Any old laminate or vinyl needs to be ripped up and disposed of. As much old adhesive needs to be removed as possible, to provide an even surface for the new floor. Tradesmen usually take this old material away for you.
Preparing the Subfloor
Before the new vinyl flooring goes down, the subfloor may need preparing. Preparation will vary depending on the floor type. If it's a new floor, it may be ready for installation. Subfloors will need to be free of sharp items such as old nails and dirt, otherwise adhesive won't stick to the surface. Lumps or bumps in the floor will be noticeable through the vinyl, so these need to be flattened out.
Installing the Underlay
Many, but not all, vinyl floor coverings require an underlay. This usually comes in sheet form, so it is rolled out and cut to size. Any joins in the underlay will be taped over to prevent movement. It is now ready for the new vinyl flooring to be laid on top.
Laying new Vinyl Flooring
How vinyl flooring is laid depends on whether it comes as one vinyl sheet, or as tiles or planks. Some vinyl is known as loose lay, so it only requires adhesive at the edges of the room. This is common with cushioned sheet vinyl flooring. Sheet vinyl is usually laid out and cut to size, then glued in place with tape or spray adhesive. Basic vinyl sheets may need fully adhering with suitable glue.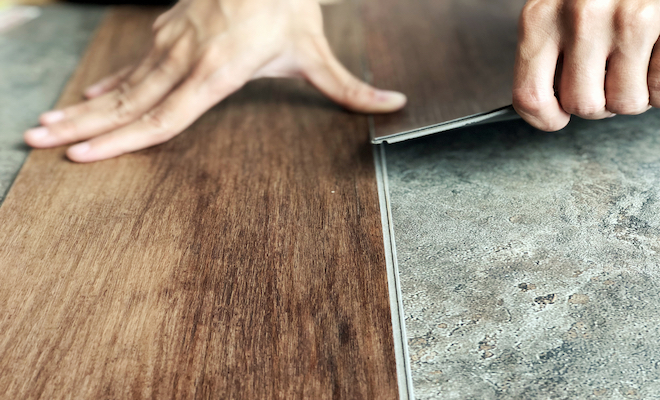 Luxury vinyl planks usually click together in a similar way to laminate flooring. A 5mm gap is left around the perimeter of the room to allow for expansion of the material. Then the planks are laid in rows, by tapping gently into place until they click. A roller may be used on each joint to it smoothen it out.
Finishing Touches
Luxury vinyl flooring is often finished off around the perimeter of the room with decorative trim to conceal the expansion gap. Sheet flooring may be finished off with trim or suitable sealant for a neat edge. Door bars are usually screwed in place to cover the join between the floor surfaces of adjoining rooms.
DIY Vinyl Flooring Installation
Getting a tradesperson in to lay your vinyl flooring will add to your total cost. So, you could save money by doing it yourself. And modern vinyl flooring can be done as a DIY project. However, you will need a few skills, some basic tools and a few extra materials to complete the job properly.
You will need some knee pads, a measuring tape and utility knife. If you're laying vinyl planks you will need also need spacers to create your expansion gap around the room perimeter, plus a rubber mallet for tapping each plank in place. A square tool is useful for creating neat cuts. The basic tools should cost between £40 and £60. Remember to check whether you need underlay and adhesive as well as the vinyl flooring.
If you're not sure how to install vinyl flooring, then sheet vinyl flooring might be a good option. It's the easiest to fit as it's simply laid out and cut to size. Often it only needs gluing at the edges. Tiles and planks will need to be laid one at a time and cut to size in places, to fit the room.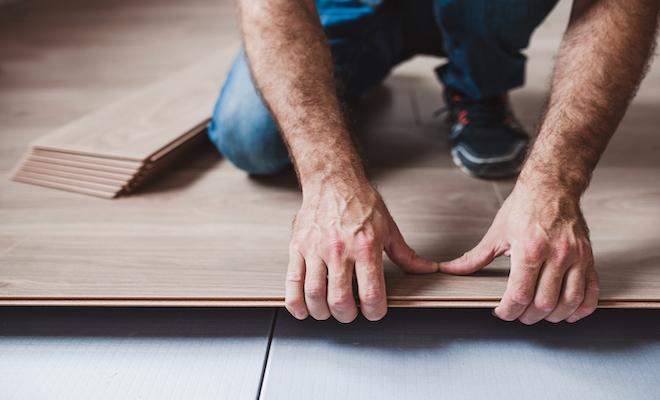 This is a bit a slightly more skilled and time-consuming job but is still suited to DIY installation. Vinyl is easier to cut than wooden planks or ceramic tiles, so it's a good DIY way to create wood or tile effect flooring. And many planks are shaped to click together, making DIY installation easier still.
Patterned vinyl tiles or planks may be a bit trickier to install as a DIY project. They will need to be accurately lined up so that each patterned edge matches.
If you fancy installing vinyl flooring yourself, you may wish to know how much money you could save. You will save the cost of paying for labour. However, you may need to buy the tools. Depending on your floor covering and whether you need to buy all the tools, DIY installation of vinyl flooring in an average sized room could save you between £30 and £140.
It's worth noting though, that if you need to remove floor coverings and level floors, this could be a much bigger job, that requires more skills and tools. For example, you may need to sand out bumps or use a floor-levelling compound. This could also add to your costs.
Building Regulations for Laying Vinyl Flooring
You'll be pleased to hear that building regulations are unlikely to affect laying a vinyl floor in your home. If your floor covering is going in a new extension, then you'll need to check that your concrete or suspended subfloor is sufficiently insulated and meets current building regulations.
If you're removing old vinyl tiles, you may need to check that they don't contain asbestos. Asbestos was used in some tile products before 1985. So, it may be worth sending off a sample to be tested if they look as though they predate this time.
Planning Permission for Laying Vinyl Flooring
Thankfully, you don't need planning permission to lay a new floor covering unless you live in a listed building. If you live in a leasehold flat, you may wish to check with the freeholder before changing floor coverings. Some leasehold agreements contain strict rules on types of floorings or ask for soundproofing to be installed.
FAQs
How to Find & Hire a Vinyl Flooring Installation Specialist
Although a general builder or handy man can install a vinyl floor, you may prefer to hire a flooring specialist. A flooring specialist may save you time and the work may come with a guarantee. They should be able to make suitable flooring recommendations, remove old floor coverings and make sure your subfloor is correctly prepared.
To find a reputable specialist, you could ask for a recommendation from relatives, friends or neighbours. Vinyl manufacturers or stockists may be able to provide you with a list of approved specialists in your area.
Alternatively, you could use the National Institute of Carpet and Floorlayers website to find a qualified and experienced floor fitter. Ideally, a floor fitter should have completed a national vocational qualification in domestic floor fitting.
Sources
https://www.carpetright.co.uk/luxury-vinyl-tiles/how-to-lay-luxury-vinyl-flooring/
https://www.travisperkins.co.uk/trade-corner/vinyl-vs-laminate-flooring
https://ukflooringsuppliesonline.co.uk/how-to-properly-remove-vinyl-tiles-from-a-plywood-floor/
https://www.realhomes.com/buyers-guide/how-to-choose-vinyl-flooring
https://www.diy.com/ideas-advice/how-to-lay-sheet-vinyl/CC_npci_100037.art
https://nicfltd.org.uk/NICF-Who-Installs-Your-Flooring/