How Much Does Underfloor Heating Cost?
Underfloor heating installation costs vary depending on the area to be heated and the complexity of the system.
What else needs to be considered?
Whichever underfloor system you choose, the floor will need to be removed before the system can be installed, but electric systems are much less hassle and the preferred option for retrofits as they don't require extensive pipework.
Let's take a look at actual costs...
Typical costs for electric underfloor systems are around £60 per m² for electric mats and £75 per m2 for a loose-wire system. Water based underfloor heating systems usually cost £100 per m2, with whole-house system installations costing £2,500+.
But what will these costs depend on?
The total cost of underfloor heating installation will be dependent on the area to be heated (whether a room or entire house), the system type (wet or dry system) and the groundwork required.
The best electric underfloor heating systems use a network of electrical wires running under the surface which warms the floor but does not heat the room very efficiently, so are best installed in smaller rooms (great in bathrooms for example).
Different models of electric underfloor heating systems are available, including heating mats which are the easiest to install. Wet underfloor heating systems can also work with different flooring types, but the installation is a lot more involved, and they are best suited to larger areas or for use as heating in entire homes.
What about labour fees?
The average rate charged by a professional underfloor heating specialist is typically around £200-£300 per day. The total labour time is ultimately dependant on if wet or electric systems are installed. Wet underfloor heating will take the longest as pipework is required and will take around 4 days to complete. Electric underfloor heating is the quicker option and is expected to take around 2 days to complete for your entire home.
The price will also vary depending on the type of home you live in, for example, installing a heated floor in a new build property is much easier.
Therefore, fitting and labour costs will be reduced. In a home renovation, it's around £65 per m2.
Installing Underfloor Heating Prices
Below are some estimated costs of hiring a specialist to install underfloor heating:
| underfloor heating type | Description | Avg. Cost | Duration |
| --- | --- | --- | --- |
| Wet underfloor heating | New build property | £2,500-£3,000 | 3-5 days |
| Electric underfloor heating | New build property | £1,000-£1,500 | 1-2 days |
| Wet underfloor heating | Home renovation | £4,000-£4,500 | 4-6 days |
| Electric underfloor heating | Home renovation | £1,500-£2,000 | 1-2 days |
These prices will vary depending on the size of the room. To help you understand how much you will be paying per square metre, take a look at the below table:
| underfloor heating type | Cost per Square metre |
| --- | --- |
| Electric mats | £60 |
| Electric wires | £75 |
| Wet | £100 |
Supply Cost Only
The below costs indicate what you could expect to pay for the supply of the materials if you were going to do the job yourself:
| underfloor heating type | Cost per Square metre |
| --- | --- |
| Electric wires | £20 |
| Electric pads | £18 |
| Wet | £25 |
Additional Costs
Along with the obvious expenses, there are some additional costs that you need to consider when deciding if you want underfloor heating. These include:
| Material | Average cost |
| --- | --- |
| Heater controls | £25 to £100 |
| Screed | £10-£20 per square metre |
| Insulation boards | £5 to £30 per board |
| New furnishings | £1,200 to £5,000 |
Cost Breakdown Calculator
Individual Costs of Electric Underfloor Heating Installation in a House Renovation - Total Cost: £1,500
Labour Costs and Time Frames
The average cost for professional installation is around £300 per day, with the average installation taking around 1 to 2 days. For bigger projects, you can expect the job to take up to a maximum of four days to a week if you are having your flooring installed on top of the heated system. The cost will vary depending on the size of your room, as the more flooring you have, the longer the job will take.
Some installers charge £100 per square meter, although again this may differ for different types of underfloor heating, for example, if you are having a water based underfloor system installed, you may have to hire a plumber, which may cost around £20 to £30 per hour. For electric-based underfloor heating, you may want to hire an electrician, which again will cost around £30 per hour.
What Does Installing Underfloor Heating Entail?
When hiring a professional to install underfloor heating, you will need to understand the process to understand if the job is being completed correctly. Take a look at the following guides, which will offer you an insight into the installation process.
Electric Underfloor Heating
Measuring the floor space to work out how much flooring is required.
Laying the insulation.
Identifying the power source and drilling a hole for the cables.
Cutting a conduit into the insulation to help the fitting of flexible pipes.
Cleaning the area and removing any dust and debris.
Testing the resistance of the mats with a multimeter to ensure they are working.
Laying down the matting then securing it once it is in the right position.
Positioning the probe in the right place to ensure the thermostat can record the right temperature.
Testing the resistance again using the multimeter.
Water Based Underfloor Heating
A wet underfloor heating system requires a complicated installation which involves the following steps:
Connecting the floor heating pipe to the manifold.
Laying the insulation and piping.
Securing the piping to the insulation with pipe staples making sure there is sufficient space for heat distribution.
Loop the piping across the entire floor, making sure to use multiple loops in large rooms.
Pressure test the pipes and fill them with water.
Prepare the screed and pour over pipework.
Spray the screed with a chemical spray and tamp the screed down with a brush.
Cost Affecting Factors of Installing Underfloor Heating
There are various cost factors you need to consider before making a final decision about your underfloor heating. One consideration is whether you choose a screed floor or a suspended floor.
The difference between the two is that screed flooring is the more cost-effective option, as it involves quick installation, while a suspended floor involves installing thick insulation under the floor, which is a more complicated process.
Floor screeding typically costs around £210 and can take up to 7 hours to complete depending on the size of the room. While suspending a floor could cost anywhere between £750 to £900 for an average-size home.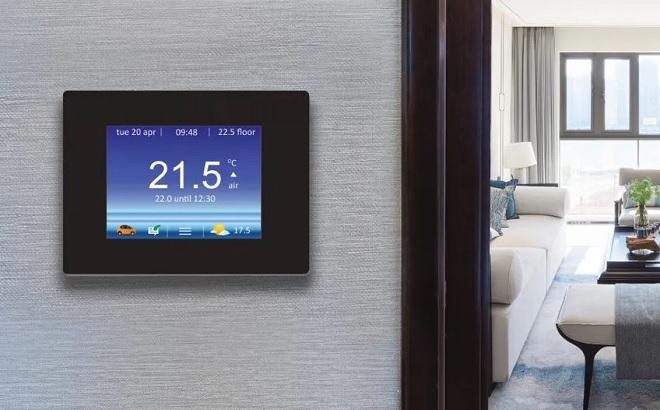 Another main factor is the size of your flooring area. While the underfloor heating cost in a large room may seem higher, it is actually more expensive to install underfloor heating in multiple rooms. This is because you will require multiple thermostats, which cost anywhere between £25 to £100 depending on the technology used.
Another important underfloor heating cost is labour, as some contractors will charge more than others, depending on experience and their location. If you have a small budget, you could opt for someone with less experience who will charge less.
However, this will involve an element of risk, so it may be best investing in an experienced tradesman who will ensure the job is done properly and avoid any repair costs in the future.
Can I Install Underfloor Heating Myself?
If you are wondering how to install underfloor heating yourself, especially if you want an electric pad system, as this is the easiest installation, by fitting it yourself, you can keep your costs below £500 for an electric underwater kit. If you prefer a wet system, and you are capable of fitting it yourself, you should expect to pay around £1,000 for a wet underfloor heating kit which includes pumps, valves, pipework and a thermostat.
If you have little or no experience with electric or water systems, then you may need to hire a professional plumber or electrician who will ensure that your floor works as it should. Professionals usually charge around £30 per hour, although this cost will be worth it in the long run, as it will help you to avoid costly repairs.
To reduce costs, you can complete jobs such as laying down the insulation and fitting the pads or pipes onto the floor. However, it is important that you have a professional who complies with the IEE regulations to ensure the safe installation of underfloor heating.
If you have experience with plumbing systems, you may be able to fit a wet underfloor heating system, however, you might want to get this signed off by a professional to ensure there are no complications later on.
Cost To Run Underfloor Heating
Many people are put off by the expensive upfront costs of underfloor heating, however, instead of focusing on the initial price, you should think more about the long-term benefits, as underfloor heating can help you make significant savings on your energy bills. How much you save will depend on the type of system you choose, as well as how much heating you use and the size of your space.
Both dry and wet underfloor heating systems offer financial benefits. Out of the two, water underfloor heating is the most energy-efficient choice, with it being 25% more effective than a typical radiator.
It is also much more cost-effective, as the yearly cost to run a wet underfloor heating system is typically around £22 per square metre, although this will vary depending on the size of the system, the size of the area and your heating habits.
While an electric system costs an average of 10p to run one square metre of electric underfloor heating for six hours. This will, of course, vary depending on the size of the room and how long you hear it for.
For example, if you have electric underfloor heating installed in a 3.5 square metre bathroom and it is heated two hours in the morning and two hours at night, this would cost around £3 - £3.50 a month.
What Underfloor Heating Do I Need?
Underfloor heating can be installed under almost any type of flooring and is a modern and luxurious alternative to a conventional central heating system with radiators. This type of heating can bring an unrivalled level of warm comfort to your home and is available in two different types: Electric underfloor heating (dry systems) and Water underfloor heating (wet systems).
Electric underfloor heating is usually cheaper and easier to install and can be done as a DIY project. Though the running cost of this type of underfloor heating system is generally higher, although still equally as energy-efficient. It also acts as a great space-saving solution, as there is no need for radiators which take up floor and wall space, enabling you to expand the look of your home.
One of the downfalls that you may encounter is that electric systems tend to take a while to heat up and usually are only used to heat the floor rather than an entire room. It can also be prone to faults, however the contractor you choose should have a warranty in place in the event of any failures or damage, which they can fix at no extra cost.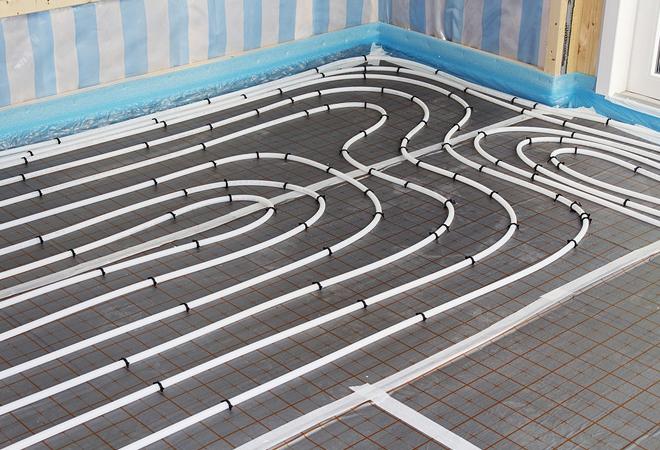 When choosing water underfloor heating (wet systems), you need to understand that there is a lot more involved, way beyond the scope of the DIY enthusiast and usually reserved for new-builds. However, they cost much less to run, in comparison to electric systems, as they are plumbed into existing boiler systems and can, therefore, operate at a low-temperature which means less heat is used.
Water underfloor heating is an eco-friendly solution which uses pipes to run hot water from a boiler through the floor and into the room. A room with wet underfloor heating costs more to install and will take up a significant amount of space, however, it is far more efficient than conventional radiators. Wet systems are ideally suited to new-build luxury homes as the retrofit costs will be even greater.
Wet systems are definitely not DIY friendly, as they will certainly require professional assistance from a heating engineer or underfloor heating specialist. If considering underfloor heating, then a professional survey should be carried out to help you select the best type of underfloor heating for your home, budget and circumstances.
What Type of Flooring Can I Have with Underfloor Heating?
The majority of flooring types work alongside underfloor heating, although the most popular choices are set out in the table below along with there cost per square metre:
| Flooring | Cost | Application |
| --- | --- | --- |
| Stone tiles | £50 | Combined with electric underfloor heating creates warmth |
| Ceramic tiles | £75 | Works with well with wet underfloor heating as it is water-resistant |
| Carpet | £30 | Can be used with both wet and dry underfloor heating |
| Wood | £85 | Electric is the best option as it tends to warp with a water-based system |
| Laminate | £55 | Works with wet underfloor heating due to lower temperatures |
| Vinyl | £40 | Vinyl can't be laid directly onto electric systems so water based is needed |
Benefits of Underfloor Heating
There are several advantages of having underfloor heating installed in your home, including:
Underfloor heating is a great space-saving solution as it removes the need for radiators which usually take up wall or floor space, allowing you to open up your home.
Both electric and water-based systems are energy-efficient and can help you make massive savings in the long-run, although a wet system is much more cost-effective as it can be powered by low temperatures.
They offer increased comfort underfoot while also adding warmth to your home.
There is the great advantage of increased house value, as you can expect a large return on investment for top-quality underfloor heating which will be attractive to potential buyers or tenants.
Unlike radiators, which heat up isolated areas, underfloor heating distributes warmth evenly as the system covers the entire area.
Will Underfloor Heating Save Me Money?
Despite the expensive upfront costs which tend to put people off, underfloor heating is actually one of the most cost-effective solutions for reducing your outgoings.
This is because, underfloor heating requires you to use less heat, especially with water-based systems as they operate at lower temperatures, which means you do not have to use your heating as often, resulting in reduced energy bills.
You can also monitor your usage further by investing in a smart thermostat to track your heating habits, which again will help you to reduce costs and become more eco-friendly.
Will Underfloor Heating Add Value to My home?
Having underfloor heating installed in your home can increase the value by up to 5%, as your home becomes more energy-efficient, eco-friendly and more comfortable. This will be attractive to buyers who are looking to make savings on their energy bills, while also living in a home with luxury features.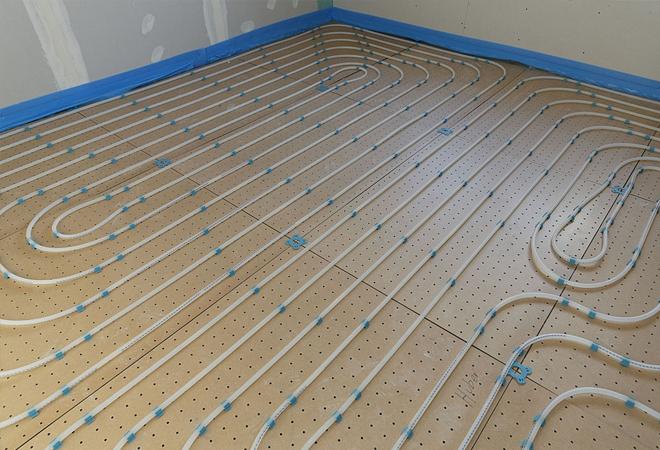 It is also a massive selling point from a green perspective, as many homeowner and tenants are now looking for homes that actively reduce their carbon footprint.
Cost of Removing Underfloor Heating
If you wish to remove your underfloor heating, this can be a complicated task which involves several steps. This first includes removing the top flooring layer, which typically costs around £32 per square metre, although this depends on the type of floor you have. Once this is lifted, the underfloor heating can then be removed. This will involve the help of a plumber for a water-based system which could cost around £30 per hour.
For an electric system, you will need to bring in an electrician who can safely remove any wiring or pads and any other electrical equipment, which again would amount to around £30 to £40 per hour. This is an extremely time-consuming job and could take up to a week depending on the size of your room, how many people are working on the job and the materials used, as some are harder to remove than others.
FAQs
How to Find & Hire an Underfloor Heating Specialist
Before choosing the first tradesmen you see, you should first have a look around to see who is the best person for the job. This involves checking their qualifications to ensure they have received an underfloor heating (UFH) accreditation, which will also offer you reassurance that they can complete the job correctly.
You can also question them on their experience, and how many years they have been fitting underfloor heating, as the more experienced installer you have, the better. You could also check to see if they have public liability insurance or even professional indemnity insurance which protects both them and their customers.
Depending on the type of underfloor heating system you want, you may need to hire additional professionals to ensure the job is completed to a high standard. For example, a wet-based system may require the help of a plumber.
For a dry system, you may need an experienced electrician who understands how to connect wires or pads to power up your underfloor heating. To do this, you will need to research to find somebody in your area who can complete the job to the best of their ability.
Sources
https://www.uswitch.com/gas-electricity/guides/underfloor-heating/#step6
https://www.which.co.uk/reviews/underfloor-heating-systems/article/underfloor-heating-explained/underfloor-heating-costs
https://www.indigenous.co.uk/news/using-underfloor-heating-with-stone-flooring
https://www.ovoenergy.com/guides/energy-guides/pros--cons-of-underfloor-heating.html