How Much Does It Cost To Move A Gas Meter?
Moving a gas meter is a complex process that should not be undertaken lightly.
Because of the nature of the work, you will need to contact your gas supplier or the local gas distributor depending on the proposed relocation site to complete the work for you, and, there is a chance that they may refuse to do the work altogether if an adequate reason is not given.
Customers on their energy suppliers' priority services register, such as those that are disabled, elderly or living with a life-long illness may be able to have their gas meter moved for free, however, under other circumstances you can expect to incur a cost, typically ranging from £85 with some energy suppliers to move the meter a distance less than 90cm, to upwards of £1,500 if the distance exceeds 90cm and the gas pipeline needs adjusting to accommodate it.
From beginning to end, the process can take between 4 – 8 weeks to complete.
Moving Gas Meter Prices
Below is a table illustrating the average cost of moving a gas meter for non-priority list customers
| Distant of Move | AVERAGE COST | ESTIMATED TIME |
| --- | --- | --- |
| Move gas meter less than 90cm | £85 – £120 | 4 – 6 weeks |
| Move gas meter more than 90cm or to another wall | £400 - £1,500 | 4 – 8 weeks |
Priority-list customers may be entitled to have their gas meter moved free of charge, or for a dramatically reduced fee.
If you think this applies to you, you should contact your energy supplier for further information.
Additional Costs
Gas meters may be positioned inside or outside of the home, usually in a kitchen or hallway, or in an enclosed meter box, so repositioning the meter could bring a number of jobs that require attending as a result.
Plastering
Moving your gas meter will likely result in some damage to the existing plasterwork of your home (if the meter is located indoors) that may need rectifying.
Most plasterers are able to complete small patch work jobs in around 1 – 3 hours from start to finish, with a cost of about £50 - £100 for labour and materials.
Redecorating
Redecorating may be a necessity depending on the original position of your gas meter and the state that the original site has been left in.
Professional decorators charge around £150 – £200 a day, with work varying from painting to hanging wallpaper.
To get the most for your money, consider if any other areas in your home also need redecorating, as painters usually require two visits to apply ample paint.
Landscaping
For meter relocations that require extensive excavation to relocate connecting pipes, some level of landscaping may be required to get your home back in order.
New turf can help disguise a disrupted landscape, with costs as low as £3 per metre square.
Replace Existing Driveway
If extensive work has to be carried out to lay new pipelines into your property for your relocated gas meter, you may find that your driveway will be dug-up in the process.
If this is the case, whilst energy suppliers will do their best to cause minimum disruption and damage, it may be worth considering replacing the driveway when the work is complete.
Tarmac driveways usually cost, on average, around £700 if it is an overlay job or up to £2,000 for a completely new driveway.
A new block paving driveway will generally cost a little more, but, could be considered more aesthetically pleasing, with costs starting at around £1,800.
Cost Breakdown Calculator
The average cost to move a gas meter more than 90cm: £1,000
Labour Costs and Time Frames
Labour costs and time-frames will be affected by numerous factors, ranging from your energy supplier to the complexity of the work involved.
Even after your request has been submitted, you can expect the process to take a minimum of four weeks from submission to completion, which will include planning, site visitation and any alterations to the existing system needed.
Your energy supplier or local distribution company will put you in contact with an appointed gas engineer, who will be able to advise further regarding specific timings and will usually work at a rate of £200 - £350 a day.
In terms of relocating the actual meter, this can take as little as a day for a straight-forward relocation, with disruption to your service being kept to a minimum.
What is a Gas Meter?
A gas meter is a specialist piece of equipment used to regulate and measure the volume of gases that a property uses as fuel.
Gas meters are not owned by property owners but rather remain the property of the local gas distributor, along with the connecting supply lines.
The first gas meters were invented in 1817 and have come a long way in terms of their development and employment in both residential and commercial properties, with the first prepayment gas meter being invented in 1870.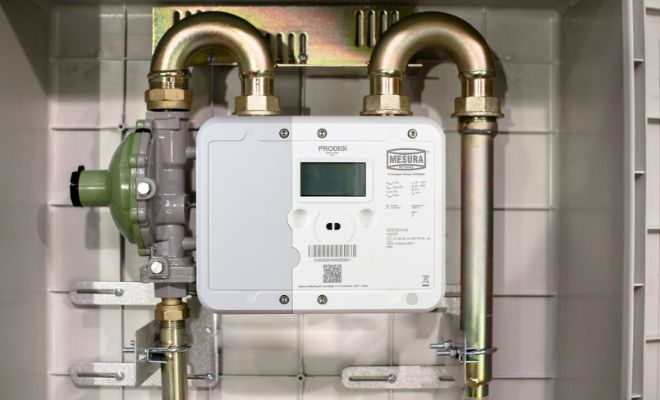 Most homes utilise both gas and electric as a means of fuel. However, there are some instances where both utilities may not be practical, for example, very rural properties and other fuel sources may be required solar power.
As people are becoming more eco-conscious, many homeowners are moving away from traditional fuel sources such as oil and gas towards more modern; greener solutions include ground source heat pumps and air source heat pumps.
What Does Moving a Gas Meter Entail?
The first step in relocating a gas meter is contacting your energy supplier and discussing your needs with them.
They will want as much information regarding the potential move as possible to ensure that the desired activity is doable and remains within gas safety guidelines. Some of the information they will require includes:
Where your meter is currently located
Where you want to move the meter to
What type of gas meter you currently own
Why you want it repositioned
The type of connector currently in use
Once these questions have been answered, your gas supplier will advise whether relocating the meter is something they are capable of doing or if you need to contact your local gas transporter.
Moving the meter less than 90cm along the current wall where there are no obstructions
If you only require that your meter be moved a short distance for the sake of convenience, then your gas supplier should be able to complete the work for you. They will appoint a gas-registered engineer on their behalf to measure, remove and reinstall your meter in the new position.
Charges for this will vary; customers on the priority register may be able to have their work done for free, whereas others will likely incur a charge for the work – the exact amount will depend on your energy supplier.
It may be worth obtaining a few different quotes from gas suppliers to determine who is cheapest but bear in mind that only your current supplier can move your meter so you will have to change your gas supplier in order for them to do the work – and remember that different energy suppliers have different tariffs and rates that you will then be subject to if you decide to change.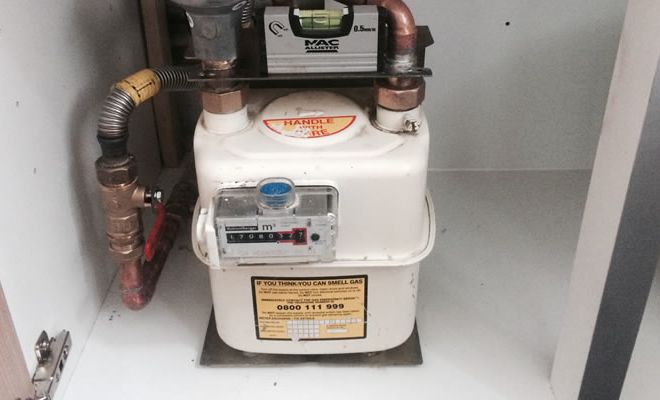 Moving the meter further than 90cm along the same wall, moving the meter past an obstruction or moving the meter to a different wall or area
In the event that relocating your meter is not straight-forward enough for your gas supplier to complete, you will need to contact your local gas transporter for their advice and a quote for the work involved.
Unlike gas suppliers, you do not get a choice in your gas transporter so you will not be able to shop around for different prices.
Your gas transporter will determine the best course of action to take in regards to amending existing supply lines or making a new gas connection, based on the relocation site and access available to it.
This may involve shutting off the gas, laying new pipes connecting to the supply (in which case some excavation may be required) or adjusting pipes already close to the property.
Disruption to your gas supply will be kept to a minimum. Whilst moving the actual meter itself may only take a few hours, the additional work that may be required can take weeks, which could involve a site survey, possibly hiring an electrician and gas fitter, excavation and refitting land.
Each relocation project is different, so it is difficult to pinpoint precisely what is needed and how long the process will take from start to finish.
Your gas transporter will keep you informed throughout the process.
Cost Affecting Factors of Moving a Gas Meter
Here are a few cost factors to take in to consideration when moving a gas meter:
Energy Provider
Depending on the nature of the work, some energy providers have a fixed-price for moving inaccessible gas meters less than 90cm from the existing position on the same wall, usually at a charge of around £80 - £100.
For customers on the high-priority register, the cost of relocating the meter may be waived. It may be worth considering a change in energy supplier if your current one refuses to complete the work on your behalf.
Still, you should weigh up the cost of moving the meter against the change in fuel prices as to whether it is a worthwhile adjustment or not.
Relocation Site
A significant factor in the overall costing of moving your gas meter is going to be the site where you want it relocating to.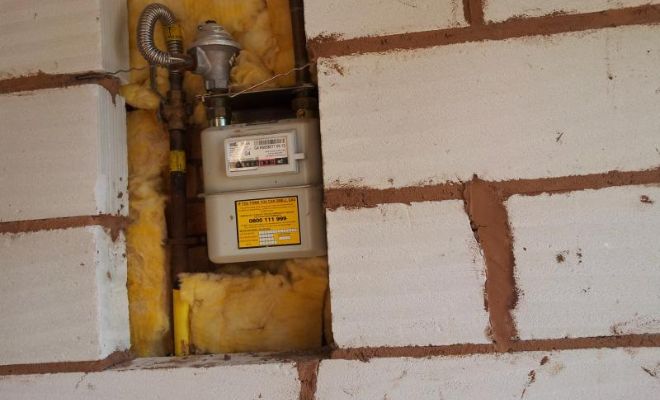 Relocating the meter along the same wall at a distance of less than 90cm is usually relatively cheap compare to moving it a greater distance from the original location or to a different wall altogether; this is due to the extra materials and planning that is required to complete the work, in addition to additional labour.
Ease of Access
In most cases, gas (and electric) meters are moved because the site is inaccessible, making readings difficult to take, or because of a home extension.
Whilst some meter relocations can be relatively straight-forward, moving a meter from a difficult to reach location, such as within a cupboard or household nook, is going to be trickier and this will be reflected in the cost of the work required.
Geographical Location
Your geographical location can play a role in determining the cost of having your gas meter relocated.
You may find that rural areas wishing to relocate their gas meter incur extra charges, as the distance between the home and the gas network supply line may be considerably larger than in urban settings.
Additionally, homes requiring gas meter relocations within London and the surrounding areas may also find that there is an increased charge.
DIY Moving Gas Meter
Under no circumstances can you move your gas meter as part of a DIY project, it is illegal to move or tamper with your metering systems.
If you want to have your gas meter moved you must apply to have it done through your gas supplier or local gas network.
You may, however, be able to dig pipe excavation sites yourself following discussions and approval with your gas engineer, which may help to reduce some of the costs involved – but you shouldn't assume that this is always appropriate and should discuss the needs of the excavation before you begin.
If approved, you will likely need a shovel and mini digger to remove soil or potentially tarmac from your property as well as a means of disposal, where appropriate.
Extreme caution should be taken when excavating land near pipe works as a burst pipe could have catastrophic results and a hefty price-tag attached.
Types of Gas Meter
There are several different kinds of gas meter currently use in the UK.
Understanding the key differences between them will help you be able to identify your own meter type and how it helps control your home gas supply.
Standard Digital or Dial Gas Meter
Standard gas meters are probably the most common in the UK, sometimes known as a credit meter.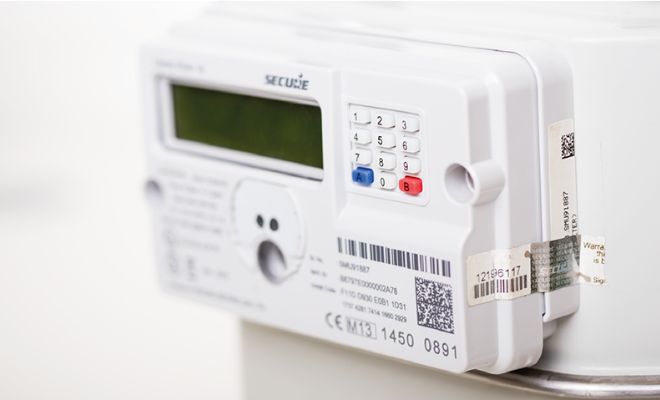 Most homes that pay for their gas bills via direct debit likely use this type of meter. Displays can either be digital or in analogue, or dial.
Pros
✔ Allows switch between multiple tariffs
✔ Bills are usually paid via direct debit
Cons
✖ May not allow for the cheapest tariffs
Economy 7 Gas Meter
Economy 7 is a differential tariff that typically offers cheaper night-time usage rates when there is less of a demand on energy than during the day.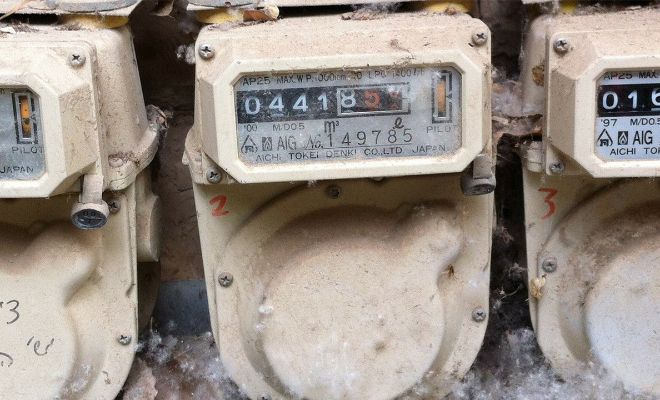 Economy 7 meters will have two sets of numbers displayed; one for the day rate and another for the night rate.
Both sets of numbers will need to be supplied to your energy supplier when giving a reading.
Pros
✔ Cheaper tariffs for off-peak usage such as night-time
✔ Useful in circumstances where energy is not used much during the daytime
Cons
✖ Can cost more to operate your home during the daytime
✖ Less common energy choice, so fewer suppliers, offer economy tariffs
✖ Two sets of meter readings need to be taken, so may become confusing
Prepayment Gas Meter
A prepayment meter is also known as a pay-as-you-go meter and requires energy to be paid for before it is used.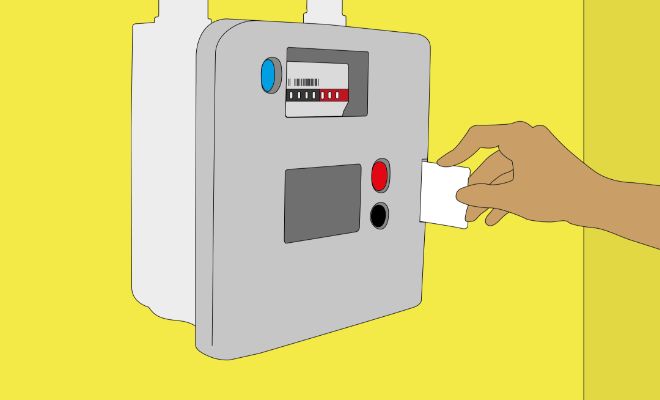 Pros
✔ Allows control over gas usage
✔ Pay as you go; no standing order or direct debit
Cons
✖ Gas supply will cease to work if no money is left on the meter
✖ Tariffs are typically more expensive
Can I Move My Gas Meter?
There are some circumstances under which a gas supplier would consider relocating a gas meter; the two most common reasons to move a gas meter are inaccessibility caused by its current location, and the need to relocate due to an extension to the property.
The relocation site will play a large role in the ability to move the meter; if the proposed new positioning is further than 90cm from the gas cut-off valve this will need to be positioned, and adjustments may need to be made to the external gas supply in order to accommodate the new positioning.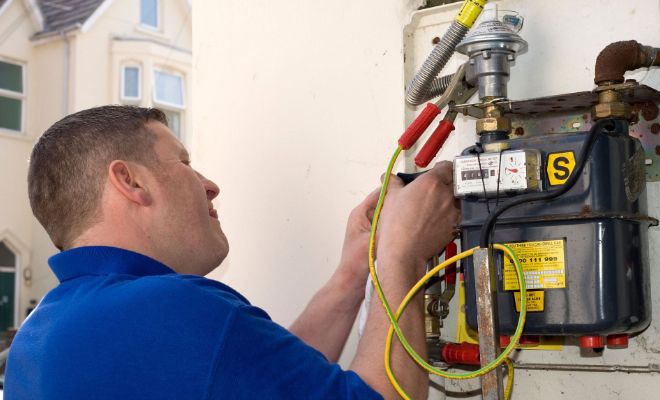 Positioning the meter within 90cm of the existing location along the same wall is, in theory, a much easier task to complete and less likely to be as complicated a process as repositioning further away.
Under no circumstances can you move your gas meter yourself or by hiring a registered gas – safe engineer without authorisation from your gas supplier; it is illegal to tamper with your gas or electrical supply.
Should I Move My Gas Meter?
Due to the nature of the work involved, gas companies will need adequate proof and reasoning that the relation is necessary or they may refuse to complete the work; they are not obligated to move the gas meter without good reason to.
Moving a gas meter can become very costly depending on resources needed; make sure to get a quote from your gas supplier to give you a ball-park idea of costings for minor relocation projects, and consider quotes from other energy suppliers for comparison as it may be cheaper to have the work done with another company (keep in mind that you will have to switch energy suppliers if you wish to have the work completed by anyone other than your current provider).
If the relocation project involves moving the meter further than 90cm from its original position or to an adjoining wall it will need to be completed by your local gas distributor; this cannot be changed, and you will likely be stuck with their initial quote for the work unless you can negotiate a discount, for example, if they will allow you to do your own site excavation work.
Building Regulations and Planning Permission for Moving a Gas Meter
Due to the nature of gas and gasworks, moving a gas meter is not subject to building regulations.
Instead, it comes with its own set of parameters that must be met to satisfy The Gas Safety (Installation and Use) Regulations 1998, which include:
Ensuring that the gas cut-off valve is in an accessible location.
The emergency valve should be close to the point where the gas supply enters the premises.
The meter should be protected from unauthorised operation (e.g. tamper proof).
Gas meters must be installed in a location that ensures the necessary separation distance between itself and electric apparatus; gas meters should not be installed next to electric meters.
Planning permission does not need to be sought for moving a gas meter either unless you live in a conservation area or in a listed building, in which case you will need to seek the approval of your local authority.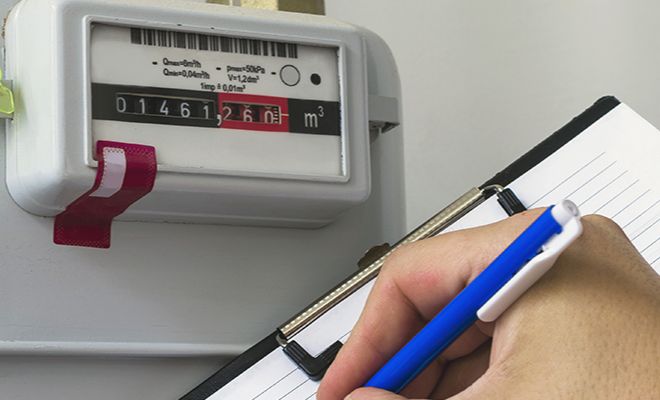 In some instances, you or your gas supplier may need to seek permission from an adjoining landowner if the relevant pipes needed for adjustment cross their boundaries.
Removing a Gas Meter Cost
If you no longer require a gas supply to your house, and cannot foresee needing on again in the future, you can contact your local gas transporter and request that your gas supply is capped off.
Much like fitting or relocating a gas meter, this is not something you can do yourself or simply hire a gas engineer to do on your behalf.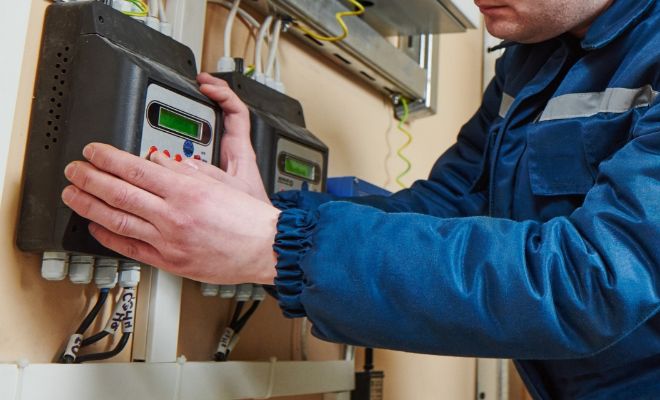 The work will need to be completed by your energy supplier once the gas transporter ha responded to your request and given permission.
The cost of having your gas supply capped will vary according to need and circumstances; some suppliers may do this free of charge whereas others may charge as they see fit according to the amount of work involved, ease of access and so on.
For further information regarding the costings involved in having your gas meter removed, you should contact your energy supplier.
FAQs
How to Find and Hire a Gas Meter Mover Installer
Due to the nature of the work involved, you will not be responsible for hiring your own gas meter mover; instead, this will fall to the responsibility of the appropriate authority; either your gas supplier or your local gas transporter.
Your gas supplier will endeavour to hire a highly-skilled professional to complete the work quickly and effectively with minimal disruption and should keep you informed throughout the process; from initial site visitation to planning, to installation.
Sources
https://www.citizensadvice.org.uk/consumer/energy/energy-supply/your-energy-meter/move-your-gas-or-electricity-meter/
https://www.saveonenergy.com/uk/guides/how-to-move-your-gas-or-electricity-meter/
https://www.energynetworks.org/info/faqs/gas-distribution-map.html
https://www.hse.gov.uk/pubns/priced/l56.pdf
https://www.npower.com/help-and-support/types-of-meter/