Gas Fire Removal Cost
The average cost of removing a gas fire is £60 to £90, while to remove a hearth costs about £250 to £500, and removing a chimney lands about £1100 to £1600.
Among the factors for the cost of removing a gas fire, there are:
Ease of access
Type and size of fire
Materials used for removal
Location of property
| Job Description | Labour Cost | Waste Removal Cost | Total Cost |
| --- | --- | --- | --- |
| Remove a Gas Fire | £60 to £90 | - | £60 to £90 |
| Remove a Hearth | £170 to £350 | £80 to £150 | £250 to £500 |
| Remove a Chimney | £930 to £1450 | £80 to £150 | £1100 to £1600 |
*Waste removal expenses can vary.
To expand, assessing waste removal costs of an old gas fire removal is not straightforward as some contractors/companies will simply include this as part of their overall cost. However, if you were to hire a rubbish removal team, you'd be looking at paying about £80 to £150 for a removal. As for the cost of hiring a skip, this may land somewhere between £100 and £500.
Additional Costs
There are a range of added jobs that you may choose to pay for along with having a gas fire installed. Let's take a closer look at some prominent examples.
Installing a Gas Cooker
You may wish to fit a gas cooker since it offers plenty of benefits over installing an electric hob. However, specific regulations would apply in this place. It's also essential that a Gas Safe registered engineer who is qualified and competent installs a gas cooker.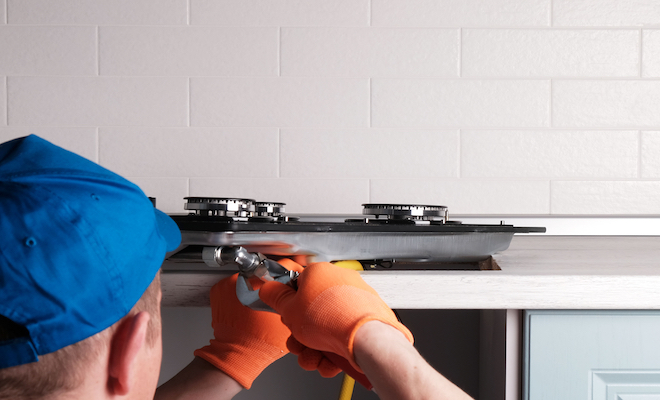 If you've purchased the freestanding gas cooker yourself but want a professional to fit it, you're looking at paying about £75 to £100 in total. While paying for a supply & fit of a gas cooker would cost around £300 to £600 altogether.
Gas Safety Certificate
While these certs are legally required for landlords, other homeowners may also be interested in having this cert, such as if you're planning to sell your property.
This job involves inspecting a property before a cert is handed over. The following steps are involved:
Check an appliance for gas tightness
Looking at the pressure of standing and working gas
Comparing the gas pressure/burner pressure with the manufacturers plate
Ensure that the provision of all required ventilation is up to standard
Taking a look at the flue flow to make certain that combustible products are removed
Checking that safety devices work as they should
Checking for misuse of gas terms or devices
It costs about £60 to £90 to receive a property inspection and gas safety cert. Issues may, however, be highlighted that you'll need to pay a certified professional to fix.
Cost Breakdown Calculator
Individual costs of removing a gas fire - Total Cost: £75
Labour Costs and Time Frames
In most cases, the cost of labour will make up most of the cost, along with any waste removal expenses that may apply. As for supply costs, these may not apply.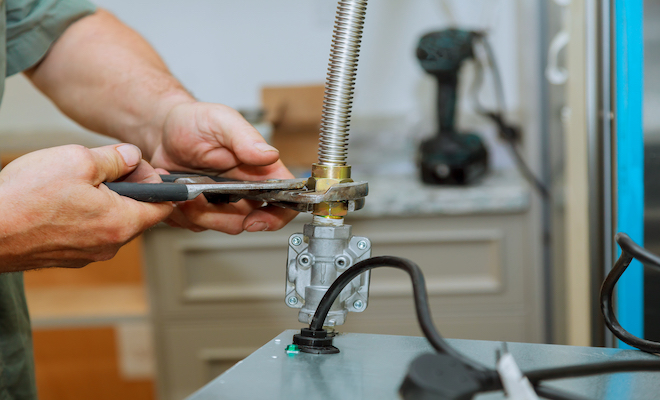 Gas safety engineers tend to charge about £100 to £150 per hour. As for the work itself, it will take anywhere from two to eight hours to have a gas fire removed. As for the work duration, you can expect this task to take between two and eight hours.
The factors that would increase the removal of gas fire cost of labour and work duration are:
Ease of access
State of the work area
Size and type of gas fire
Materials used for removal
Cost Affecting Factors of Removing a Gas Fire
As with any trades work, there are a range of cost factors that can shape the overall price of removing a gas fire. Here are some common factors.
Type/Size of Gas Fire
The size and type of gas fire is relevant since this will affect how long it takes to remove the gas fire and perhaps the cost of supplies used for removal. The longer the work lasts, the higher labour costs will inevitably be.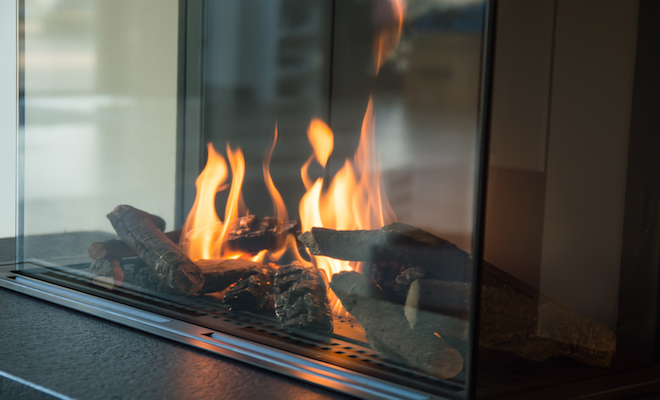 Work Area and Ease of Access
As for the work area itself, this is important given that the more accessible and easier the work area is to work with the gas fire is (or the other fittings that are being removed), the quicker, and therefore likely cheaper, the job will be.
Property Location
As for where you live, this is relevant since labour prices differ across the UK. Prices tend to be higher in the southeast of England (London being among the dearest), while costs are generally lower in places like northern England, Scotland, and Northern Ireland.
This is an important consideration since labour prices can vary substantially. The reason that labour prices differ is because labourers face different living costs depending on the region.
What Does Removing a Gas Fire Entail?
This is what you can expect when removing a gas fire:
Find a Contractor
First and foremost, you'll need to hire a gas safety registered engineer to undertake the work. You could find an individual contractor or a company. It is worth obtaining three quotes for gas fire removal or/and asking your friends and family members for some suggestions. It's also best to get some references before choosing a contractor/company. With these steps, you can improve your chances of getting good bang for your buck.
Removing the Gas Fire
Again, this part must be undertaken by a certified professional. The gas connection must be turned off safely before the fire itself is removed. This is achieved by initially turning off the gas to a property at the main valves (this will ensure there's no risk of a leak). Next, a crowbar can be used to remove the trim and mantel surrounding the insert.
The gas line can be removed once reached before wiggling the insert from the fireplace and taking it out. Once the gas fire is disconnected, the wall and pipe can be sealed up. It's critical that the retaining gas pipes are made safe.
Of course, the exact nature of the process can vary. The above description is generally what takes place but it will depend on the gas fire in question, the individual hired (and their specific approach), and whether any additional work is needed.
Clean Up and Waste Removal
If any waste removal is needed, this will take place once the gas fire has been removed and the area sealed up. Either way, the area will need to be cleaned up before the job is entirely complete.
Can You Remove A Gas Fire DIY?
As mentioned, unfortunately this work can only be undertaken by a gas safety registered engineer. Aside from its illegality, removing a gas fire DIY can risk fire and the inhalation of dangerous gases.
Building Regulations and Planning Permission for Gas Fire Removal
As for building regulations, once a professional undertakes the work you should be in the all clear. However, if you are a landlord and will maintain some gas works, you will need a gas safety certificate.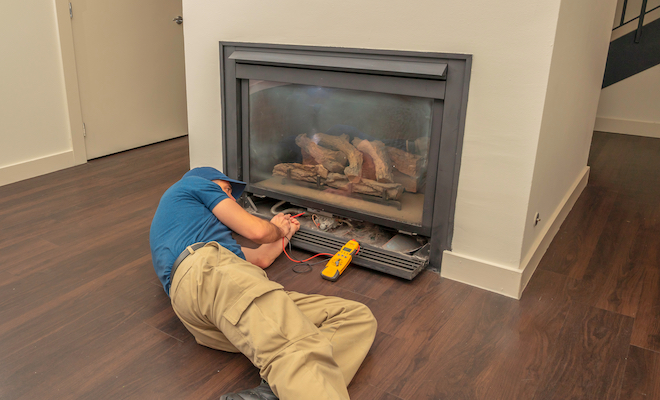 In terms of planning permission, approval would only be needed in particular circumstances such as if you live in a listed building. With regards to building regulations or planning permission, if you have any doubts, it is best to contact your local council. More information can be found on the Planning Portal, which applies to those resident in England and Wales. However, if you're based in Scotland or Northern Ireland, the rules may differ.
How to Find & Hire a Gas Fire Removal Specialist
Finding the right person for the job is obviously an important consideration if you want to get solid value for money. It goes without saying since you'd need to hire a gas safety registered engineer; you can more than expect a great quality of service but there's a few ways to make sure you're not only getting optimal quality but a good price.
As mentioned earlier, a gas safety registered engineer is likely to charge around £100 to £150 an hour.
When hiring a professional, you may want to consider these questions:
What sort of qualifications do they have? And are they gas safety registered?
What experience do they have? (ask for some references)
How about accreditation?
Does the contractor/company offer any insurance?
To become a gas safety registered engineer, an individual must:
Undertake an ACS training and assessment
Undertake on-site gas work
Get a CCN1 qualification
Register as a Gas Safe engineer
You can confirm that a person is a gas safety registered engineer by using the Gas Safe Register website, which is exactly what it says on the tin.
FAQs
Sources
https://www.direct-fireplaces.com/resources/gas-fire-vs-central-heating-which-should-you-use/ https://amberglowfireplaces.co.uk/faqs/glass-fronted-gas-fires-efficient-open-fronted-ones/