How Much is a Radiator?
The average cost to replace a radiator is typically around £200 for a traditional double panel radiator. The price varies depending on quality andsize of the radiator, whether any brackets need to be changed and how much pipework is required.
How long will it take?
The overall time to complete the job will be around 2-3 hours, with the heating engineer usually carrying out tests on the radiator to ensure no minor repairs are required as well as fixing any minor leakage.
So, how much do heating engineers charge?
Most heating engineers work in pairs for safety reasons and usually charge around £300 per day for a team of two. If the job is small, then quite often only one tradesman will be required so you can expect a cost of around £150-£200 per day in labour.
There are several types of radiator available:
Standard
Column
Cast iron
Vertical
Designer
Standard Radiators
Standard radiators come in various sizes to suit different sized rooms. A 500mm x 600mm double radiator costs on average £30-£40, a TRV (thermostatic radiator valve) costs between £10-£30 depending on style and brand and labour will cost around £20-£25 per hour.
Vertical Radiators
Vertical radiators are tall radiators which have become fashionable in more modern homes. An average vertical radiator of 1800mm x 464mm costs approximately £250-£450 for a single flat panel design.
Cast iron radiators are popular in traditional style houses and a plain style black finish 645mm x 396mm horizontal radiator will cost around £150-£200.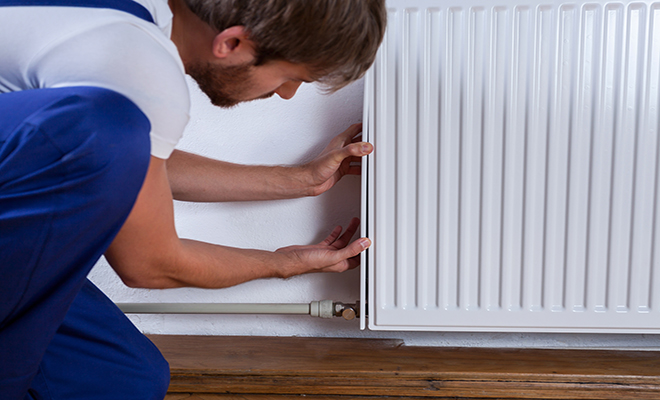 Column Radiators
Column radiators come in modern and traditional designs as well as a range of sizes. An average sized 600mm x 1010mm horizontal column radiator costs in the region of £250-£350.
Designer Radiators
Designer radiators feature a wide range of designs, shapes and concepts. They range from traditional cast iron to modern mirror radiators, horizontal and vertical, rectangular, oval and wave designs. Prices range from £100 to more than £1,000.
What else can affect the cost of radiators?
Aside from the type of radiators available there is a variety of materials that radiators are constructed from. Some heat more quickly while others retain residual heat for longer.
Stainless steel, aluminium, copper, and cast-iron radiators come in an array of modern, designer, traditional and bespoke designs.
Stainless Steel Radiators
Stainless steel radiators giving a highly polished and reflective surface are available as horizontal and vertical heaters. A 600mm x 590mm horizontal stainless-steel polished finish radiator will cost on average £250-£350.
Aluminium Radiators
Aluminium is an excellent heat conductor and therefore makes an exceptional radiator material. A 1800mm x 412mm single panel aluminium vertical radiator costs approximately £200-£250.
Copper Radiators
Copper radiators are adaptable to modern, traditional and industrial settings. A 592mm x 701mm copper horizontal radiator costs on average £300-£400.
Cast Iron Radiators
Cast iron radiators are usually found in more traditional settings and they have excellent heat retention capacity. A 780mm x 758mm decorative cast iron radiator costs in the region of £250-£350.
Some radiators are priced as units and some such as the cast iron radiators can be priced by section. As they are available in various lengths, the sections are cast in moulds and then bolted together either in the factory or on site.
Radiator replacement cost will depend on which radiator you choose, the size and the number of radiators that you are replacing.
Radiator Prices
Below are some estimated costs associated with replacing a radiator:
| Job Type | Average Cost | Duration |
| --- | --- | --- |
| Replace a Standard Radiator | £200 | 1-2 Hours |
| Remove a Standard Radiator | £100 | 1-2 Hours |
| Install an Additional Radiator | £300 | 3-4 Hours |
| Bleed Standard Radiators | £100 | 30-60 Mins |
| Replace All Radiators (3 Bed House) | £1300 | 1-2 Days |
| Replacing an Electric Radiator | £80 | 1-2 Hours |
| Power Flushing the System | £400 | 1 Day |
| Replacing a Boiler | £1800 | 1-2 Days |
| Replacing Entire Central Heating System (3 Bed) | £4000 | 2-3 Days |
Supply Costs
Below are some of the variations of radiators available in different sizes with their average prices:
Radiator
Size/Price
Size/Price
Size/Price
Size/Price
Standard
400mm x 400mm
£30-£45
300mm x 1000mm
£40-£55
400mm x 1200mm
£45-£60
600mm x 1200mm
£60-£75
Cast iron
450mm x 334mm
£100-£150
750mm x 329mm
£200-£250
350mm x 718mm
£400-£450
750mm x 1170mm
£500-£600
Aluminium
557mm x 660mm
£150-£175
1800mm x 470mm
£200-£250
600mm x 710mm
£250-£300
2046mm x 320mm
£300-£350
Stainless steel polished
600mm x 413mm
£225-£275
600mm x 1003mm
£300-£350
1800mm x 280mm
£650-£700
1500mm x 490mm
£700-£750
Electric
400mm x 595mm
£135-£155
400mm x 1180mm
£200-£250
635mm x 840mm
£200-£250
1610mm x 236mm
£250-£300>
Additional Costs
Here are some additional costs you may need to consider below:
Power Flush
When replacing or installing a radiator, it may be advisable to carry out a power flush of the system. Removing a radiator will inevitably disturb particles which can clog the system so taking the precaution of cleaning the system should reduce the possibility of blockages.
Even without moving a radiator sludge will build up in most central heating systems and eventually reduce the efficiency and effectiveness of the radiators. It can also lead to damage to the boiler and you may have to replace it sooner than you would if the system were regularly cleaned through.
The average cost of a power flush is £400 although the cost does depend on the number of radiators and the type of central heating system.
Central Heating Inhibitor
An inhibitor is a chemical which is added to the water in the central heating system to coat the pipework and reduce the amount of corrosion and rust. The use of an inhibitor can reduce the likelihood of sludge and rust building up in the system and causing blockages in your radiators. It is often used as part of a power flush.
A litre of inhibitor costs around £15-£30 but you should consult your heating engineer or plumber if you are unsure how to use it.
Replacing a Skirting Board
Skirting boards can be damaged when installing a radiator and may need to be replaced. If the existing skirting can be matched, then it should only be necessary to replace the affected piece.
However, if the skirting board has been in place a long time it may be difficult to match, and the decision taken to either remove all the skirting or pay for a matching profile to be made.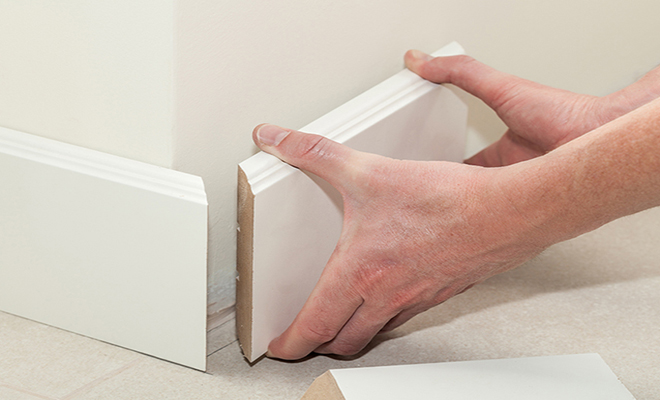 A 3-metre length of 150mm Victorian oak skirting board will cost on average £40. To hire someone to replace the skirting will cost approximately £150-£200 depending on the experience of the carpenter and location in the UK.
Replacing Floorboards
The cost to move a radiator to another wall in the same room may include the replacement of floorboards. The price you can expect to pay for replacement of some floorboards is approximately £250 and should take no more than one day to complete if there are no complications.
You may want to save some money by removing the floorboards yourself, but you may not know which way the pipes are running in the room and unnecessarily removing excess boards. Of course, once the work is done then you can replace the boards yourself to avoid paying a carpenter.
Re-Plastering
If a radiator has been replaced as part of a refurbishment or renovation, then the room may also require plastering. This is not the easiest of DIY jobs, so it is worthwhile getting an experienced plasterer to do the work. It is not cheap, but the finish will be professional and worth the cost.
The average cost of a plasterer is £150-£250 per day depending on where you are in the UK.
Painting and Decorating
Painting and decorating may be necessary if you have had to plaster or re-plaster a room or a wall after installing a radiator. If you do not want to do it yourself, you should budget for between £160-£200 per day for a decorator.
New Boiler
Over time as your central heating system ages deposits can accumulate in the pipework and radiators and this can affect the performance of your boiler. If a new boiler as well as a new radiator is needed you should expect to pay between £1250-£1800 for this depending on which type of boiler you install.
Cost to Remove a Radiator for Decorating
The average cost to move a radiator for access to decorate and then refit afterwards will typically be around £100 and will include checks post fitting to ensure all is well and there are no leaks.
A good plumber will test the radiator before leaving the property by making sure that it heats up properly with no cold spots. This work should be done in no more than an hour.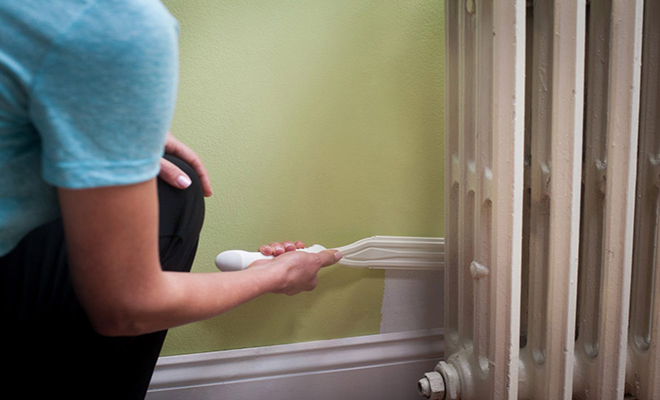 Removing a radiator to paint the wall behind may seem like the kind of DIY job that can be done to save money and if you are confident and careful then it can be done. The radiator needs to be drained and the TRVs if fitted, capped off.
The radiator can then be lifted off its brackets and any remaining water drained into a bucket. Once the wall is dry the process is reversed but it will be necessary to bleed the radiators as air will have gotten into the system.
Cost to Remove a Faulty or Damaged Radiator
To replace a faulty or damaged radiator, like-for-like, with a TRV installed, prices start at around £200. This assumes no complications or added services such as a power flush. To swop the new for old radiator can be done within a day also allowing for testing after fitting.
Cost to Install an Additional Radiator
You may decide to install an additional radiator if a room is too cold. Your plumber may need to lift up the carpet or wooden flooring and the floorboards if extra pipework is needed and this will add to the cost. A budget of around £230 should be enough including the new radiator cost.
It is also worth checking that your existing boiler can cope with an extra radiator. Most boilers will be able to cope with one or two extra radiators, but you need to consult a heating engineer or plumber to make sure that installing a radiator will not over burden your boiler. The timeframe for this work will be 1-2 days.
Cost Breakdown Calculator
Individual costs to replace a single double panel radiator - Total Cost: £200
Labour Costs and Time Frames
The labour cost to replace a radiator will include the removal of the existing radiator and the fitting of the new one. A plumber or heating engineer will either charge by the hour, day or give a set price.
On average a daily rate is between £180-£300 but will depend on experience, location in the UK and company overheads. Plumbers and heating engineers in London and the south east will charge more than in other parts of the country. Hiring a plumber or heating engineer is not cheap but if you are not confident about replacing the radiator yourself or are unable to do it then hiring a professional tradesperson is the best option.
Hourly rates on average are between £25-£40 again depending on location and experience.
Cost Affecting Factors of Replacing a Radiator
Here is a list of factors that may affect the overall cost:
Size of Radiator
The size of the radiators that you intend to fit will have a direct impact on the price that you pay. However, the size is not what dictates the suitability of a particular radiator. Determining which radiator will most efficiently heat a room is done by calculating the BTU or British Thermal Unit.
A BTU is a unit of heat defined by the amount of energy required to raise the temperature of a pound of water by one-degree Fahrenheit and all radiators are measured in this way. You can use this radiator size calculator to ensure you buy the right size for the room.
Type of Radiator
There are several types of radiator on the market and apart from calculating the BTU you will need to choose the appropriate type. The most common radiator in homes is connected to the central heating with the hot water for the radiators being heated by the boiler.
There are electric radiators which are mounted on the wall and plugged into a wall socket which are filled with a fluid that is heated by an electrical element within the radiator.
Dual fuel radiators can be powered by the central heating but also have an element fitted so that it can be used independently of the central heating system for example in the summer.
Style of Radiator
Within these variations there are several styles of radiator. The most diverse range are those which are connected to the central heating of the property and include single panel, double panel, convector, column, horizontal and vertical radiators.
Of course, there are a wide variety of designer radiators available constructed from different materials and offering unusual designs and styles.
Moving a Radiator
If it is necessary to move a radiator from one location to another then there may be extra costs involved. New pipework may need to be laid, flooring may have to be removed for the work to be carried out and this will add both to the material and labour costs.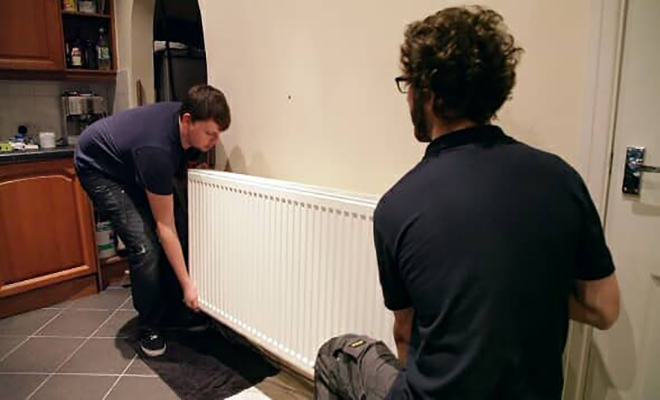 Number of Radiators
Obviously if you are replacing more than one radiator the cost will rise depending on the number of radiators and the type that you are replacing them with.
Quality of Radiator
The quality of a radiator will influence how much you pay by as much as 50% with designer and high-end products costing much more. This will be due to the material used, the efficiency of the radiator and the design.
Adding Additional Radiators
Be aware that if you install additional radiators it may be prudent to check that your current boiler can cope with the extra workload. If the boiler is more than ten years old, you may want to consider replacing the boiler as part of the work. For this you should consult a heating engineer.
Fitting Thermostatic Radiator Valves
Fitting TRV valves will allow more efficient control of the room and radiator temperature and can potentially save on fuel bills. Thermostatic Radiator Valves (TRV) control the radiator's temperature by sensing the room air temperature and automatically opening and closing the water flow to the radiator to maintain a pre-set temperature.
TRVs are now a requirement as part of Building Regulations in homes, but many older properties still do not have them. Check with your installer to make sure you have the correct valves. The cost of TRVs ranges from less than £10 to more than £35 and should take no more than an hour for a plumber or heating engineer to fit.
Boiler Replacement
When replacing a radiator, you should think about the boiler capacity and efficiency, if the boiler is more than 10 years old it may be worth replacing it too. The average cost to replace a boiler is between £1250-£1800 depending on the brand and type of boiler fitted.
Insulating Your Home
Finally, there is no point having efficient radiators if your house is poorly insulated. Insulate the loft to at least 150mm of modern insulation and investigate double glazing if you do not have it already fitted.
DIY Replacing a Radiator
There are many reasons why you may want to replace a radiator, leaks, upgrades, or energy efficiency and there are many guides available on how to replace a radiator.
Leaking Radiator
Radiator leaks come from one of four places; the body of the radiator itself (if old and rusted), the bleed point, the valve or the water pipe leading to the radiator. If you have just replaced or refitted a radiator, the joins between pipes, valves and the radiator itself are the most likely culprits.
Upgrading Your Radiator
Upgrades may require professional advice as there may be a difference between the existing and new pipework or the new radiator may put a strain on your existing central heating system which may need servicing or perhaps a new boiler.
You can carry out the radiator replacement yourself but getting professional guidance is recommended if not replacing like for like.
Energy Efficiency
If the radiators are hot at the top and cold at the bottom, this usually means that the radiator is receiving an insufficient flow of water. This can be caused by a few things including a blockage in the radiator and faulty or incorrectly specified water pump in the central heating system.
Bleeding the radiator often eliminates this problem but if it is a recurrent issue then it may be necessary to replace the radiator for a newer and more efficient one.
Tools and Safety Equipment for Replacing a Radiator
It is possible with some instruction for a radiator to be replaced as a DIY job and can be done with the following tools:
Spirit level: £10-£20
Adjustable wrench: £6-£60
Spanner: £3-£80
Plastic bowl: £1-£5
Rags: £1-£2
Radiator key: £0.80
Tape measure: £5-£30
Screwdriver: £5-£65
Although there is little risk involved in replacing a radiator it is advisable to wear gloves (£2-£5), to protect your hands and safety boots (£17-£120) in case the radiator is dropped on your feet.
Even if you need a plumber or heating engineer to install your new radiator you could save some time and money by removing the old one yourself. However, you should speak to your plumber beforehand and ensure that they are happy for you to do this and that they will still guarantee the work of installing the replacement radiator.
Types of Radiator
There are quite a few types of radiator to choose from including horizontal, column, vertical and electric radiators. There are also single and double panel radiators as well as double convector radiators. Which you choose depends on what is best for your room, your heating system and your own personal preference.
It is also important to choose a radiator size that will sufficiently heat your room. Here is a radiator size calculator which is handy to use when choosing a new radiator to adequately and efficiently heat a room.
Single Panel Radiator
Single panel radiators are the simplest and are basically a hot water container that radiate heat out into a room. They normally have convector fins at the back to increase the total surface area for air to come into contact with and be heated.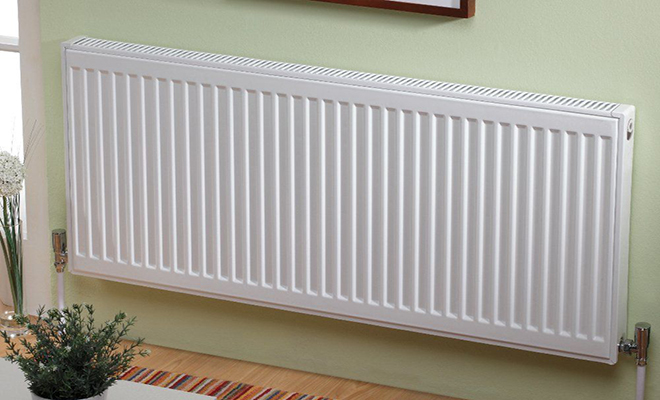 This warm air is then circulated around the room by convection, the process by which cold air sinks, is heated by the radiator and then rises. This air eventually cools down and sinks allowing the cycle to begin again.
Pros of a single panel radiator:
✔ Small and can fit in confined spaces.
✔ Simple to install and maintain.
✔ Available with convection fins for increased heat output.
Cons of a single panel radiator:
✖ Not as effective as double panel radiators.
✖ When fitted with convector fins will not sit flat against the wall.
✖ Will only be effective in small rooms.
Double Panel Radiator
Double panel radiators are similar to a single panel but have an additional panel on the back, thereby encasing the convector fins in the middle. The increased surface area creates additional heat for the room.
Pros of a double panel radiator:
✔ Two panels produce more heat than a single panel.
✔ A room with a double panel radiator will be heated more quickly.
✔ Available in a wide variety of sizes and designs.
Cons of a double panel radiator:
✖ Greater wall space is required.
✖ Not suitable for tight or confined spaces due to added width.
✖ Will require greater performance from your boiler.
Double Panel Double Convector Radiator
A double panel, double convector radiator has two sets of convector fins in the middle of two panels. This creates even more heat than a double panel radiator and is suitable for large rooms.
Pros of a double panel, double convector radiator:
✔ With twice as much surface area the radiator will radiate more heat.
✔ Suitable for large rooms.
✔ The desired room temperature will be reached quicker.
Cons of a double panel, double convector radiator:
✖ Additional width means they require more space.
✖ Can look cumbersome compared to slim panel radiators.
✖ Unless correctly calculated they may be producing more heat than required for the room and therefore not be energy efficient.
Horizontal and Vertical Radiators
Horizontal and vertical radiators come in a variety of designs and styles and are named for the direction in which they are hung i.e. with the greatest length on the horizontal or vertical plane.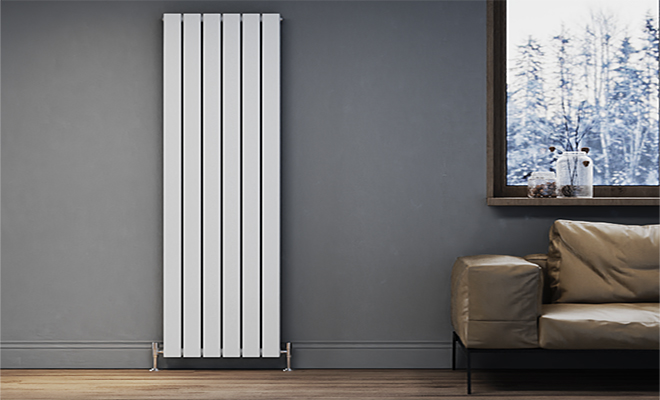 Most traditional radiators are horizontal, but the popularity of vertical radiators has been due to the ability to fit these radiators into spaces that would otherwise have been unsuitable for a large radiator.
Pros of horizontal radiators:
✔ Available in a wide range of sizes, designs and styles.
✔ Ideal to place underneath windows to capture cooler air coming into the room.
✔ Equally suitable in traditional, modern or commercial settings.
Cons of horizontal radiators:
✖ Can appear uninspiring and old fashioned.
✖ Not suitable for areas with reduced wall space.
✖ Location within a room can be limited as it takes up a lot of wall space that could otherwise be used for furniture.
Column Radiators
Column radiators can be made from steel, cast iron or other metals such as aluminium and are formed by joining tubular sections together to a required length. This has the advantage of being adaptable to many sizes and for transportation where they can be assembled on site.
Pros of column radiators:
✔ Classic look that is suitable in both modern and traditional homes.
✔ More surface area than a panel radiator so will give off more heat and rooms are heated quicker.
✔ Available as horizontal or vertical radiators.
Cons of column radiators:
✖ Cleaning between the columns can be challenging.
✖ May take up a lot of space in smaller rooms.
✖ When constructed from cast iron they can take a long time to heat up.
Electric Radiators
Electric radiators contain a thermodynamic fluid that is heated by an element within the radiator and this heat is released into the room. They are wall mounted and relatively easy to install as a DIY project.
Pros of an electric radiator:
✔ Can be used independently of a main heating system.
✔ Suitable for properties that are not connected to mains gas supply such as in remote areas.
✔ Low maintenance required and can be controlled with an app on a smart phone or tablet.
Cons of an electric radiator:
✖ More expensive to run than conventional radiators.
✖ Limited styles and designs.
✖ Larger rooms may require more than one electric radiator.
Cost of Removing a Radiator
There are several situations when we would need to remove a radiator. Decorating is the most common, followed by replacing the floor or skirting boards, , adding silver foil reflectors, and of course replacing a radiator with a new one.
It is not a difficult job if you have patience and take sensible precautions. But there are things that can go wrong, the most common being the radiator leaks when fitted or refitted.
To find and repair radiator leaks first put some towels on the floor around the radiator and then completely dry the surface of the radiator to find the source of any leak. Once the radiator is dry you should be able to see the source of the leak easily. If not, then take some paper towel and systematically check every union on the radiator.
As discussed, it is possible to remove a radiator as a DIY job with relative ease. If, however it is not something that you are confident about tackling then you should hire a plumber to do it. The average cost to hire a professional to just remove a radiator is on average £100.
If you need to dispose of an old radiator you could contact a local scrap metal dealer and arrange collection, or you could take it to your local recycling centre free of charge. Make sure it is completely empty of water before you put it in your car though.
FAQs
How to Find & Hire a Radiator Installer
Not everyone will know how to replace a radiator or be confident about doing so and it may be necessary for some people to hire a professional plumber or heating engineer to carry out this work.
While there are plenty of enthusiastic DIYers around a lot of people are either too busy or not confident or capable of doing this themselves. Therefore, it is important to know how to find and hire a radiator installer to replace a radiator for you.
Recommendation
There is no substitute for personal recommendation and if you can source a plumber or heating engineer that you either know or that family and friends have successfully used then that is half the battle.
Having a reliable and competent professional working on your project reduces the stress of having work done in your home.
Cost to Hire a Tradesperson to Replace a Radiator
The cost to hire someone to replace a radiator in your home will be on average £200, this includes the new radiator cost.
Radiator prices for tradesmen will be cheaper than retail prices so discuss what it is that you want with your plumber or heating engineer but be prepared to be guided by them on what is suitable and will work with your system.
Qualifications & Accreditations
Heating engineers need to be Gas Safe registered to work on a central heating system and this requires Gas Assessment Training (ACS) certification.
They should also have an industry qualification such as an NVQ Level 2 and 3 in Mechanical Engineering Services-Plumbing (Domestic) or Diploma in courses like Domestic Natural Gas Installation and Maintenance, Gas Utilisation or Domestic Plumbing and Heating.
A heating engineer or plumber will require an Unvented Hot Water Certificate to work on a sealed system which is one with a combination boiler or without a water storage tank in the loft.
Insurance
Ask what insurance they have and ensure that it will cover the work that they are doing. Be aware if they are not certified to carry out the work any insurance, they have may be void so check their credentials first.
This can be done by asking first to see their Gas Safe photo ID with their own unique license number. If they claim they do not have it with them then do not allow any work to be done until you have seen it and checked it against the Gas Safe register.
The rear of the ID card should list all the appliances that the heating engineer can work on.
It is in your best interests to check the qualifications, insurance, accreditation and experience of someone working in your home especially if they are making repairs or adjustments to your gas central heating or electricity supply.
Therefore, do not ever feel bad about asking for proof of ability, registration or qualification to do the work you have hired them to do. Your safety and that of your family and property is the most important consideration.
Sources
https://www.boilerguide.co.uk/articles/boiler-replacement
https://www.hse.gov.uk/gas/gas-safe-register-check.htm