How Much Does LPG Gas Heating Cost?
The majority of UK homeowners use mains gas to fuel their central heating systems, but a small minority have to seek out other options as they're not connected to the mains gas grid. If mains gas is not an option, then a popular alternative heating fuel is liquid petroleum gas or LPG, which can be used with the same type of conventional gas central heating system.
The average cost of LPG central heating will vary, but the price per kWh is usually around £500 more per year than mains gas. Although LPG is more expensive per kWh than mains gas, and mains gas is certainly the cheapest of the three fuels, it's simply not an option for those not on the grid.
But if we compare LPG to the cost of electricity for heating, then the savings are substantial. Though there are additional costs such as the annual tank rental which is typically around £60 to £90.
The installation cost involved in replacing an older LPG boiler with a modern, efficient combi model will cost between £2,500 and £6,100. If you require a conventional or heat-only boiler, this will range from £2,200 to £3,700, while a system boiler can cost up to £4,300.
LPG Central Heating Installation Prices
Below are some LPG installation costs and LGP boiler costs:
| Job Description | Avg. Cost |
| --- | --- |
| LPG combi model boiler | £2,500 - £6,100 |
| LPG heat-only boiler | £2,200 - £3,700 |
| LPG system boiler | £2,300 - £4,300 |
| Underground LPG tank installation | £1,000 to £1,500 |
Supply Costs
If you want to purchase your boiler yourself, then you should consider the various supply costs. Here is a breakdown of the different prices for an LPG heating system:
| Description | Avg. Cost |
| --- | --- |
| LPG combi model boiler | £900 to £2,600 |
| LPG heat-only boiler | £890 to £1,200 |
| LPG system boiler | £890 to £1,500 |
| LPG conversion kit | £20 to £60 |
| Flue kit | £50 to £280 |
| Flue elbow | £20 to £60 |
| Flue extension | £30 to £125 |
Additional Costs
There are various other costs you may need to consider when calculating the installation cost of your LPG central heating system. Below you can find a price breakdown of any extra costs:
| Description | Avg. Cost |
| --- | --- |
| LPG butane storage cylinder refill | £25 to £45 |
| LPG propane storage cylinder refill | £20 to £45 |
| New pipework | £200 to £900 |
| New radiators | £180 to £200 each |
| Power flushing | £300 to £500 |
| Anode replacement | £170 to £200 |
Cost Breakdown Calculator
Individual Costs of Installing a Modern LPG Combi Model Boiler - Total Cost: £3,250
Labour Costs and Time Frames
The average rate a gas engineer will charge is around £150-£200 per day. The job should take 1-2 days depending on the ease of installation and if no extra pipework is required.
If you require a straight swap, such as an old combi boiler for a modern combi, then this may only take around a day to complete, however, if you want a completely different boiler this could take up to three days to install.
You will also need to factor in the time spent installing your LPG tank, as this is where your propane and butane will be stored. Some companies offer an underground tank installation, which typically takes around 1 to 2 days to complete.
If your boiler is still working fine, then a qualified gas safe engineer can change your natural gas boiler to liquefied petroleum gas (LPG) by using an LPG conversion kit, which may only take a few hours to install.
What Does Installing LPG Central Heating Entail?
LPG gas central heating systems require a boiler plumbed into the house which can accommodate LPG gas. If you need a new boiler, then you can hire a gas engineer to install it for you. The first thing they will do is check the position of your existing boiler and the flues.
They can then decide whether they are going to install the new boiler in the same position or move it to a new location. If it does not need to be moved, then the new boiler can be connected to the existing pipework, and the gas engineer may decide to perform a power flush which will mean clearing out the system with specialist cleaning equipment and chemicals to ensure there is no rust or sludge blocked in the pipes.
Before the installation begins, the existing boiler must be removed. This will involve shutting off the gas, and if moving the boiler, the gas feed should be broken by capping it to ensure it no longer works. If it is not being moved, then they will just disable the gas until the new boiler is fitted and attached to it.
If the gas engineer decided it's best to move the boiler, then new pipework may need to be fitted into the wall or ceiling adjacent to an appropriate place such as an attic or cupboard. Once the pipes are in place, the new boiler can then be installed by attaching it to the pumps and pipework that connect to the radiators and water supply.
If installing a conventional boiler, then they will also need to be attached to the corresponding hot and cold water tanks. Electrical controls will then be connected for convenience, so you do not have to access the boiler to alter the heating.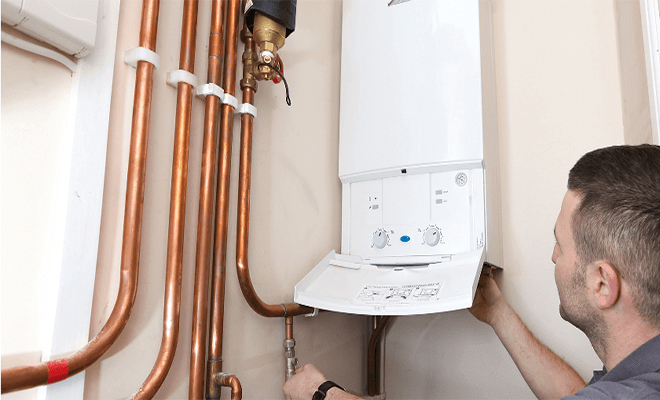 Once the engineer has finished installing the boiler, then they will usually test it to ensure everything is working as it should. For a combi boiler, all you need to do is turn on the taps and check the water is hot, however, for other boiler types the engineer will put the thermostat to zero and turn off the hot water.
They will then turn up the thermostat and check to see if the boiler fires up along with the radiators which should warm up within ten minutes. They will know the test has worked when the radiators feel warm to the touch all over.
Another way to install an LPG central heating system in your home is by converting your existing boiler from natural gas to LPG. This will involve the help of an LPG installer who will insert an LPG conversion kit into your current boiler, making sure it is compatible first. To install it, they will need to turn off the system and follow the manufacturer's instructions for correct installation.
The next step is essential, regardless of whether you have had a new LPG boiler installed or your existing one converted. As an LPG central heating system must have an above-ground or underground storage tank with liquefied petroleum gas inside to power the system.
Many companies offer underground tank installation, which is usually buried in the back garden. However, you will only be eligible for an underground installation if the tank can be buried at least 3 metres from your home with a width of no less than 200mm.
You will also need a gateway or road of at least 2 to 3 metres to accommodate regular LPG gas deliveries. If you do not have enough space, then you will need to store the tank above ground, although it should be covered and secured.
Once the supply tank is fitted, it can then link to the gas boiler and heating system by a trained, certified gas safe LPG engineer only.
Cost Affecting Factors of Installing LPG Central Heating
There are various cost factors you need to consider when planning an LPG central heating installation. For instance, if you require a new boiler, then this will increase the cost of installation, although the actual price will vary depending on the type of boiler you choose.
For a new combi boiler, you can expect to pay anywhere from £900 to £2,600, while heat-only and system boilers are cheaper, as they both start at £890, although the latter is slightly more expensive and can cost up £1,500.
You may also have to pay for additional parts to ensure your boiler is installed properly. This could include a flue kit which normally cost around £50 to £280, depending on the type of boiler you have. You will also need to factor in parts during repairs, such as flue extensions which can cost up to £125, and flue bends which range from £20 to £60.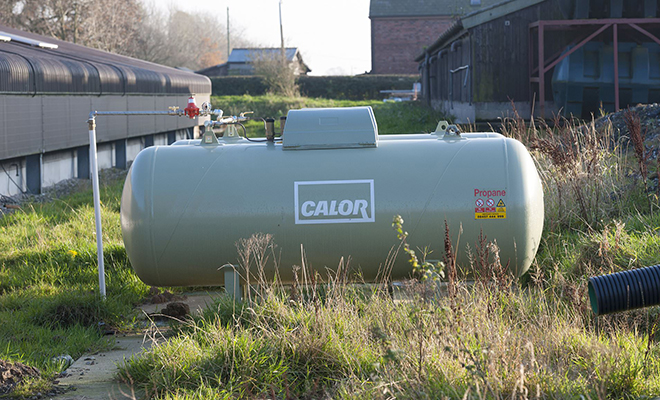 Another popular repair cost is the price of a new anode, which is normally about £20 to £50, however, for a professional, you should expect to pay around £150 per day. This is a steel wire that is inserted into your boiler to avoid corrosion, and it is usually replaced every 5 years or so to avoid boiler breakdowns.
The installation of the boiler is also a determining factor, as a straight swap boiler job will cost much less than changing it for a completely different model. For example, if you have a conventional boiler, and you're changing this for a combi boiler, then this could cost up to £3,500 for installation.
Another important cost factor is your LPG gas supply, as gas prices tend to increase in winter months due to a higher demand, therefore, it may best to buy your gas supply in the summer. You might not have to worry about this if you have a contract with an LPG gas supplier, as more than likely they will have set the price to a specific amount, so you will not be affected by seasonal changes.
DIY LPG Central Heating
While it is not illegal to install central heating yourself, it is advised against as the installation of an LPG boiler and tank is a complicated job. So, if you have never dealt with or fitted a central heating system before, it is best to leave it to the professional who will be able to install and attach the boiler to right pumps and pipework.
Installing central heating yourself can also be dangerous, as you can be exposed to harsh chemicals as well as a high level of electricity. You may also cause complications if you fit the parts in the wrong place, which could result in you paying out more money for repairs or replacement.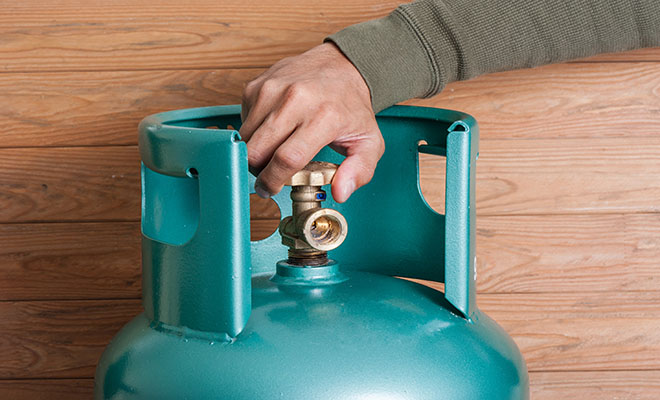 An LPG central heating installation may also involve excavation for underground tank installation. Many LPG suppliers offer this service making sure they adhere to the specific measurement requirements. However, to reduce costs, you could dig a trench yourself, although you should check to make sure that you have the right measurements before you start digging.
You will also need to be careful when digging, as you will need to avoid any pipework or wiring. Doing this yourself could help you save up to £1,500, as you will only have to pay for tools such as a pick which costs around £15 to £30 and a shovel for £10 to £40.
Bulk LPG
Bulk LPG is a large quantity of liquid petroleum gas which is normally stored in a tank. They can usually hold around four tonnes and are normally owned by large companies with an LPG central heating system who are located in rural or off-the-grid areas. However, homeowners can also purchase bulk LPG, which is normally stored in tanks outside their home either above or below-ground.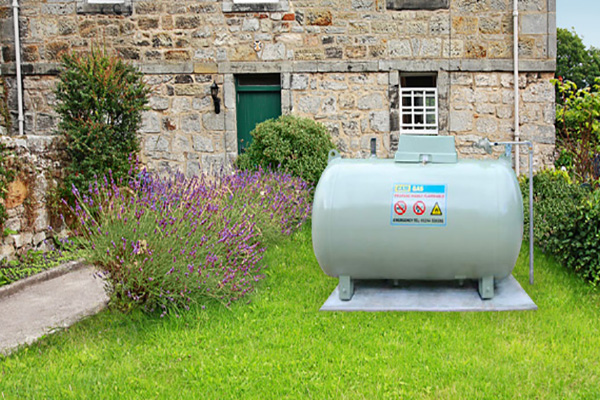 If there is enough room on the land, a bulk LPG container can be installed underground, or if not, it should be contained in a safe and secure area above ground making sure that is not located near any buildings. Typically they are located on or underneath flat areas of land where delivery trucks can access it easily when dropping a new supply.
Both businesses and customers can benefit financially from purchasing LPG in bulk, as it works out around £0.06 per kWh and the cost is normally fixed, and will therefore not be affected by fluctuating gas prices.
Supplier Owned LPG Tanks
Many LPG suppliers provide a tank rental service which costs around £60 to £70 for an above ground tank and £80 to £120 for a below-ground installation. The price typically includes a regular refill service, although it costs around £1,500 extra for an underground installation.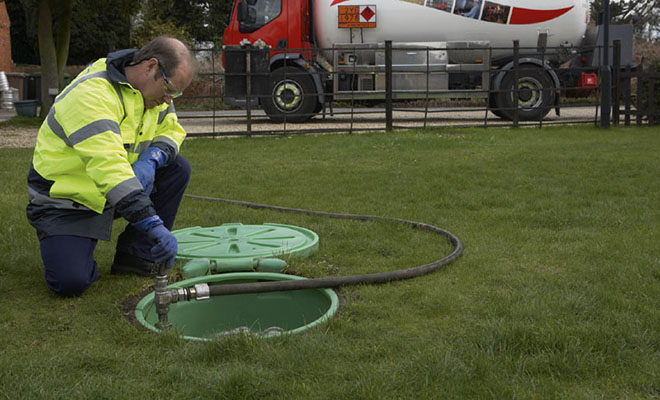 To be eligible for an underground rental tank, you need to have enough space surrounding the property. The regulations usually state that the tank must be located at least 3 metres away from your home with a 200mm width. You should also be able to accommodate regular deliveries with a road width of at least 2 metres.
One of the benefits of having a supplier owned LPG tanks is the advantage of an automatic filling service, so you don't have to worry about filling the tank yourself. However, you will normally be tied into a contract for at least two years, so you need to make sure that you choose the right supplier.
Cylinder LPG
Many homeowners who have an LPG central heating system do not have the room to accommodate an underground or above ground tank, so instead opt for LPG cylinders. These usually hold anywhere from 5kg to 50kg depending on what they are used for and the type of gas contained. For butane and propane cylinders with 5kg to 15kg of LPG, you can expect to pay around £60 to £85, while refills range from £20 to £45.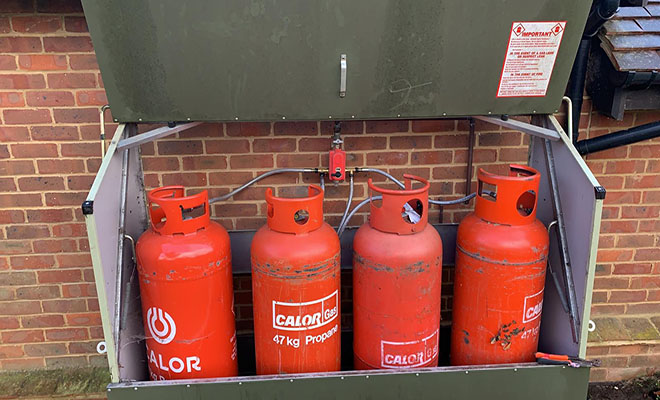 While this method, may not be as cost-effective as LPG tank prices, it can actually benefit when you first switch over to LPG, as it will help you understand your usage. Once you've figured this out, you can then consider renting or buying a tank, although only do this if you have the room to accommodate it.
Heating Cost Comparison
To help you decide which central heating system is best for your home, take a look at the following cost breakdown:
| Type of Fuel | Avg Cost per kwh | Avg Cost per year |
| --- | --- | --- |
| LPG | 5p to 9p | £650 to £1,100 |
| Mains gas | 3p to 6p | £390 to £780 |
| Oil | 5p to 7p | £650 to £910 |
| Electricity | 12p to 15p | £1,500 to £1,950 |
These number are calculated by assuming an average household uses 13,000kWh per year.
Pros and Cons of LPG
Before choosing an LPG central heating system, you need to decide if it's right for you. To help you with this decision, take a look at the following pros and cons guide.
Pros
There are several advantages to LPG heating; first of all, LPG is a flexible and efficient fuel source for those who live off the gas grid. It is also a cleaner fuel when compared to other fossil fuels such as oil and coal. Burning LPG produces less sulphur, nitrogen oxides, carbon dioxide (33% less carbon dioxide than coal and 15% less than oil) and even in the event of a spill, LPG won't cause contamination to water or the environment.
LPG is quiet and doesn't produce any strange smells like burning oil, plus LPG boilers are smaller and don't require as much maintenance. They are also easier to install and tend to be cheaper, as it is easier to hire a gas safe engineer than it is an OFTEC engineer who is required for an oil installation.
LPG can also be a lot more flexible than other fuels, such as oil which can only power a boiler, whereas LPG can fuel a boiler as well as a hob or an oven. The heat produced using LPG central heating is also very controllable, just like mains gas.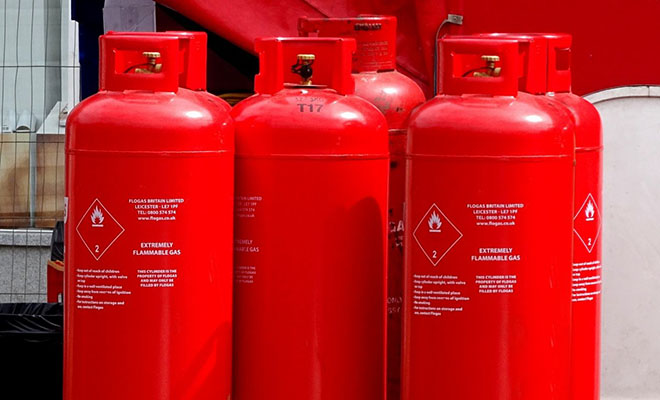 Cons
LPG does have some drawbacks, mainly the delivery aspect, as your tank will hold your only supply, so you need to make sure you get it refilled before it runs out, allowing at least 10 days for delivery to avoid any last-minute issues.
Plus you need somewhere suitable to place the LPG storage tank, which can become an eyesore in your garden. Furthermore, if you do not have space, you may end up paying more for LPG cylinders which do not hold as much.
Another cost drawback is the rental cost for the tank, which will be paid to your supplier. You may also have to pay to have it serviced annually, plus the cost of gas is expensive compared to mains gas.
It is also important to remember that even though LPG is cleaner than coal or oil, it is still a non-renewable, fossil fuel that releases carbon dioxide and other harmful gases into the environment.
Changing from LPG to Mains Gas?
The only way you can switch from LPG to mains gas is if your home can actually be fuelled by mains gas. Some homes in the UK do not use mains gas, also known as off-grid, and must, therefore, use alternatives such as LPG and oil.
If your home does accommodate mains gas and you have tried LPG gas, then it is possible to conduct a switch. However, before changing over, you should make a price comparison to ensure that the switch will be worthwhile. Once you have found the right gas supplier, you should then contact them, and they should be able to conduct the switch for you.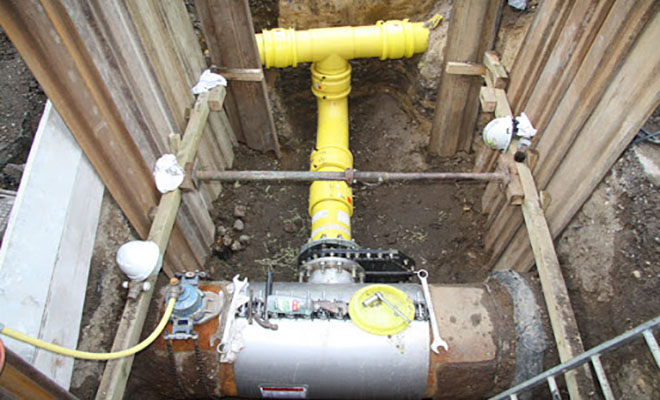 You should also contact your LPG supplier and let them know your plans. They should adhere to your wishes as long as you are not bound to a contract. If you lease a tank from them, they should arrange to pick it up. You may incur costs for removal of around £500 for an above ground tank and up to £1,600 for an underground removal.
Once everything has been removed, you will then need to check your boiler to see if it is compatible with mains gas. To ensure this is the case, you will need to hire a gas safe engineer to come and convert the boiler from LPG to gas-ready for around £150 per day.
If for some reason it is not compatible then you might need to pay for a boiler replacement. The cost to replace can range from £2,000 to £2,600 for a combi model, £1,700 to £2,200 for a conventional system and around £1,800 to £2,000 for a system boiler.
Other Heating Options
If your home cannot run on mains gas, then are a few other heating options you could consider, including:
Electrical Heating Costs
One of the most popular alternatives to a mains gas supply is an electric heating system, which is powered by converting electrical energy to heat energy. One of the most popular systems is an electric storage heater, which is typically mounted on the wall and looks similar to a radiator.
It works by building up electricity and storing in a clay or brick block, although newer models feature a fan to extract heat and prevent overheating. To cost to purchase an electric storage heater is around £500 to £900.
You can also consider installing an electric boiler, which is similar to a gas boiler. However, they use electrical energy to heat up the water and the rest of your home. They tend to cost around £1,700 to install, and the boiler itself ranges from £400 to £2,500.
The best way to benefit from an electric heating system is by paying an economy 7 tariff, which offers normal rates during the day but lower prices for seven hours during the night. This could help you save up to £200 a year in comparison to other heating options such as gas or oil.
Heat Pump Heating Cost
Due to increased awareness of global warming, renewable energy heating options have become more popular. This includes air source heat pumps which are flexible heating and cooling systems which transfer air from the outside to inside your home in order to heat it.
By installing a heat pump in your home, you could benefit from an annual renewable heat incentive (RHI) payment of around £800 to £1,800 for an air source heat pump and £1,600 to £3,500 for a ground source heat pump.
Air source heat pumps cost around £5,000 to £8,000 for professional installation. This will involve fitting an outdoor unit which contains a coil and a fan which is used to blow over the coil to begin the heat exchange.
To generate heat, the unit acts as an evaporator or a condenser when it is in cooling mode. A similar unit will be fitted inside your home, which also contains a fan which moves across the coil then works its way through your property.
Another type of heat pump is a ground source or geothermal pump which consists of underground pipes which generate heat to your home. This works by circulating water and anti-freeze around the pipes, which is then combined with the heat from the ground and is passed through a heat exchanger to warm your home.
This is an effecting heating option as the ground tends to stay at a constant temperature throughout the year. The cost to install this type of heat pump ranges from £11,000 to £20,000, which includes the price of underground pipe installation.
Solar Thermal Panel Heating Costs
Solar thermal panels are another renewable energy heating option which are fitted to your roof in order to generate heat from sunlight. This process is similar to a heat pump, as the panels contain anti-freeze and water which is combined with the absorbed heat and is then filtered down into a water cylinder in your home.
Installing solar thermal panels will also allow you to benefit from an annual RHI payment ranging from £180 to £500, with the cost depending on the size of your home.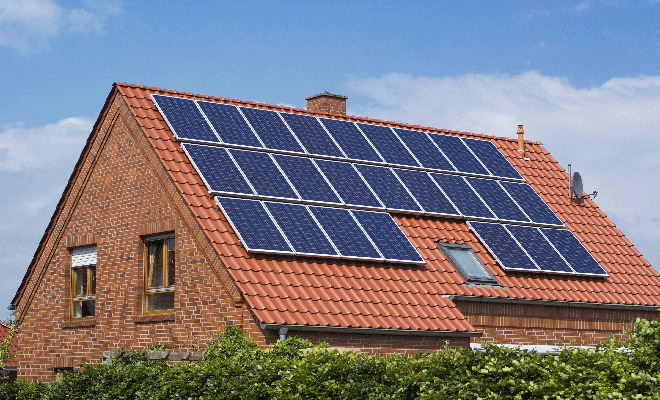 There are two main types of solar thermal panels, the most popular being flat-plate collectors. These consist of dark surface with high absorption qualities, heat-insulated backing, a transparent cover and of course a liquid that transfers the heat from the surface to a water tank in your home.
With this type of heating system, you can save around £60 to £80 compared to gas or electric heating system, while the initial fitting cost is normally around £3,000 to £6,000.
You can also opt for evacuated tube collectors which are made up of glass tubes that are used to transfer the liquid to a water tank. These are the preferred option for those living in colder temperatures, especially during snowfall as the gaps between the tubes and the lack of radiated heat prevents it from melting and losing heat.
For a professional installation, you should expect to pay around £3,000 to £5,000 with savings from £150 to £500 per year.
Financial Help When Buying LPG Central Heating
The government-run Energy Company Obligation (ECO) scheme is in place to help low-income households reduce their energy usage and heating bills. This includes LPG heating systems, as the government may provide a free boiler replacement if you've had it for more than seven years.
This will help you reduce your energy bill, as an upgrade LPG heating system will be more efficient, with wastage of less than £0.10 for every £1.
Do I Need Planning Permission for an LPG Tank to be Installed?
You do not usually need planning permission to install an LPG tank, as it is classified as permitted development. However, there are some restrictions that may require you to apply for planning permission, such as:
The tank should hold no more than 3,500 litres.
The height should be no more than 2.5 metres if located within 2 metres of a boundary or 3 metres in height overall.
The tank should no cover more than half of the land.
No tank should be installed in a listed building, world heritage sites or national parks.
If any above applies to you, then you may need to apply for planning permission which will cost around £206.
Cutting My Heating Bills
If your heating bills are expensive, then you should consider ways to reduce the costs. The first thing you should do is check to see if you are with the cheapest supplier by completing a price comparison to see which company offers the lowest tariffs.
Another way to reduce your heating bills is by connecting a thermostat to your system, which will allow you to control your heating by turning it on or off or setting the temperature. This could help you save around £80 to £100 per year if controlled properly, with many companies offering them free of charge.
You could also consider investing in a smart thermostat which will help you monitor your usage in real-time via your smartphone or computer, so you can control the heating even when you are away from home, which will result in significant savings, although the initial cost is normally around £200 to £300.
To reduce heat loss, you should consider updating your windows and doors, as this will prevent heat from escaping and also stop draughts. A simple upgrade could involve adding draught-proofing strips to your windows and doors which tend to cost around £10 to £30 per strip.
Insulating your home is also a great way to reduce your heating bills, as it will stop cold air getting in and hot air getting out. Loft insulation is one of the most popular installations for heat-loss prevention, which normally costs around £300 to £400.
Cost of Removing LPG Central Heating
If you find that having an LPG central heating system is not financially beneficial, then there is an option to remove it. To do this, you will need to hire a certified gas engineer to remove an LPG boiler, as this can be a complicated and dangerous job, so a DIY removal is out of the question.
You will also need to inform your LPG supplier, especially if you have leased an LPG tank from them. The company may charge for removal which is around £500 to remove an above ground tank, while an underground tank will cost around £1,600 to remove.
The latter is more costly, as LPG underground tanks are usually buried under the garden, so would require a significant amount of excavation using a digger or mini alternative.
FAQs
How to Find & Hire an LPG Central Heating Installer
To install a new LPG heating system, you will need to hire a certified gas safe engineer who will charge around £150 to £200 per day. To ensure they are fully qualified, you should ask about their experience with installing LPG heating. You can also ask to check their qualifications and accreditations, including a recognised gas industry qualification and gas safe registration, along with accredited training.
You will also need to check with your LPG supplier regarding the above ground or underground installation. More than likely, they will organise this for you, although you can always ask about the credentials of the workers to check they are qualified to complete the job and also have insurance to protect you and them in the event of an incident.
Sources
https://greenimprovements.co.uk/
https://energysavingtrust.org.uk/renewable-energy/heat/ground-source-heat-pumps
https://www.thegreenage.co.uk/get-new-storage-heaters/
https://www.britishgas.co.uk/home-services/boilers-and-heating/guides/boiler-installation-steps.html
https://www.theheatinghub.co.uk/guide-to-boiler-installation-costs
https://www.hse.gov.uk/gas/lpg/storagetank.htm
https://www.planningportal.co.uk/info/200130/common_projects/7/boilers_and_heating