Heating engineers can complete jobs in a residential and business setting, although larger jobs may require more manpower.
We're going to stick with the residential aspect in this article, and below we explore some of the popular heating engineer jobs in more detail.
Heating Engineer Jobs
Heating engineers are trained in various areas of the heating field, allowing them to carry out several different jobs and projects for customers. .
Boiler Installation
One of the most common callouts for a heating engineer is for boilers. While boilers are absolutely essential to our daily lives, they do have a reputation for being sensitive pieces of equipment, prone to breaking or failing without warning, which can be incredibly frustrating especially when this occurs at a bad time.
If your boiler is past its best and you require a new one, a heating engineer can remove your old boiler and install the new one. New boilers are far less problematic than older versions, and they also have far better longevity, meaning less emergency call outs and less time without a warm home.
The installation of a new boiler should only take a heating engineer around a day to install. This job typically costs anywhere between £2,000 and £3,000, with 85% of the cost used for the equipment itself.
While, hiring a heating engineer costs around £250. Boilers, like anything these days, vary in price depending on the model you choose.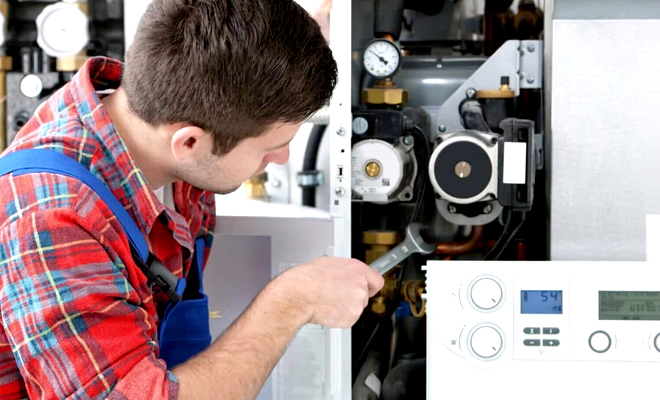 If you're looking for a cheap and basic option, these can be found for around £1,800, but beware, these cheaper boilers may be more prone to failing. Higher-end boilers have far more features and are more reliable due to a better-quality build, but you could pay up to £3,000 for one.
The key is to find a good middle ground between quality and value, ensuring your family's needs are suited. To learn more about boiler installations, check out our full guide on them here.
Power Flushing
Power flushing is an incredibly important service that removes rust, sludge, dirt and any other debris from the boiler system to prevent any costly repairs further down the line and keep your heating system healthy.
The process is completed by a heating engineer and can be quite a technical job to complete, albeit an essential one.
The engineer will use specific flushing chemicals to help lift anything stuck on the inside of radiators and pipes, and these need to be carefully used to ensure they are completely effective.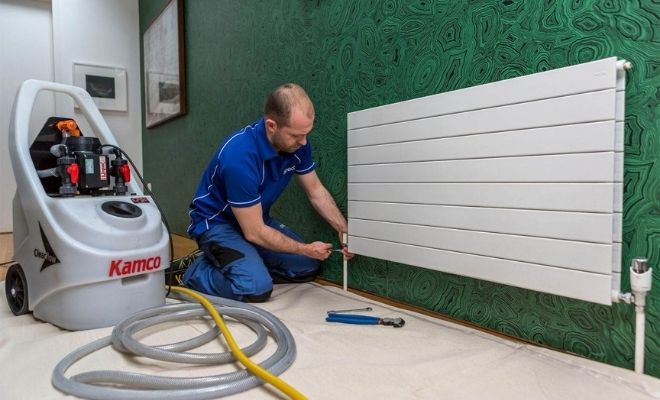 There are a few steps to the power flushing process, including laying dust sheets and preparing each individual radiator in your home for flushing.
A heating engineer will charge around £450 for a 3-bedroom house with around eight radiators. The price will differ depending on the number of rooms and radiators in your home due to a larger sized heating system. It takes around a day to complete from start to finish.
Afterwards, you'll find your heating system works far more efficiently, with your system working much more quietly and radiators warming up faster and burning much hotter. If you want to find out more about power flushing in detail, check out our article on it here.
Underfloor Heating
Underfloor heating is a luxury like no other, especially during those cold and dark winter mornings before work. Underfloor heating sounds like something reserved only for celebrities and millionaires, but in fact, it's quite affordable, especially for the average-sized home.
There are two main types of underfloor heating – electric underfloor and water-based underfloor, and the pricing differs considerably depending on which option you want. As a general rule of thumb, electric underfloor heating is the easiest and cheapest option to install, so if you're on a budget, this is definitely the best option for you.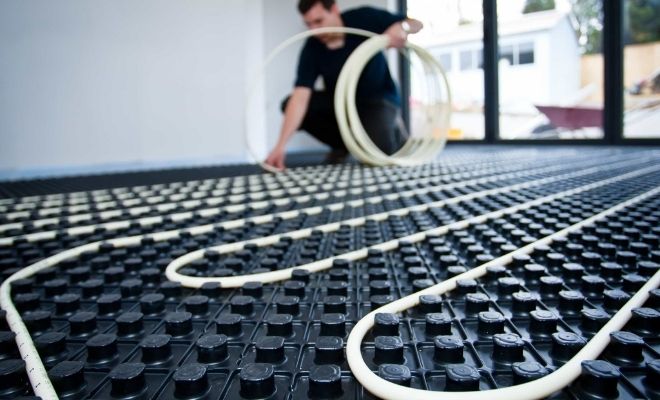 For electric underfloor heating, you can expect the heating engineer to need around 1-2 days, and it will cost anything from £1,500-£2,000. We have an extensive guide on underfloor heating available, and you can read it by following this link.
Water-based underfloor heating is much more expensive as it requires pipes to be lay under the floor and involves pressure tests and other processes to ensure a quality finish. Whereas water-based underfloor heating will take around 4-6 days and costs around £4,000-£4,500.
Radiator Replacements
Another common job that heating engineers find themselves working on quite frequently is the replacing of radiators. Usually, people will just paint and repurpose radiators due to their hard-wearing characteristics.
Still, in recent years more people have opted for new radiators to improve the efficiency of their heating systems. While they are quite an investment, you will actually save money on heating and energy bills as your new radiators will be in far better shape than the old one.
There are a few aspects to the replacing of radiators like checking and hanging brackets, draining old radiators and filling new ones, and the process can be a little tricky, meaning it can't really be done as a DIY project.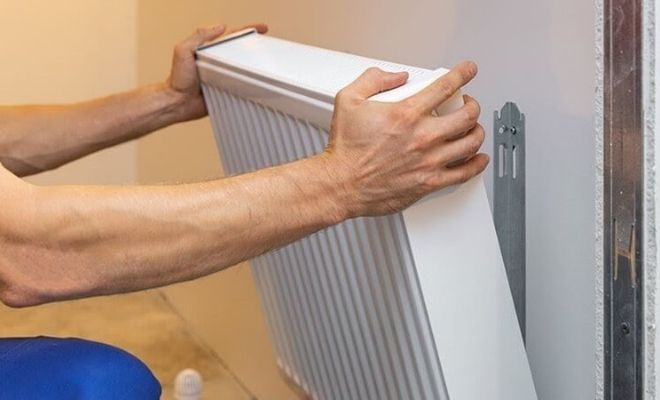 To replace all the radiators in a typical 3-bedroom house, the heating engineer will probably need around a day or two, and it will cost about £1,300.
Again, it seems like a large investment, but if you're planning on staying in your home for years to come, you won't need to replace them again for a long time, and you will save money on your heating and energy bills. To read more about replacing radiators, check out our handy guide – The Cost of Replacing Radiators.
Emergency Heating Engineer Prices
We mentioned earlier the importance of boilers and heating systems, especially for families with small children and for people in their later years.
But sometimes boilers will break on a fateful Sunday morning in December, and with no engineers available on normal rates until the next day, an emergency call-out is usually the only solution.
Now, faults and failures can occur from a few different culprits, but whether it's a frozen pipe, a gas leak or no water pressure, an emergency call out should always be able to get you going again.
We've broken down the most common emergency call out problems below, with a little explanation on how much you can expect to pay to have them rectified.
Firstly, let's discuss the pricing of an emergency heating engineer. You'll pay about £90 per hour for an emergency heating engineer, and there will be a minimum job cost due to the call out.
So, as an example, say the call-out fee is a minimum of 3 hours work, and the rate is £90 per hour, you would be a minimum of £270 even if the work is complete in 30 minutes. Once the minimum rate has been passed, you would be charged as normal per hour.
So, if the minimum call-out was 3 hours, at £90 per hour and the work takes 5 hours, the job cost would be £450. Usually, a heating engineer will be able to diagnose the issue over the phone and provide a quote for the entire job, including the call-out fees, so you'll know exactly how much you'll be paying.
Gas Leak
A gas leak is a dangerous situation and shouldn't be ignored. Gas leaks are caused by a few different things like shifted pipes or broken valves, and by design, gas smells incredibly strong, meaning that even a small, non-threatening leak can be detected, giving you plenty of time to have it fixed before it becomes a problem.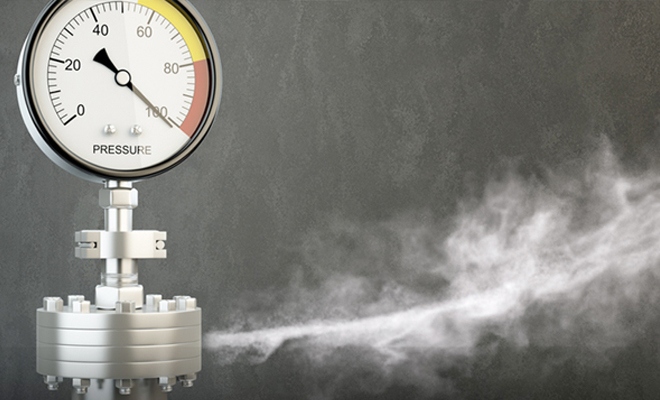 This doesn't mean you have days and weeks to ponder over a repair; it just means you're not in immediate threat. A gas leak should be fixed within an hour or two by a heating engineer and usually only requires a new valve or fixing.
No Water Pressure
Water pressure is an annoyance, as it leads to cold water and hardly any water being pushed through showers and taps.
This is a really quick fix, and a heating engineer should have you sorted in less than an hour, although be prepared to pay for more than that as a call-out fee. Usually, the pressure just needs releasing into the system via the controls beneath the boiler.
Frozen Pipes
A common issue in the winter months, frozen pipes are a chilling nuisance that can actually be pretty easily prevented. You can wrap insulation foam around your pipes to keep them sheltered from the cold in even the worst weather and preventing any frozen pipe issues.
However, if you find yourself with frozen pipes, call out a heating engineer who can thaw the pipes for you and have the showers running hot again! This shouldn't take longer than a few hours.
Heating Engineer Rate
Here are the average rate for a heating engineer:
Heating Engineer Hourly Rate
Heating engineer's hourly rates, much like all other trades, differ from region to region. This is down solely to demand and the cost of living in some areas.
If you live in a small northern village, you'll pay far less for tradespeople as you would in London or Birmingham, simply because the cost of living is so much higher, and the demand is so much more due to a denser population.
The average hourly rate of a heating engineer in the UK is around £44 per hour, with this price lowering to approximately £28 in those low cost and demand areas and rising to as much as £58 in big cities.
As we mentioned earlier, emergency rates for heating engineers are much higher than their standard rates, and you should check what rates they charge for emergency call outs before hiring them. Heating engineers keep regular hours throughout the week; usually 9 am-5 pm.
Heating Engineer Daily Rate
Daily rates follow the exact same trends that hourly rates do, with it differing from region to region. However, when you hire an engineer per day, the cost is far less per hour, so if you have a few different jobs to complete in the pipeline, it's cheaper to have them done in one hit, instead of 3 separate callouts.
The average daily rate for a heating engineer is around £250 for the day, lowering to £220 in lower-cost areas and as high as £300 in cities and popular spots.
Heating Engineer Qualifications
To become a qualified heating engineer, licensed to work on customers' homes and heating systems, you need to pass an industry qualification and gas safe registration.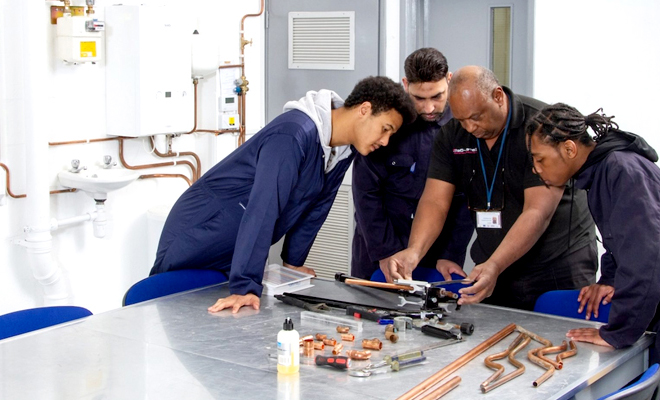 An industry qualification usually takes the form of an NVQ or Diploma in certain courses like Domestic Natural Gas Installation and Maintenance or something along those lines.
From here, heating engineers are required to join the gas safe register which covers residential appliances. To get onto this register, heating engineers are required to take a Gas Assessment Training (ACS) certification.
Heating Engineer Insurance
All tradesmen must have liability insurance to work on a customer's home, to protect themselves and their customers from any liability issues relating to accidental damage and injury.
Accidents very rarely occur, but if they do, liability insurance ensures that the customer can claim against the tradesmen through their liability insurance and not them personally, which can ruin lives and businesses.
You should check with any tradesman that you hire, that they have valid and correct liability insurance that allows them to work inside other homes.
FAQs
How to Find and Hire a Heating Engineer You Can Trust
Finding a tradesperson to carry out work on your home was once a difficult task that relied heavily on the yellow pages and the recommendations of people you knew. However, in the internet age, it's now much easier to research companies to check out their reviews, prices, services and much more.
Most companies and contractors will have their own online pages too, allowing them to see what they provide, who they are certified by and what industry registers they are on.
Reviews from past customers and examples of previous work are always great indicators of how legitimate of a company they are, and how likely they are to provide quality work on your home. But, word of mouth still counts for something, so if someone comes recommended by a friend or family member, check them out too!