How Much Does It Cost to Service a Boiler?
The cost to service boilers depends on the type of boiler and whether the service is a one-off or an annual service. A one-off service will normally cost more as it is not part of a regular contract. Different companies or installers will offer different types of service cover for your boiler and location within the UK will also impact the cost.
Typically, the average boiler service cost will be around £70-£120, but this will depend on the particular plan you have in place for your boiler maintenance. Most annual boiler services are part of insurance cover for your boiler that protects you against unexpected costs should it suffer a fault or breakdown.
The average cost of a one-off service is between £90-£130 depending on which company you use. An emergency or last minute service may cost a lot more. This does not cover any repairs or replacement parts that may be needed.
The cost of servicing a boiler will depend on a number of factors; the type of boiler or rather the type of fuel that the boiler runs on such as gas, oil, electricity etc., the age and condition of the boiler and where you live in the UK.
The boiler size will also impact the average boiler service cost, although this does not relate to the boiler's physical size but rather the kilowatt output. Different types of boiler will have different ranges of output, so again the type of fuel powering your boiler will be a significant factor.
Boiler Service Prices
Below are the average costs to service boilers depending on the type of fuel that powers them.
| Fuel Type | Average Service Cost |
| --- | --- |
| Gas | £70-£110 |
| Oil | £80-£180 |
| Biomass | £180-£200 |
| LPG | £80-£120 |
| Electric | £60-£100 |
Additional Costs
There may be other jobs that you want to carry out at the same time as you are having your boiler serviced.
Power Flushing
Power flushing involves cleaning the pipework and radiators of your central heating system with a special machine and chemicals.
This process removes sludge and debris whilst adding scale inhibitor and sealant to the interior of the heating pipework. The average cost of power flushing a central heating system is between £300-£500.
Radiator Replacement
You may decide to swap your traditional radiators for a more modern or designer look or simply replace a faulty radiator with a new one. Replacing like for like will not generally be very expensive or time-consuming, but if you are changing the radiator's size and style, it will invariably cost more.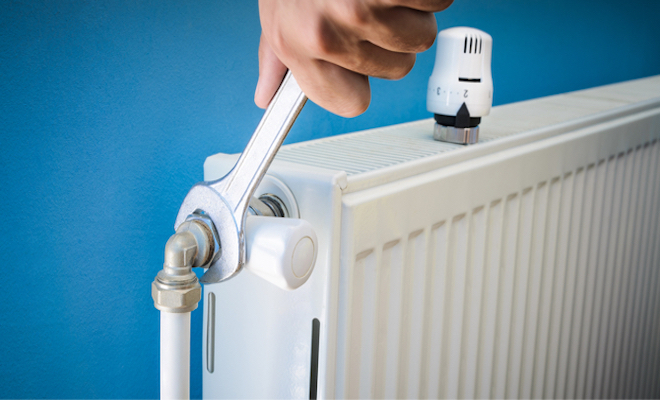 Replacing a radiator will cost between £150-£250 depending on the type of radiator as well as your location within the UK.
Gas Safety Certificate
If you are a landlord, you will need to provide a gas safety certificate to your tenants once a year. The cost of getting a gas safety certificate is around £70-£80.
The check is not just done on a gas boiler but also on any gas appliance, e.g., gas cooker, oven, hob, or fire. It tests the pressure, gas tightness, safety measures and the flue flow.
Cost Breakdown Calculator
Individual costs of servicing a natural gas boiler - Total Cost: £100
Labour Costs and Time Frames
The average boiler service cost will mostly be the labour of the plumber or heating engineer who carries it out. Depending on the type, age, condition, and location of the boiler, these costs will vary.
Labour
There are several checks that a plumber or heating engineer will carry out as part of a boiler service. These will vary depending on the type of boiler being serviced; for example, the storage tank for an oil boiler will need to be checked as well as the boiler itself.
For a typical gas boiler service, a heating engineer will check that the controls are working correctly, e.g., the ignition switch.
Then the cover will be removed, and the internal components and electrical connections checked. The water and gas pipework will be inspected and checked for signs of leaks or corrosion. Flue gases will be tested, and the gas rate and pressure measured.
All safety devices will be inspected, and a carbon monoxide check done. The heating engineer will normally clean all the boiler parts that need to be cleaned to work properly and efficiently.
All of these checks are part of the servicing and make up the majority of the price you pay for your boiler to be serviced. Any repairs will not be included in the boiler service cost, and anything that needs to be fixed will usually be charged as extra.
How Long Does a Service Take?
A gas boiler service will take on average an hour if the boiler has been regularly serviced and has no major issues. The gas boiler service cost will include the complete visual inspection as well as testing the boiler and measuring the exhaust gases.
An oil boiler service can take one to two hours as the oil storage vessel also needs to be checked for issues or degradation.
A biomass boiler such as a pellet boiler will take longer to service than a gas boiler as there are more parts to be inspected. This includes the hopper, which is the storage vessel for the pellets which are automatically fed into the boiler.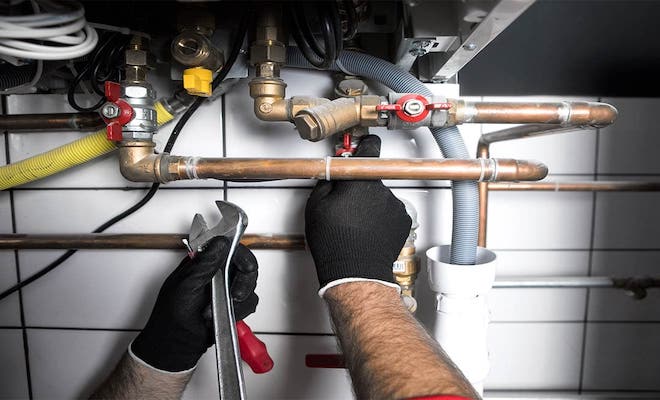 An LPG boiler service will similarly involve inspecting the storage tank that the LPG is held in to ensure it is safe and fit for purpose. This may take between one to two hours.
Older boilers may take longer if regular services have been missed over time. Carbon build-up on components on an older boiler will take longer to clean.
Repairs are not normally included in the boiler servicing cost. If repairs are needed and parts not readily at hand, the heating engineer may need to return to carry them out. This will prolong the timeframe for the service to be complete.
Cost Affecting Factors of Servicing a Boiler
There are several considerations that you need to take into account, and which will influence the boiler service cost.
Location
Location within the UK is one of the biggest factors in the boiler service price that you pay. Prices in London and the south-east of the country will be higher due to the higher cost of living, including business expenses such as insurance and fuel costs.
If your property is in a remote or very rural location, you may also be charged more for a heating engineer or plumber to come and service your boiler to cover travel time and fuel.
Size of Boiler
The size of your boiler may also have an impact on what you pay for a service. Different types of gas boilers, combination, system and conventional come in different kilowatt outputs and as such, may require a different approach to servicing.
Type
The type of boiler that you are having serviced will be a cost affecting factor. Different fuel types such as gas, oil, or LPG will need specific servicing.
An electric boiler does not need to be serviced annually as it has fewer moving parts and is powered by a clean source but can be serviced if the warranty requires it.
Age of Boiler
How old your boiler is and how regularly it is serviced will have implications for the cost of servicing. An aged conventional boiler will need more time and attention to be checked, compared to a relatively new combination boiler.
The cost of servicing a boiler that has been neglected in terms of maintenance will probably be higher than average.
Condition of Boiler
The condition of your boiler will potentially affect the cost of getting it serviced. If the boiler has not been regularly maintained, it may develop faults that will need to be rectified during a service.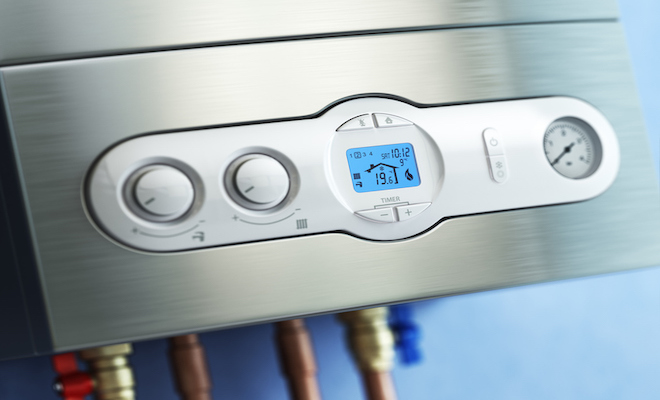 If extra work or repair is needed or something needs to be fixed, this is not normally included in the cost to service boilers and will be charged as extra.
Ease of Access
All boilers need to be installed in a position which allows ease of access for regular maintenance and servicing.
If this is not the case and the boiler has been installed in a tight or difficult to reach space, the heating engineer may charge more for this inconvenience. This may be the case with older conventional boilers.
Type of Service
The boiler servicing cost will depend on whether it is a one-off service or part of an annual contract. Most boiler installers or manufacturers offer an annual insurance contract that includes regular servicing.
The cost of an annual servicing contract will be approximately £70-£120 on average and is usually paid as a monthly or quarterly fee as part of your bill. A one-off service will cost more, around £100-£150 on average although this depends on the type of boiler, its age and condition and where you live.
Time of Year
The time of year can impact the cost of servicing a boiler, especially a one-off service. It is typically cheaper to have it done in the summer when the heating engineers and plumbers are less busy.
If you wait until winter, it will be more expensive as this is normally the busiest time of year for both plumbers and heating engineers.
What Does a Boiler Service Entail?
The process of servicing a boiler will depend on the fuel type, gas, oil, or LPG, but some elements will be the same or very similar.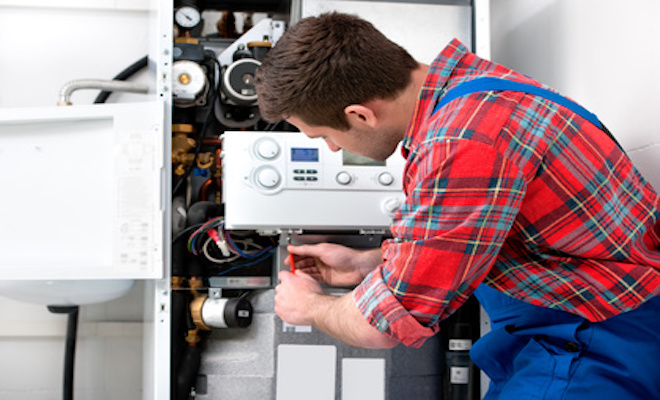 It is not a legal requirement to have your boiler serviced unless you are a landlord. The warranty on your boiler or any insurance cover will normally be contingent on an annual service being carried out.
Servicing Different Types of Boiler
The above breakdown of a boiler service relates to a gas boiler as these tend to be the most common in people's homes.
However, there are other boilers on the market, such as oil, LPG, and biomass. The process for servicing these boilers will be slightly different.
Oil Boiler Service
An oil boiler will also need an annual service, and this should be carried out by an OFTEC registered engineer.OFTEC is the Oil Firing Technical Association which recognises installers who are competent to maintain and service solid fuel systems.
The servicing of an oil boiler will be relatively similar to that of a gas boiler. A visual inspection of the boiler will be undertaken, and then the internal components checked and cleaned. An oil-fired boiler will typically take a couple of hours to service due to the additional cleaning that needs to be done.
The storage tank for the oil is also inspected during a service to ensure it is safe and fit for purpose.
LPG Boiler Service
An LPG boiler is similar to a natural gas boiler and will burn relatively clean. Still, it also needs to be regularly serviced by a qualified Gas Safe engineer for safety reasons and maintenance.
An LPG boiler service will take around an hour, and this should also include inspection of the tank that the liquified petroleum gas is stored in on your property.
Biomass Boiler Service
A biomass boiler will also need to be serviced regularly, typically once a year as with other kinds of boiler.
An OFTEC engineer should carry out servicing on a biomass boiler, and it will usually take a couple of hours as there is more cleaning to be done than on a gas boiler due to build-up of ash.
DIY Boiler Service
A boiler service is one of those jobs that is strictly for a qualified professional and should not be attempted as a DIY job. According to the Health & Safety Executive, any work done on a gas boiler must be carried out by a Gas Safe registered engineer.
The same applies to LPG boilers. Oil and biomass boilers should be serviced by an OFTEC heating engineer.
Dangers of DIY Boiler Service
The danger of trying to do a boiler service yourself is that you may miss important issues with the boiler or inadvertently cause a problem which may have serious consequences. Gas boiler emissions include carbon monoxide, an odourless gas that can cause serious health issues or death. Therefore, only a qualified Gas Safe heating engineer should work on your boiler.
An oil or biomass boiler should be serviced by an OFTEC engineer to ensure that they operate at maximum efficiency and last as long as possible. An inefficient oil boiler that is not completely burning the oil supplied to it can produce carbon monoxide, which is a potentially fatal gas that may be leaking into your home. This is why it is important to use a qualified professional to carry out a boiler service.
Although there are no Building Regulations to be followed in order to service your boiler, any new installation should comply with Approved Document J.
Types of Boiler Service
Every boiler should be serviced on a regular basis to keep it working efficiently and effectively. This reduces the chances of breakdown, expensive repairs and keeps running costs low if the boiler is working at its maximum capacity.
Gas Boiler Service Cost
The majority of homeowners have gas boilers, particularly in urban areas. Gas is one of the cheapest heating fuels and is piped into all residential areas of the UK. The type of gas boiler you have, combination, system, or regular will not significantly impact the cost or work needed for a successful service.
The advantages of a gas boiler service are many, including knowing that the boiler is working safely and that there is no leak of carbon monoxide into your home. A regularly serviced gas boiler will also burn more efficiently, thereby saving you money on your heating bills.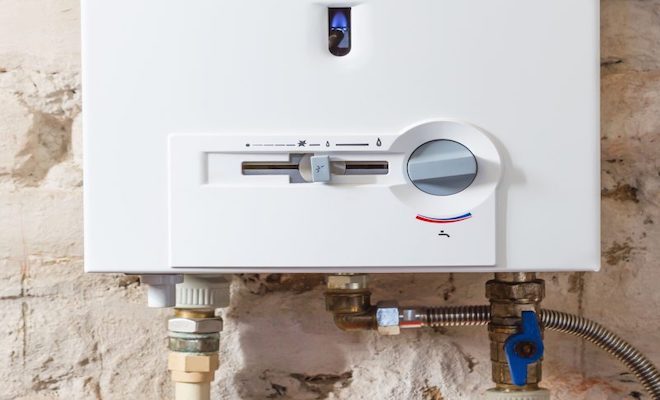 Having at least an annual service of your gas boiler may be required as part of your boiler's warranty or insurance cover. Failing to have a service carried out may make your warranty or insurance cover invalid. A regular service is more likely to highlight small issues that could deteriorate, creating even bigger and more expensive problems.
For gas boilers you will have to pay a qualified Gas Safe engineer to carry out the service; a gas boiler service cost is usually between £70-£120. There are annual contracts available so you could spread your payments out over the year and pay as little as £7 per month for boiler cover. In the end, the cost is money well spent and may save you additional expense in the long term.
Oil Boiler Service Cost
An oil boiler is more likely to be found in rural or remote areas where access to piped natural gas is limited. Oil is delivered to the property in tanker trucks and deposited in a storage tank. This tank is also inspected as part of the boiler service and in this regard differs from a gas boiler service.
Perhaps the most important advantage of having an oil boiler serviced regularly is that any issues with emissions such as carbon monoxide will be detected and fixed. Any concerns with how the oil boiler is working should be spotted as part of a service and a worsening of the problem prevented. This will potentially save money in the future by avoiding expensive repairs or breakdown.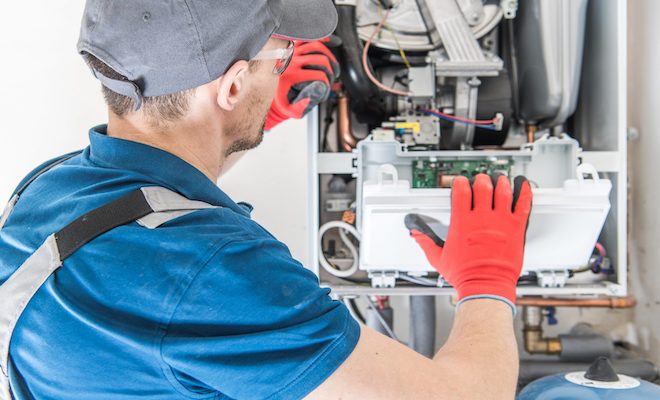 An efficient boiler will use less fuel, and effectively heat your home, and this too will save money. Regular servicing will likely be mandatory for a warranty to remain valid. Any insurance cover on your oil boiler will also typically require evidence of at least an annual service.
The cost of an oil fired boiler service is higher than for a gas boiler as there is more work involved, and this is a slight disadvantage. However, the benefit outweighs the cost of having an efficient and safe boiler. The oil boiler service price is typically between £80-£180, and this will depend on the age, condition, and previous maintenance of the boiler as well as your location in the UK.
LPG Boiler Service Cost
Liquified petroleum gas is an alternative to natural gas for those who are not close to a natural gas pipeline or choose to use LPG to fuel their boiler. It also produces less carbon than an oil fired boiler. LPG is transported by tanker and stored in liquid form in a tank close to the property.
Ensuring that your LPG boiler is working correctly and safely is one of the most important aspects of a service.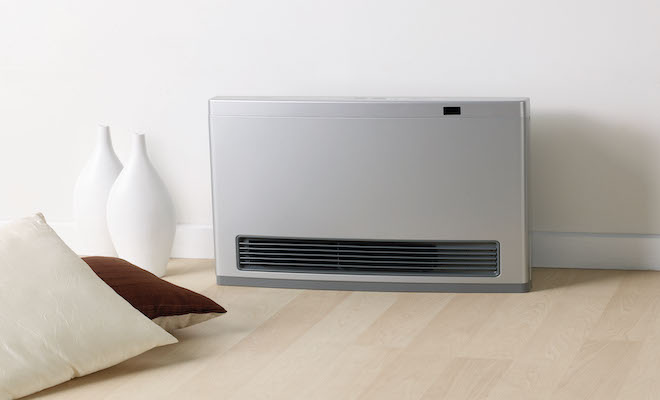 While LPG does burn cleaner than other fuels, it is still possible for problems to occur if the boiler is not regularly maintained. An efficient boiler will use less fuel and will save money on fewer refills of your LPG tank. Most warranties are contingent on a regular servicing of the boiler. Similarly, any insurance cover on the LPG boiler will most likely require an annual service for the cover to remain valid.
The cost of servicing an LPG boiler is slightly more expensive than a natural gas boiler as the service includes the inspection of the LPG storage tank to ensure it is safe and fit for purpose. The cost to service boilers run on LPG will be around £80-£120 depending on location, age and condition of the boiler and previous regular maintenance.
Biomass Boiler Service Cost
A biomass boiler runs on non-fossil fuel sources such as wood pellets, wood chips or logs and as such is carbon neutral. In terms of servicing biomass boilers can get clogged up with ash over time, so regular maintenance is needed to keep them running effectively and efficiently.
Making sure that a regular service is carried out on your biomass boiler offers the peace of mind that it is working correctly and at its most economical.
A well maintained and regularly serviced boiler will be less likely to breakdown or suffer from faults which could impact its function.
Warranties on any boiler will normally stipulate that a qualified person carries out at least an annual service to remain valid. In addition, if you have received the Renewable Heat Incentive, you are required to carry out a regular service of the biomass boiler in accordance with the manufacturer's instructions.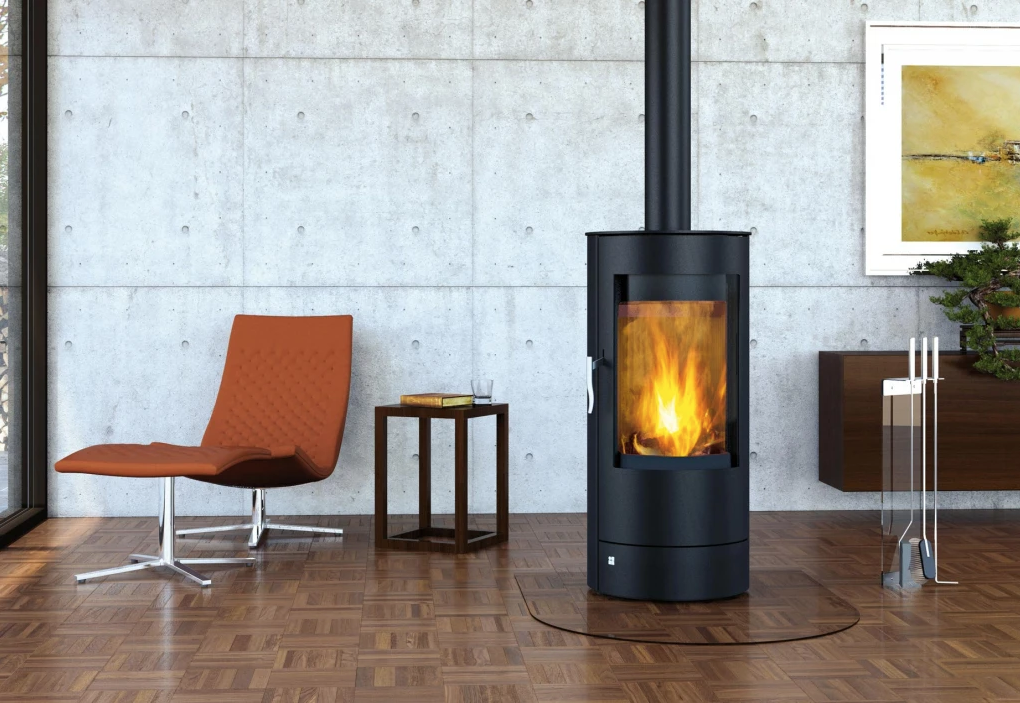 Biomass boilers eligible for the Renewable Heat Incentive must be installed and serviced by companies recognised by the Microgeneration Certification Scheme. The MCS is a quality assurance scheme supported by the Department for Business, Energy & Industrial Strategy.
Some of the automatically fed biomass boilers such as pellet boilers have a separate hopper to hold the pellets. This automatic feeding system will need to be inspected and cleaned. This can add to the service's cost, which may be around £180-£200 depending on the type of biomass boiler and your location.
Electric Boiler Service Cost
An electric boiler does not have as many moving parts as a gas, oil, LPG, or biomass boiler and therefore does not require regular servicing.
However, to maintain the boiler in good condition, it is recommended that is annually checked. An electric boiler service cost would typically be £60-£80.
Building Regulations for Servicing a Boiler
There are no specific Building Regulations for servicing a boiler. However, Approved Document J of the Building Regulations outlines the requirements for the installation of a new boiler or replacing an existing system.
Information on the Building Regulations for boilers and heating can be found on the Planning Portal.
Planning Permission for Servicing a Boiler
No planning permission is required for servicing a boiler. The same is true for installing or replacing a boiler if all the work is internal unless you live in a listed building.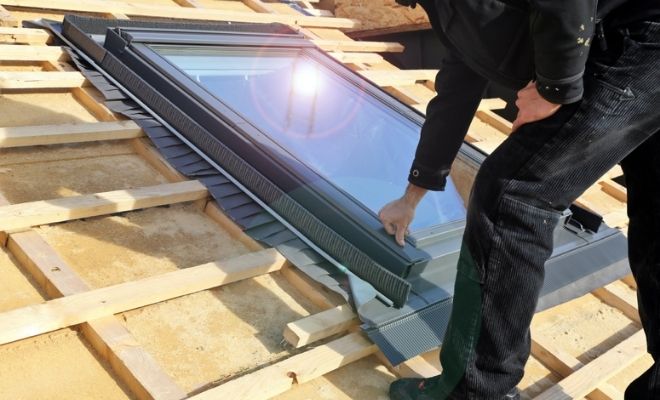 In this case, you should contact your local authority and confirm what is required before you proceed.
FAQs
How to Find & Hire a Boiler Service Specialist
As the servicing of a boiler cannot be done as a DIY job, it will be necessary to find a boiler service specialist to carry out the work.
The average cost of hiring a heating engineer or appropriately registered plumber to service your boiler will depend on several factors including the type, age, and condition of the boiler as well as your location in the UK. As a rough guide, a gas boiler service costs anywhere between £70-£200.
What to Look For
Anyone who works on your boiler should be appropriately qualified and experienced in servicing the type of boiler that you have, whether that is gas, oil, LPG, or biomass. You should look for an established and reputable company with proper qualifications and experience.
Qualifications
Servicing a boiler is a skilled job that takes training and qualifications; therefore, anyone you hire to do this work should be able to provide evidence of this.
Gas and LPG boilers should only be serviced by Gas Safe registered heating engineers or plumbers. Engineers working on oil or biomass boilers should be registered with OFTEC.
Experience
The heating engineer who services your boiler, whether gas, oil, LPG, or biomass, should have experience working on this type of boiler.
Those who service gas boilers will not necessarily be experienced on other boiler types such as biomass or oil, so it is important to make sure that you are hiring the right engineer for the type of boiler that you have.
Accreditation
Accreditation with organisations such as the Chartered Institute of Plumbing and Heating Engineering (CIPHE) is a sign of a reputable and qualified heating engineer or plumber. The CIPHE operate a code of professional standards that their members are expected to adhere to.
They are committed to continuing professional development of their members and provide training for those who wish to extend their skills and qualifications.
Other accreditation schemes for plumbers and heating engineers are the Association of Plumbing and Heating Contractors (APHC) and the Microgeneration Certification Scheme.
Insurance
All tradespeople working in your home should have adequate and appropriate insurance. This is especially true for someone working on your boiler, which is an expensive piece of equipment and potentially dangerous if not serviced correctly.
The most common insurance for plumbers or heating engineers to have is public liability insurance which covers against damage to property or injury to members of the public as a result of work carried out by the contractor.
Proof of this cover should be available to you on request from any tradesperson that you hire.
Training and Qualifications
The starting point for someone wanting to train as a plumber or heating engineer is a Level 2/3 Diploma in Plumbing and Heating or Level 2/3 Diploma Installing and Maintaining Domestic Heating Systems.
This training is normally done as part of an apprenticeship where the academic qualifications are achieved through a local college.
Practical experience is gained on-site working with an experienced plumber. Once qualified, many plumbers go on to further training to specialise in different plumbing and heating types.
Checking Accreditation & Qualifications
You can check the Gas Safe Register for details of any plumber or heating engineer that you are considering hiring.
Those heating engineers who are registered with OFTEC or as part of the Microgeneration Scheme can be checked through their respective websites.
Sources
https://www.vaillant.co.uk/homeowners/advice-and-knowledge/boiler-service
https://www.boilerplanuk.com/boiler-servicing/
https://www.edfenergy.com/heating/advice/gas-boiler-servicing
https://heatingforce.co.uk/blog/oil-boiler-service-costs/
http://nuergy.co.uk/biomass-boiler-service-and-maintenance/
https://myriadservice.co.uk/biomass-servicing-requirements
https://www.viessmann.co.uk/heating-advice/how-long-does-boiler-service-take
https://www.planningportal.co.uk/info/200135/approved_documents/72/part_j_-_combustion_appliances_and_fuel_storage_systems
https://www.renewableenergyhub.co.uk/main/biomass-boiler-information/biomass-boiler-maintenance/