How Much is a New Boiler?
The average cost to hire a heating engineer to install a new boiler is typically around £2,000-£3,000 with the price depending on the quality of boiler you opt for.
Is there anything else to consider here?
There is. It also depends on how easy it is to install, what optional extras you choose/need and your location.
Local heating contractors will often offer finance packages or "new boiler pay monthly" schemes so you can spread the payments over several years to suit your budget and soften the blow!
New Boiler Prices
Below are some estimated costs of hiring a tradesman to install a new boiler and extra features:
| Job Description | Avg. Cost |
| --- | --- |
| Boiler with Thermostat | £2,100 |
| Boiler with Thermostat & 10 Thermostat Radiator Valves (TRV's) | £2,500 |
| Boiler with Thermostat, 10 TRV's & System Flush | £3,000 |
| Boiler with Thermostat, 10 TRV's, System Flush & New Cylinder Tank | £3,500 |
Cost Breakdown Calculator
Individual costs for hiring a tradesmen to install an average boiler with thermostat and 10 TRV's - Total Cost: £2500
Average Cost of Installing a New Boiler
The typical labour cost for installing a new boiler is around £500 for a straightforward job which would include simply replacing the existing boiler with a new model and using the existing gas and water pipework.
But the cost of replacing the central heating system including boiler plus thermostat/controls, plus new gas supply pipe and rerouting the radiator water pipes could easily be in excess of £3,000.
Type of System and Installation Prices
The installation or fitting costs for installing new boilers is around a £1,000 for all boiler types. There are no prices shown for installing a back boiler below as these systems must now be removed and replaced with a more efficient boiler type.
If you have a back boiler that needs to be replaced then use the costs below but add on around £1,000 for the additional work of removing the old system. Note the costs below are for fitting only and do not include the cost of the actual boiler nor any additional pipework.
| Type of boiler | Avg. Cost |
| --- | --- |
| Cost of installing new oil fired boiler | £1,100 |
| Cost of installing a new gas boiler | £900 |
| Cost of installing new system boiler | £1,050 |
Labour Cost and Time Frames
A gas safe engineer will often charge around £150-£200 a day in labour, however, the job of fitting a new boiler shouldn't take any longer than a day unless there is a lot of pipework to carry out or the boiler needs moving. Also bear in mind that power flushing the whole system can add another day to the job as well, depending upon the number of radiators and how badly the system needed flushing.
Boiler specialists will often work in pairs so as to get the job done faster as well as for health and safety reasons. In these cases, you can expect to pay around £250-£30 per day for labour.
| Job Description | Duration |
| --- | --- |
| Boiler with Thermostat | 1 day |
| Boiler with Thermostat & 10 Thermostat Radiator Valves (TRV's) | 1 day |
| Boiler with Thermostat, 10 TRV's & System Flush | 2 days |
| Boiler with Thermostat, 10 TRV's, System Flush & New Cylinder Tank | 2-3 days |
What Installing a New Boiler Entails
The boiler is at the heart of almost every modern home and supplies essential hot water to both the radiators and taps. The average homeowner can save between £79 and £237 per year by simply replacing an old inefficient boiler with a new modern condensing boiler system (according to figures released by uSwitch).
This means you could potentially pay off the initial cost of a new boiler in as little as 9 years, plus a new boiler may add value to the property if you are trying to sell.
You should note however that contrary to popular belief, you can't always simply replace a boiler with a new one, since April 2005 all new boiler installations and replacements must be done with modern condensing boilers. So you cannot do a like for like replacement on an older traditional boiler.
However, these modern systems are more energy-efficient even though they do require some extra work initially and are more expensive to buy. Also, the new regulations state that the temperature of each room must be adjustable, so thermostat valves should be installed on each radiator in every room to help reduce heating bills and lower carbon emissions.
You may need to replace your radiators to allow you to add thermostat valves but it works out cost effective in the long term.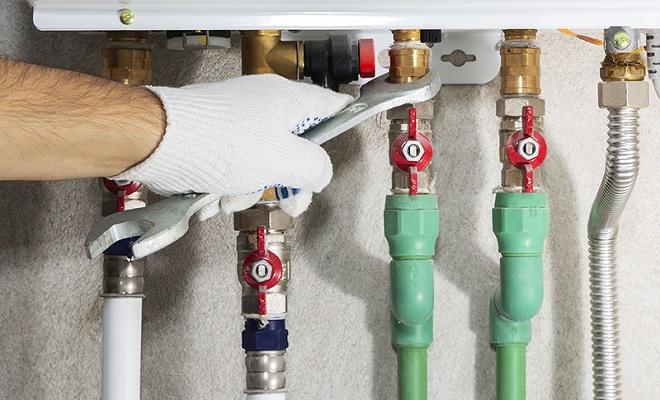 You may also require a new gas supply pipe to comply with new regulations regarding the pressure drop between the gas meter and the boiler. Depending on the age of the property, this could mean installing a larger pipe, but most houses built after 2000 should already have a suitable gas supply pipe.
So getting a new boiler can involve more work than expected, but is worth it in the long run as you not only save money on heating bills but you get a warmer, more comfortable home, with heating controls in every room!
When you have a new boiler installed you will have the option of having additional work carried out at the same time which makes sense as the labour costs will be greatly reduced. Typical related jobs include:
Fitting upgraded TRV Valves on all radiators.
New wall thermostat controls & remote controls.
Magnetic filtration system.
Central heating system power flush.
Add additional radiators.
Install hot water cylinder tank.
When it comes to getting a new boiler, there are a couple of other options you may want to consider. Flow is a type of gas condensing boiler that also has a small turbine that generates electricity which provides around 60% of the average homes electricity needs.
The Flow boiler is only really suitable for large homes but it's possible to get a Flow boiler with no upfront cost using a self-financing package over five years while you pay off the cost of the boiler and installation.
The cost of the boiler will be paid for by energy savings and feed-in tariff payments from the electricity generated but according to the Flow manufacturers, your energy bills will still be reduced while you are paying off the boiler because you will be saving so much energy.
After five years, the boiler payments stop and you benefit from the feed-in tariff payments. The Flow boiler availability is currently limited but if you are interested in this new technology it is worth finding out more.
Different Types of Boiler Systems
There are three main types of boiler in the UK: Combination boiler, System boiler and Open vent boiler.
Combination Boilers
Combination or combi boilers are by far the most popular and are now fitted in almost 70% of properties tp provide heating and hot water. They are called combination boilers as they combine the traditional hot-water cylinder and a cold-water tank into one compact unit.
Brands such as Baxi, Glow Worm, Worcester Bosch and British Gas provide combi boilers, which vary in shape, size and cost depending on the spec of the unit.
Combination boilers typically cost £500-£2,200.
PROS
✔ Combination boilers are compact and neat.
✔ Can be installed in any convenient space.
✔ Ideal for smaller homes with just one or two bathrooms.
✔ Fewer pipes to run so installation is usually cheaper.
CONS
✖ Not ideal if you have a big family or lots of bathrooms.
System Boilers
System or sealed system boilers use cylinder storage, usually in an airing cupboard, to provide heating and hot water.
System boilers can cost between £1,000-£2,500.
PROS
✔ Perfect for larger homes with 2+ bathrooms.
✔ Suitable for households with heavy simultaneous demand for hot water.
CONS
✖ You have to wait for the water to heat up in the cylinder.
✖ Modern homes don't really have airing cupboards so can be difficult to find space for the hot water cylinder.
Conventional Boilers
Open vent or conventional boilers provide heating and hot water using a hot water storage cylinder housed and a cold water tank in the loft.
Convection boilers cost around £1,300-2,700.
PROS
✔ High water flow rate so can offer a powerful shower.
CONS
✖ They take up a lot of room with a cylinder and a water tank required.
✖ When the hot water runs out you have to wait for more water to heat up.
Electric Boilers
Electric boilers are gaining a little more popularity due to them being eco-friendly. They provide a viable alternative if gas is not an option too. An electric boiler may be more expensive to run than a gas boiler, but they are cheap to buy and install, require less maintenance and are compact and eco-friendly.
Combi or System Boiler - Which is Best?
A combi boiler is a water heater that heats cold water on demand direct from the mains supply. But if you are using a lot of thot water, for example, if someone is having a shower and someone else is running the hot water tap in the kitchen at the same time, then you could find that notice your radiators drop in temperature as there is simply not sufficient hot water supply to do everything at once.
This is the downside to not having a reserve of hot water in a cylinder ready to use. A system boiler heating system relies on a hot water storage tank so you have a reservoir of hot water which can supply multiple users at the same time. But the downside is the water has to be heated first inside the tank, so no instant hot water on demand.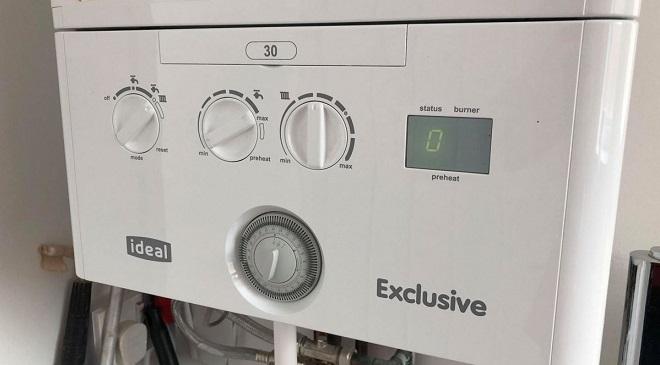 To find out which type of boiler would be best for you, you need to consider several factors such as water main supply pressure, demand for hot water, demand for home heating and the size of your home or number of rooms will all contribute to making the right decision.
If you have good mains pressure and a small home with just 1-2 bathrooms, a Combi is almost certainly your best bet. But if you have poor water pressure, or have. Larger home with likely multiple demands for hot water, then a system boiler will probably be more suitable.
Combi Boiler Costs
In addition to paying for the new combi boiler, you'll also need to pay for the installation. The fitting cost will depend on the existing boiler and the amount of work involved. As combi boilers don't need loft tanks or hot water storage cylinders, the installation is generally quicker and therefore cheaper.
Replacing an existing Combi Boiler for a new model in the same location and using the existing pipework is obviously much cheaper than installing a Combi Boiler into a new location or to replacing a conventional boiler which will require some additional pipework.
If you are comparing combi boiler prices fitted, then expect to pay between £1,100 and £3000, depending mainly on the type of existing boiler and the size of the property. A straight swap new for old Combi Boiler can be done in a day, whereas replacing a conventional boiler with a Combi can take 2-3 days depending on how much pipework is involved.
Combi Boiler Installation Prices
| Type of Installation | Installation Cost |
| --- | --- |
| Replace a combi boiler with a new unit in the same place as the existing boiler | £610 |
| Replace and move a combi boiler in a different location | £1,600 |
| Replace conventional boiler with combi cost | £2,500 |
Combi Boiler Deals
Combi boilers prices vary hugely in price depending on the manufacturer, power, installation and size. But expect to pay from around £500 to £2,800. The combi boiler is the most popular boiler installed in the UK as they are efficient, compact units and don't require a cold-water tank or hot water storage cylinder.
Modern combi boilers tend to be the most energy-efficient as they deliver instant hot water whenever a hot tap is turned on so no water is wasted. When choosing a combi boiler you should always compare models and costs from the most reliable brands.
The first step when choosing a Combi boiler is to select the right size in terms of kW output (not dimensions). You need a boiler that can produce enough heating and hot water for your needs, but choosing a boiler that is capable of producing much more than you need is a waste of money unless you plan on extending your home in the near future.
The boiler prices quoted below in this section are for supply only and do not include installation cost (but do include VAT).
For a small 1-2 bedroom homes, you will probably need a boiler with an output of 24kw to 27kw. A Baxi 200 Combi at around £650 is a good price but only comes with a 3-year warranty. Models in this size with longer warranties include the Worcester Bosch Greenstar at around £730 or the 25kw Glow-worm Energy Combi at £800 with a 7-year warranty.
The cheapest option (from a reputable brand) is the Biasi Inovia Combi with starts from around £600 and has a decent 5-year warranty.
A typical 3 bedroom semi-detached home will probably need a 30kw boiler. Prices for this size of Combi start from around £500 which is slightly cheaper than the smaller boilers above, but this is because it's the most popular size with lots of competition.
Best buys in this segment include the Vokera Compact A from just under £500, the Baxi 400 Combi at around £660, and the Ideal Logic Max Combi Boiler at around £1,000 but with a class-leading 10-year warranty.
Large homes with 4+ bedrooms will need a boiler of 35kw to 45kw. Prices start from around £700 and go as high as £1,500 in this sector. Recommended large Combi boilers include the Ferroli Modena HE £850, Potterton Titanium £750, Baxi EcoBlue Advance 40kw £1,250 and the Vaillant ecoTEC Plus 38kw at £1,500.
Combi Boiler Advantages
Most people just stick with the boiler already installed when they move into a property as long as it is not faulty. However, waiting until your boiler breaks down before replacing it could be costing you money. Investing in a new fuel-efficient boiler can save hundreds of pounds off your gas and electricity bills every year.
Probably the biggest benefit of installing a combi boiler is that they ensure minimal energy wastage with a smaller carbon footprint. By taking water directly from the mains they only heat water that you need to use as you need it, rather than heating water to store in a tank or cylinder.
Combination boilers provide instant hot water so you don't have to wait for the water to heat before enjoying a hot bath or shower. Another advantage is that these modern boilers are neat and compact, so they can be installed almost anywhere and don't look out of place.
Most condensing combi boilers are designed to look neat and modern to ensure they don't look out of place in the home. They are also small enough to be installed in flats or houses where space is at a premium.
Combi (combination) boilers have a number advantages over conventional central heating systems but that does not always mean that a modern condensing combination boiler will be the best choice for every home.
Along with the advantages, combination boilers do have a couple of disadvantages, these include:
Often struggle to provide heating and hot water at the same time.
Not suitable for really large properties.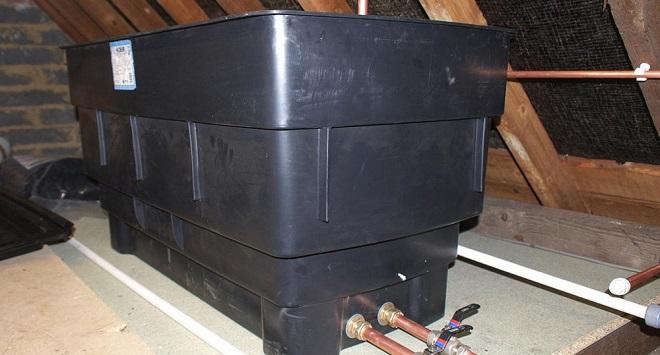 Conventional boiler systems usually need a tank in the loft and a hot water cylinder in the airing cupboard, but combi boilers don't need any tanks at all.
Combi boilers are relatively easy to install and because there are no tanks and associated pipework, the fitting costs are considerably cheaper.
Although Combi boilers are easier to fit than conventional systems, they are still not a DIY job! Gas combi boilers need to be installed by Gas Safe registered engineers and Oil-fired combination boilers need to be fitted by OFTEC registered engineers.
What is Involved in Changing to a Combi Boiler?
The Gas Safe installers will drain the existing heating & hot water system then remove the old boiler, thermostat and controls. They will then remove any hot water cylinders and cold water attic tanks.
The old gas supply pipes may not be adequate so if required they will upgrade gas pipe to 22mm and then install the new combi boiler and perform a power flush on the entire heating system. Some installers will also fit deaerators and/or magnetic filters.
The next stage is usually to install controls/thermostats, often using smart wireless/internet-enabled systems, then configure them to work with the new boiler. The boiler and entire system will then be checked and the building regulation notification with certification will be supplied during the handover & induction on the new boiler, controls and best usage.
The entire process to change from a conventional boiler to a Combi will take around 2 full days, but add on a day if you need the boiler installed in a different location.
Grants for Installing a New Boiler
Subsidised or even completely free replacement boilers are available via ECO (The Energy Company Obligation), this a government scheme which has come to be known as the Free boiler scheme and was set up to help low-income households with home efficiency improvements to reduce heating costs and reduce carbon footprints.
If you meet the criteria which are mostly benefits related and your current boiler is at least 5 years old and not a modern condensing boiler, you could qualify.
These boiler grants are non-repayable and if you qualify you can have a new boiler installed along with new heating controls if required. The amount of funding you can get is determined by the efficiency of your home and an energy assessment will be carried out free of charge.
In most instances, the new boiler will be completely free but in some cases, a small contribution may be required. These are not just gas central heating installation grants, boiler grants are available for gas, oil and LPG central heating boilers, and even electric storage heaters.
Unfortunately, grant funding is now only available for private domestic premises under new ECO3 rules. Private domestic premises are defined as domestic premises that are not owned or let by a social landlord, though there are exceptions.
More and more pensioners are struggling with the seemingly ever-increasing costs of energy bills, and with many on limited incomes, a new boiler or central heating system is an expense many pensioners simply cannot afford. However, there are some grants available from the goverment to:
Those in receipt of Pension Guarantee Credit
Those who recieve Working Tax Credit
In addition to the government ECO scheme in England and Wales, Age Concern boiler grants are available to those living in Northern Ireland.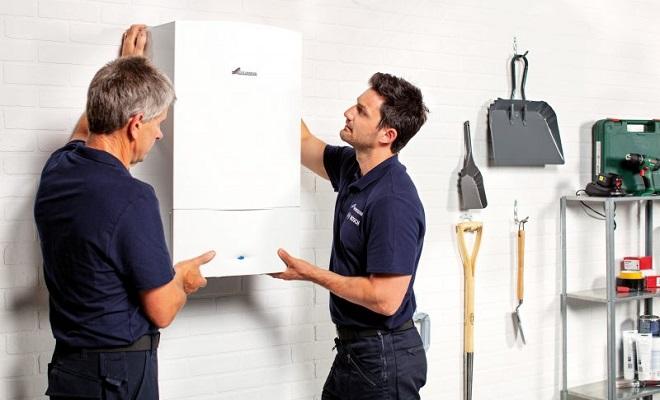 Boiler Renting
Another option, rather than buying a new boiler, is to simply rent one! If you're not eligible for any boiler grants or a free replacement and you don't have the money to buy, you could consider renting a boiler.
But this is a more expensive method in the long run and you'll be tied into a lengthy contract to cover the cost of the boiler and installation, plus an ongoing boiler servicing maintenance contract.
Boiler Building Regulations & Certificates
New boilers need Building Regulations approval due to potential safety issues and in terms of energy efficiency. This is usually achieved by using an installer that is registered under an approved government scheme.
For gas boilers, an installer should be Gas Safe Registered. Oil fired boiler and Solid fuel fired boiler installations require an installer registered with one of the relevant Competent Person Schemes. Gas boilers require a minimum energy efficiency rating of 86%, oil fired boilers require a minimum energy efficiency rating of 85%.
Almost all gas boiler installations today will probably use a condensing boiler for maximum efficiency unless there is a good reason why one cannot be installed. A condensing boiler with a SEDBUK rating of A or B is the default recommended option and should be installed unless a Gas Safe Registered installer suggests that it is not viable.
In which case, a less efficient boiler with SEDBUK rating of C or D can be installed, but they will still have to meet the minimum efficiency figures.
Oil fired heating systems requiring a new storage tank have additional guidelines set out in Approved Document J for fire safety and to limit risks of ground oil pollution. In many cases, the replacement oil storage tanks cannot be installed in the same position as the old tank as regulations have changed over the years!
Local authorities can set aside the guidance on tank location where they consider it is unreasonable, so if you don't want to have the tank in a different location you should notify them and they will consider each case individually on its own merits.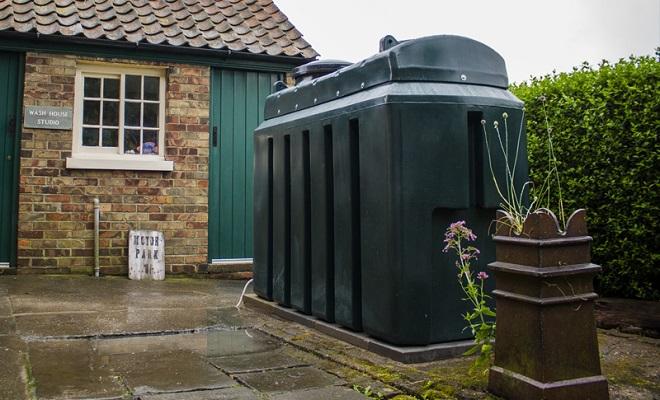 If the installer used is not a member of one of the approved competent person schemes, they will not be able to self-certify their work.
In this case, you will need to give notice to your local authority of the intention to install a new boiler in advance, then pay a notification fee for the building control department to get a registered engineer to check the works have been carried out to the necessary standards and supply you with a building regulations completion certificate.
Boiler Safety Certificate
All gas boiler installations need to be registered with the Local Authority to ensure that they comply with Building Regulations. In the UK it is illegal to install a boiler without a building regulations certificate, which will normally be supplied by a registered engineer that can self-certify their work and then notify Gas Safety of the installation.
Gas Safety, in turn, will then notify your Local Authority and they will send a Building Regulations Compliance Certificate to you within 10 to 15 working days.
Unfortunately, some homeowners will still use contractors that are not Gas Safe registered and able to self certify, just to save on costs or in some cases because they may not even know it is illegal to do this! If you are buying a property and it doesn't have a boiler certificate, then you can get the seller to pay for a Gas Safe registered engineer to inspect the boiler and sign off on the installation or make it good if necessary.
If any problems are noted and the seller is unwilling to pay to have the installation made safe, the Gas Safe engineer will turn off the gas supply until the works are completed.
The cost for a Gas Safe registered engineer to inspect the boiler and sign off on the installation is usually around £200 assuming the installation is safe and no other work is required.
Power Flush Recommendations
Rust and various other substances (commonly referred to as "sludge") will begin to form within your boiler over the years and will de deposited throughout the pipework and radiators as your heating system ages, this is effectively unavoidable. These substances can be removed by a cleansing process known as a power flush.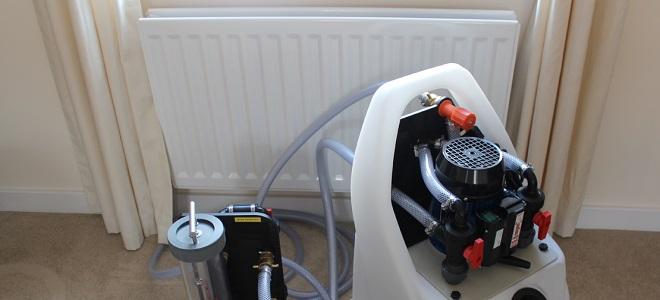 A power flush removes the sludge inside your central heating system to prevent it from having an adverse impact on the efficiency of your heating system. A professional power flush can not only clean and maintain your central heating system, but will also increase the amount of heat you get from your radiators.
If the sludge in your system is not flushed out regularly and left to build up over the years, it will eventually cause blockages and central heating failure, prematurely damaging the boiler. Experts recommend having a power flush prior to a new boiler installation.
This is to prevent any of the sludge already in your pipework or radiators causing damage to your brand new boiler. Most boiler manufacturers will void the warranty and not honour any boiler claims if a power flush was not carried out poor to fitting!
How Much Does a Power Flush Cost?
The price of a power flush will vary and depends greatly on the size and complexity of your heating system but expect prices start from around £300. This might seem expensive but a power flush can actually help you save money in the long run.
Do not attempt to perform a power flush DIY, it is a complex and risky process using specialist chemicals and expensive equipment which is dangerous and can even damage the central heating system. Always get a fully qualified and Gas Safe registered engineer to perform any work on your heating system.
Installing Central Heating from Scratch
Installing a new gas boiler into a property which has no existing central heating system is usually more expensive than simply upgrading an existing system with a new boiler. This is rarely done nowadays except as part of a new build or conversion as there are very few residential properties without central heating!
But if you are building a house or converting a barn or other commercial building into a residential property, then you will need to budget for installing a new boiler system including all the pipework and radiators.
The cost of this new boiler and pipework will depend on the size of the property and how complex the job is. New builds will not be quite as expensive as you may think, as although there is a higher materials cost due to needing all new pipework and radiators in addition to the boiler, the work is easier and quicker as the pipework can be installed before the flooring and interior walls are finished plus there are no occupants to workaround!
Once you have agreed on a plan for the heating system, the engineer will usually start with the radiators which are installed first. Then the pipework will be installed from the radiators to the site of the new boiler and the controls will be put in place.
Next, the actual boiler is installed in the agreed location and the system will be filled with water and the boiler turned on, checked and adjusted.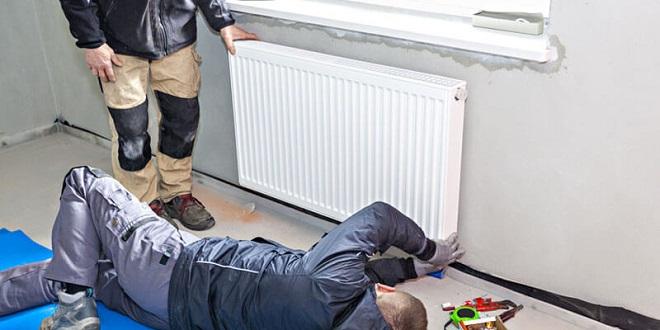 Installing a New Boiler in the Loft
There are many possible reasons for wanting to relocate a boiler, the most common being a home renovation, unwanted noise and aesthetics. Moving your boiler out of sight into the loft can be a good idea, but remember that boilers need to be positioned on or next to an outside wall as modern building regulations require all new boilers to be the efficient condensing type, which means a discharge pipe to get rid of condensation is necessary.
Before installing a boiler in the loft, the loft needs to be boarded out with a loft ladder and adequate lighting for safety reasons. The boiler also needs to be firmly attached to an exterior wall capable of supporting the weight.
But even if you can meet these requirements, not all lofts will be suitable. You will need a loft with standing room otherwise you may find it difficult to find an engineer to install it and even more difficult to find one willing to carry out the annual inspection once fitted!
You'll also need to check the boiler has frost protection too as lofts are unheated. But if you do have a suitable loft, there is no need to worry about climbing into the loft every time you need to reset the boiler or to adjust the temperature.
Modern smart controls can be fitted anywhere in the house for convenience, so you only need to climb into the loft to access the boiler itself. Another possible consideration I that in a house with more than 2 storeys it could be a long way for hot water to reach a bathroom or kitchen on the ground floor so more of the heat could be wasted.
If you want to place your boiler out of sight without compromising interior space but the loft is not suitable, an alternative option is to put the boiler in a garage or other outbuilding.
FAQs
Sources
https://www.energysavingtrust.org.uk/home-energy-efficiency/boiler-replacement
https://www.gassaferegister.co.uk/help-and-advice/gas-safety-certificates-records/
https://www.ncm-pcdb.org.uk/sap/
https://www.gov.uk/energy-company-obligation