How Much Does it Cost to Paint a Room?
If we assume that you have prepared the room for the decorators by removing the furniture and contents, or at least have them placed in the centre of the room providing easy access to the walls, then an average size room will cost around £250-£300.
This cost will include all preparation work and two coats of quality paint, but will not include lifting carpets, nor will it include removing wallpaper, painting window sills, skirting boards or door/frames.
What does this cost include?
Although a certain amount of preparation work is included, for example cleaning the walls and making good a few minor repairs with wall filler, if the walls are in very poor condition and need a lot of time consuming work to bring them up to standard, this will add to the cost.
How much will a painter cost?
Most decorators charge about £150-£200 per day in labour costs and quite often work in pairs if the job is a large one. For a single room the job shouldn't take any longer than a few hours but often the tradesman will leave and come back the next day to apply a second coat.
For this reason it's often a good idea to have 2 or 3 rooms decorated at the same time as it will save you money if you plan on having them painted in the near future.
Room Painting Prices
Here are a few average costs for hiring a painter and decorator to do internal painting and decorating.
Where wallpaper is removed or woodwork painted the price includes prepping the surfaces, i.e. sugar soap, sanding, small repair work, and lining paper if necessary.
| Job Description | Avg. Cost | Duration |
| --- | --- | --- |
| Single room needs painting | £250 | 4-8 hours |
| 2 rooms need painting | £350 | 4-8 hours |
| Single room needs stripping, prepping and then painting | £350 | 1-2 days |
| 2 rooms need stripping, prepping and then painting | £500 | 2-3 days |
| Single room needs painting including all woodwork | £500 | 2-3 days |
Cost Breakdown Calculator
Individual costs for hiring a decorator to paint the walls of a single average sized room - Total Cost: £250
What Painting Interior Walls Entails
When it comes to interior painting, most painters and decorators will expect the furniture and contents of the room to be removed by the occupant, with any remaining items placed in the centre of the room away from any walls that are to be painted.
Normally the painting will be done with the carpet left in place. Any quotes you gather for this job will normally include preparing the walls for the paint (which includes any minor repairs required for a smooth surface), then typically two coats of decent quality emulsion.
The window sills, skirting boards and doors are not normally included in any painting quotes for a room unless you specifically ask for them to be included. It is normally a good idea to have any timber painted at the same time for the best finish, freshly painted walls and ceilings with grubby window sills and door frames will look awful, so budget a bit extra to have them included.
Interior painting is a common DIY job and as long as you buy decent quality paint and have the patience and skills for it, a good finish can be achieved. DIY painting is obviously much cheaper, but it would be unusual for a DIY enthusiast to achieve the same standard of finish as a professional painter.
Optimium Painting Temperature
The temperature of your house affects the performance of paint. The wall temperature can vary considerably with the weather and when painting you should try and make sure it is above 10°C and below 35°C, so avoid painting when its really hot or really cold, common sense really! For exterior painting, if you wouldn't hang the washing out or wash the car, don't paint outside.
Interior painting is more about the surface temperature and humidity, as opposed to exterior painting where the sunshine or rain are the main problems. As a rule of thumb, if you are comfortable with the temperature and humidity in a room, then the paint will be fine too!
Spray Gun vs Roller vs Brush
It's a tough choice between a roller or sprayer for painting walls, but forget using a brush except perhaps for fine work around the edges! Paint spraying is fast, but needs extensive preparation work. Rolling is a lot slower, but you can achieve a more high quality finish than you can with spraying. If the quality of the finish is your priority, then you cannot go wrong with rolling for a thicker paint layer and smoother consistency.
But if you are painting a large room and you don't mind doing all the masking and preparation, spraying will be much quicker and still offer a good result.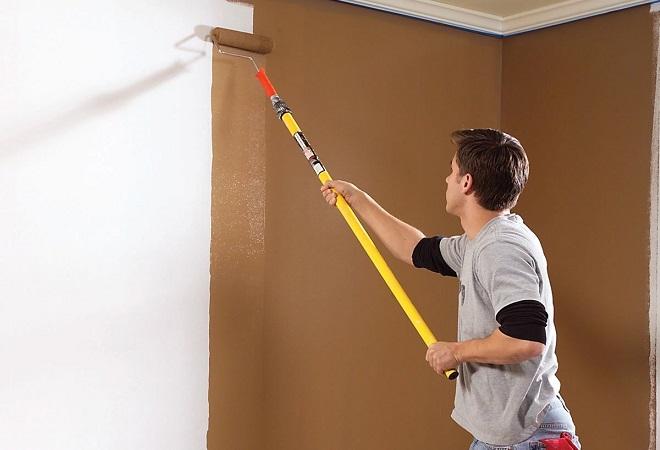 But note that if you have never used a spray painter before, then literally every square inch that you don't want to be painted needs to be be masked in film or with a cloth. Anything you neglect to mask when spraying WILL get painted whether you like it or not! Rolling vastly reduces the amount of masking required, but you will still need to do some around the edges of the walls.
If painting interior walls only then paint-rolling has another advantage as there's no need to worry so much about masking the ceiling when rolling walls. For most homes and most levels of experience, at least for internal walls, rollers are the favourite, even amongst professionals.
Paint spraying wastes a lot of paint when the spray drifts away (which is why you have to cover everything). But when rolling almost every drop of paint ends up on the surface you intended it to! So you use about 30% less paint when rolling compared to spraying which saves you money. You also save money on the cost of equipment, rollers and trays cost next to nothing compared to a paint spray set-up which can be very expensive.
Whichever method you choose, you still need to thoroughly clean the surface before painting, though paint rolling allows you a little more leeway if the surface isn't perfectly clean as it goes on the wall fairly thick even on the initial coat so will bond better with the surface.
If you hire a professional painter, they may combine the best of spraying and rolling by using a technique called back-rolling. This is where the paint is sprayed on the wall then is rolled fusing the droplets together for a better finish.
Cost Affecting Factors of Interior Painting
When trying to estimate the cost for an interior painting job there are a number of things which could go wrong, increasing the cost. For example if wallpaper has to be removed before painting, the walls underneath may need a lot of patching up with plaster.
Any access issues such as large furniture items that can't be moved, or more complex interior designs with chimney breasts, multiple doors & windows (particularly complicated bay windows), can all slow down the work and therefore increase the price considerably.
Using cheap paint will also inevitably lead to higher costs in the long run, when it comes to paint you often do get exactly what you pay for, so cheaper paint will leave a cheaper looking finish, or will simply not last nearly as long so will need doing more often.
If you're doing the painting yourself, it is always better to use two coats of quality paint rather than try using one of the many "one coat" products on offer, these products are never used by professionals for good reason, two coats are simply better than one, even though it takes much longer.
There are no hard and fast rules for painting costs and much will depend on your location and the painter you choose. The cost of hiring a painter in London is much higher than hiring a painter in Newcastle for instance.
FAQs
In this case the paper needs to be removed and the walls sugar soaped to remove any adhesive. Filler will almost certainly be required followed by sanding down. Finally paper lining is then applied to the walls before two coats of high quality emulsion. This can take almost twice as long as a room with painted wall so the cost is considerably more, estimate around £450 assuming an average sized room.
For a typical room expect the work to take around a day, with perhaps a few hours on the second day to apply the second coat. If removing wallpaper before painting expect 2 days with perhaps the second coat of paint applied on a third day.
It can be very tempting to think painting a room is not difficult and in many cases this can be true - as long as you know what you are doing! But do you know what type of paint is best? How to repair any damage to walls? What to do about that damp stain on the ceiling? How about painting behind the radiator and in those hard to reach spots do you know how? In reality, there is plenty to think about when it comes to decorating the interior of your home, do you really want the hassle of dealing with that yourself?

To achieve a good finish you will also require many tools including scrapers, sandpaper, white spirit, wood & plaster filler, dust sheets & masking tape, putty, sanding sponges, window blades, screwdrivers, knife, chisels and more - if you do not have all these to hand, is it worth buying all that stuff, how often would you use it? Plus what if you make a mess of it and need to redo it for a decent finish? For most of us, unless money is really tight and you have no option, it is much easier to hire professional decorators and rest assured you will get a good quality job done right the first time!

Of course you do need to ensure that you hire a reputable painter, with all the necessary skills and experience, plus the relevant liability insurance for the job, always check references and get recommendations from trusted friends and family if possible - after all there is no point hiring a cowboy painter who has no more skills than you do!