How Much Does it Cost to Move a Boiler?
Boilers are sometimes large and bulky, and with limited space, it's understandable to wish to relocate them to less used and more inconspicuous areas of your home. Attic space, garages, or a storage box in another area of your home are all common places to put a boiler.
Moving a boiler to a new location might cost anything from £350 to £800, including parts and labour. You should expect to pay around £350 to relocate a few feet, £500 to transfer an average amount of pipes, and £800 to move a large amount of pipework (complete another side of the house, drilling through walls, etc.).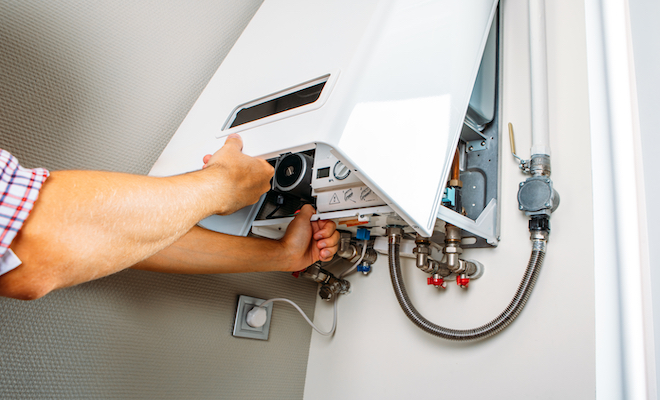 The costs of boiler relocation are based on the pipework and general preparation required to relocate the boiler, not on the type of fuel used. Various fitters, on the other hand, charge different prices.
The only thing to consider is if you have an oil boiler (which normally weighs more than 100kg, compared to 45kg-50kg for a gas/LPG boiler). The boiler engineer will almost certainly need to hire a labourer to help move and install the boiler. The cost will increase as a result of this.
Boiler Relocation Prices
Below is a table with the average prices you would expect to pay when moving a boiler.
| Materials/Type | Cost |
| --- | --- |
| Boiler Flue | £100-£150 |
| Flue Pipes | £45 per meter |
| Magnetic Filter | £120-£140 |
| Controls | £80-£700 |
| Pipework | £300-£700 |
| Moving Existing Boiler | £350 - £800 |
| Replacing a Combi-Boiler with a New One in New Location | £2,650 |
Additional Costs
Along with the cost of moving a boiler, you may need to consider additional jobs, including:
New Boiler
One of the most common jobs is boiler installation which will vary in cost depending on the type of boiler you choose. For example, a combi boiler installation typically costs around £1500 to £3500, while a biomass boiler could cost up to £9000. You should expect to spend more if the engineer is required to perform extensive pipes and/or flue work.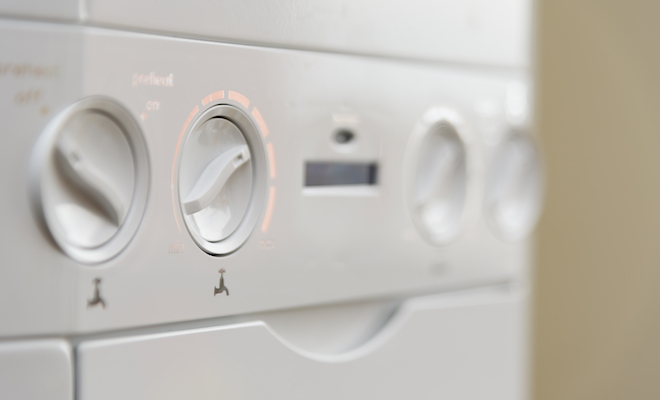 New Radiators
If you are having a new boiler installed, you may also want to consider having your radiators replaced. The cost of replacing radiators will depend on the type and number of radiators you need. However, you should expect to pay around £200 to replace a radiator and £300 to install an additional radiator.
Cost Breakdown Calculator
Individual costs for hiring a tradesperson to move a boiler with pipework- Total Cost: £500
Labour Costs and Time Frames
The labour cost of moving a boiler will depend on the type of boiler you have. Parts, labour, VAT, and the time it takes to perform the job are also included in the overall cost. The pipes must also be moved when a boiler is relocated, which accounts for most of the job's cost. It will also necessitate additional time and effort.
You should expect to pay around £40 to £60 per hour for a heating engineer's professional services.
It should take one and a half to two days to install a boiler in a new location. It may take longer if your boiler is being moved upstairs or downstairs. The timeframe could also increase if there are any difficulties.
What Does Moving a Boiler Entail?
The most important thing to consider is where you should put your boiler. You should choose a new space wisely, and keep in mind that there are some rules to observe. The boiler should be at least 1.2 metres away from any open entrance or window.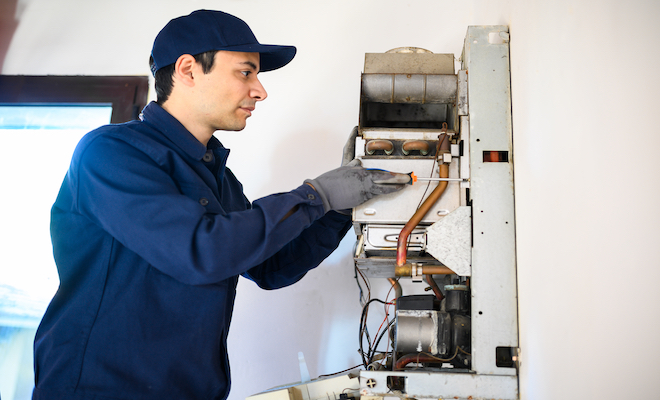 It should also have access to a waste pipe, so relocating it to a bathroom or utility room is the ideal option. Because of the length of the pipes, the further distance you put it from the waste pipe, the higher the costs of relocating it will be.
The process starts with:
Before proceeding, your Gas Safe engineer will want to double-check a few things with you. The number of radiators you have, your water pressure, the number of bathrooms in your home, and the location of your current boiler and flue are all factors to consider.
If it's a simple switch, such as a combi to combi, the engineer should be able to complete it in a single day. It's worth noting, though, that if you're replacing an older boiler system or switching boiler types, there may be issues that cause the installation to take longer. You'll need to be present for a demonstration of the new boiler controls once they've been installed.
All Gas Safe firms must notify the local authorities whenever they install a new gas appliance to comply with Building Regulations and Gas Safe guidelines. They should also provide you with a completed Benchmark Certificate and a Building Regulations Certificate to demonstrate compliance. If this doesn't happen, make a note of it.
Most trustworthy businesses will provide you with a warranty on their services. Our installations come with a five-year warranty from British Gas, but the terms may differ from business to business. As a result, always double-check before accepting a job.
If you have any concerns regarding the safety of your new boiler installation or believe your engineer did a poor job, contact them as soon as possible. They must either fix any issues they caused or compensate you for the expense of employing a new engineer. You shouldn't have to be concerned if you've employed a Gas Safe engineer.
Where to Move Your Boiler
Moving your boiler is a big job, and you want to be happy with where it ends up. When you need to repressurise your boiler, how easy will it be to get to it? Is it possible for an engineer to get to it without difficulty?
You should also examine how practical it will be to install the boiler in the location you have picked. Carpet is simple to remove so that pipework for your new boiler can be installed, but if you have tiled or concrete flooring, the pipes may need to be run through a wall or even a ceiling. This could result in greater clutter and cost more money.
Moving a Boiler to The Loft
Many people opt to relocate their boilers to their lofts. However, you must consider the consequences of choosing this site. To make room for the boiler, the loft space may need to be renovated. This may involve boarding up the loft, installing frost protection on the boiler, installing a loft ladder, and verifying that the wall can support the weight of the boiler. Additional upgrades such as these will raise the project's cost.
It's also worth noting that hot water may take longer to reach your downstairs faucets if your boiler is in the loft. This may lead to a waste of water and energy. You should also install a carbon monoxide alarm once your boiler has been relocated. Keep an eye on the pressure of your newly relocated boiler as well. It may take a few days for the system to adjust to its new position, and it may need to be repressurised in the interim.
Kitchen
Many homeowners choose to place their new boiler in their kitchen closets. Most current boilers are designed to be small enough to fit into a cupboard. Because combi boilers are compact and do not require additional tanks or cylinders, they fit perfectly into kitchen cupboards. As a result, they can be simply tucked away.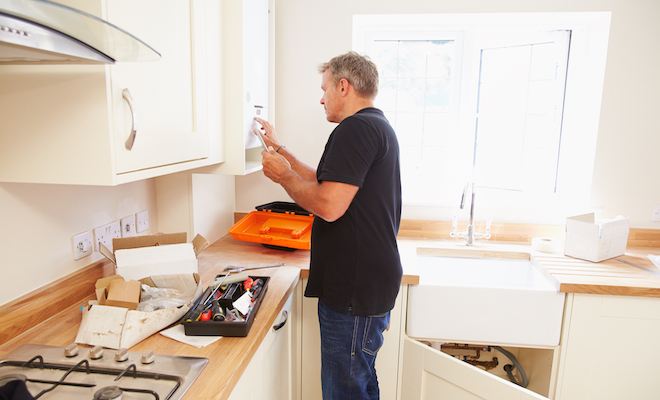 Utility Room
If you have a utility room in your house, it might be a good place to put your new boiler. The boiler will be out of the way and less likely to interfere with your normal living area if it is put here. Maintain in mind that you'll need to keep the space surrounding your boiler clear to avoid knocking or obstructing any of its wiring or other components.
So, if you store your goods in your utility room, you might want to consider having your boiler put somewhere else.
Bedroom
The bedroom is a less popular but still viable location for a new boiler. If the system is hidden in an area such as a cupboard, this may be a perfect site; nevertheless, there are a few drawbacks to having your boiler put in such a personal environment. Even though most modern boilers are designed to work quietly, these systems will nevertheless produce some noise. This could be bothersome, particularly if you're a light sleeper.
Garage
If you have one, your garage can be a good place to put your boiler, as the system will be out of the way of your living space. As with loft boiler installations, you'll want to ensure your system includes frost protection and pipe insulation because this region can get chilly, especially in the winter.
If you have a separate garage, you'll need to think about the plumbing arrangement and how it connects to the main structure, especially if it's a new location.
Building Regulations for Moving a Boiler
Although there are plenty of options on where you can move your boiler, there are many safety regulations to consider. To guarantee that the system is safe to use and compliant with current legislation, your installer will have to follow a set of laws and regulations, including:
Gas Safe registration is required for your engineer.
A-rated (92 per cent ERP) and condensing boilers are required.
A discharge pipe must be connected to an appropriate foul water drain due to condensation.
A gas boiler must be equipped with time and temperature controls, according to the 2018 Boiler Plus regulation.
A flue gas recovery system, a weather compensation device, a load compensation device, or a smart thermostat must be installed on all new combi boilers.
So, when your boiler is being moved to a new location, the tradesman will have to follow these rules as they move your boiler for safety and legal reasons.
Planning Permission for Moving a Boiler
Installation or replacement of a boiler or heating system usually does not require planning approval. However, you should check with your local planning authority if you live in a listed building.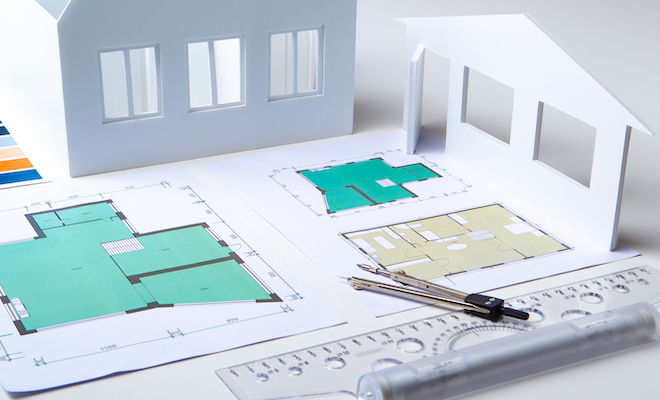 If the installation necessitates a flue outside, it is usually a permissible development if the conditions indicated below are met.
A maximum of one metre above the highest section of the roof is allowed for flues on the building's back or side elevations.
Even if you have approved development rights, it's a good idea to check with your local planning authorities before installing a flue if the building is listed or in a designated area. Internal changes are also likely to require consent.
The flue should not be installed on the major or side elevation if it faces a highway in conservation areas, national parks, areas of outstanding natural beauty, or the Broads.
Therefore, it depends on where you are moving your boiler. If it is in your own home, you will not need permission; however, if it is in a commercial building, it is best just to double-check.
Common Problems When Moving a Boiler
Other factors can impact and, in certain situations, dramatically raise the cost of boiler relocation. Essentially, the cost will be more if the installation takes more time, requires more materials, or is heavier and more difficult to handle.
With that in mind, here are some typical reasons why relocating your boiler may be more expensive than you anticipated:
Boiler Conversions
Converting a boiler from one kind to another, such as from a back boiler to a combi boiler, is known as a boiler conversion. The most common cause is switching from an old, out-of-date boiler, such as a back boiler (which is no longer supported), to a modern combi boiler.
Because back boilers are designed to be positioned behind a fireplace, your replacement boiler will almost certainly need to be relocated.
New Flue Installation
Some boilers use gas as fuel. This is consumed during the combustion process, producing hot and hazardous exhaust fumes as a by-product. These must be channelled out of your home and into the outside world, which is accomplished using a flue system.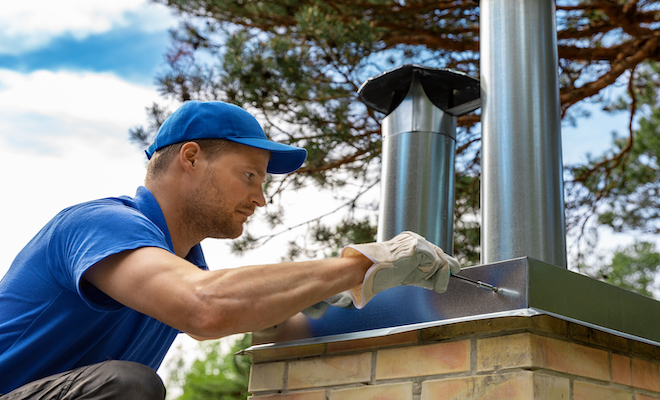 As a result, when you relocate your boiler, you'll also need to relocate or, in most cases, replace your flue.
Additional Pipework
The number of pipes required will have a significant impact on the cost of moving a boiler. These are fed from your mains to your new boiler, so if you're transferring your boiler a long distance, you'll need to use extra pipework. Copper pipes are utilised in central heating systems, and obtaining them is not inexpensive.
They're not easy to install and may require the floor to be lifted, and holes will need to be drilled in the walls to get the pipes through. It's important to remember that you'll be paying for the copper pipes as well as the engineers' time and effort.
Any Additional Work Besides Boiler Fitting
The cost of laying pipes does not solely determine the cost of transferring a boiler to a new location. Other items that consume time (and money) depending on the work include:
Relaying and lifting floorboards
Drilling holes for the pipe and the flue through the walls
Filling in any gaps
That's why moving a boiler a few feet (inside the same room) might cost nearly half as much as transferring it to a new room.
Replacing Your Boiler
With a boiler replacement costing roughly £500, it's a good idea to think about it. This is not a good idea if your boiler is only a few years old and still under warranty. However, boilers like the Ideal Logic 30 cost roughly £800 and come with a 7-year warranty.
If you have an old boiler, you'll likely save this much on your heating bills within a couple of years, and the guarantee will still be valid for another five years. Furthermore, the cost of installing a new boiler on a new site is comparable to the cost of transferring your existing boiler.
How to Find and Hire a Boiler Relocation Specialist
To ensure your boiler relocation is compliant with current building regulations and planning permission rules, you need to hire a qualified heating engineer to complete the job. They typically charge around £40 to £60 per hour; however, this will depend on the complexity of the job.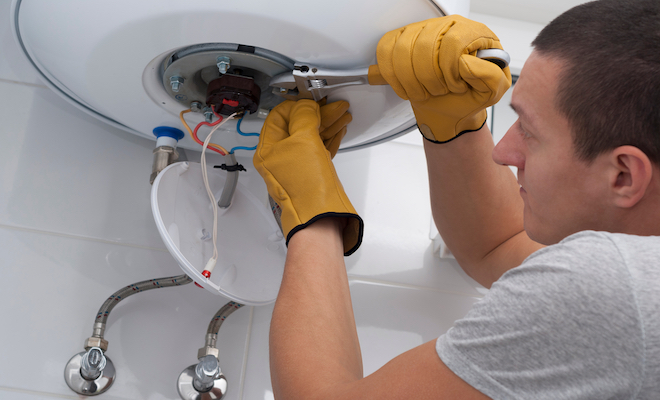 Before hiring a heating engineer, you should first check their credentials to ensure they are fully qualified to complete the job. You also need to ensure that they are gas safe registered if your boiler is fuelled by gas. You can check this by visiting the official gas safe register website.
FAQs
Sources
https://www.theheatinghub.co.uk/guide-to-boiler-installation-costs
https://heatingforce.co.uk/blog/cost-moving-boiler/
https://yourheat.co.uk/moving-a-boiler-installation-tips-tricks-and-costs-of-the-project/
https://www.britishgas.co.uk/home-services/boilers-and-heating/guides/boiler-installation-steps.html
https://www.viessmann.co.uk/heating-advice/how-difficult-is-it-to-move-a-boiler
https://www.homeserve.com/uk/living/heating-and-cooling/where-should-i-put-my-boiler/
https://www.planningportal.co.uk/info/200130/common_projects/7/boilers_and_heating
https://www.viessmann.co.uk/heating-advice/can-a-boiler-be-fitted-bathroom
https://www.warmzilla.co.uk/blog/how-to-hide-a-kitchen-boiler
https://www.boxt.co.uk/boilers/guides/everything-you-need-to-know-about-moving-a-boiler
https://www.theecoexperts.co.uk/boilers/boiler-replacement