How Much Does Block Paving Cost?
Firstly, let's take a look at what we discuss in the following article!
This article is all about the costs of block paving, specifically block paved driveways and the typical prices you might expect to pay for a professional to lay block paving.
There is a huge range of options when it comes to block paving, with many different styles, types, colours and sizes available.
Why is block paving so popular?
The reason most consider having a block driveway installed is the fact that they are generally considered to be more attractive than most other driveways and they're also long lasting.
Block Paving Prices
There are three brick types for block paving: clay blocks, concrete blocks and natural stone. Complex patterns and extras such as edging, steps and drainage solutions that may be required can really bump up the overall cost considerably.
So, what can change the overall cost of block paving?
The size of your drive will be the dominant factor affecting how much your block paving will cost, and of course the materials you choose, the contractors you select to carry out the work and your location, will also play large parts.
| DRIVE SIZE | MATERIAL | AVG. COST |
| --- | --- | --- |
| Small (40m2 or 1-2 cars) | Clay | £2,800 - £4,500 |
| Small | Concrete | £1,800 - £2,900 |
| Small | Natural stone | £2,000 - £4,700 |
| Medium (70m2 or 2-3 cars) | Clay | £4,900 - £7,500 |
| Medium | Concrete | £2,400 - £4,700 |
| Medium | Natural stone | £3,500 - £7,850 |
| Large (100m2 or 4-5 cars) | Clay | £7,000 - £10,500 |
| Large | Concrete | £3,000 - £6,500 |
| Large | Natural stone | £5,000 - £11,000 |
Block Paving Material Costs
Thinking of laying block paving DIY?
If you want to DIY and lay the block paving yourself, then it's handy to know beforehand how much the materials are likely to cost. Depending on your budget, you can choose from three major types of brick: clay, concrete and natural stone.
Clay blocks cost £70 to £100 per m², concrete blocks are cheaper and cost between £20 - £60 per m². Natural stone is the more expensive option from £50 to £105 per m².
The size of your drive will thus determine the overall cost. On average, a small drive is 40m² and can fit 1-2 cars. A medium drive is around 70m² and can fit 3-4 cars. Large drives are around 100m² and should fit 3-4 cars.
| DRIVE SIZE | MATERIAL | SUPPLY COST |
| --- | --- | --- |
| Small | Clay | £2,800 - £4,000 |
| Small | Concrete | £800 - £2,400 |
| Small | Natural stone | £2,000 - £4,200 |
| Medium | Clay | £4,900 - £7,000 |
| Medium | Concrete | £1,400 – 4,200 |
| Medium | Natural stone | £3,500 - £7,850 |
| Large | Clay | £7,000 - £10,000 |
| Large | Concrete | £2,000 - £6,000 |
| Large | Natural stone | £5,000 - £10,500 |
Waste Removal Costs
If you have a driveway that needs removing first, before having a new one laid, you may need to consider how much waste removal will cost. Hiring a skip is a great way to remove large quantities of waste from a renovation project. The cost of hire depends on which size skip you choose. For a driveway removal, you won't need anything over ten yards.
| SKIP SIZE | AVG. PRICE |
| --- | --- |
| 2-3 yards | £65 |
| 4-5 yards | £90 |
| 6 yards | £115 |
| 8 yards | £135 |
| 10 yards | £170 |
If you're not removing the old drive yourself, and you're hiring a driveway specialist to remove it, it'll usually take 1-2 days of labour and cost around £150 – £200 per day. For more information on skip hire cost, click here.
Additional Block Paving Costs
Here are some additional costs you may incur for materials and waste removal when block paving:
| ADDITIONAL COSTS | AVG. PRICE |
| --- | --- |
| Hardcore | £300 |
| Blocks & edgings | £1,700 |
| Sharp sand | £250 |
| Kiln-dried sand | £250 |
| Skip hire | £500 |
Block Paving Cost Breakdown Calculator
Individual cost of block paving for a small driveway – Total cost: £3,500.
Labour Costs and Time Frames
The average material cost of installing block paving is usually around £50 to £100 per sq metre. Costs can increase depending on the size of your driveway and material used, if your driveway has complex patterns and extras such as edging, steps or drainage. Also if your driveway includes manholes or if you are looking to drop a kerb then the cost will also increase.
How much does a driveway specialist charge? They will usually charge around £150 to £200 per day, although tradesmen will often work in teams and labour costs will be factored into the overall price. A typical driveway is expected to take around 4 to 5 days to complete depending on the size of the driveway.
A brief insight of the job, labourers will likely need to remove your existing driveway, prepare the foundations, put matting down to stop weeds and then lay the block paving.
Below are some estimated time frames for your paving specialist to remove your old driveway and install a new block paved driveway:
| SIZE | DURATION |
| --- | --- |
| Small - 40m2 | 4-5 Days |
| Medium - 70m2 | 5-6 Days |
| Large - 100m2 | 7-8 Days |
Block Paving Materials
Every type of paving has its pros and cons. It depends on what you're looking for, your budget and what you're expecting from your driveway paving.
Concrete
Concrete is the most affordable block paving brick and costs between £20 - £60 per m². It's manufactured from crushed stone, sand and cement and because of its straight edges, patterns are easier to achieve. If you don't use a protectant, the colour will fade over time and oil can stain it. Make sure you clean any algae or lichen that grows on the blocks, so the drive doesn't become damaged.
Clay
Clay blocks are pricier than concrete at around £70 - £100 per m², but they'll keep their colour and not fade over time. Once completed, it looks visually stunning and lasts forever. No matter what the weather, clay blocks have a natural anti-slip and are stain-resistant, so require less maintenance.
Clay blocks are harder to cut and have limited block depth, so aren't best used for patterns. They're made from a natural, sustainable product and are eco-friendly.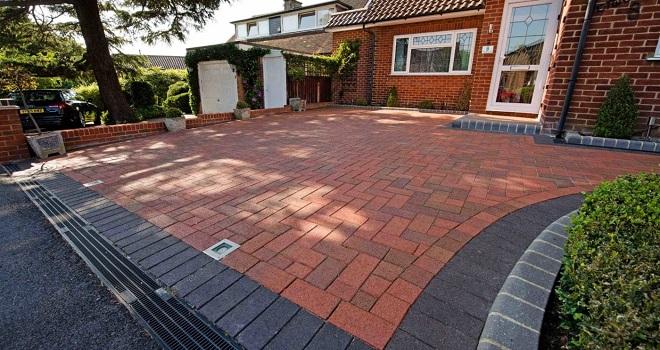 Natural Stone
Natural stone is the most expensive brick for block paving and costs £50 - £105 per m². They're usually mined or quarried and are naturally sourced. You can choose from granite, limestone, slate and sandstone. All are long-lasting and don't discolour with age. Most stone is frost resistant and low maintenance.
What Does Block Paving Entail?
When having a driveway installed, the first step would normally be to locate all services (gas and water pipes, electric cables and drainage) and ensure digging out the drive will not cause any issues. Then the planning will be considered, if you are diverting rainwater from your property onto the street, then planning permission will be required.
Once planning is taken care of, the existing driveway can be dug out and waste material removed. Drainage can then be laid to soakaways.
Next, the membrane will be put down followed by 150mm hardcore compacted down with whacker, then 40mm of sharp sand. The paving blocks can then be laid, and any steps required can be built to the front door. Kiln-dried sand is used to fill any gaps.
Any other related hard landscaping jobs should be done at the same time as the driveway to reduce overall costs, for example laying any paths or edging, plus of course walls/fencing, which works well with a new driveway and finish the job off nicely.
Cost Factors of Block Paving
There are many cost factors that you may want to consider, especially if you're on a tight budget.
One of the main cost factors is the condition of the ground you're placing the new driveway on. If you need an old drive removing, or the foundation digging out of a garden, you can expect to pay for skip hire (between £65 - £170) and labour for 1-3 days (£150 - £200 per day).
If your driveway is being built over a garden, it may need a weed membrane underneath it, which costs an extra £40 per 100m2. When you're working out a location for your drive, try to avoid any drains or manholes, as you'll need an inspection which can cost a fee.
If you're doing it yourself, you'll need to hire specialist equipment. For example, a jackhammer (or electric/petrol breaker), this will cost about £50 per day. Most driveway specialists will have the use of their own tools.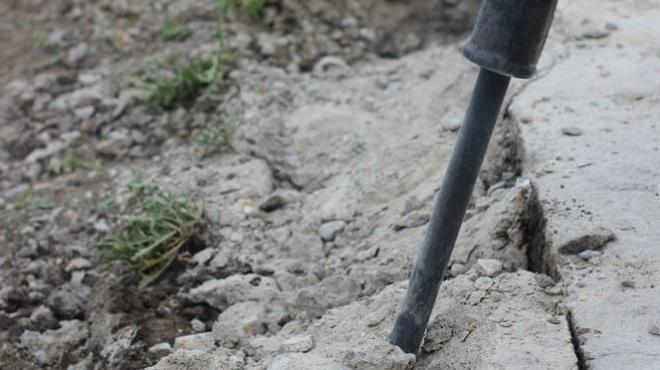 Finally, if you live in London and surrounding areas, expect to pay more than those who live in the North or West of the country due to the higher cost of living impacting on labour costs.
How to Lay Block Paving
It's always recommended that you use a qualified, experienced labourer, but below is how to lay block paving yourself if you've some DIY knowledge. Before you start laying any bricks, design and sketch your driveway and add the specific dimensions, this is so you can know exactly what materials you'll need to order.
The tools you'll need to complete the entire job are listed below:
Spade/shovel
Broom
Rake
Spirit level
Tape measure
Mallet
Wheelbarrow
String
Pegs
Screed rails
Cement mixer
Compacting tool
Stone saw/box splitter
If you don't own a cement mixer etc, you'll be able to hire one from most tool hire shops. The materials you'll need are:
Hardcore
Bricks (clay, concrete or stone)
Kiln-dried sand
Sharp sand
Cement
Ballast
When ordering materials, always try to order 10% more than you need. This is so you'll have enough materials to complete the job.
Regarding planning permission, you'll only need to apply if you use blocks that don't allow water to drain. If you're still uncertain, check out the Planning Portal page.
Once you have the tools, materials and planning permission (if needed), mark out the space you'll be paving with the string and pegs. Begin to dig out the area with a spade at a minimum depth of 150mm below the damp proof course of your house. If the area you're digging out is large, you can use a mini-excavator or a mini-digger to save time. You can hire one for around £200 a day or £300 for a weekend. To drain water away if your land is flat, dig a gradual slope (about a 1cm in every 60cm).
Edge restraints must go in before your paving blocks. This is to 'frame' the blocks and hold them all together. To make the foundations, mix one-part cement to six-parts ballast, this will make the foundations 100mm thick. Next, use the string to create a taut line fixed at the height the finished paving will be.
Mix concrete and place it 25mm under this line. You can then tap in the edging into place with a mallet. A spirit level can be used to make sure the edging is even. After the edging is fitted, you'll need to haunch it with concrete (pour concrete on the outside of the edging above halfway up the blocks).
You now need to make a layer of hardcore to support your paving, and it needs to be minimum 100mm. This can be done by placing the hardcore in a 75mm layer, flattening it with a compacting plate (hired for £20-£50 per day), then add another 75mm layer of hardcore.
Make sure you flatten the hardcore at least five times each time to ensure it's completely even. This will help support your driveway and stop and sinkage or sagging.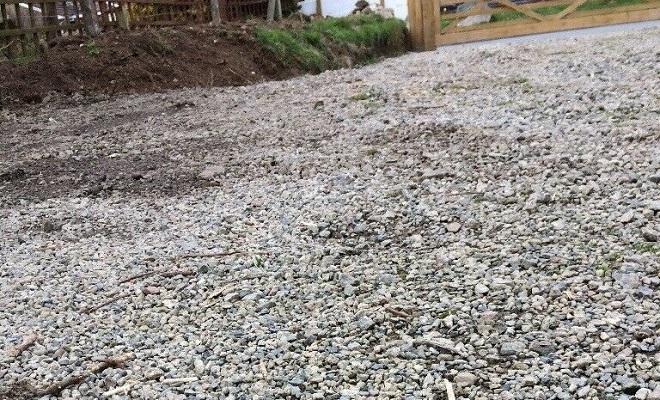 Now your hardcore has been put in; it's time to add sand. Sand is used as a filler, to fill the space between the hardcore and the finished paving string line. You'll need to apply a layer of damp sharp sand that's 50mm thick. To test is the sand is damp enough, use your hands to make a ball of sand, if the ball breaks up, the sand isn't wet enough. Once the sand has been applied, ensure you level it with a compactor.
It's time to lay your paving! Begin laying your chosen bricks from the bottom of the slope in a corner. If you're not able to start here, begin from a border or straight edge. Lay the bricks individually, ensuring they're level with the previous brick. The bricks should sit around 10-15mm above your final paving string line.
Once you've finished laying all your bricks, grab a brush and the kiln dried sand. Once you've finished laying all your bricks, grab a brush and the kiln-dried sand. Spread the sand on to the paving and brush it into the joins. Next, compact the paving and sand – redo this procedure till all the joins are filled.
Cost of Block Paving on an Existing Drive
You can lay block paving over an existing driveway, including concrete and tarmac. Before you start, check your current driveway is even, has no large crack, holes or chips in it. If it's in a bad state, it'll be best to dig it up and start afresh.
If you do decide to pave over an existing drive, be aware that your new drive will sit 76mm-80mm higher than your previous driveway. This could create problems in other areas (such as doors etc.), especially if the driveway connects to your home.
Paving over a concrete driveway can cause issues with drainage. You'll need to ensure that it's sloped first, so there's no flooding or puddling. Because concrete doesn't allow any movement, your new paved driveway may undulate and crack.
Paving over your current driveway will save you skips hire costs (around £65-£170) and labour cost for the removing your drive (can be between £150-£800). So, it will save you a chunk of money to pave over your existing driveway, but it may not last as long.
Will a New Block Paved Driveway Increase My House Value?
A block paved driveway amplifies the appearance of your home, and because of the variety of colours and materials you can choose from, it's a tailored addition to your home. It also creates safe, off-road parking, which is a substantial advantage to any property.
Adding a block paved driveway or updating an existing driveway to block paving is a cost-efficient and time productive way to add value to your home. It can increase your home value by 2%-10%. This depends on location, drive size and quality, and how well it matches your home and surrounding area.
Preventing Block Paving Sinkage
The biggest problems with any driveways are caused by poorly prepared sub-bases, this is the area where cowboy builders cut corners and save money, just putting down a thin layer of hardcore covered with sand.
This will result in the paving surfaces sinking in high use areas under the weight of your car, plus the blocks can move laterally opening up gaps which will allow unsightly weed and moss growth as airborne seeds settle into the sand.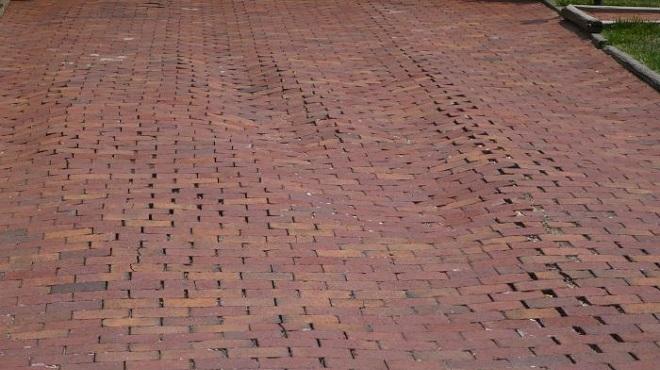 There are many thousands of people around the UK who thought they were getting a bargain driveway, which certainly looked good when the job was finished, and the cash was handed over - only to be left with an unsightly, uneven, overgrown mess just a few months later! You will pay more for a reputable professional builder, but it will be worth it as the job will last.
SuDS and Permeable Paving
SuDS (which stands for sustainable drainage system) is an organic method of draining. It helps to avoid water pollution and flooding in built-up areas. They work by keeping back any water that runs off from an area and lets a natural process to break down pollutants.
Advantages of SuDS
Decreases danger of flooding by slowing surface water
Averts water pollution
Lessens hazard of sewer flooding throughout heavy rain
Offers beneficial habitats for wildlife in built-up regions
Regenerates the groundwater to help stop droughts
SuDS Methods
Permeable surfaces
Green roofs (roofs covered with vegetation)
Infiltration trenches
Detention basins
Swales (shallow drainage ditches)
You can purchase SuDS compliant paving that directs water to a SuDS (sustainable drainage system). This means water will drain naturally back into the ground, rather than flooding on impermeable material and polluting the water with it. You can expect to pay £30-£60m2 for permeable, SuDS compliant paving.
The Durability of Block Paving
Block paving is very durable, and many retailers have guarantees of 9-21 years, but if maintained properly, can last up to 25 years. Most block paving is resilient to oils, frost and chemicals and won't stain your driveway.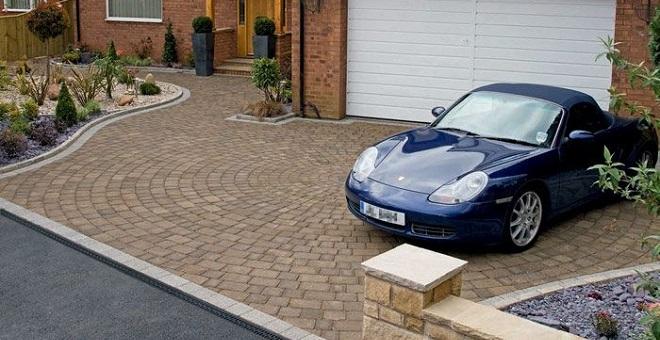 There are differences between clay, concrete and natural stone bricks that can affect durability. Clay and natural stone bricks won't fade, but concrete brick will eventually fade in colour if they're not treated. Oil can sometimes stain concrete paving too if it's not cleaned immediately.
Repairing Block Paving Costs
Over time, or if the paving hasn't been laid correctly, it may become uneven. This problem can be easily repaired without any major labour needed. You'll need to lift and relay the uneven area of bricks. You can DIY or hire a labourer for around £150-£200 per day. Depending on how big the area is that needs relaying, it'll take around 1-2 days to complete.
To restore the paving, firstly you to decide which areas need to be lifted and re-laid. For more accurate guidance, use a spirit level. Place the spirit level on the paving, and look beneath it (using its straight line) to establish which blocks are uneven then mark out the area with chalk. Next, you need to lift out the blocks within this area. To do this, you'll need to remove the sand between the blocks to loosen them.
There's a specialist paver lifting tool available to do this, but they're pricey (around £50-£100), but there are cheaper methods to do this. You can use a stone saw to cut along the joints or a strong leaf blower to remove the sand. For any difficult bricks, you may have to use a club hammer and chisel to break them apart.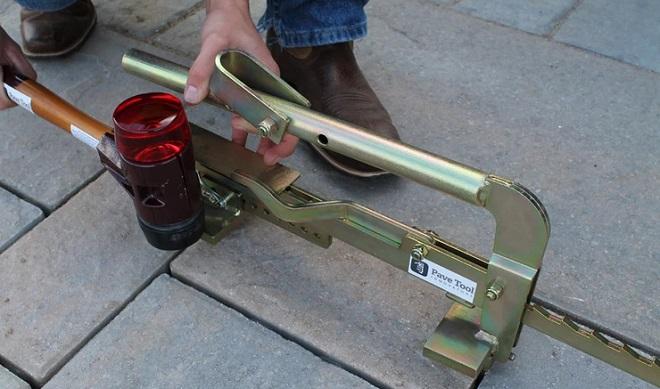 After you've removed all the bricks, before starting the re-lay, you'll need to clean them individually. Use a small, firm brush and remove any excess sand. This will help with the re-lay process, as it'll keep them tight together and ensure they fit back in place.
Now you'll need to check the sub-base and sand layers. Make sure there's a hardcore layer of at least 50mm. If there isn't, you may have to lift the entire driveway and start again. If your hardcore level if fine, just add sharp sand into the area to higher the bricks to the correct level.
Once you're happy that the sand is even, you can start re-laying the bricks. Use a small rubber mallet to tap the paving back into place. Then, you'll need to go over the newly re-laid area with a compactor at least three times.
Lastly, you need to reapply kiln-dried sand to the joints with a broom. Sweep any excess sand away, then use the compactor again over the area.
Block Paving Maintenance and Cleaning
Regular cleaning and maintenance will help your block paving last longer, keep its colour (only concrete fades), and stop staining.
An annual clean in the spring months is recommended. Here's what to do:
Use a strong detergent, a broom and warm water to wash and scrub the paving. This will get rid of any grim that's appeared
A power washer can be used on a medium pressure at a 30° angle
Use a weed preventer in the paving joints to stop weeds sprouting
Ensure to rinse any cleaning products away thoroughly
If you have a specific stain you need removing, it depends on what type of stain it is regarding what method you use:
Oil and Grease Stains
Try to remove oil and grease stains as quickly as possible, as they can become a pain to get rid of
Use an absorptive material like a cloth or paper towels
Don't rub, rather try to soak the stain up. Rubbing can cause the stain to spread and get deeper into the paving
If the stain still remains, use a strong detergent and scrub away with warm water
You can also try an emulsifying degreaser
Mortar and Cement Stains
You can purchase mortar remover for any light stain that have dried on your paving
You can also scrap it off gently with warm, soapy water
Lichen, Algae and Moss Stains
Scrub off any dense plants and throw them away
Use a weed or moss killer; make sure to follow the manufactures instructions
May have to repeat these steps several times for it to work completely
Paint Stains
Freshly spilt paint should be cleaned up by using an absorptive cloth, don't wipe up as this could spread the stain
Wash with warm water and detergent
Dried paint should be scraped off, followed by a paint remover
Rust Stains
First, find what the source of the stain is and treat it
Wet the stained area
Use a 10% hydrochloric acid solution on the stain
If you have concrete paving, follow the manufacturer's instructions precisely as hydrochloric acid can eat away at it
Tyre Marks and Scuffs
Tyre marks will disappear over time, but if they're persistent, scrub down with hot water and a strong detergent
A power washer will also remove tyre marks and scuff easily
For maintenance, re-sand or re-point any joints when needed, this may need doing soon after the paving is laid as the sand will be porous. It's recommended that you seal your pavement with a sealer to prevent weeds growing through the joints, harden the sand, protect from harsh weather and stains.
If you use an acrylic sealer, you'll need to reseal your paving every 2-3 years, if you use a water-based sealer, it'll need resealing every 3-5 years. For more information on cost of sealing click here.
Alternatives to Block Paving
If you've decided against block paving, here are a few alternatives for your driveway:
Resin Driveway Costs
Resin driveways have become popular in both commercial and domestic settings because it looks great and lasts forever. There are two types of resin: resin bound and resin bonded. Resin bound is permeable and bonded is impermeable. There's a variety of colours available that'll match every home. Fitting a resin drive isn't expensive and costs around £35-£60 per m². For more information on resin driveway cost, click here.
Concrete Driveway Costs
Concrete driveways are very low maintenance, extremely hardwearing and relatively cheap, costing on average £1,800. Concrete can be stained in an assortment of colours, giving you a better choice. The only downside of concrete driveways is that they stain easily and are prone to cracking.
Gravel Driveway Costs
Gravel driveways have grown in popularity because their cheap, simple and look good. They're the fastest and most straightforward driveways to install and can be used immediately after fitting. There are a variety of stone types and colours to select from and is a very versatile material. Gravel driveway costs between £20-£50 per m², but are high-maintenance to keep tidy.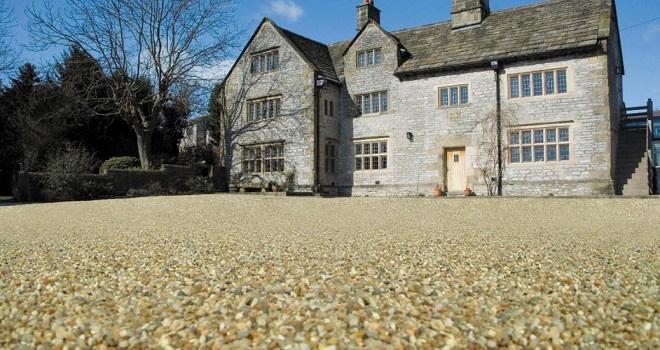 Tarmac/Asphalt Driveway Costs
Asphalt drives are frequently recognised as tarmac driveways and are a very popular. They're cheap at around £40-£65 per m² and last at least 20 years, so very hardwearing. It won't crack in harsh weather and has a sleek and professional finish.
When you've had your drive updated, you may want to purchase a new driveway gate as well. Gates are great for added security as-well-as finishing of the exterior's appearance. There's a variety of materials to choose from, including:
Wood
uPVC
Aluminium
Steel
Iron
They can cost as little as £150 and as much as £5,000, all depending on style, size and automation. Check out the cost of installing electric gates here. Gate piers can also be added to the front of your drive, so you can hang your gate. You can buy these pre-made or get them tailor-made depending on what style you want, and what your budget is (cost about £500-£2,000).
You may also want to add a driveway or garden wall. Depending on what bricks you choose and how long the wall is, it'll cost between £800-£1,300 to build and install a wall from scratch. It should take no longer than 2-4 days to complete.
Cost of Removing Block Paving
You may want to remove your driveway entirely if it's outdated and you want a new one laid or if it's been laid incorrectly and needs relaying. To dig up the complete driveway will take between 1-2 days, and a labourer will charge £150-£200 per day.
If you need to hire a skip to get rid of waste, you can expect to pay the prices below:
| SKIP SIZE | AVG. PRICE |
| --- | --- |
| 2-3 yards | £65 |
| 4-5 yards | £90 |
| 6 yards | £115 |
| 8 yards | £135 |
| 10 yards | £170 |
Choosing the Right Driveway Specialist
It's very important to use a good paving expert to lay your block paving correctly. If it's not done properly, it can sink and become uneven, and you can end up wasting money by having to get it re-laid.
In order to find the right paving expert, here are a few tips:
Check for experience as-well-as qualifications and certification
Enquire how they're going to complete the task
If you don't feel comfortable with them, don't hire them
Ensure you get quotes to cover all costs, then agree on a payment plan
Ask if they're aware and up-to-date with any planning permissions (if required)
Make sure they offer follow-ups after the paving is complete
Using these suggestions will help you find the right paving expert, and you'll now know what to look for when meeting various labourers.
FAQs
Sources
https://www.paving.org/index.php/clay-or-concrete-block-paving/
https://www.vandersandengroup.co.uk/group/en-gb/bricks-are-durable-and-ecologically-responsible
https://www.marshalls.co.uk/gardens-and-driveways/blog/how-to-lay-block-paving
https://todayshomeowner.com/how-to-install-pavers-over-a-concrete-patio-without-mortar/
https://homeguides.sfgate.com/can-lay-paver-stones-across-old-patio-97230.html
https://www.paving.org/index.php/lift-and-relay-block-paving/
https://flexflooring.co.uk/driveway/driveway-options/