How Much is a Garage Door?
The cost to replace a garage door will depend on a number of factors including the size of the door being replaced, the style and materials of the door (timber, steel, aluminium, PVC, etc) and the complexity of the job.
What should be considered when fitting a new garage door?
The type of garage door will also determine the cost. You can choose from a range of single garage doors, including budget options such as up and over doors which start from £450. The most expensive choice is a round-the-corner garage door which costs up to £5150.
For double doors you can expect the price to increase, while bespoke garage doors cost considerably more than off-the-shelf models.
What else affects the cost of replacing a garage door?
The width and height of the door can play a role in the overall cost of the new garage door. A typical sized door needs to be replaced with custom-made doors which will be significantly more costly than off-the-shelf, standard sized doors.
Access to the site and work area will have an impact on the overall cost of the work; if your garage is full of items that impede work it will take longer for the job to be completed and, ultimately, cost you more in labour. Before the garage door is replaced you should make as much space as possible within your garage and working area.
The type of door you choose, as well as the quality and material will have a large influence over the cost of your garage door replacement. Standard-sized single-skinned steel doors are considerably cheaper than timber doors of the same size, or even bespoke doors.
Consider your budget and home aesthetic before committing to the work and get quotes from multiple source to ensure you're getting a good deal.
What about an electric garage door?
Most garage doors have the option of being electronically operated. This will add around £450 and £5150 to the cost.
Garage Door Replacement Prices
The below table sets out the cost of a single garage door replacement:
| Door Type | Average Cost |
| --- | --- |
| Up and over | £450 - £2650 |
| Roller | £650 - £1650 |
| Sectional | £850 - £3150 |
| Side hinged | £950 - £3150 |
| Round the corner | £1650 - £5150 |
Supply Costs
Want to replace a garage door yourself?
DIY garage door replacement will save you a significant amount on labour, however, you will also need to consider the following garage door supply costs:
| Door Type | Cost of Purchase |
| --- | --- |
| Up and over | £300 - £2500 |
| Roller | £500 - £1500 |
| Sectional | £700 - £3000 |
| Side hinged | £800 - £3000 |
| Round the corner | £1500 - £5000 |
For an electric garage door, you will need to buy additional components, which will cost an additional £150 - £1000.
Cost Breakdown Calculator
The average cost of having a side-hinged garage door replaced – Total cost: £950
Labour Costs and Time Frames
Now, let's explore garage door replacement labour costs and how long the job takes.
Due to the nature of the work and the size of the items, it's likely your door will be installed by a team of two garage door contractors, with a rate of between £150 a day each.
What about timeframes?
Typically speaking you can expect your garage door installation to take between 3 – 6 hours. However, electric and specialist doors usually take longer to install than traditional or manual doors.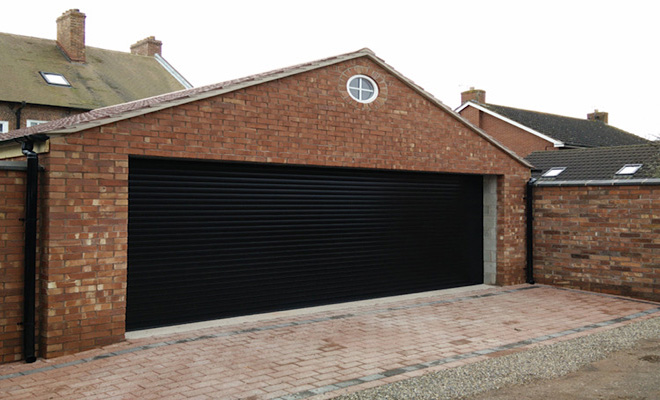 What Does Replacing a Garage Door Entail?
Replacing a garage door is not an easy task, as it is physically demanding and requires precision when being installed.
In most cases it is best to seek the help of a professional with adequate training to minimise risk to yourself and your property. It will also offer peace of mind that the door has been installed correctly and safely.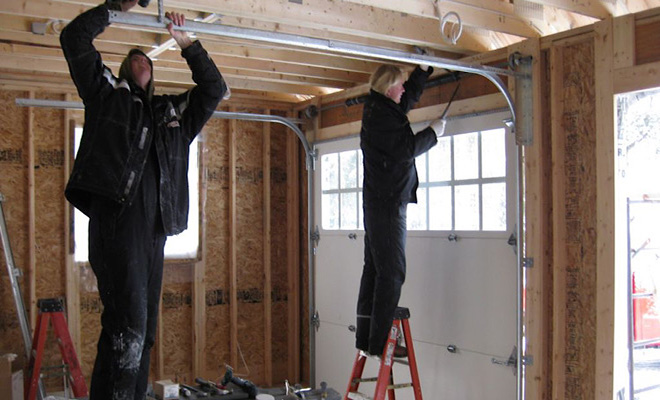 To help you understand the process of replacing a garage door, take a look at the following guide:
Disconnect the Garage Door Openers, Springs and Cables
The first step involves replacing a garage door by disconnecting anything the door itself is attached to. Door openers should be detached first as otherwise the door may be locked into position or could cause damage to the unit if moved.
Next, the springs will be disconnected carefully to avoid accidents.
Finally, the connecting cable can be cut. The door is now, effectively, free standing.
Removing the Door
The door should be carefully lowered into the closed position before any attempt to manoeuvre it away from the frame takes place. As the door is no longer connected it will be at its true weight. So, only capable and competent persons should attempt to move the door to avoid injury and accidents.
Once the door is in the lowered position it can be removed from its location. If it is an up and over door this will involve lifting the door in its entirety from the doorway. Roller and sectional doors can be removed slat by slat.
Removing and Replacing the Frame
Roller and sectional doors do not require a door frame to operate, however, other doors do. If your current frame is in good enough condition and is of good quality its possible to reuse the existing one.
Existing frames should be checked to ensure there is no structural damage and that they are still in the correct positioning. Even if your current frame is in good condition you may opt to replace your existing one anyway to match your new door.
Installing the New Door
Before the door is inserted the necessary hinges and springs need to be attached. The door will then be positioned on the frame (or attached to the rollers) and connected.
Your garage door contractor will then make any necessary adjustments to the tension within the springs and connect it to any electronic operating mechanisms and ensure everything is working smoothly.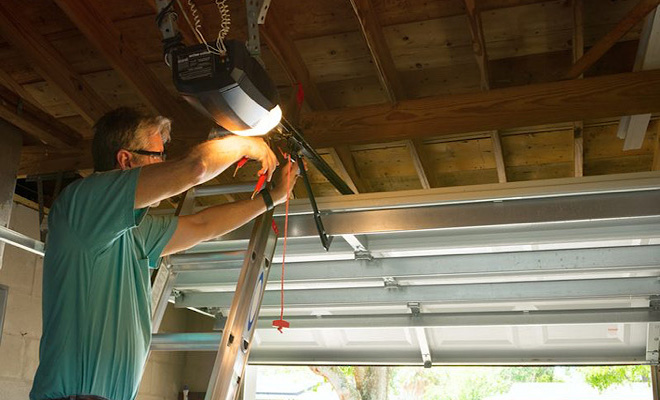 Additional Costs
There are some additional jobs that you may to include in your garage door replacement quote, including:
Building a New Garage
Building a new garage can be costly, with prices estimated between £10,000 - £30,000 depending on the size of the garage space and amenities, covering work from foundations to electrics to plastering and door installation, but does offer the opportunity to design your garage to match your desired functionality exactly.
If you're considering adding a garage to your property it may also be worth considering a double-storey extension to optimise space in your property, as large expenses such as roofing costs will already be part of your existing budget, or even utilising some of the additional space gained by adding an additional bathroom to your home.
Relocating a Garage Door
If relocating a garage door to make room in your garage, then you will need to carefully remove the old door, close up the space and create a new opening.
This job usually involves the help of a contractor who will complete the task at a reasonable cost of roughly £1000 for materials and labour. This includes excavation of the new garage door site.
Keep in mind you will need a new frame for the door, which cost in the region of £100 or more. You will also need to factor in labour cost of roughly £150 a day for a professional garage door installation.
Converting an Existing Room into a Garage
It is also possible to convert a living space into a garage. For example, if there is little parking available near your home, you will need somewhere to walk. However, be aware of possible negative equity!, as eliminating 'living' space within your home may decrease your property value.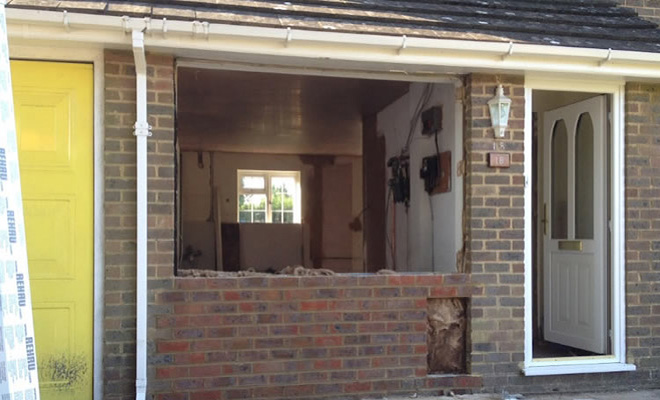 You can expect this work to be completed in the region of £2500 including labour and materials, though it may be more if items like radiators and lighting need to be relocated.
Door Handles Cost
Whilst most doors will come with a handle pre-installed, you may wish to choose a different one to match your exterior.
Handles can be purchased from as little as £12 each.
Operator Motor Costs
Operator motors are essential if you want your garage door to be electronically activated.
Starter kits can be purchased from £150 - £1000 depending on the quality and functions.
However, you should consider hiring a professional to install an operator motor for you to ensure it is safe and secure.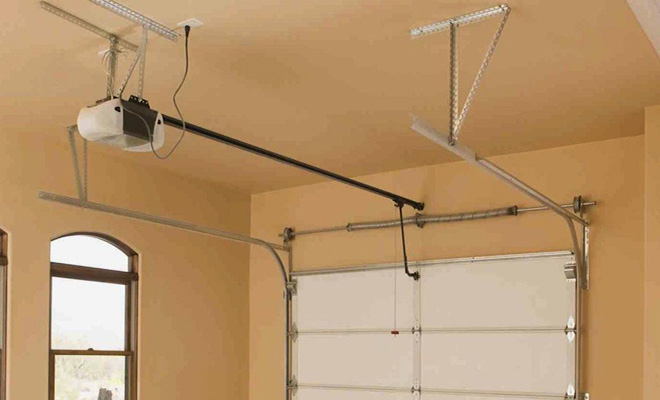 Key Fobs Costs
Whilst your garage door operator will come with key fobs, you may find yourself in need of additional copies; particularly if multiple people need access to the garage space.
Universal fobs can be purchased from as little as £3, but you will need to check with your motor manufacturer for compatibility.
Safety Sensors Cost
Safety sensors can be installed on your garage door to ensure that there are no obstructions beneath the door during closing. If the sensors detect an obstruction they will automatically reverse the door and stop it from closing.
Safety sensors are particularly sought after by parents of young children and pet owners.
Sensors can cost as little as £65 and will help prevent damage to your property and loved ones.
Keypad Entry Cost
Keypaid entry is typical in settings where multiple people need access to the garage space where remote operating is not practical.
Keypad prices begin at roughly £60.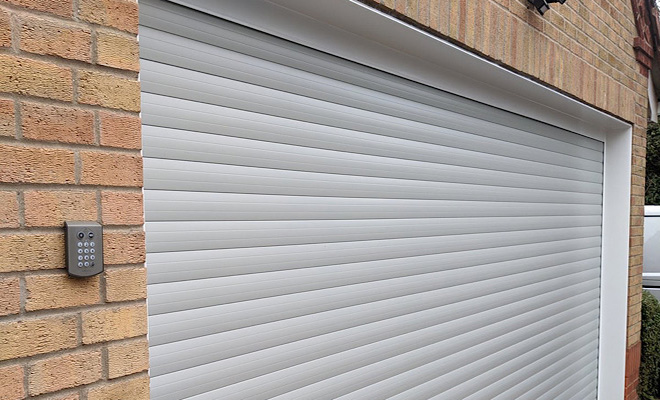 Security Lights Cost
Security lights can be a good addition to garages where street lighting is poor to help you guide your car into your garage or if you are working outdoors during the darker hours.
Some security lights are motion activated as well so can act as a deterrent to trespassers, adding to your home security.
Security light costs range between £15 - £80 each on average.
Door Seals Cost
Door seals are a necessary purchase for weatherproofing your garage.
Door seals can cost as little as £30 for 2m and help to prevent against heat loss and damp.
Benefits of Replacing a Garage Door
There are a wide range of benefits to replacing your old garage doors, such as:
Security
Replacing garage doors can offer your property increased security, with key locks, deadbolts and alarm systems all available to be connected to your garage door.
Kerb Appeal and Aesthetic
In many cases garages are located to the front of the home, and so, are on display. By replacing or upgrading your garage doors you can increase the kerb appeal of your home by matching the doors with your home aesthetic.
Convenience
Upgrading your garage door offers significant convenience. Roller and sectional doors take less invasive space to operate than traditional canopy up and over doors, allowing more space on driveways, and electric doors offer the convenience of remote operation.
Weatherproofing
Garages are not just used for cars; they are often utilised as additional home storage or converted into home studios and gyms, and as such should be weatherproofed accordingly.
By ensuring your garage door is a good fit, and with the option of insulated garage doors in some cases, you can benefit from a warm living space without the fear of damp causing issues to your home and posessions.
Increased Property Value
All of the above factors can play a role in increasing property value and offer peace of mind to prospective property buyers.
What Garage Door Should I Buy?
With so many options available on the market you should consider your garage space, access and functionality when choosing a new garage door.
Here are some of the most popular garage doors:
Up and Over Garage Doors
Up and over garage doors are one of the most popular options on the market. The solid door can be made of a number of material and come in a canopy or retractable style that usually overlap the driveway with a third of its length when open.
Up and over doors are quick to install and easy to maintain and are generally the cheapest option on the market, with prices ranging from £300 to £2500.
They are available to purchase in a variety of sizes to suit most homes and have few mechanical failings.
The only problem?
The main disadvantage of up-and-over garage doors is that they take up a lot of space and typically overlap the connecting driveway which can limit external parking space.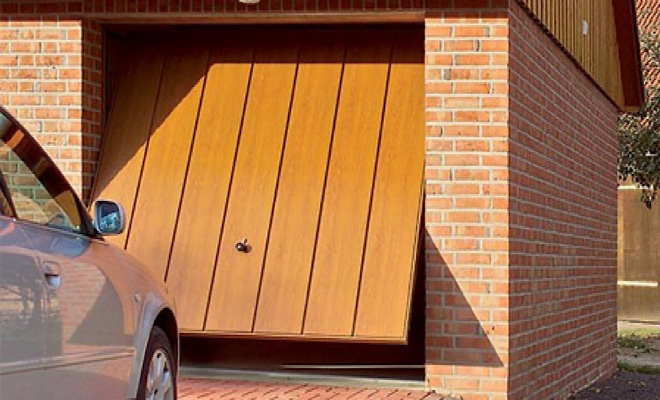 Sectional, Rollers, and Round the Corner Garage Doors
Rather than a solid door, these styles consist of a number of connected slats that take up minimal room when opened and do not invade the driveway space.
Sectional doors sit similarly to up-and-over doors when open and cost around £700 to £3000.
Roller garage doors are compacted towards the roof of the garage in a roll and round the corner doors run on tracks along the inside of the garage space. Rollers tend to cost around £500 to £1500
Roller and sectional doors are perfect for space saving, while also offering ceiling space for lighting and storage.
Round the corner doors offer unimpeded ceiling space but do require some space around the walls of the garage when they are open. You should expect to pay around £1500 - £5000 for a round-the-corner garage door.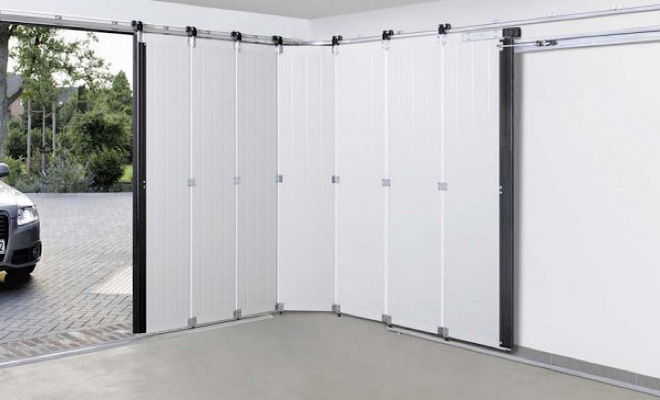 Because these doors consist of individual panels it means that repairs can be undertaken on affected areas without having to replace the whole door. The main disadvantage of these doors is that they can be costly, particularly if your garage door is an irregular shape or size.
Side Hinged Garage Doors
Effectively double doors, side-hinged garage doors are latched to the sides of the frame and open from the middle outwards. Also available as an insulated model to keep the garage space warm.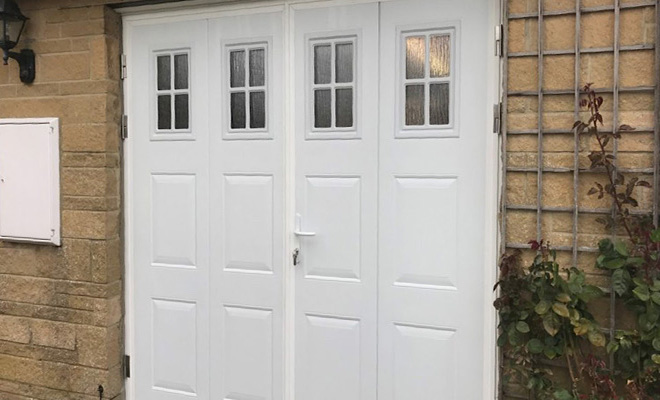 Side hinged doors offer a traditional aesthetic and are popular due to the array of materials they are available in, as well as the option of insulated doors – meaning they are perfect for garages that also function as a living space, such as an office or home gym.
Side hinged doors start in the region of £800, but can cost up to £3000.
Any downsides?
The main disadvantages of side hinged doors include their limited width, with a maximum of 9 foot, and are considered less secure than roller or sectional doors.
Electric Garage Doors
Electrically operated garage doors are popular for a number of reasons.
First of all, they are convenient to use, with many electric doors coming with a choice of remote control, keypads or push buttons, as well as some models being able to operate via mobile phone applications. This means that the garage can be opened without having to leave the car in many cases when parking.
Electric garage doors are also easy to use and do not require physical interaction, making them a good option for those unable able to open them manually.
They are also considered more secure than manually operated garage doors as they cannot be opened without access to the locking operator.
You should expect to pay an extra £150 - £1000 for an electric garage door, depending on the system and technical specifications you have chosen.
Keep in mind...
All electronically operated garage doors should conform to European Safety standard BS EN 13241.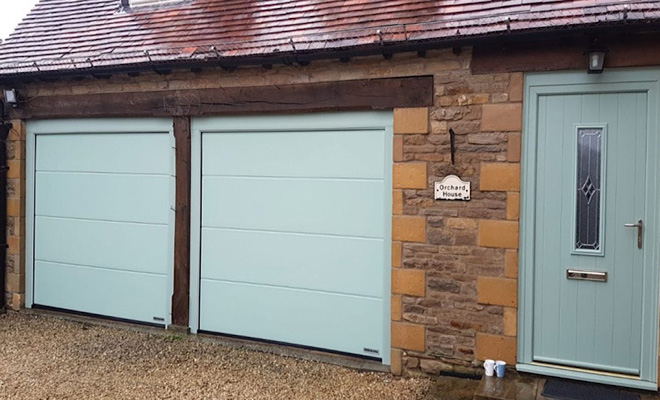 Garage Door Materials
Garage doors are made from a wide range of materials, including:
Timber
A solid timber door is appealing for traditional homes.
They can be painted or stained, but they do require regular maintenance as without it they can be prone to rotting and warping.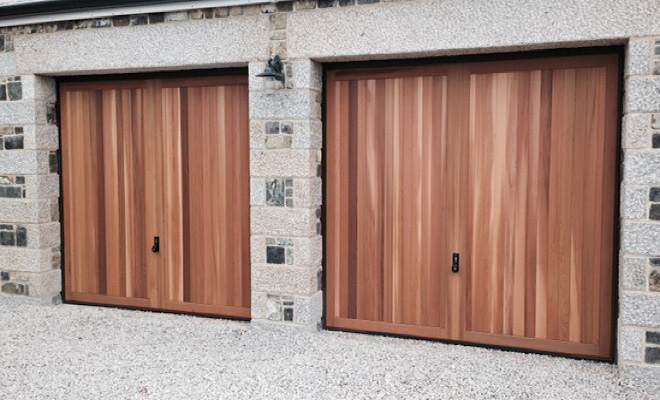 Steel
The most popular choice for garage doors is steel, as this material is low maintenance, durable and affordable.
Steel doors can be painted according to your taste and can be finished with a wood-like texture.
Fibreglass
Fibreglass doors, sometimes known as GRP (glass reinforced plastic) doors, are lightweight and can be painted to match your home aesthetic.
Fibreglass is a poor insulator but is good for coastal locations due to its salt-water resistance.
Vinyl
Typically insulated with polyurethane insulation, vinyl doors are durable and less prone to breakage and denting upon impact than thinner steel or aluminium doors.
They are similar in appearance to fibreglass doors but are generally available in a smaller range of colours on the market.
Composite
Offering similar strength to steel but with the aesthetic of wood, composite doors are widely available on the market and can be decorated according to your needs.
Composite doors are less prone to rotting than wooden doors and offer good insulation due to the mixed materials used in construction.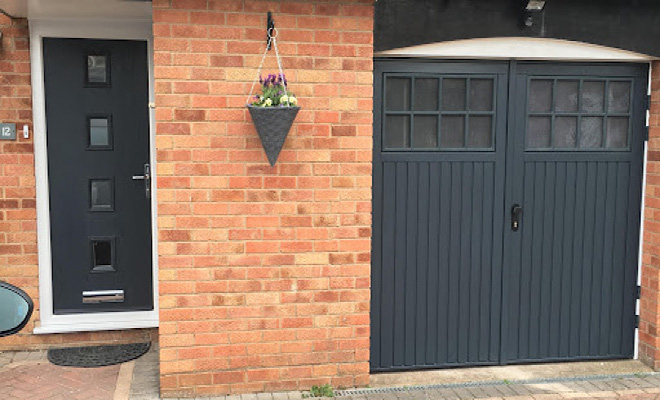 Aluminium
Lighter than steel and less expensive, aluminium doors are known for maintaining a long-lasting finish, but are less durable than steel.
Insulated Garage Door Costs
Insulated garage doors are increasingly popular choices, particularly where garage spaces are being used as multifunction rooms.
Typically speaking, sectional, roller and side-hinged are popular garage door choices as they can be purchased with inbuilt insulation between the door skins, as well as seals (usually made of rubber) to close the remaining gaps between the door and the frame.
Insulation plays an important role in helping to retain heat and lower your home energy bills. Properly insulating your garage also means the area is less prone to damp and the damage that comes along with it to both your property and your belongings.
On average, you can expect an insulated garage door to cost nearly double the price of its non-insulated counterpart. As an example, a single-skin, single-width uninsulated roller garage door can be purchased for around £500, whereas the comparable double-skin, single-width insulated version will cost roughly £950 to purchase.
Can I Replace a Garage Door Myself?
Replacing a garage door yourself is possible, however it is not advised.
Garage doors are equipped with multiple moving parts and mechanisms that can be hazardous to work with, such as tension springs and rails.
Professional garage door contractors undergo specific training which allows them to safely instal a garage door whilst minimising risk.
This is particularly important as garage doors are balanced when properly in place and the removing aspects of the door mechanisms alters this – which could lead to a serious, or even deadly, accident if improperly managed.
Garage doors are inherently large, bulky items which can weigh more than they appear and should only be handled by those physically able to manoeuvre them safely and with adequate knowledge to do so.
Even though you may be able to remove a garage door yourself, it is not a job to take lightly and should be left to the professionals.
Are you an experienced DIY enthusiast?
If you have a fair amount of DIY experience, you may wish to purchase a garage door opener kit, which can cost as little £150 for a ceiling mounted belt drive, transmitters and wall-mounted push button. However, you should make sure that they are suitable for your door weight, size and type before you buy.
Garage Door Maintenance
Maintenance is an important part of homeownership and garage doors are no exception to this. A properly maintained garage door ensures proper functionality and safety of use, as well as visual appeal.
Here are some examples of garage door maintenance you might encounter:
Noisy Garage Doors
You may find that your garage door is noisier than expected whilst in operation. This could be because some of the nuts and hinges have loosened or your railings are in need of lubrication. Check for obvious loose nuts and bolts and tighten where appropriate.
You can clean the tracks of the door with a damp cloth to remove debris that may be causing issues, but if lubrication is needed, specific garage door lubricants (lithium-based grease) can be purchased from around £10 for 500ml. Do not use oil to lubricate your doors.
Garage Doors Are Not Opening
You might find that your garage doors are no longer responding to remote control activation. This could be down to just needing a change of batteries in your controls. New batteries can cost as little as £1 each, though if the problem persists you may need to hire a professional to check for underlying issues.
Garage Doors Are Looking Worn
Garage doors may require decorative maintenance to ensure they are as visually appealing as possible. Depending on the material of the door, paints can cost as little as £18 per litre and will give worn doors an instant face-lift.
In metal garage doors you should check for rust spots and address them properly by sanding, priming and repainting to make sure the damage doesn't spread.
Door Balance
In some cases your garage door may become imbalanced and the springs may need to be replaced in order for your door to function properly. Garage door springs can be purchased starting from around £35 each.
It's recommended that both sides are replaced at the same time, but you should also hire a professional to install them.
Garage Door Repair Costs
Despite adequate maintenance sometimes it is necessary to repair aspects of a garage door that are no longer working correctly.
Here's some common garage door repairs:
Replacement Roller Door Straps
Due to the integrated safety features of roller doors, it is not uncommon for the straps to snap and cease functioning.
Replacement straps can cost between £15 - £40 and can be replaced by a competent person with the relevant skills and knowhow.
Manual Locks
In some cases it's necessary to replace broken garage doors locks. A basic, manual locking system can cost as little as £5 and can be complete on a DIY basis.
A manual locking system can be fitted on a number of door types including up and over and roller doors.
Track Issues
If your door is opening unevenly you may find you have issues with your door tracks, which may have shifted due to loose-fitting bolts or the door itself may be misaligned.
It's important that misaligned tracks are rectified as they play an integral part in keeping your door secure and also pose a serious risk of injury, if not working properly.
New door tracks cost in the range of £15 to upwards of £100 depending on the type needed but are essential in the operation of your door.
Broken Door Springs
It's inevitable that the springs connected to a garage door will eventually break through wear and tear. How long it will take generally depends on the frequency of use and quality of materials.
You should hire a professional to install new springs for you due to the nature of the work, with materials starting at £70 for a new pair of tension springs.
Electrical Problems
If you have identified an issue with the electronic controls of your garage door you should try to assess where the issue is occurring. If wall-mounted button activation is working but the remote control isn't, then it's likely an issue with the batteries inside.
If neither are working you may find that the issue lies in the motor controlling the door movements, which should be addressed by a professional as an incorrectly serviced garage door can cause health and safety issues.
New motor kits can be purchased from as little as £150 for a budget set-up, with more complex or high-range motorisation costing up to £1000.
Garage door repair work can require specialist skills and knowledge to safely complete, and whilst the temptation may be there to repair the door yourself, if in any doubt you should hire a professional who is trained specifically to handle garage doors.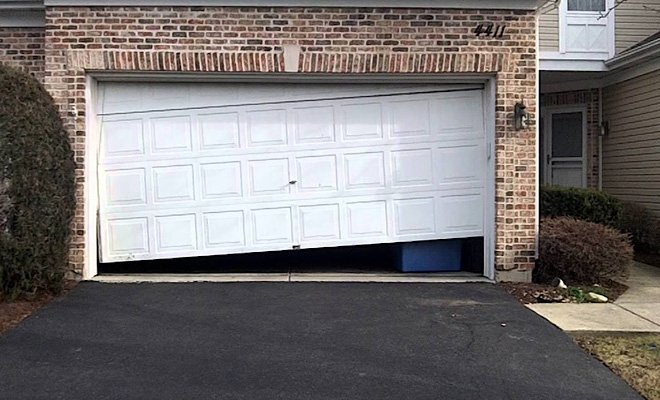 Garage door specialists typically charge between £150 - £250 a day for their time, and depending on the severity and complexity of the issue may take up to a day to identify and rectify any issues found.
Does my Garage Door Need Replacing?
Whilst the decision to replace a garage door is ultimately down to the homeowner, there are definite indicators that a garage door is past its prime and might need replacing.
For example...
Increased noise levels during operation are not only irritating, but can be an indicator that the door itself is not functioning correctly.
You may be able to rectify this for relatively cheap, with lager issues it may be more cost effective to replace the door as a whole rather than patching up issues.
fitted by a professional, will work to peak performance and will be covered by warranty should anything malfunction.
You may also want to change the type of garage door you have installed, from manual to electric or from one style to another to optimise your space or change the visual impact of your garage.
Similarly, technology is advancing and new security systems are available on the market; replacing your old, outdated locks with newer models can give peace of mind to homeowners that their property is secure and safe.
Cost of Removing a Garage Door
Sometimes it is necessary to remove a garage door, whether you're having it replaced with a different door or converting your garage into a living space. It's recommended that garage door removal be undertaken by a professional with the relevant experience and knowledge to do so safely.
Although each garage door is different, the removal process is similar.
To help you understand the process of removing a garage, here's a step by step guide:
Remove Electric Openers
If you have an electric garage door, the first thing that will need to be disconnected is the garage door opener, which would otherwise impede the removal. The garage door will need to be in a closed position whilst the operator is being disengaged, according to your manufacturer instructions.
Remove the Springs
Springs will then need to be disengaged. Depending on the type of door you have they will either be extension springs, located above the upper tracks on both sides of the door, or torsion springs which are attached directly above the door when closed.
Extension springs can be removed by a competent person by opening the garage door, securing it in place with pliers or locking clamps and loosening them.
Tension springs can be highly dangerous and incorrect release of them can cause serious injury – so it's advised that these are removed by a professional.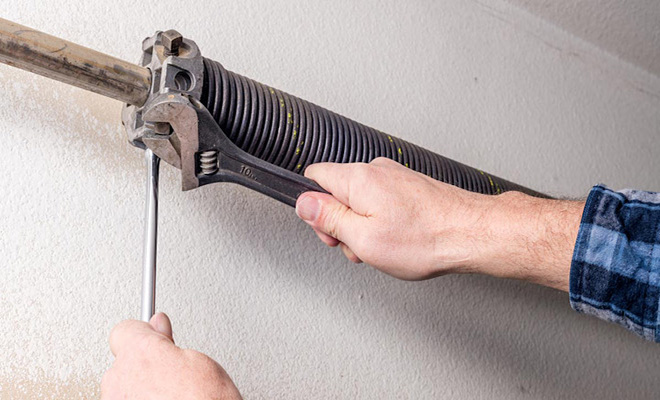 Remove the Cables
Once the springs have been loosened the door cables can be cut, and the pulley assemblies and springs removed.
Lower the Door
The clamps can now be removed and the door should be carefully lowered – Keep in mind that at this point the door is no longer connected to supports and the weight of the door will need to be manoeuvred carefully to avoid accidents or injuries.
Remove the Door
Once the door is in the lowered position it can be removed from the doorway.
Waste Removal
In most cases where a garage door is being replaced the company that is installing the new door will remove the existing door, usually free of charge or with the removal cost included in the quote. In the case that you are removing the door yourself, some recycling centres will accept garage doors – however, you may have difficulty getting it there.
It may be necessary to break the door down into smaller, more manageable pieces. Some local authorities will take unwanted garage doors from your property with an average cost of around £100.
FAQs
How to Find and Hire a Contractor to Replace a Garage Door
Seeking a reliable garage door professional to complete work for you can seem like a daunting and time-consuming task, but it's important that you get multiple quotes from various companies before committing to the work to ensure the best value for money and the best service.
If you have friends or family that have recently had their garage doors replaced ask them if they would recommend the company they used and if there were any issues – Alternatively, you can use our quote form to find tradespeople in your area and get comparable quotes online.
Sources
http://www.garagedoorsblog.co.uk/
https://www.thespruce.com/garages-4127947
https://www.self-build.co.uk/building-a-garage-planning-costs-and-design/
https://www.hse.gov.uk/work-equipment-machinery/powered-gates/safety.htm
https://dailyhomesafety.com/types-of-garage-doors/