How Much Are Velux Windows?
With so many choices of roof window available on the market, there is a roof window to suit every budget and need.
You can expect the cost of purchasing and installing a new roof window to cost in the region of £500 - £2,000 each including labour and materials, as well as waste management.
Most manufacturers offer roof windows starting from as little as £260 for a small, budget window suitable for a bathroom with no additional purchases such as flashings, electric operation, insulation collar or alternative glazing, to upwards of £1,600 per window.
Are extras included in these prices?
Extras are often included such as electronic opening systems, extra low energy glazing, recessed flashings and insulation collars and guttering.
How long will fitting take?
Most new roof windows can be installed within a day by a pair of trained professionals, at an additional cost of around £300 in labour for a Velux window installer, or more if you live in London or the surrounding areas.
If you are having multiple roof windows installed you may be able to negotiate a fixed price with your window installer, rather than paying at an hourly rate, which could save you money.
Velux Windows Prices
There are multiple options to consider when deciding on the perfect Velux or roof window for your property, including glass lamination options, window frame internal finish materials, mode of operation and suitable flashings.
For a cheap roof window, it is best to keep to the 'standard' options, as extras and alternatives come at an additional cost.
This table illustrates the cost difference between different window styles; it assumes a white painted interior finish and safety glass as standard, standard flashings as well as manual opening mechanisms unless otherwise stated.
| WINDOW TYPE | SIZE (CM) | COST |
| --- | --- | --- |
| Roof terrace | 158 / 238 x 245 | £5,500 – £8,300 |
| Electric top-hung | 66 / 114 – 118 / 140 | £1,425 – £1,740 |
| Balcony | 78 / 283 x 252 | £2,400 – £5,000 |
| Top hung | 55 / 134 x 98 / 140 | £800 – £1,250 |
| Centre pivot | 55 / 134 x 98 / 140 | £750 - £1,150 |
Many Velux and other brand roof windows come with an option for opening mechanisms, with manual being the standard, in addition to solar powered operation controls or electric depending on the window type and opening style.
| SIZE (IN CM) | OPENING | CONTROLS | GLAZING | COST |
| --- | --- | --- | --- | --- |
| 94 x 118 | Centre pivot | Manual | Safety (standard) | £810 |
| | | Electric | | £1,180 |
| | | Solar | | £1,230 |
Glazing choice will also influence the overall cost of your window purchase:
| SIZE (IN CM) | OPENING | CONTROLS | GLAZING | COST |
| --- | --- | --- | --- | --- |
| 94 x 118 | Centre pivot | Manual | Safety (standard) | £810 |
| | | | Standard plus | £930 |
| | | | Energy efficient | £1,010 |
| 94 x 118 | Top hung | Manual | Safety (standard) | £970 |
| | | | Standard plus | £1,070 |
| | | | Energy efficient | £1,170 |
Supply Costs
Below is a table offering an average Velux window price list according to size and type, minus labour for installation, to give you a rough idea of the sort of prices you can expect to pay towards materials for your new roof window.
There are many other sizes available, but the below table offers a range from smaller to larger windows to help indicate cost:
| WINDOW TYPE | SIZE (CM) | COST |
| --- | --- | --- |
| Roof terrace | 158 x 245 | Starting at £4,700 |
| | 238 x 245 | Starting at £7,400 |
| Electric top-hung | 66 x 118 | Starting at £940 |
| | 66 x 140 | Starting at £990 |
| | 114 x 118 | Starting at £1,150 |
| | 114 x 140 | Starting at £1,200 |
| Balcony | 78 x 252 | Starting at £2,100 |
| | 283 x 252 | Starting at £4,700 |
| Top hung | 55 x 98 | Starting at £500 |
| | 94 x 118 | Starting at £700 |
| | 134 x 140 | Starting at £950 |
| Centre pivot | 55 x 98 | Starting at £460 |
| | 94 x 118 | Starting at £ £620 |
| | 134 x 140 | Starting at £850 |
Additional Costs
There are a number of additional costs that you may incur when selecting or installing a Velux roof window or other-brand skylight that you should be aware of;
Re-plastering Cost
In some instances you may be required to re-plaster a small area once a window has been installed, particularly if it is a new installation where a hole has been added to your roof to accommodate the window.
The area needing treatment should be minimal as your window should be installed by a professional with plenty of experience.
This will cost around £150.
Scaffolding Hire Cost
In most instances your Velux window should be installed from inside the home, rather than outside, and shouldn't require scaffolding.
However, in some instances, where accessibility to the window location is an issue (such as in a loft that does not have adequate floor-boarding) you may require scaffolding for external access.
Some professional window fitters will have their own scaffolding that they can supply, or you may be required to rent some from an alternative source.
The overall cost of scaffolding will be affected by how much is needed and for what duration.
This will cost from £30 a week.
Flashings Cost
Flashings ensure that your window is water-tight and weatherproof once installed.
The price is typically not included with the cost of purchasing a window but they are an essential purchase, otherwise you run the risk of inviting damp into your home and will likely require repair work further down the line that will cost more than the flashings to begin with.
This will cost from £60.
Specialist Blinds Cost
Velux offers a wide range of blinds in various colour-schemes and thermal ratings to help you complete the aesthetic of your room; it the window is being installed in a room that frequently requires privacy, it's worth considering investing in good-quality blinds or shutters.
This will cost around £60.
Roof Maintenance Cost
When having windows installed in your roof, it may be worth examining whether any tiles need replacing, having moss removed from the roof or if gutter work is required, particularly if you are already required to rent scaffolding.
Keeping your roof in good condition is important as it helps to insulate your home effectively and reduces the risk of potential home problems such as damp..
This will cost from £100.
Cost Breakdown Calculator
The cost of installing a single Velux window in your roof where no previous window existed, measuring 66cm x 118cm, with electronic operation, flashings and painted white finish: £1100
Labour Costs and Time Frames
Typically, you can expect installation of a single, medium-sized roof window to take roughly 1 day for a pair of window fitting contractors to install, usually at a rate of £300 a day, or £150 each in labour costs and waste removal included.
For smaller windows, or window replacements where no alternations need to be made to the roof, you can expect less time to be taken for installation, usually around half a day.
There are a number of factors that can affect the time taken to install roof windows or skylights that you should be aware of; such as accessibility to the installation site, the size of the window and the type that is being installed.
Velux windows are usually installed from the inside of the property, though where accessibility is an issue they may require scaffolding for external access, which will usually incur an additional charge.
What Does Fitting Velux Windows Entail?
Velux brand roof windows are shipped with comprehensive installation instructions, designed so that a person with relevant know-how and skills should be able to complete the installation themselves – though this obviously isn't recommended if you are not confident in your ability to do so and it is recommended that windows are installed by a pair of workers due to the nature of the work.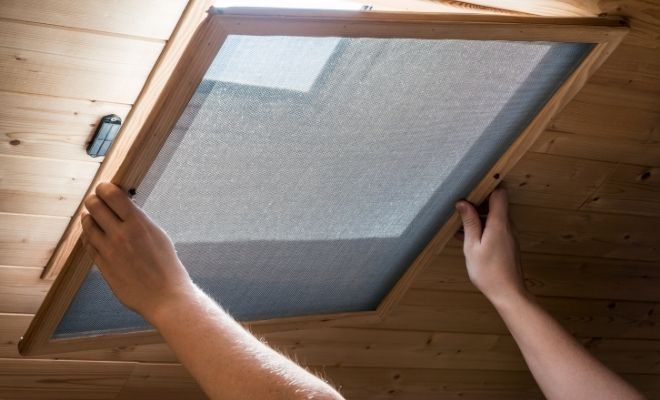 The below description is for a standard window without balcony area, which would require extra supports and additional planning permission.
Using a tape measure and pencil, the rafters will be marked to show the position of your new roof window
Starting in the centre of the markings, felting and battens will be removed to expose the roofing material above. The tiles will be removed until the opening is between 40-60mm wider than your window. Once complete, the window opening will be checked to ensure it is square.
The top and bottom window battens will be secured into place, using a spirit level to ensure they are even and flush.
The insulation collar is installed by clipping the frame together and slotting into place.
The window brackets will be screwed into the bracket holes, into the supporting rafter at the bottom of the frame to secure into place.
The sash will then be placed into the frame and checks will be made to ensure it is squarely in place.
The top bracket can now be secured into place.
Felt undercollars and guttering are fitted.
The tiles beneath the window are now installed and the flashings fit into place.
Tiles along the sides of your window are now reinstalled – though they may need to be cut down to size to accommodate the new window opening.
The sash can now be secured in place and attached to the frame.
Once the window is installed building control may need to assess the work carried out. For more information, contact your local authority.
Cost affecting factors of fitting Velux windows
As with most home improvement projects, there are a number of factors that can affect the overall costing of having work done.
Here are some examples of the type of factors that can affect the costings of fitting Velux or roof windows in your property:
The Size and Style of the Window(s)
Velux window costings are not a one-size fits-all situation, as there are many variables when choosing your window type and size that can affect the overall cost you can expect to pay, from operation options to the type of windowpane you require.
Larger, heavier windows will require more structural supports within your roof area than smaller windows, and larger windows will also require more work to install, including the removal of more materials – all of which costs time and, ultimately, money.
Number of Windows Being Installed or Replaced
The number of roof windows you are having installed or amended at your property will also have an effect on the overall cost; multiple windows will take longer to install than a single window, however, it may be cheaper to have multiple windows installed at once rather than over several visits as your tradesman may be able to offer a reduced labour rate relative to the increased workload.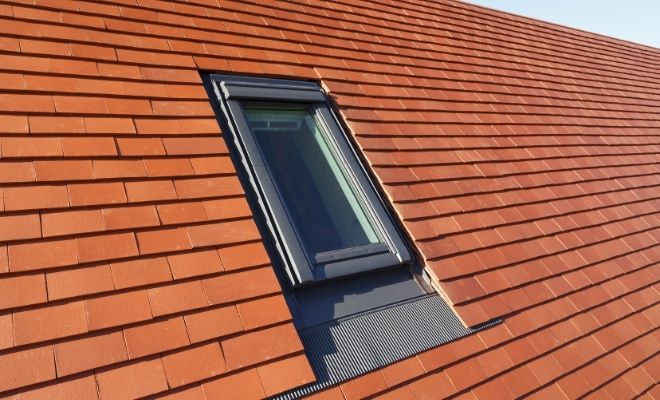 Location of Your Property and Access to the Installation Site
If you live further away from your window installation tradesman's site of operation, you may incur an additional cost to cover travel time and excess mileage to the property; you should discuss this with your installer when gathering quotes for the work to be undertaken.
Access to the window installation site can also play a role in the cost of installation; whilst most Velux and roof windows are installed internally, there may be occasions where access is not available, and scaffolding may be required for external installation.
Similarly, if the windows are able to be installed internally, you should make sure to clear as much space as possible around the site for the tradesmen before they arrive, otherwise you will end up paying for their time to remove items for access purposes.
If You Require Planning Permission
In the majority of cases adding Velux or roof windows to your property comes under permitted development and does not require planning permission.
In some cases, however, such as living in a listed building or conservation area, you will most likely need to apply for planning permission to modify your home.
If you're unsure about whether your home is listed or you require planning permission, it's advised that you contact your local building authority for confirmation and further information.
Building Regulations For Velux Windows
When installing a new roof window or skylight Building Regulations must be adhered to.
Approval will be needed for the installation of a new roof window for the following reasons:
For a new installation the roof structure will generally need to be altered to accommodate for the window.
The roof will have to be able to hold the weight the new rooflight, and / or may need strengthening in order to do this.
Any rooflight that is installed will need to be energy efficient and have the relevant proof.
The fire performance of the rooflight will need to be considered if it is in close proximity to a boundary.
The key points of consideration under Building Regulations (BS EN 14351-1:2010) are:
Energy Conservation
Homes are required to be energy efficient and new external doors and windows need to comply with the U-Value (thermal efficiency) guidelines and should not exceed the maximum U-Value stated.
Information regarding U-Values can be found in the Approved Document L-1B.
Structural Integrity
Adjustments will need to be made to the home roof structures in order to accommodate for a new window fitting.
Rafters or joists may need to be cut to allow for the window space and will need to be amended appropriately by introducing new supports known as trimmers.
You may also be required to strengthen adjoining rafters as they will also be impacted by the weight load of the new window instalment.
Weather Proofing
The rooflight will need to be weatherproofed once installed, usually involving flashings along the edges of the window frame to seal them correctly.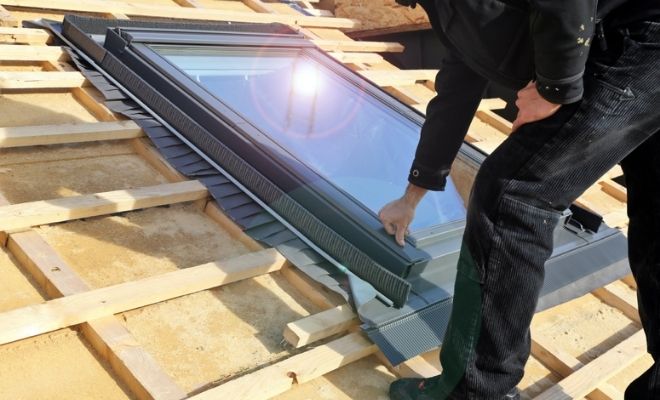 Ventilation
Ventilation is needed in a room with a rooflight. This can be achieved via the rooflight for both rapid and background venting, assuming it can be opened.
For further information regarding building regulations and modifications made to your roof, you can visit the Planning Portal here.
Building control costs will vary according to your local authority, with further information available here.
Planning permission For Velux Windows
Usually modifying an existing roof window or inserting a new roof window or skylight does not require planning permission as it is covered under permitted development rules. There are, however, rules that you will need to follow:
Any alteration to project no more than 150 millimetres from the existing roof plane.
No alteration to be higher than the highest part of the roof.
Any side-facing windows must be obscure glazed and non-opening unless the parts which can be opened are more than 1.7 metres above the floor of the room in which it is installed.
In the event that your proposed window modification is not covered under permitted development, planning permission must be obtained – the cost of which is in the region of £205.
DIY Fitting Velux Windows
Whilst Velux brand windows come with comprehensive installation instructions, it is generally not recommended that they are installed as a DIY project unless you are competent and confident in your ability to do so – Failing to correctly install a window can lead to multiple, costly issues in the future that could be avoided by ensuring the windows are installed by a trained professional.
If you do decide to undertake DIY installation, you will need the following materials: A tape measure, a spirit level, a pencil, an angle-grinder or tile cutter, a screwdriver, hammer, protective gloves and safety goggle.
It's important that safety procedures are followed for your own well-being and to ensure no damage is caused to yourself or your property during the installation process.
If you do decide to install your roof window yourself, you can expect to save around £300 as you will not be paying for labour costs – Again though, this should only be completed by a competent person and if you are unsure or suspect you are unable to complete any part of the installation process yourself it is recommended that you hire a professional to complete the work.
Once the work is complete you will still need it to be signed off by a professional to state that the work has been carried out in an adequate manner and is in line with building regulations.
Choosing Skylights
There are numerous types of skylight window options available on the market today, each with its own distinct style to suit various situations and builds. Below is a list of common skylight and roof window options:
Roof Terrace Window Cost
A roof terrace window utilises outdoor space by offering floor to ceiling windows that can open to allow access to outdoor spaces.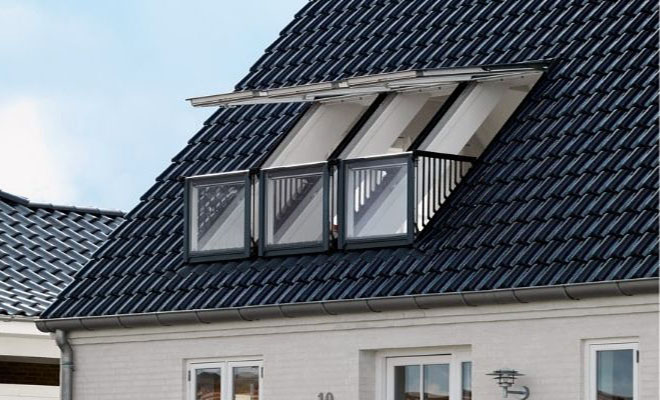 Most roof terrace windows are suitable for a roof pitch of between 35⁰ – 53⁰, with the upper window portion being top hung and the lower portion hinged at the sides for accessibility.
Costs start from £4,700 for materials.
Pros
✔ Offer access to outdoor spaces
✔ Good ventilation
Cons
✖ Expensive to install and may require planning permission
✖ Limited roof pitch suitability
Balcony Window Cost
Balcony roof windows offer a two-part opening system with integrated balcony area, rather than reliant on an existing outdoor access.
The upper portion of the window is top hung to allow for headspace clearance and the lower half pivots outwards.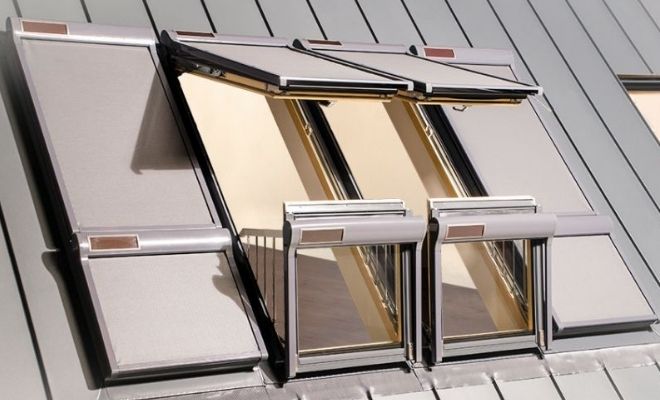 Designed for roof pitches between 35⁰ – 53⁰ in most cases, Velux balcony windows start at around £2,100 for a single window to around £4,700 for a wider opening window and adjoining, none-balcony window.
Pros
✔ Offer good ventilation
✔ Cheaper than roof terrace windows
✔ Allow access to external space
Cons
✖ Not suitable for a wide range of roof pitches
Centre Pivot Window Cost
Centre pivot roof windows are one of the more popular choices, allowing light and ventilation into your space with accessible windows that can be adjusted according to your needs.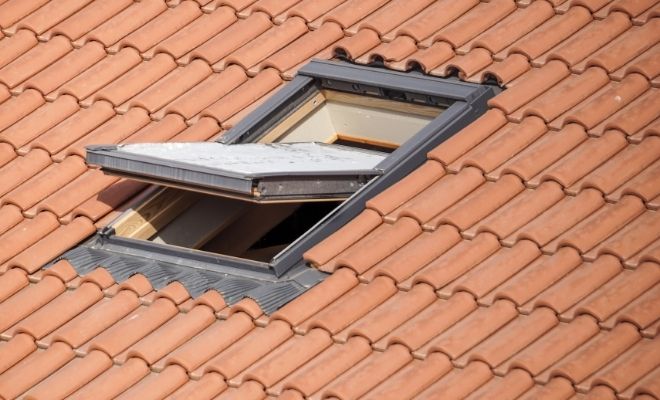 Centre pivot windows generally offer the most flexibility in terms of operation, with most window sizes offering a choice of manual opening, electric or solar powered. Prices for centre pivot windows typically start at £750 for a basic model.
Pros
✔ Most budget friendly option
✔ Available across a wide range of window sizes
✔ Easier access to external pane for cleaning than top hung windows
Cons
Top-Hung Window Cost
Top hung windows offer better visibility to your external spaces compared to standard centre pivot windows.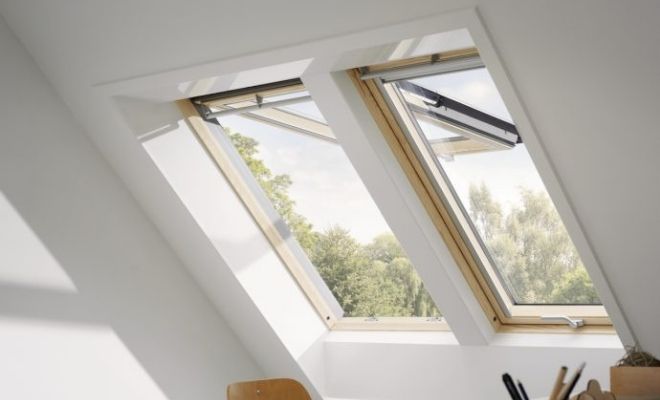 They are well suited as loft windows or for use in home extensions where natural light is required without compromising on views.
Top hung windows start in prices from around £500 depending on the size required.
Pros
✔ Allows unobscured external views
✔ Wide range of sizes available
Cons
✖ Not widely compatible with electric or solar power operation
Electric and Solar Powered Roof Window Cost
Electric and solar powered roof windows are a great choice for roof spaces where manual accessibility may be an issue.
Velux and other roof window manufacturers offer a variety of window types and sizes that are compatible with these operation choices.
Pros
✔ Useful for windows located at a higher elevation
✔ Offer flexibility in remote operation
Cons
✖ Not widely available across top hung window models
Choosing Glazing
Velux offer a wide range of windowpane types, so consider the positioning of your window and what how the space is going to be utilised whilst making a decision on the type of glass you want.
Safety Glazing Cost
Safety glazing is the standard option for Velux brand windows, offering peace of mind that in the event of a breakage, the glass will not fall into the room below as there is a laminated inner pane. This option has a U-value of 1.3 W/m2K.
Standard Plus Glazing Cost
Similar to the safety glazing, but with a tougher outer pane and rain noise reduction due to being triple glazed. The U-value for this option is 1.1 W/m2K.
Energy Efficient Glazing Cost
Energy efficiency is becoming more important in homes, saving both the homeowner money in heating costs and reducing the global carbon footprint.
Energy efficient panes are triple glazed, with greater thermal insulation than the other windowpane options, with a U-value of around 1.0 W/m2K.
Enhanced Noise Reduction Glazing Cost
Similar to the Standard plus option, however, with enhanced noise reduction from external interference such as road traffic, rain and hail – making it particularly useful for rooms such as bedrooms.
This windowpane option has a greater thermal efficiency than the standard safety glazing and standard plus glazing options.
This option has an estimated U-value of 0.81 W/m2K, however, it is less widely available than the other windowpane types.
Premium Opaque Coating Cost
Similar to standard glazing, with the internal pane frosted for privacy, without hindering natural light penetration.
Usually used in bathrooms or rooms that require privacy.
It should be noted that there is an additional charge for different glass types that will be affected by the size of the window being installed; and it should also be noted that not every window type has the full range of pane choices available.
Velux Window Frame Cost
Velux offer three internal frame finishes as standard across their windows, each designed to complement your home.
Pine Window Frame Cost
Ideal for traditional home interiors, pine finish windows are treated with a triple layer of protective lacquer prior to installation.
The cost of a pine finish is usually the came as the painted white finish.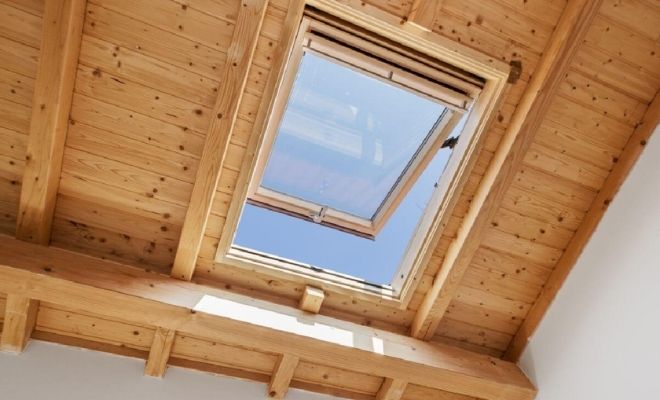 White Painted Window Frame Cost
When ordering Velux windows this is the 'standard' finish, which is highly UV resistant with a bright white finish and wood grain texture.
This finish is typically chosen as it offers a blend between traditional and modern aesthetics.
Similar to the pine finish it is painted before it is installed.
White Polyurethane Window Frame Cost
Polyurethane windows finishes are low maintenance with an insulted timber core. They are well suited to modern interiors and rooms prone to humidity such as bathrooms and kitchens.
Because of the materials used, PU finishes are usually a little more expensive than the wooden finishes.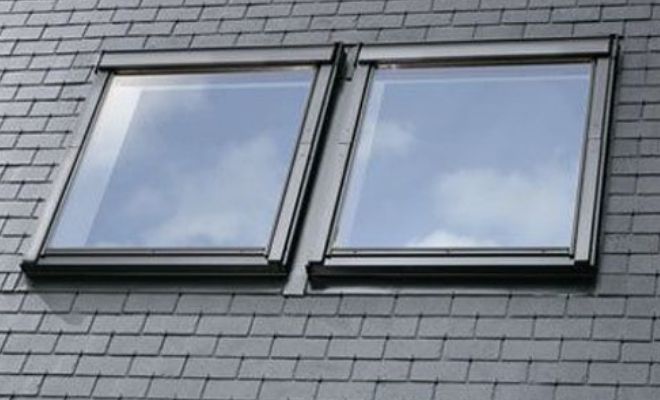 External Finish Window Frame Cost
All Velux windows come with a grey aluminium external finish as standard.
Options for external finishes such as copper, titanium zinc and coloured aluminium are available for bespoke windows but will likely incur an additional charge.
Removing a Velux Window Cost
In some instances, you may find it is necessary to remove a roof window from your property, for example, if you are having it replaced with a larger window or if it was incorrectly installed, or simply if your roof window is now dated and is working less effectively than models available on the market today.
Replacing an existing window is estimated to take around 4 hours from start to finish if done by a professional and will entail very little mess – particularly if the window being replaced is of a similar size to the new window.
Some adjustments may need to be made but, in the majority of swaps, the work is minimal.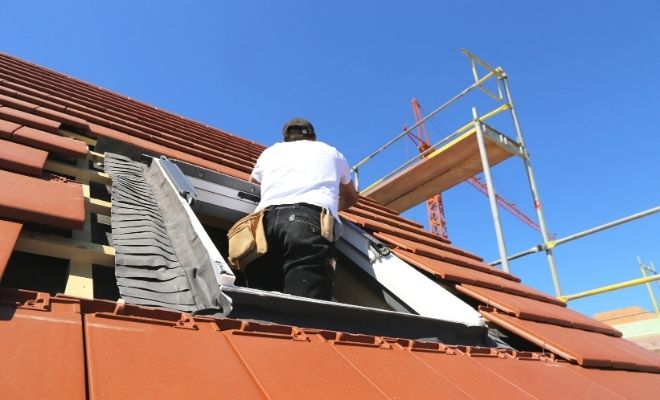 A professional should be able to remove and replace your existing window for roughly £150 in labour, and in most cases, will dispose of the existing window for free.
If you replace the window yourself, or your tradesperson does not offer waste disposal as part of their service charge, you can expect an additional cost of between £10 - £60 depending on the size and number of windows.
Alternatively, you may be able to dispose of them at your local recycling centre – the cost of which is determined by your local authority.
FAQs
How to Find & Hire a Window Fitter
When choosing a tradesman to complete the installation, you should consider whether they are affiliated with a trade organisation such as the Federation of Master Builders (FMB) or Fenestration Self-Assessment Scheme (FENSA) where membership criteria is strictly monitored for customer peace of mind.
Ensuring your installation expert is affiliated with an organisation with a code of conduct can grant peace of mind, particularly in projects dealing with large sums of money or where failure to complete the project correctly can have a costly knock-on effect.
It's recommended that you speak to friends or neighbours that have had similar work done in your local area and enquire about their customer service experience, as well as the professionalism and estimated timescales of work undertaken.
You should also ask about the estimate price these services cost where possible.
You should always gain a minimum of three quotes for work to be undertaken in your home to ensure you are receiving a fair deal from trusted and reliable sources, and check whether thy hold liability insurance in the event that an accident or damages occur.
If you are unsure of local tradespeople to contact, you can use this free tool to make an enquiry and get three free quotes from trusted traders in your area.
Sources
https://www.fmb.org.uk/local/window-fitters-and-glaziers/
https://www.fensa.org.uk/find-installers
https://www.velux.co.uk/roof-window-configurator