Window Fitter Jobs
Windows are among the most important features of any property, both in terms of their practical functions and their effect on the look and feel of a home. The windows' style and condition will also have a significant influence on the value of a property.
There are many types of window fitter jobs, and the price of your window fitting will vary according to the window's size, the type of the window being fitted and the style of window fitting you may need.
This means that each window on each building requires a unique fitting. As you would expect, there is a wide variety of windows available that window fitters usually group into categories.
These categories may differ between fitters or fitting companies, but broadly windows are separated according to style, material and glazing.
Fitters will usually measure the size of the window in millimetres (mm). This measurement will include the frame and depth of the window's opening.
Casement Windows
Casement windows are hinged to a frame and usually open outward away from the building. As a general rule, casement windows tend to be cheaper than sash windows and can be designed to suit virtually any property style.
The cost of installing a casement window can range from around £200 for a 1000x500 uPVC frame, to £1,500 for a 1200x1200 wooden frame. The average costs of installing a casement window, including materials, labour and VAT are as follows:
| MATERIAL | AVERAGE COST |
| --- | --- |
| uPVC | £150-£900 |
| Aluminium | £540-£960 |
| Wooden | £700-£1,500 |
Sash Windows
Sash windows open by sliding either up and down or from side to side, and as a general rule tend to be more expensive than casement windows. The price of fitting a sash window will vary according to its style and the number of panes required.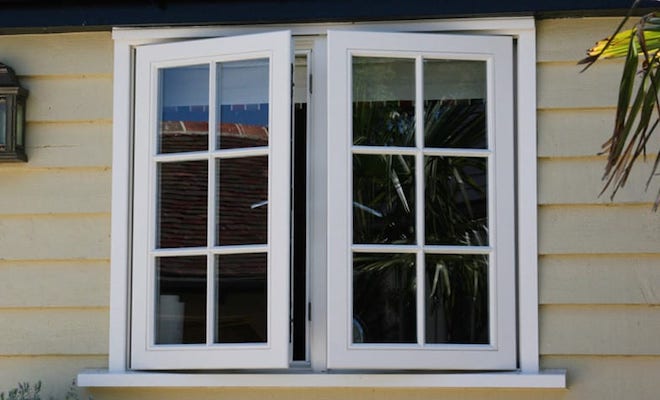 The average cost of installing a sash window can be anywhere between £480 and £1,000 per window. The average prices you can expect per window including materials, labour and VAT are as follows:
| MATERIAL | AVERAGE COST |
| --- | --- |
| uPVC | £700-£1,100 |
| Aluminium | £1,200-£1,500 |
| Wooden | £1,100-£1,900 |
Bay Windows
Bay windows project outward from the building, sometimes forming a semi-circle known as circle bay windows. Some styles form a curve with four or five openings known as bow windows. Occasionally bay windows form a box shape with flat sides protruding out of the wall known as box windows.
The price of bay windows depends on the number of panels required and the material used for the frame. but you will generally pay from £1,050 - £1,350 for three panels white uPVC to £1,900 - £2,700 for five panels woodgrain uPVC.
| MATERIAL | AVERAGE COST |
| --- | --- |
| uPVC | £1,050-£1,350 |
| Woodgrain uPVC | £1,900-£2,700 |
Tilt and Turn Windows
Tilt and turn windows feature a hinge mechanism which means they can either be opened fully like a casement window (inwards). They can also be tilted from the bottom so that the top of the window is angled into the room, giving a smaller opening for ventilation.
The style is popular due to the practical versatility the window offers, including its weatherproofing and security options.
uPVC tilt and turn windows are marginally more expensive than casement windows of the same material. You should expect the average cost of a tilt and turn fitting to be between £450 - £500 (800x800) uPVC and £650 - £700 (1200x1200) uPVC.
| MATERIAL | AVERAGE COST |
| --- | --- |
| uPVC | £450-£500 |
| Aluminium | £650-£800 |
| Wooden | £500-£700 |
Cottage Windows
Cottage windows are common features of older, traditional properties and are also known as Georgian or Tudor windows.
They can open either as sash or casement but tend to be marked out by a series of bars that make several small squares of glass rather than one big pane.
Original cottage window installations can be draughty, and the wood tends to warp with age. You should expect the average cost of fitting a new cottage window according to size and material to be as follows:
Casement
| MATERIAL | AVERAGE COST |
| --- | --- |
| uPVC | £200-£925 |
| Aluminium | £500-£1,000 |
| Wooden | £600-£1,500 |
Sash
| MATERIAL | AVERAGE COST |
| --- | --- |
| uPVC | £600-£1,000 |
| Aluminium | £1,000-£1,500 |
| Wooden | £1,000-£2,000 |
Roof Window
The cost of materials will be fairly consistent and will almost always account for the greater part of the cost of any window fitting. The most significant variant in the cost of a roof window replacement is likely to be the labour involved, including the complexity of the job, ease of access and length of time.
Roof window replacement will almost always involve scaffolding, the charge for which should be included in any quote.
The cost of scaffold hire can range from around £300 to around £1,000 per week. The added cost of scaffold hire for a roof window replacement will start from around £40 and will not usually exceed £120.
Excluding the cost of scaffolding, you can expect the average cost of a roof window replacement to be as follows:
| MATERIAL | AVERAGE COST |
| --- | --- |
| Skylight | £500-£700 |
| Roof dome | £450-£650 |
| Velux | £550-£800 |
Single Glazed Windows
Single glazing is now rarely recommended due to its energy inefficiency; however, traditional single glazed windows are still a feature of many older houses. The cost of replacing a single pane of standard glass will not typically exceed £100 - £150, though the price will rise if scaffolding is required.
Double Glazed Windows
The cost of fitting a double-glazed window will vary according to the energy rating/quality of glass with A++ the highest rating. Refurbishing windows will be cheaper than a full replacement and will typically cost around £200 per unit.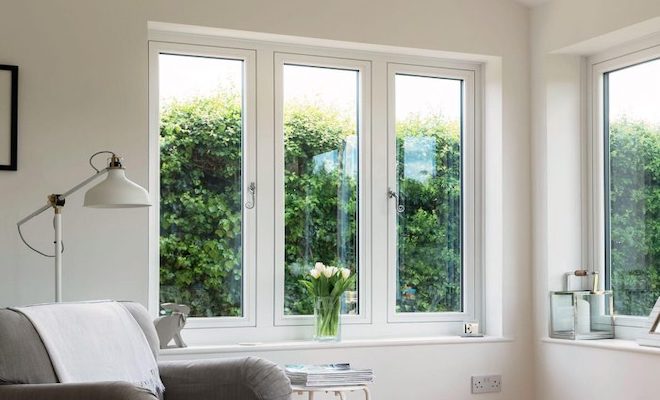 With all the variants involved, the average cost of a double-glazed uPVC window (2000x2000mm) will be £300 - £400 for a casement window, £600 - £800 sash and £500 - £600 for a tilt and turn.
Triple Glazed Windows
Triple glazed windows will typically cost between 20% and 30% more than double glazing, with the average cost of fitting a standard uPVC triple glazed window at around £565.
These prices, you must expect to rise with aluminium and with wood frames and according to the quality of glass selection.
Emergency Window Fitter Prices
One of the most common window fitting jobs is emergency window fitting. This includes repair or replacement for broken or smashed windows. Emergency fitters will attend the job as quickly as possible, usually within a 24-hour time frame, while some emergency fitting companies offer service within the hour.
As broken windows are a security issue, emergency fitters are usually available 24 hours every day. Most emergency fitters will also offer a boarding-up service, either from their own or from an affiliated locksmith, if a job has to be left overnight.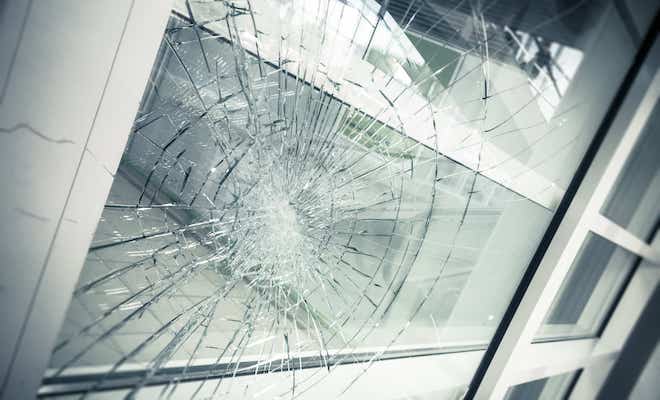 Emergency fitters will always provide a price on the spot and probably a rough estimate over the phone. The average cost of an emergency repair or replacement will not differ significantly from an ordinary fit unless the fitter charges a call out fee. The average emergency repair will cost between £50 and £200.
However, these figures have to be approached with caution, as these estimates can vary considerably depending on the nature and locality of the job.
Emergency fitters will also repair or replace damaged locks, handles and hinges. If a window needs to be entirely replaced rather than repaired, it may not be possible within 24 hours and require the fitter to attend the job twice.
Window Fitter Hourly Rate
Most window fitters will break down the cost of a job into the materials, labour, and VAT costs. Fitters tend to work to an hourly rate, but that rate will not typically determine the job's final cost. Replacing and fitting a new double-glazed window takes on average 30-45 minutes, with an experienced fitter able to fit around six windows a day.
The average window fitter cost per hour ranges from around £20 outside of London, rising to around £25 in London and the South East. However, window fitters usually work in pairs for practicality and safety, and tradesman will usually charge a minimum of half a days pay for any job.
Window Fitter Daily Rate
If you are looking to fit upwards of three windows, the job is more than likely to be charged by a day rate. The average window fitter cost per day is around £150, and like the hourly rate, this figure does not vary significantly nationwide. However, charges in London and the South East can often be in excess of that figure.
Window fitter daily rate may also change according to the nature of the job and the type of windows being installed. For example, single-hung windows may only cost £100 a day in labour while bay windows can increase the price up to £200 per day.
Window Fitter Qualifications
Window fitters can legally trade without any official qualifications. However, window fitting is a skilled and competitive trade, so companies are keen to avoid poor and unsafe work or fraudulent practices.
Most window fitters will possess either a qualification in fenestration installation or Fenestration Self Assessment Scheme (FENSA) membership. FENSA membership means that a fitter can certify that a replacement window installation complies with the Building Regulations.
The customer is given a Building Regulations completion certificate, and the installation details are entered into the FENSA central database.
Customers are also advised to look for certified qualifications or experience when hiring for specialist jobs such as bay windows and cottage windows.
Window Fitter Insurance
A window fitting is essentially a permanent alteration to property involving security, energy efficiency, and affecting the property's overall value. Window fitters do not have to be insured to legally carry out general work.
However, window fitting companies may be held liable for any accidents or damage they cause, so will usually be covered by public liability insurance.
This means the company will be covered against accidents or damage caused by the company or its contractors. Individual fitters can also be covered by public liability insurance as sole traders.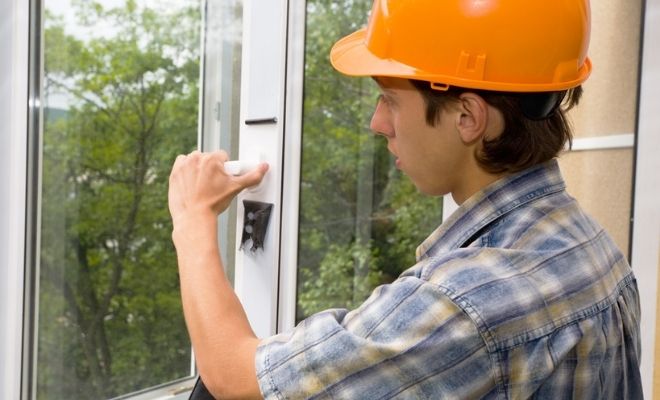 If an accident and or damage is caused by a company while carrying out uninsured work, the customer entitled to pursue legal damages against the company.
The legal process can prove expensive for both the customer and company, so it is strongly advised on all sides that professional work is never carried out without the appropriate insurance in place.
FAQs
How to Find and Hire a Window Fitter You Can Trust
Poor window fittings can cost energy, spoil your home's comfort and beauty, and compromise your security. As with any building work, it is important to ensure that you hire fitters that you can trust with the job.
The best way to find fitters is to consult an established trades website as they will carry the information on experience and accreditation you will be looking for in order to make your hire.
Most sites will also offer the opportunity to compare quotes enabling you to make an informed choice.
Here's a quick checklist on what to look out for when hiring a window fitter:
Check that they are FENSA approved
Check for accreditations such as NVQs and GQAs
Check that the fitter is insured, either through the company or as a sole trader
Check for previous customer reviews which can usually be found on trades website or on the fitter's own website
Look at the previous experience of the fitter, paying attention to whether they have experience with the specific job you are hiring
Be sure to compare at least three quotes in order to get an idea of reasonable pricing