How Much do French Doors Cost?
The cost of installing French doors will vary depending on their size and the materials that they are constructed from.
Without the addition of sidelights which are vertical glazed panels on the sides of your doors, the maximum size of French doors is 1800mm, and this size can cost between £850-£2500 depending on the material.
So, it is clear that there is not only a variety of choice of French doors but also a wide price range to choose from.
Usually, a tradesperson will charge around £150 to £200 per day to install French doors.
This may vary according to the complexity of the work or the size of the doors.
In some cases, there may be a requirement for a load-bearing lintel (if modifying or creating an opening) for the doors to be installed.
This is additional work which should be discussed beforehand to ensure if it is being completed as part of the tradesperson's quote for the work.
If not, this could be an additional cost and may even require a consultation from a structural engineer to ensure the correct lintel is installed.
Types of French Doors
French doors are made in several different types of material, such as uPVC, timber, composite, and aluminium.
The average cost of uPVC French doors is between £500-£600.
The fitting of the doors, furniture, glazing and trim will be extra.
The price of French doors made in timber will vary depending on whether they are hardwood or softwood.
Hardwood is usually more expensive than softwood and is more durable. The average cost of timber French doors is £1100-£1350.
Composite material such as glass-reinforced plastic is becoming more popular and the cost of French doors made from this material is around £900-£1200.
These doors will have either a wooden or compressed foam interior with a glass-reinforced skin.
Aluminium is a popular material for doors and windows due to its strength, durability and adaptability to bespoke shapes and designs.
A set of French doors made from aluminium will cost on average £1850-£2200.
Of course, these prices will depend on the size of the doors that are fitted.
The usual sizes for French doors are 1200mm, 1500mm and 1800mm wide and normally 2100mm high.
It is possible to have bespoke sizes made, but this will be more expensive and depend on specification.
Glazing
The price of French doors will also be dependent on the kind of glazing options that are chosen as there are many variations of glass and beading that can be incorporated into the doors.
For energy saving, there is the choice of double or triple glazing, for privacy, there are obscure glass options, and for design many glazing patterns and beading options.
Location
The cost to install French doors will be influenced by where in the country you live in.
There are regional variations in the cost of home improvements between London and the rest of the UK with London being more expensive due to the higher price of property and cost of living.
If you live in a very rural or remote area, then you may be charged slightly more to cover travel and transport of your doors.
French Door Prices
An average double glazed French doors price is difficult as there are so many types on the market, but the following gives an idea of the cost of installation for different types.
The costs will vary depending on the specification of the doors, such as whether sidelights are fitted as well as the kind of glazing installed.
Prices will also be affected by the kind of door furniture fitted and your location.
Labour costs make up around 30-40% of the price of French door installation.
| SIZE | uPVC | TIMBER | COMPOSITE | ALUMINIUM |
| --- | --- | --- | --- | --- |
| 1200mm x 2100mm | £500-£800 | £1300-£1700 | £1100-£1600 | £2100-£2600 |
| 1500mm x 2100mm | £600-£900 | £1450-£1900 | £1250-£1700 | £2250-£2750 |
| 1800mm x 2100mm | £900-£1200 | £1600-£2100 | £1400-£1900 | £2400-£2900 |
Supply Costs
The average cost of supplying French doors of different materials without installation fees.
| SIZE | uPVC | TIMBER | COMPOSITE | ALUMINIUM |
| --- | --- | --- | --- | --- |
| 1200mm x 2100mm | £100-£300 | £800-£1000 | £700-£900 | £1,500-£1700 |
| 1500mm x 2100mm | £200-£400 | £900-£1200 | £800-£1000 | £1600-£1800 |
| 1800mm x 2100mm | £400-£600 | £1100-£1400 | £900-£1100 | £1700-£2000 |
Additional Costs
Everyone wants to maximise their home not only for their own enjoyment but because it is an investment.
Installing French doors will create a stylish transition from inside to outside, and so you may find that other improvements are required to make the most of your garden.
Painting the Exterior of Your House
Fitting new French doors will involve disturbance to your external wall to some extent.
Whether you are replacing existing doors or creating a new opening to fit your French doors, the exterior of the house may require a fresh coat of paint to finish the job neatly.
Having the exterior of your house painted will cost between £650-£1100 depending on the size of your property.
Good preparation and a quality paint that is appropriate for the external surface of your house should make a big difference to the appearance of your home.
Laying a New Patio
If you have invested in new French doors, these will normally be a link to your garden or outside space.
To fully enjoy the garden, you may want to consider laying a new patio.
This project will cost between £1500-£4000 depending on the size of the patio and the type of slab being laid and may take 3-7 days to complete.
Cleaning Your Patio
Of course, your patio may be perfectly fine and just require a jet wash to bring it back to its best.
Sometimes cleaning your patio can have the same impact as laying a new patio, especially if it has not been properly cleaned in a while.
The cost to jet wash your patio will depend on how big it is but should be between £150-£400.
Installing a Security Light
To complete the upgrade of your outside space, you may consider the security of your home.
Fitting a security light which is activated by a movement sensor will provide you with a deterrent from unwanted intrusion and peace of mind.
The cost to install a security light will be between £125-£200 depending on the type and specification.
Cost Breakdown Calculator
Individual costs of installing 1200mm x 2100mm aluminium French doors - Total Cost: £2100
Labour Costs and Time Frames
The cost of installing French doors in your home will include the price of the doors and the cost of the labour to fit them.
Labour Costs
This kind of work is normally done with a team of two, a main fitter and a labourer or secondary fitter.
A tradesperson will charge between £150-£200 per day while a labourer will cost around £80-£100 per day.
Expect to pay between £250-£300 per day in total for labour to install new French doors.
This price will vary according to the type and size of doors being installed, the company carrying out the work and the region of the UK that you live in.
It is possible to pay a company to supply and fit new French doors in your home, and all the associated costs such as delivery, installation and clean up afterwards will be included in this price.
Alternatively, you could supply the doors yourself and hire an independent fitter to install them.
If you follow this route make sure that you are confident about measuring the doors as once they have been ordered you will be committed and any errors will be down to you when it comes to fitting them.
Timeframes
One set of French doors should take no more than a day to fit for a professional installation company even if you are replacing old doors or a window.
If a brand new opening needs to be made in which to install the doors, then this process may take longer but a good company will not leave your home exposed to the elements or security issues overnight and should supply enough labour and planning to get the job done in one day.
The size and complexity of the installation will potentially impact on the timeframe of the installation and while two people is the minimum required for this work more than two will speed up the process and get the job completed quicker.
What are French Doors?
Traditionally, French doors are two identical doors hung side-by-side normally open outwards.
They are usually fully glazed to allow maximum light into the house although they are available with beading and panels in various designs.
Origin of French Doors
Despite their name French doors were actually an imported Italian concept from around the time of the Renaissance, and their symmetry is typical of Italian architecture of the 16th and 17th century.
They were originally double wooden doors often giving access to a balcony and later with the development of glass were used to provide extra light into the home.
Popularity of French Doors
French doors have been popular for many decades in the UK and provide many benefits as a link between rooms internally or from the interior of the house to the garden.
They provide a larger opening which not only lets in more light but also facilitates the movement of foot traffic if you have a large gathering.
The ability to open up the French doors to your garden gives you more space for entertaining and easy access to your outside space.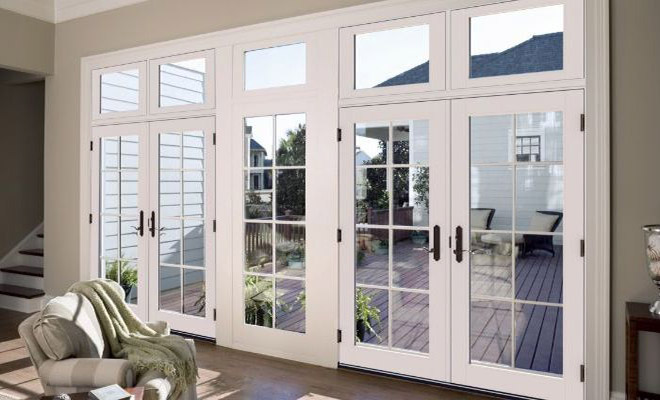 As there are so many styles and designs available French doors are equally suited to period or modern homes.
They also have to meet certain standards so you can be assured that they are energy efficient.
In the UK, the most common French doors are made from uPVC, though other materials such as aluminium and timber are also available albeit at an increased cost.
The security of modern French doors is of a very high standard thanks to multi-lock systems, and many manufacturers offer doors which have passed the PAS024 security testing.
French doors are great for providing a traditional option of garden doors, but they are also popular when used inside the home to separate two rooms.
French windows and French doors are exactly the same things other than the way they are used.
Some people refer to them as a door, and others call it a window.
They can be installed in a variety of openings but are most often fitted to replace a window or existing patio doors.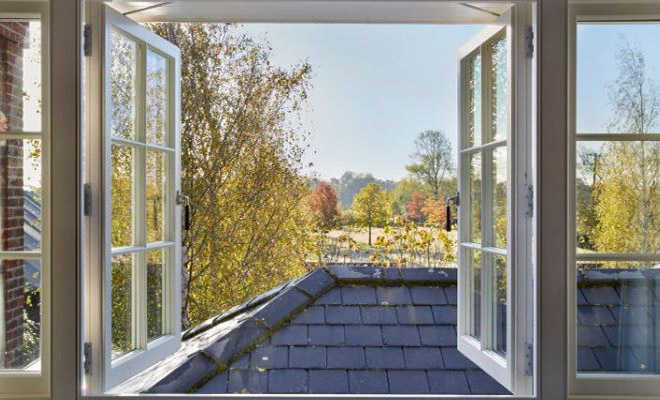 You can, of course, make a completely new opening for French doors, although this will obviously be more expensive.
Many choose to replace their old patio doors with a set of period French doors, but this really depends just on your personal preference and budget.
Cost Affecting Factors of Installing French Doors
There will be several factors which will influence the cost of installing French doors, some of which you have influence over and some which you will not.
Property Location
Location is always a contributing element to the price of any home improvement as most homeowners are aware.
Those living in London and the south-east of the UK are resigned to paying a premium for most things, and home improvements are no exception.
Prices in some large cities may be higher than in smaller towns with the midlands and north of the country potentially cheaper.
Installation Area
The area of your French door installation may affect the price that you pay.
A pair of French doors installed on a first-floor balcony will involve more labour and be more complex than a ground-level project.
Choice of Material
The type of doors you chose to have fitted such as timber, uPVC, composite, or aluminium will also contribute to the cost.
Aluminium is the most expensive option with timber a close second.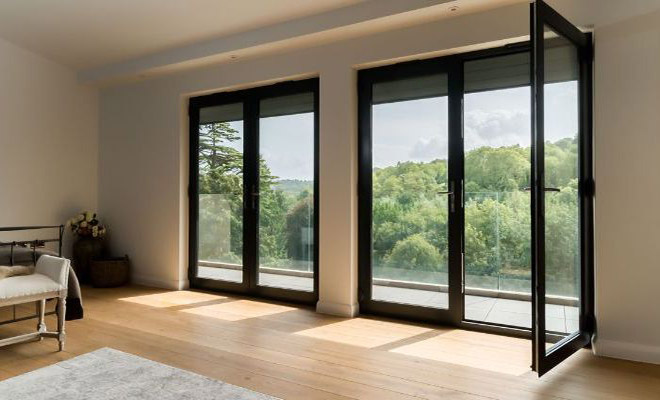 Composite material doors are becoming popular due to their durability, and low maintenance and uPVC doors are still a strong favourite with the lowest price tag.
Access
Access to your property may cause extra charges if you are living in a particularly remote or rural area.
You may be restricted in companies that service your location and not have a wide choice of installers to choose from.
Size of French Doors
The size of the French doors installed in your home will have an impact on the overall cost.
Not only the additional bulk to be fitted but the extra labour required will potentially add to the price of your installation.
Larger doors will need more hands to safely manoeuvre and install correctly, so bear this in mind when you are budgeting.
What Does Installing French Doors Entail?
When it comes to improving the rear of your property, new patio, or French doors can be a key feature.
Not only do they provide light and convenient access, they open up the room to the garden whilst also offering great security.
The term "patio doors" is often used for any kind of door that opens onto a patio, though traditionally it referred exclusively to sliding patio doors. Now it is used for bi-fold doors and French doors as well as sliding doors.
French doors are best used with smaller openings, and their design typically opens outwards into the garden.
French doors also work well in the UK as in bad weather you have the option to open just a single door for access, but when the sun is shining, both doors can be opened out wide to great effect.
If you buy French doors from a double-glazing or joinery company, they will usually take care of all measurements for you to ensure a proper fit.
By ordering online, you are taking measurements yourself, and these will need to be exact and to the manufacturer's specification.
If they are not, you risk getting doors which do not fit correctly and cannot be returned.
Simply measuring the gap that the doors will fit into is not sufficient for the manufacturer as the style and function options can affect the measurements.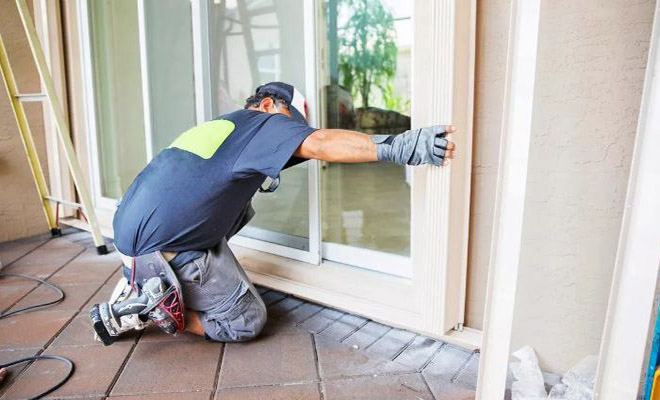 It is vital you understand exactly how to take measurements when ordering French doors online to avoid expensive mistakes.
If the installation requires a completely new opening, then the timeframe and cost will increase.
French doors are perceived as being less weatherproof than patio doors, but this is a misconception. If French doors are secured and sealed properly, you should not have any problems. When fitting, you do need to make sure the gaps are sealed correctly, though.
If you find the seal is not tight enough, you can adjust the door or caulk any gaps. If the gaps are too large for caulk, you can install a foam backer rod then caulk both edges to completely seal any gaps.
However, if you are having made to measure doors professionally fitted, you can reasonably expect all gaps to be minimal, and once the doors are hung and adjusted, they should be completely weather and draughtproof.
DIY Installing French Doors
Unless you have undertaken major works in a DIY capacity and have previously installed an external door, then this project is best left to a professional.
Not only is it heavy and time-consuming work but if it is done incorrectly, then you could leave your home vulnerable with badly fitted doors.
You will need at least one other person to help as the doors cannot be handled alone safely and a comprehensive list of tools and safety equipment.
The dangers of trying to do this job by yourself include crush injuries, cuts, and falls from height if installing at first-floor level.
The potential for injury is mitigated by having someone to help with lifting and manoeuvring the doors.
It will also be necessary for you to inform your local authority that you are installing new external glazing.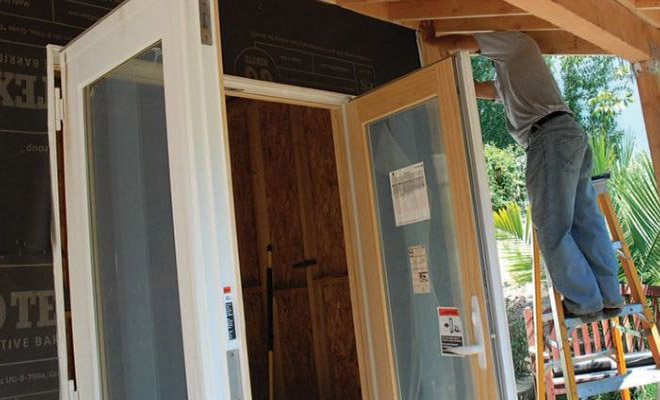 This is in order to meet Building Regulations, so the work will need to be checked and signed off by them to confirm that it complies.
Any external glazing is a 'controlled fitting' and requires inspection and a compliance certificate.
Professional installers can self-certify and therefore, do not need to call the local council for every installation.
However, if you do the work yourself, then you will need to have a FENSA certificate to prove that the new French doors meet thermal, safety and security standards.
FENSA stands for Fenestration Self Assessment and in short means that the installed windows or doors fulfil all the requirements of the Building Regulations that apply to them.
Tools Required for DIY Installation
To carry out the work of installing new French doors yourself, you will need the following tools:
Electric drill
Various drill bits
Crosshead screwdriver
Flathead screwdriver
Carpenter square
Hammer
Hole cutter
Nail bar
Pad saw
Rubber mallet
Level
Utility knife
Nail punch
Tape measure
Chisels
Safety Equipment Needed for DIY Installation
You will also need to wear the following personal protection equipment:
Safety glasses
Gloves
Steel capped boots
If you are removing old French doors or a window in order to install new doors, then you could save money by taking these out yourself.
However, this should be done with care and caution as there may be structural issues, especially if replacing a window with a pair of French doors.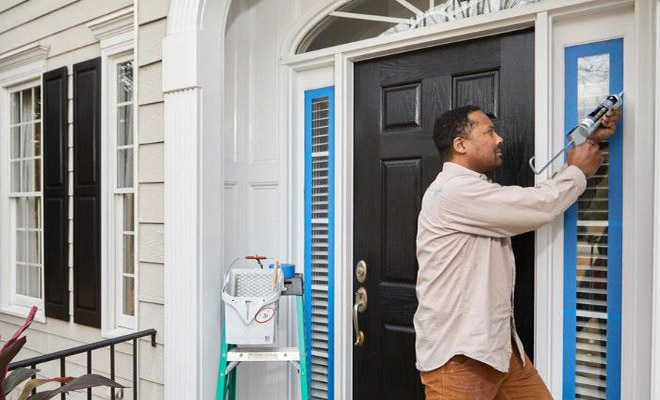 The lintel will need to be replaced with a wider one to support the floor above the new opening.
Installing new French doors yourself will save you the cost of labour which on average would be £300-£500.
However, the cost of badly or incorrectly fitted doors could cost much more overall so carefully weigh up the pros and cons of doing this job as a DIY project before deciding.
Choosing French Doors
French doors are distinct from other 'patio' doors as they are always a pair of glazed doors that are side hinged and open outwards.
However, there are many styles and designs available in this format and a variety of materials from which they are made.
uPVC French Door Cost
Probably the most common material for French doors is uPVC.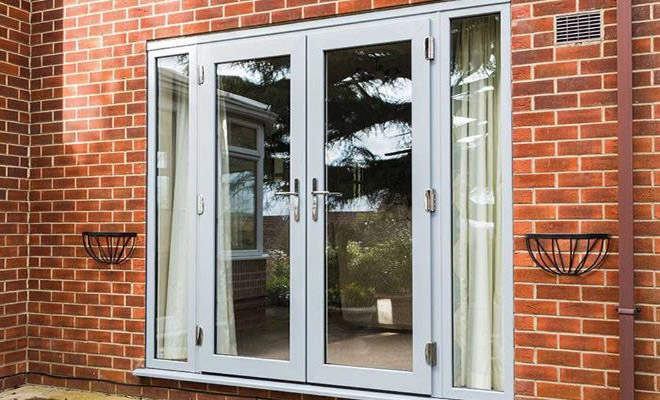 As with double glazed windows, uPVC is a popular material due to its relatively low price, durability, and easy maintenance.
Pros of uPVC French doors:
✔ Extremely versatile material
✔ Available in a wide variety of finishes such as woodgrain effect
✔ Long-lasting and low maintenance
Cons of uPVC French doors:
✖ Can look 'budget' compared to other materials
✖ uPVC is not as resistant to scratches as aluminium or composite doors
✖ Sunlight can cause fading in uPVC
The average cost of uPVC French doors is between £500-£600.
Timber French Door Cost
Timber French doors are the closest to the original doors that were their inspiration.
Before the advent of glass production, French doors were wooden double doors which usually opened up onto a balcony.
Today timber French doors are glazed to allow maximum light into a property.
Pros of timber French windows:
✔ Aesthetically probably the best material for French doors
✔ Hardwood doors are very durable and strong
✔ Can be painted to match the decor of the house
Cons of timber French windows:
✖ One of the more expensive material options
✖ Will require more maintenance to retain optimum appearance and performance
✖ Regular re-decoration to maintain the best appearance
The average cost of timber French windows is £1100-£1350.
Composite French Door Cost
The term composite comes from the fact that the door is composed of different constituent elements.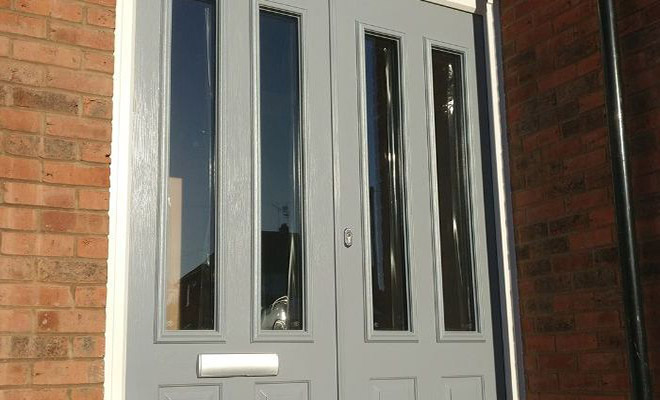 Most composite doors are a combination of a glass-reinforced plastic shell around a solid wooden core or polyurethane foam with uPVC edging.
Pros of composite French doors:
✔ Extremely strong and durable
✔ Available in a wide range of styles and designs
✔ Enhanced security and insulation properties
Cons of composite French doors:
✖ Relatively expensive compared to uPVC
✖ Can 'creak' when heated up by sunlight
✖ Not all composite doors can be recycled
The average cost of composite French doors is between £900-£1200.
Aluminium French Door Cost
As a material for windows and doors, aluminium has become increasingly popular in recent times, and this includes French doors.
Pros of aluminium French doors:
✔ Lightweight but strong material
✔ Slimmer frames and larger glazed areas for more light
✔ Wide range of colours available
Cons of aluminium French doors:
✖ The most expensive material option
✖ Not as authentic as timber French doors
✖ Aluminium windows & doors can be prone to condensation
The average cost of aluminium French doors is between £1850-£2200.
Alternatives to French Doors
French doors are distinct in style and identifiable as glazed double doors which divide rooms internally or give access to the garden or patio.
To call them patio doors is not strictly correct as this term is normally used to refer to sliding doors.
In recent years bi-fold doors have begun eclipsing sliding doors in popularity as they offer a wider unobstructed opening.
Sliding Door Cost
Sliding doors have been an alternative to French doors for a while and also come in uPVC, timber, and aluminium.
While uPVC is one of the least expensive options, it is not as strong as aluminium, and therefore the frames tend to be quite bulky.
Aluminium frames are not only strong but can also provide slimmer frames and profiles.
Hardwood and engineered timber sliding doors offer strength and an aesthetically pleasing alternative to French doors.
Pros of sliding doors:
✔ Can be installed in wider openings where French doors would be unsuitable
✔ Larger expanse of glass giving better sightlines of the exterior
✔ Suitable for narrow space where hinged doors would impinge on the outside
Cons of sliding doors:
✖ Both doors cannot be opened simultaneously
✖ uPVC frames need to be thick to support the weight of the door and look bulky
✖ Some styles can be quite heavy to operate for the elderly or the young
The cost of sliding doors will depend on the size and the material.
uPVC doors will cost on average around £1000-£2200 while aluminium will cost between £1600-£3500.
Bi-fold Door Cost
Bi-fold doors have become very popular in recent times being featured on various home improvement programmes as an alternative to other patio doors.
They offer the option of expanses of glazing which cover larger areas than sliding and French doors.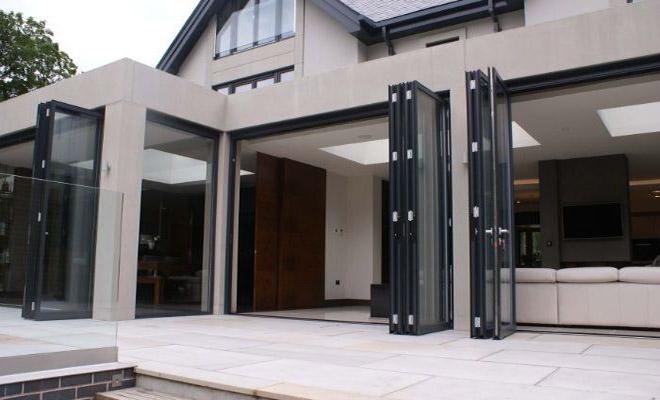 Bi-fold doors fold back on themselves in a concertina style, meaning that there are no obstructions in the aperture.
The doors are then stored perpendicular to the frame in the corner of the opening.
Pros of bi-fold doors:
✔ Capable of spanning a large opening at the rear of a property
✔ Can be fully opened, creating a whole wall of access to the garden
✔ Many come with flush threshold meaning there is nothing to step over
Cons of bi-fold doors:
✖ When panels are folded back, they need to be stored at the side of the opening
✖ No 'traffic' door meaning the whole door needs to be opened for access to outside
✖ There is a bigger frame to glass ratio than sliding doors
The cost of bi-fold doors will vary depending on the size and the material that they are made from.
uPVC bi-fold doors can cost between £1700-£4500 while aluminium can cost from £2500-£5500.
Cost of Removing French Doors
Older French doors which are no longer secure or energy-efficient may prompt you to remove them or perhaps you just do not like them.
Although this can be done DIY, albeit, with help, it is probably best to contact a professional builder to do this work for you.
If you have replacement windows or doors, then the installer can remove the French doors for you as part of the work.
Most installers will charge between £200-£300 a day for labour as it will require more than one person to take the doors out.
Removing French Doors
Taking French doors out is relatively straightforward as long as it is done carefully and methodically.
Removing the bottom and top hinges first and the middle hinge last helps distribute the weight evenly while you work.
The doors can then be taken off the frame.
To remove the frame, the fittings in the sides should be removed, and the frame gently but firmly prised away from the walls.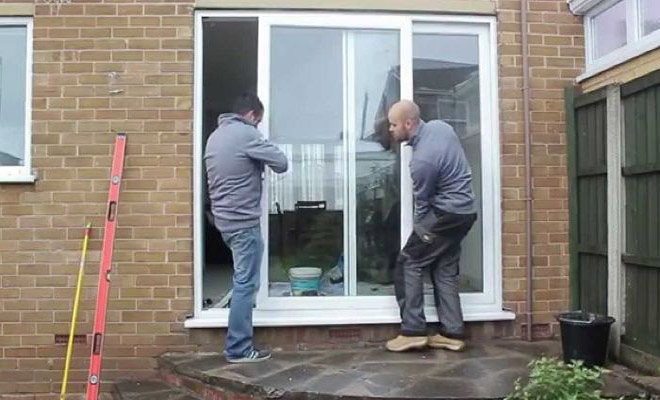 Working carefully and slowly should ensure that no damage occurs to the opening as this may affect any new doors being installed.
Disposal of French Doors
If your installer is taking out your old doors, then they may take them away to be recycled, or if you are removing them yourself, you could contact a reputable recycling company to dispose of them for you.
The price you pay will depend on the material you are disposing of uPVC, aluminium or timber, and you should ask what the cost will be before committing yourself.
FAQs
How to Find & Hire a French Door Installer
Some people may be confident about installing French doors themselves, and if they have done similar work before then, this is perfectly feasible although it will require at least two people.
Most people will prefer to hire a professional installer, and this is usually on a supply and fit basis where the doors are purchased along with the installation service.
You can buy the doors yourself and hire someone to fit them, but you should be very confident that you can accurately measure the doors.
Getting this part wrong can be a costly mistake and may delay installation if there are errors.
Finding a French Door Installer
In order to find a reputable French door installer, it is worth asking friends and family for recommendations.
This way, you can see the finished installation yourself and ask pertinent questions about the process and the standard of the work.
Cost to Hire an Installer
The price of labour to install French doors will be around £250-£300 per day, and most installations will only take one day unless it is a particularly large or complicated installation.
Of course, if you do it yourself, you will save this amount and only have to pay the price of the doors.
Qualifications and Experience
A professional installation company will have experience and relevant qualifications in window and door fitting, and these are the qualities you should be looking for.
They should also be FENSA registered and be able to self-certify all installations.
The FENSA accreditation means that those registered are competent to carry out the installation and fitting of windows and doors to the standards required under Building Regulations.
This is relatively easy to check on the FENSA website.
Anyone carrying out work in your home should have insurance such as public liability insurance or professional indemnity insurance and you are entitled to ask for proof of this.
Sources
https://www.aspire-doors.co.uk/blog/bi-fold-or-sliding-doors