How Much Does Installing Security Lights Cost?
If you are looking to secure your home, you may want to consider hiring an electrician to install security lights outside your property.
The average security light fitting cost will vary depending on the type of lighting you choose, for instance, floodlights costs around £80 to £180 to install, while motion sensors are normally priced at £90 to £500.
More expensive options include spotlights which range from £80 to £500 and landscape lights cost around £80 to £1100.
The cost to install a security light may differ depending on several factors, including where you are having the lights installed, how many lights you want, as well as the location of your property, as the labour cost for electricians will depend on the specific area.
Installing Security Light Prices
Below you will find estimates of a typical security light installation cost for various types of outdoor lighting:
| SECURITY LIGHT TYPE | AVG. COST |
| --- | --- |
| Motion senor | £90 to £150 |
| Floodlights | £80 to £180 |
| Landscape lights | £80 to £1100 |
| Spotlights | £80 to £500 |
Supply Costs
If you are planning to install security lights without the help of a professional, then you save a significant amount on expenses, although you do have to consider the following material costs:
| SECURITY LIGHT TYPE | AVG. COST |
| --- | --- |
| Motion senor | £10 to £50 |
| Floodlights | £4 to £80 |
| Landscape lights | £2 to £1000 |
| Spotlights | £8 to £400 |
Additional Costs
There are several other expenses you need to consider when calculating a security light installation price, including:
Security Alarm
For additional protection, you might want to install a security alarm in your property to scare off potential intruders.
It will also alert you if there is any unusual activity going on around your property's exits. Some security alarms also notify emergency services, which is helpful if your home is being burgled as this will enable them to catch the burglar on the scene.
The average price for fitting a security alarm typically ranges from £125 to £200 for a simple bells-only alarm, £200 to £300 for a silent alarm and £175 to £200 to fit a dialler alarm.
Other security alarm installations include wired alarms which cost around £400 to £800 while a wireless security alarm is normally priced at £200 to £500.
CCTV
To enhance the security in your home and deter intruders, you may want to consider installing a CCTV system.
CCTV stands for closed-circuit television which is a type of video system which records video images and transmits them to a television screen.
This will come in handy if your home is broken into, as this will provide evidence and will help you track down the culprit.
It also acts as an effective deterrent, especially if you have CCTV at the front of your home, as this scare away burglars.
The cost of installing a CCTV around your home normally costs around £1500 to £2000 for a 4-camera system, while an 8-camera installation will range from £1800 to £2500.
If you only want to install one or two cameras around the property on a DIY basis, then this should cost around £100 to £400.
Cost Breakdown Calculator
Individual costs of installing an outside motion sensor - Total Cost: £150
Labour Costs and Time Frames
Most security specialists or electricians will work by themselves to carry out this sort of work and will usually take just one to two hours to install the security light.
Most electricians charge around £150 to £200 per day in labour and will normally work in half days at a minimum so you can expect a labour cost of around £75-£100.
What is a Security Light?
An outdoor security light is normally installed to deter or detect any unauthorised intrusions in and around your property.
They differ slightly to typical outdoor lights in that security lights offer a significant level of protection, for example, motion sensor lights turn on when any movement Is detected near your home, which will alert you to potential intrusions.
Some security lights are simply programmed to come on at set times and can also be switched on and off manually if required.
Light-sensitive security lights can also be sued which come on when it gets dark, using a photocell to detect dropping light levels.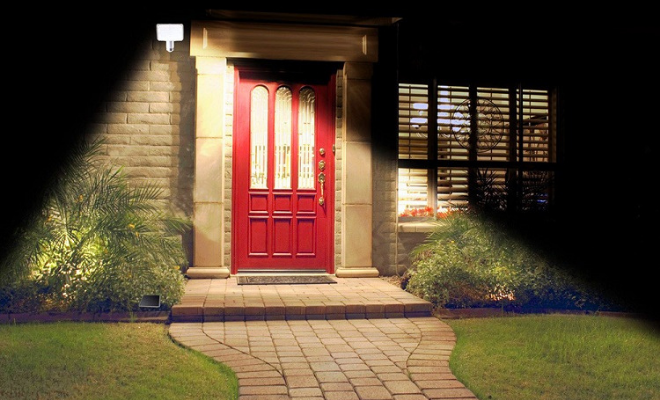 Security lights are popular as they can offer home offers reassurance and are also able to deter intruders from just the sight of security lights.
They also help to enhance the exterior of your home and also make it much easier to navigate night by lighting up the garden or pathways.
They are normally installed at the front and back of the property near doorways or windows where burglars are more likely to enter.
Cost Affecting Factors of Installing a Security Light
There are various price factors you need to consider when evaluating the cost of installing outdoor security light fixtures, the first being the type of lighting you choose as well as how many you need.
For instance, if you have a low budget in mind, you may want to opt for landscape lights which cost as little as £2 each for supply only, although some luxury options are priced up to £1000.
Other affordable security lights include floodlights which range from £4 to £80 each.
Another popular option with an affordable budget is motion sensors which are normally priced at £10 to £50 per light, while spotlights cost around £8 to 400 each.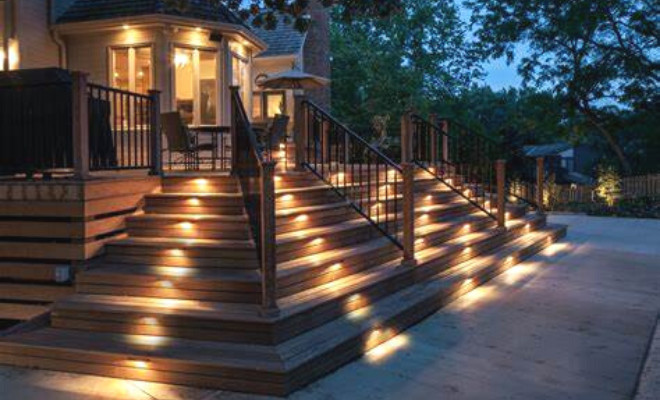 The positioning of your lights will also determine the final price, so once you have figured out how you want to switch on the lighting, you also need to think about the positioning of the actual light units to determine the range.
The cost of this will vary depending on the level of access, as electricians may charge extra for homes with limited installation room.
Another contributing cost factor is the location of your property, as electricians charge varying rates depending on where they work.
For example, London-based electricians tend to charge around £260 per day, while Electrician rates in northern England are normally around £150 per day.
What Does Installing a Security Light Entail?
Building and fitting a staircase is a skilled job and best left to the professionals.
Unless you are a very experienced DIY enthusiast, it's probably best not to attempt it yourself.
If you make a mess of it, it could be dangerous and will likely end up costing a lot more if you have to get a joiner in to fix it!
However, there are many companies which will make staircases which are designed for local tradesman and DIY enthusiasts to install.
There is very little fabrication work required and full fitting instructions are usually included with the staircases, so it can be a DIY project.
To help you understand the process of hiring a professional to install security lights outside your home, here is a breakdown of what the job involves.
Switching Off the Power
The first step involves turning off all electrical power using a residual current device (RCD) to ensure the job is completed safely.
Preparing the Area
Once all the electrics are off, and it is safe to install the lights, the tradesman will then drill a hole where you want your lights installing.
They will then line the hole with plastic conduit before feeding the cables through the hole.
Connecting the Wires
Once the cables are fed through, the electrician will then connect the cable cores to the right terminals, followed by securing them with PVC electrical tape.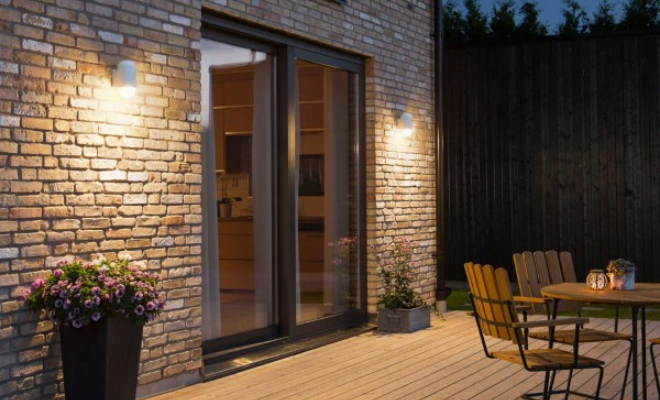 Fitting the Light
After the cables are secure, the tradesman can then fix the light in place, making sure that it is level and flush to the surface before a sealant is applied.
Installing a Switch
Now the light is in place; the light supply cable will be fed back into the property to connect to a four-terminal junction box.
The switch will then be installed along with core-and-earth cables which will be connected to the junction box.
Testing the Light
When everything is installed, the electrician will then isolate the circuit and double-check that all the power is shut off by using a voltage tester.
Once this confirmed they will then cut through the circuit cable and connect the right parts to the junction box.
DIY Install Security Light
If you are looking to power your costs, you may want to consider installing security lights yourself, which will save you around £75 to £100 per day.
However, if you do not have previous experience with installing lights, then this may not be the best option, as working with wiring can be quite dangerous.
For instance, if you install the light while the electric supply is still off or you connect the wrong wires, you could be at risk of being electrocuted.
If you are an experienced DIY enthusiast, then you may want to save on labour costs by preparing the area for installation by drilling the hole where you want the light fitted. To do this, you will need the following tools:
Hammer drill (£40 to £100)
Masonry drill bits (£1 to £150 each)
Tape measure (£2 to £50)
Safety glasses (£1 to £40)
Wall anchor (£3 to £7 each)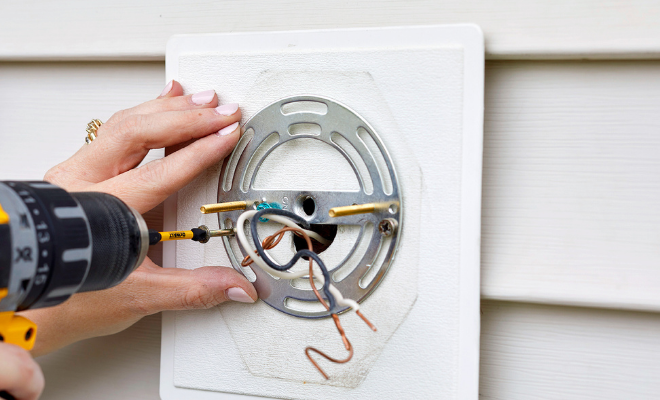 If you decide to install the security lights yourself, then you will need to ensure the job is compliant with current building regulations.
For reassurance, you may want to hire a competent person to assess the job to check if it is installed safely and properly.
Choosing Security Lights
Outdoor security lighting is becoming a popular addition to gardens and driveways in the UK.
Security lighting can effectively deter would-be criminals while at the same time can light up your property to make you feel that bit safer when arriving home in the evening.
But there are a number of different types of security lighting systems, each with their own power option and operating range - but how do you decide which is best for your household?
Read on to find out which options are available and how to choose the ideal lighting solution for your home.
Motion Sensor Security Light Cost
Most outdoor security lighting installations in the UK use motion sensors to activate them, so they operate only when there is movement in the vicinity of your home.
The average cost of motion sensor lights is around £10 to £50 each, although this will vary on the style you choose.
Passive motion detectors will only sense objects which give off heat, so will not be affected by leaves blowing in the wind for example, which can trigger active motion sensors.
Motion sensor triggered lights are also ideal for reducing energy as they are only in use when they are required.
This allows you to reduce your energy bills while also lowering your carbon footprint.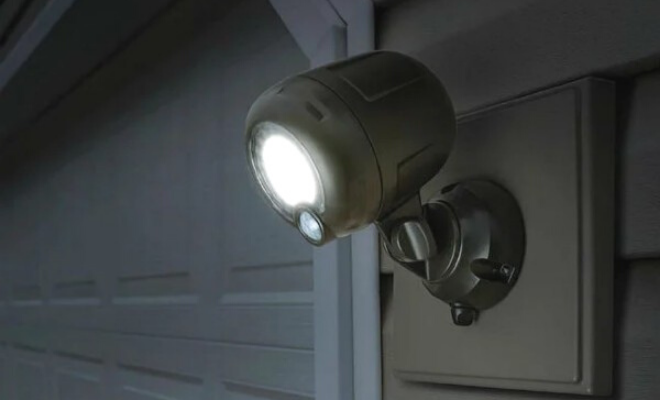 The problem with motion sensor lights is that they are harder to control than other security lights.
They are especially inconvenient at night when you walk past a motion sensor, and it turns off and possibly wakes your family members.
They also shut off easily, so if you are not moving for a long period of time, then the motion sensor might cut off when you are relaxing or reading outside.
Floodlights Cost
Floodlights are another popular security light which features a high-intensity broad-beam pathway.
The average cost of floodlights is around £4 to £80, although this will depend on their style and size.
One of the main advantages of choosing floodlights is that they are extremely long-lasting, especially LED lightbulbs which last a lot longer than normal bulbs which normally just burn out.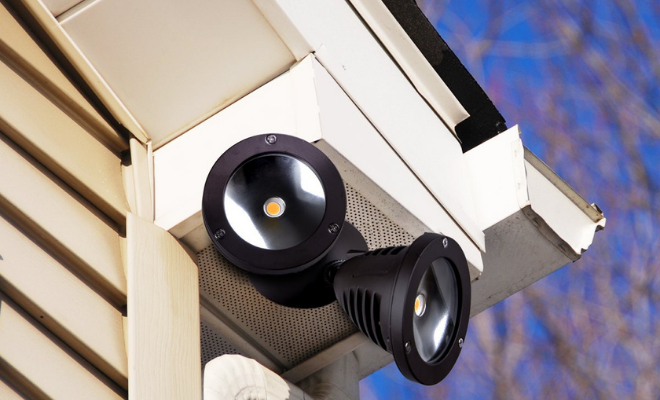 They are also one of the safest outdoor lighting options due to their weatherproofing qualities which include a lack of heat emanation, which reduces the risk of fire and electrical incidents.
Floodlights are not ideal for applications that require a high level of lighting up, as the majority of floodlights do not exceed 200 watts.
The overall cost for multiple floodlights is also usually higher than other types of outdoor lighting, so if you are on a low budget, they may not be the best option for you.
Landscape Security Light Cost
Landscape security lights typically cost around £2 to £1000, with the cost depending on the type of lights you choose, with options including pathway lights, LED ground lights and decking lights being the most popular.
One of the many benefits of landscape lighting is that they make the exterior of your property much safer, as they light up walkways and other dark areas in your garden, which prevents any accidents occurring.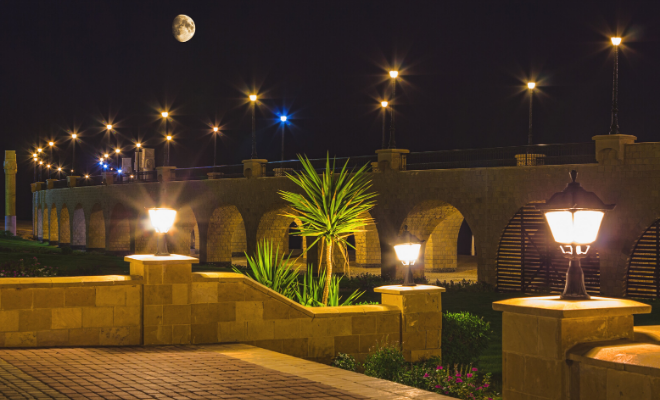 They can also deter burglars, especially if you have security cameras installed alongside the lights as the lights will illuminate them and scare any intruders away.
The downside of landscape lighting is that it may not be easy to install, especially if the electrical supply is located far away, as this can make the fitting more difficult and expensive.
You may also incur a significant increase in your electrical bills, especially in the summer, when you will use your outdoor spaces more often.
Spotlights Cost
Security spotlights feature a narrow beam of intense artificial light which are normally installed in walkways or exterior walls.
You should expect to pay around £8 to £400 for the materials only.
The main advantage of choosing security spotlights is that they are very long-lasting and usually average around 50,000 hours of consistent lighting without any issues.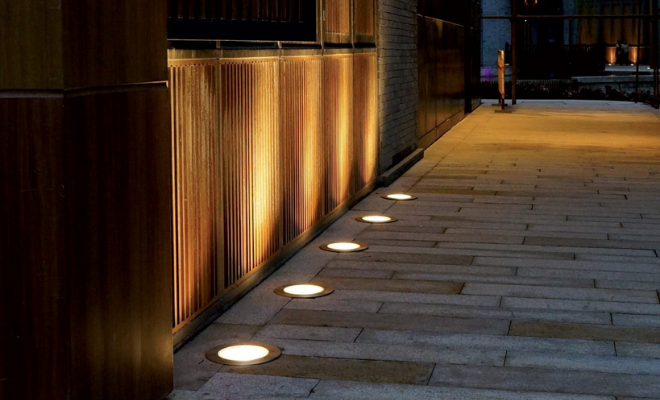 Spotlights are also extremely durable as they are normally encased in aluminium, allowing them to be waterproof and shockproof.
The issue with normal spotlights is that they are made with normal bulbs which are prone to blowing out and overheating; therefore, it may be worthwhile paying extra for LED bulbs.
Solar Security Light Cost
A solar security light is powered by solar cells which are made up of multiple layers of crystalline and additional chemicals which convert sunlight into electrical currents. Solar lights normally cost around £1 to £20.
One of the main advantages of a solar-powered security light is that they offer free energy and can be just as useful as mains-powered lights but offer lower running costs plus of course.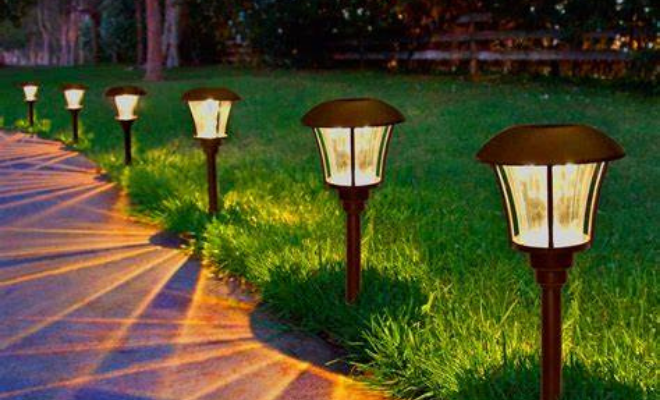 It can also reduce installation costs as there is no wiring involved, so solar lights are normally installed on a DIY basis.
On the downside, their lower output may not be ideal, as they are not as bright as other security light options, although if used in conjunction with LED bulbs they are still effective in terms of securing your home.
LED Security Light Cost
LED security lights are one of the most popular options, as they are made up of light-emitted diode (LED), which is a semiconductor that produces one of the brightest artificial light sources.
LED security lights are typically priced at around £7 to £75.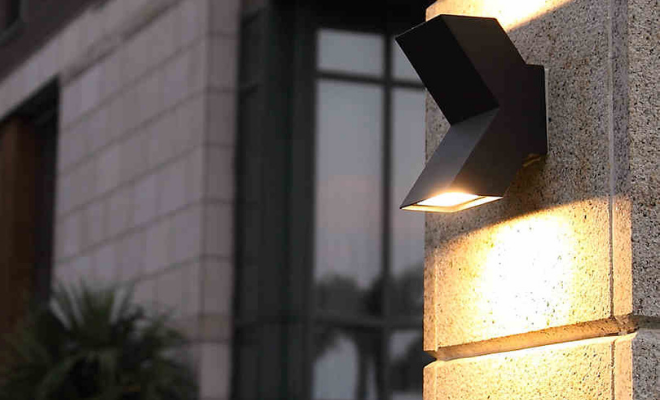 LED bulbs are a better option if you are concerned about the environment, as they use less power per unit compared to other bulbs.
This makes them one of the most efficient security light sources, as they can be turned on all day and night without facing an outrageous electric bill.
An LED security light is not the cheapest option available, so it may not be the best choice if you have a low budget in mind, however, in the long run, the efficiency may enable you to save money.
What are the Benefits of Outside Security Lights?
Before hiring a professional to install your outdoor security lights, you should consider the following benefits:
Enhanced Safety
The most obvious benefit of installing security lights outside your home is that it protects your property and family, as the presence of security lights act as an initial deterrent to potential intruders.
Security lights such as motion sensors are also inept at alerting residents about intruders as the light automatically switch on when any nearby movement is detected.
This gives homeowners a chance to be prepared while also enabling them to ring the authorities if necessary.
Increased Property Value
A not so obvious advantage of having outdoor security lights is that they can actually improve your home value, especially if you have a hi-tech security light installation.
The reason for this is because your property will become a lot more attractive to people looking for a secure home that they feel safe in, enabling them to feel inclined to pay more for the property.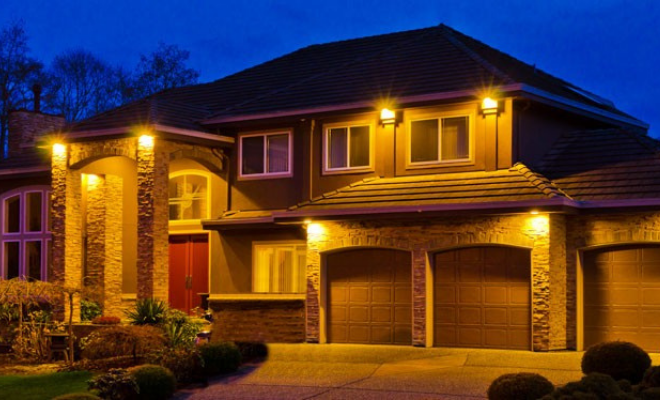 Aesthetically-Pleasing
Another important element that outdoor security lights offer is an enhanced aesthetic, as exterior lighting can enhance the best features of your property even in the dark.
It can also improve the look of your garden by highlight pathways or flowers which is not only safer but also more pleasing to the eye.
Lower Insurance Premiums
One other surprising advantage of security lights is that they can actually enable you to lower your home insurance, especially if you have invested a significant amount on security lights.
The reason for this is because a property with outdoor security light is less prone to break-ins or vandalism, unlike properties without which are 300% more likely to be targeted.
Cost of Removing a Security Light
If you have any faulty security lights or planning to update your exterior, then you may want to consider getting your security lights removed.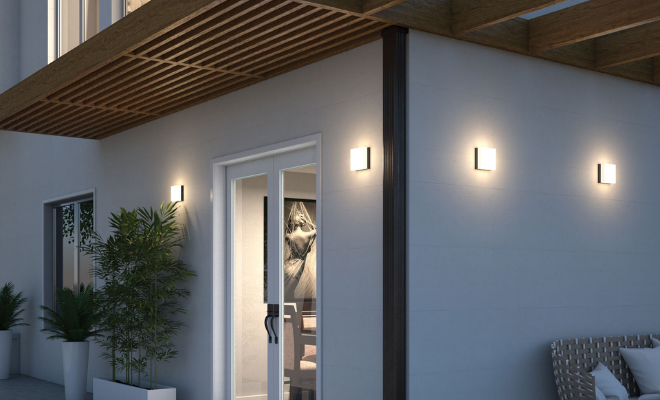 The removal cost for security lights will vary depending on the type of lighting you choose, as some are harder to remove than others.
However, the average price normally ranges from £75 to £100 to hire an electrician to remove it and around £100 to £290 to hire a waste removal company to dispose of the old lighting.
FAQs
How to Find & Hire a Security Light Installer
To ensure your outdoor security lights are fitted properly, you should consider hiring a professional electrician to secure and enhance your property.
Hiring a qualified and competent person will offer you complete reassurance that the job is done properly and also meets building regulations compliance.
The cost of hiring an electrician to fit your outdoor security lights is around £75 to £100, although this will vary depending on how much electrical work is required.
To make sure the job is completed to the highest standards, you should consider hiring a professional electrician who is listed under the competent persons scheme or they are NICEIC-approved.
Before hiring an electrician, it is important that you check your chosen tradesman's qualification, which should include a Level 3 NVQ in electrotechnical services and installing electrotechnical services and equipment.
You should also enquire about their experience, as you should try to hire someone who has at least three years' experience installing security lights.
Sources
https://www.lampshoponline.com/advice/led-security
https://www.wonderopolis.org/wonder/how-do-solar-lights-work
https://www.ledequipped.com/spotlights-vs-flood-lights-whats-the-difference/
https://www.arrowelectricals.co.uk/blog/the-importance-of-outdoor-security-lighting/
https://www.majesticoutdoorlighting.com/5-benefits-of-security-lights/