How Much to Rewire a House?
Why would you need a rewire?
A complete electrical rewire is a common job on older properties to ensure that all electrical installations are working properly and are safe for the homeowner.
Before rewiring can begin, a qualified electrician will normally conduct an Electrical Installation Condition Report (EICR), which normally costs around £100 to £300.
This report is normally conducted every 5 years and will involve an inspection of all consumer units, fuse boxes, sockets, switches, light fittings.
They will then produce a report and to confirm their findings, along with an electrical safety certificate. During this, they will make any changes necessary including an entire rewiring.
So how much does a rewire cost?
The average cost to rewire a house can range from £1500 for a small flat up to £6000 or more for a 5-bedroom detached house. How much to rewire a house, will, of course, vary depending on the number of sockets and switches required, along with the type and material.
Rewiring a House Prices
Below are some estimated costs of hiring an electrician to rewire an entire house. Please bear in mind that prices and durations can vary considerably depending upon the number of sockets, switches, fittings, etc, as well as the number of electricians that work on the job:
| House Description | Avg. Cost | Duration |
| --- | --- | --- |
| 1-bedroom flat | £1500 - £2000 | 4 - 7 days |
| 2-bedroom terraced house | £2000 - £3000 | 5 – 8 days |
| 3-bedroom semi-detached house | £3000 - £4000 | 6 - 10 days |
| 4-bedroom detached house | £4000 - £5000 | 7 - 14 days |
| 5-bedroom detached house | £5000 - £6000 | 10 – 15 days |
Supply Costs
If you are qualified to rewire your entire house, then you will need to consider the following supply costs:
Sockets
| Description | Avg. Cost Per Socket |
| --- | --- |
| USB socket | £8 to £120 |
| Smart socket | £20 to £190 |
| Switched socket | £1 to £120 |
Light Switches
| Description | Avg. Cost per Switch |
| --- | --- |
| Rocker switch | £2 to £4 |
| 20 Amp switch | £3 to £8 |
| Toggle switch | £3 to £20 |
| Dimmer switch | £5 to £180 |
| Smart dimmer | £160 to £200 |
Materials
| Material | Avg. Cost |
| --- | --- |
| Plastic switch | £0.60 to £120 |
| Plastic socket | £1 to £120 |
| Copper switch | £6 to £75 |
| Copper socket | £7 to £30 |
| Nickel switch | £4 to £50 |
| Nickle socket | £5 to £40 |
| Bronze switch | £4 to £70 |
| Bronze socket | £5 to £40 |
| Steel switch | £2 to £200 |
| Steel socket | £5 to £100 |
Additional Costs
There are various other costs you need to consider when rewiring your entire house, including:
Moving a Light Switch or Socket
During the rewiring process, you may want to move a light switch or socket so it is in a better location. This will need to be completed by a qualified electrician, who will charge around £100 to £150 per switch.
Plastering and Skimming
Once your sockets and switches have been installed, you should consider hiring a plasterer to prepare your walls with plaster or if your walls have already been plastered, they can be skimmed with a thin layer of plaster to create a better finish. The cost to plaster a wall is around £150 to £200.
Painting Internal Walls
Once your walls have been plastered or skimmed, you may want to consider hiring a professional decorator to paint your walls and enhance your property's aesthetic. The typical price for painting internal walls is around £250 to £500, although this will depend on the size of the room and the amount of preparation required.
Replace Consumer Unit
If you are having your home redecorated, then on top of the rewiring, you may want to check your consumer unit to decide whether or not it needs replacing. If it is outdated, then you will need to hire a qualified electrician to replace your consumer unit, which will cost around £250 to £510.
Cost Breakdown Calculator
Individual costs for hiring an electrician to rewire a 3-Bedroom Semi-Detached House - Total Cost: £4000
Labour Costs and Time frames
A qualified electrician will be required to complete the job and will often charge around £150 per day to rewire a house. However, for larger jobs, most electricians work in pairs for safety reasons as well as to get the job done quicker. As such, you can expect to pay around £250 per day in labour.
The average time an electrician will take to rewire a property will depend on how many rooms need rewiring. For instance, a small flat may only take 4 to 7 days to complete, while a large 5-bedroom detached home could take up to 15 days to rewire.
The job will be quicker if the wiring is easily accessible. If you're going to be living in the house, then this will take even longer as the electrician will have to make everything safe and working after they leave each day.
Cost Affecting Factors of a House Rewire
Although the cost of rewiring a house will vary depending on a number of factors, there is one factor which you cannot do much about, your location! If you live in London and the surrounding areas, then according to industry research you could pay up to 45% more for a full house rewire than someone living in the north of the UK.
The type of home that needs rewiring will also determine the cost, for instance, the cost of rewiring a flat is around £1500 to £2500, while rewiring a house with 5-bedrooms can cost up to £6000.
The price to rewire will also vary depending on the time frame, as It is much quicker and easier to rewire a house that is not occupied, which will also lower the labour costs. In addition, it is pretty unpleasant for the occupants living in a home being rewired - the power will be off for around a week and floorboards will be lifted and plaster cut into - it is better to move out of your house while rewiring work is in progress if at all possible.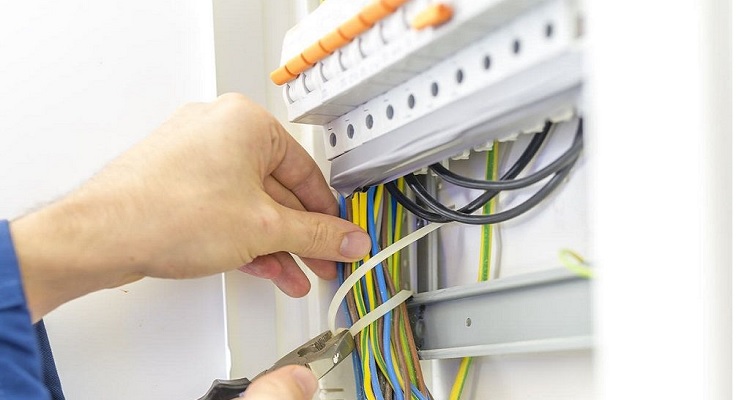 If you need to stay in the property, most electricians will rig safe power for you in the evenings at least, but you will have to put up with lots of floorboards being removed and plenty of dust! Remember that you are paying a premium hourly rate for an electrician to rewire your home, you really don't want to be paying them to move your furniture around.
The type of sockets or switches you choose will also determine the house rewire cost. If you specify the typical white plastic for sockets/switches then this will keep the price down as they usually cost from £0.60 for switches and £1 for sockets, whereas opting for steel will obviously cost a lot more, with prices up to £200 per switch.
You should also consider that there are other jobs which will need doing at the same time, for example, most electricians won't re-plaster the walls afterwards, nor will they make good any plasterwork repairs or damage to the flooring. So, it is not unusual for plasterers and decorators along with flooring specialists to be required after a rewiring job, which will cost around £150 to £200 per wall.
Though some electricians will get in touch with other specialists and supply a complete all-inclusive quote to make good the plasterwork and flooring, though even that will be unlikely to include painting/decorating, this will almost always have to be arranged separately by the homeowner.
What Does Rewiring a House Entail?
Rewiring an entire house is a complicated job, which involves the following steps:
Electrics check

When moving into a new house it's a good idea to have an EICR (Electrical Installation Condition Report) carried out by a registered electrician. If you're a landlord, you must have this done every 5 years.

A qualified electrician will inspect the consumer unit/fuse box, inspect sockets, switches and light fittings to check for any issues. At this point, the electrician will then decide if any changes need to be made, such as minor repairs or a complete house rewiring.

Furniture removal

Before an electrician can start rewiring your home, all furniture should be moved out of the house, as the floorboards will need to be lifted to access wires. You should also make sure that everything is removed from your walls, as they may need to be drilled into.

If your home is new, then you should make sure that the rewiring is done before any decoration including plastering and painting.

Wiring replacement

To ensure all wiring meets building regulations all faulty and out of date wiring will need to be removed and replaced with modern alternatives. This will involve removing and replacing new cabling, fitting back boxes onto sockets and switches, rewiring any telephone and aerial sockets, along with power and lighting circuits.

Wiring connection

One all the main electrical components are in place, light fittings and face plates sockets will be installed onto the switches and sockets. The wiring will then all be connected to the consumer unit to check everything is working properly.

Reporting results

Once all old wiring has been replaced and more modern installations are in place, further tests will be conducted on all wiring systems to check everything is safe. Once this has been confirmed, your hired tradesman will then issue a report to certify the safety and quality of the property's electrical installation.
DIY Rewire
Rewiring a house should always be left to a qualified professional to ensure that your home is completely safe, and all electrical installations are working properly, are compliant and meet building regulations.
While it may seem like a cheap option, it can be extremely dangerous to rewire houses yourself if you are not qualified, as it can result in electrical shocks and fires. It can also be much more expensive If anything goes wrong.
Apart from the actual rewiring, you can actually complete other jobs such as furniture removal before the rewiring, which will help to lower your budget. You could also consider re-plastering your walls after the wiring is complete. For this, you will need the following tools:
Trowel (£8 to £90)
Float (£4 to £30)
PVA glue (£10 to £20 per bottle)
Clout nails (£6 to £30 per nail)
Plaster board (£2 to £16 per m²)
Scrim tape (£3 to £25 per roll)
Benefits of a Rewire
There are numerous benefits for having your house rewired including:
Home safety
One of the most obvious benefits of electrical rewiring is that it ensures that your home is safe from the risk of electrical shocks and fires. This will protect your property and family, and will also help to reduce your insurance premiums, as your electrical system will be much more reliable.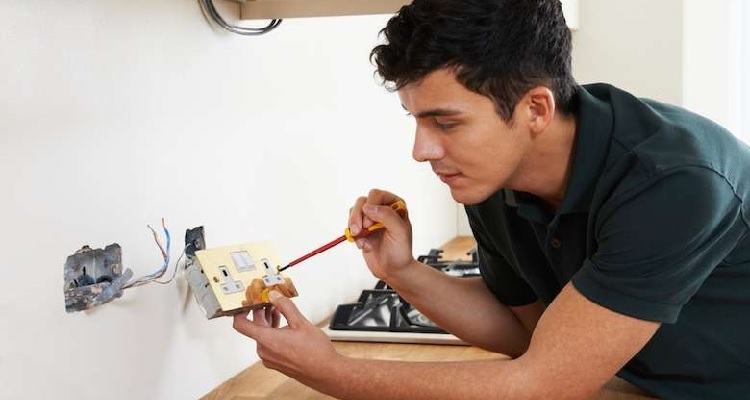 More efficient
Having your house rewired will upgrade your electrical installations. This will help to prevent any appliances from malfunctioning and will also speed up charging outlets and ensure all lighting is much more efficient.
Lower your energy bills
By updating your wiring and electricals, you will make your appliances and lighting much more efficient, which will result in reducing your energy bills. You can also lower your energy bills further by installing smart switches and sockets, which will not only save you money but also help you reduce your carbon footprint.
Reduce power cuts
If you live in an older property with outdated wiring that causes regular power cuts, you should consider having your house rewired. New wiring and cables will help to improve efficiency and will, therefore, prevent your electrical devices from malfunctioning.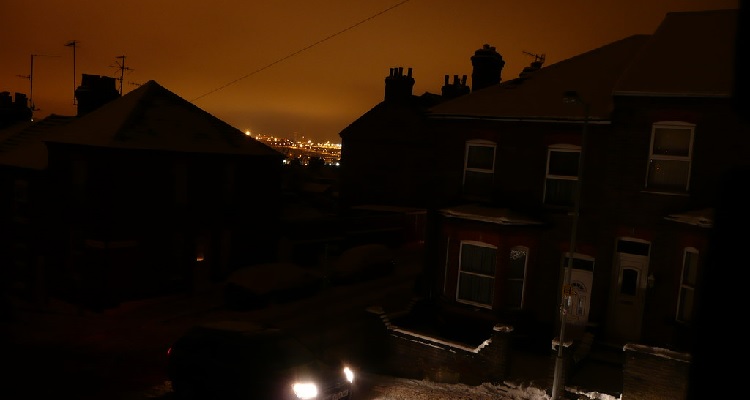 Does My House Need Rewiring?
There are various reasons why you consider having your entire house rewired, including:
Original wiring in old properties
Older houses were built with wiring which doesn't always meet current building regulations. As well as this, wiring that's been around a long time might have become worn and unsafe, and will need to be replaced to ensure all wiring is compliant, safe and efficient.
Another point to mention is that older properties don't tend to have many sockets in each room, which means homeowners tend to use more extension leads, potentially overloading sockets. This all builds up to the point that all houses at some point are likely going to need an electrical rewire at some point in the future.
Outdated cabling
If your property has fabric or lead-insulated cables, which were most likely installed before the 1960s, it will definitely need to be updated. This is not only outdated, but can also be unsafe, so to prevent the risk of fire you should replace them during your house rewiring.
Frequent electrical trips
If you experience a lot of electrical trips, then this may be a sign that your rewiring needs to be replaced. It may be that the wiring or cabling is not compliant with current regulations, or there may be a problem with one or more of your sockets, which will also need to be replaced.
Blown fuses
If you have replaced several fuses in your fuse box or consumer units, it may be because your circuit has malfunctioned due to an electrical overload. By replacing the wiring along with your consumer unit, you can prevent having to pay out for new fuses or circuits.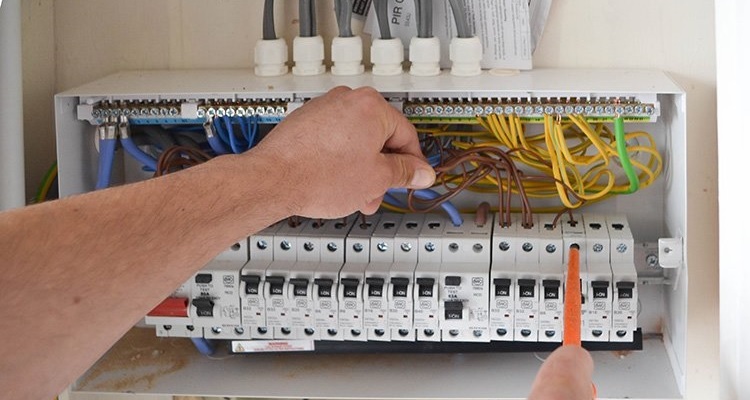 Building Regulations for Rewiring a House
Despite the high cost of a complete rewiring job, never be tempted to cut corners by hiring an unqualified tradesman or doing the work yourself. All rewiring work needs an electrical safety certificate in accordance with BS7671 wiring regulations and registered with Part P building control.
Building regulations approval must be sought for the installation of a new circuit or alterations to a current circuit, as well as replacing a consumer unit or fuse box. An electrician listed under the competent persons scheme will not have to apply for approval, as they will automatically be certified.
To comply with these regulations, you will need to provide evidence that you are a competent person and have carried out the work correctly. You will need to provide certification to show you are a "competent person" under the criteria of that scheme, being a decent DIY enthusiast does not make you competent when it comes to electrics!
House Rewire Grants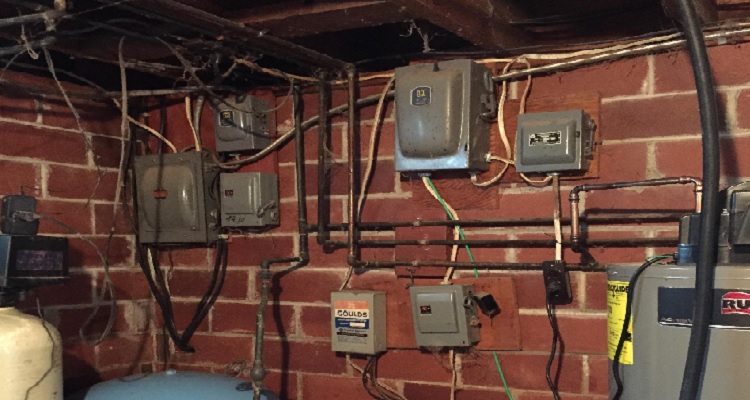 There are some government grant schemes which will enable you to get a free house rewire or contributions towards it. This includes a home repair assistance grant, which you can receive if you own the property or are a private tenant and the following applies to you:
You are over 18 years of age and claim Universal Credit, Pension Credit or income-based support.
You are 18 years old and have a disability or receiving Attending Allowance, Personal Independence Payment, and any other disability-related benefit.
You are over 60 years of age.
If you are eligible, you can receive a maximum of up to £5000 over a 3-year period, although how much you get will depend on the extent of the work.
FAQs
How to Find & Hire a House Rewire Expert
A complete house rewiring requires a qualified electrician to complete and sign off all electrical installations. The average cost to hire an electrician is around £150 per day. To ensure the job is done properly, you should consider hiring a professional who is listed under the competent person's scheme as they can self-certify and will, therefore, make sure that the job is compliant with BS7671 wiring regulations.
You can also check whether they are Part P registered by checking the online competent persons list. This includes members of NICEIC, NAPIT and more organisations.
To become a registered electrician under the Part P regulations, tradesmen must have public liability insurance, a warranty for their work, and formal qualifications including an NVQ diploma in Electrotechnical systems and equipment.
Sources
https://www.wonkeedonkeetools.co.uk/sockets-and-socket-sets/what-are-the-different-types-of-socket
https://www.warehouse-lighting.com/blogs/lighting-resources-education/different-types-of-light-switches
https://www.buildingmaterials.co.uk/knowledge/how-to-plaster-a-wall/
https://www.heathelectricalservices.com/2019/01/the-benefits-of-rewiring-a-house
https://www.quantum-electrical.co.uk/news/does-my-home-need-rewiring
https://www.thespruce.com/why-circuit-breakers-trip-1824676
https://www.planningportal.co.uk/info/200130/common_projects/16/electrics
http://www.grantsexpert.co.uk/grants-for-property-repairs-maintenance.html
https://www.nihe.gov.uk/Housing-Help/Grants/Types-of-grants-available/Home-Repair-Assistance-Grant