How Much Does It Cost To Replace A Consumer Unit?
The consumer unit and materials will cost around £30 to £260, including installation and testing which will take around half a day, assuming there are no problems and then there's also the paperwork to be completed. The average cost to replace a fuse box is between £250 and £510, which includes all labour, materials, testing and certificate.
Prices may vary depending on the amp rating, for example, a smaller consumer unit with a 40-amp rating will only cost around £250 to £300, while a larger unit with a 100-amp rating could range from £470 to £510 or more.
Prices may vary depending on the amp rating, for example, a smaller consumer unit with a 40-amp rating will only cost around £250 to £300, while a larger unit with a 100-amp rating could range from £470 to £510 or more.
If the property wiring is being upgraded and a new consumer unit is part of that work, then as well as changing the fuse box, the complete electrical installation also has to be tested to ensure everything is operating correctly and, depending on the number of electrical circuits and points, this testing can actually take longer than fitting the new unit. Any quote for changing the fuse box should include the labour and materials.
Consumer Unit Prices
Below are some estimated costs of hiring an electrician to remove an old fuse box, supply & install a new consumer unit:
| Number of Circuits | Avg. Cost | Duration |
| --- | --- | --- |
| 6 | £350 | 3-4 hours |
| 10 | £450 | 4-5 hours |
| 12 | £500 | 5-6 hours |
The cost sometimes depends on the amp rating. The average price for supply and installation are set out below:
Amp Rating
Avg. Cost
40 amp unit
(2 modules and 2-3 ways)
£270 to £300
63 amp unit
(1-6 ways)
£300 to £350
80 amp unit
(7-10 ways)
£390 to £440
100 amp unit
(7-16 ways)
£470 to £510
Types of Consumer Unit and the Costs
There are various different types of consumer units, which are explained below, along with the associated costs.
Fully Loaded Consumer Unit
A fully-loaded consumer unit comes equipped with a full set of miniature circuit breakers (MCBs) plus two RCDs which help to create around 10 to 15 usable ways.
This is one of the most affordable options costing around £60 to £120. However, despite its cost-effectiveness, a fully-loaded consumer unit does not provide accurate circuit separation, so is therefore not used very often.
Split Load Consumer Units
A split load consumer unit features a main switch and a residual-current device (RCD). This type of fuse box can be identified by the position of the MCBs which should be located on the side of the RCD, while the Residual Current Circuit Breakers With Overload (RCBO) is usually beside the main switch. The price for this type of unit range from £80 to £125.
Garage Consumer Unit
A garage consumer unit is a much more compact consumer unit, which is typically used for exterior buildings such as garages, sheds and extensions which require a separate fuse box. In smaller spaces, a full unit is not necessary, so many opt for a garage consumer unit which has between 2 and 5 ways units. As it is much smaller than typical consumer units, it only costs around £25 to £60.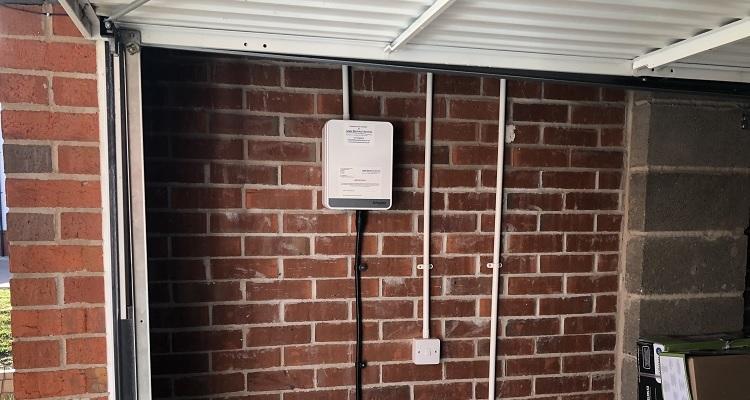 RCD Dual-Split Consumer Unit
An RCD dual-split consumer unit features two sets of circuits that are powered by individual RCDs. For instance, the first RCD may be used to power all the electrical installations upstairs, while the other controls everything downstairs. Having two different sets is beneficial, especially if the power is tripped on one circuit, homeowners can still rely on the other circuit. The supply cost for this type of unit is around £40 to £130.
High Integrity Consumer Unit
A high integrity consumer unit consists of three neutral bars which essentially offers three sets of circuits. They are powered by RCBOs and two MCBs which provides complete circuit separation and protection for both standard and critical circuits. This is beneficial as it means any electrical faults on the fridge, for example, will not affect your lighting. Despite its separation ability, it is actually one of the most inexpensive options costing around £50 to £150 for the unit itself.
Domestic Switch Fuse
A domestic switch fuse is a small consumer unit which typically only has one circuit that connects with system extensions or the sub-mains to create a secondary main switch. The price for this small consumer unit is typically around £30 to £80.
Additional Costs
When calculating the cost of your consumer unit installation, you may also want to consider the following costs:
| Description | Avg. Cost |
| --- | --- |
| Residual current device (RCD) | £20 to £60 |
| Isolators | £10 to £16 |
| Safety lock-offs | £5 to £15 |
| Surge Protection Device (SPD) | £40 to £120 |
| Miniature circuit breaker (MCB) | £2 to £30 |
| Residual Current Circuit Breaker With Overload (RCBO) | £20 to £40 |
| Earth Bonding | £150 to £250 |
Cost Breakdown Calculator
Individual costs for replacing a fuse box with a new consumer unit with 10 MCB's - Total Cost: £450
Labour Costs and Time Frames
The process of installing a new consumer unit will involve an initial inspection of all electrical installations in your home, which could take around 2 to 4 hours. This will then be followed by physical inspections and fault finding in order to establish what is working and what isn't. The tradesmen will then report their findings back to you and offer you a quote for the new consumer unit along with any other jobs that may be required, such as bonding or earthing. They will then schedule a date and time to replace and fit the fuse box, and once this is complete they will perform further tests to check everything is working as it should, and if so, they will issue you with a building control notification certificate.
Most electricians will charge around £40 to £80 per hour. However, some have a daily rate of £150, although tradesmen will usually work in pairs, so you can expect to pay around £250 per day. The actual fitting should take around half a day to complete but may take up to a day if any faults are identified with testing.
Upgrading Your Consumer Unit
Upgrading your consumer unit is extremely important because if you don't upgrade, you could actually be risking your own life. This is because a 'healthy' consumer unit with a residual current device (RCD) has the capacity to detect dangerous electrical threats as well as general 'tripping' issues. If you do not have RCD protection, then you should consider upgrading your fuse box for your own safety.
You will also need to upgrade your fuse box if it does not meet the current UK wiring regulations which state that your consumer unit must protect against electrical overloading which can cause fires and electric shocks.
The cost of an upgrade will depend on your existing fuse box and the type of consumer unit you need. For example, if you have a 40 amp unit that needs upgrading to a 63 amp consumer unit, this will cost around £300 to £350, while a larger upgrade to a 100 amp unit would cost around £470 to £510.
Before any work is even started with regards to the fuse box, the electrician will need to check the earth/bonding and also the power distributors equipment where the metre is installed. Any problems with this will mean the work being postponed until they are fixed and safe. Fault finding on the electrical system should also be carried out before the new unit is installed, that way the electrician will find out if any extra work may be needed.
What Does Replacing a Fuse Box Entail?
In order to replace your fuse box, a qualified electrician will conduct the following steps:
Before the installation begins, the main electrical power supply must be completely switched off.
The fuse box will then be disconnected by taking the lid off the top unscrewing the fuses, unhooking the wires and removing the fuse box off the wall.
Once the old consumer unit is out the way, the new fuse box can then be attached. This involves removing the front panel of the fuse box then screwing the back of the unit to the wall.
When the unit is secure, the main wires will then be pushed back into place and connected to the right outlets.
Any working circuit breakers from the original fuse box may be re-attached or replaced if new MCBs are required. Once these are in place, the front panel should then be screwed in and secured.
Once everything is secure, your electrician will then perform an initial test using a voltmeter to ensure everything is working as it should. They may also perform additional circuit tests which will be recorded on an Electrical Installation Certificate, and a copy will be given to the homeowner. The Part P electrician will also log the work with the Local Building Control, and you should receive a letter from the relevant registered electrical body to confirm this.
Difference Between a Fuse Box and Consumer Unit
A fuse box and consumer unit are basically the same; it is just that fuse box is now seen as a more outdated version of the consumer unit. They both control the electricity that runs through your home while also monitoring the performance of electrical appliances. They are responsible for the 'tripping' that occurs when any faults are flagged, which is conducted for your own protection.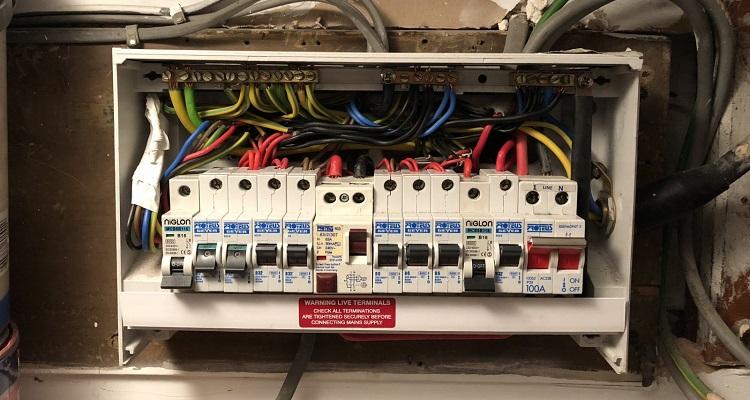 The only real difference between the two is that older fuse boxes contain fuses with a wire inside which can melt in the event of an electrical overload. While a circuit breaker in more modern consumer units can switch off the unit automatically when an overloaded is detected and can then be reset on with no damage when the power returns.
DIY Fuse Box Installation
When having your fuse box replaced, you should avoid doing it yourself, as the job itself is complicated, and while you may think it could save you money it can actually be extremely dangerous, so you are best leaving it to the professionals.
Aside from the dangerous aspect of a DIY consumer unit installation, there are other restrictions that can prevent you from conducting the task yourself. This includes the regulations which require a qualified electrician to perform an Electrical Condition Installation Report before making any electrical changes like relocating your electric meter. By doing this, the electrician can determine the condition of the fuse box as well as any other electrical issues in your home, which you may not have noticed.
After the complicated installation process, a Part P notification will also need to be obtained, and this is not possible if you change the fuse box yourself, as a certified electrician who is registered under the competent person scheme must do it for you. This means they must be approved by the NICEIC, ELECSA, NAPIT, Stroma or any other government-approved electrical organisations.
Populated, Part-populated and Unpopulated
There are three different types of consumer unit – populated, part-populated and unpopulated, which all have various functions. The below table breaks down the function of each consumer unit along with the costs.
| Consumer Unit | Description | Avg. Cost |
| --- | --- | --- |
| Populated | Populated units come fitted with all devices, including the main switch, Dual RCDs, MCBs, and an isolator switch. This saves time and money during the installation process as no extra parts are needed. | £30 to £230 |
| Part-populated | This consumer unit comes supplied with a main switch and RCDs, although it offers some flexibility for additional parts such as MCBs or RCBOs. | £25 to £140 |
| Unpopulated | This is an RCBO consumer unit which is supplied without any circuit protection, as this allows for configuration freedom. | £30 to £115 |
Commercial Consumer Units
For larger properties or commercial spaces, a large distribution board will be required to accommodate more electrical appliances. There are two main types of commercial distribution board – single-phase neutral (SPN) and three-phase neutral (TPN) which usually have an amp rating between 100 to 125.
To help you decide which consumer unit is right for your business, here is a breakdown of the different types of commercial consumer units and their cost.
Single-phase neutral board
A single-phase neutral board usually has two wires which control the flow of electricity. This is normally used for commercial premises with mostly lighting and heating. The problem with this type of commercial consumer unit is that the power can be inconsistent as the power reaches its peak at the same time through both wires.
These tend to cost around £70 to £85 for a 4 to 10-way consumer unit, while a 14 to 20-way unit is typically priced at £90 to £110. Larger businesses may want to opt for a 28-way unit which can cost from £160 to £200.
Three-phase neutral board
A three-phase neutral board controls electricity through alternating currents with the same frequency and voltage. This allows constant power to be delivered evenly and effectively, and at a much higher level than SPN boards.
TPN boards are slightly more expensive at around £130 to £1,000 for a 4 to 8-way board. While a 12 to 18-way consumer unit tends to cost from £200 to £1,600, larger premises may opt for a 21-way unit which can actually cost up to £2,000 or more.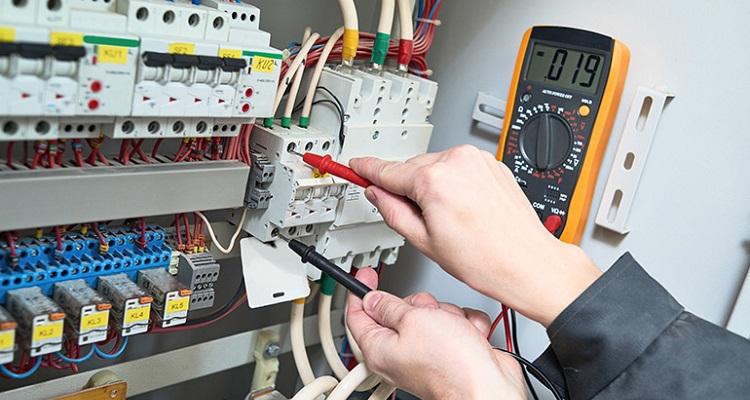 Cost to Move a Consumer Unit
If you are renovating your home, then you may need to move your consumer unit, especially if you plan to turn your electric cupboard into a bathroom or store cupboard. You may also want to move it, so you have better access to it, rather than having to go outside to the garage or the basement.
The cost of moving a consumer unit is around £250 to £500. However, this may increase if you require an electrical installation condition report, as this normally costs around £100 to £300 depending on the size of your property.
Moving a consumer unit will involve the help of a certified electrician who will first inspect and test the condition of your fuse box to establish whether it is working properly. If it is, they will proceed by removing your fuse box from the wall. To do this, they will take the lid off the top of the consumer unit to allow them to disconnect the circuit breakers. After this is complete, the wires can then be unhooked, and the consumer unit can be taken off the wall. They will then move the unit to the desired area, making sure that it is between 130mm and 140mm above the floor level to prevent damp damage.
Rules and Regulations
Before a new fuse box can be fitted, an Electrical Installation Condition Report must be conducted to confirm whether it is safe and can function correctly, although there is no compelling reason to change it if there is nothing wrong. However, many will change the fuse box to a new consumer unit as a matter of course, when upgrading a property, even if the fuse box passes the electrical inspection & test. Of course, should the fuse box fail the inspection and testing, it needs to be changed immediately.
An RCD is now compulsory for all new electrical work, but they can be very sensitive and trip whenever an appliance or light switch is used. This is fairly common and is normally solved by separating the circuits into at least an upstairs ring and a downstairs ring, though this will obviously involve extra wiring and cost. Using an experienced and competent electrician is crucial as they will be able to predict exactly how much extra work is involved.
The Part "P" Regulations are very strict, and certificates for both the electrical installation and for compliance with the Part "P" Regulations must be issued after completion. However, certificates are only given if the work is conducted by a qualified electrician who is registered under the competent person's scheme and are part of either the NICEIC, ELECSA, NAPIT, Stroma or any other certified organisations.
If you're a landlord, it is a legal requirement that each property you own has an Electrical Installation Certificate from a qualified electrician to ensure that all electrical devices are working as they should. This offers protection to you as a landlord while also ensuring your property is safe for your tenants, while also avoiding fines and invalidated insurance. You should try to have as many electrical checks as possible to avoid fire hazards or electrical shock incidents.
Do I Need to Notify Anyone About Moving My Unit?
Before moving your consumer unit, you will need to get in touch with your electric supplier to inform them of the above, and they can then switch off your electricity temporarily.
If you're planning to upgrade your consumer unit in any way, then this will be classified as notifiable work. Therefore, you will need to make sure that the work is completed by an electrician who is registered with a governing body. After the installation, they should provide you with an electrical safety certificate which will confirm that the work is compliant with building regulations.
Maintenance and Repair Costs
Replacing broken fuse
If you have a blown fuse, you should try to have it replaced immediately by a qualified electrician. This will cost around £80 to £100 and will involve the removal of the broken fuse, which should be replaced with the correct cartridge fuse which will be screwed in place and tested.
To save money, you could consider purchasing the fuse yourself, which typically cost around £1 to £3 for a pack of 10.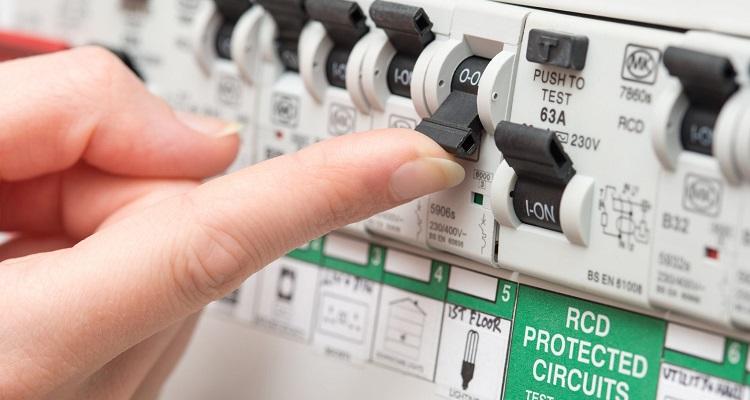 Replacing circuit breaker switch
In contrast to fuse boxes, modern consumer units are supplied with circuit breakers rather than fuses. While these are less inclined to break, an older consumer unit may require a replacement of one or more of their circuit breakers. The supply cost for circuit breakers is around £3 to £30 each, so if you're buying yourself, you will need to have a look around to see which circuit breaker is right for your unit.
If you're unsure and have no experience dealing with consumer units, then you should hire a professional to supply and fit the right circuit breaker, which will cost around £45 to £50 for a qualified electrician to fit a new circuit breaker.
General consumer unit maintenance
To ensure your electrical supply is working properly, you should book in a maintenance check every 5 to 10 years to ensure there are no faults. Although, some companies do offer annual electric checks which may be beneficial. This typically costs around £100 to £300 for an Electrical Installation Report, and another popular maintenance check is PAT testing which involves checks on all electrical appliances and is normally priced at £1 to £2 per item.
Cost of a New Sub-panel
If you need a separate electricity supply in your garage, shed or new extension, then you will need to have a subpanel installed. This is a smaller electric panel that supplies electricity to specific areas in and around your home. This ensures that the electric supply reaches this area to power things like heating and lighting.
The cost to add a new sub-panel is around £300 to £700. However, it can actually save you more money in the long run, as it means you do not have to run any wires underground, so there will be less expensive when you end up changing your main electrical panel.
Does My Unit Need an Upgrade?
If you have a consumer unit with no residual-current device, then this will definitely need replacing for the protection of the property and yourself. You will also need an upgrade if your consumer unit has a wooden back, as this will mean it is outdated.
Other than outdated elements, it is actually quite hard to determine when your consumer units need to be upgraded, so it is important that you get regular checks every five to ten years to ensure your electric system is up to date and safe. While fuse boxes and consumer units can last up to 30 to 40 years, electrical faults can still occur, and regulations do change, so it is best to get them checked often.
In some cases, you may not need an upgrade, as repairs may suffice and will be less costly. So you should try to avoid replacing your old consumer unit until it has been tested by a qualified professional who will then decide if it simply needs a repair or a full replacement.
Cost of Removing a Consumer Unit
If you need a new consumer unit or fuse box, then you will need to have the existing one removed. This will involve removing the lid off the electrical system followed by the removal of the circuit breakers or fuses, followed by disconnecting the wires. The wires will then need to be straightened out to remove them and feed them through the entry holes.
After removing the wires, your electrician may re-organise the wiring in preparation for the new consumer unit. If there is any rubber wiring, this will need to be removed as it is no longer compliant with electrical regulations.
A qualified electrician will charge around £40 to £80 per hour, with a removal usually taking around 1 to 2 hours.
FAQ's
How to Find & Hire an Electrician to Replace a Fuse Box
To ensure that your consumer unit is fitted correctly and is compliant with electrical regulations, you will need to hire a qualified electrician who is registered under the competent person scheme and member of NICEIC, ELECSA, NAPIT, Stroma or any other government-approved electrical organisation. They will usually charge around £40 to £80 per hour or a daily rate of £150 to £250.
You should also inquire about their qualifications and experience which should include a Level 3 NVQ Diploma in electrical maintenance with around 5 years' of on-the-job practice.
Try to avoid hiring anyone without public liability insurance, especially with an electrical installation, as this can be detrimental to both you and the tradesman.
Sources
https://www.electrical-experts.co.uk/blog/when-should-consumer-unit-be-upgraded
https://excelelectrician.co.uk/fuse-box-replacement/
https://www.mdbespokesolutions.com/blog/why-cant-i-change-a-fuse-board-or-consumer-unit-myself/
http://www.diybasics.co.uk/replacingafuseresettingcircuitbreaker.html
https://www.247homerescue.co.uk/electrical-faqs/how-to-repair-a-fuse-in-a-fuse-box/
https://www.thomasmorris.co.uk/tenants/mainteance-tips
https://www.tradeskills4u.co.uk/posts/consumer-unit-location
https://www.edwardes.co.uk/consumer-units-explained-everything-need-know#all-types