How Much Does a Burglar Alarm Cost?
The cost of alarm system installation will, of course, depend on your home and your personal preferences and budget, but this article aims to simplify home security systems and give you the basic information required to decide on a type of security system, or at least approach a security professional with some confidence.
The average cost to have a security alarm system installed varies on the type of system you would like and what you would like it to cover.
The most basic of home security systems is a bells-only alarm which emits a loud siren when the home alarm system is triggered. This burglar alarm installation costs around £125 to £300. This is effective as it can deter intruders as well as alerting neighbours or the authorities.
You can also opt to have a silent home alarm installation which is usually the same material price as a bells-only alarm, the only difference is that instead of making a noise it will send an alert directly to the police or monitoring station without the noise of a siren sounding off in your home. This is usually controlled by either a panic button or a duress code. To set up a police response for this alarm you may be required to pay out around £300 to £700.
A wireless security system consists of cameras, sensors and detectors which are controlled by a radio signal and is typically priced at £200 to £600, unlike wired security systems which are connected to the electric and telephone lines in your home and cost £400 to £800, as the material is less costly but it requires a more complicated installation.
Dialler alarms are similar to wired alarms and cost around the same, however, when activated they can contact up to 9 phone numbers and can also leave a pre-recorded message warning of a potential intrusion. These usually cost up to £200 for installation.
Smart security alarms are the most advanced type of alarm system, which are either controlled by Wi-Fi or Bluetooth and are typically connected to smartphones. This could cost up to £400 for professional installation for a complete smart security alarm.
The above price may vary depending on the size of your home, the security systems you choose and whether you opt for a monitoring service alongside professional installation which can cost around £400 to £1,800.
House Alarm Installation Prices
Below are some estimated costs of having a security alarm system fitted:
| Alarm Type | Average Cost |
| --- | --- |
| Bells-only alarm | £125 to £300 |
| Silent alarm | £200 to £300 |
| Wireless alarm | £200 to £500 |
| Wired alarm | £400 to £800 |
| Dialler alarm | £175to £200 |
| Smart security system | £190 to £400 |
Supply Only Costs
Here is a breakdown of the different supply costs for a DIY security alarm installation:
| Material | Cost per square foot |
| --- | --- |
| Motion sensors | £20 to £50 |
| Door and window sensors | £20 to £30 |
| Panic button | £15 to £90 |
| Wired security cameras | £70 to £200 |
| Wireless security cameras | £50 to £270 |
| Control panel | £40 to £100 |
| Keypad | £30 to £60 |
| Siren | £40 to £80 |
Additional Costs
Other costs you may want to consider to improve the level of security in your home, include magnetic contact sensors which cost around £16 to £19 each. These are typically used with wired and wireless alarm systems and are normally placed on doors, windows and any other opening fixture in your home. They are effective in triggering any unauthorised access near entrances.
Many homeowners opt to place security stickers to act as a deterrent to intruders. These can be effective for opportunist burglars and may be worth a go at just £3 to £5 per pack.
To up the level of security in your home, you may want to purchase key fobs which can switch your security system on or off. These are effective in protecting your home at any time as the system can be activated or disabled by just clicking a button. They usually cost around £28 to £53 for packs of 10, so everybody in your home can have one.
To ensure your home security system is working at all times, you should always have a back-up battery to hand, as most house alarm batteries usually last around 3 to 5 years. The battery you need will depend on the type of alarm system you have; however, most security devices require AA or volt batteries which are both priced at £3 to £9 a pack.
If you are getting a security system installed by a qualified electrician or security specialist, then there may be other jobs they could take care of for you at the same time. External lighting - priced at £125 - is a related job which can work well with a burglar alarm installation. You could also consider adding automation to gates (£7,000 to £8,000) or garage doors (£600 to £1,200) to make life easier!
Cost Breakdown Calculator
Individual Costs to Install a Standard Security Alarm System - Total Cost: £650
Labour Costs and Time Frames
The average security specialist will around £150-£200 per day for their labour depending on location. The time frame will depend on the type of security system you want in your home. Smart home security systems may only take an hour or two to fit so may only cost up to £50, while a bells-only alarm would cost around £175 for a day's worth of labour. For a silent alarm system with police-calling services, this will be priced at £300 for up to 2 days work.
Installing a Security Alarm
Each security system has a different method of installation. Here is a breakdown of what each job entails, along with the alarm cost and pros and cons of each system.
Bells-Only Alarm
A bells-only alarm is typically installed near a front entrance by sticking or nailing it to a wall. Infra-red and motion detectors will then be placed in optimum positions to detect intrusion. Magnetic contact switches will be placed on the perimeter your home to act as the first point of contact for intruders.
Price: £125 to £300
Pros
✔ Omits a loud noise which acts as an effective deterrent against intruders.
✔ One of the cheapest alarm systems to install.
Cons
✖ Does not automatically alert the police.
✖ An unmonitored system is more vulnerable.
Wired Alarm
A professional wired alarm installation will usually begin with a full site survey to determine your requirements. Once the type and number of sensors are established, these need to be mounted and the wiring concealed. Then the final stage is to connect all the sensors and other devices to the main control panel. If you choose a monitored alarm system, it will need to be connected to a phone line or your internet service.
Price: £400 to £800
Pros
✔ Do not require as much maintenance.
✔ No battery replacement cost.
Cons
✖ Must be fitted professionally.
✖ Installation is expensive as hard-wiring is required.
Silent Alarm
If you would prefer a silent alarm, experts suggest that you should get used to your system first before turning on the silent function. They usually recommend waiting a month before they can help you set up your silent alarm system which includes creating a duress code should an intruder break into your property.
Price: £200 to £300
Pros
✔ This type of alarm can trick an intruder into thinking they have gained access and will most likely be caught.
✔ Police will be verified when unauthorised access is detected.
Cons
✖ As there is no noise detected you will not be alerted of the intrusion so it could put you in danger especially during the night.
✖ Increased chance of confrontation with the intruder.
Wireless Alarm
If you're opting for a wireless home alarm installation, then a professional will install your home security panel by hammering a nail into a wall near your front door in proximity to a power outlet. If you're living in a rented property, it may be possible for your panel to be installed using adhesive. Once this is complete sensors and motion detectors can then be stuck on doors and windows using adhesive. The system will then be tested to ensure it is working correctly.
Price: £200 to £600
Pros
✔ Quick and easy to install.
✔ Little to no labour costs.
Cons
✖ Sensor batteries will need to be replaced regularly.
✖ Require regular maintenance.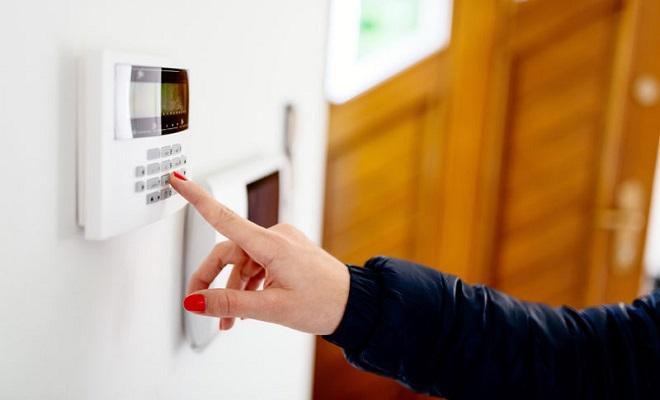 Smart Security System
There are various types of smart security systems that are usually fitted by homeowners, however, if you have difficulty setting it up you can ask a professional to do it for you. The installation process will typically involve setting up the security system, downloading an app on your smartphone and connecting it to the device through Wi-Fi or Bluetooth.
Smart doorbells may be more complicated as they will need to be mounted on a wall or door in order to function effectively. Before doing this, a professional will make sure that there is enough space left to load and remove a rechargeable battery within the doorbell before it is secured in place. They will then switch off the power to your existing doorbell via the circuit breaker, then they can be attached to the wall, the wires will connect to the screws and the power can then be turned back on.
Price: £190 to £400
Pros
✔ Can pick up the smallest levels of detection and alert you on your phone.
✔ Smart doorbells allow you to monitor your home in real-time.
Cons
✖ Requires a smartphone.
✖ Can be costly for a full smart home automation kit.
Cost Affecting Factors of Installing a Security Alarm
There are several cost factors you need to consider before deciding on the right house alarm system for you. For instance, the size of your home will determine the price, as the larger your home is the more sensors and detectors you will need both inside and outside your home. This will require a longer installation which will increase labour costs. For example, if you have a 3-bedroom house you could end up paying up to £1,100 for a professional installation including monitoring.
The type of alarm you choose will also determine the price, as wireless alarms do not require hard wiring so will, therefore, cost less to install. However, the material cost tends to be more than wired alarm systems, so if you're planning a DIY installation you may be best sticking with a wired model to keep costs down.
You may want your alarm to offer additional features which will increase the overall cost. For example you can have a dialler alarm installed with your alarm which automatically dials your number along with 8 other nominated numbers when the alarm goes off but will cost an adiditonal £150-£200 on average. These can also be installed in existing alarm systems.
Can I Install a Security Alarm Myself?
Wired alarms aren't a DIY job and should really be fitted by a professional because they need to be connected up with your home electrical system and also the wires have to be hidden, all of which increase the labour costs. But hard-wired alarm systems are robust and require less ongoing maintenance when compared to wireless systems.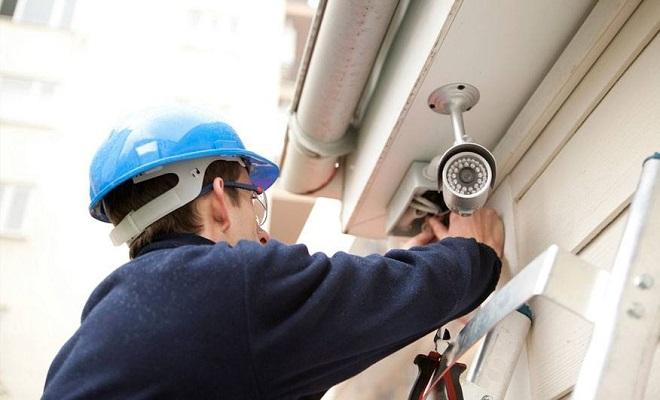 Wireless alarm systems need battery-powered sensors and communicate via radio signals. They are easier to install with no wiring so no electrician required, so they can be fitted by anyone with basic DIY skills. Wireless systems and security home installations are also portable, so you can take them with you when you move house!
If you want to install a wireless system yourself, then you will need a hammer (£3 to £15), nails (£2 to £10) and self-adhesive (£1 to £3 a pack).
Should I Install a Security Alarm?
According to Police statistics, you are much less likely to become a victim of burglary if you have a professionally fitted and well-maintained security alarm system. So, fitting a burglar alarm is definitely a worthwhile investment.
While it is advised that everybody should have a security alarm installed, it is especially important for those living in areas with high crime rates. If you have just moved into a neighbourhood, you can check the statistics in your area before deciding on the level of security you need. You could also ask your neighbours about burglaries in your area and whether they are a common occurrence.
Benefits of Having a Security Alarm
There are a variety of advantages for having a security alarm installed in your home, the first being the protection it provides for you and your family against threats and robbery. A high-quality security system will also help you protect your valuables, as an alarm will deter an intruder.
Having a security alarm can also help to lower your home insurance, as your home will be more protected against a potential burglary. This will also make your home more appealing to buyers, as they will also have lower monthly premiums when they move in. This may also increase your property's value.
Security alarms are ideal for anyone who go away on holiday regularly or work away from home, as you will not have to worry about your home being vulnerable with the right security system in place. This is especially true for homes with smart security systems, as you can monitor your home from your smartphone.
Will Installing an Alarm System Add Value to My Home?
Having a security system installed in your home can increase the value of your home, while also offering additional discounts for you and potential buyers. As a lot of insurance companies will actually lower monthly premiums by 20% for homes with an alarm system in place.
What Is a NACOSS Alarm?
The National Approval Council for Security Systems (NACOSS) is now known as the National Security Inspectorate (NSI) which is an accredited organisation used by local authorities to deem whether an alarm installation is of a high standard. This offers homeowners reassurance that their alarm system is good quality and is also reliable.
The British Security Industry Association (BSIA) only represents companies who are certified NACOSS Gold supplier's, and the price these firms charge is usually around £950 for installation in an average home. However, if opting for servicing and monitoring services you should expect to pay around £400 per year.
Cost of Removing a Security Alarm
If you are looking to upgrade your security alarm or are planning to move and want to take it with you, then you will need to have it removed.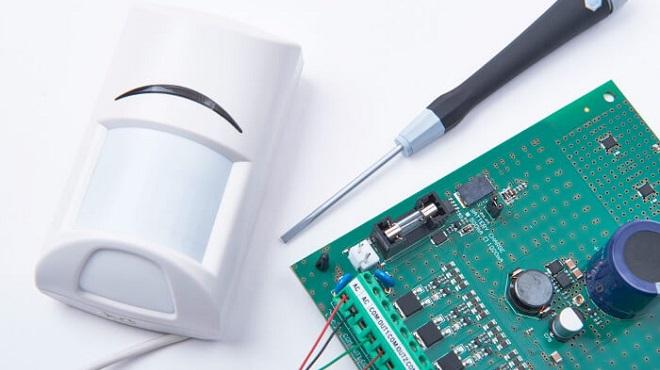 A wired system will require a professional's help to ensure that everything is powered down properly. This should cost around £50 to £100 per hour for an electrician's help, although this cost may vary depending on the extent of the job.
A wireless system, on the other hand, should cost nothing at all, as all you need to do is unscrew it from the wall and take it with you.
If you plan to remove the alarm yourself, you should follow the below steps:
Before removing the alarm, you must contact your alarm monitoring company to inform them of your plans. If you do not do this and the alarm is tampered with, the police may be called out to your home.
The first step involves disabling the control panel by putting it in maintenance mode, then the power will be disconnected from the alarm and the siren if it has one to prevent false alarms.
When disconnecting the power, you should use a multimeter to make sure there is no power flowing through the system to prevent any electrical shocks
If the alarm is battery-powered you should disconnect the battery then take out any screws and nails or if glued you will need to pry it away from the wall.
Detectors, sensors and other components should all be removed, making sure that screws, nails and glue are taken out of the walls or fixtures.
FAQ's
How to Find & Hire a Security Specialist
If considering having an alarm system installed, it is recommended that you get at least three quotations from reputable installers which are current members of a recognised trade association for the security industry, such as SSAIB or NSI. Your insurance company may also be able to recommend particular companies and may even offer a discount on your home contents insurance. You should also check that the company you choose has public liability insurance to protect everyone in the event of a problem or incident.
When shopping around for quotes, note the cheapest quote is not always the best option. Be very wary of alarm companies that cold call and use high-pressure sales tactics. If alarm monitoring services are offered make sure they are recognised by the police.
You should also check any installation contract carefully and ensure you are fully aware of the maintenance requirements and costs. British Standards requires that there is a handover period in which the alarm company ensures the homeowner is familiar with the system, so make sure that the company you choose offers training to show you how the system works!
Sources
https://www.which.co.uk/news/2019/10/burglar-alarm-monitoring-and-maintenance-contracts-are-they-worth-the-cost/
https://www.alarmnewengland.com/blog/wireless-security-systems
https://securityalarms.co.uk/kb/wireless-or-wired/
https://securitybaron.com/blog/can-security-system-increase-value-home/
https://www.angelsecurity.co.uk/blog/benefits-of-silent-alarms/