Electricians can carry out a great number of jobs and projects around your home. Still, there are certain jobs that are very common, accounting for a considerable percentage of an electrician's workload.
Electrician Jobs
Here we're going to delve into these common call-outs in more detail, including aspects of the job, typical costing, and other relevant information.
Replacing a Fuse/Consumer Box
Fuse boxes are the central hub for your home's electricity controls and supply. They route and control your home's electricity supply to the locations that it needs to be for switches, sockets, lighting, and mains supplies.
It's also the place that you reset your circuits from in the case of trips and short circuits along with providing the controls to stop the supply to your home in the case of an emergency or when repairs are being carried out.
Now, you may need to replace this box if it's becoming a little dated, or if there is a fault with the fuse or consumer box. It's unlikely that you'll need to replace this often, but you'll probably have to do it at some point over the years, so it's important to know what is involved with replacing a box and what it's likely to cost.
The box's overall price and the labour to fit it will depend on how many circuits you need on the box. Usually, you'll need anything from 6-12 circuits on the box, and it will take around 5 hours to fit the box from the electrician.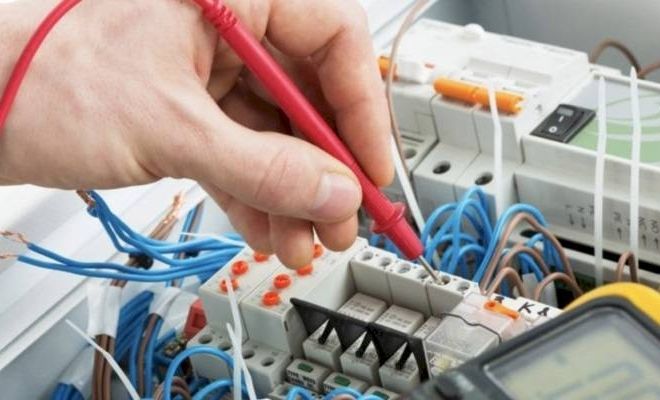 Pricing-wise, a 6-circuit box will cost about £350 for the supply and installation, with a 12-circuit box costing £500 for the supply and installation.
Of course, if you choose a more high-tech fuse box, these prices will increase, but when you get your initial quote from the electrician, they'll be able to give you a price for the work after discussing what you want.
If you want even more information about replacing a fuse box, take a look at our full guide to it here.
Move or Replace a Light Switch/Socket
There are a number of reasons for wanting to change the location of a socket or light switch, mainly centring around home renovations of some kind, whether for decorative or operational purposes.
Offices with a desk in the centre of the room may want an under-desk socket, or a wall-mounted TV may need a socket directly behind it to remove any unsightly cables.
If your living room's lighting system is controlled with a smartphone or device, you may want to hide away any light switches behind tables and furniture.
Whatever the need for a socket or switch move, there are still several factors to consider. Firstly, you need to decide if you want to upgrade your switches to newer versions that have USB ports or a touch-button as a feature, as these types of sockets will naturally cost more than a basic socket.
You should also consider how many you want to change at once, as the more you have changed at once, the cheaper each individual change will be.
While on the topic of price, let's explore the pricing system a little bit more for socket and light switch replacements.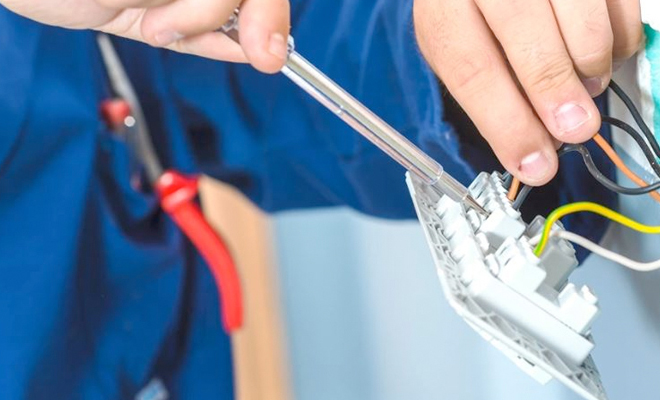 To replace a socket or switch, with no interface upgrades and without moving the switch location, you'll pay around £75, and it will only take the electrician about 1 hour. If you wanted to move this switch to another location, it would cost about £150 and take 3-4 hours.
However, if you wanted to change the locations and replace five switches, you can pay around £250 and hire the electrician for the entire day, which would be enough time to have five sockets or switches moved.
There are a wide array of different options and variations for this type of job, and an electrician will be able to walk you through these options, providing a price for each. For a more detailed look at the intricacies of moving or replacing a light switch or socket, take a look at our extensive article here.
Rewire an Entire House
A complete rewiring of a home is relatively common in older homes to ensure that the electrical circuits are working as they should be and don't pose any threat to the homeowner.
Old wiring and circuits will have degraded over time, increasing the chances of random malfunctions that can lead to fires and injuries.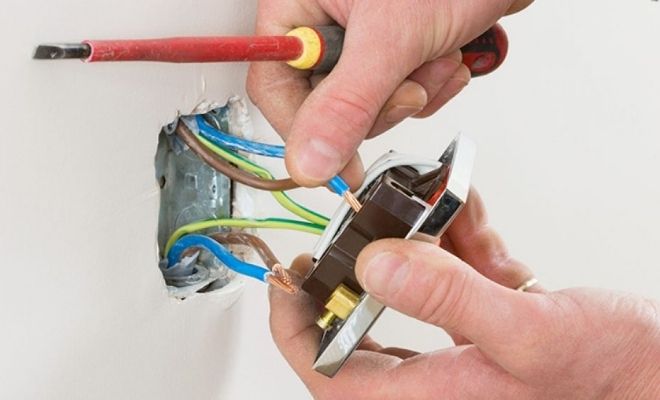 Before any rewiring work can be conducted, you must first have a qualified electrician conduct an Electrical Installation Condition Report which will act as the guide for rewiring the home, addressing any issues that the report found. This costs around £100-£300 depending on how large your home is.
Once this has been done, your electrician can provide an accurate rewiring quote, and work can be started. Of course, the rewiring cost will vary depending on the size of your home, but to give you an idea of the cost, a 3-bedroom semi-detached house would cost between £3,000-£4,000 to rewire, and it would take around 6-10 days. For a more detailed look into rewiring a home, take a look at our article on the subject here.
Supply and Fit a Ceiling Fan
The summer days in the UK can be a very uncomfortable time as the vast majority of homes don't have any air conditioning facilities.
A great way to gain some air circulation to cool down in these months is a ceiling fan, and while it may not cool the room down fully, it will certainly provide a modicum of relief when temperatures rise.
In fact, ceiling fans are a good option in winter too, as you can circulate the warm air that collects high in the room, making the most of your heating systems.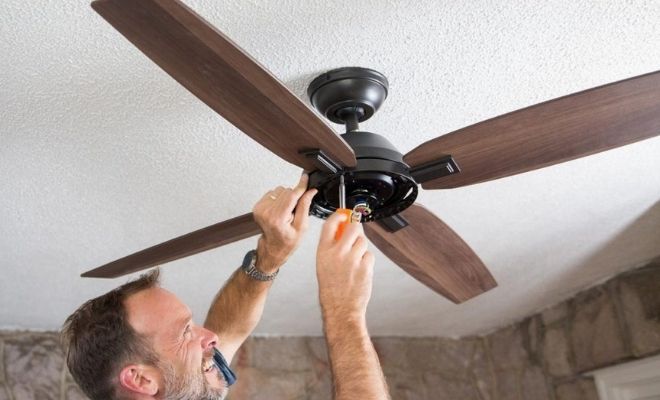 If you don't have a ceiling fan in your home already, an electrician can install one for you, and it may be more affordable than you think.
A basic white ceiling fan supply and fit only costs around £150 and takes between 1-2 hours, which is a very small investment for the benefits a ceiling fan provides.
You can also install a more high-quality brushed aluminium option, but this will cost more in the region of £400-£500. To find out what the job entails, take a look at the guide we compiled on supplying and fitting ceiling fans here.
Supply and Fit LED Lighting
Lighting fixtures that hang from the ceiling are becoming scarcer as far more modern alternatives make their way into prevalence in UK home.
LED lights are far more energy-efficient, providing a low-cost solution that reduces your energy consumption and carbon footprint. The lighting quality is also much better than that of standard bulbs, burning brighter and lasting far longer.
A typical design option is to embed the LED lights in your ceiling in a house, and this can transform your space incredibly well without breaking the bank to do so.
Now, the pricing for this job is a little hard to pinpoint as it depends on your requirements, wiring, house size and how many LED fixtures you would like installed.
The best thing to do is to read our guide on LED lighting and speak to an electrician who can give you a good idea of how much the job would cost for your home. You can read our guide on LED lights here.
Emergency Electrician Prices
There's nothing more frustrating and often worrying than an emergency relating to your electricity. As we mentioned earlier, electricity keeps everything in our home running, from hot water to lights, so to be without it is pretty tough.
However, these incidents do occur, so electricians are available for emergency call outs, although they are charged at a higher rate.
We're going to explore a few standard electrician emergency call outs and what you can expect from them, but first, we're going to break down the typical rates for an emergency electrician call out.
Typically, an electrician will charge around £80 per hour for an emergency call out, whether this is on the weekend, at night on public holidays.
Additionally, there may be a minimum payment to call them out. For example, if you call an electrician out during the night, they may advise that to come to the job there will be a payment of a minimum of 2 hours work, at £80 per hour.
So, you would need to pay £160 even if the job were complete in 40 minutes. The best thing to do is clarify the electrician rate before telling them to come and make the repairs to avoid any nasty shocks when the invoice comes.
Here are some common emergencies that electricians are called out to:
Circuit Trips
Circuit trips are an annoyance and are usually caused by a faulty appliance sending a surge of electricity through the circuit, causing it to trip and cut off electricity throughout the house.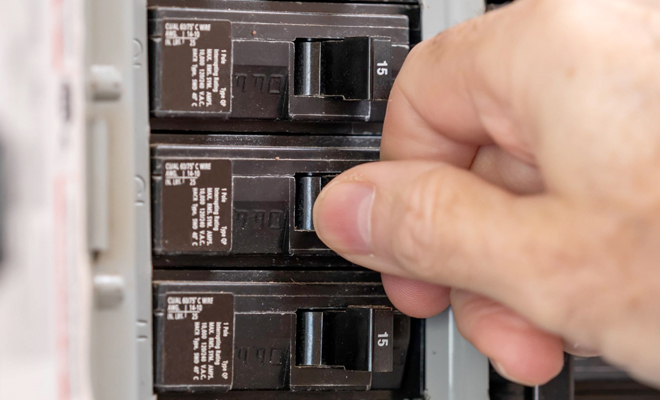 If this caused by something like an oven or microwave, you could do without it until you have it repaired during normal business hours. However, if an essential electrical appliance causes it, you'll need an electrician to come out and resolve the issue.
This should only take a few hours, and you should ensure that it really is an emergency to avoid paying extra fees unnecessarily.
Power Failures
Power failures can be caused by several things and can be quite frightening, especially if you haven't experienced one before.
The power failure could have been caused by electrical surges, bad weather or accidentally cut lines, but if you have to call out an electrician to fix a power failure, be clear about the fees.
It can be quite a lengthy job if the cause isn't obvious.
Faulty Storage Heaters
If you find yourself without a working boiler in the winter for any reason and you've been left with no option other than a storage heater, it can be very worrying if that too malfunctions.
Of course, living in extremely cold conditions can be very dangerous, especially for the elderly, so if this happens to you, you should call an electrician out no matter the time of day or week.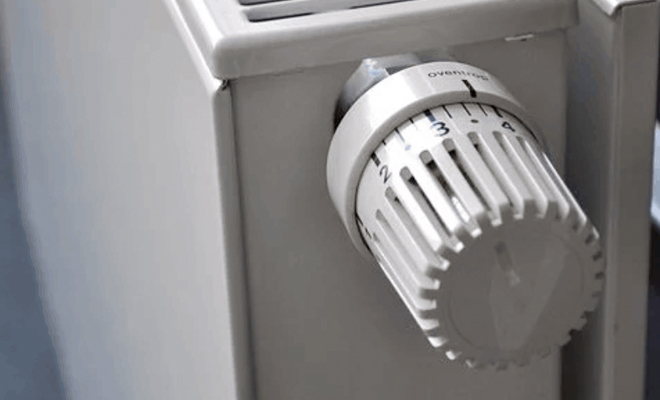 The fix should be a fairly easy one for an electrician, so you should only have to pay the minimum call out charge.
Electrician Rate
Here are the average rates of an electrician:
Electrician Hourly Rate
The average hourly rate of an electrician in the UK is £40 per hour; however, this isn't standard across the country.
Certain areas, most notably London and the South-East, charge higher rates approaching the £55 mark, whereas some small villages and towns in the north have slightly lower rates of around £35 per hour. The hourly rate all depends on the cost of living and demand in the region.
For larger jobs, you can agree on a daily rate or a price per job. We'll discuss that more in the next section.
Electrician Daily Rate
It makes far more sense for the electrician and the customer to charge a daily or by-job rate for larger jobs than trying to keep track of the hours.
The average daily rate for a UK electrician is around £250, again fluctuating depending on the region, as rates can reach as high as £300 and as low as £220.
Of course, for larger jobs like house rewiring's, your electrician will likely quote you on the job instead of the time.
Electrician Qualifications
To become an electrician, you'll need to have achieved a recognised level 3 qualification in a relevant subject, for example, a level 3 diploma in electrotechnical services.
The majority of electricians will gain access to the trade through an apprenticeship, allowing them to learn on the job and spend less time in a classroom; however, they will still need to take the written exams to gain the level 3 qualification.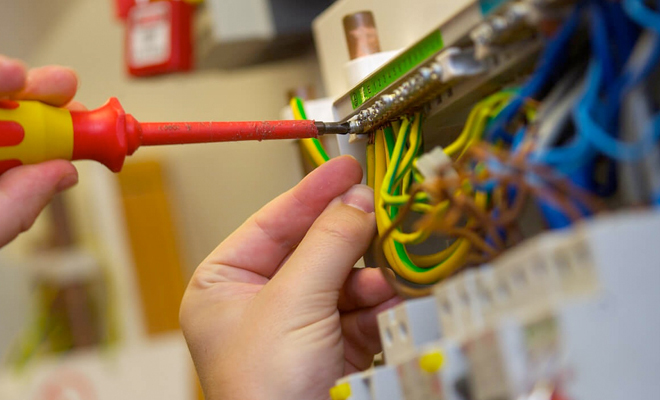 This process can take anywhere from 2-4 years, depending on the individual. You can also attend a college to complete a training course that will give you the same experience and qualification.
This will help those who want to be an electrician but have struggled to find an apprenticeship.
Electrician Insurance
Electricians and all other tradespeople must have valid liability insurance in order to carry out work on people's homes.
This insurance protects both the tradesperson and the customer against accidental damage and injury. Should anything go astray, and an incident occurs, a customer can claim damages through the tradesperson's insurance company.
This protects the tradesperson, as themselves and their assets are covered by the insurance.
FAQs
How to Find and Hire an Electrician You Can Trust
Finding an electrician has become really easy in recent years due to the rise in comparison websites for tradespeople and businesses.
Once upon a time you only had word of mouth and the assurances from the tradesperson that they were of a good standard, however now we can view reviews from previous customers, portfolio pictures and accreditations.
The best place to start your search for an electrician is to search for one on a search engine as this will show you results in your area.
From here, you can check out their qualifications, accreditations, reviews, pricing and much more through business pages and contact a few different electricians for quotes.
You should always ensure that whoever you hire are fully licensed and insured to carry out the work on your home, and you should ensure that they are on the Electrical Competent Persons register too, which you can access online for free.