How Much Does Installing CCTV Cost?
There are many variations of CCTV cameras on the market each with their own merits so if you are asking 'what the CCTV installation cost near me' is; hopefully, this will help to give you an idea of prices.
This article will cover several different types in an effort to give a comprehensive overview of the market, what is available and at what cost.
An individual camera can cost anywhere between £20-£550, depending on the type of camera you choose.
An entire CCTV can cost between £340 to £1900 for parts and installation, depending on how many cameras and what type of system is installed.
CCTV Prices
| TYPE OF CCTV CAMERA | PRICE RANGE | PRICE PER CAMERA |
| --- | --- | --- |
| Dome | £20-£150 | £70 |
| Bullet | £20-£200 | £100 |
| C -mount | £45-£230 | £105 |
| PTZ (pan, tilt & zoom) | £50-£465 | £170 |
| Day/Night | £50-£230 | £115 |
| Infrared/night vision | £10-£400 | £140 |
| Network | £35-£550 | £160 |
| Wireless | £40-£280 | £135 |
| High definition | £20-£360 | £155 |
CCTV System Prices
| DESCRIPTION | PRICE |
| --- | --- |
| 4 camera system POE with NVR (hard drive installed)5MP Starlight IP dome cameras | £950 |
| 4 x bullet cameras and 4 channel NVR (hard drive not included) IP wireless system | £360 |
| 4 camera system, 2 x HD indoor, 2 x HD outdoor wireless IP, (hard drive included) | £600 |
| 4 x bullet network IR motorised 5 MP cameras, POE NVR, 8TB HDD, 305m cable | £1,350 |
| 8-channel CCTV with DVR, 1 TB hard drive, 8 outdoor HD Cameras | £340 |
| 8 channel 4K NVR, 8TB hard drive, 4 x IP mini bullet 80° cameras, inbuilt microphone | £1,900 |
| Installation service for 4 cameras | £350 |
| Installation service for 8 cameras | £600 |
Additional Costs
If you are assessing the security of your home, then the CCTV cost may not be the only one to consider. A major priority is protecting the vulnerable access points to your property.
The most obvious are doors and windows, and there are several types of locks that can be used to improve security.
Door and Window Locks
Door locks are important for your home's overall security. Five lever mortice deadlocks are the most commonly fitted to external wooden doors such as front and back doors. These locks are integral to the door and are not surface mounted, making them much stronger and harder to breach.
Look for those which conform to BS3621; there will be a kite mark on the face of the lock to show that it meets this standard. A five-lever mortice deadlock that conforms to BS3621 will cost in the region of £20-£45 depending on size and finish, e.g. chrome or brass.
uPVC doors also have integrated locks called multi-point locking systems. These normally have between 3-5 points in the door where bolts engage with the frame when the door is locked.
The mechanism is operated through a euro cylinder. A good quality multi-point locking system will cost between £70-£120 on average. >Window locks are often integral, especially in modern windows, but additional locks can always be added.
A good window lock will cost on average between £20-£40. Sash jammers can also be fitted to windows and doors if the locks are bypassed, these cost around £10 and are simple to install.
The security of your garden gate, especially at the rear of the house, is worth considering too. A decent padlock is a good investment and should cost no more than £30.
Security Lighting
Security lighting and floodlights activated by motion sensors are an effective deterrent to criminals and can be bought from between £20-£150 depending on specification.
Having a timer fitted which allows random lights to come on at differing times will help to create the impression of occupancy even if the property is empty.
Alarm Systems
Alarm systems are a very valuable security asset, and just the sight of an alarm box on the exterior of a home can make some criminals reconsider.
Subject to what kind of alarm you want such as just loud bells or sirens to frighten off a potential burglar or a monitored alarm then the cost will vary quite substantially.
For the installation of a standard security alarm system expect to pay in the region of £650.
Cost Breakdown Calculator
Individual costs to install a 4 camera POE system with enhanced zoom capabilities, night vision and NVR - Total Cost: £1000
Labour Costs and Time Frames
The labour portion of the CCTV installation cost will be dependent on what type of system you fit, how many cameras will be installed and where they will be located in the property.
The cost of labour is approximate £75-£90 per camera.
A basic system will involve one or two cameras, and a recording device, a dedicated monitor to view the recorded images, is not always needed as many people will use a computer, tablet, or smartphone for this purpose.
This would probably take no more than 3-4 hours to install for a professional, even less if no drilling for cabling is required.
A four-camera system which is hardwired will take on average 4-6 hours to install for a professional CCTV installer while an eight-camera system may take 6-8 hours.
What is CCTV?
CCTV stands for closed-circuit television, which means that the recorded images are not transmitted publicly and are only available to those who are permitted to view them.
In a domestic setting, this means you although you should be aware that you are only allowed to record images inside the perimeter and boundary of your property.
Anything beyond this, e.g. the public highway or a neighbour's property will be subject to the Data Protection Act and GDPR (General Data Protection Regulations).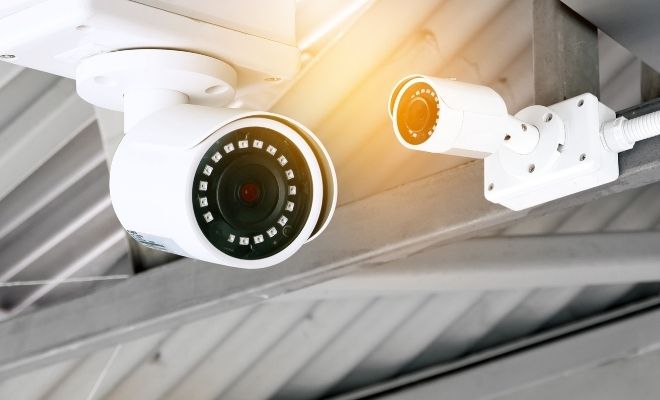 What is CCTV Used For?
CCTV camera systems can help to improve the security and safety of your home.
You can easily identify what is going on outside by remote monitoring from inside the house, at work on your smartphone or almost anywhere in the world.
Night vision, once reserved for police and security forces, is now commonplace and quality images are possible in almost all light conditions.
Features such as thermal imaging and facial recognition are now part of the mainstream CCTV market and not purely for airports and industrial facilities.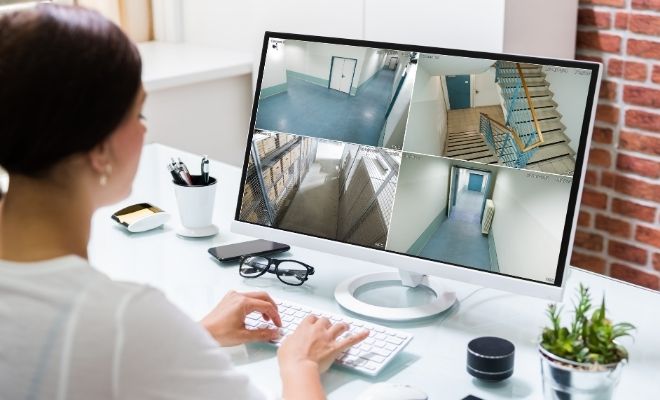 CCTV systems became more widely used in public areas such as shopping centres from the late 1980s onwards.
Public and private CCTV can now be used to obtain images and recordings that can be provided to the police as evidence of criminal activity and can often be used as evidence in court.
More importantly, the mere presence of a CCTV system can help prevent crimes from happening in the first place.
A professional home CCTV system is not as expensive as you may think yet will still provide families with peace of mind and greatly reduce their chances of being victims of crime.
Cost Affecting Factors of Installing CCTV
Here are the cost affecting factors that can change the cost of installing CCTV that you may need to consider:
Number of Cameras
The number of cameras you install as part of your system will increase the cost by not only the CCTV camera price but also the cabling required and the labour to install them.
The average labour cost per camera is around £75-£90.
Type of Camera
The majority of sheds require assembly on site, and you will usually need at least two people to build it safely. All sheds require a foundation or base that is sound and level.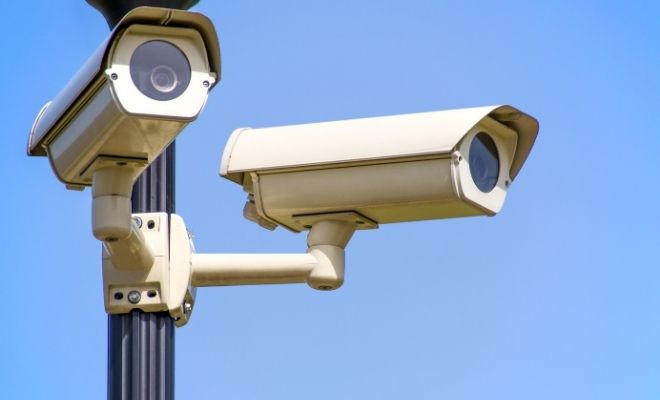 Make sure you do not place the shed too close to any fence or walls, leave enough space to paint, treat or stain the timber to prevent rot.
Access
The ease of access may impact the CCTV system price with more rural or remote areas paying extra for a contractor to attend.
Similarly, some locations within the UK may be more expensive for things like home insurance and installing security cameras may reduce your premiums.
However, postcodes play a significant part in determining insurance costs, and any saving may not compensate for the outlay to install a CCTV system.
Location
Unsurprisingly the cost of installing a CCTV camera for home security will be higher in London and the south-east of the UK.
Properties in this part of the country are more expensive and will attract higher costs when it comes to issues like security.
The cost of living and insurance prices will also increase the cost for most home maintenance services in the capital and surrounding areas.
Any extra electrical work that you would require from the contractor installing your CCTV system should be discussed beforehand, and a cost agreed.
What Does Installing CCTV Entail?
The best approach to installing CCTV cameras in your home is to first make a checklist of your security requirements before you buy any cameras etc.
This will allow you to concentrate on the most vulnerable areas of your property and research what the best options will be in terms of cameras, recording equipment, lighting, and alarms.
Typical camera locations are front and back doors, garage doors, driveways or parking areas, porches, and stairways.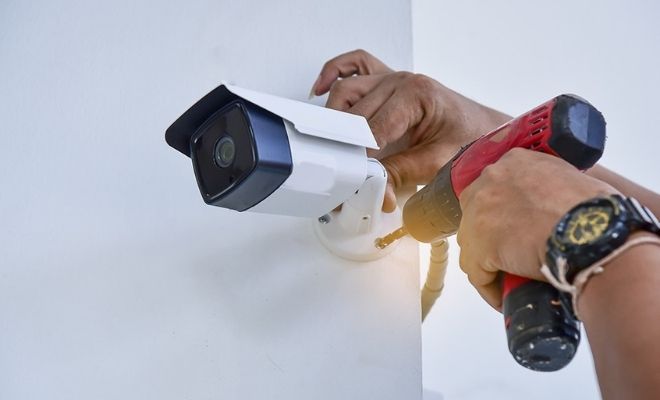 For basic home security, a package with 3 outdoor cameras and a DVR system capable of at least 3 days of recording time will usually suffice although this will vary depending on your property, location, and security needs.
The method for installing CCTV systems will vary according to the type of cameras, method of recording or monitoring images, size, and location of the property and how much surveillance you require.
Most CCTV installation companies will offer to do a survey and give you an accurate picture of what is suggested for your individual needs and how best to protect your premises.
Choosing CCTV Camera
There are several different types of CCTV cameras available and variations of each type to suit most situations, properties, and security requirements. The decision about which cameras to install will be determined by your needs, budget, and property.
Dome Camera Cost
The dome camera is easily recognisable and is used widely in shops, business premises and public buildings. The dome is actually the glass protection around the camera.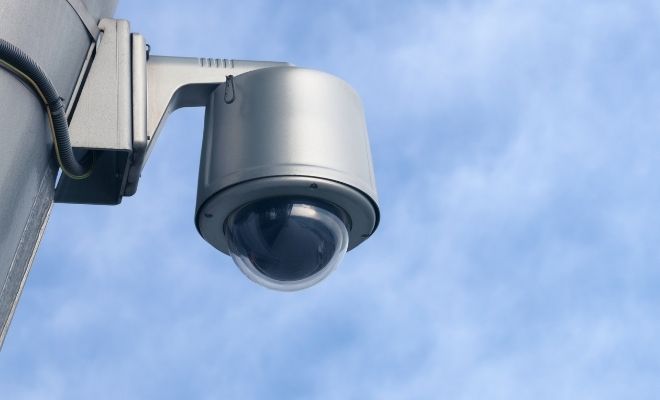 Pros of dome CCTV cameras:
✔ All the cabling is inside the base unit, meaning it does not need an additional junction box.
✔ The camera is obscured by the dark glass of the dome, so it is difficult to tell which direction it is facing.
✔ 360° rotation and field of vision.
Cons of dome CCTV cameras:
✖ Used in more commercial settings than domestic properties.
✖ More suited to professional installation than DIY.
✖ 360° range may include property outside your private boundary and therefore make you responsible for recorded images under GDPR and the Data Protection Act.
The average cost of dome cameras is between £20-£150 each.
Bullet Camera Cost
The bullet camera is an evolution from the box camera, which were the original CCTV cameras. The format has been improved and made smaller over time, resulting in a very compact shape.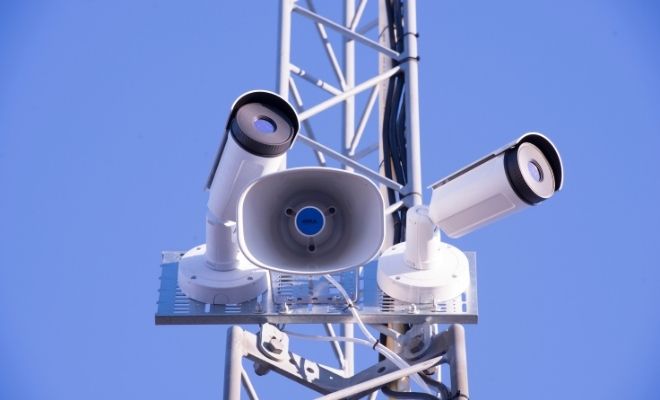 Pros of bullet CCTV cameras:
✔ They are instantly recognisable as a security camera which in itself can be a deterrent.
✔ Capable of long-range surveillance.
✔ The external casing protects against the elements to ensure good security footage.
Cons of bullet CCTV cameras:
✖ Often needs a separate junction box for wiring.
✖ Very visible so can be tampered with or damaged.
✖ Wireless versions only as reliable as the Wi-Fi connection.
The average cost of bullet CCTV cameras is between £20-£200 each.
C-mount Camera Cost
C-mount CCTV cameras are the forerunner of most other security cameras and are still widely used particularly in public areas. This is because they are very good at long-range surveillance.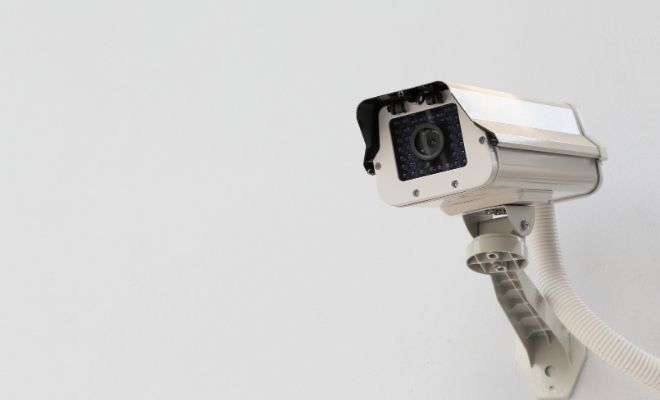 Pros of C-mount CCTV cameras:
✔ Excellent long-range surveillance so suitable for large grounds or long driveways.
✔ Can easily be upgraded with the newest technology.
✔ Interchangeable lenses make them adaptable and versatile.
Cons of C-mount CCTV cameras:
✖ Will need to be professionally installed.
✖ Can be vulnerable to the elements and need strong protective casings.
✖ Looks bulky and industrial.
The average cost of a c-mount CCTV camera is between £45-£230 each.
Pan, Tilt & Zoom Camera Cost
A pan, tilt & zoom (PTZ) camera does exactly that. It pans from side to side, tilts up and down and can zoom in on an object or person to pick up greater detail.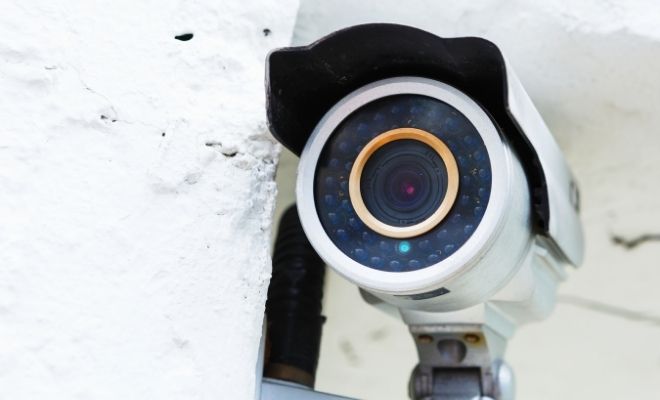 Pros of a pan, tilt & zoom CCTV camera:
✔ Excellent all-round visibility due to the range of movement it can perform.
✔ Can pick up fine details on vehicles or people.
✔ Capable of being operated remotely.
Cons of a pan, tilt & zoom CCTV camera:
✖ More suited to commercial and public settings to get the full benefit of the features.
✖ Normally used by an operator who can activate the various functions remotely.
✖ Even at the lower end of the range one of the more expensive CCTV camera options on the market.
The average cost of a pan, tilt & zoom CCTV camera is between £50-£200.
Day/Night Camera Cost
Day/night CCTV cameras are different from night vision or infrared. They offer better images in differing light conditions due to the sensitivity of the chip installed in them.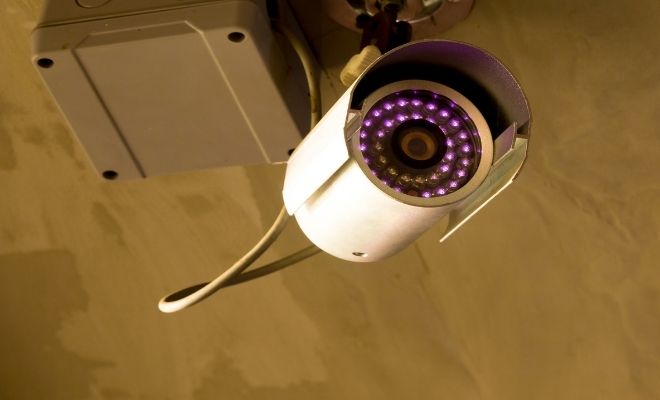 Pros of day/night CCTV cameras:
✔ Not as expensive as night vision or infrared cameras.
✔ Can produce clear images in low light.
✔ Records in colour and black and white.
Cons of day/night CCTV cameras:
✖ Will not operate effectively if the illumination or 'lux' level falls too low.
✖ Can see infrared light but cannot produce it.
✖ Almost as expensive as infrared or night vision cameras.
The average cost of a day/night CCTV camera is on average £50-£230.
Infrared/Night Vision Camera Cost
Once the realm of the military and police infrared and night vision cameras are now widely available to the general public and are very popular in home security.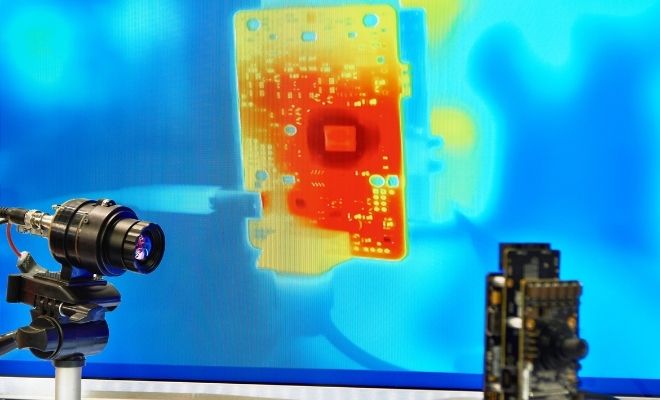 Pros of an infrared/night vision CCTV camera:
✔ Come with infrared illuminators to enhance the capture of images in complete darkness.
✔ Can record images through dust, fog, or smoke.
✔ Infrared filters activate in daylight for clearer images.
Cons of an infrared/night vision CCTV camera:
✖ One of the more expensive CCTV cameras available.
✖ Infrared can wash out images by bouncing back the infrared LED illumination from reflective surfaces.
✖ Work well at short range only.
The average cost of an infrared CCTV camera is between £20-£400.
Network/IP Camera Cost
A network or IP (internet protocol) CCTV camera can transmit live footage via the internet to practically anywhere in the world.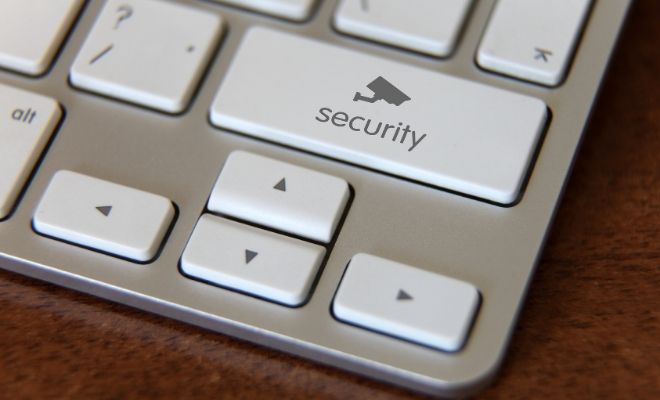 Pros of a network/IP CCTV camera:
✔ Images can be accessed immediately and remotely.
✔ Footage can be stored on network video recorders (NVR) or in the cloud.
✔ Less cabling required and less maintenance.
Cons of a network/IP CCTV camera:
✖ Will only be as good as the internet connection.
✖ Susceptible to hacking.
✖ Cameras can be very expensive.
The average cost of a network/IP CCTV camera is between £35-£550.
Wireless Camera Cost
Wireless CCTV cameras do still require a cable to connect them to a power source. Battery operated CCTV cameras are more correctly called wire-free as wireless refers to the transmission of the data from the camera to the recording device or monitor.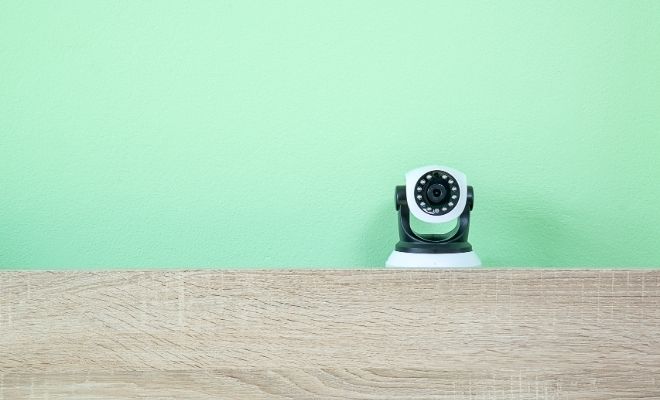 Pros of a wireless CCTV camera:
✔ Neat and tidy appearance due to the reduced amount of wires and cabling.
✔ Easier and quicker to install.
✔ Images are transmitted via the internet and can be viewed remotely.
Cons of a wireless CCTV camera:
✖ May fail if there is not a reliable internet connection.
✖ Possibility of data being intercepted or tampered with.
✖ Images can be of poor quality.
The average cost of a wireless CCTV camera is between £40-£280.
High Definition Camera Cost
High definition CCTV cameras offer the best picture quality due to the resolution of the images produced. Most high definition cameras will be 1080p or even 4k at the top end of the market.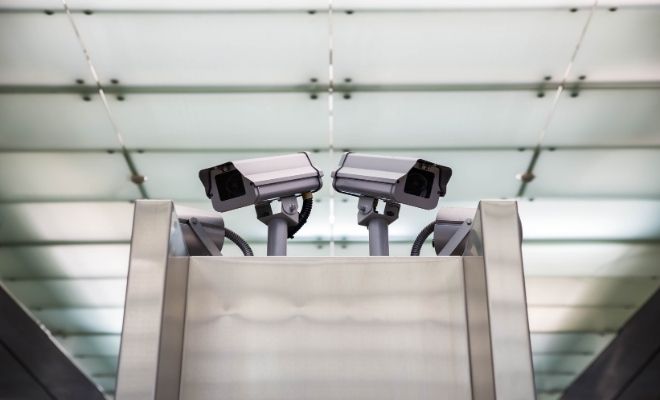 Pros of high definition CCTV cameras:
✔ Top-quality recorded images with no distortion or grainy pictures.
✔ Even with zoom function, the images retain clarity and detail.
✔ Can be used as evidence in criminal investigations due to the quality of the images.
Cons of high definition CCTV cameras:
✖ Relatively expensive.
✖ The recording equipment has to be HD compatible as well.
✖ The need to be vigilant with what you are recording and ensure you are not in breach of the Data Protection Act or General Data Protection Regulations.
The average cost of a high definition CCTV camera is between £20-£360.
DIY Installing CCTV
Installing digital CCTV equipment is not the most complex of tasks, so experienced DIY enthusiasts should be able to fit a low-voltage CCTV surveillance system.
Planning
The components are easy to source, and the installation services of a professional installer are not always necessary.
However, the most difficult part of installing CCTV is often the planning and design of the system.
So, if you are considering a multi-camera system, even if you are confident you can install everything yourself, it may well be worth consulting a professional to design the system for you.
Positioning
If installing a CCTV system as a DIY project, always ensure you choose a high, broad angle for the cameras looking down from a corner where you can clearly see all entries and exits (if possible, choose locations near to mains power sources too).
Place outside cameras above 10 feet so that they cannot be easily knocked down or smashed by intruders.
Some cameras you can buy online come with sticky pads to fix them to the wall but screwing your camera into the wall or a post using a bracket is the best way to mount cameras.
Setting Up
Most cameras come with a power adapter that will plug into a normal 3-pin wall socket, but if you are placing cameras outdoors this will not be suitable, and you will need an electrician to wire them safely into the mains power.
Cameras can be connected to your DVR (digital video recorder) using a BNC connection which is identical on both sides and just needs to be plugged into the appropriate port.
If your cables do not have BNC connections, you can buy a simple BNC adapter to slip onto the end of your cables.
Any wireless cameras need to be linked to your computer using software that should be supplied on a disc.
Just follow the manufacturers on-screen instructions to access your camera feeds.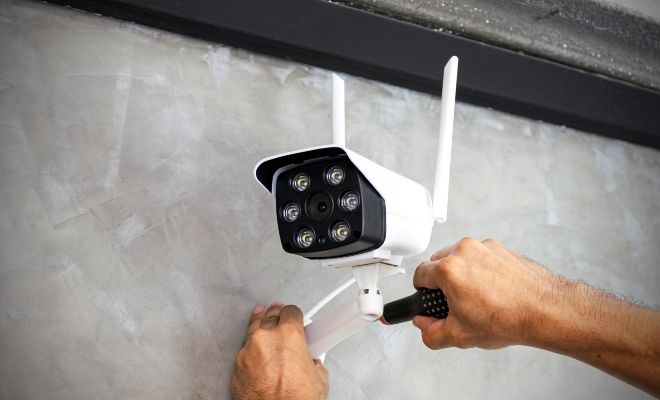 CCTV Kits
CCTV kits include all the components you need for your system, cameras, recording equipment and the cables required to connect them.
Most CCTV kits will have a plug-in power source as these are usually aimed at DIY installers and not professionals who are capable of hardwiring the system into the mains power supply.
Some kits come with POE (Power Over Ethernet) and mean that the power and data are transmitted via the same cable.
As the kits come with pre-determined lengths of cable, you will need to carefully consider where to position the attached recording equipment or alternatively buy longer cabling to ensure you have sufficient to site the recording device where you want it.
Saving Money
By installing the CCTV system, yourself you will be saving the installation cost which can be between £300-£600 on top of the cameras and recording equipment.
There is no requirement to apply for any planning permission to install CCTV cameras in your home, and there are no building regulations that need to be followed.
The tools you may need to install CCTV cameras as a DIY project are as follows:
Ladder
Cable & pipe detector
Power drill and bits including masonry bit
Electric heavy-duty screwdriver
Small screwdriver
Pencil
Hammer
BNC crimp tool
Cable stripper
Utility knife
Pliers
Cable Rod Set to feed cables into awkward places
Electrical tape to stick cables to rod
Labels to identify cable
Raw plugs
Electrical meter to check electricity
Monitor to plug directly into the camera, to adjust the angle of the camera
Network test tool
Safety Equipment
The safety clothing you wear should include goggles, especially when drilling into the wall to prevent masonry dust or particles getting in your eyes.
You should also wear steel-capped safety boots to protect your feet.
It may be difficult to wear gloves to do some of the more intricate work and not strictly necessary as long as you are careful. When working at height from a ladder, it is advisable to have someone keeping it steady at the base.
This article just covers the most common and popular types of CCTV equipment, as there are so many different types of surveillance cameras and recording equipment available, it is impossible to cover everything on the market.
Whenever you are installing any expensive equipment, you should always pay careful attention to safety instructions provided by the manufacturer.
In addition, working at heights can be dangerous as can the use of power tools, so it is crucial that you follow all safety precautions.
If the equipment requires a connection to the mains power supply, this should only be carried out by a qualified electrician.
What are the Advantages of CCTV?
The advent of readily available home security systems such as CCTV has allowed homeowners to protect their property in a way that a few decades ago was only available to businesses and public buildings.
These days there are cameras suitable for most situations, budgets, and security needs.
The main advantage of CCTV is as a deterrent to potential criminals attempting to enter or steal from your home.
Sometimes the sight of a security camera is enough to thwart a burglar's intention and with the prospect of being recorded, any trespassers may also reconsider their actions.
CCTV allows you to monitor activity around your home, and some systems allow you to talk to anyone approaching your property even if you are not at home.
This gives peace of mind when you are away as you will be notified whenever there is movement or activity around the property.
If a crime does occur within your home and is recorded by the CCTV cameras, then this footage can be used as evidence by the police in any investigation or prosecution.
That is why it is worth investing in as good a quality camera as you can afford as well as reliable recording equipment.
Recorded images can also be used to settle disputes such as whether a delivery has been made to your home or a promised visit by a tradesperson has taken place.
For vulnerable people such as the elderly being able to see who is at the front door prior to opening, it can be reassuring as well as the ability to speak to visitors remotely.
Where to Position CCTV Cameras
Having a CCTV system with good quality cameras and recording equipment is a good investment but only if you get the positioning of the cameras right.
Badly planned and placed cameras will mean you are not covering all vulnerable points in your property or that the footage is of poor quality. Points of entry to your home are the most important to be covered by your CCTV system.
This will usually be the front door, back door, any patio or terrace doors and all windows. A particular favourite for burglars is the rear of a property as it is likely to not be as overlooked as the front.
You should also monitor gates into your garden, especially at the rear. Wide-angle lens in your cameras will be able to cover a bigger area while minimising the number of cameras you need to install.
If this is not sufficient to cover all access points to your home, then you can place a couple of cameras in the same location but pointing in different directions.
Ensure that there is not a strong light source in proximity to your CCTV cameras as this will have the effect of washing out the images they pick up and will make the footage unusable. Similarly, infrared cameras do not do well next to reflective surfaces, so it is important to plan the positioning of the cameras with care.
When installing cameras check that there are no obstructions which could hide potential burglars or that any nearby trees are not in danger of blocking the camera's view.
All CCTV cameras should be positioned at least ten feet off the ground to prevent them being damaged or tampered with, and this also gives a better view with a wider field of vision.
Coverage of your driveway or garage entrance is a sensible precaution to protect your vehicle or contents of your outbuildings. The security of your garage is even more important if there is internal access to your home from inside the garage.
Depending on the size of your home, the minimum CCTV camera coverage should be front and rear access and any other vulnerable points of entry around the property.
By making sure that the right cameras are employed and correctly positioned for maximum effectiveness, you will make the best use of your CCTV system.
What Are IP CCTV Cameras?
IP stands for internet protocol, and these cameras only require an internet connection to function in much the same way as a webcam does.
The images that the IP CCTV camera captures are compressed and transmitted via the internet to a receiving device or can be recorded on a network video recorder (NVR), stored in the cloud or on a laptop or SD card.
IP cameras allow remote monitoring and are ideal for properties which are unoccupied for long periods.
The cameras can be used indoors and outdoors and have many of the same functions as other CCTV cameras such as pan, tilt and zoom, infrared capability and remote operation.
They are particularly useful if you do not want to record and store footage, although that capability is an option. IP CCTV cameras are similar to analogue cameras in many ways and offer much of the same capability.
However, they are often simpler to install as most are powered over ethernet, which means one cable is utilised both to power and transmit data to and from the camera. Data encryption can be utilised for security purposes to prevent image tampering but depends on the software being used.
Analogue cameras are still cheaper to purchase than IP or network cameras, but the price difference is not prohibitive, especially with some of the benefits that IP cameras offer like remote zoom ability or programmable software.
Cost of Removing CCTV
You may want to remove CCTV from a property if you are considering a new system of home security or you are doing external renovations.
Whatever the reason you will need to decide whether to remove the CCTV system yourself or pay a professional to do it for you.
The cost to remove CCTV will depend on how many cameras you have installed, what type of recording device you have, and the amount of cabling running through your property.
As installation costs between £300-£600, you should allow around the same for dismantling and removal of your system, but this will, of course, vary depending on the type of equipment involved.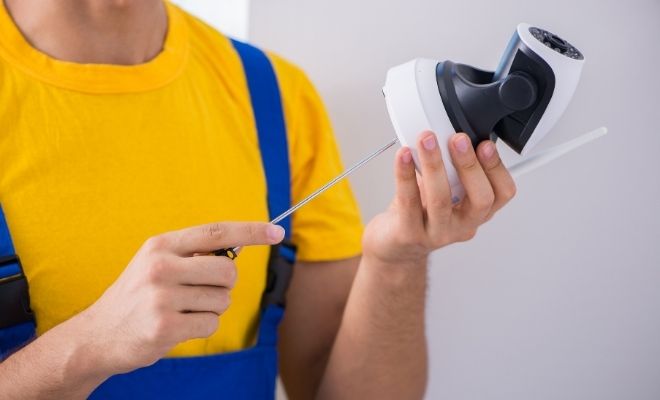 In order to dispose of your old CCTV equipment, you can either contact your local authority and ask their advice or enquire from specialist installation companies where they might suggest for disposal.
Electrical items are one of the fastest-growing contributors to waste disposal in the UK, and you should ensure that you are doing your best to avoid adding to landfill.
There are some electronic recycling companies in the UK, but you should check their credentials beforehand and check if they charge for the service.
FAQs
How to Find & Hire a CCTV Installer
Although there are CCTV kits on the market that are aimed at DIY installation, many people may not feel comfortable doing so.
Of course, there are very competent DIYers who are capable of successfully installing their own CCTV system, but equally, there are a lot of people who prefer to leave it to the professionals.
Many people do not like working at height while others may feel the project is a bit too technical for them.
There are many CCTV installation companies in the UK, but you may want to find one through personal recommendation.
This is one of the best ways to find tradespeople to carry out work in your home, and the opportunity to view their work is an added bonus.
If you know someone who has had CCTV installed you can ask the kind of questions from that other resources such as the internet cannot answer.
The average cost for a CCTV installer is between £350-£600.
This may vary according to the CCTV system that you are having installed, the difficulty of the installation and where in the country you are located.
Of course, you will want someone who is qualified to do the job properly and preferably someone with a certain amount of experience.
It can be relatively simple to ascertain how long a company has been in business, what their reputation is like, and any feedback or reviews they have had from previous clients.
Anyone working in your home should have public liability insurance in case of any damage or injury during the course of the work, and you should ask for proof of this.
While there is no specific qualification for installing CCTV cameras, the person you hire should have as a minimum an electrical qualification and ideally knowledge of Electronic Security and Emergency Systems.
Sources
https://www.gov.uk/government/publications/domestic-cctv-using-cctv-systems-on-your-property/domestic-cctv-using-cctv-systems-on-your-property
https://ico.org.uk/your-data-matters/domestic-cctv-systems-guidance-for-people-using-cctv/