How Much Does it Cost To Change Locks?
Improving door security is something many are interested in today in the UK.
Although replacing and/or upgrading the locks is the most popular way to improve door security, it is not the only way to do so, though this article will concentrate on door lock replacement.
So what should be considered when choosing a new lock type?
In the UK, Yale locks are the most common, and they are self-locking by just closing the door.
Though these are popular, they are not very secure and can usually be easily destroyed by using force.
Deadlocks are different as you must turn a key to lock them, most often used at night or when you leave the house for a prolonged period of time.
Deadlocks, when used in conjunction with Yale locks, are considered to be pretty secure.
The average cost of replacing a typical deadlock installed in a wooden front door will cost around £150, including parts and labour.
Replacing just the cylinder or a Yale door lock would be slightly cheaper, say around £125.
Replacement Door Lock Prices
Below are some estimated costs of hiring a tradesman to replace a door lock:
| LOCK TYPE | AVG. COST | DURATION |
| --- | --- | --- |
| Deadlock | £150 | 10-30 mins |
| Yale Door Lock | £125 | 10-30 mins |
| Euro Cylinder Lock | £100 | 10-30 mins |
| 5 Lever Mortice Deadlock | £150 | 10-30 mins |
| Multi-point Locking System | £200 | 20-40 mins |
| Rim Automatic Deadlatch | £80 | 10-20 mins |
| Replacing all locks | £300-£400 | 2-4 hours |
Supply Costs
The supply costs for a replacement door lock are fairly cheap and can start from around £20 up to around £80.
This is the average price of buying the locks separately without any labour or waste removal costs.
Below are some estimated prices of a variety of lock choices and their supply only costs.
| TYPE OF LOCK | AVG. COST |
| --- | --- |
| 5 lever mortice deadlock | £20-£25 |
| 5 lever mortice sash lock | £25-£30 |
| 5 Lever Mortice Deadlock BS3621 | £30-£40 |
| 5 Lever Mortice Sash Lock BS3621 | £35-£45 |
| Euro cylinder lock | £15-£20 |
| Rim cylinder | £10-£20 |
| Multi-point locking system | £40-£60 |
| Rim automatic deadlatch | £30-£50 |
| Patio door lock | £10-£15 |
| Garage door lock | £15-£25 |
| Window lock | £20-£25 |
Additional Costs
If you are considering new locks to improve security, possibly after a break-in, then there are other related jobs you should also consider.
Having an impenetrable door is not much good if the windows have no/poor locks.
So have a security expert check all points of entry and advise on locks.
In addition, you might consider installing an alarm system for up to £500 as an extra layer of security, plus a possible deterrent.
You may be installing a new lock as a part of a whole new front door; this will add an extra £500.
Other security measures worth installing include a new security light to deter burglars for £150, or if your budget allows, you can fork out for CCTV installation which will cost around £1,800.
Cost Breakdown Calculator
Individual costs to replace a door deadlock - Total Cost: £150
Labour Costs and Time Frames
The prices mentioned above assume the work is completed Monday to Friday between 9 am and 5 pm.
This is because a locksmith will usually charge more if locks are needed to be replaced in the middle of the night or at the weekend, or as part of an emergency call-out.
Quite often a locksmith will charge a minimum of £50 just to come out.
The average material cost to replace a door lock will depend on what lock type and extras you choose.
Prices of cylinder locks, deadlocks or a latch can vary from £20 to £60.
Cost Affecting Factors of Replacing a Door Lock
There are many things that can alter the costs when replacing a door lock, making your prices either lower or a lot higher.
Below is a list of cost affecting factors and how they can affect your prices of a change door lock cost.
Time
The time and date are integral to how much you'll get charged for your locksmith job.
A lot of Locksmiths will increase their prices between the hours of 6.30 pm to 8.00 am to up to £90, this is because these are not typical working hours and will take out of their personal time.
If you call for a Locksmith during standard weekday 9-5 working hours, you're more likely to have a lower cost closer to £50.
Type of Lock
5 lever mortice deadlock £150, a multi-point locking system £200, a standard euro cylinder lock £90, or add a rim automatic deadlatch for around £80.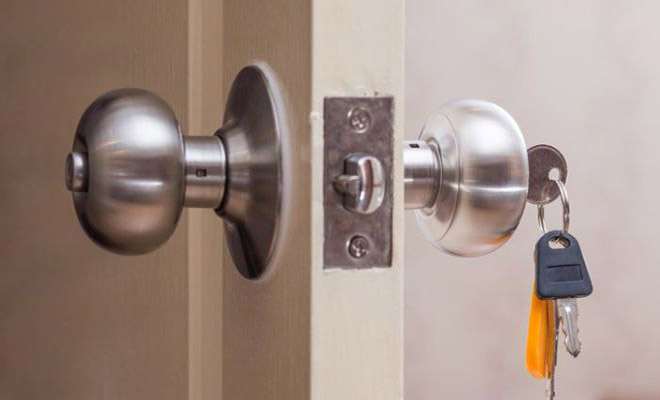 Picking a cheaper/budget cylinder will lower the costs of the job, but a higher quality cylinder with better security will cost more and be worth it in the long run for peace of mind and safety.
Length of Job
The size of the job is dependent on how difficult the replacement is and the type of lock installation; however, a lot of Locksmith companies will charge for the hour, and if you have several locks that need looking at, this may take between 2-3 hours.
Typically, Locksmiths will charge around £50 for the first hour and add an extra £25 for each extra hour.
If your door or window has an unusual lock, Locksmiths may need to order parts in and come to your property on another day, most probably resulting in extra labour costs for you.
It's a good idea to chat with your Locksmith and confirm on a quote either for the whole job or per hour.
Materials
If you're replacing an old lock, then you'll need to factor in material costs as well as the labour.
New parts are often needed with snapped or damaged locks, as well as lost keys or burglaries.
The type of lock depends on your specific door and insurance policy, meaning you may not just be able to get the cheapest standard lock.
What Does Installing a Door Lock Entail?
If you're curious to know how a professional will install a new lock, below is a general step-by-step guide of how a Locksmith will replace and install a door lock job.
Remove Old Lock and Deadbolt
Firstly, the tradesmen will remove the first two bolts and then the turn plate assembly until the deadbolt lock assembly can be pulled out and you can see through the hole in the door.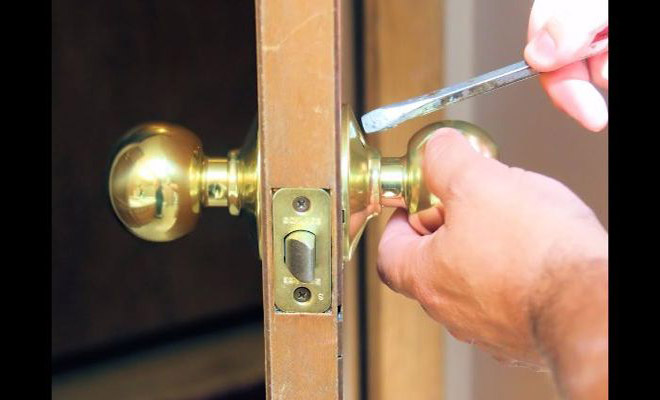 Then, they will find the next two screws which hold the deadbolt plate in place and pull them out of the door as well.
Install New Deadbolt and Lock
Then, to install the new deadbolt and lock, they will do everything they've just done but in reverse.
Once the deadbolt has been installed, it is then the time to insert the lock mechanism and bar in the turn assembly plate, aligning it to the top.
After this, they'll have to turn the doorknob to reveal the bolt holes and fasten the key assembly tightly.
Secure and Test
Once the lock has been fastened into place securely, it's important to test out the door before closing it by turning the indoor assembly and key lock.
Once workers are 100% sure it works, they'll close the door and test it there a few times. The door should then be wiped down and completed.
DIY Replacing a Door Lock
It is not recommended that you DIY replace your own lock.
It is yours and your family's safety which you're securing and putting at risk, so it's always the best idea to have a professional Locksmith do the job for you.
You don't need to fork out too much and will have thorough peace of mind about your security.
However, you may want to buy your own door locks.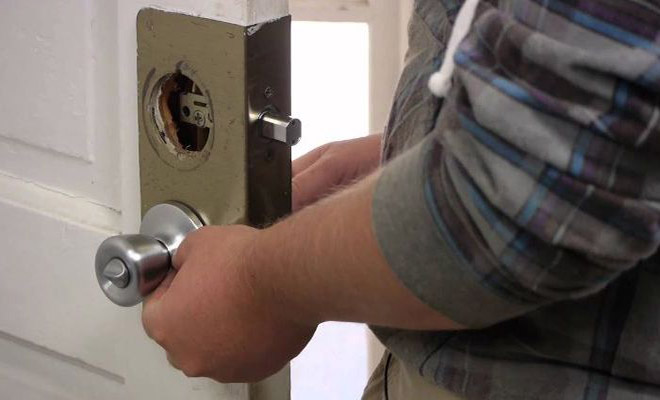 When taking advantage of any discounts from your insurance company regarding door locks, you have to be extremely careful you are 100% sure you have the correct locks as stated on your insurance policy.
If your locks differ from the insurer specification, then your insurance company may invalidate any claims that arise.
You should, of course, take advantage of any premium discount for secure locks, but it can be difficult to ascertain whether you have the correct locks as specified by your insurer, most Yale locks all look the same unless you are a locksmith!
Choosing a Door Lock
There are a lot of different options of door locks to choose from, and it's important that you find the correct one for your specific door for yours and your family's safety.
You should always discuss with a professional Locksmith on which lock will suit your door and home the best.
5 Lever Mortice Deadlock Cost
A typical deadlock installed in a wooden front door will cost around £150, including parts and labour and above.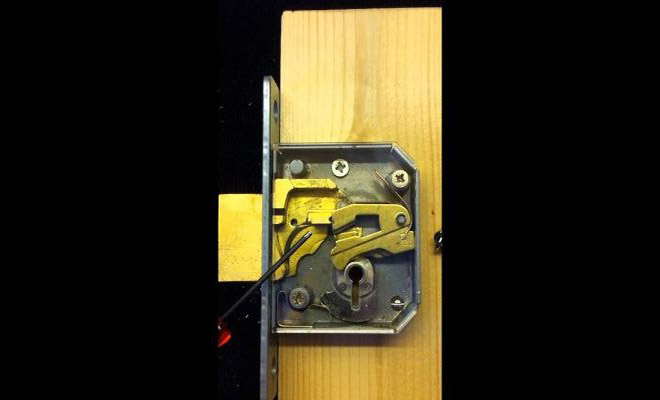 To completely replace a Yale lock with an entirely new lock and cylinder will cost around the same again done during the day and mid-week.
Replacing just the cylinder on a Yale lock would be slightly cheaper, say around £125.
Multi-Point Locking System Cost
A multi-point locking system is most popular with composite or uPVC doors and is used to add an extra element of security.
As the name says, a multi-lock door has several types of locking mechanisms positioned in a straight line.
This is common in public places as the locks are very hard for trespassers to disarm.
A typical multi-point locking system door replacement will cost around £200.
Rim Automatic Deadlatch Cost
A rim automatic deadlatch is an extension to a lock rather than a type of door lock itself.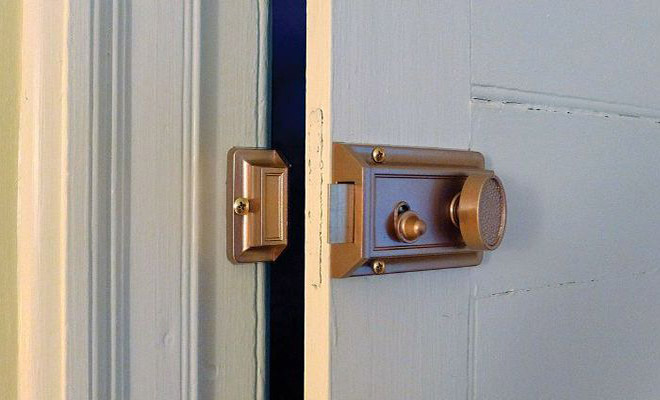 It can only be unblocked from the inside of the house and is usually based at the top of the door, adding additional security alongside a general mortice or euro cylinder lock.
A typical rim automatic deadlatch replacement will cost around £60-£80.
Euro Cylinder Lock Cost
A euro cylinder lock can be found through a lock case and attached by a fixing screw.
They are an extremely popular door lock choice for homes and schools and are very adaptable to a range of settings.
A typical euro-cylinder lock replacement will cost around £80-£100.
What are British Standard Door Locks?
A locks standard is generated by the British Standards Institution (BSI), meaning if a product has been certified and approved by the BSI, then it will be carved with the British Standard Kite Mark on both the key and the product packaging.
There are several insurance providers which will claim you need a BSI lock to be eligible for their cover.
There are a variety of options for these locks which present numbers showing the number of standards the lock has passed.
If you live in an older property, you may or may not have BSI locks, and the kitemark might not be visible at first sight, and you may need to remove the door to check, this should be left to a professional Locksmith.
Below is a selection of common British Standard door locks.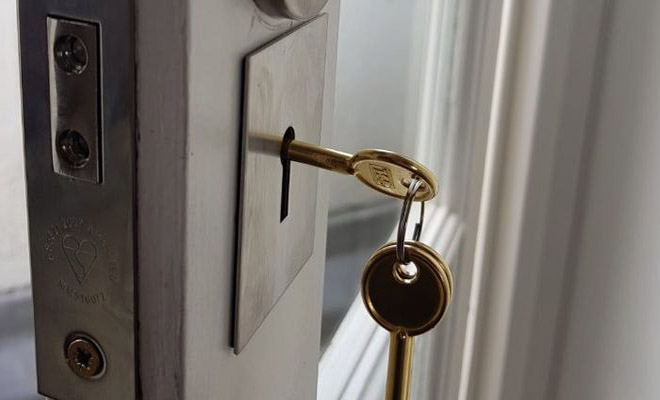 BS3621 Standard - This lock is used for mortice and cylinder rim locks which can be locked from both inside and outside.
This lock is secure from people reaching through the letterbox or breaking nearby glass and opening the door.
BS8621 Standard - This type of lock requires a key for exterior entry but not for leaving from the inside of the house.
These are popular in apartment blocks and flats as it allows for an emergency escape from inside the property.
BS10621 Standard - This lock can only be locked from outdoors and can be opened from the inside without using a key if the door hasn't been locked.
Do I Need to Replace My Door Lock?
You may need to replace your door lock for a number of reasons including; a burglary, stolen/lost keys, locked out of the house, or remodelling and changing your door.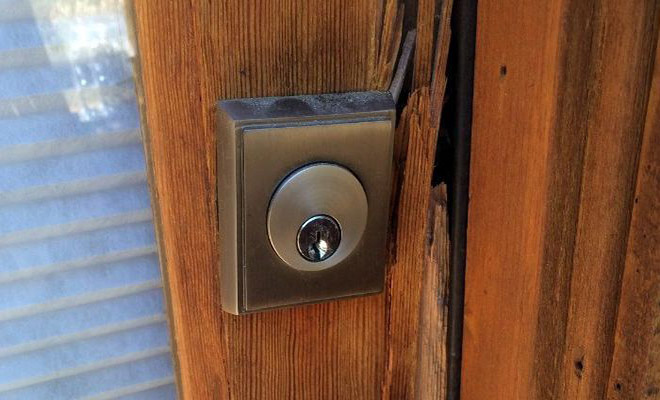 Overall wear and tear may be a need for lock replacement, signs you need to look out for are:
Damage - such as unstable/loose keyholes.
Defect - can be noticed when struggling to unlock or open the door
Old age - find out when the lock was installed, if it was a long time ago then it may be worth replacing
Interference - check for signs of scratches or marks
Door Lock Repair Cost
Contrary to popular belief and TV shows, how resistant locks are to picking is of secondary importance, the most important security aspect is the actual physical strength of the door and the frame.
If you are changing locks after a break-in and there are splits in the frame where the door has been forced open, then in addition to new locks, you must get the door and frame properly repaired by a carpenter.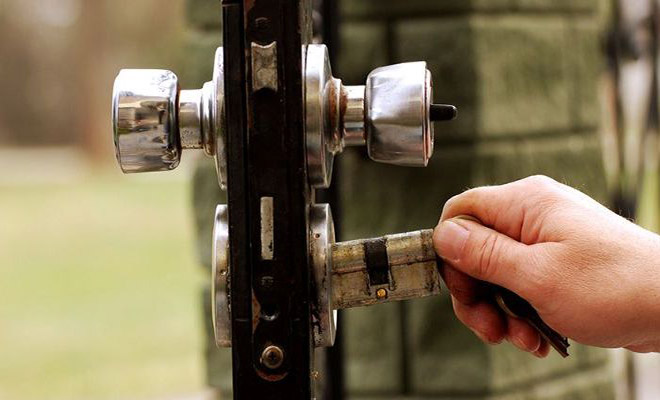 Very few thieves pick locks, certainly not mortice deadlocks, most break-ins are in fact literally that, the door gets kicked in and broken.
The average cost to repair a door lock that is damaged or defective can begin at around £40, going up to £80.
The price will change depending on the length of time it takes to repair, if they need to order parts, and the type of lock required.
| Type of Job | Avg. Cost |
| --- | --- |
| Repair a door lock | £60-£70 |
| Repair interior door lock | £40-£50 |
| Repair uPVC door lock | £60-£70 |
| Repair garage door lock | £50-£60 |
| Repair patio door lock | £60-£70 |
| Repair door handle | £50-£55 |
Labour costs are the main source of any potential higher pricings, especially if the lock is repaired or replaced out of normal working hours.
Emergency Locksmith Costs
If you find yourself locked out of your house, at the receiving end of a burglary or with broken keys, you may be in need of an Emergency Locksmith.
This may mean that your locksmith prices go up in price depending on the type of emergency, type of lock, the residing area and how long it takes to fix.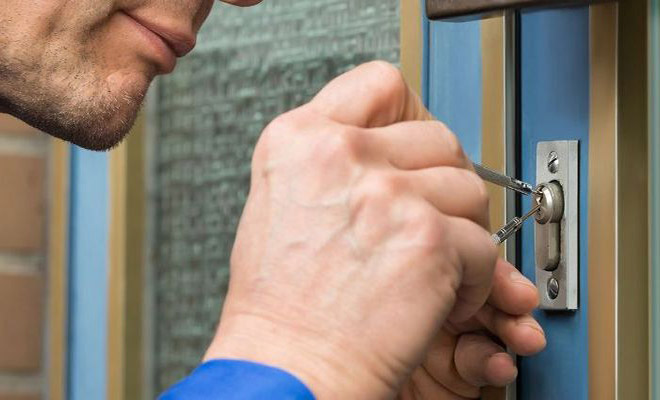 Emergency Locksmiths have a faster response time than a regular locksmith but will cost around £90 for labour without the cost of the required materials. Below is a detailed.
Type of Emergency
Emergency jobs will typically take longer to finish, but this may not always be the case, like if the emergency is just to unlock the door rather than replace and install a brand-new lock.
However, if your keys have been lost or stolen, or there has been a burglary/break-in, you'll have to pay for both the labour costs of an emergency locksmith and the material charges for the installation of a new lock.
Time
The time that you call an Emergency Locksmith is very important when factoring in costs.
If you need a locksmith at unsociable hours such as late nights or weekends, you will be charged more than a standard weekday morning or afternoon (normal working hours). Extra charges will also apply on bank holidays and Christmas time.
Normal working hours will cost up to £60 plus VAT, and out of hours can be £120 plus VAT.
Call Out Fee
An Emergency Locksmith may charge you a call-out fee of up to £100, even if they don't manage to fix your problem or do anything.
You should always check prior to a call out to see whether your locksmith charges this fee to avoid any costly surprises.
Cost of Removing a Door Lock
Removing a door lock by itself is a very uncommon job, as you will typically need to replace the previous lock with a new one as well.
However, some interior doors may not require a lock anymore such as bedroom or bathroom doors.
This is a simple job as it just requires removing the lock and sealing over the hole, this should take no longer than an hour and will cost around an average Locksmiths hourly rate of £50.
FAQs
How to Find & Hire a Door Lock Installer
One way to find reputable locksmiths is for 3rd party approval through organisations and trade bodies such as the Master Locksmiths Association.
The MLA Approved Company scheme means that every locksmith has been vetted, is qualified with proof of competence and regularly inspected.
Also, try and avoid using National call centres for locksmiths as they often overcharge you for the work and then just contact a local locksmith to do the job – you can simply cut out the middleman and contact the local locksmith directly!
Recommendations and word of mouth are great too, ask family and friends if they've had any locks replaced and if they were happy with the work.
Be careful with cowboy tradesmen who present themselves as locksmiths but have no recognised training, qualifications or trade membership.
These cowboys will always recommend the most expensive option or at least the fix that will make them the most profit in the least amount of time; they are not concerned about your security!
Burglars can be deterred from targeting a property if they see that effective security precautions are in place.
Therefore, investing in quality locks will not only protect your home; it could also deter trespassers in the first instance.
Locksmiths embrace modern technology in order to supply high-quality locks to suit individual specific requirements and keep their homes safe.
You can rely on the high-security door and window locks recommended by reputable locksmiths who are members of the Master Locksmiths Association, all of their locks will meet and exceed industry standards.
Sources
https://www.locksmiths.co.uk/faq/locksmith-prices/
https://www.keytek.co.uk/locksmith-prices/
https://www.lockrite.org/locksmith-prices.php