How Much is Window Cleaning?
What are the benefits of window cleaning?
Having your windows professionally cleaned can help your home feel light and bright, as well as maintain kerb appeal and improve the energy efficiency of your home.
So, how much does it cost?
On average, UK window cleaners charge in the region of £10- £25 for a 3-bedroom, semi-detached home to have windows cleaned on a regular basis.
Window Cleaning Prices
There are a number of factors that will influence the cost of having your windows cleaned professionally, such as property size, location within the UK, ease of access to the windows and the cleaning method used.
As a rough guide, you can expect the following charges according to property type:
| Property Type | Average cost (monthly) | Average cost (one-off) |
| --- | --- | --- |
| Flat | £4 – £8 | £8 - £15 |
| Terrace house | £6 – £10 | £10 - £20 |
| Semi-detached | £10 – £25 | £25 - £50 |
| Detached | £15 – £35 | £30 - £70 |
Whilst some companies charge based on the size of the building, others will charge according to the number of windows and doors that require cleaning, charging anything from £1 - £5 per window pane - so it's always best to ask prospective service providers to ensure you get the best value for your money.
You should also be aware that many companies offer a discounted rate for continual work and many charge additional fees (usually twice that of a regular lean) for one-off cleaning services.
Additional Costs
With services such as window cleaning, there are multiple extras which can be available, which can come with an additional cost. Before hiring a window cleaner, you should enquire which services come as standard and what can be done as an optional extra.
For example, whilst some companies offer frame and sill cleaning as standard, others charge for the service:
Initial 'First-time' Cleaning Fee
Some companies charge an initial fee to get your windows cleaned up to standard and carry out an assessment regarding window condition and methods needed to complete the clean. These are typically charged at twice the normal rate of a clean.
Window Frame Cleaning
Included as standard by some companies, though others charge – Expect an additional £1 - £5 per frame cleaned.
Special Window Cleaning (skylights, conservatory, roof lanterns etc.)
Usually charged according to the size and positioning of the window, with conservatories taking considerably longer to clean than a skylight, but both requiring specialist equipment. Frequent conservatory cleaning is considerably cheaper if included alongside regular window cleaning services rather than an independent clean.
Solar Panel Cleaning
Expect to pay an additional £5-£15 per panel for this service on average, with most companies applying a minimum charge in the region of £50.
Gutter Cleaning
Prices will vary according to length and location of guttering, with ground-floor guttering averaging £5 per metre to upwards of £10 per metre for guttering above the second floor. Some companies have a minimum additional charge for this service.
Internal Window Cleaning
Usually charged at a similar rate to external window cleaning, though often considerably cheaper if both services are used together. This service usually includes internal window panes, frame, sill and track cleaning.
Cost Breakdown Calculator
Average cost of having the windows cleaned on a 3-bedroom semi-detached home as part of a regular service - Total Cost: £15
Labour Costs and Time Frames
There are a number of factors that will influence the cost and the timeframe that the window cleaning service will take, including things such as...
...the number and size of windows being cleaned, the types of windows being cleaned, the method of cleaning used, ease of access to the windows and whether any specialist equipment is needed (such as scaffolding to reach higher up windows) and your location within the UK, with London and the surrounding boroughs generally costing more than more rural areas.
Typically, for a 3-bedroom semi-detached home you can expect to pay in the region of £10 - £25 for windows and doors to be cleaned, taking roughly 1 – 2 hours depending on accessibility and level of dirtiness.
What Does Window Cleaning Entail?
There are two main methods used in window cleaning, traditional window cleaning and water-fed pole cleaning.
For a basic window cleaning service, once access to the window has been established, you can expect the provider to rinse the windows - either using a mixture of water and cleaning solution applied to a large sponge or fibred cloth or with using purified water fed through an extendable pole.
If a cleaning solution has been used, the windows will need to be wiped-down to remove residue and produce a streak-free finish. Purified water does not need to be removed, and will naturally dry streak-free.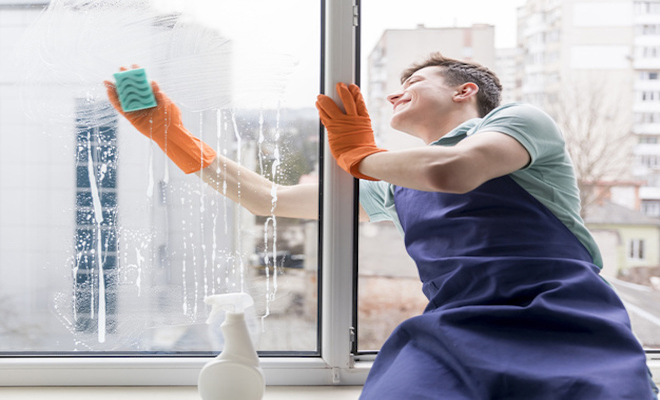 More comprehensive cleaning services may include washing down of sills and frames using a similar method to the one outlined above, and some window cleaning service providers have an additional charge for their first clean where they will check all the windows are fit-for-purpose.
They will bring the cleanliness up to a good standard (which, in cases of particularly poorly-maintained windows can take up to three washes), which then allows less-intensive maintenance cleans in the future.
Solar panel cleaning, conservatory and specialist windows such as skylights are almost always cleaned using a water-fed pole system as they can be awkwardly positioned and can pose a safety risk to the service provider if trying to access them with a ladder.
Cost Affecting Factors of Window Cleaning
There are numerous factors that can have an impact on the cost of a window cleaning service which you should be aware of before selecting a service provider.
Building size and type
Some companies charge according to the scale of your home, others according to the scale of the windows, and others again charge based on a combination of the two.
Number and size of windows
The number and scale of windows that require cleaning will undoubtedly affect the price; the greater the surface area, the longer the work will take to complete.
The windows of a small, 1-bedroom flat are going to be considerably cheaper to have professionally cleaned than a large, 5-bedroom detached home, and windows with multiple panes will take longer to clean than a single-paned window.
Number of floors
The number of floors your home is spread over will impact the price based on accessibility and additional labour time, particularly if larger scaffolding structures or ladders need to be erected before the work can commence.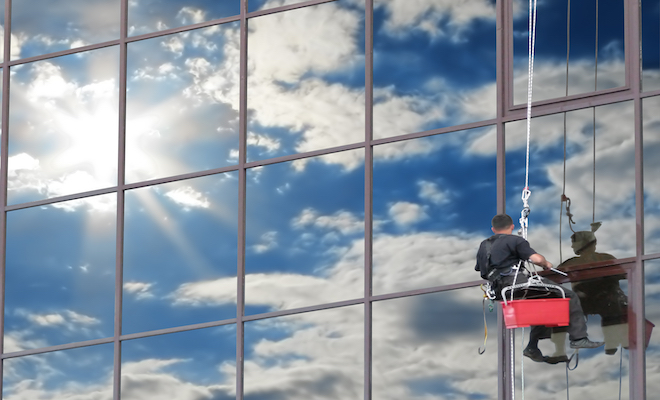 Internal, external or both
Unsurprisingly having both sides of the window cleaned doubles the surface area that requires maintenance, which will impact the overall cost of the service; though many companies offer a small discount if both sides are cleaned at once, compared to separate internal and external services.
Location of property
If you live within London or the surrounding boroughs it will be little surprise to you that the cost of window cleaning services is generally above the national average of the UK. In a similar vein, rural housing where cleaning services are in less demand tend to be cheaper, usually due to the competitive nature of the work.
Residential or commercial
Residential window cleaning is considerably cheaper than commercial window cleaning, due to the difference in window sizes and accessibility to the site, as well as the risk to the surrounding areas – commercial properties are more likely to have a heavier footfall nearby and this can cause time-delays and liability risks which will be factored into the cost.
DIY Window Cleaning
In many instances, window cleaning is a perfectly acceptable DIY task to complete, providing you have the right equipment and the windows are easily accessible. Below are some of the most common DIY window cleaning methods:
External Window Cleaning
There are a few ways which external windows can be cleaned depending on what you find is the best method:
Traditional Bucket and Cleaning Solution
The most common DIY window cleaning technique requires little more than a bucket, a mild cleaning solution such as specialist window cleaning chemicals costing between £1.50 - £4.00 for 750ml (or for a cheaper alternative washing liquid is fine, but should be used sparingly, trying not to create too many suds as they can be difficult to remove without causing streaks and smudging - which can cost as little as 80p per 500ml.
Cheaper still is a home-made, environmentally friendly solution of 1-part tap water to 1-part distilled vinegar, costing roughly 40p per litre), a large sponge which costs on average 70p - £2.00 and a microfibre cloth or squeegee which can be purchased from around £2.00 also.
Fed Pole and Cleaning Solution
Similar to the professional water-fed pole cleaning technique, but utilising tap water instead of pure. The pole, which can be purchased for between £12 for a basic pole with washer attachment up to around £80 for a high-quality, durable pole with a mixed-head attachment, can be attached to a hose.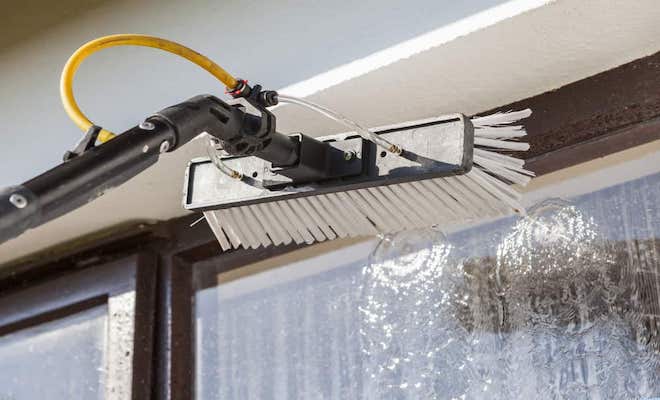 Unlike professional services, as the water isn't pure, you will still need to use a cleaning solution in order to remove grime, which will need to be rinsed off to avoid streaking.
Fed poles are ideal for conservatory roofs, but you will still encounter issues when trying to remove residue from harder to reach windows without utilising a ladder unless you purchase a pole with a duel washer and squeegee attachment.
Pressure Washing
There is some debate regarding the use of a pressure washer to clean windows, as incorrectly done it could cause damage to yourself and your property - the last thing you want to do is break a window whilst trying to clean it.
Whilst pressure washing windows can be quick to do, it is not necessarily efficient, and you may still find streaking and water-spotting is an issue, so you will still need external access to the windows, probably with a ladder, to dry them off afterwards.
If you do choose to use a pressure washer, which can cost between £60 - £300 to purchase depending on the model and pressure output, make sure the nozzle is held at a good distance from the window panes and is on a low-pressure setting, with a wide-spray nozzle.
Internal Window Cleaning
Internal window cleaning is far less likely to involve water-fed poles or pressure washing due to the excess water they produce; so internal windows should be handled using the traditional window cleaning method.
Ideally, blinds and curtains should be removed and preferably washed whilst internal window cleaning takes place – This allows more room for manoeuvrability in the cleaning process but also means that any dust or debris within the fabrics will be removed; otherwise, you may find that your clean internal windows don't stay clean for long.
With a soft brush or cloth, wipe down along the windowpane and sills, removing any visible dirt or cobwebs. Next, you will want to apply a mixture of water and chosen cleaning solution across the internal windows, followed by a rinse with clean water. Make sure that your application tool (sponge or cloth) is not too saturated as this will cause a lot of run-off and make an excess mess.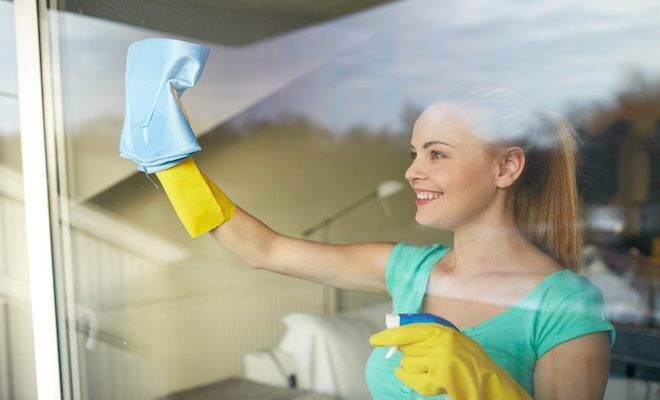 You can then dry remaining water from the windows with either a squeegee, microfibre cloth (or even old t-shirt) or paper towels – It's recommended that wiping goes across the windowpane; this ensures, and excess water drips to one corner and not across the entire sill, making it easier to clean-up.
Window tracks will be cleaned last, usually with a similar cleaning solution to that used on the window – though some people may choose to use a mix of baking soda (costing roughly 70p - £1.50 for 200g from most retailers) and white vinegar, scrubbing with a toothbrush to remove residue from corners, and then cleaned with a damp cloth or paper towels.
Whilst it may be tempting to clean all of your home windows yourself, it may not be advisable, particularly if you have hard-to-reach windows or windows on a first floor or higher that cannot be accessed with a stable ladder.
In these cases, you should contact a professional to complete the work who will have the right training and equipment to complete the task – as well as liability insurance should an accident or injury occur.
If you only have adequate access to some of your windows, it may be worth hiring a professional service to complete all the cleaning for you, as this will ensure a consistent service and finish across your home, and a professional will undoubtedly be able to complete the cleaning process much quicker than if done yourself as well, so it is worth weighing up the cost of service against the time spent to do it yourself.
Traditional Window Clean vs Water Fed Pole
The two most popular methods for cleaning windows, as discussed earlier, are the traditional method and the water-fed pole method, which are both generally charged at the same price, with the choice of which technique used down to the cleaner themselves – but which is better?
Traditional Method
Traditional window cleaning uses water infused with a cleaning solution, a sponge and a squeegee.
Where necessary, dust and debris may be removed from the window to avoid causing scratches to the glass prior to cleaning; this is done with a soft brush or rag. Next, the water and cleaning solution mix are applied to a windowpane using a sponge.
Once the pane is covered, the mixture is then removed, typically using a squeegee, or sometimes a soft microfibre towel, working from top to bottom, to ensure no moisture is left on the window.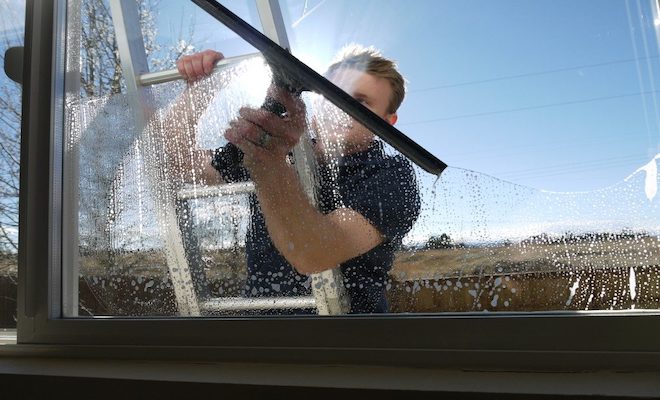 It's important that only one pane is done at a time; otherwise, the solution may dry before it can be removed, which will result in streaking. For windows above the ground floor, a ladder or small scaffolding structure will likely need to be used.
Advantages of traditional cleaning method:
✔ The glass is dried during the process, so it is easy to see whether any dirt remains as results are immediate.
✔ Good for use in high-traffic areas as the excess fluid is controllable.
✔ Suitable for internal and external use.
✔ Easier DIY option.
Disadvantage of traditional cleaning method:
✖ It can be intrusive because the worker will need to be close to the window to access it, meaning they may be able to see into your home.
✖ Requires a ladder or scaffolding for high-up or difficult to reach windows.
✖ Chemicals used in glass cleaning can attract dirt, meaning they may become dirty quicker than windows cleaned with the purified water-fed pole system.
Water Fed Pole
A more contemporary cleaning method is water-fed poles (WFP), sometimes referred to as a reach-and-wash system. WFPs utilises a telescopic pole with water jets and a cleaning brush attached to the end. Purified water is fed through the pole and the windows are brushed to remove dirt and grime.
Unlike the traditional method that uses water, and cleaning solution mix, pure water, when dry, leaves a streak-free finish that does not require wiping down after application and is more eco-friendly due to the lack of chemical additives.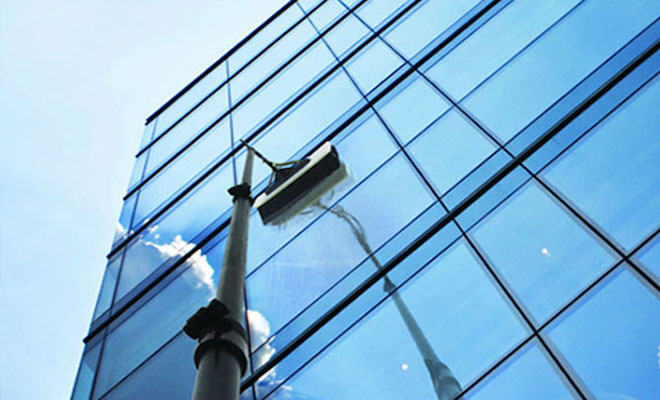 In some instances, a water-fed pole may be used but with ordinary water instead of pure. In these instances, the water will need to be mixed with a cleaning solution and removed in a similar fashion to traditional cleaning; with a squeegee or microfibre cloth.
Advantages of water-fed pole cleaning method:
✔ Less health risk to the cleaning service provider due to not needing ladders.
✔ Less invasive as windows can be cleaned from a distance.
✔ No chemical cleaning agents needed, so it is more environmentally friendly.
✔ Less labour-intensive system.
✔ Quicker than traditional cleaning methods.
Disadvantage of water-fed pole cleaning method:
✖ Not suitable for internal use.
✖ Windows are left to dry naturally, meaning that any missed areas will not be apparent immediately.
✖ Cleaning stubborn surface grime can be more difficult and more time consuming than traditional cleaning methods.
✖ Not good for high-traffic areas as water trickle can be difficult to manage.
Which Method is Better?
General consensus is that professional water-fed pole cleaning utilising pure water is superior in terms of time management, ease of access and end result – but this will be influenced by the workman involved. A professional with 20 years of experience in traditional window cleaning methods are likely to yield better overall results than a cleaner with little WFP experience.
The WFP method is preferential for windows that are difficult to reach and is being used more frequently in residential cleaning today. High positioned windows, skylights and conservatories are often cleaned using the WFP method as it allows access without having to utilise ladders or scaffolding structures in most cases, which in turn poses less risk to your property and the worker.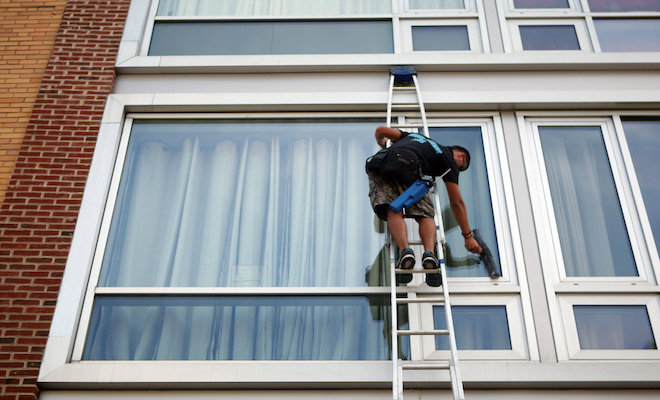 Nevertheless, traditional window cleaning methods are still efficient in terms of the end result and are a practical DIY solution to window cleaning, where appropriate, as well as being suitable for both internal and external use.
How Often Should I Clean my Windows?
How often you should clean your windows will vary depending on your property location and needs, with homes in high pollution areas such as cities needing more frequent window washing in the countryside where there is less pollution.
As a general rule, most experts recommend thoroughly washing windows twice a year, though if you choose to have a more regular cleaning service, it can be as frequent as weekly – Mostly it will depend on your needs and location of your home.
More frequent washing does mean that the overall time taken per session will be dramatically decreased compared to two yearly deep cleans, and many companies offer a discounted rate for more frequent visits – so it's best to talk to your window cleaning provider to discuss your options and budget.
How Much Will It Cost to Clean my Conservatory?
The cost of cleaning a conservatory will depend on factors such as the size and style of the build, in addition to your location within the UK.
Many cleaning companies price their conservatory cleaning service based on the number of panels on the roof and frames, with a minimum charge of at least £50 for a one-off clean, and with lean-to conservatories generally being cheaper to clean than Victorian or Edwardian style conservatories.
Typically, prices are as follows for a medium-sized conservatory within the UK:
Exterior-only – £60-£150
Exterior and Interior – £90-£300
Full 'deep clean' – £350-£650
For the exterior of a conservatory, an average of 2 – 4 hours are needed to properly clean the windows, frames and roof, along with the sills, trims and ridge, though it may take longer if the conservatory has not been serviced in some time.
A deep clean generally involves any guttering also being cleared of debris, with internal fixtures being polished cleaned such as hinges, locks and handles, and in some cases, a water-repellent solution is applied to the exterior of the windows to discourage debris build-up.
In some instances, it may be suitable to clean your conservatory yourself, providing you can reach necessary surfaces without posing a risk of injury or damage to yourself or your property.
Cleaning window tracks and fixtures are relatively simple tasks, whereas accessing a conservatory roof may not be so straight forward and will most likely require professional servicing for the best results with minimal risk.
Building Regulations
Under Health and Safety Executive guidelines, window cleaning can come under the 'Work at Height Regulation 2005' and so the cleaner must take all steps, where reasonable to do so, to avoid working at height and minimise the risk of doing so where applicable.
HSE also states that the window cleaner must have the right skills, knowledge and experience before undertaking related work; window cleaning that requires abseiling, for example, will require different skills comparative to a window cleaner required to work at ground level.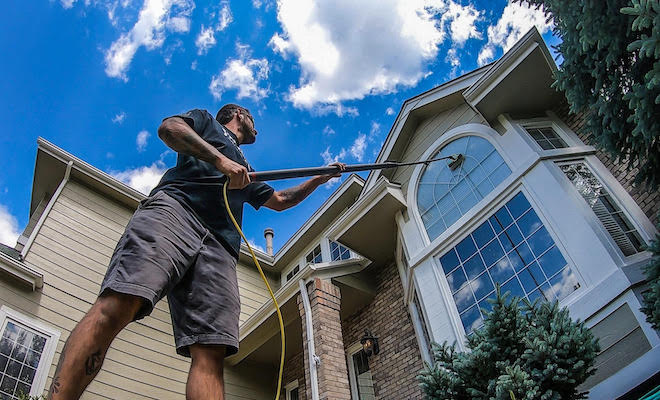 A competent window cleaner will undertake a risk assessment of any property they intend to complete work at; this allows them to assess the building structure and groundworks and determine the best cleaning method to use if safe to do so, ensuring they are operating in line with HSE standards.
How to Find & Hire a Window Cleaner
The easiest way to find a professional window cleaner is through recommendation; ask your family and friends whether they would recommend their window cleaner to complete the work for you – This is a good indicator of the quality and professionalism of the service provider.
Another option is to 'shop around' and get quotes from multiple service providers for the work they complete and the methods they use. You can also submit your query here to get three free window cleaning quotes from trusted workers in your area.
You should inquire whether your window cleaning provider what experience and accreditations they hold; many window cleaners are Safety Accredited Members (SAM) of the Federation of Window Cleaners, which indicates that the person completing your window cleaning work has undergone training and demonstrates compliance with health and safety laws.
Your window cleaner should also hold adequate liability insurance to cover them and your property on the event of an accident or damage.
FAQs
Sources
https://www.hse.gov.uk/cleaning/topics/window-cleaning.htm
https://f-w-c.co.uk/
https://www.telegraph.co.uk/interiors/home/best-way-clean-windows/