How Much Does Secondary Glazing Cost?
Firstly, what will the cost of secondary glazing depend on?
The average material cost to install secondary glazing will depend on how many windows there are and the type of glazing. It will also depend on whether the entire house is to be fitted with secondary glazing or perhaps just the front elevation facing a noisy road.
Vertical sliders are slightly more expensive than horizontal sliding windows, as are hinged panels. Fixed panel and demountable do not cost as much as they are a much simpler installation.
An average window specialist will usually charge around £150 per day in labour but will usually work in pairs with a total average daily cost of £250.
The job should be completed within 1-2 days depending on the size and number of windows you have which need secondary glazing.
The average cost of secondary glazing per window is in the region of £345.
What should you do next?
In all cases, it will be necessary to obtain a detailed quote from an installer and preferably two or three different companies before you commit.
If you still need more information, continue reading...
Secondary Glazing Prices
| Property size | Windows | Materials | Labour |
| --- | --- | --- | --- |
| Single storey | 5 | £1,500 | £300 |
| Terraced | 9 | £2,800 | £440 |
| Semi detached | 10 | £3,000 | £680 |
| Detached | 14 | £4,000 | £900 |
Non-standard sized windows and bespoke design will obviously incur a greater cost, and the price will also depend on the frame material and type of glass that is chosen.
Supply Costs
Secondary glazing can be done as a DIY project, thereby saving money on labour costs. There are different variations of DIY secondary glazing available, and all are relatively simple to install although, careful measurement in the first instance is of paramount importance. Some types are installed with magnetic and steel tape making them easy to detach, others are screwed into place, and others have a clipping system.
Additional Costs
Special thermal glass such as Pilkington K glass, a low emissivity glass has energy-saving properties and will be slightly more expensive than standard glass.
Acoustic glass such as Stadip has an engineered polymer layer between the glass panes to absorb sound and reduce noise levels.
Bulletproof and ballistic glass are specialist types of glass which may be suitable for public buildings.
Toughened glass is four to five times stronger than normal glass and is manufactured by applying high heat and rapid cooling.
Laminated glass has layers of polyvinyl butyal which bond it if the glass is broken, making it safer than normal float glass which shatters on impact.
These specialist types of glazing will be more expensive than the more common 4mm toughened glass.
| Type of glass | Cost per square metre |
| --- | --- |
| Clear toughened 6mm | £72 |
| Anti sun toughened 6mm | £99 |
| Acoustic laminated 6.4mm | £108 |
| Clear laminated 10mm | £135 |
| Pyro fire glass 6mm | £234 |
Most suppliers will offer a variety of frames and frame colours with some companies having the choice of over 200 RAL colours.
There should be no real need for re-plastering or re-rendering with secondary glazing installation as there is little or no disruption to the surrounding area.
Re-decorating may be necessary if there has been any superficial damage to the area around the installation.
As there is minimal disruption to the immediate surroundings other than perhaps a few screw holes, there is little in the way of preparation or post-installation clean up that is required.
If you are fitting brand new secondary glazing, you will find that the new frames can often make the existing windowsill and wood surround look grimy.
So, prior to fitting secondary glazing, it can be a good idea to redecorate or at least apply a fresh coat of gloss to any existing woodwork. If you plan to do this yourself, it will be relatively inexpensive, and you would need the following:
Gloss or similar oil-based paint 2.5lt approx £25
Paintbrushes £5-£10
Sandpaper £3-£4
Paint scraper/filling knife £3-£4
Wood filler for any holes £5-£10
So, to do this job yourself would cost in the region of £40-£55.
To hire a decorator will cost approximately £160 per day on average.
New wooden frames will cost on average £875-£1,500 depending on sizes.
You may also have to consider getting new blinds as the existing blinds will often get in the way of the secondary glazing unit.
To have someone install new blinds would cost on average £80-£150 or you could buy and fit them yourself with prices ranging from approximately £30 for roller blinds and up to £220 for Roman blinds.
Costs Based on Glazing Type
Below we explain the costs of different secondary glazing based on the type of glazing.
| Glazing | Suitable for existing | Cost per square metre |
| --- | --- | --- |
| Horizontal sliding | Casement | £400 |
| Vertical sliding | Sash | £400 |
| Hinged | Bays, fire escape route | £350 |
| Fixed panel | Inaccessible windows | £200 |
| Lift out | Occasional access required, temporary installation | £300 |
| Magnetic | Temporary installation | £150 |
Secondary Glazing Cost Calculator Breakdown
The average cost to install secondary glazing to 8 windows: £2,700
Labour Costs and Time Frames
While secondary glazing can be done as a DIY project, most people will prefer to leave it to a professional window fitter. They will charge in the region of £150 per day. However, they will normally work as a team of two, which will mean labour costs could be around £250.
The timeframe to install an average of 8 windows will be approximately one day if the installation is straightforward and there are no problems with a cost in the region of £2,760.
Secondary glazing is cheaper than double glazing and is a great option if you cannot replace the existing glazing due to living in a listed property. In terms of exterior appearance, secondary glazing is very discreet, especially when using a lightweight aluminium frame. In addition, secondary glazing is relatively easy to install as a DIY project and can be bought in the form of DIY kits to lower the costs even further.
| Type of installation | 4 windows | 8 windows | 12 windows |
| --- | --- | --- | --- |
| Secondary glazing Cost | £900-£1,380 | £1,800-£2,760 | £2,700-£4,140 |
| Installation time | 1 day | 1-1.5 days | 1-2 days |
| Double glazing cost | £2,000-£2,500 | £3,500-£5,000 | £5,500-£7,000 |
| Installation time | 1 day | 2 days | 2-3 days |
What Is Secondary Glazing?
Secondary glazing, as the name suggests, is the installation of a second window to an existing window opening, leaving a gap between the two. This gap traps air and diffuses sound waves, thus giving the benefits of thermal and sound insulation.
As there is nothing to be removed in order to have secondary glazing fitted the cost is much less than that of having replacement double glazed windows. There are several benefits of secondary glazing over the double glazed option.
What Does Installing Secondary Glazing Entail?
With secondary glazing, an additional pane of glass in a frame is fitted to existing windows, unlike double glazing where you would remove the existing window and replace it. Secondary glazing offers additional energy and sound insulation for your home.
The first step is to contact an installer to get a detailed quote. Depending on whether the secondary glazing will be mainly for thermal insulation or noise reduction, a choice will be needed in relation to the exact type of glass. For acoustic insulation Stadip glass will reduce noise pollution by up to 80% while the thermal efficiency of low emissivity glass will prevent heat from escaping through the window.
As the secondary glazing will be fitted inside the window opening, accurate measurements should be taken.
The panels are then manufactured to the precise specifications of your windows ready for installation, which should take approximately a day for an average of eight windows.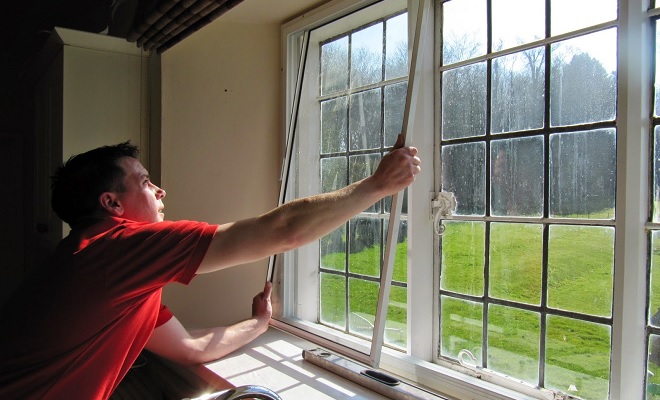 Cost Affecting Factors Of Installing Secondary Glazing
Secondary glazing comes in a variety of frame materials including uPVC, timber and aluminium.
The most popular choice is uPVC as it is easy to maintain and the cheapest of the three options. Timber windows will cost approximately 90% more than uPVC while aluminium will cost on average two and a half times as much.
There is also a wide choice of RAL colours to choose from with over 200 options in some cases. Choosing a colour other than white can increase the cost of your secondary glazing by approximately 15-20%.
The choice of ironmongery for your secondary glazing will impact on the overall cost. Prices will depend on the style, for example, modern or antique and material such as chrome or brass. Costs can be anywhere between £3-£30 for stays and handles.
Location in the UK has an impact on any home improvement work, and local quotations should be sought for an accurate cost. London will always command higher prices than other parts of the country, and most home improvements will on average cost 5-10% more.
Obviously, if you are lucky enough to live in a Georgian mansion that is a listed building, the cost of installing secondary glazing will be more than in a three-bedroom terraced house. Costs will also depend on the size and number of windows that require secondary glazing with an average secondary glazed window costing £345.
Older properties are more likely to have non-standard shaped windows such as Gothic, Ogee and Arch top, and these types of window would require bespoke secondary glazing. This would normally be made from aluminium as it is a very versatile product making it perfect for odd-shaped apertures.
Costs will vary depending on style and size and a detailed quote for bespoke secondary glazing is advisable.
Benefits Of Secondary Glazing
Cost Reducing
There is a distinct price advantage to installing secondary glazing rather than opting for replacing your windows. The outlay for the materials is considerably less, on average double-glazing costs are up to 50% higher than secondary glazing, and there is virtually no waste cost as nothing is being removed.
The cost benefits in the long term will be accumulated through reduced heating bills.
Thermal Insulation
The gap between the new window and the existing will be much greater than that between the glazing units of double-glazed windows. This creates an insulated barrier to the conduction of warm air out of the window. Heating loss is, therefore reduced, resulting in lower energy costs.
The physical barrier of the secondary glazed pane also contributes to the loss of heat through older windows such as wooden sash windows. Over time wooden frames contract and expand with the effects of cold and heat, thereby causing gaps to appear around the frame. This then allows draughts to occur. A well fitted secondary glazing unit should eliminate this issue.
A typical house loses 10% of its heat through the windows and up to 15% from draughts; therefore, anything that reduces this will be of benefit in terms of energy costs.
Noise Reduction
In a similar way that the wider gap between secondary glazing and the original windows improves thermal insulation, it also has a significant impact on noise reduction. With a range of noise levels encountered in daily life from 30db in a bedroom to 50db in an open office and 80-90db from traffic noise, it is possible to demonstrate the positive impact that secondary glazing would have.
The size of the cavity between the existing and secondary glazing will have a direct correlation on the amount of noise reduction, i.e. the bigger the gap, the quieter the room.
| Range | Measurement in dB | Source of sound |
| --- | --- | --- |
| Very loud | 90 decibels | Lawnmower or motorcycle at 25ft |
| Moderate | 60 decibels | Conversation |
| Faint | 30 decibels | Quiet room |
Older windows don't just let in cold air they also let in noise pollution. Even a relatively small gap in and around the window can cause a 10db reduction in acoustic insulation. An increase of 10db equates to the doubling of loudness. A good seal created around the secondary glazing panels negates this problem.
If the secondary glazing is placed at least 100mm from the existing windows, then a reduction of up to 45db can be achieved.
Security
The secondary glazing will provide an added layer of security to the property as many features toughened glass. All but the most determined of burglars would be deterred by not one but two windows to breach.
Different types of glass offer different levels of protection such as toughened, laminated and specialist blast and fire glass. Most domestic installations will be fitted with a minimum of 4mm toughened glass.
Convenience
One of the attractions of secondary glazing over replacement windows is that there is less disruption and associated mess. There is nothing to remove, which means a faster installation time and no real waste costs.
Problems You May Face When Installing Secondary Glazing
There are problems which can occur with secondary glazing as there are some critical weaknesses.
Secondary glazing is more prone to condensation because it's not a sealed unit, so any humidity in the surrounding air can condense on to the cold window glass which is difficult to easily wipe due to the secondary glazing unit.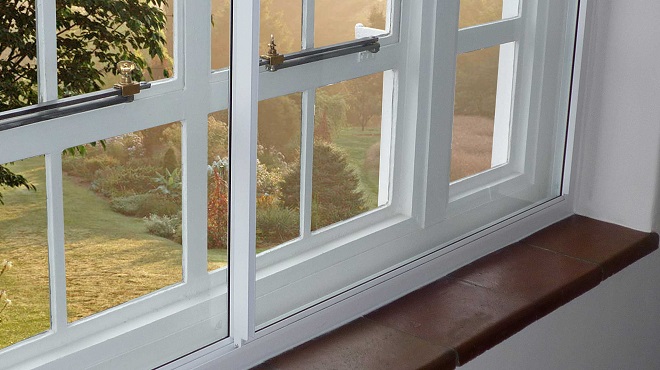 In addition, the lack of any vacuum between the panes of glass means that secondary glazing does not insulate quite as well as double glazing.
These inherent problems are exacerbated by poor installation of secondary glazing. You must ensure when fitting secondary glazing that you seal tightly all around the window frame using draught-proof strips if required to hug surface contours.
How to Measure for Secondary Glazing
Below are 3 steps you need to ensure you consider when measuring up for a secondary glazing quote.
Measure from the inside looking out and the measurements should be in millimetres.
For tolerance: the narrowest part of the area being fitted must accept the widest part of the secondary glazing. Any gaps can be hidden by trim for a clean and neat finish.
When measuring, remember that it is unlikely that the window opening will be fully square, so take several measurements, height and width in several places and allow for the smallest.
Why Choose Secondary Glazing?
People choose secondary glazing for different reasons, such as:
Unable to install double glazing in a listed building or unlisted building in a conservation area.
Restrictive budget.
Noise reduction for properties next to busy roads or underneath flight paths.
To reduce heating costs.
Extra security.
To retain the appearance and character of the property.
Secondary Glazing vs Double Glazing
Double glazing installation involves removing the existing windows and replacing them with new. The replacement windows consist of two panes of glass separated by a vacuum or by argon gas for better insulation of heat and sound.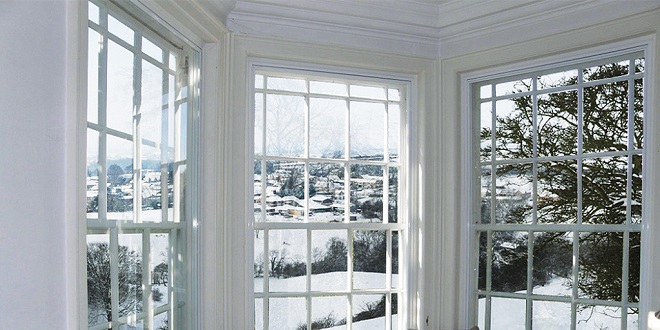 Secondary glazing is added to the window aperture without removing the existing windows. The size of the cavity between the new and existing glazing creates a buffer zone for heat loss and noise, thereby increasing the acoustic and thermal efficiency of the property.
Pros Of Double Glazing
✔ Replacement windows will potentially have a longer shelf life than secondary glazing
✔ Double glazing is a straightforward swap of old for new and offers many variations and choices of style
✔ Maintenance and cleaning are very easy
Cons Of Double Glazing
✖ Installing double glazing will invariably involve a bigger price tag as it needs a professional to carry out the work
✖ Removing and replacing several windows will be a much longer job
✖ It is environmentally less friendly as old windows need to be disposed of
Pros Of Secondary Glazing
✔ Acoustic insulation can be getter with secondary glazing due to the larger cavity between the new and existing windows
✔ It is significantly cheaper than double glazing
✔ The installation takes a lot less time as there is nothing to remove, and there is little to no waste
Cons Of Secondary Glazing
✖ There are two sets of windows to clean and maintain sometimes with access issues
✖ The secondary glazing will not always exactly match the existing windows
✖ Secondary glazing is not always as airtight as double glazing and may give rise to condensation
The presence of condensation on the interior face of your windows can contribute to the growth of mould in the property. The spores of black mould can be very bad for people's health, especially young children, the elderly and those with respiratory problems such as asthma.
Condensation is caused by warm air hitting a cold surface and depositing water vapour. It can occur between the glass panes of double glazing and secondary glazing, although well-fitted windows should prevent excessive condensation. Sometimes it can be caused by poor ventilation or by a broken seal within the windows. This can mean that the glazing is no longer thermally efficient and can add to heating costs.
Windows are a point of weakness in the thermal insulation of a property regardless of whether it is secondary glazing or double glazing. However, the loss of heat can be mitigated by using good quality glass and ensuring that the windows in your home are well fitted.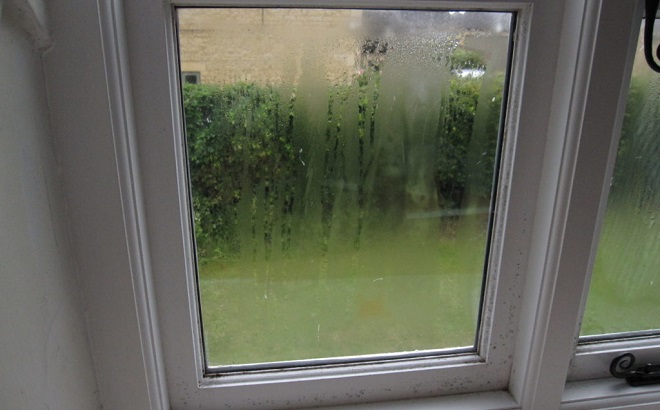 Within secondary glazing, it is recommended that a different thickness of the glass is used to that which is in the existing windows. This is because the glass of the same thickness will resonate at the same frequency and not be as efficient at insulating against sound.
Double glazing is a popular option, and the most common material for the window frames is uPVC as it is easy to maintain and relatively cheap compared to the alternatives.
However, the environmental impact of uPVC windows is an emerging issue with the disposal of old windows being a real problem. Increasing areas of landfill are being taken up with non-biodegradable products, and in an age of social conscience about the environment and human impact upon it, this is a problem that will only continue to grow.
Reducing heating costs within our homes is no longer just a financial consideration, albeit an important one. Most people are acutely aware of the environmental impact of energy inefficiency, and as well as saving on their monthly bills, they also want to inflict as little harm to the environment as possible. Secondary glazing is a relatively inexpensive and quick fix to a property that is lacking in thermal efficiency.
Two barriers are better than one when it comes to deterring any unwanted intrusion into your home. Installing secondary glazing will give an extra layer of security and reassurance to any homeowner with many varieties having a multi-point locking systems.
Secondary glazing will cost less than double glazing with an average of 8 windows costing in the region of £2,700 for secondary glazing and approximately £4,500 for double glazing.
Installation times for secondary glazing will be much less than double glazing. An average house with 8 windows will be completed for secondary glazing in 1 day while for double glazing it will be at least 2 days.
The lifespan of double glazing will be anywhere between 15-20 years with most companies offering a 10-15 year guarantee. Aluminium secondary glazing may last just as long with regular maintenance and proper usage but on average a lifespan of less than 10 years is more realistic.
Properties Suited To Secondary Glazing
While there is the possibility for secondary glazing in many different types of buildings, the following are the most common reasons:
Where the fitting of double-glazed windows is prohibited, such as in listed buildings or unlisted buildings in conservation areas. By their very nature, many of these buildings are old and expensive to maintain. To reduce heating costs, the installation of secondary glazing is permitted following the necessary consent, as there is no obvious change to the external façade of the building.
The secondary glazing panels are discreet with slim frames but are highly effective. Properties such as churches, museums, heritage buildings and schools have been able to improve their energy efficiency and reduce their carbon footprint whilst retaining their external originality and status.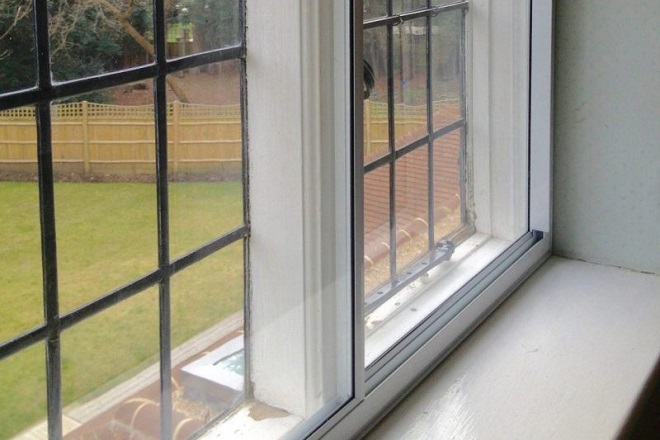 For those on a more restrictive budget, secondary glazing is a relatively cheaper alternative to double glazing.
Anyone who has lived next to a main road will know that noise pollution can be very disruptive. Secondary glazing can be more effective as an acoustic barrier than double glazing.
The thermal insulation provided by secondary glazing makes it an attractive option to save on heating bills and make the property more energy-efficient.
Whilst secondary glazing installations are not officially certified, the Energy Saving Trust does recognise them as an efficient energy-saving system and a way to improve a property's energy performance.
On average secondary glazing will reduce heating costs by £75 per year. Double glazing will result in a saving of £150 per year, but the initial outlay is obviously greater.
Building Regulations & Planning Permission
All listed properties are protected by law to ensure the consistent duty of care to preserve these national treasures, and this law is administered by Historic England.
Properties in conservation areas may also be subject to restrictions, so it is always advisable to check with your local authority before beginning any work to the exterior of such a property. Alternatively, you can check the government's Planning Portal for advice on what permission may be required prior to any work.
Altering any aspect of a listed building will be deemed as changing the character and as such, is subjected to strict controls and guidelines.
If you live in a period or listed building, it is unlikely you will be permitted to install double glazing. In such situations, secondary glazing can be easily installed without altering the overall appearance or character of the building. However, it will still offer many of the benefits of double-glazing, such as effectively reducing noise pollution and offering much improved thermal insulation.
The budgetary factors should be considered when weighing up the pros and cons of secondary glazing over replacement windows but also the thermal and acoustic insulation considerations.
Types of Secondary Glazing
Below we explain what the differences are between the secondary glazing options that are available to you.
Lift Out Secondary Glazing Units
Lift out units are removable secondary glazing panels suitable for occasional access. They come in contemporary, traditional or heritage designs and are available in a variety of glazing thicknesses.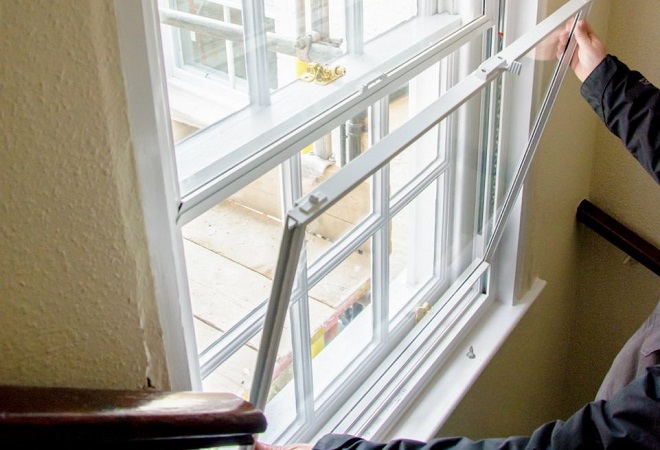 Due to the aluminium tracking used for this type of panel, it is possible to have this type of secondary glazing for large windows as the aluminium tracking is strong enough to support the weight of the glass. This removable type of secondary glazing is superior to magnetic glazing due to the lower weight tolerance of the magnetic fittings.
It is more common for magnetic secondary glazing to use acrylic panels which are not as thermally or acoustically efficient as glass.
Hinged Secondary Glazing Units
Hinged secondary glazing has the additional benefit of a variety of different types of hinges which in turn allow differing levels of access.
Butt hinges give 150 degrees for full access to the existing windows allowing easy cleaning and maintenance.
Friction hinges allow 65 degrees and can be used for top or side hung panels.
Parallel hinges give restricted access for safety applications and regulated ventilation.
As with other types of secondary glazing, hinged units have excellent acoustic insulation properties and is suitable for many different types of properties from modern to heritage. It can be used as a fire escape due to the nature of its various opening options, and with multiple-point locking, it offers improved security.
Slider Secondary Glazing Units
Horizontal sliding units come in a variety of sizes, from two to five panels in order to accommodate even very large windows. They are incredibly versatile and can be used with casement, hinged or any type of window with vertical bars. The frames are slim and unobtrusive and made from aluminium, uPVC or timber.
Ironmongery is available in a range of colours to either match or contrast with the frame colour. Most suppliers offer a range from slimline to heavy-duty depending on your specific requirements with benefits of thermal and sound insulation, low maintenance and added security.
Vertical sliding units are designed specifically to be used with sash windows. The panels are supported on spring balances, and some allow the whole glazing unit to be tilted to 180 degrees to allow ease of cleaning inside and out.
The sightlines of both the secondary glazing and the existing sash windows match up to give a pleasing and unhindered aesthetic. The vertical panels are available in 4mm -8mm glazing giving various options for sound and heat insulation.
Magnetic Secondary Glazing Units
Whilst most people considering secondary glazing will be homeowners, there is the option for temporary installations such as magnetic secondary glazing in rented accommodation, naturally with the landlord's prior approval.
Magnetic secondary glazing is very easy to install but offers much of the same insulation and noise reduction benefits. It also costs less than permanent secondary glazing as it simply uses magnets to attach to the existing window frame and therefore, there are no installation costs.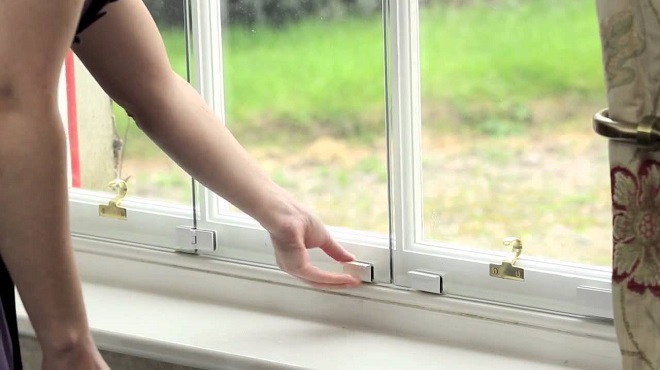 In addition, magnetic secondary glazing can be removed easily during the summer months when the additional insulation is not required. However, unlike traditional secondary glazing, they cannot be opened so it must be removed completely to open the existing window.
Secondary Glazing Cleaning And Maintenance
Horizontal sliding panels can be removed for cleaning as can the lift out panels. The vertical sliding panels cannot be lifted out for cleaning but can contra slide for cleaning and maintenance.
Cleaning should be done with warm water containing a mild detergent; abrasive cleaning materials should be avoided.
Moving parts can be periodically lubricated to maintain functionality.
Will Secondary Glazing Add Value To My Home?
Secondary glazing will improve the energy efficiency of your home by providing better thermal insulation. This will result in lower heating costs and a better rating on the property's Energy Performance Certificate, which is mandatory for selling or renting the property. The rating is from A (most) efficient) to G (least efficient) and must be renewed after ten years.
Double glazing can add up to 10% to the value of a property, but it is more difficult to estimate the potential added value of secondary glazing. The obvious financial benefit of secondary glazing is in the thermal insulation and reduced heating costs, but it is difficult to put an "added value" on it due to the many factors involved.
Acoustic insulation particularly if your house is on a busy road or underneath a flight path will be a major selling point, and while it may not increase the value of the property, it may improve the chances of a sale if you are considering such a move.
Removing Secondary Glazing
If you want to paint your existing windows, you may need to temporarily remove the secondary glazing. As most types are relatively easy to install, then the removal should be straightforward.
However, care should be taken with vertical sliding secondary glazing as they are held in place with springs and if removed, can be difficult if not impossible to re-install. If necessary, with this type of window, the whole unit, including the frame, should be removed.
Removing panels that have been screwed in place will involve unscrewing the panels remembering to retain the screws if you intend to re-install the glazing, e.g. following decorating.
Secondary glazing units that have been stuck in place will be more difficult to remove and could result in superficial damage to the window surround.
If you wish to hire someone to remove the secondary glazing, they will charge in the region of £150 per day.
FAQs
How to Find and Hire a Window Fitter
Finding a competant window fitter should be simple enough. You should be looking for the relevant qualifications provided by FENSA. If the fitter isn't Fensa qualified then don't let this put you off and look for experience.
Many window fitters learnt the trade as apprentices and are time served.
Often local social media groups will also have a facility for finding and rating professional trades but a personal recommendation is always a good option, and if you can view the previous work of someone who is recommended then even better.
You should expect to pay a window fitter around £120-£180 per day but if its a firm working as a team this cost may vary. It may also vary depending on the amount and complexity of your windows.
Sources
https://energysavingtrust.org.uk/home-energy-efficiency/energy-efficient-windows
https://www.secondarydiyglazing.com/secondary-glazing-systems
https://historicengland.org.uk/images-books/publications/eehb-secondary-glazing-windows/ 
https://www.gov.uk/buy-sell-your-home/energy-performance-certificates 
https://clearviewsg.co.uk/how-to-measure/