How Much Does Changing a Yale Lock Cost?
Yale locks are common in the UK as they are relatively cheap, easy to use and offer reasonable security for the price.
However, around half of all new homeowners don't even bother to change their locks after they move in! Yale locks are handy because they are self-locking, so when you leave the house, you just close your door, and the house is secure.
But on their own, Yale locks can still be overcome and broken through just with brute force.
For a good level of overall security consider using a Yale lock in conjunction with deadlocks which need a key to lock them. The typical cost of Yale lock installation will depend on the type of lock. For instance, average night latches are normally priced at £100 to £125, while deadlocking night latches cost around £110 to £135.
Other options cylinder locks which normally cost around £110 to £150, £145 to £220 for a uPVC door lock, £115 to £235 for a typical double locking latch and £140 to £340 for an auto deadlocking latch.
This price assumes an off-peak call to a locksmith and includes both parts and labour costs. The overall cost of Yale lock replacement may vary depending on your existing lock, as a like for like replacement will cost a lot less than installing a different lock type.
Locksmiths will also determine their price by evaluating the type of door you have as well as the level of access, as the easier the job is the less time it will take.
Yale Lock Prices
Below are some estimated costs of hiring a locksmith to change a Yale lock:
| YALE LOCK TYPE | AVG. COST |
| --- | --- |
| Cylinder lock | £80 to £150 |
| uPVC door lock | £115 to £220 |
| Night latch | £70 to £125 |
| Deadlocking night latch | £80 to £135 |
| Auto deadlocking latch | £110 to £340 |
| Double locking latch | £85 to £235 |
Supply Costs
If you wish to install a lock yourself to save on labour costs, you will still need to consider the supply-only costs. The average material cost to replace a Yale lock will depend on what lock type and extras you choose. To help you decide on the right lock type, here is a breakdown of the supply costs:
| MATERIAL | SUPPLY COST |
| --- | --- |
| Cylinder lock | £20 to £60 |
| uPVC door lock | £55 to £130 |
| Night latch | £10 to £35 |
| Deadlocking night latch | £20 to £45 |
| Auto deadlocking | £50 to £250 |
| Double locking | £25 to £145 |
Additional Costs
There are various other costs you may wish to consider when having a new lock fitted, including:
Home Security Survey
If having a professional locksmith visit to change a lock, it makes sense for them to carry out a security audit while they are on-site, which typically costs around £60 to £90 per hour.
This normally involves checking all doors and windows in the home to ensure that all the locks and handles are fitted properly to protect your home against theft and weather damage.
New Front Door
Before having a Yale front door lock installed, you may want to consider having a new front door installed to improve your home's security.
The average cost of installing a new front door starts from £400 to £650 for a uPVC door, £450 to £2000 for an oak door and £1075 to £4100 for a custom-made front door.
Security Lighting
Another great security feature is security lighting which will act as a deterrent for intruders while also helping to enhance the exterior of your home.
You should expect to pay around £125 to £200 to hire a professional to install security lighting at the front and back of your home.
Alarm System
To enhance your property's security further, you may want to consider an alarm system installation.
There are various home alarms to choose from including simple bells-only alarms which cost around £125 to £300, £200 to £500 for a wireless alarm and £400 to £800 for a wired alarm.
CCTV System
Another popular security solution is CCTV which involves installing cameras around your home, which will deter intruders while also providing evidence should a burglary occur. The average cost of CCTV installation ranges from £100 for a one-camera system to £2500 for an 8-camera system.
Cost Breakdown Calculator
Individual costs to change a Yale cylinder lock - Total Cost: £80
Labour Costs and Time Frames
The average locksmith cost is around £60 to £90 per hour, although this will depend on the location of your property, as the higher rate is typically for London areas, while the lower charge is common in the north of England.
Replacing a Yale lock will not take the locksmith much time and effort, but they usually charge a standard call-out fee regardless of how long they take.
The average door lock should only take up to an hour to install.
However, this may vary depending on the level of access to the latch and whether the lock needs to be moved.
What is a Yale Lock?
The term Yale lock is an umbrella term for night latches which originates from the reputable lock manufacturer Yale which is known for the production of pin tumbler locks which became known as Yale locks.
The difference between a normal lock and a Yale look is that internal cylinders can easily be changed and you can use the same key, unlike normal locks which require alterations to the boltwork hardware and also need a new key.
This level of flexibility makes things much easier for locksmiths which is why they are the preferred option for professional installation.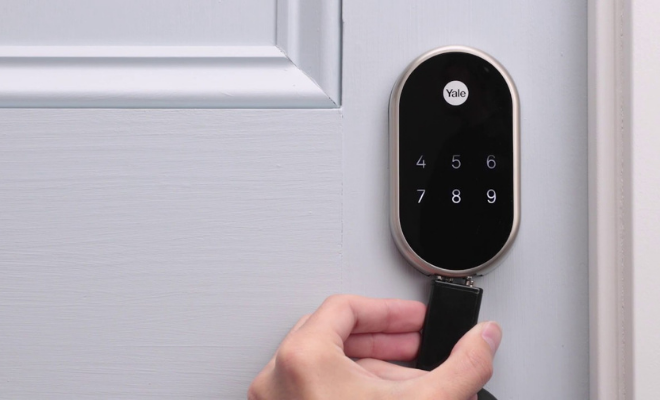 Yale locks are deemed one of the safest lock options as they go through rigorous testing to ensure that British Standards BS 321 is met.
You can check that a lock is safe to use by looking for the British Kitemark™ which should be featured on the packaging.
Cost Affecting Factors of Changing a Yale Lock
There are several cost factor you need to assess before hiring someone to change your Yale lock including:
Type of Lock
One of the biggest contributing cost factors is the type of lock you choose, as some are more expensive than others.
For instance, night latches cost around £10 to £35 for supply only, while Yale deadlock night latches are typically priced at £20 to £45 and cylinder locks at £20 to £60.
More expensive options include uPVC door locks which range from £55 to £130, £25 to £145 for double locking latches and £50 to £250 for an auto deadlocking latch.
Type of Door
The type of door that requires a change lock will also determine the final price.
For example, a lock installation on a wooden door may only add on around £20 to £25
Location of Property
The cost to change locks will also depend on where you live as locksmiths may charge more for properties who live far out in areas like the countryside.
Locksmiths in London also charge around £90 per hour, while tradesman working in northern areas have lower rates of around £60 an hour.
Ease of Access
If your door is hard to reach or the lock is significantly stiff, then the job may take a lot longer; therefore, the labour price may go up.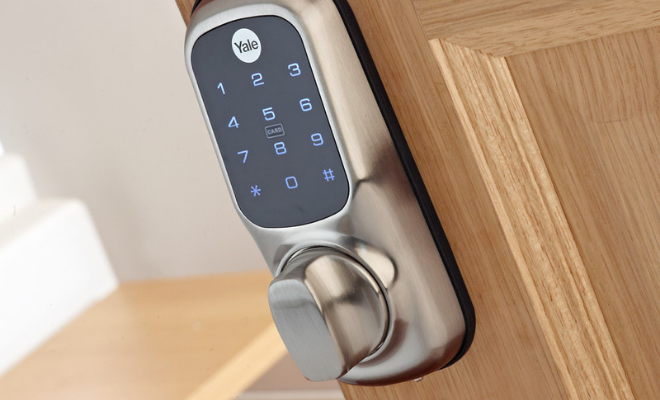 However, you will pay a lot less if your door is simple to access, and the lock is relatively new.
What Does Changing Yale Lock Entail?
To help you understand the process of changing a lock here is a step by step guide to what is involved in a professional Yale lock replacement:
The first step involves unscrewing the lockbox from the back of the door by removing the two screws and removing it from the door.
Once the lockbox is off, the locksmith will then unscrew the shank, which is a thin bar that sits across the width of the backplate.
Once this is loose, they will then remove the Yale lock barrel or cylinder.
Now that everything that needs removing is out of the way, the locksmith will then get the new lock fixture and place it alongside the old barrel.
To ensure it fits the same way, they will then cut the shank to the same size as the old one making sure the grooves are correct.
Once they are certain that everything is the correct size, they will then fix the new lock in place and screw it to the backplate, followed by attaching the lockbox over the shank and securing it with side screws.
DIY Changing a Yale Lock
It is also possible to fit and change Yale lock cylinders on your own if you know how to change a Yale lock or are reasonably handy or, but you do actually need to know what you are doing as otherwise, you could be putting your property at risk if the lock is not fitted correctly.
Most people would rather employ a professional locksmith to get the job right and provide peace of mind.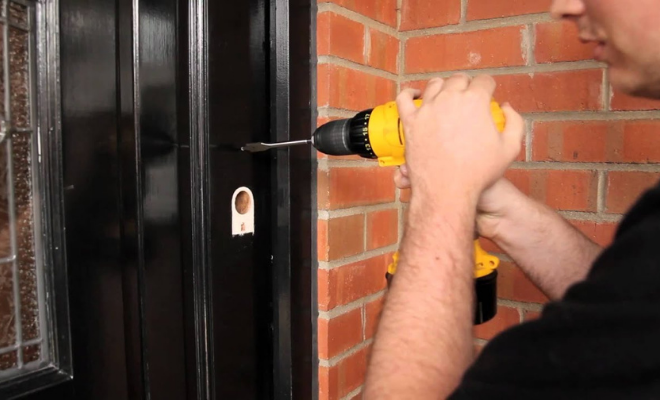 However, if you need to change a Yale lock and are looking to keep costs down, then it is normally possible to change just the lock cylinder and key, rather than the entire lock unit.
To ensure you fit a Yale lock correctly, you will need the following tools:
Cordless drill (£25 to £270)
Wood drill bit (£1 to £15)
Steel rule (£3 to £5)
Wood chisel (£2 to £20)
Thin bladed saw (£1 to £40)
Screwdriver (£1 to £100)
Sandpaper (£2 to £6)
Craft knife (£3 to £5)
Tape measure (£2 to £20)
Masking tape (£2 to £8)
Mallet (£5 to £7)
Choosing a Yale Lock
There are various Yale locks to choose from, so to help you choose the right one, here is a breakdown of the different types, the pros and cons of each, as well as the costs.
Night Latch Cost
A standard night latch, also known as the original Yale lock, has a basic design with a simple cylinder which costs around £10 to £35.
This type of lock can be locked from the outside using a cylinder key or to lock from the inside; you simply need to lift up the handle.
Typical night latches also feature a snib which is a button on the latch which prevents it from slamming.
The main advantage of a night latch is that it has proven effective after being used for a significant amount of time and is, therefore, a practical, simple and affordable security solution that lasts.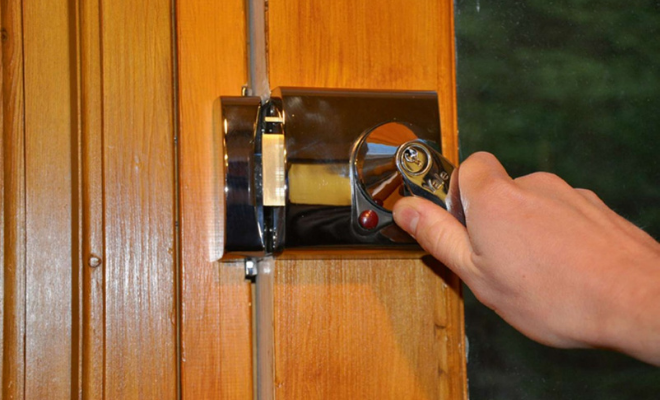 It is also an ideal choice for communal properties who share entrances, as it does not have a double-locking feature, so it prevents other occupants from getting locked in.
The downside of opting for a night latch is that it does not offer the level of security required to meet British Standards.
Therefore, you will have to install an additional lock to secure your property.
There is also a higher risk of locking yourself out, especially if the snib breaks off, and in this case, you will need to pay for an emergency locksmith callout.
Deadlocking Night Latch Cost
A deadlocking night latch is similar to a classic night latch, although with this type of lock you can make one full turn with the key to lock the latch in a closed position from the outside of the door.
These are commonly used for timber front doors and cost around £20 to £45.
One of the main advantages of choosing a deadlocking night latch is that you can disable the handle on the inside of the door, which means a burglar cannot work the handle even if they break the door glass.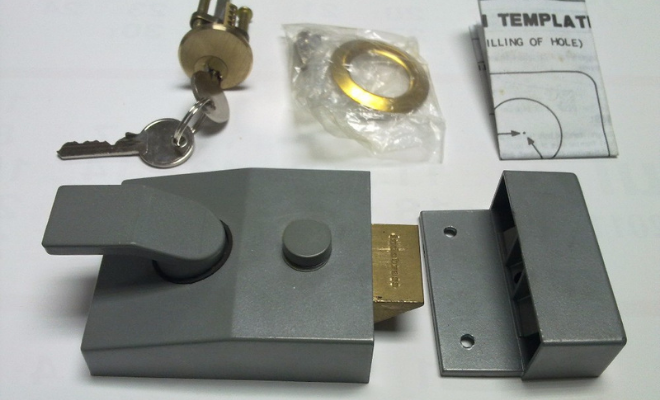 The deadlocking feature also prevents the latch from slipping, which again provides additional security.
The problem with opting for a deadlocking night latch is that the inside locking feature could prevent anyone still inside the home from getting out.
Similar to classic night latches, a deadlocking model does not meet British Standards and therefore must be installed alongside a mortice deadlock.
Auto Deadlocking Cost
An auto deadlocking night latch works by automatically locking the door when it is slammed shut, so the only way to open it is by using a key on the outside of the door.
They also feature an anti-thrust latch which prevents the latch from slipping open.
The average cost of an auto-deadlocking latch is around £50 to £250.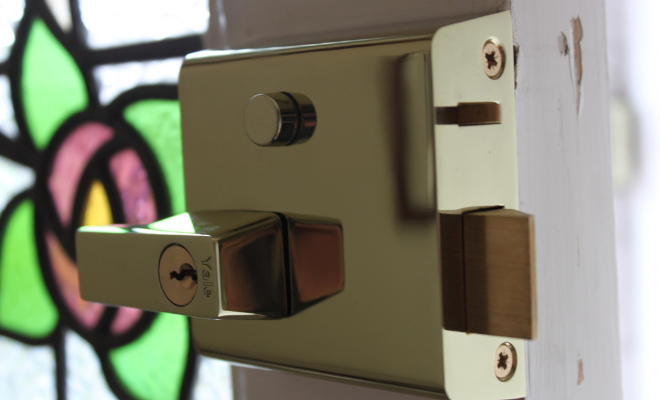 This type of latch is one of the most high-quality options available and unlike previously mentioned models, they are typically approved by British Standards.
They are also great for stopping theft, as any thieves who attempt to use a credit card or other mechanism to open the door will fail to gain entry.
The problem with an auto deadlocking latch is that it makes it much easier to lock yourself, for instance, when emptying the rubbish the wind may blow the door closed and you will not be able to get back in.
Double Locking Cost
A double locking latch offers the extra advantage of locking the door from the inside and outside, so your home is extra safe.
Double locking latches typically cost around £25 to £145 and are normally used for wooden front doors and glass panelled doors.
One of the main benefits of a double locking latch is that even if burglars smash the glass on your front or back doors, they will not be able to gain entry without the use of a key.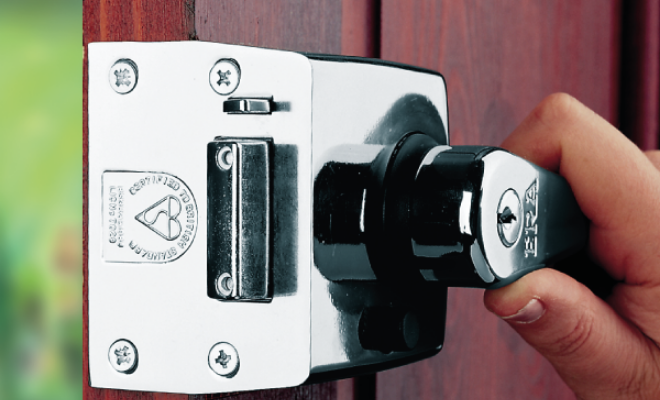 They also have British Standards approval, so you will only need to have one type of lock installed.
Similar to deadlocking, it is very easy to get locked so you need to be extra careful when going outside, as you may find yourself on your doorstep without a key and in need of a locksmith's assistance.
Do I Need to Change My Yale Lock?
To help you decide if replacing your Yale lock is the best option, here are a few common reasons why you may want to consider changing your locks.
Moving House
One of the common reasons for changing locks is when you move house, especially if you are renting, as the landlord or the previous tenant may have spare keys which may make you feel unsafe.
To solve this issue, you consult with your landlord first about changing the locks and then proceed to hire a locksmith – which they may pay for although if you own the house, you are, of course, liable for the fees.
Lost Keys
If you have lost your keys, then you should definitely consider changing your locks to be on the safe side.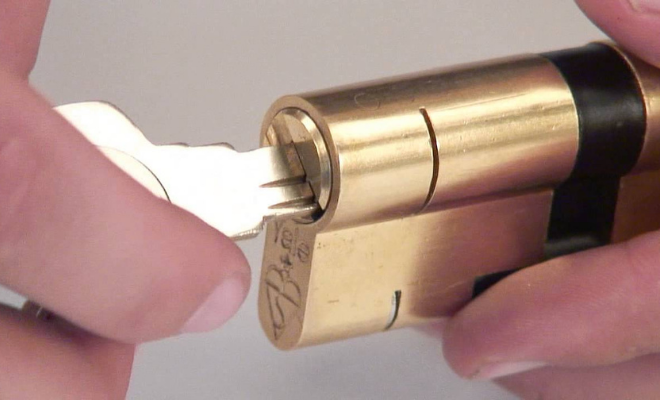 You will then have to get new keys cut to match the new locks and make a copy for anyone else living in the property.
Burglary Threat
If there any burglary threats in your area or you have actually experienced theft, then you may want to consider upgrading or replacing a broken lock to protect you against future intrusions.
Damaged Lock
In the event that your lock is noticeably damaged or you are having trouble locking or opening your door, then a Yale lock replacement may be your best option as this will prevent you from getting locked out and will also increase your home's security.
Removing a Yale Lock Cost
If you wish to upgrade your existing lock or you need to replace a damaged latch, then the first thing that a locksmith will do is remove the old lock.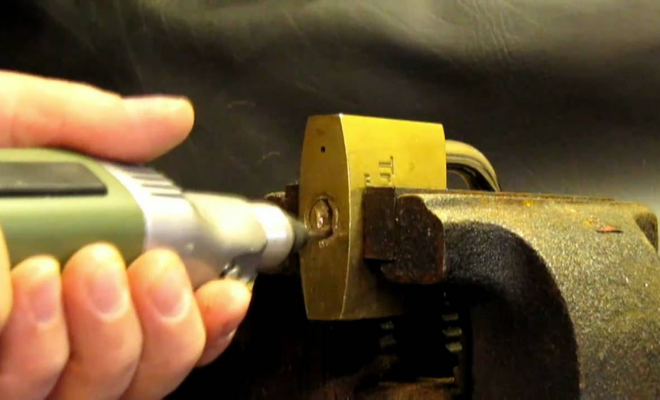 You can always do it yourself if you are an experienced DIY enthusiast or pay a professional locksmith who usually charges around £60 to £70 to complete a job like this which normally includes disposal.
FAQs
How to Find & Hire a Yale Lock Installer
To ensure your door is completely secure, you should definitely consider hiring a professional locksmith who will charge around £60 to £90 per hour.
Before hiring anyone to do the job, you should check their qualifications and experience; although technically there are no official locksmith qualifications, you could consider hiring someone who is a member of the Master Locksmiths Association, as they offer training and ethical guidelines that will ensure that their members follow the rules regarding lock changing.
You should also ensure that they have at least 5 years' experience and have fitted Yale locks before.
You should also inquire about their insurance, as anyone you hire should have public liability insurance to ensure they are protected as well as your home should anything go wrong.
Sources
https://help.yale.co.uk/security-standards-explained/
https://www.locksmiths.co.uk/faq/night-latches-guide/
https://www.keytek.co.uk/locksmith-prices/
https://www.homebase.co.uk/ideas-advice/insulation-and-security/security/how-to-fit-a-lock