How Much Are Front Doors?
Why are front doors important?
Your entrance door offers visitors the first impression of your house and it's the first thing you see when you get home from work. If your entrance door isn't working properly or it's beginning to look shabby, then it's time to consider replacing it.
What will the overall front door cost depend on?
The cost of replacing your front door is going to depend on the material used but you should expect to pay between £500-£2500 for a standard door and up to £4000 to have one custom made.
If your front door is looking faded and grimy, then it may not be necessary to replace it, unless you are looking to change your home style, a fresh coat of paint can sometimes be enough to transform a wooden door, but a discoloured uPVC door can't be painted.
If you're having trouble opening and closing the door and/or there are large gaps between the frame and the door, then a good joiner can solve these problems, but if the door is warped; it will need changing sooner rather than later.
Below is the average cost of the door only (without installation prices), depending what type of material you want your door manufactured from.
Supply Only Costs
You may choose to replace your front door yourself. Below are some costs for front doors for supply only.
| Door Type | Avg. Door Cost |
| --- | --- |
| uPVC | £250-£450 |
| Composite | £520-£2,500 |
| Oak | £300-£1,800 |
| Mahogany | £300-£1,450 |
| Pine | £120-£1,100 |
| Custom-made | £1,000-£3,900 |
Front Door Prices
A trader will typically charge around £130-£200 per day depending on your location.
| Door Type | Avg. Door & Installation Cost |
| --- | --- |
| uPVC | £400-£650 |
| Composite | £670-£2,700 |
| Oak | £450-£2,000 |
| Mahogany | £450-£1,650 |
| Pine | £270-£1,300 |
| Custom-made | £1,075-£4,100 |
Additional Costs
The prices below are additional costs you may find when replacing a door.
| Additional Cost | Avg. Price |
| --- | --- |
| Extra finishes (e.g. woodgrain) | £150 |
| Double glazing | £50 |
| Triple glazing | £100 |
| Side panels | £200 |
| Door handle | £25 |
| Letterbox | £20 |
When you replace your front door, you may want to add an external light, front door canopy or even a porch to update your exterior space.
External lights can range between £6-£200. If you're just replacing an old external light, you could DIY, but it's recommended you hire an electrician for safety. If you need a full installation (connecting new wires to mains etc.) then you'll definitely need to hire an electrician to complete this. Electricians typically charge £150-£200 per day. If new wires need to be installed, you may have to re-plaster and redecorate.
If you want to purchase and install a canopy for the front door, it'll cost between £25-£800 for the canopy itself. Most door canopies can be installed yourself and are relatively easy. If you wish to hire a trader or handyman to complete this, expect to pay £80-£150 for labour.
You can add a porch to the front door, for extra space or for added protection against the elements. Getting a porch built from scratch costs around £3,000 to £5,000. You won't need planning permission unless it exceeds 3m².
You can purchase made-to-measure, DIY uPVC porches if you want to fit it yourself. They can cost around £1,800 - £3,000. Second-hand porches can also be bought from various auction and second-hand websites.
Cost Breakdown Calculator
Average cost to supply and fit a uPVC front door - Total Cost: £500
Labour Costs and Time Frames
Fitting a front door shouldn't take more than half a day's work, but you'll likely be charged for a full day. The cost of labour will be between £130 - £200 per day, based on your location. The job may take longer if the door you've purchased hasn't got a handle, is a slightly different size than your last door, or you require a post box to be made.
| Door Type | Duration |
| --- | --- |
| uPVC | 2-5 hours |
| Composite | 2-5 hours |
| Oak | 2-5 hours |
| Mahogany | 2-5 hours |
| Pine | 2-5 hours |
| Custom-made | 2-5 hours |
Cost Affecting Factors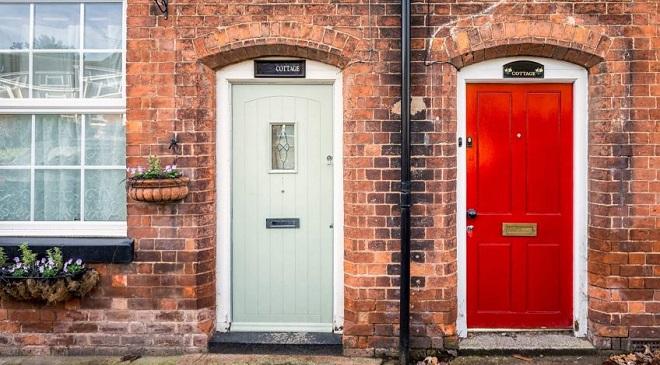 If your front door needs replacing due to weather damage and rot, then the chances are that your windows will need replacing too! Check the condition of all external woodwork before hiring a joiner to replace your door.
If getting a new timber door, then you will likely need to paint or varnish the door yourself, (you can expect to pay between £10 - £30 for varnish) so budget for the cost of paint/varnish plus the cost of a decorator if not planning on doing this yourself. A trader may charge between £40 - £75 to paint/varnish this for you.
In addition, though having a brand new freshly painted front door will approve the appeal of your house, if the interior hallway has not been decorated for some time this could ruin the effect. The condition of the render around the front door will also have an impact, if the render or brickwork is grimy and crumbling, a new door will not be enough to make the exterior look good.
So, if replacing a front door at least partly due to the aesthetics, then you should also consider freshening up the exterior walls (especially at the front of the house) plus the interior hallway.
Supply Only Cost
If you want to purchase the door only, and either DIY or have a friend or family member replace it for you, you'll only need to budget for the supply cost. How much you'll pay depends on what type of door you want. uPVC front doors are cheap as standard and cost between £250 - £450.
External solid hardwood doors, made from oak or mahogany, can range from £300 - £1,800. Pine external doors are slightly cheaper, and are priced around £120 - £1,100.
If you'd like a modern front door, composite doors are a great choice. The cheaper composite costs around £670, whereas, the best composite doors cost about £2,700. If none of the doors you find are appealing, custom doors can be made, where you choose the finish, glass pattern, colour and handles. These are the more expensive doors and can cost £1,000 - £3,900.
Custom Front Doors Costs
If you don't like any of the front doors available, or you need a door that isn't a standard size, you can purchase a custom-made door instead. With custom-made doors, you can choose a variety of options and create a bespoke front door.
You can choose the:
Material it's manufactured from (wood, composite etc.).
Type of glass (clear, patterned, toughened etc.).
Size.
Locks.
Colour.
Accessories (handles, letterbox etc.).
Some choices and options are more expensive than others, so custom-made door cost can vary between £1,075 to £4,100 depending on what you choose. To give you an idea of the accessories available and their average cost, see the table below:
| Accessory | Avg. Extra Cost |
| --- | --- |
| Clear glass | £30 |
| Double glazing | £60 |
| Patterned glass | £65 |
| Etched glass | £85 |
| Brass bell | £10 |
| Chrome bell | £17 |
| Brass knocker | £15 |
| Chrome knocker | £20 |
| Door viewer | £5 |
| Security chain | £6 |
| Pewter handle | £70 |
| Black pull handle | £5 |
| Brass letterbox | £14 |
| Chrome letterbox | £20 |
| Deadlock | £23 |
| Rim lock | £36 |
| Aluminium draught excluder | £25 |
| Gold anodised aluminium draught excluder | £70 |
What Does Replacing a Front Door Entail?
This is not a complicated job for a joiner or even a handyman. The first step in replacing an external door is deciding on whether you are going to change the door and frame as a set, or just using the existing frame to fit a new door into.
Once this decision has been made, assuming just a new door is required, then the door opening has to be measured accurately before ordering a new door. Hopefully the opening is close to a standard door size so a replacement can be bought off the shelf, otherwise, a new door will have to be made to order which will be very expensive.
The new door can then be trimmed to fit the opening and the recesses for the hinges can be chiselled out before screwing the hinges to the door. Then the hinges will be fitted to the frame and the door locks and furniture can be fitted.
All locks used on exterior doors should carry a kite mark and be passed to British Standard BS3621 (many insurance companies will insist on this). External front doors should really have two locks, but if only one lock is fitted, make sure it is an automatically dead-locking night latch type. The entire job should be completed in less than a day by a joiner, but perhaps around a full day as a DIY project.
Can I Fit My Own Front Door?
Replacing a front door is a job which can be carried out on a DIY basis, but it may take longer than employing a carpenter or joiner to complete it. Before beginning any work, you need to know that replacing a front door or frame is a 'controlled fitting' under Building Regulations, so you're required to notify Building Control.
If you choose to DIY, it may be easier to purchase a door set. A door set comes with a frame with a front door already hung inside. Before ordering anything, double check the measurements for both the frame and the door.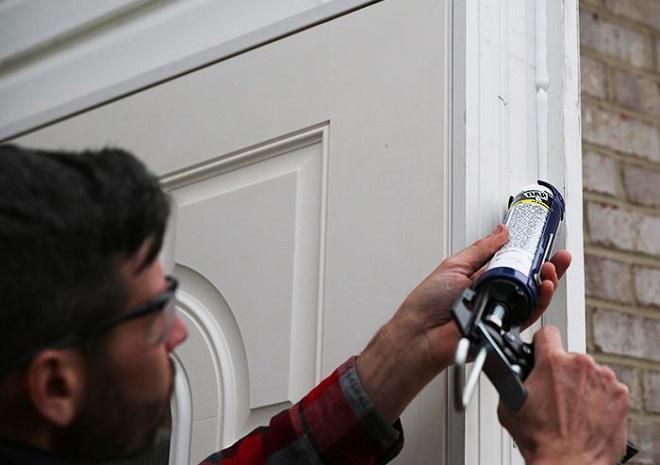 Below is an external door standard size guide. These sizes are more than likely available and won't need to be made-to-measure:
| Metric (mm) | Imperial (inches) |
| --- | --- |
| 1981mm X 686mm | 78" X 30" |
| 1981mm X 762mm | 78" X 30" |
| 1981mm X 838mm | 78" X 33" |
| 1981mm X 915mm | 78" X 36" |
| 2032mm X 831mm | 80" X 32" |
| 2040mm X 762mm | 80.3" X 28.6" |
| 2040mm X 826mm | 80.3" X 32.5" |
| 2040mm X 926mm | 80.3" X 36.5" |
| 2083mm X 864mm | 82" X 34" |
| 2134mm X 915mm | 84" X 36" |
The five most used external door sizes are:
1981 X 762mm
1981 X 838mm
2032 X 813mm
2083 X 864mm
2184 X 915mm
Most door are usually 44mm to 54mm thick.
Wooden doors can be trimmed with an electric plane if the door needs to be smaller. Remember to trim from both sides and from top to bottom. The ideal gap around the door within its frame is 2mm. Regarding the gap at the bottom of the door, you need to consider the flooring thickness.
If you don't purchase a door set, and you have to hang the door yourself, hinges need to be either brass (brass is best for hardwood doors) or steel. To fix the hinges correctly on the door, place one 125.5 – 150mm from the top and 175 – 230mm from the bottom, you'll also need to place a hinge directly in the middle. You can then fit the hinges in the same place on the frame.
When choosing a lock for an external door, ensure that it carries a kite mark and is British Standard BS3621.
Although this is a job which can be carried out as a DIY project, a carpenter or joiner will be more familiar with the Building Regulations and will make a better job of fitting modern locks properly. A bodge DIY job can end up costing you a lot more money in the long run if you ever sell the house or if you're burgled, the insurance company can refuse to pay out.
Replacing a Door Frame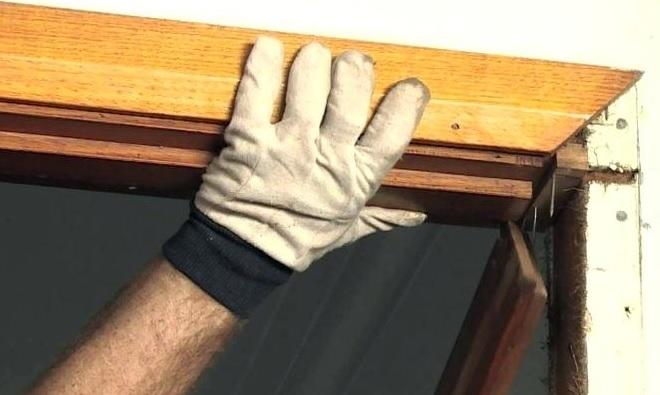 If your door frame is damaged, rotten, warped or cracked; it'll certainly need replacing. It may become hard to open or close the door correctly. It could also expose your home to the outside weather, and create damp or a draft.
To replace a frame, you'll need to contact Building Control, as it's classified as a 'controlled fitting' under Building regulations.
A hardwood door frame can cost anywhere between £60 - £800, depending on the size you require. If you have, or want, a uPVC door you'll need a uPVC door frame to match and usually comes included in the overall cost.
It's recommended that you hire a joiner for this task, but if you want to DIY, buy a frame kit as it'll often have the joints pre-cut for ease.
Disposing Of Your Old Door
If your door can't be salvaged and sold second-hand, you can dispose of it at your local recycling centre, or you can pay for it to be collected.
Most local authorities will be able to collect the door for a fee. It's usually a-one-time payment for five items to be collected and can cost from £40 - £65.
What's the Best Door for Me?
To help choose what door is best for you and your home, here are some pros and cons for each:
uPVC Door Costs
uPVC doors typically cost between £250-£450.
PROS
✔ Extremely weather resilient
✔ Hardly any maintenance is needed, just a clean every now and then
✔ Won't change shape or warp
✔ Can last around 35 years
✔ Cheap
CONS
✖ Can look unpleasant
✖ Hazardous to the environment and comes from an unsustainable resource
✖ Becomes brittle and discoloured over time
Composite Door Costs
Composite doors typically cost between £520-£2,500.
PROS
✔ Very secure, the strongest door available
✔ Looks modern and contemporary
✔ No major maintenance, just a clean when dirty
✔ Thermally efficient
✔ Minimum of 30 years lifespan
✔ Noise reduction
CONS
Oak Door Costs
Oak doors typically cost between £300-£1,800.
PROS
✔ Classic and stylish
✔ Natural material
✔ Easy to change colour
✔ Can resize to make smaller
✔ Can come from a sustainable source if checked, so environmentally friendly
CONS
✖ Needs quite a lot of maintenance to keep weatherproof
✖ May become weather beaten and warped
✖ Not a long a lifespan as uPVC or Composite
Mahogany Door Costs
Mahogany doors typically cost between £300-£1,450.
PROS
✔ Can be re-decorated
✔ Resistance to insects and decay
✔ Natural material
✔ Aesthetically pleasing
CONS
✖ Some mahogany species are endangered, so less renewable than other wood
✖ Needs to be periodically re-stained or resealed
✖ Can be expensive
Pine Door Costs
Pine doors typically cost between £120-£1,100.
PROS
✔ Less expensive than other woods
✔ Easy to sand and repair
✔ Can repaint and change colour
CONS
✖ Pine is a soft wood and dents easily
✖ More sensitive to weather
✖ Shorter lifespan than more woods (10 – 20 years)
✖ Some species of pine are endangered (not a sustainable resource)
Best Front Door for Security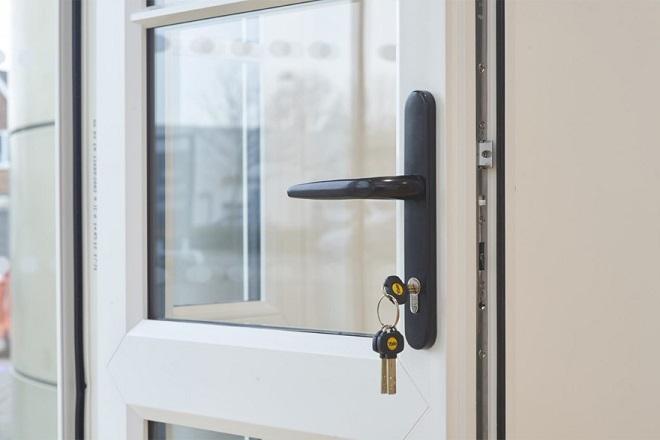 Security is important to consider when purchasing and replacing a front door. To purchase a 'door of enhanced security' check your door choice is classified as British Standard (BS) Kitemark PAS 24-1. This means that the door has been security tested and has passed. This security test only covers composite, sliding and bi-folding doors. So, if security is your priority, wooden doors may not be a good choice.
Composite and uPVC offer the most security because they're weather resistant and water proof, this means they won't deteriorate over time and become weakened.
But composite is superior to uPVC because of the material it's manufactured from, the door and frame are extremely strong. Most composite doors contain laminated glass too, which works like safety glass, when broken it doesn't shatter everywhere and stays in place.
Benefits of a New Front Door
Buying a new door may seem expensive to replace, but there are more benefits than drawbacks to having one fitted.
Keep out the weather
If you haven't replaced your front door for a long time, you may not realise you're letting in the outside elements. Fitting a new door may get rid of damp and drafts.
Energy efficiency
Installing a new door will make your home more energy efficient by keeping the heat in your home. In time, the energy saving you make will pay for the cost of the door.
Strengthen security
Depending what material your old door is made from, overtime, some doors can become warped and damaged, which can weaken them. Replacing your old door with a more secure option will make your home safer.
Better appearance
Having a new door can make your home appear fresh and revived. It can also create a great first impression of your home as it's the first thing visitors see.
Repairing a Front Door
Entry doors are mistreated by the weather a lot, but it doesn't mean that it'll need replacing, it may just need repairing. Here are some common faults and fixes:
Rusty hinges
With time, hinges will begin to rust. If you're struggling to open or close the door properly, this may be a reason why. First, try to spray WD-40 lubricant on to the hinges, a can of WD-40 costs around £3. If that doesn't work, you can replace the hinges, which can cost between £4 to £20.
Split panel
If you own a wooden door, sometimes the panels may split. This can be because the wood has dried out, or the door is slammed frequently.
If your door is painted, used wood filler and fill the crack. Once it's hardened, sand it down and repaint it. You can expect to pay £2 - £18 for wood filler, depending on size and quality.
If your door has a varnish or natural finish, wood filler isn't recommended as it would be visible. Instead, you will need to force to panel back together using dowels, and use PVA wood glue to close the crack. PVA wood glue costs roughly £5.
Loose Frame
If you have a wooden frame, it may become loose from the wall due to consistent slamming.
This can be easy to fix with a pack of door frame plugs & screws, which you drill through the frame to make it more secure. A pack of ten can cost £2 - £6.
Rotten door
If your wooden door hasn't been treated annually, it may have begun to rot. If there's only a small patch or rot, you can repair it rather than replacing the whole door.
Use a chisel to cut away all of the rotten wood, until you get to the 'good' wood. You can then use a hairdryer or hot-air gun to dry out the area. After the patch is dry, use wood hardener (costs £7 - £32) on the area. Once this is dried, use wood filler to pack the space. You can then sand and paint the door when it hardens.
You can hire a trader to do any of these repairs for you, but expect to pay £130 - £200 per day.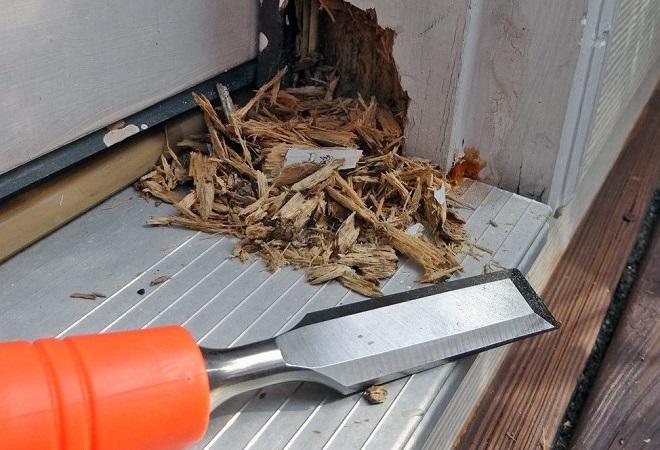 Maintaining a Front Door
It's important to maintain your front door so that you get a longer life span out of it. Different types of doors need different upkeep, so here's a list of all the different doors and what you need to do to keep them new:
uPVC
You'll have to wash a uPVC door twice a year with warm, soapy water and a cloth to keep it clean. Try to keep away from any cleaner that are abrasive or have ammonia in them, and this may damage the uPVC.
Keep hinges clean and rust free by spraying WD-40 on them once or twice a year.
Composite
Composite doors need very little maintenance, and only needs an annual clean with a soft cloth and warm soapy water to remove any built-up grime.
Oak
Because oak is a natural material, it can rot and warp if it's not treated properly. You'll need to keep the door clean regularly with a damp cloth and soapy water. If that hasn't don't the trick, try a wax furniture polish.
To protect your door from the elements, you'll need to sand and treat it every two years with oil, varnish or paint. You can also protect it from sun damage with a varnish that protect from UV light.
Mahogany
Mahogany is a hardy, resilient wood, but it still needs upkeep to prevent it from becoming weather-beaten. When cleaning, only use a damp cloth with vinegar as a natural cleaner rather than soap.
You'll need to refinish it when it begins to look dull or has a few scratches and dents. You can lightly sand it down and re-apply oil or varnish. A UV protectant is best to use with mahogany, so it doesn't discolour.
Pine
As pine is a softwood, this type of door will need more maintenance than most. It's more likely to gain scratches and dents, and is more vulnerable to the weather. Because of this, it'll need to be treated once a year.
When you sand the door down, with pine it's recommended you sand before and after the treatment to achieve a better finish.
Door Locks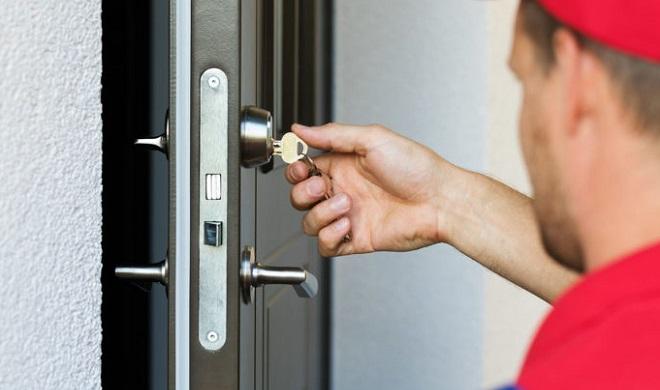 There are a variety of locks to choose from depending on which door you're fitting it to. Here are the most popular (and safe) door locks:
5 Lever Mortice Deadlock
Usually fitted to wooden doors.
Can be locked from both the inside and outside with a key.
Fixed within the door rather than on the surface.
Cost £8-£50, depending on finish and whether it's BS (British Standard) BS3621 registered.
Multi-point Locking System
Key operated.
Fitted into the door.
Operated by a euro-cylinder lock.
Found mostly on uPVC or composite doors.
Cost £15 - £90, depending on finish and whether it's BS (British Standard) BS3621 registered.
Automatic Deadlatch with Key Locking Handle
Fitted mainly on wooden.
Deadlatch (nightlatch), is fixed on the inside of the door.
Key locking cylinder placed on the outside.
Key can be used both sides.
Two-locks in one (latch and key).
Cost £13 - £70.
Euro Cylinder Lock
Found on uPVC and composite doors.
Easy to operate.
Used with a multi-lock system.
Cost £4 - £85.
Yale Door Locks
Variety of different locks available.
Trusted, well-known brand.
High quality.
Good value for money.
The safest locks are BS (British Standard) registered and will have BS3621 engraved on them. They may be more expensive, but they have been theft and safety tested, so are far better quality.
The cost of installation may vary on which lock you choose:
| Lock Type | Installation Cost | Duration |
| --- | --- | --- |
| Deadlock | £150 | 10-30 mins |
| Multi-point | £130 | 10-30 mins |
| Deadlatch & Key lock | £150 | 10-30 mins |
| Cylinder | £100 | 10-30 mins |
| Yale Lock | £125 | 10-30 mins |
What is FENSA?
FENSA are a government-approved body in England and Wales that assess installers to ensure that they're conforming to building regulations, energy efficient, and registered with the local council. If an installer is registered with FENSA and you hire them to replace your door, you'll receive a FENSA certificate to prove it's been installed correctly and adhering to building regulations.
FENSA installers are evaluated frequently so that they're always up-to-date with building regulations. They also do the same for window installation.
What Standards Does My Door Need to Meet?
If you want your door to meet with your house insurance requirements, it'll definitely need an 'insurance approved' lock. Locks that have the BS3621 British Standard Kitemark engraved on them are accepted by most insurers. But, it's important to check with your particular insurer, as not all companies and policies are the same. The crime statistics in your area can have an impact on your insurance policy too.
Doors also need to comply with building regulations. There are thermal requirements that have to follow Document L-1B which is concerning how much heat escapes from your front door. If your door has glass or glazing, it'll need to comply with Document K, which states that safety glazing must be used within any glazed door up to 1500mm from floor level.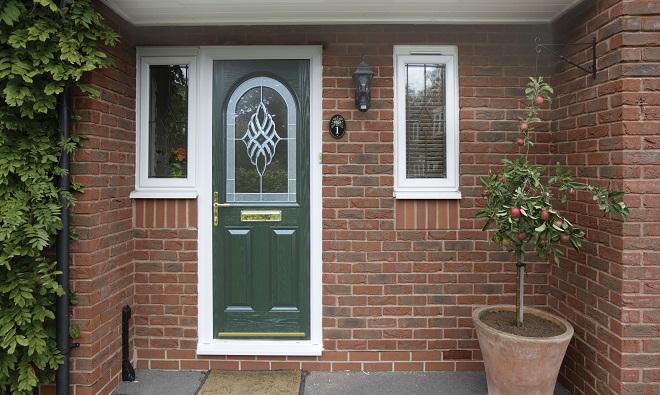 If your home was built in 1999 or after, make sure when you replace your front door that the threshold stays level. If it doesn't, it won't comply with building regulations allowing people (including people with disabilities) to have entry into the home.
The Cost of Moving an External Door
If your front door is in an inconvenient location, you might want to relocate it elsewhere. Firstly, you'll need to remove the existing door and brick up the remaining space. You'll then need to create a new space for your front door to go. As you'll need brickwork replaced, to re-plaster, redecorate and maybe move electrics, you're going to hire more than one trader to complete the job. Traders cost per day on average £150.
Including materials, labour and waste disposal, the entire job will cost £1,900 on average. If you're purchasing a brand-new door, this will add to the overall cost. For a more detailed breakdown of moving an external door click here.
FAQs
Sources
https://www.homebuilding.co.uk/how-to-fit-an-external-door/
https://www.emeralddoors.co.uk/door-size-guide/
https://www.vistapanels.co.uk/the-top-pros-cons-of-composite-doors/
https://www.diy-extra.co.uk/how-to-repair-a-door.html
https://www.windsealdoubleglazing.co.uk/maintain-upvc-windows-doors/
https://homeguides.sfgate.com/restore-mahogany-wood-front-door-31439.html
https://www.fensa.org.uk/about-fensa
https://gov.wales/building-regulations-doors-and-windows